Cara Delevigne is one of the most stunningly looking models. The English model, actress, and singer, loves to get her body inked with tattoos. And everyone has a specific meaning and story behind it. Cara loves unique tattoos.
Fans all around the world get obsessed with her beautiful and sexy body. But few of them pay attention to her body art. The model and actress can rock any outfit. And that is her superpower. She looks amazing in anything she wears, from a glamorous ball gown to a pantsuit.
Did you know Cara Delevigne has more than 20 tattoos on her body? And she adds a new one almost every few months.
For the supermodel, everything started in 2013 when she got a lion tattoo on her index finger. Since then, she has added many more tattoos, some even matching. For example, she has a matching tattoo with her Suicide Squad co-star, Margot Robbie.
Delevigne usually visits celebrity tattoo artist Bang Bang for her work. In the past several years, the New York-based artist has come to the limelight thanks to his A-list clients.
He creates some of the most realistic and detailed tattoos. And Cara loves him for that. Fun fact: for a brief moment, the model turned tattooist, inking Bang Bang in his NYC studio. Here is a guide to all her inks.
Lion Face
Location: Index finger on right hand
We said before that for Cara, everything started with this tattoo. She got it on her right hand in May 2013. Bang Bang did the tattoo, and following the session, she uploaded a picture to Instagram to celebrate with fans. Cara wrote, "My first tattoo!! Lions rule! Thank you so much @bangbangnyc @badgalriri"
And yes, that second tagged account is Rihanna, a close friend of Cara. She probably recommended Bang Bang, since he is her favorite artist.
In one interview, Cara explained the tattoo, saying, "I'm a Leo. It's the first tattoo I got. I grew up being fearless in everything. I used to climb anything. I lost that sense of fearlessness when I started modeling. When you work a lot and don't really know what you want, you just do it because the work is there. I lost that inner fire, so I got the lion to bring that back in my mind."
Snake
Location: edge of her palm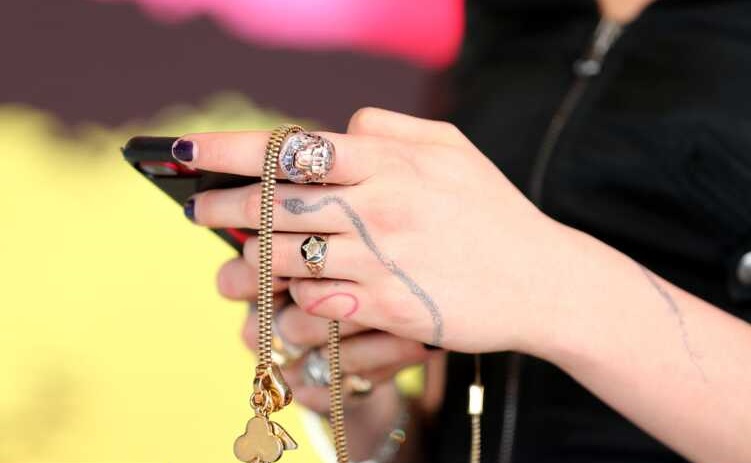 You might say Cara has a zoo on her body. Jokes aside, she also has a snake tattoo starting near the edge of her palm and extending down the middle finger. At the end of the tattoo, she added the word "feral".
For Cara, this tattoo is a symbol of a new start. She explained it by saying, "At the end of it it says feral because I think I am, and it's about reinvention, shedding of old skin, new beginnings, new life."
Yantra
Location: back
Cara revealed this tattoo at the wedding of her sister Poppy. It is one of her most intricate inks, a magical symbol on the back of her neck.
Inspired by yantra tattooing, it is a design that definitely turns heads. Yantra is a form of inking with sacred meanings originally introduced by the Khmer People. Bang Bang added eyes on top of the Yantra tattoo.
Archeologists and ethnologists consider the Khmer people indigenous to the contiguous regions of Isan, southern Laos, Cambodia, and South Vietnam.
In Hinduism, each deity has a specific yantra. Generally, they are machines, used to worship elements, gods, and goddesses. In Hinduism, yantras serve for gaining success, wealth, power, and protection from evil forces. They also help counter negative energy.
Breathe Deep
Location: inner bicep of her arm
This is another tattoo done by Bang Bang. Inked in white ink onto the inner bicep, Cara uses it as a reminder to keep cool. In the world of chaos, she lives in, keeping your cool comes hard. As a supermodel, Delevigne constantly travels and lives a busy and fast life. But she has to keep her cool.
CJD
Location: right hand
Speaking about self-love, Cara also has the word CJD inked on her right hand. Those are the initials of her full name, Cara Jocelyn Delevigne. In May 2013, Bang Bang did this tattoo for her. It is her second tattoo, following the lion she made on her index finger.
XII
Location: right ribcage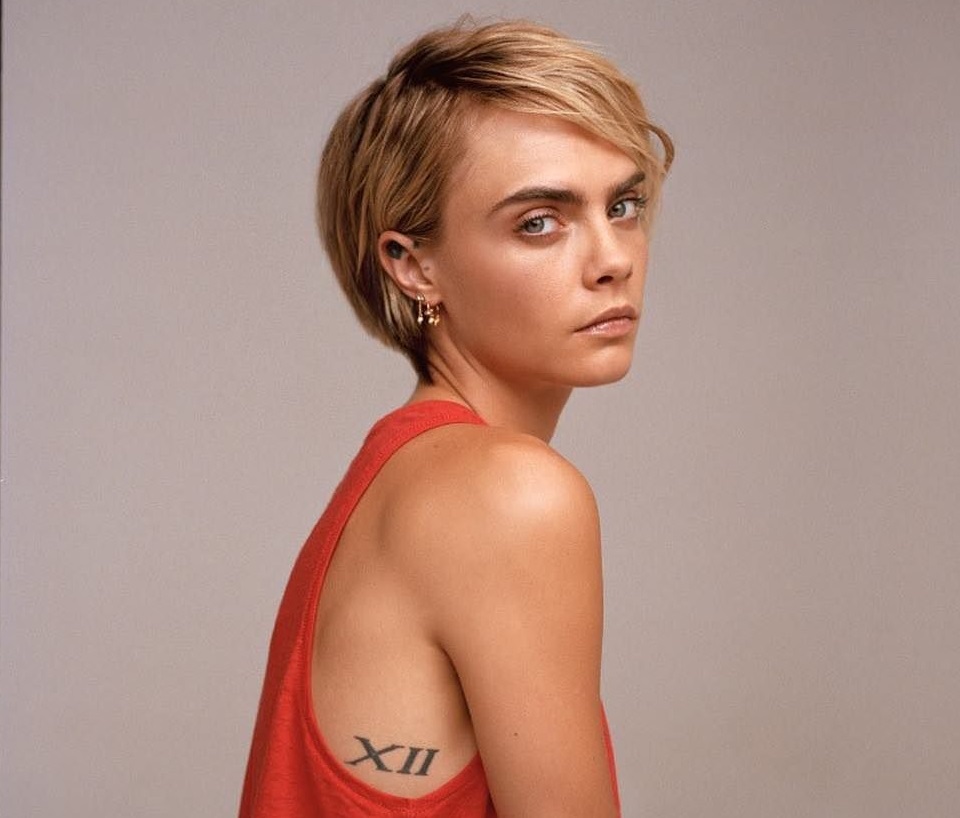 Cara has a couple of tattoos that remind her of her life. This is another good example. The Roman numeral XII for the number 12 makes an appearance on her right ribcage. It is her birth date, August 12, 1992.
Cara also considers the number 12 her lucky and magic number.
Pandora
Location: her bicep
For her fourth tattoo, Cara chose something about her family. She inked her mother's name, Pandora, on her arm. She went to Bang Bang's studio with her friend Rita Ora. During that trip, Rita got a tattoo of an Alberto Vargas pinup girl. And Cara got the name Pandora inked on her bicep.
Made in England
Location: left foot
Cara is an English model. Born in Hammersmith, London, she always felt England was her home. And this tattoo is a representation of how she feels like a model.
Speaking about the tattoo, she explained, "You're looked through, you're not looked at, you are treated as a kind of mannequin. I got a tattoo saying Made in England above my foot to represent that, that I felt like a doll for so long. Because you are just a kind of puppet, you know, entertainment. You kind of feel that you need to have no soul really, to do that job, a little bit."
Bacon
Location: left foot
When you think of models, you usually think of healthy food. You do not think of bacon as part of their diet. But Cara loves bacon. She has the word Bacon on her left foot to show her love for the food.
In one interview, she said, "The tattoo was inspired by my love for bacon, obviously. I think of bacon every five seconds. It's the meatiness. I love the salt. Bacon is love to me. Bacon will always love me back. It's unconditional."
Toemojis
Location: Bottom of toes
Let's finish off our list of Cara Delevigne and her tattoos with her matching tattoo with Margot Robbie. The director of Suicide Squad, David Ayer, allowed members to ink the word SKWAD on various body parts.
But Cara wanted something different. She went to Bang Bang's studio with Margot Robbie and got matching toemojis, the art of a smiley face on the bottom of their toes.