Cardi B has a reputation of "not holding barred delivery and commitment to authenticity". That is the image she built for herself. And she displays the same attitude with her tattoos. Cardi B rose to prominence instantly.
She is a perfect example of a true overnight sensation. One day, she had a regular job, and the next day, she rose to the status of a viral sensation.
The singer and rapper rose to prominence in the hip hop industry in 2015, after several of her videos surfaced online. Since then, she has released a couple of hit singles on Billboard and iTunes chart. And thanks to her savvy business decisions, the rapper has amassed more than $30 million in net worth.
Famous for her aggressive flow and bombastic style, Cardi B has tattoos that can rival almost any other celebrity. Her inks are a topic of conversation between her fans.
Today, we will talk about her epic and unique collection of tattoos. The Grammy winner has ink on almost her entire body. For example, her vibrant floral design goes from her shoulder to her legs, finishing with a massive peacock covering her side.
She has tattoos on every part of her body. And like the rest of us, the singer also has a few inky regrets. After all, we all have them. You tattoo the name of your current partner, and the two of you end things after a while. For example, Justin Bieber got a portrait of Selena Gomez on himself. And the two have since parted ways.
Cardi has more than 10 tattoos on her body, but we will focus on her best ideas.
Loyalty Over Royalty
Location: Right bicep
Cardi B hasn't provided an explanation for this one. But we can guess it, right? After struggling to make it to the top, Cardi B definitely values the loyalty of her friends. And thanks to her nature and personality, we can guess that she says what she means.
Butterfly
Location: Upper back
To this day, the name "Samuel" remains a mystery. Nobody knows his real identity and what he had with Cardi B. But judging from what she said in an interview with Ellen, he had a relationship with her. Cardi said, "I have, like, three different men tatted on me, you know what I'm saying? They gotta go!"
But after a while, Samuel did go. And Cardi covered his name with a brilliant colorful butterfly. She revealed the cover-up on her Twitter account, saying, "I never showed ya my cover tat.…What ya think?"
Flower Piece
Location: the entire body
We cannot give you a precise location of her elaborated flower piece. It is her biggest tattoo. And it flows down her left side from the back and ribs, down past her butt, and to the back of her thigh.
Californian tattoo artist Jamie Schene, inked the design on her body. He utilized colored flowers, some classic designs, including magnolias, peonies, and lilies.
For this tattoo, Cardi B and the tattoo artist used full saturated and vivid colors. And with a variety of orange and red, her tattoo got a great pop of color.
Colorful Peacock
Location: right side
This is another massive tattoo on her body. Located on her right side, the peacock tattoo starts above her waist and extends all the way past the thigh.
Cardi B hasn't shared the explanation about the peace, but we can surely say the tattoo represents a perfect combination of her top style and love for bold colors.
Hennessy
Location: arm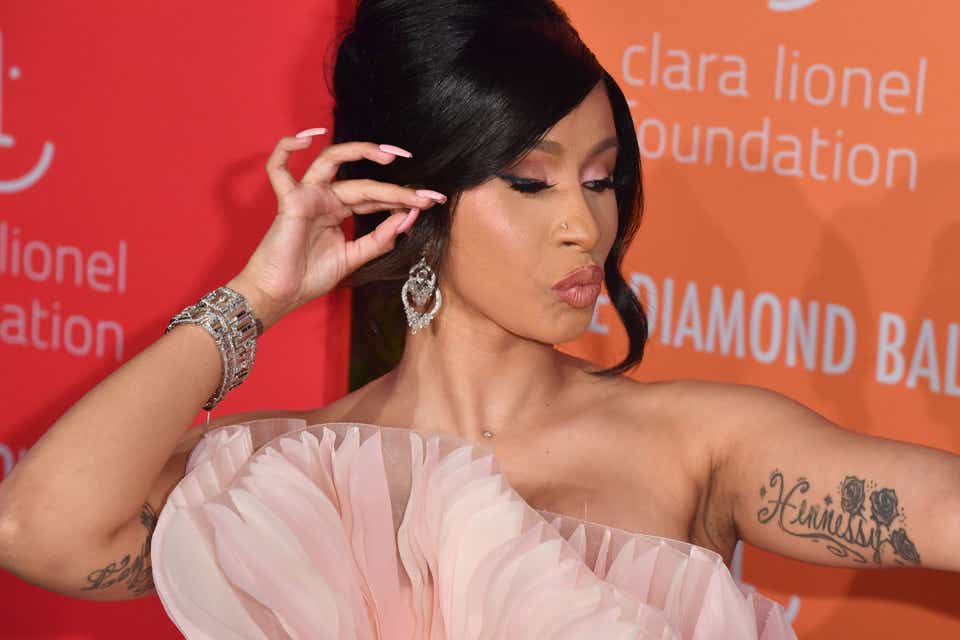 Cardi B inked the name Hennessy on her arm. It is the name of her sister. She has it printed in large black cursive. Cardi also added some floral decorations to the name.
The full name of her sister is Hennessy Carolina Almanzar. In 2020, she got accused of assaulting, defaming, and battering people who gathered on a New York beach. One of them wore a MAGA hat.
Offset
Location: leg tattoo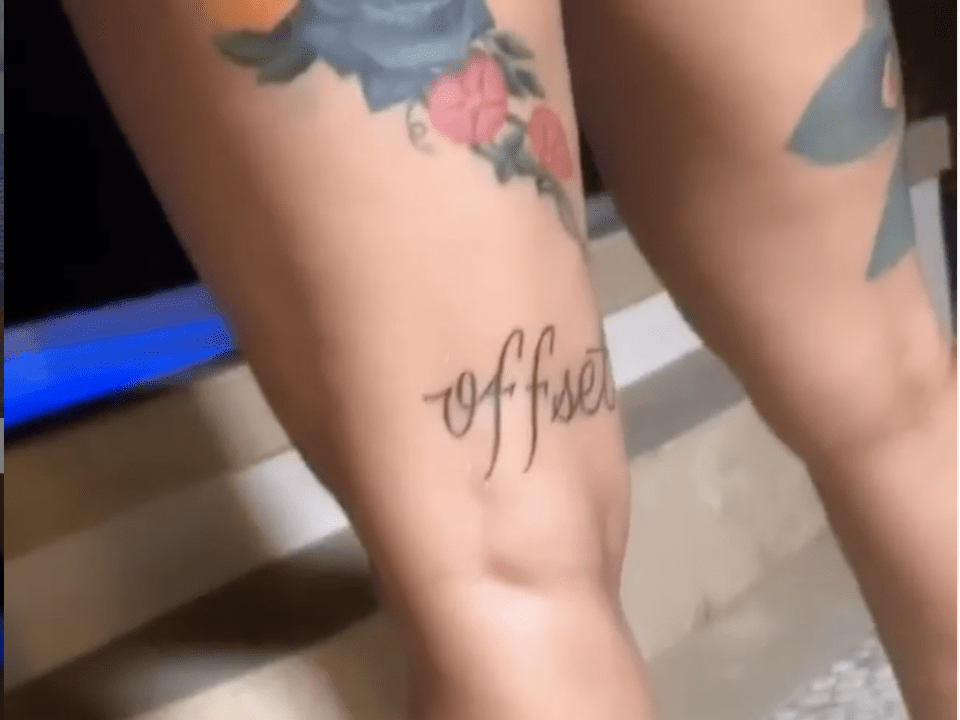 This is another of her ex-partner's tattoos. She has the name of her husband, Offset, inked on her leg. Located just below the floral piece on the hamstring part of the leg, Cardi showed off the tattoo on her Instagram account.
Tommy G
Location: left wrist
Cardi B dated Tommy Geez while she worked as a cast member on Love & Hip Hop: New York. The two dated for a while, but went their separate ways in 2016.
But you can still see the faded ink of his name on the underside of Cardi's wrist.
I Love You + Red Star
Location: behind her ear
This is the smallest tattoo Cardi B has on her body. It is just a fine-line drawing of "I love you" in sign language. A star complements the design.
Cardi B tries to support people with disabilities in many ways. Besides her I Love You tattoo, she also performed the track WAP in sign language together with Megan Thee Stallion. The video of that performance went viral.
Belkis
Location: right wrist
We all recognize the singer as Cardi B. But do you know her real and full name? Born as Belcalis Marlenis Almanzar, the American rapper spent her childhood in Bronx, New York City. Born in Manhattan, Cardi B rose to internet celebrity in 2015.
The tattoo Belkis is a reminder of her original name. Cardi B achieved popularity on Vine and Instagram. She has never spoken openly about this tattoo. But fans speculate that it is a play on her own first name.
Cheetah
Location: hip bone
You might have a hard time finding this tattoo. That is because you have a huge floral tattoo around it. Cardi displayed the cute cat, which many assume is a cheetah, during her 2019 Billboard Music Awards performance.
In most pictures, you will have to zoom in and find the image of the cheetah next to the flowers on her side.