We all know that one of the best food combinations there can be is when we mix chocolate with coconut – true heaven! There are all kinds of sweet treats to try, from bars and cakes to snacks and parfaits. No matter if we are celebrating something or just want to eat something really delicious, this combination is worth eating every day.
Maybe not for our figure, but the sweet tooth will be satisfied with this kind of desserts for sure! If you never tried cooking something like this on your own, or you want to indulge in it again, here's a list of ten amazing recipes that include milk, dark and white chocolate.
1. Dark Chocolate Coconut Macaroons
The famous macaroons that we all love don't need to have a circular and colorful shape to be delicious. These are great as well! You need coconut milk, honey, unsweetened coconut flakes, vanilla, and egg whites for the macaroons. You need coconut oil, cocoa powder, honey, and flaked sea salt for the dark chocolate glaze. Your macaroons will be already in about 40 minutes, including the preparation and the baking process. The recipe will get you about 20 macaroon cookies.
2. Chocolate Coconut Macaroon Donuts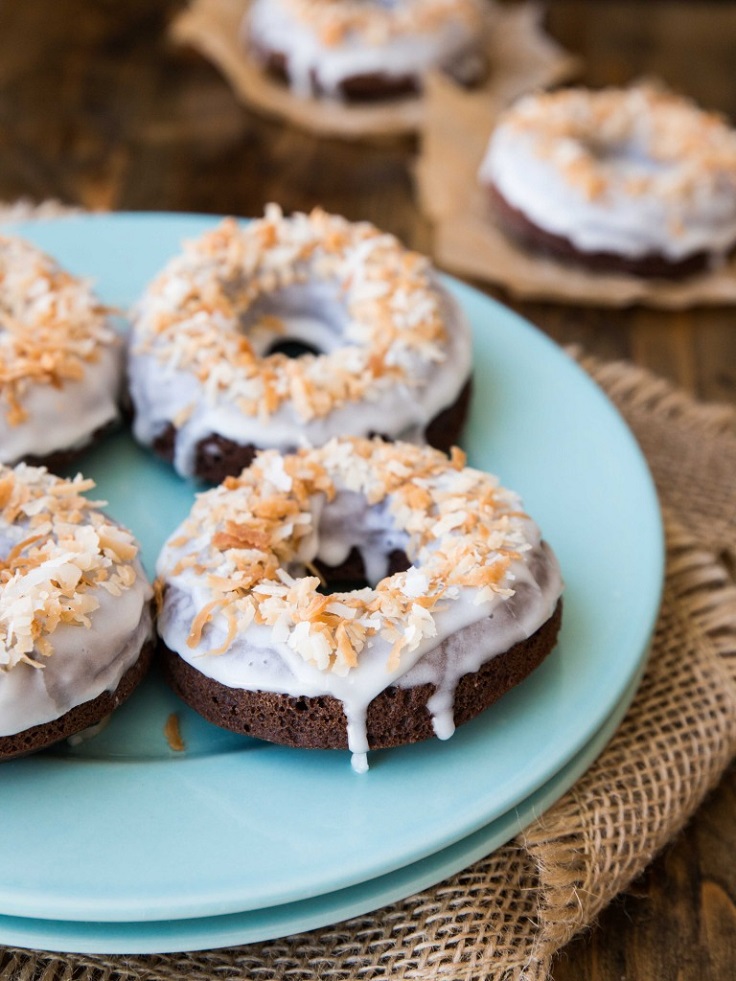 via veggieandthebeastfeast.com
Again with the macaroons, but this time we are only talking about donuts. Moist, creamy, chocolate coconut donuts! You will definitely taste a lot of coconut in these donuts because they contain light coconut milk, coconut oil, and coconut extract in the donut dough, plus toasted coconut is used as a topping. If you want to taste more chocolate, you can make a chocolate glaze instead of powdered sugar and milk. The recipe will get you about six donuts, which are ready in 20 minutes.
3. White Chocolate Coconut Cake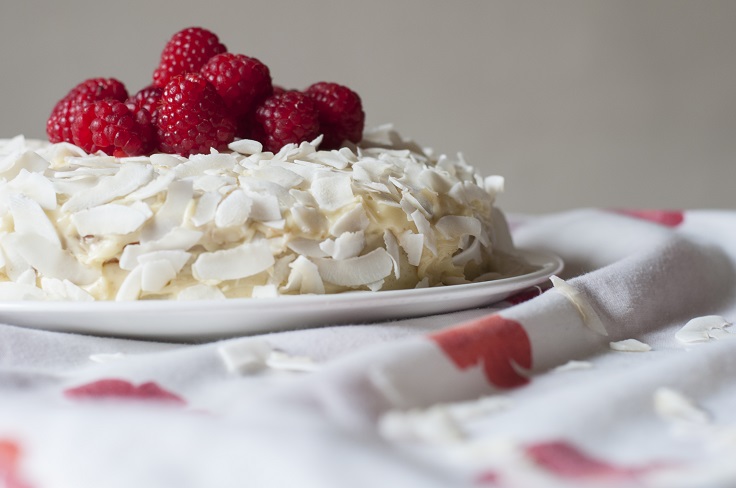 A simple cake consists of coconut and gluten-free self-raising flour, coconut milk, sour cream, butter, eggs, caster sugar, vanilla extract, and lemon. Simple ingredients, but oh so delicious! On the other hand, the glaze is also amazing. It is made of (preferably) high-quality white chocolate, double cream, fresh raspberries, and coconut chips. This is how you get to your personal coconut heaven in an hour or less!
4. Coconut Chocolate Cream Cake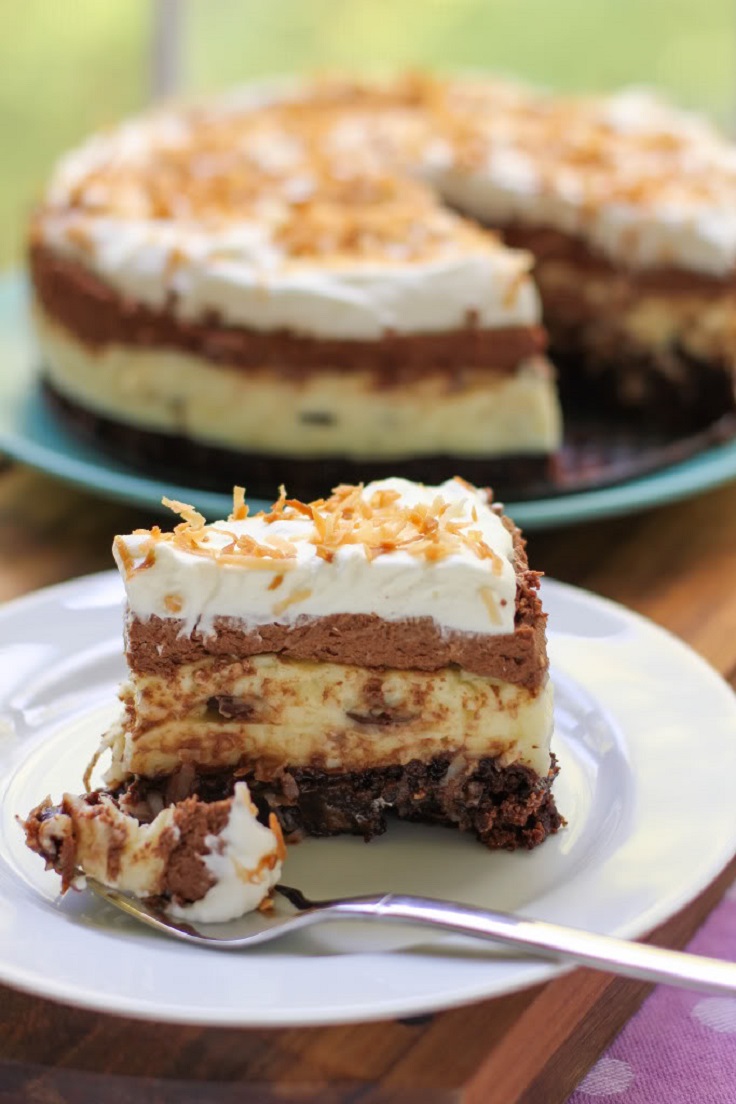 If you are looking for a dessert that will include a brownie bottom layer and layers of chocolate mousse, coconut and whipped cream, toasted coconut, and chocolate bits, then you just found it. Yes, this cake is perfect! It's easy to make it, you just have to carefully go through the instructions, but it will take some time to have the best results. The cake will be enough for 10 – 12 servings.
5. Dark Chocolate Coconut Bars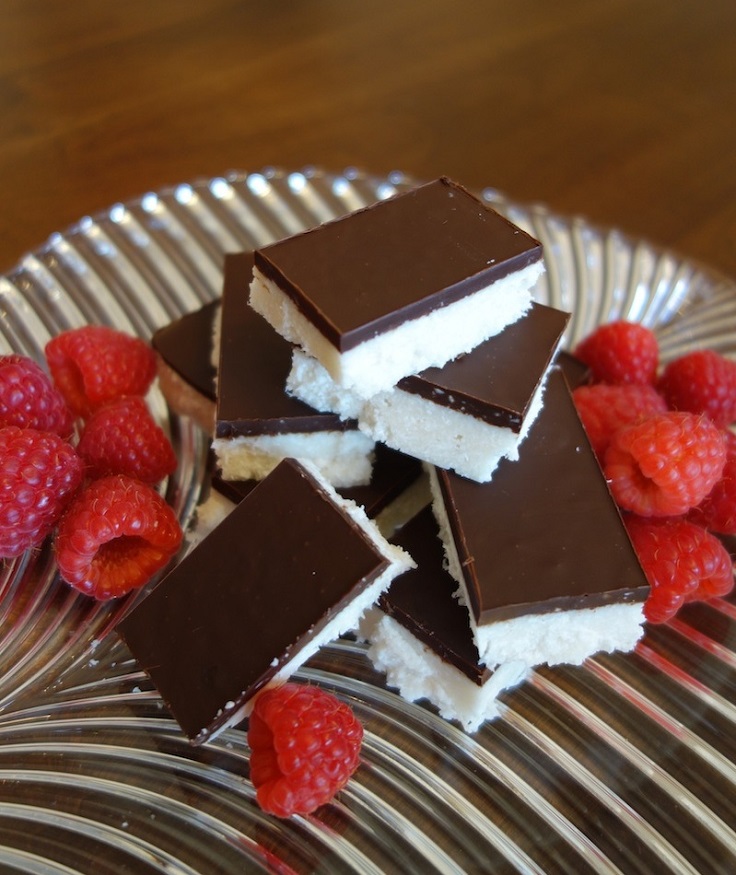 The dark chocolate coconut bars are amazing gluten, grain, and dairy-free, paleo dessert that is all done in 15 minutes. To make them, you only need five ingredients, and those are coconut oil and coconut butter, shredded coconut, vanilla extract, and organic soy-free dark chocolate. This will make about 10 servings. A little note before you start purchasing the required ingredients: Before baking the coconut mixture, you can make it sweeter by adding some honey or maple syrup.
6. Double Chocolate Coconut Muffins
via bromabakery.com
Muffins are always a good idea. These are ready in 35 minutes, and the recipe serves 9 muffins. Preparing them is really easy. Mix separately dry and wet ingredients and then combine them and fold in chocolate chips. Then you can place them in muffin tins and bake them. Before you add the coconut icing on top, leave the muffins to cool for at least 15 minutes. After you add the icing, top every muffin with toasted coconut flakes.
7. White Chocolate Macadamia Cookies with Coconut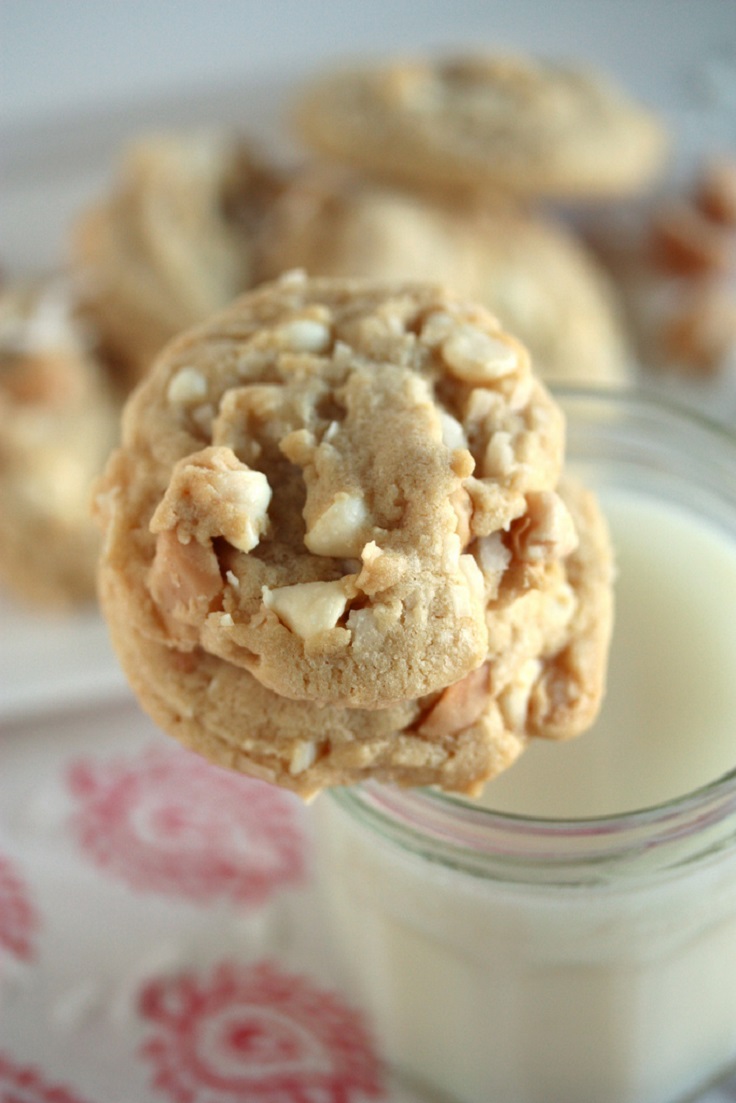 Time for some white chocolate dessert again. The brown butter white chocolate with macadamia and toasted coconut are a perfect way to start your mornings over a cup of coffee or milk. They are done in about 45 minutes, including the preparation and the baking process. You'll get 24 cookies, which will be eaten in no time! To prepare them, you need baking soda, flour, brown sugar, browned butter, eggs, sugar, white chocolate chips, chopped macadamia nuts, and toasted coconut.
8. Dark Chocolate Coconut Truffles

As a small dessert, the truffles are really addictive, and one can never be enough. So, make sure to have a whole plate of them… Just in case! To prepare this chocolate coconut truffle, you need oven-toasted oats, walnuts, goji berries, raisins, dark cocoa powder, almonds, extra virgin coconut oil, pure vanilla extract, and shredded coconuts. Sounds delicious, right?
9. Chocolate Pudding Pie with Coconut Cream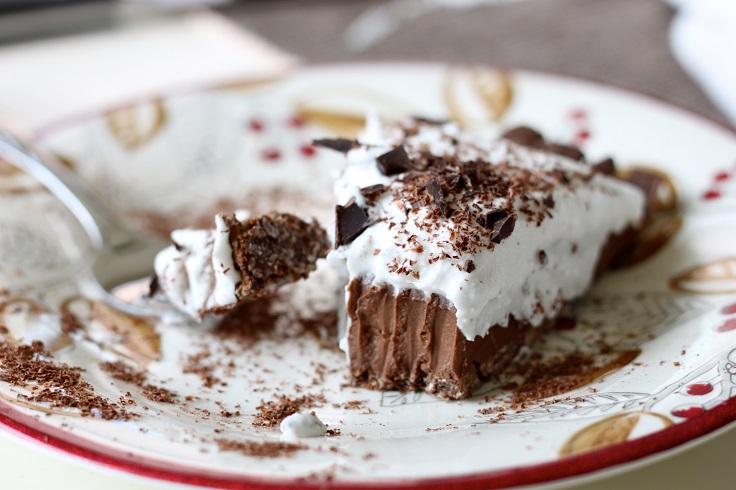 via thediva-dish.com
This pie is made of chocolate crust, chocolate filling, and creamy coconut topping. It's really simple when it comes to making the chocolate crust and the chocolate filling. When preparing the creamy coconut whipped cream, it's recommended to buy high-quality coconut milk and beat the ingredients well. Before serving the pie, you can add chocolate shavings or chocolate chips.
10. Samoa Fudge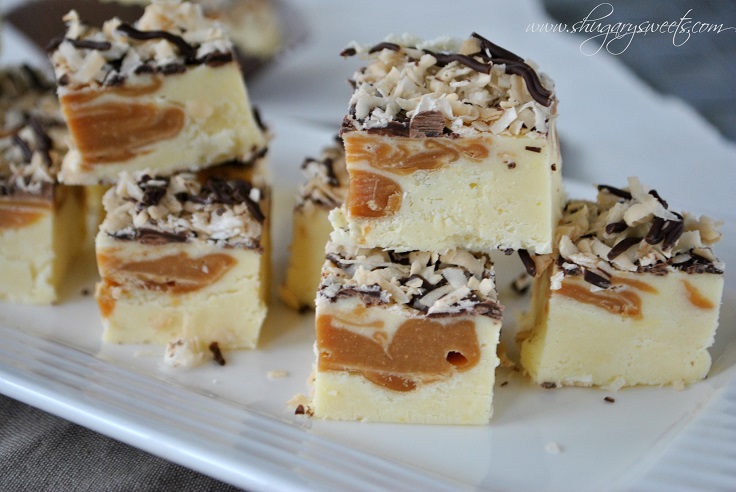 The Samoa fudge is really easy to make! You just need coconut pudding mix to give the fudge white chocolate and a creamy coconut flavor. Then, it's always a good idea to add some chocolate topping and toasted coconut flakes. Leave it in the fridge before serving them. The Samoa fudge is a great way to satisfy your sweet cravings. Call your friends and share it!