French pancakes, or as they're called crepes, are certainly one dessert that everyone should try at least once in their lifetime. We believe that once you try them, you won't stop there! No matter if they're chocolate-filled, topped with jam or honey, the crepes taste amazing.
Besides eating them just like that, you can use the crepes to come up with a cake. What you do is layering with crepes and filling in between with any sauce or cream you love, and then even top the cake with extra ingredients. It all depends on your taste, but we definitely recommend you to scroll down and check these ten delicious recipes we chose for you!
1. Tiramisu Crepe Cake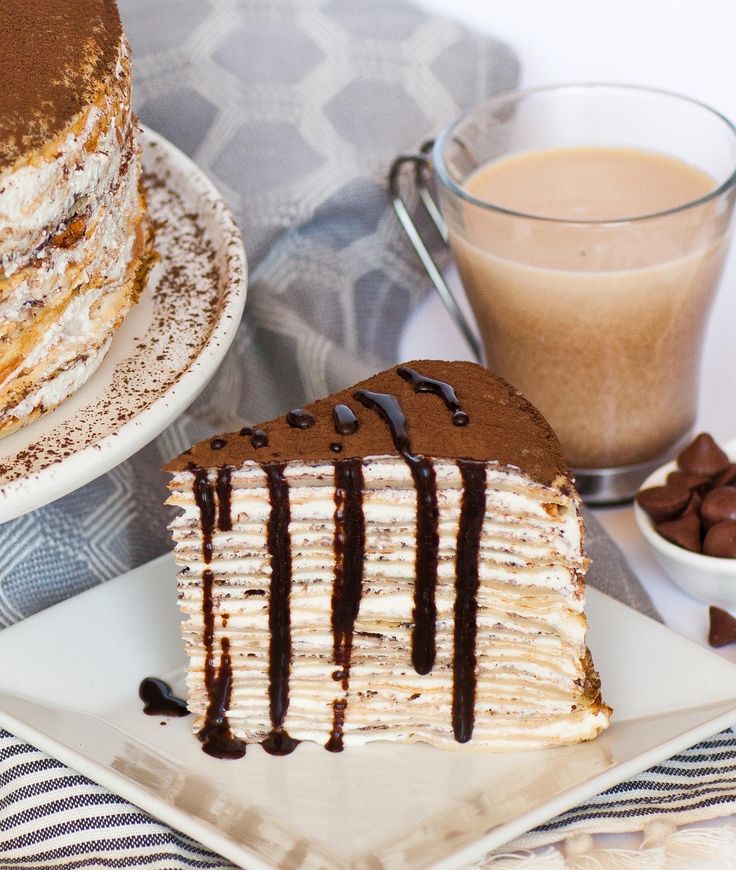 Tiramisu is one of the Italian recipes that every dessert lover should try – it is truly a must! The coffee-flavored, creamy dessert can be easily adjusted to other recipes outside its original form, and it's equally delicious. The tiramisu perfectly fits the crepe cake, and for those who like to make things chocolate-y, you can drizzle over some chocolate sauce and add more whipping cream to the cake!
2. Lemon Ricotta Crepe Cake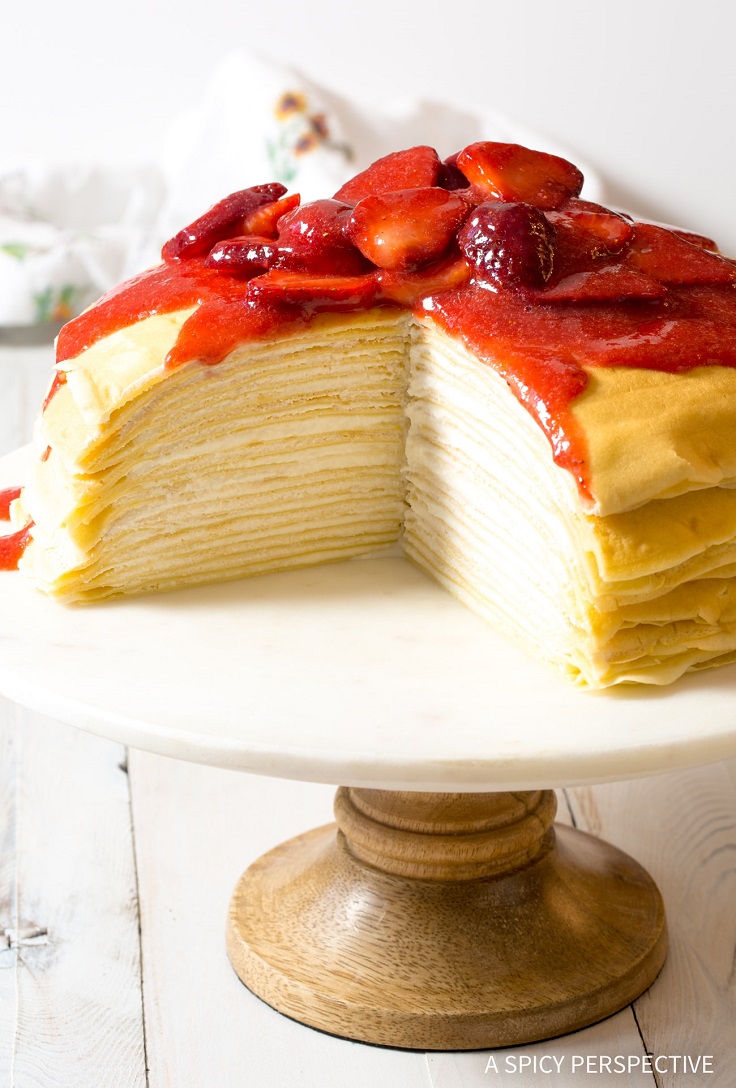 The lemon ricotta crepe cake is the kind of dessert you want to eat at the end of the day. Just one piece of this cake won't be enough because of its deliciousness! What makes this crepe cake so delicious is the ricotta cream filling and the strawberry sauce on top. This amazing recipe will get you 12-18 slices, and you'll need about an hour to have the crepe cake all ready to be served.
3. Coconut-Lemon Crepe Cake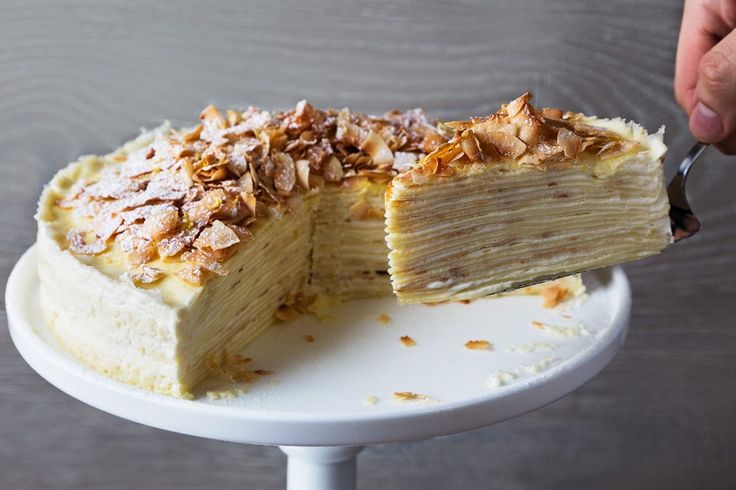 via tastingtable.com
Coconut and lemon is another well-known combination, and it's going to make the perfect crepe cake! It takes 50 minutes to be ready, plus some chilling time. This is the perfect dessert for anyone who especially loves mascarpone – it makes the cake creamy, soft and blends so well with the rest of the ingredients. Top the cake with coconut flakes and some lemon zest – it's going to make the cake even better!
4. Nutella Crepe Cake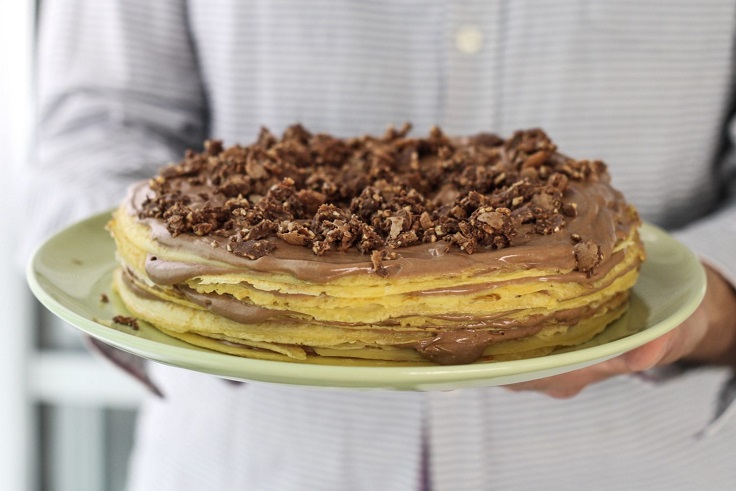 What's a crepe cake without Nutella? This is the perfect recipe for the Nutella fans, or generally for everyone – let's face it, who can resist such dessert? What's making this crepe cake even better is the topping it has – crushed Ferrero Rocher chocolate candy, which gives certain crispiness to the already soft and creamy cake. If you don't have this chocolate candy, you can use whatever you want; we're sure it will taste just as good!
5. Layered Raspberry Crepe Cake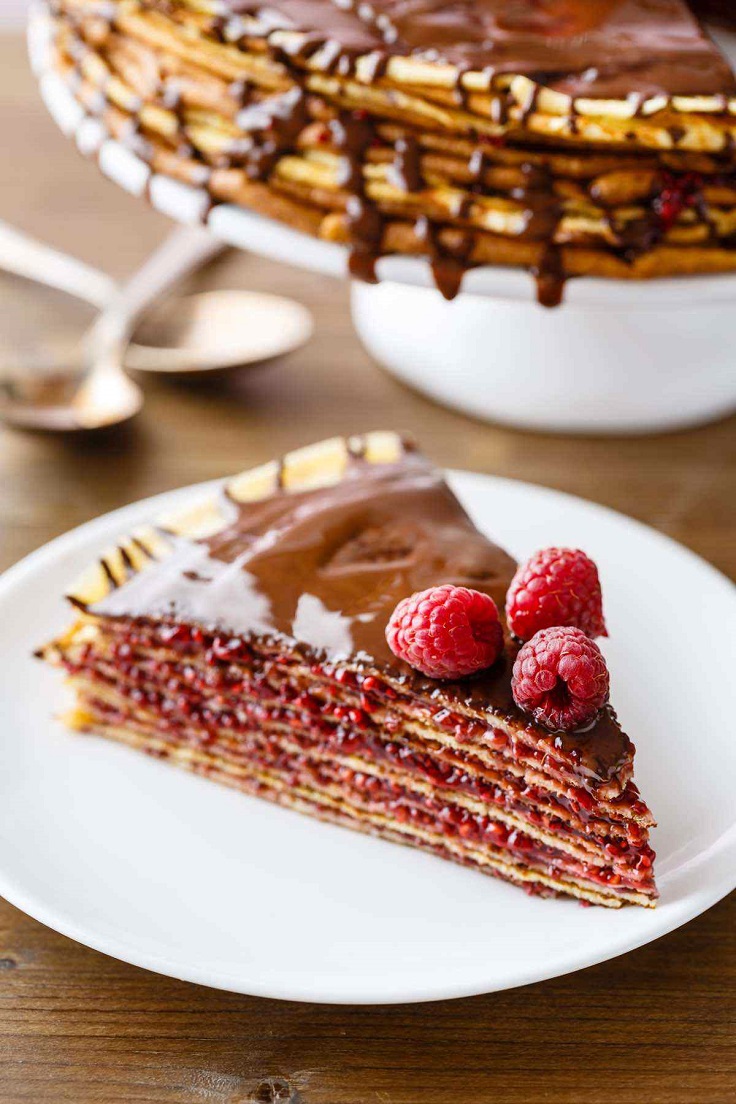 via paleogrubs.com
In case you're living the paleo lifestyle, here's a crepe cake that will fit your criteria. Plus, if you have any homemade jam, this is an amazing opportunity to use it. Besides the jam, this crepe cake contains chocolate glaze made out of paleo-approved ingredients. Since there is plenty of raspberry jam between the layers, if you want to add some more fresh fruit, feel free to use more for garnish.
6. Orange Cinnamon Spiced Crepe Cake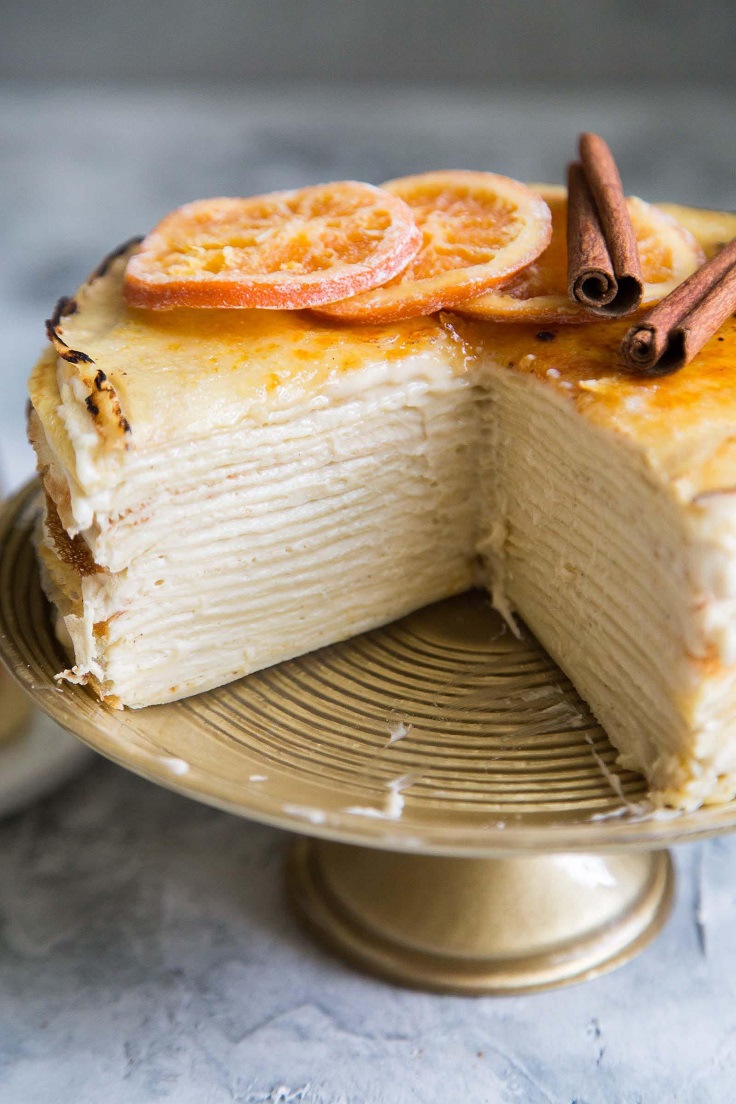 Wow, this is the kind of cake you want to have for celebrations! Not only it tastes good, but it also looks good! We're sure that everyone would love to have at least one piece of this amazing orange cinnamon crepe cake. The special thing about the cake is exactly the pastry filling with cinnamon-spiced tea. Make sure to chill the cake two hours prior to serving, and if you feel like decorating it, sprinkle sugar on top and caramelize it with a torch.
7. Banana & Butterscotch Crepe Cake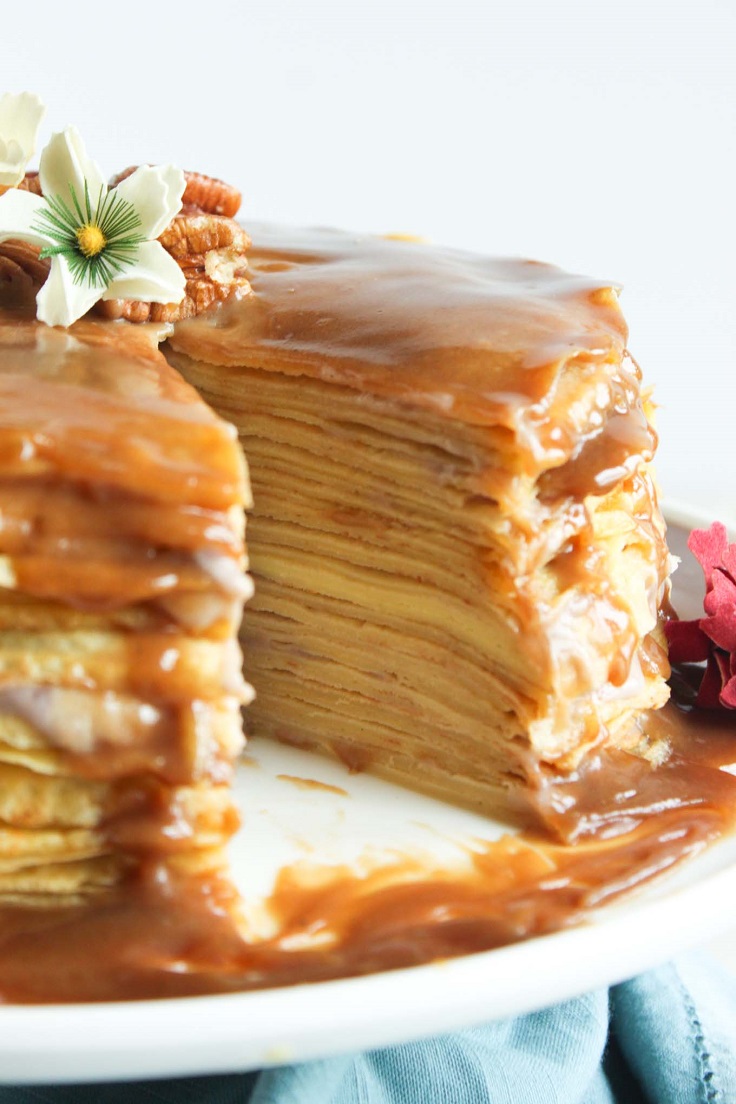 Wow, this crepe cake really fascinates us with the way it looks, and we're certain we're going to feel the same for the way it tastes. The cake is ready in less than an hour, and it represents an amazing combination of banana cream and butterscotch sauce. Pour over the cream and sauce on top if there is left after filling out the layers. Store the crepe cake in the fridge before you serve it!
8. Crepe Cake with Vanilla Custard Cream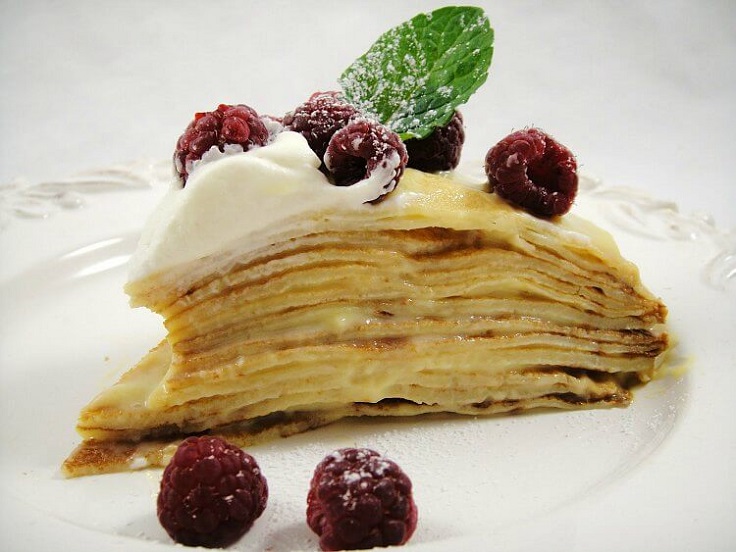 If you're looking for a simpler recipe, one that doesn't include too many sauces or creams, this is something you should definitely try out. Although simple, this crepe cake still is very delicious thanks to the vanilla custard used as a filling. You can use raspberries or any other fresh berries and whipped cream for garnish. It's definitely something that no one would refuse!
9. Chocolate Crepe Cake with Pumpkin Mascarpone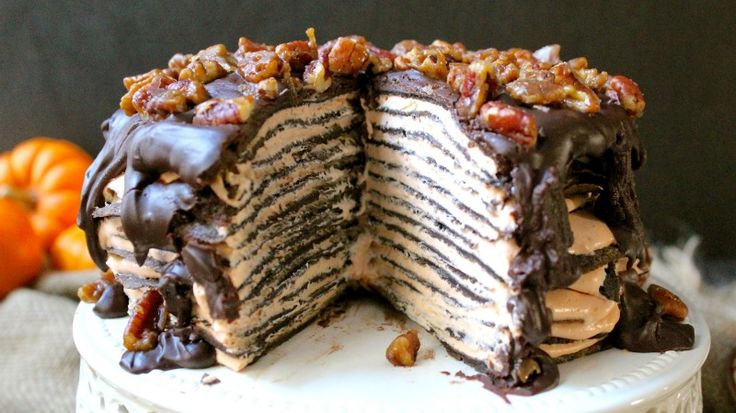 via ingoodflavor.com
This is the kind of crepe cake you want to wait for you in the kitchen after a long, hard day at work! This crepe cake requires a little bit of work and time in the kitchen, but it's so worth it. You need to cook the crepes, prepare the pumpkin mascarpone filling, the chocolate glaze, and the candied pecans for garnish. When all these go together, you come up with an awesome cake!
10. Strawberries and Cream Crepe Cake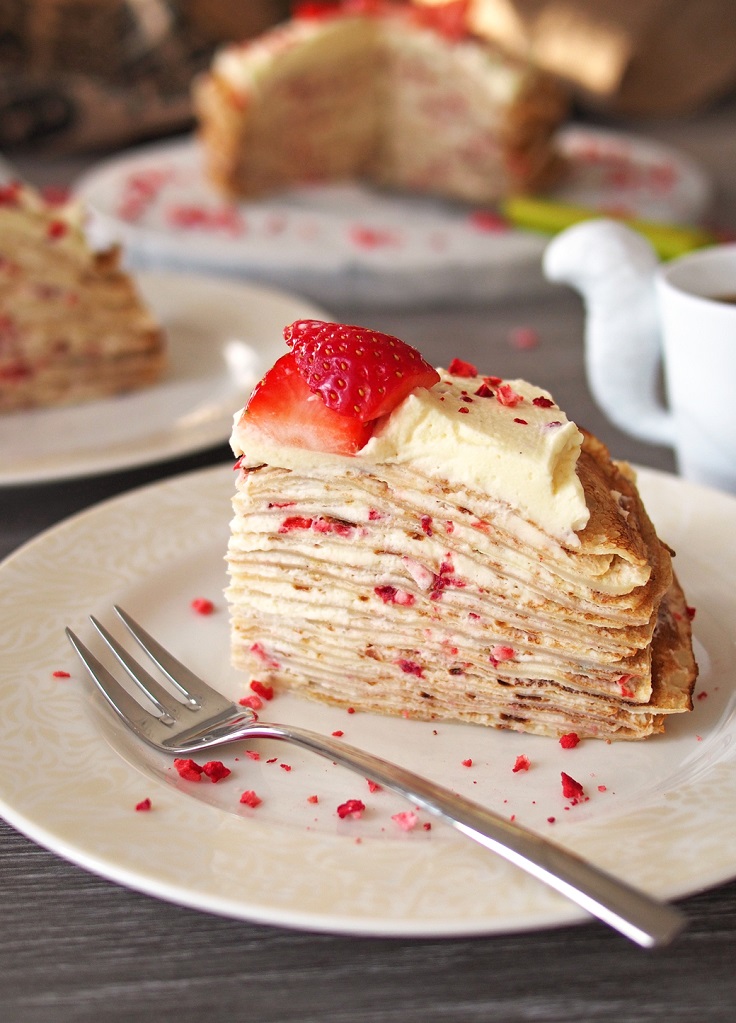 via theworktop.com
Strawberries and cream, what a classic dessert recipe! It's very easy to prepare it, and it's something that everybody loves. You can do no wrong with this crepe cake! It's ready in less than two hours, but all the waiting will be so worth it when your sweet tooth gets what it craves. For extra deliciousness, top the crepe cake with strawberries and whipped cream.