Hay Dreamers and Fashion Girls!! Today we have for you ten curly hairstyle tutorials for all of you who have a curly hair. Maybe for you curly hair is a problem and want to have a straight hair, but don't sorry for curly hair anymore. We have some interesting and inspirational solutions for you.
For example, braids for curly hair tend to be a little bit tougher to control than braids for straight hair. As someone with fairly uncontrollable curls, we've learned what works well and what doesn't.
In the sweltering summer heat, braids are a fantastic way to keep your hair from plastering itself to your head while looking either casual or chic! Try these braids for curly hair and you can tame your curls in no time!
According to us, curly hair has its own beauty, which straight hair doesn't have. The wave hair has an amazing effects even if you don't make some hairstyle course, so you can make it look tremendous straightforward and quick, and these 10 tutorials will help you learn how.
So, look below the gallery, choose your style and let's sparkle with your curly hair. Enjoy being yourself!
1. The Braided Chignon
This is one of those styles that you can make sleek and classic, or soft and romantic. Throw on some red lipstick and a necklace (and also some clothes, of course!) and go nail that party! For a little more advanced braiders, try this with a fishtail.
2. Twist and Pin Up-Do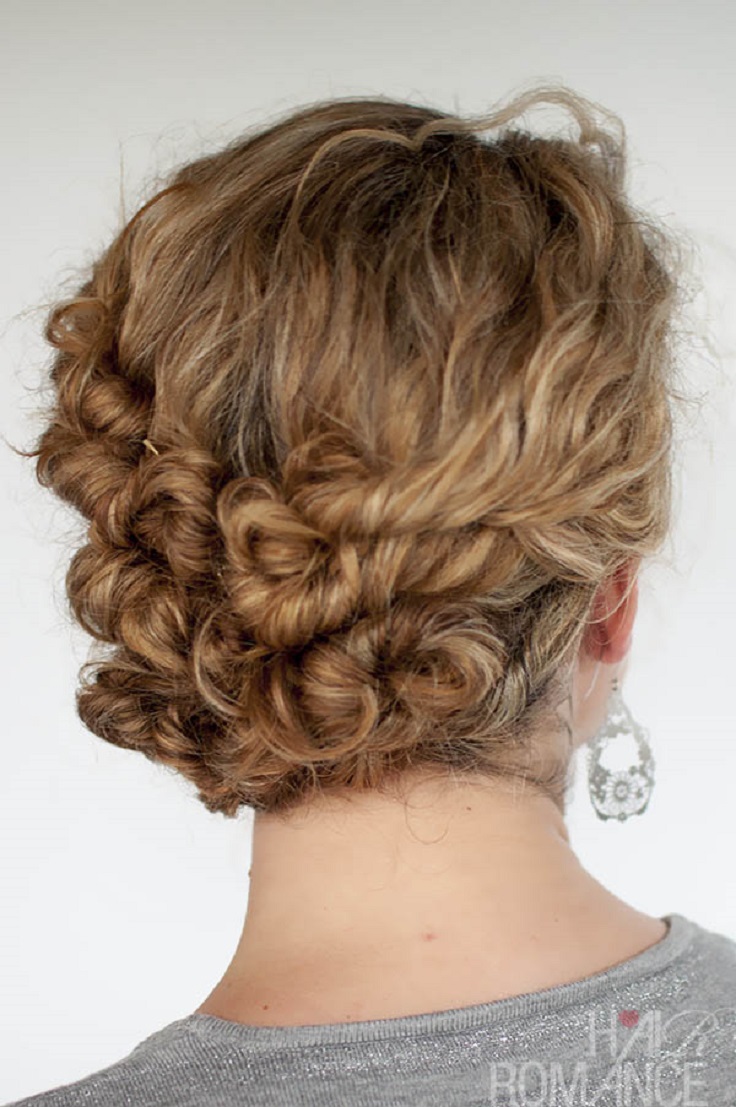 This one's for you. Hair Romance's Christina — whose locks are deliciously curly in their natural state — teaches you how to create this oh-so-pretty "twist and pin" up-do. Again, this style is quick and easy to re-create and does especially well on day two hair. All you need are bobby pins, though Christina advises you use them sparingly so hair looks soft instead of structured.
3. Tucked French Braid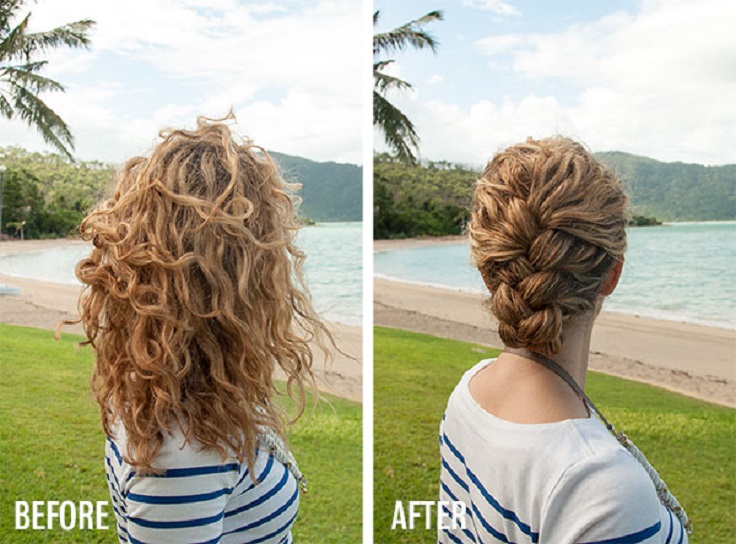 via hairromance.com
This is a fantastic style for hiding away your messy curls. It works just as well in straight hair as in curly hair and keeps your hair up and off your neck. It's perfect for summer days or also in winter when your curls can get knotty as they get tangled with your jacket and scarf.
4. Boho Fishtail Braid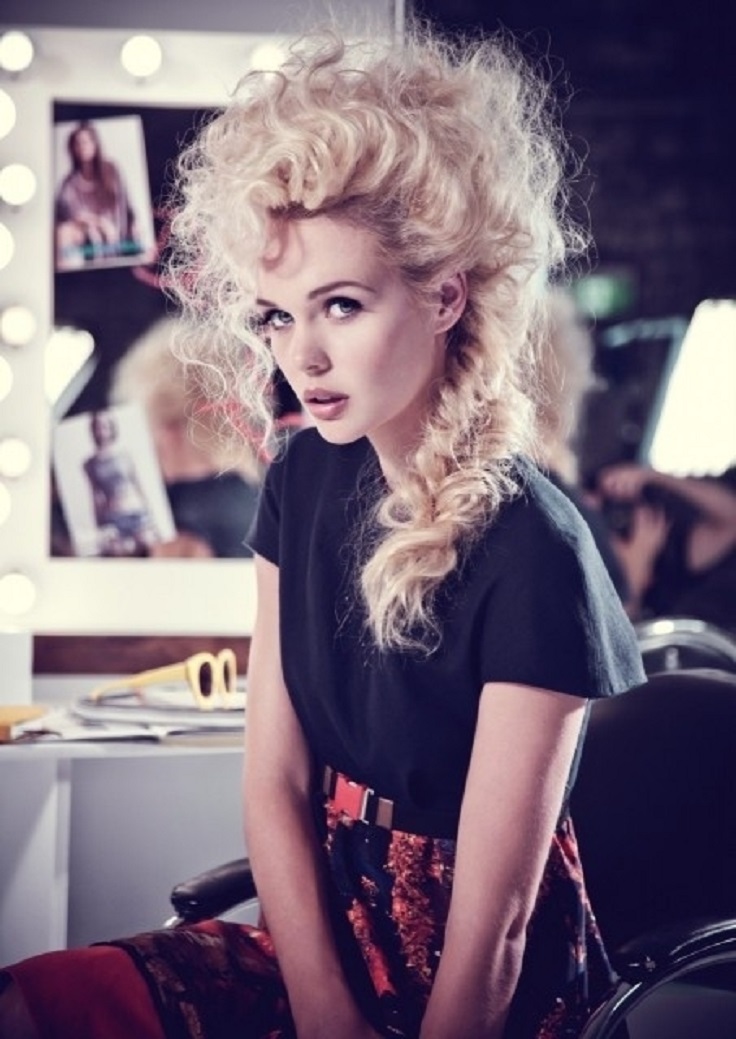 We almost always use fishtail braids as our go-to braids for curly hair. They take a bit longer to accomplish than a traditional braid, but they look fancier and they tend to hold those chaotic curls in place a bit better! For this pretty style, separate your hair into pigtails. Braid one pigtail into a fishtail braid until you reach the halfway point. Take the braid and wind it once around the other pigtail. Now create a fishtail braid with that pigtail, incorporating the first braid's bottom half into the new one.
5. Bold Bouffant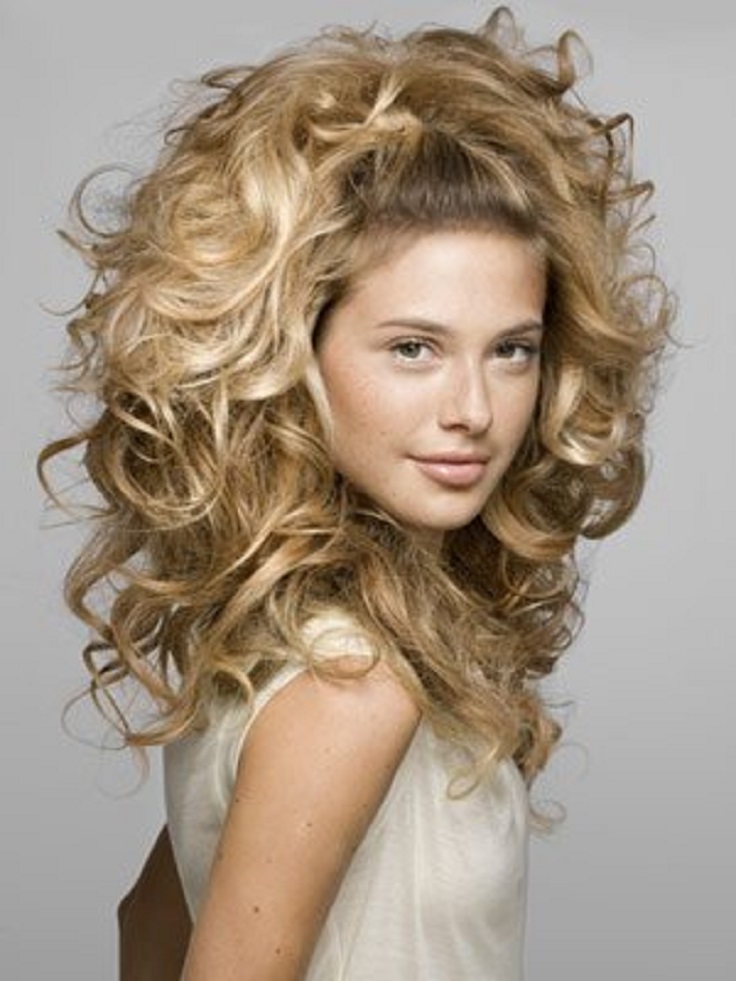 via seventeen.com
For big curls, blow-dry just-washed hair haphazardly until it's almost dry. Then wrap two-inch sections of hair around medium-size hot rollers — you'll need about 12 for this look. Let them sit for 20 minutes. Unwrap them carefully, and brush through to expand curls. Use a round brush to smooth back a three-inch-wide section of hair along your hairline in the front. Brush the piece back tightly and secure on each side with a bobby pin that matches your hair colour. Hold your style in place by spritzing a volumizing hairspray all over — apply it from about eight inches away as you scrunch the ends.
6. Curly Ponytail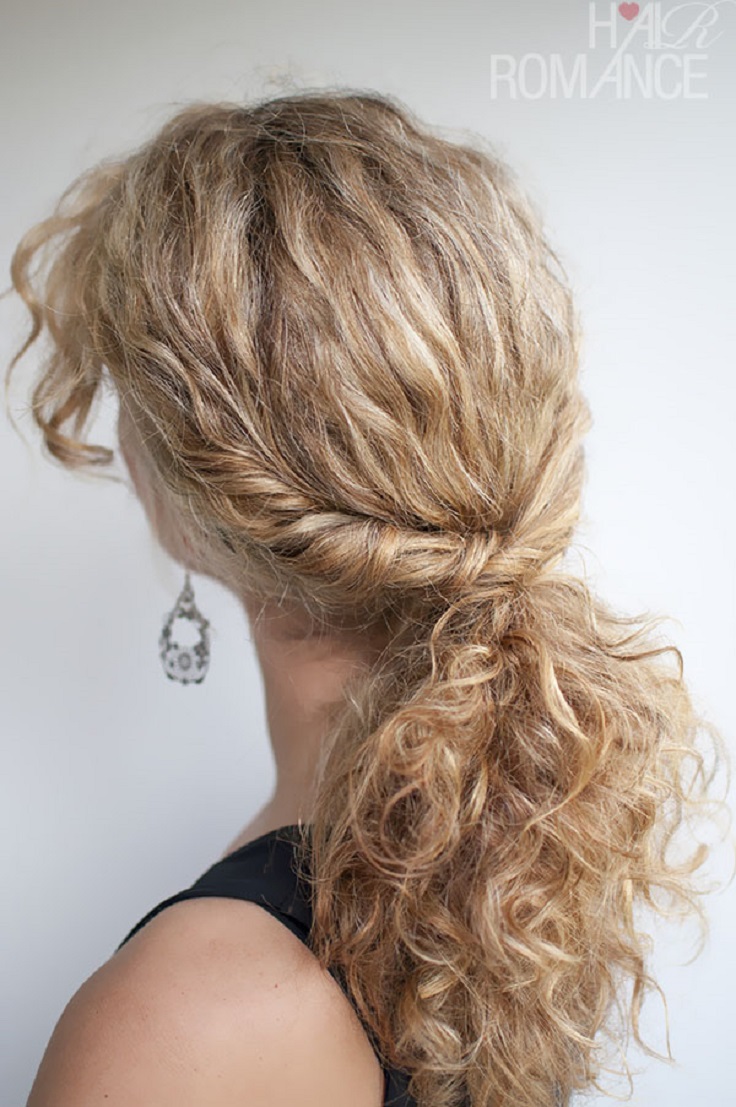 via hairromance.com
For those days when your curls are looking pretty good, but it's too hot to leave your hair out, a simple ponytail is the solution. But a ponytail is not always that easy in curly hair. By the time you've dragged your hair through an elastic it doesn't look so good anymore. Let's face it, how many of us wear a ponytail as a fall-back hairstyle most of the time? But how do you secure your ponytail in place? This simple tool will change how you wear your ponytail.
7. Braided Headband
If you have short hair, and a daring sense of style, this is a great braided 'do for you! You can do this with longer hair too, don't worry! To achieve this style, you start at one side of your head, just above your ear. You will do a half French braid, where you will pick up tiny strands of hair from only the side of your face closest to your forehead (instead of both the forehead and the back of your head). You continue doing this all the way across your head, forming a braided headband with your hair. Secure it behind the other ear and tease out those curls to get the full effect!
8. French Roll Twist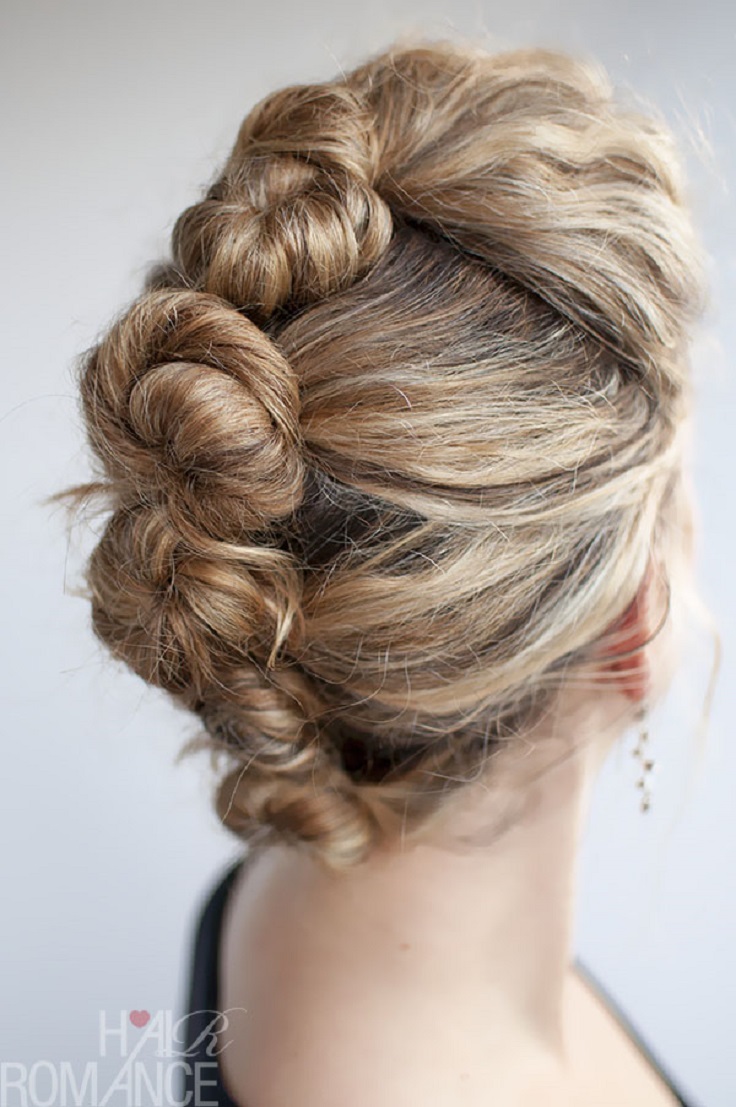 via hairromance.com
Looking for an easy hairstyle to keep your curly hair up and out of the way? The French Roll Twist & Pin is perfect for second day curls. Using the Hair Romance Twist & Pin technique, we wanted to show this hairstyle in curly hair. Often we shoot my tutorials in straight hair but don't think my hairstyles are just for straight hair. They work just as well in curly hair. The only difference is that it's easier for me to shoot a tutorial in blowdried hair. The texture of curly hair can really add volume to a simple style.
9. Romantic Braided Hairstyle
via bellasugar.com
If you're starting off on straight hair (or just want the perfect beach waves), apply a flexible-hold hair spray to your layers before running a curling iron through your hair. This step helps your hair not only hold the style, but also helps with frizz.
10. Curly Side Bun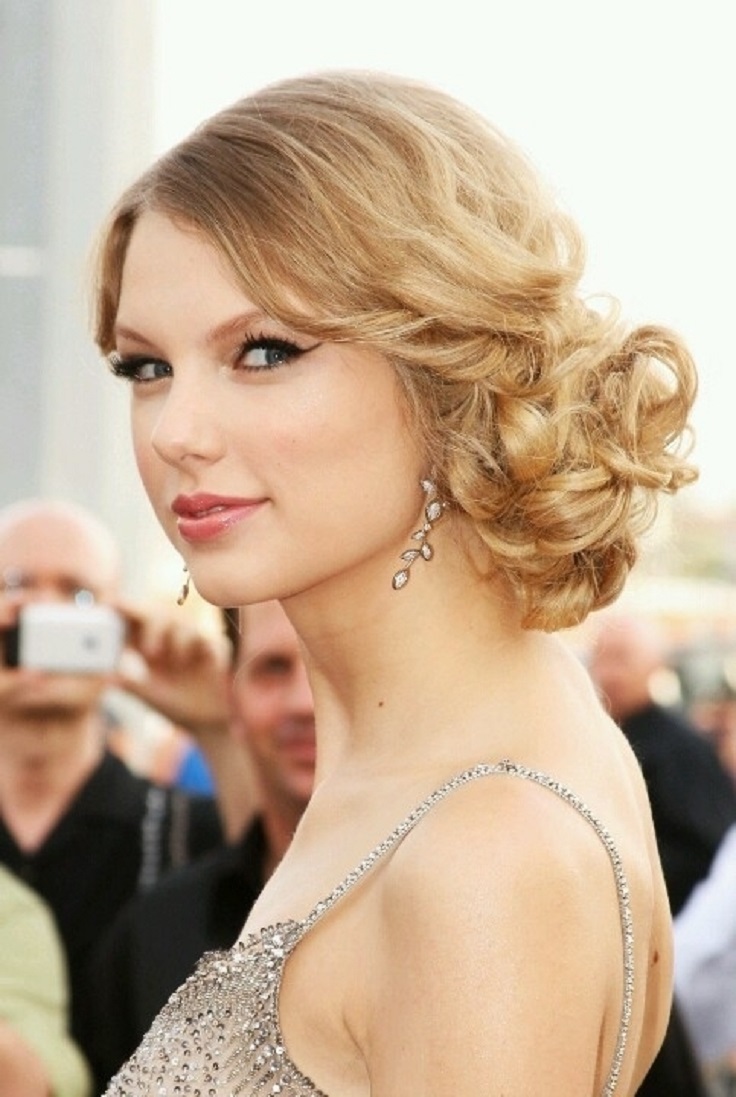 This curly side bun is great for loose curls or waves. Start a traditional braid at one side of your head and loosely braid it across as far as you would like, then pull your curls up into a loose, messy bun. Leave a few curls out to frame your face to add to this feminine look.