Demi Lovato has a lot of tattoos. She has a story for every one of them. There is a reason why many fans consider her an inspiration. Demi tries to inspire people through her music, story, documentary, and her ink as well. Her collection of tattoos cover everything from her fingers to her arms and ribs.
She got her first ink at the age of 16. Since then, she has added more than 20 other tattoos to her collection of bodywork. Every single one of them represents a landmark in her personal history and career. Demi tries to chronicle everything through her tattoos. That includes her career, emotional and physical struggles, addiction, and her successful comebacks.
Most of us recognize her as the cutest star in Barney & Friends. Demi grew up into a successful singer, songwriter, and actress.
Speaking about her tattoos, in one interview, she said, "Well, it is difficult because I lost count. Do you count the 'Stay' and 'Strong'? Do you count the individual birds? And, then, I have feathers connected to an old tattoo, so I have no idea. I have a lot. It could be 10. It could be 20! I have a very, very high pain tolerance."
Here is a quick breakdown of her art.
Dreamcatcher
Location: right side of her rib cage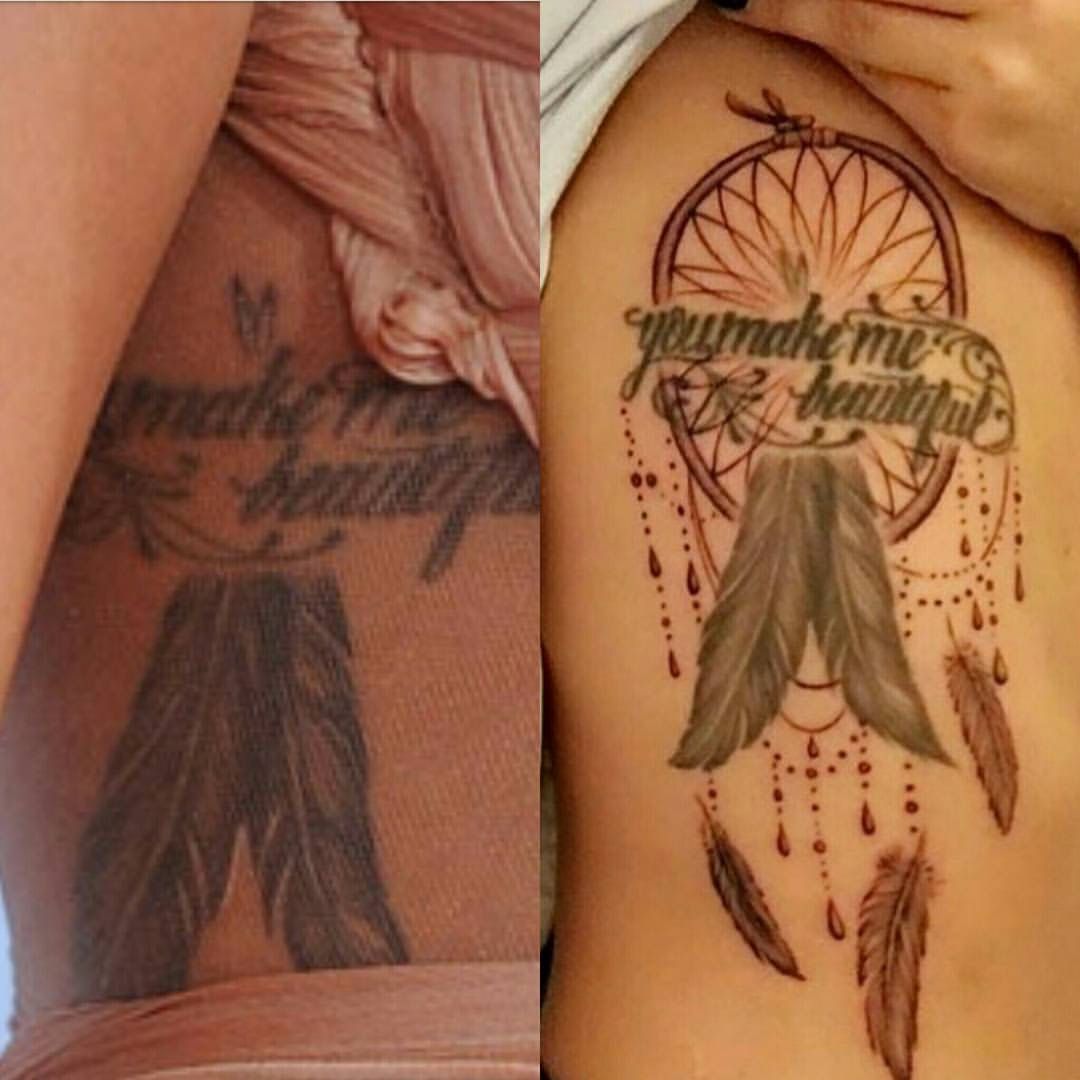 This tattoo began its life in 2008, when she inked the words "You make me beautiful". A little after, she added feathers just below the quote. And in 2016, she went to the studio of Bang Bang and finished the tattoo as a massive dreamcatcher.
The words "You make me beautiful" come from the famous song Beautiful by Bethany Dillon. They serve as encouraging words for Lovato.
And the dreamcatcher added religious meaning to the tattoo and gave her strength. It has some feathers and beads making it a unique design.
III
Location: side of her wrist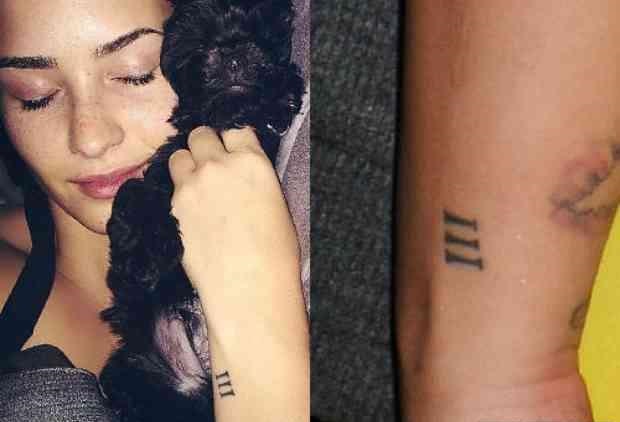 She got the roman numbers for the number 3 after her father passed away in June 2013. Lovato said, "I have the number three in Roman numerals on my wrist and that was a number that was very significant to my birth father because he loved race car driver Dale Earnhardt".
When he passed away, Demi instantly got the number three inked on the side of her wrist. It reminds her of her father. But also, she loves Dale Earnhardt as well. Speaking about the ink, Demi has said, "That is like the most redneck tattoo I have".
Feather
Location:  behind her ear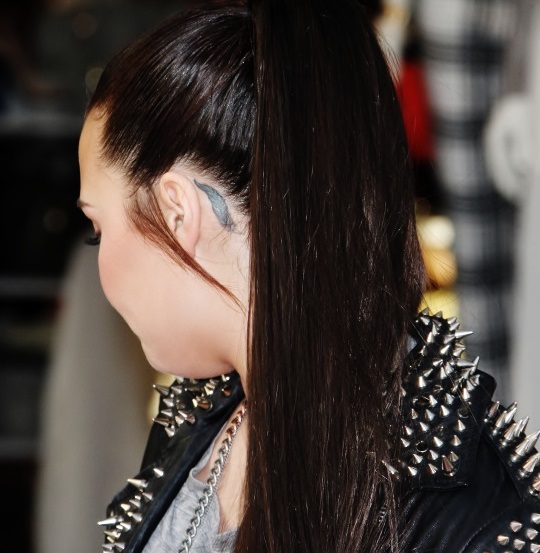 Her dreamcatcher tattoo is not the only one featuring feathers. She has another feather inked on the back of her ear. She got it while on a tour bus for the Warped Tour festival back in 2010.
And this is one of the inks that have no meaning for her. Demi got it because it looked cute. There is no special meaning.
Stay Strong
Location: her wrists
In early 2011, Demi Lovato finished her treatment for "emotional and physical issues". After she got out of rehab, she added the words "stay" and "strong" to each of her wrists.
Just a few months later, she opened up about her struggle with eating disorders and self-harm. For Demi, the tattoos represent a message to remain strong and fight every struggle. It also covers her physical scars on the wrists.
Faith
Location: below her elbow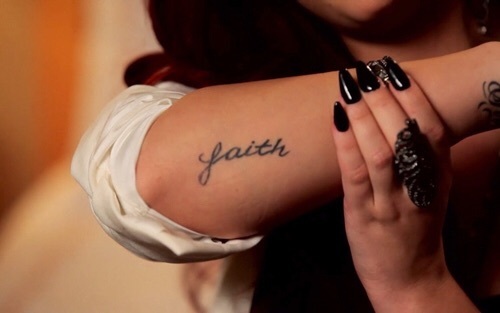 This is another tattoo Demi got after her rehab. Following her rehab, Demi filmed the documentary Stay Strong. In the documentary, she revealed she got the word "Faith" below her elbow. She got this tattoo with Lauren Martin, a friend she met during her treatment.
Flock of Birds
Location: outer forearm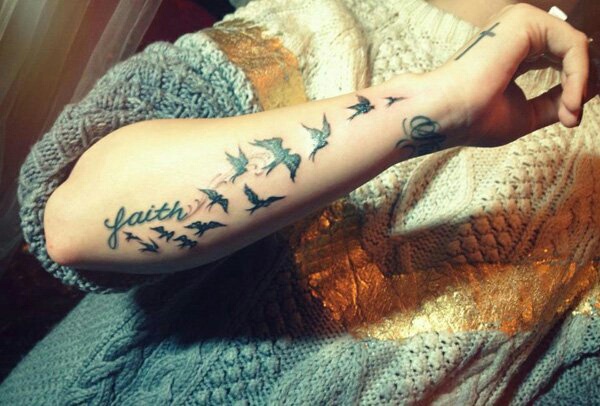 Demi has 12 birds on her outer forearm. Kat Von D made the tattoo for her. They symbolize the 12 steps of Alcoholic and Narcotics Anonymous. But when she first got the tattoo, she didn't have the 12 steps in mind.
Instead, she said this about the tattoo, "I love the freedom that birds represent and I didn't specifically have a huge reason why I got 12 of them." It "was kind of like a God thing, like I worked the 12 steps, so as I got that while I was in Sober Living, apparently it was really meant to be."
Cross
Location: outside of her right hand
Demi is a religious person. Faith plays a huge role in her life. She added a black cross to serve as a tribute to her faith in 2011. Yes, her spiritual beliefs have had highs and lows over the past years. But she willingly discusses her religion and the impact it had on her life.
In 2019, she said, "I am an American singer. I was raised Christian and have Jewish ancestors".
Now I'm a Warrior
Location: back of her right shoulder
These words come from her self-titled album in 2013. The song, Warrior, served as one of the biggest hits of the album. And she admits she had trouble writing it. In one interview with Billboard, Demi said, "Warrior was the hardest song to write because it was the most vulnerable".
Outline of Africa
Location: inner upper forearm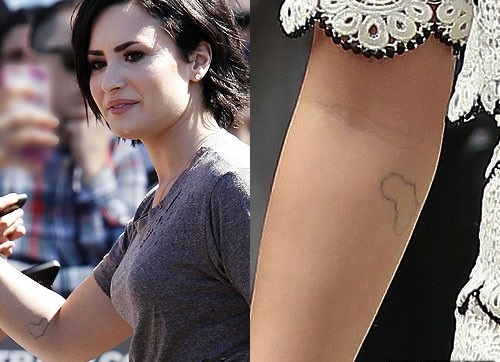 Demi celebrated her 21st birthday in Africa. She then inked the continent's outline to commemorate her missionary trip to Kenya. She took the trip with Free the Children. Demi helped the organization build a school.
Speaking about the tattoo, Demi said, "I went there for my 21st birthday. I went to Kenya and it was just a very, very inspirational journey that I feel like really had a huge impact on my life." And, I would've gotten Kenya but then people would have been like, 'What's that?' So Africa's a little more distinct."
Smiley Face and Me
Location: pinky finger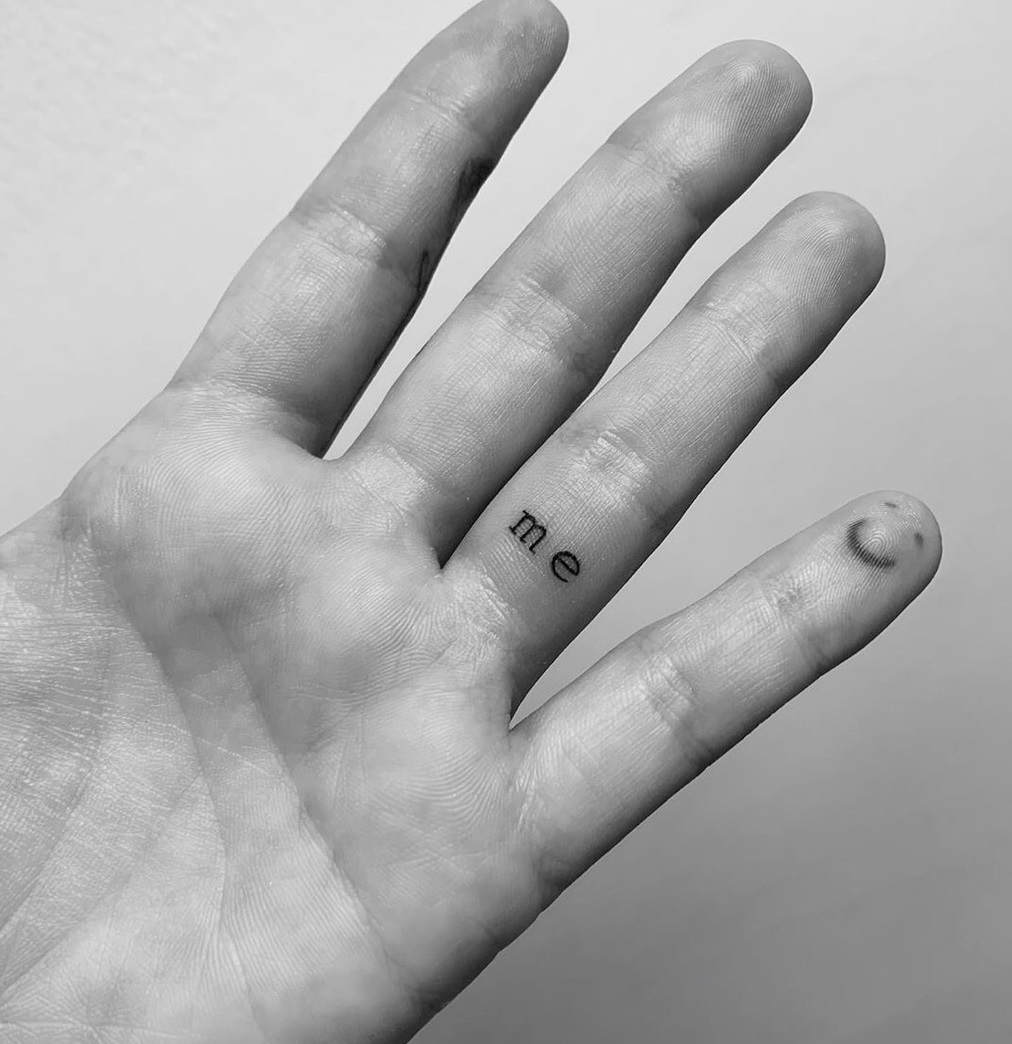 This is one of her latest tattoos. The famous singer revealed the tattoo on her personal Instagram account via an adorable Boomerang video. She captioned the video "Cause life's too short not to tattoo your pinky".