Whether you like tattoos or not, you can't deny the energetic touch they bring to the body. They are here to make a statement or to simply accessorize a part of one's body. The problem with the tattooing process is that it's a painful one, and there's no going back if you change your mind unless you're willing to spend a fortune on laser tattoo removal. This is where Henna steps in to help you if you're not ready to commit to a permanent tattoo yet.
Unlike permanent tattoos that use ink and needles, hennas are temporary tattoos that use dye from a tree called henna. The dye can be both black, brown, and even white. When we see a Henna tattoo, we immediately connect it to India and the Arabic World whose cultures have their own stories of why people used Henna tattoos on their bodies.
Regardless of whether you want to tell your own story or simply use them to bring an artistic touch to your body, you can always go to your nearest Henna tattoo artist and get your very own. But, before you do, here are some ideas we hope you'll find appealing.
Without further ado, here's today's article on the Top 10 Great Temporary Henna Tattoos.
Heel Tattoo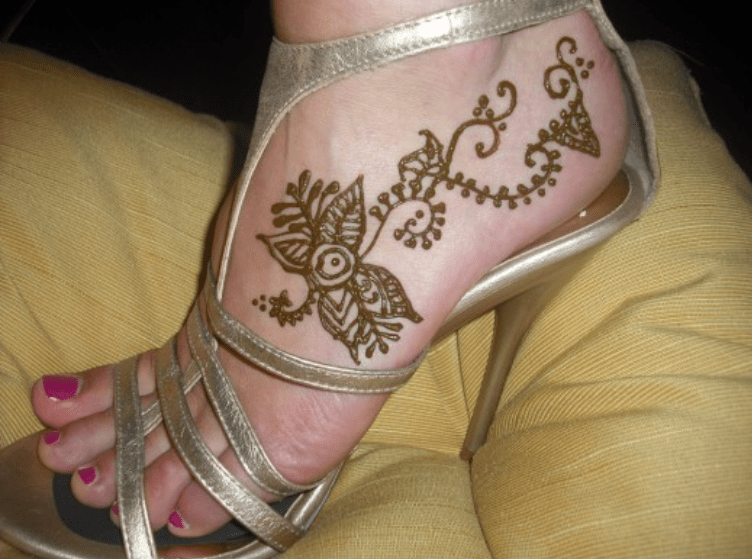 When it comes to Henna tattoos, heels are the most common part of the body ladies want to put tattoos on, especially if they're wearing high heels and are ready to amaze everyone even more. These majestic patterns will make sure you have an even more majestic night and party with confidence.
Beautiful Flower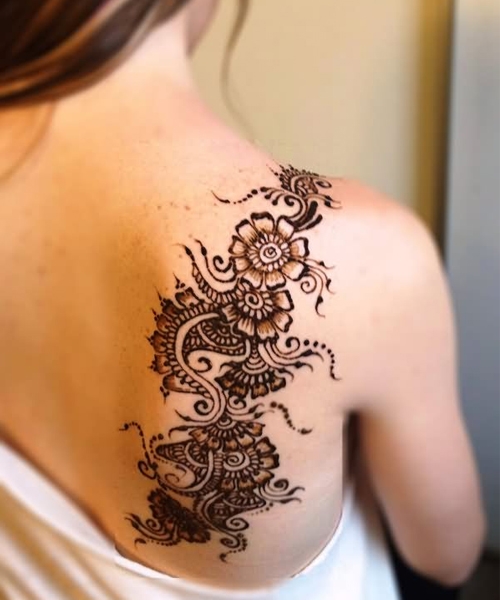 Another idea for your next Henna tattoo is this over-shoulder flower tattoo. It's perfect for the beach when you can finally rock it along with your new bathing suit.
Back Tattoo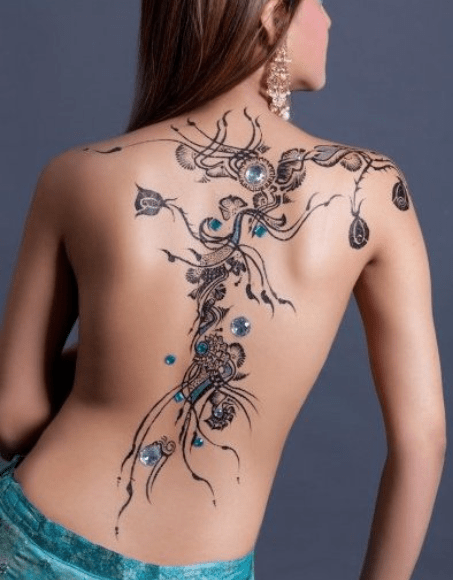 If you're feeling a bit more fancy and artistic, we recommend this bedazzling Henna tattoo. It may be hidden from everyone else's eyes, but some things are best when they're left for our eyes only.
Neck Tattoo
Remember that friend who begged you to get a permanent matching tattoo on your necks, but you wanted nothing to do with the pain from the needles? Well, why don't you try convincing her to get a temporary Henna tattoo? After all, you can rest assured knowing that temporary tattoos do not equal temporary friendships.
Wrist Heart
If you're one of those people who's run out of ideas for anniversary gifts, here's one for you. Surprise your loved one by getting a heart Henna tattoo on your wrist to remind them who your heart beats for the most.
Tattoo Gloves
When we mention Henna tattoos, hand gloves almost always come to mind first. We see them at Indian wedding ceremonies, and since Hennas are now available everywhere, we can even see them on your hands. Yes, we know, we can be pretty convincing.
Foot Tattoo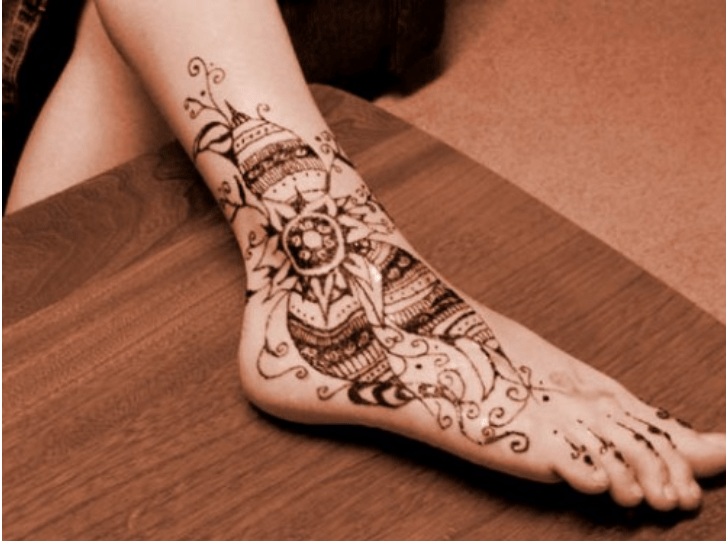 If by any chance you decided to go with the heel tattoo we suggested at the beginning of this article, but now want to extend it further up your leg, you totally could. After all, it's neither painful nor permanent, so you have all the freedom you need to experiment with it.
Shoulder Tattoo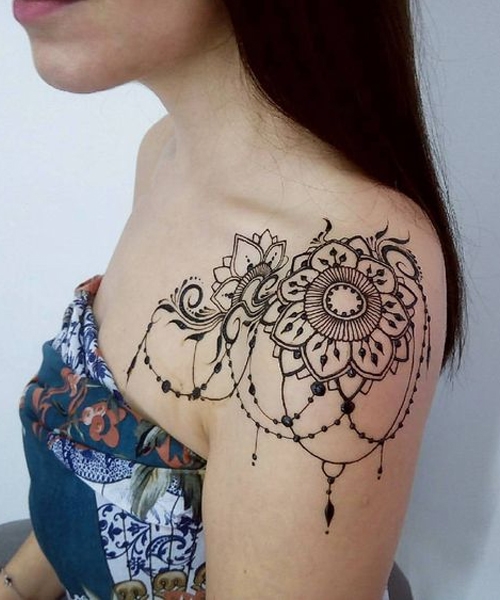 You can't wait until it's finally summertime to start preparing your open-shoulder outfits? We get it. And when the weather is so hot that you won't need any cardigans, deciding on an eye-catching Henna tattoo is definitely a good idea.
Amazing Hand Henna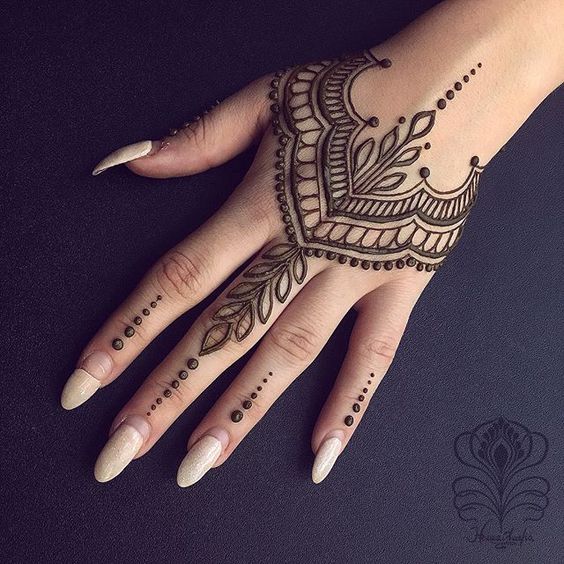 No matter how many rings we ladies own, or how often we paint our nails, we tend to get bored by it sooner or later. Hennas are the perfect solution to that problem – they're a refreshing substitute for your ordinary rings and they're downright mesmerizing.
Collarbone Tattoo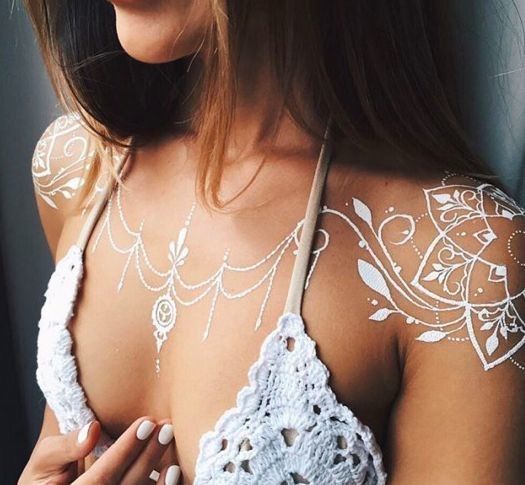 Finally, a white Henna for those hot summer days. Decide on a hypnotizing pattern and have a Henna artist draw it all over your collarbone. Head-turnings are guaranteed. So, what are you waiting for? Hypnotize away!
That's it for our Top 10 Great Temporary Henna Tattoos article. We hope we've managed to inspire you with these ideas. If so, do let us know what you'd decided on in the comments below. Happy tattooing everyone!