Most people recognize Selena Gomez as this cute and adorable little girl that dated Justin Bieber. But same as he grew up into an adult singer, Selena grew into a mature and beautiful woman. And she racked up a couple of tattoos in the process. Selena, Ariana Grande, Lady Gaga, and Rihanna have more than 100 tattoos between them.
Few people think of putting Selena on the list of celebrities with massive tattoo collections. But the multi-talented star has an impressive collection.
During her early years on Disney Channel, Selena had no tattoos. But after she finished with Wizards of Waverly Place and House of Mouse, Selena went to the tattoo studio and got a couple of inks.
Like many celebrities, Selena chose Bang Bang, a celebrity tattoo artist in New York as her resident ink master. She has some cool ones, some fun inks, and some with deeper meaning. Do you want to know the meaning of some of the best Selena Gomes tattoos? Let's take a look.
Music Note
Location: right wrist
We start at the beginning, and for Selena, that came in 2012. She got her first tattoo, music notes. Many fans wrongly thought of it as a heart. But Selena later confirmed she got a music note.
She explained, "Everybody thought that it was a heart for some reason, but music is a big influence in my life." Selena also explained her close personal connection to music. She got named after a singer.
Rare
Location: neck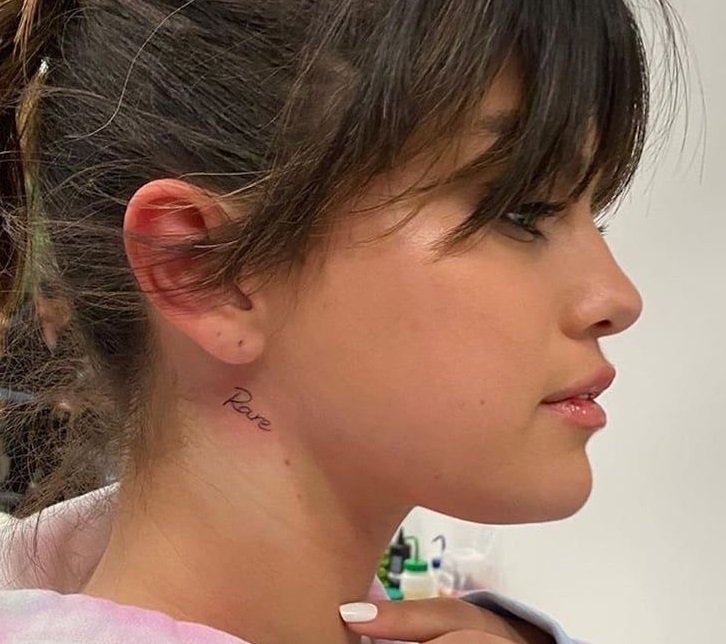 There are so many ways to explain this tattoo. We have to admit, Selena is a rare and unique artist. That is one way of looking at the ink. But it is a tribute to her new album, Rare. Honestly, the name of the album and tattoo suit Selena perfectly.
Rare is her third solo album. Gomez released it in January 2020. She served as executive producer on the album, working with many other producers.
The album debuted at the top of the Billboard 200 chart. That made the album her third consecutive Number 1 album in the US.
LXXVI
Location: back of her neck
This is the second tattoo she got. Many believe it is a tribute to her mother. Selena has only revealed that the tattoo is a tribute to a family member that means a lot to her.
Bang Bang did this tattoo as well. The Roman numerals translate to the Number 76. The celebrity tattoo artist explained that "Selena was nervous it might have been painful, so she held her best friend's hand the whole time. But she did a great job".
For info, her mother was born in 1976. But Selena hasn't denied or approved the theory of the tribute to her mother tattoo.
4
Location: below the elbow on the right arm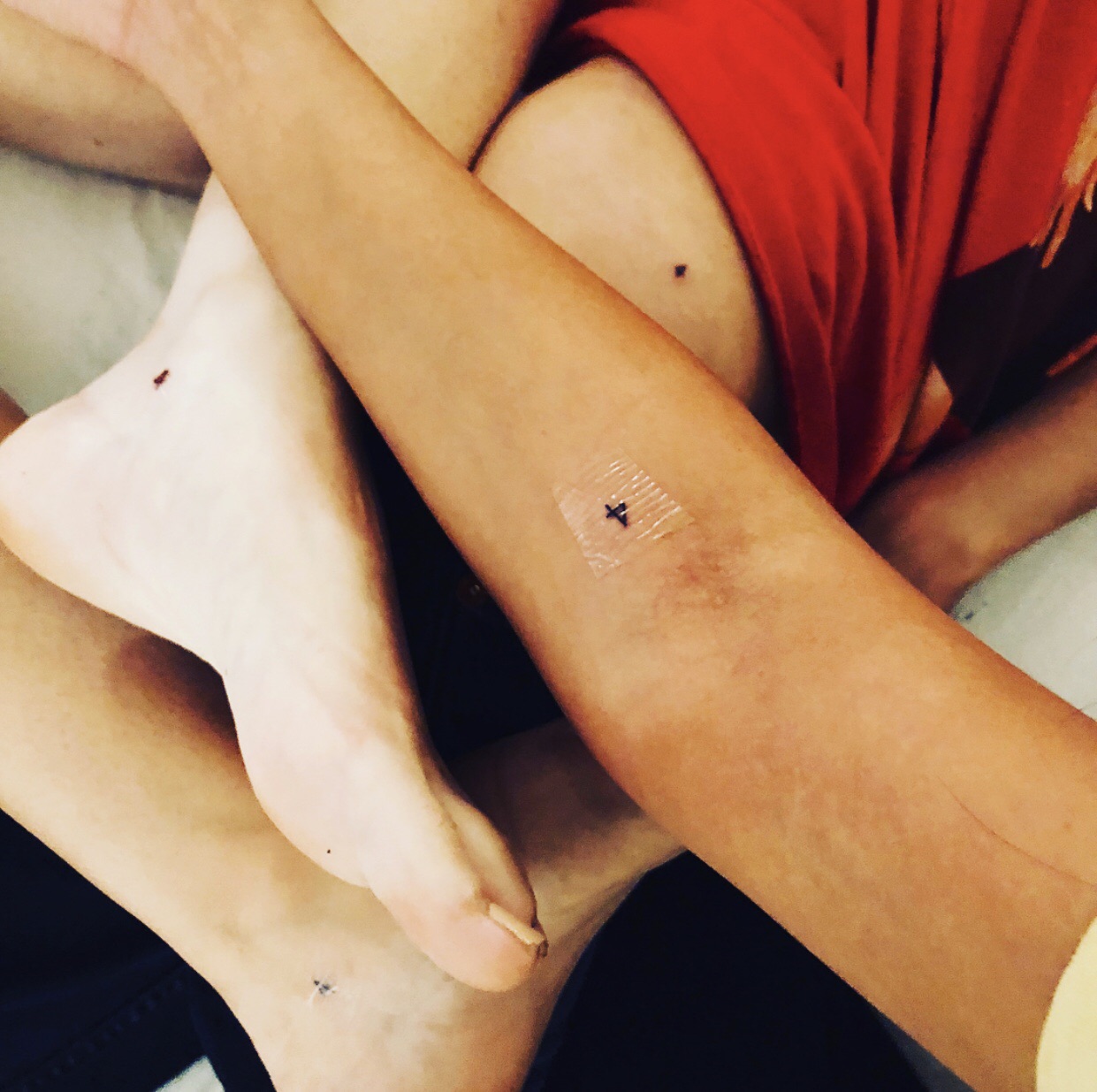 Selena got the number 4 with three of her closest friends. The matching tattoo represents the unity between them. Each of them put the tattoo on a different place, and Gomez chose the area below the elbow on her right arm.
Speaking about the tattoo, she captioned the photo, "#4 because these women have stayed by my side for 7 years (@ashley_cook 12 years) 4, because you are my 4 for the rest of my life. I love you ladies. You all inspire me to be better, stronger, closer to God and we have lived the most INSANE story together already. Can't wait for 50 more!!"
The four friends met to celebrate the 26th birthday of Courtney Barry in August 2018. They didn't have plans to get matching tattoos beforehand. But during the family dinner, the idea came up, and they all accepted it.
God Who Strengthens Me
Location: right hip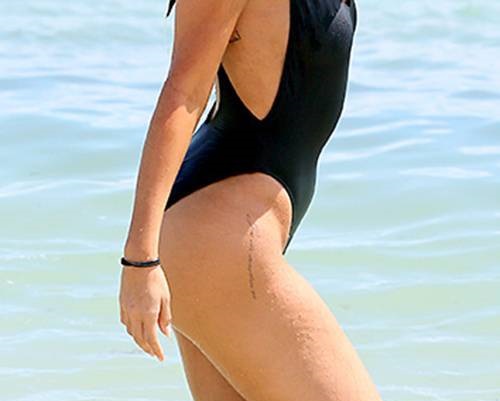 Fun fact: Selena managed to hide this tattoo for almost a year. She got it in 2012, but fans started noticing it in 2013. During the show On Air With Ryan Seacrest, Selena talked about how she hid the tattoo for a long time. And she said she found the inspiration in one of her favorite Bible verses, Philippians 4:13.
For info, Philippians 4:13 reads, "I Can Do All Things Through Christ Who Strengthens Me".
Semicolon
Location: wrist
There is a deep meaning here. Selena worked as an executive producer for the Netflix television show, 13 Reasons Why. Following the show's debut, she and the cast got matching semicolon tattoos in April 2017.
The show tells the fictional story of a high school student who commits suicide and leaves behind a series of tapes addressed to the people who hurt her. She explains where her life went wrong.
Even before the show, the semicolon rose to a symbol of suicide prevention thanks to the work of the non-profit organization Project Semicolon. The project chose a semicolon as a symbol, representing a place where a sentence could have stopped, but didn't. It is a fitting metaphor for someone's life that could have ended in suicide but didn't.
Selena and the cast got the tattoo for showing support. They wanted to let know those who struggle with suicidal thoughts that their life doesn't have to end on a low note.
Gomez herself has struggled with anxiety and depression. Selena advocates for therapy, especially Dialectical Behavior Therapy. In one interview, she said, "DBT has completely changed my life. I wish more people would talk about therapy."
Sunshine
Location: top of her right foot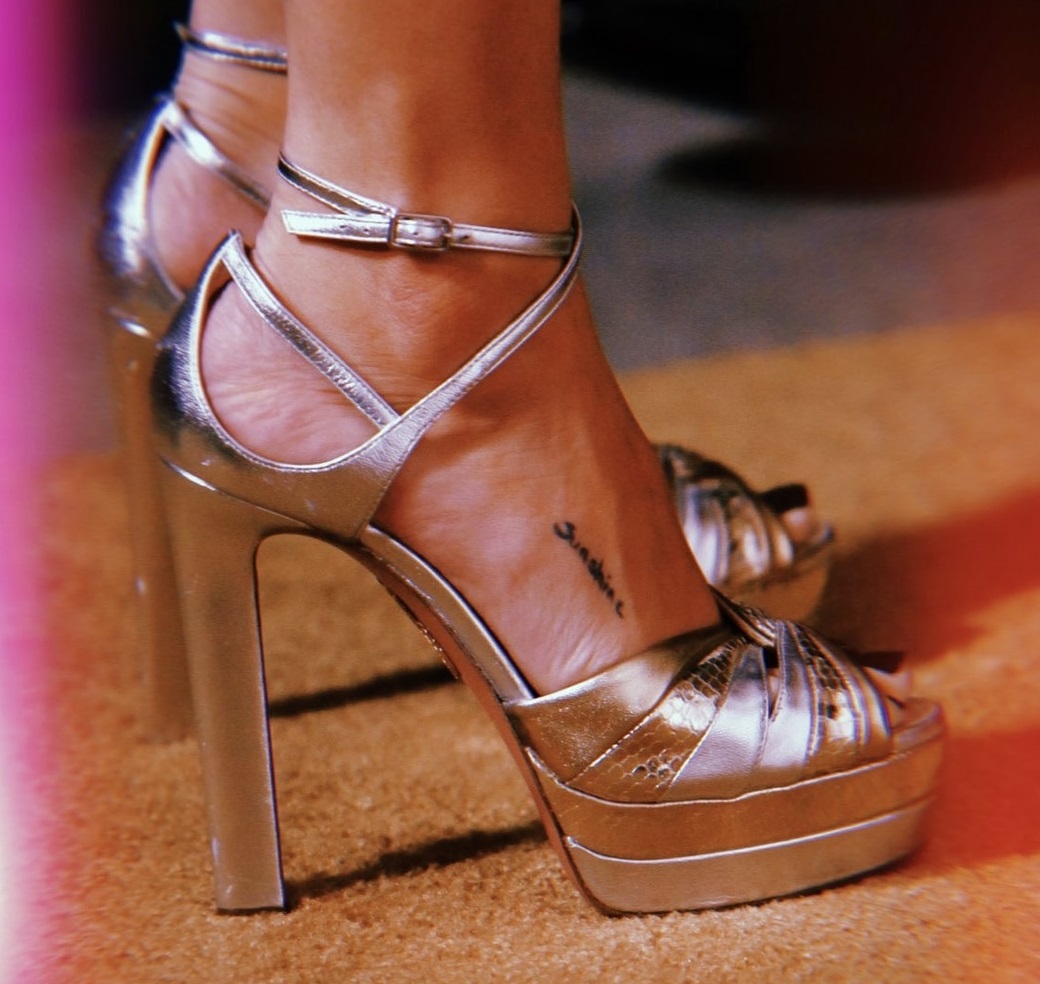 Selena debuted this tattoo in April 2016. It is a tribute to her grandmother. Selena herself hasn't revealed the meaning of the tattoo. Yet, fans came up with the theory, because Selena called her grandmother "sunshine" on social media.
Love Yourself First
Location: upper right side of her back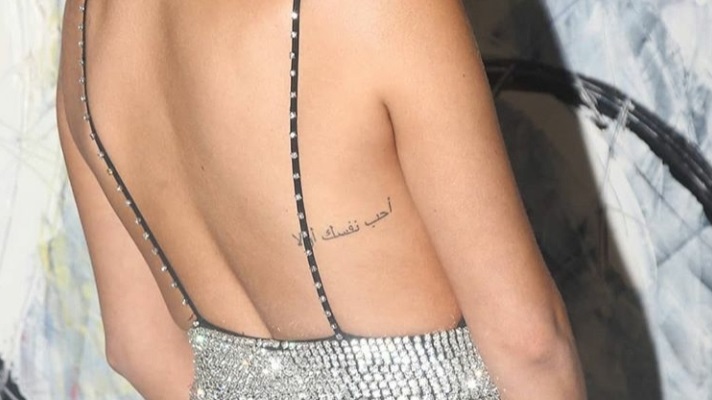 In 2014, Selena went to bang Bang for this unique design. It is a four-inch line of script in Arabic. It translates to "Love yourself first".
Bang Bang said that Selena waited for this tattoo for a while. It took him only 30 to 35 minutes to complete the design.
Om
Location: hip
Selena has an iteration of the sacred Om symbol. The symbol has roots in Dharmic religions, including Buddhism and Hinduism. The symbol has a close association with the universe, reality, and tranquility.
If you have visited any Yoga class, you've probably heard it at the beginning of the class. The Om symbol remains one of the most delicate designs of Selena's bodywork.
But she has never revealed where she got it, or the meaning behind the tattoo.
1
Location: ribs
Selena got the Number 1 inked on her ribs in honor of her best friend Courtney Lopez's birthday. Both girls got matching best friend tattoos of the number 1.
Following the ink session, Selena wrote, "My actual #1 @courtneyjbarry you are an incredible woman. The way you handle life's most confusing moments is indescribable and graceful."
She followed it up with "You are moved by the littlest stories to the most heartbreaking ones, you will give someone your perfume if they say you smell nice, you are freaking hilarious and always stand firm in your faith, a loving sister, an amazing friend and a beautiful daughter. You are the definition of a fearfully and wonderfully made baby! #1″