Zoe Kravitz has famous parents. Her father, Lenny Kravitz, arguably one of the most famous rock performers married Lisa Bonnet, an incredible actress. Since her birth, Zoe got everything she needed to grow into a famous actress, singer, and model. But she never used her parents' popularity to the point she looks like a spoiled kid. Instead, Zoe has worked for everything she has.
One of her favorite things to do is to get a tattoo. She has many inks on her body. Zoe got her first tattoo at the age of 18, and since then, she has racked up more than 50 designs. Every time Kravitz makes an appearance on the red carpet, she showcases her style, stunning looks, and unique tattoos.
Zoe has ink on her arms, hands, and everywhere else. And she doesn't mind speaking about the meaning of her ink. Zoe Kravitz often posts on her Instagram account, speaking about her tattoos and the meaning behind them.
Let's take a look.
RA
Location: Right wrist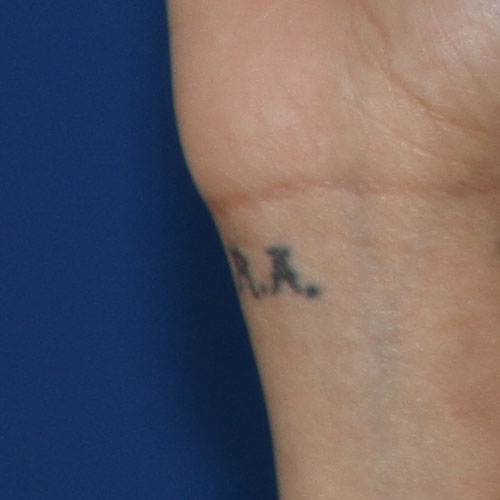 Zoe has an enormous appreciation for her parents and grandparents. The young actress and singer has an incredible relationship with her elders. And to show her support and love, she inked the alphabets R and A on her right wrist. These are the initials of her two grandmother's name, Roxie Roker and Arlene Litman.
Roxie was an American actress portraying Helen Willis on the sitcom The Jeffersons. Many fans remember her as one half of the first interracial couple on regular prime time television. She also gave birth to one of the most famous rock musicians, Lenny Kravitz.
Arlene Litman doesn't come close to that popularity, but Zoe still loves her.
11-16-67
Location: Right arm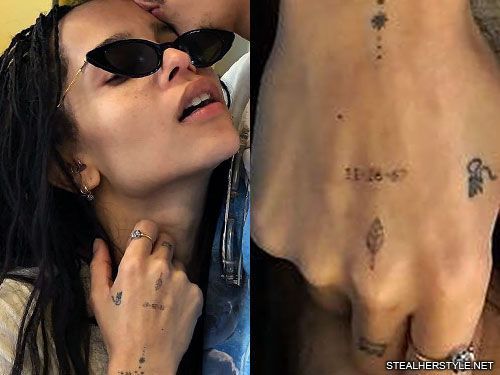 For Zoe, family is everything. She has many tattoos related to her family, both parents and grandparents. The date 11-16-67 represents her mother's birth date, November 16th, 1967. Her mother, Lisa Bonnet, changed her name legally to Lilakoi Moon, but most people recognize her as Lisa.
Bonnet got famous for portraying Denis Huxtable on The Cosby Show. Zoe values her mother as an inspiration, both professionally and personally.
Speaking about her mother, Zoe said, "She kind of stumbled into that world. It wasn't a conscious choice (a) to be an actress, (b) to be a famous actress, and (c) to be—she shook things up—a model for so many young women. The beautiful thing about her is that she just thought a certain way and lived her life that way."
5-26-64
Location: backside of her right arm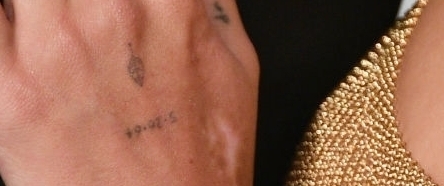 We said Zoe has tattoos showing tribute to her grandmothers, her mother, and now here comes one for Lenny. Born on May 26, 1964, Lenny Kravitz rose to one of the most famous rock performers.
He serves as an inspiration for many people worldwide. And fans especially love his humble and human side. Lenny doesn't mind spending time with fans, signing merchandise and giving autographs for hours.
Leaves
Location: backside of each hand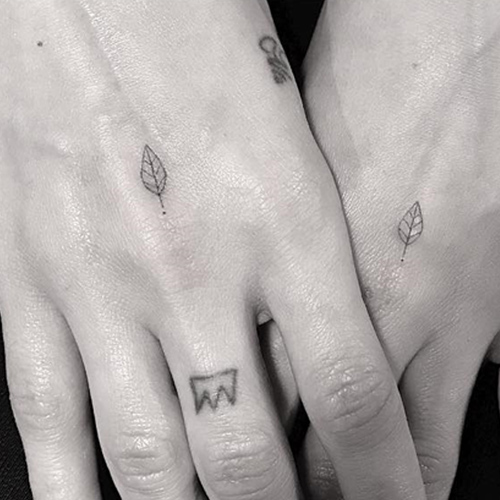 Zoe has a leaf on the backside of each hand. These leaves are tiny and serve only a decorative purpose. Dr. Woo, her resident tattoo artist, posted on Instagram, saying, "Having [leaf emoji] superpower for the homegirl, Zoe".
Zoe got them for decorative purposes. But leaves carry a huge symbolism. They represent the cycle of life many times. Fresh and green leaves symbolize the youth of life, while yellow leaves symbolize old age.
Free At Last
Location: left forearm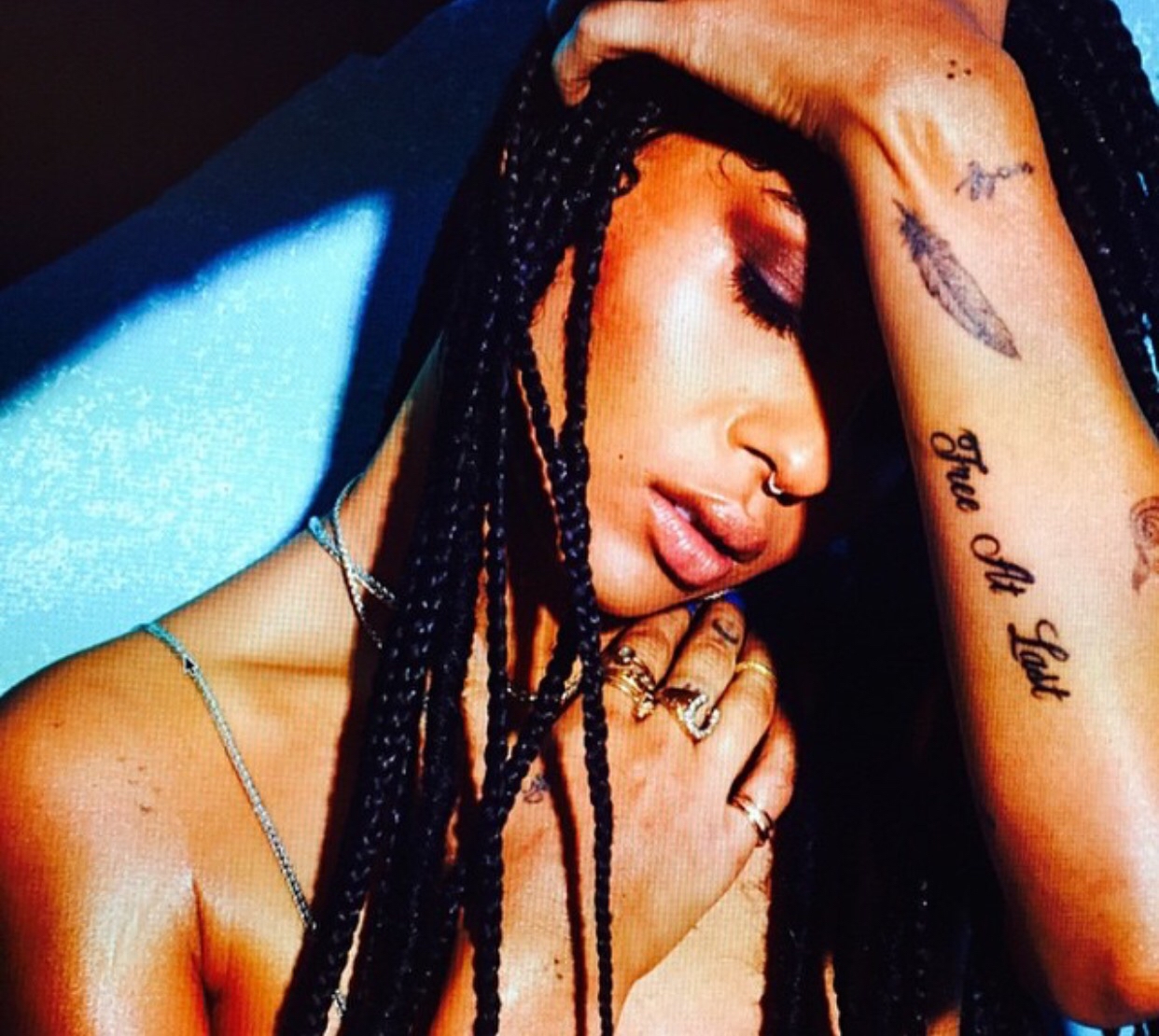 Zoe got this matching tattoo with her father. It is a direct quote from the I have a dream speech by Martin Luther King Jr . Lenny and Zoe got the quote in cursive handwriting. The famous tattoo artist Harris finished the ink.
Mississippi
Location: right upper arm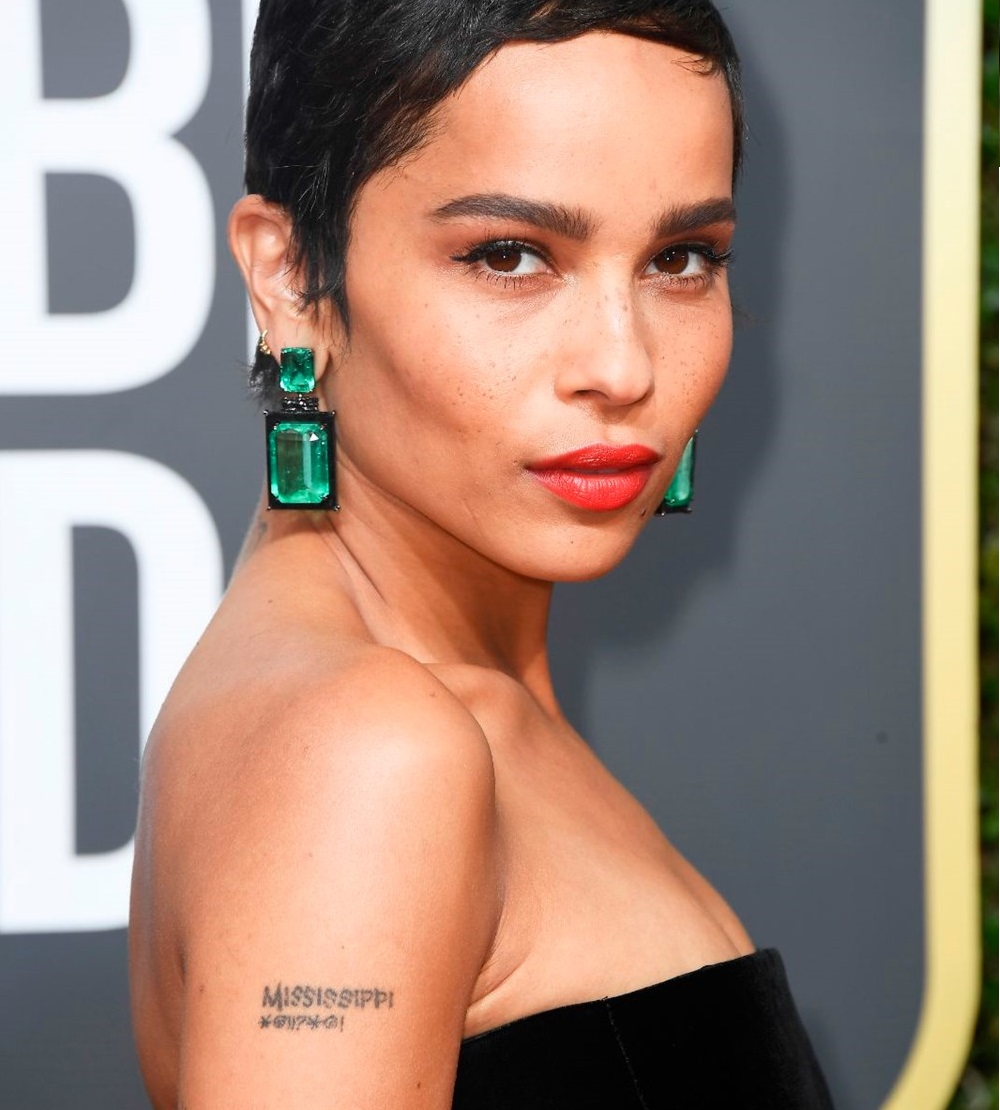 The word Mississippi pays tribute to jazz legend, Nina Simone and her song, "Mississippi Goddamn". The song got released in the midst of the Civil Rights Movement. It speaks about racial struggles. With the song, Nina wanted to provide a voice for the black people dealing with racism and fighting for their rights.
Years later, Nina explained that "she was sick of waiting for slow change". Zoe loves Nina and in one interview, she has said, "I always fall asleep by listening to her songs."
Eye
Location: left forearm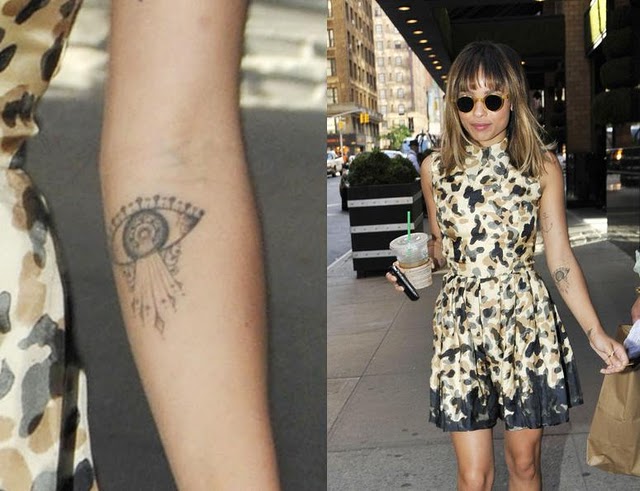 This tattoo looks like an elaborate eye. She added to cover and remake an old circle tattoo. It looks like the outline of the iris.
The big protective eye on the inner side of the left forearm helps protect Zoe from the bad world we live in. The design features elaborated lashes and a decorated iris. And light rays of good energy shoot out of the eyeball.
In Christianity, eye tattoos represent the soul and faith.
Cross with dots
Location: right palm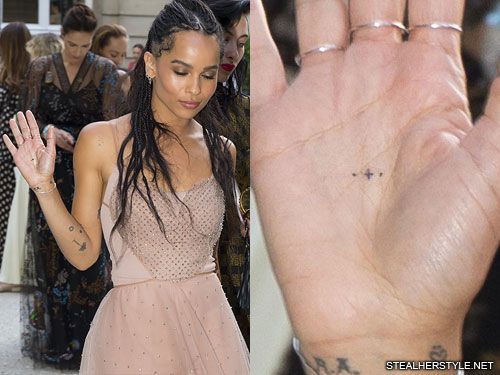 Zoe has a tiny cross with dots on either side. It is just another tattoo that shows her faith and religion. Zoe believes in Christianity, and she tries to show her support for religion and faith as much as possible.
Lola Wolf
Location: front and back of left wrist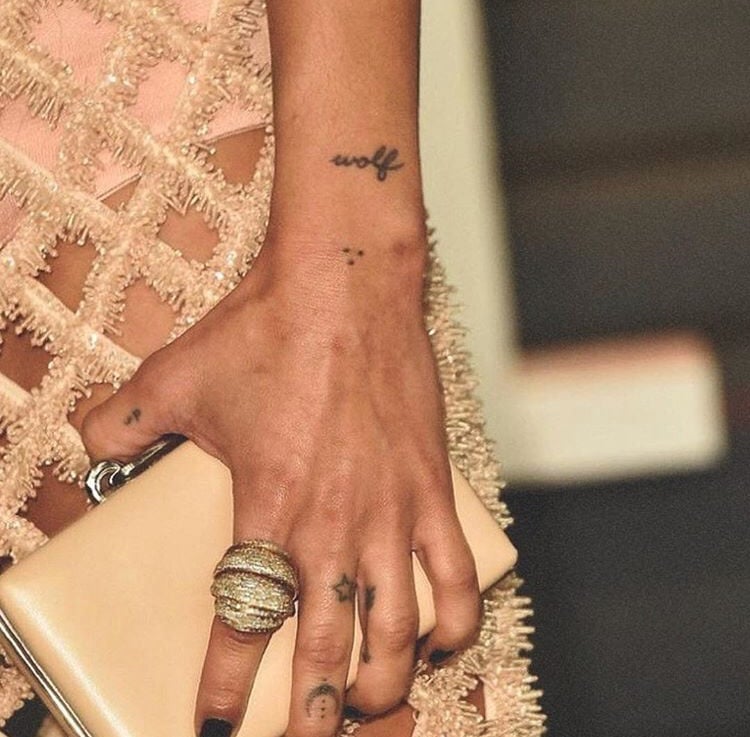 Some people view these tattoos as separate. But we cannot separate them. They are two parts of one whole entirety. She has the name of her sister, Lola Iolani Momoa on the front side of her wrist. And she inked the name of her brother, Nakoa Wolf, on the backside of the wrist.
She used their names as an inspiration for the name of her band, Lolawolf.
Woo, a celebrity artist, did the tattoo.
être Toujours ivre
Location: right forearm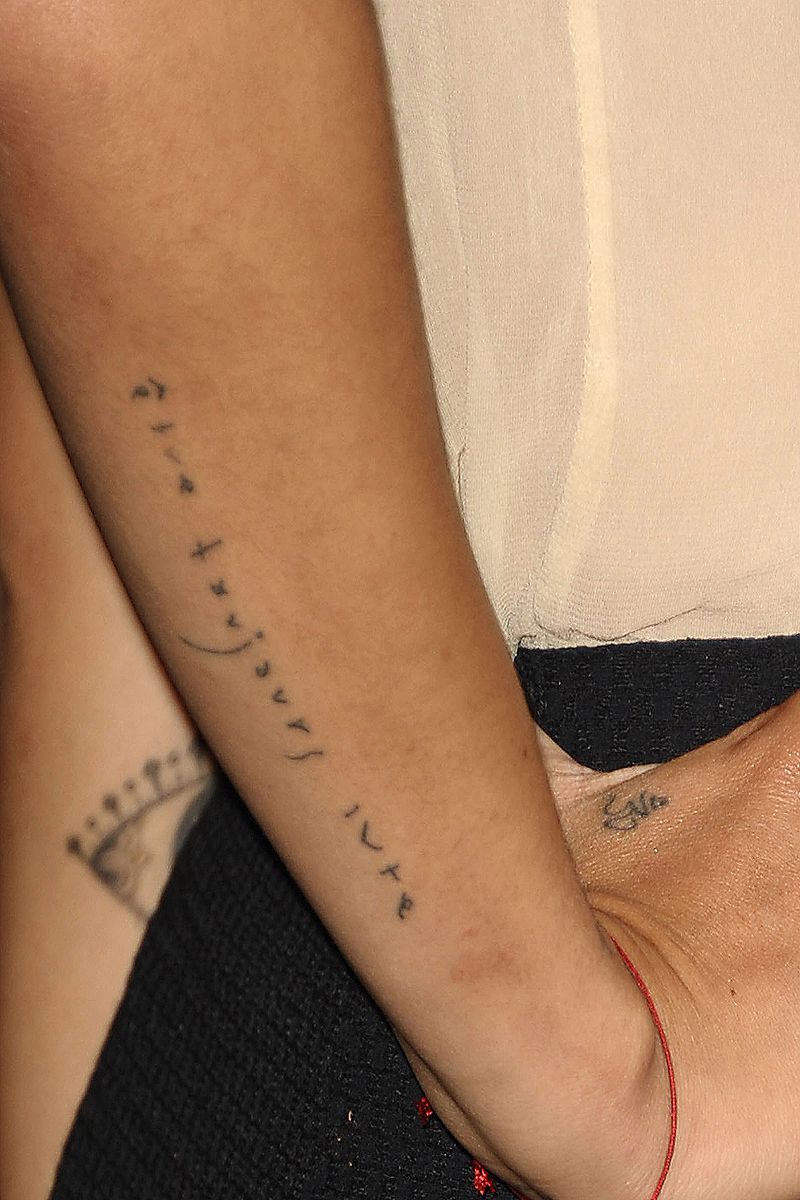 Zoe has this French quote in a quite scattered manner on her right forearm. It is a direct line from the poem by Charles Baudelaire. The quote translates to "always be drunk".
But many people misunderstand the quote. The poem, "Be Drunk", came out in 1869. It is part of a collection of short prose poems by Charles.
The poem encourages the reader to become intoxicated by something, anything. Many fans think it means getting drunk because it is hard to deal with the harsh reality of sobriety.
But the metaphoric meaning is to get drunk and intoxicated with something that excites us. And that means getting drunk with happiness and surrounding yourself with something that makes you feel happy and tipsy.