Julia Michaels is one of the hottest singers at the moment. This year, she will turn only 28 years of age, making her one of the young stars. She started as a songwriter but emerged from the shadows as a solo artist. Since then, her career continues to grow. And so does her tattoo collection.
This singer has more than 30 tattoos, each carrying a signature story behind it. Taking a look at her complete collection of tattoos reveals a lot about the singer. We have managed to compile a list of her 10 best inks. If you want more, you can search through her social media and see all of her bodywork.
Born and raised in California, Julia is a successful songwriter and singer. She has a long list of high-profile collaborations, including Selena Gomez, Justin Bieber, Britney Spears, Demi Lovato, and many more. Some of her tattoos include feathers, words, anatomical symbols, and many more. Let's take a look at some of the signature tattoos of Julia Michaels.
Chest Line
Location: running from below the neck to the abdomen
Julia recently spoke about this signature tattoo. It is truly a unique piece of work, running from below her neck to her abdomen. Visible and prominent, the line starts with the phrase "speak up" at the top of the line.
Famous for her tattoos, Michaels loves her chest tattoo. She got it in 2018, and it carries a special meaning. She explained the tattoo by replying to a fan question. Julia said, "It's a line in and down the middle of my chest. Compartmentalizing the two sides of me. The love and the hate. The logical and the emotional. Can't really show you guys this one".
I Love You and More
Location: palm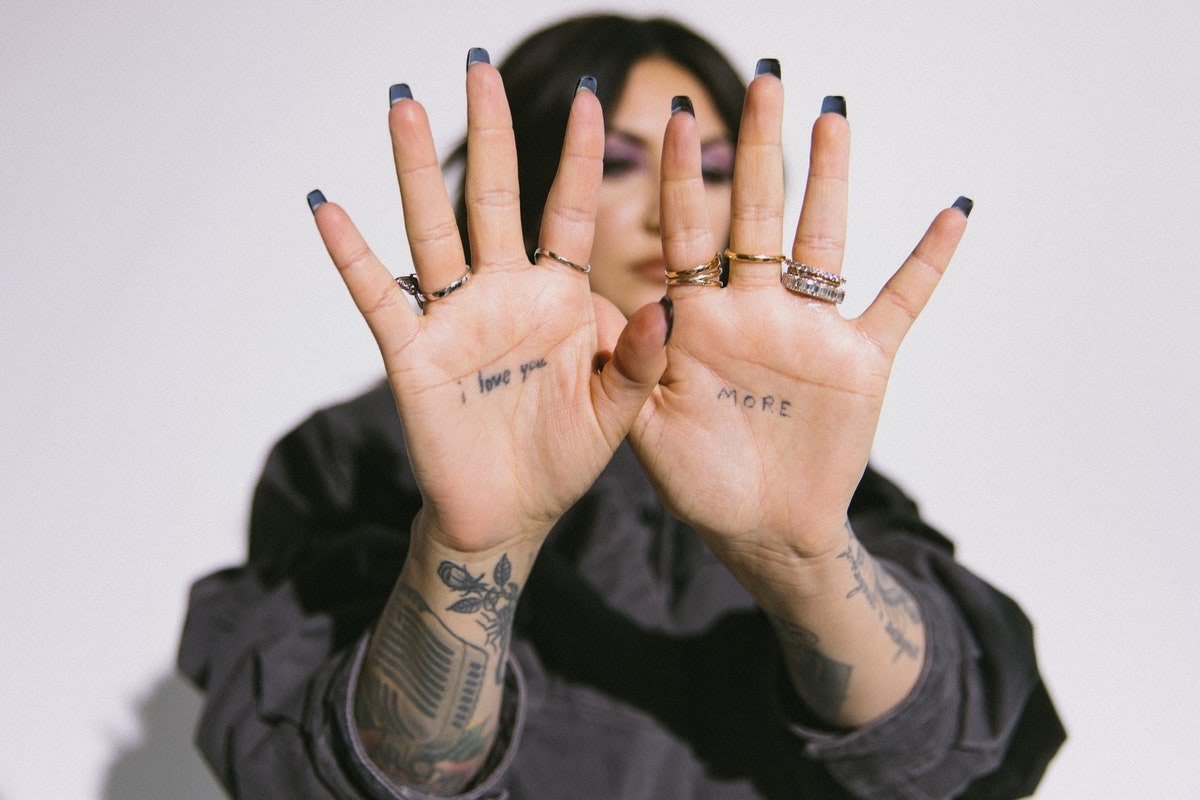 She has two palm tattoos. Julia got the first one in 2016, and the second in 2019. But one cannot go without the other. While they are separate tattoos, we want to comment on them together. Michaels is first to say that inking the hand is a painful process. She said, "The palm really does hurt like a bitch, I am not gonna lie".
As for the tattoo itself, she provided this explanation, "A lot of my fans would show up with 'I love you' on their hands in Sharpie, or they'd tattoo it. So then, I got 'More' — which was dumb, because then everyone started putting 'Most.'"
Perception symbol
Location: top of the right wrist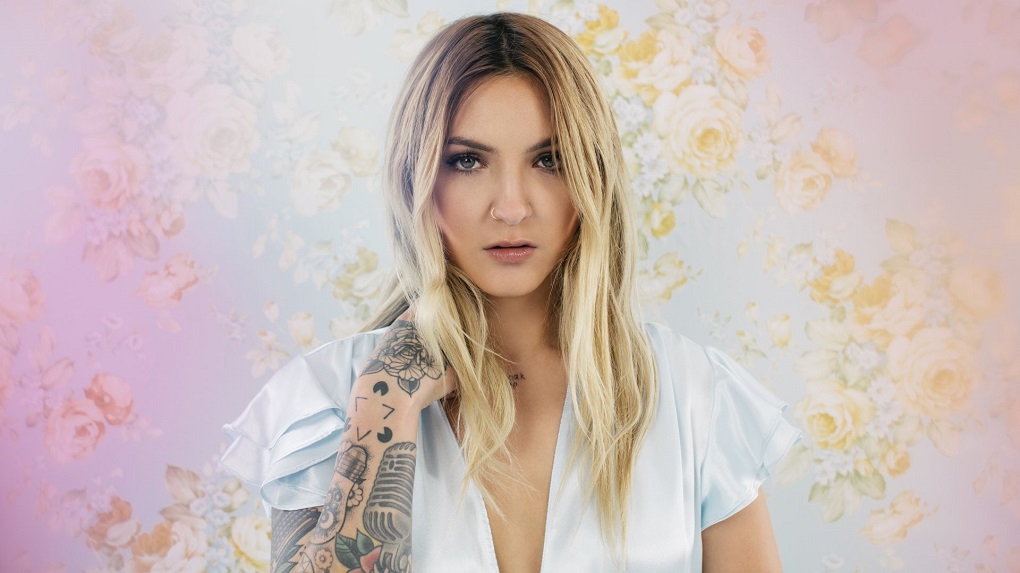 Julia has said that the perception symbol remains one of her favorite tattoos. She calls it the Kanizsa triangle. Her all-time favorite ink contains two triangles and three circles. Basically, it is the symbol for perception.
Julia explained the optical illusion with the following words, "Nothing is fully formed, but the brain perceives it as a whole."
Light Bulb
Location: right forearm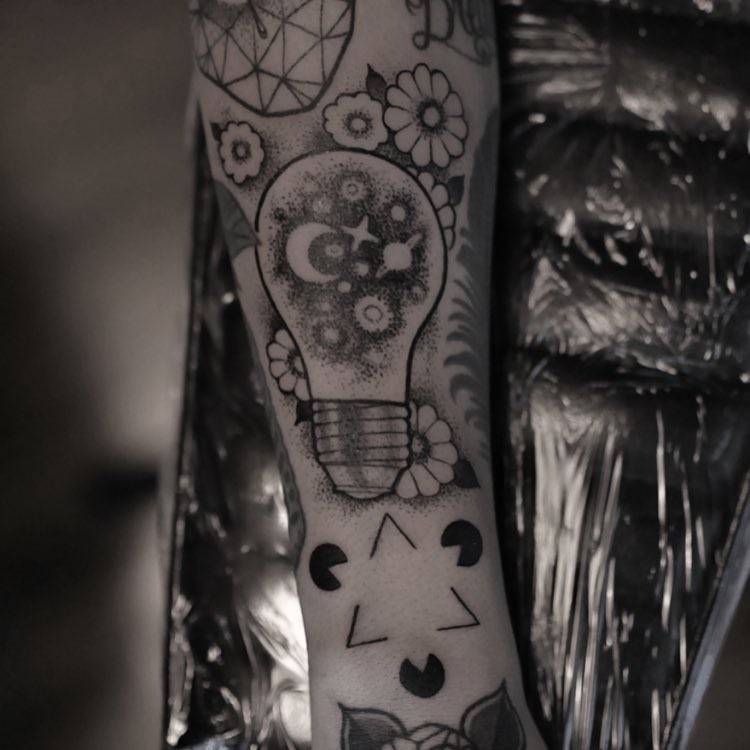 Leave it to Julia to come up with a unique and funny tattoo. Not many celebrities would ever choose a light bulb for a tattoo. But we said Julia is a special kind of person. The illuminating design found its place just above the perception symbol.
Speaking about the tattoo, Julia said, "The light bulb of course is kind of like the bubble for ideas. And I was like, 'How do we embody the subconscious?' Because a lot of the time when I write, a lot of times I don't know where it comes from. It's just like a weird, out-of-body experience."
In the interview, she also said, "I will be talking to somebody and then all of a sudden — there's a song. And I can't really explain it. So I was talking to London, my tattoo artist, and we were like, 'How can we embody that feeling?' And we came up with the universe in a light bulb."
Little Gems
Location: right arm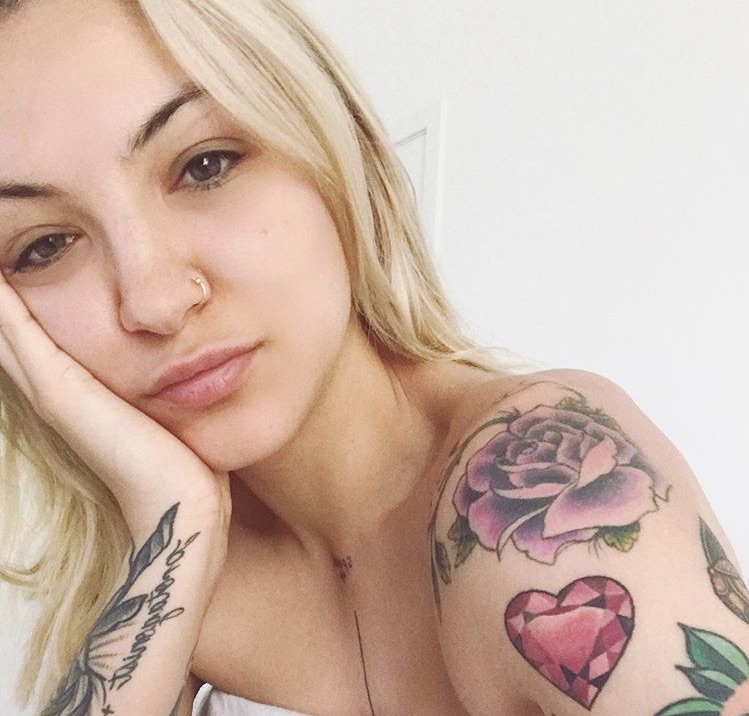 Julia has inked four gemstones on her right arm. She added them as a tribute to her fans. She calls them "little gems".
The most prominent gem is a heart-shaped pink jewel, located just below the shoulder. She also has a blue diamond on the outside of the elbow, a round amber stone inside the elbow, and a dark blue rhombus located on the side of the wrist.
She inked the four gemstones in July 2018.
Bad Idea
Location: elbow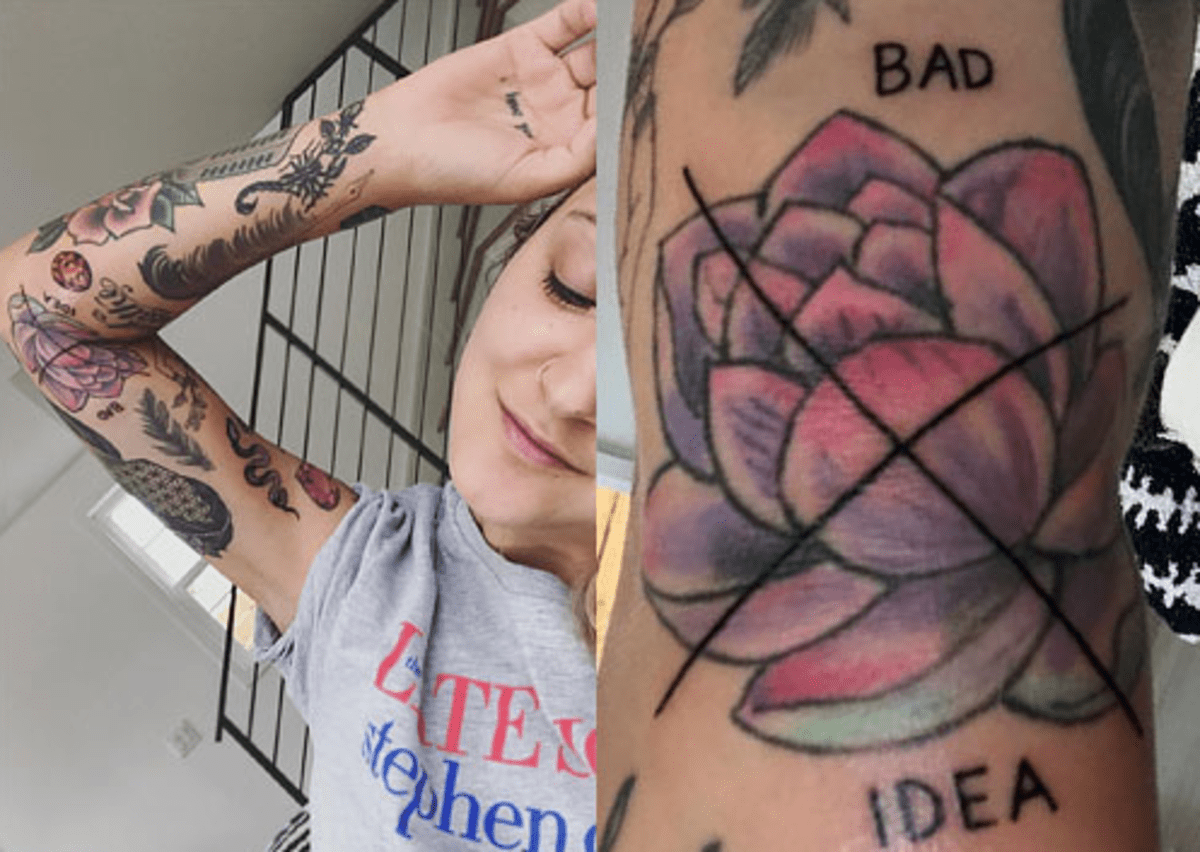 Julia got a lotus tattoo on her elbow years ago. But on the day she got the tattoo, her boyfriend broke up with her. That made her look at the tattoo and think about the poor design. Julia says it looked "more like a colorful artichoke".
So, in July 2018, she went to a tattoo artist and draw an X through the lotus. She then also added the words "bad idea", with bad above the tattoo and idea below it. And Michaels spoke honestly about it, "Because it was a bad idea. And he was".
Speak Up
Location: neck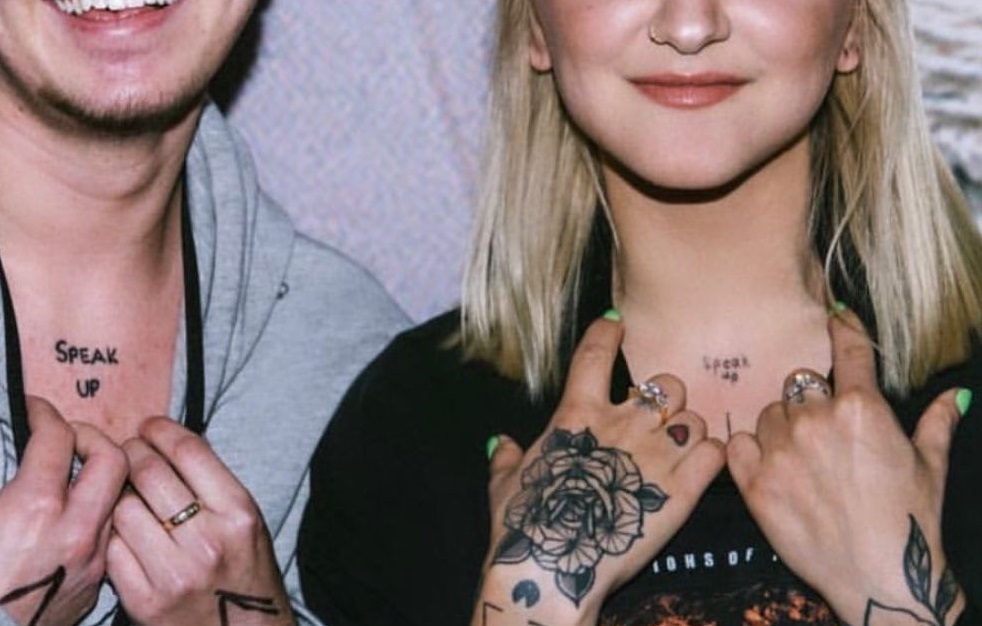 In many interviews, Julia mentions that this tattoo is of great importance to her. She called it, "really, really important to me".
In one interview in 2017, Michaels explained the backstory of the tattoo. She said, "I've always kind of made myself feel really small. And I think now more than ever, I have the opportunity to have an opinion, and to have a voice, and that I should speak up."
Butterfly
Location: left bicep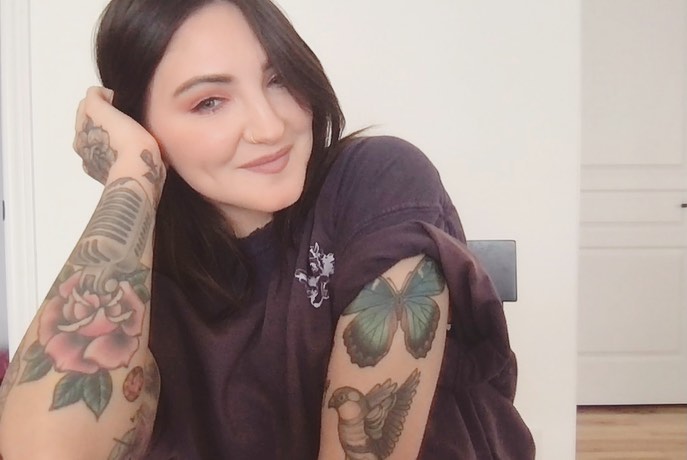 Butterflies play a huge role in our society. They carry so much symbolism. And as with many people, when Julia fell in love, she started feeling butterflies in her stomach. These colorful winged insects started having even more significance in her life.
So, she added butterflies on her left bicep. She dates fellow musician JP Saxe. They started their relationship in 2019, and since then, they have collaborated on several tunes.
Arrow
Location: thumb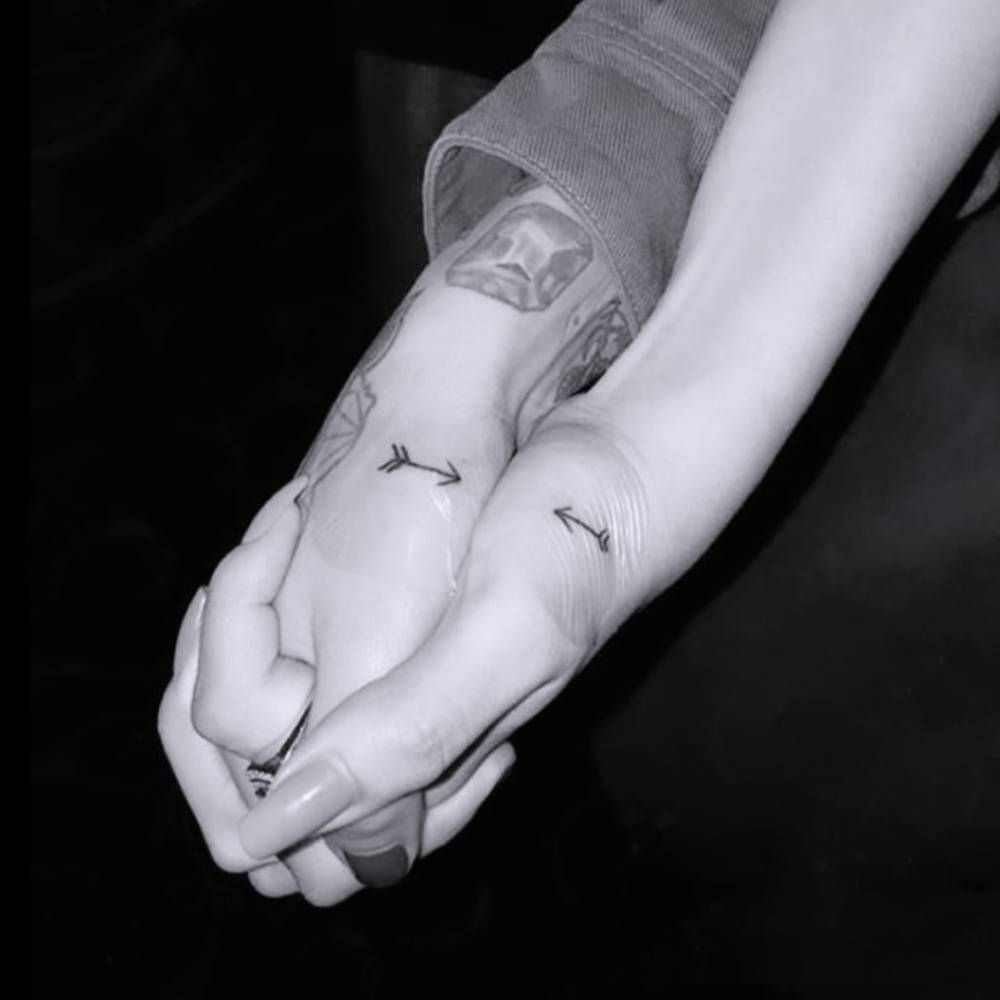 Following a collaboration with a close friend and colleague Selena Gomez, Julia added a new tattoo. Both Selena and Julia love tattoos, so they added something to remind them of the friendship. Selena made a cameo at one of Michael's concerts in 2019. After that, they inked matching arrow tattoos at the base of their thumbs.
Selena captioned the photo of the tattoo with "My arrow points to you forever".
Faceless woman
Location: inside of the right upper arm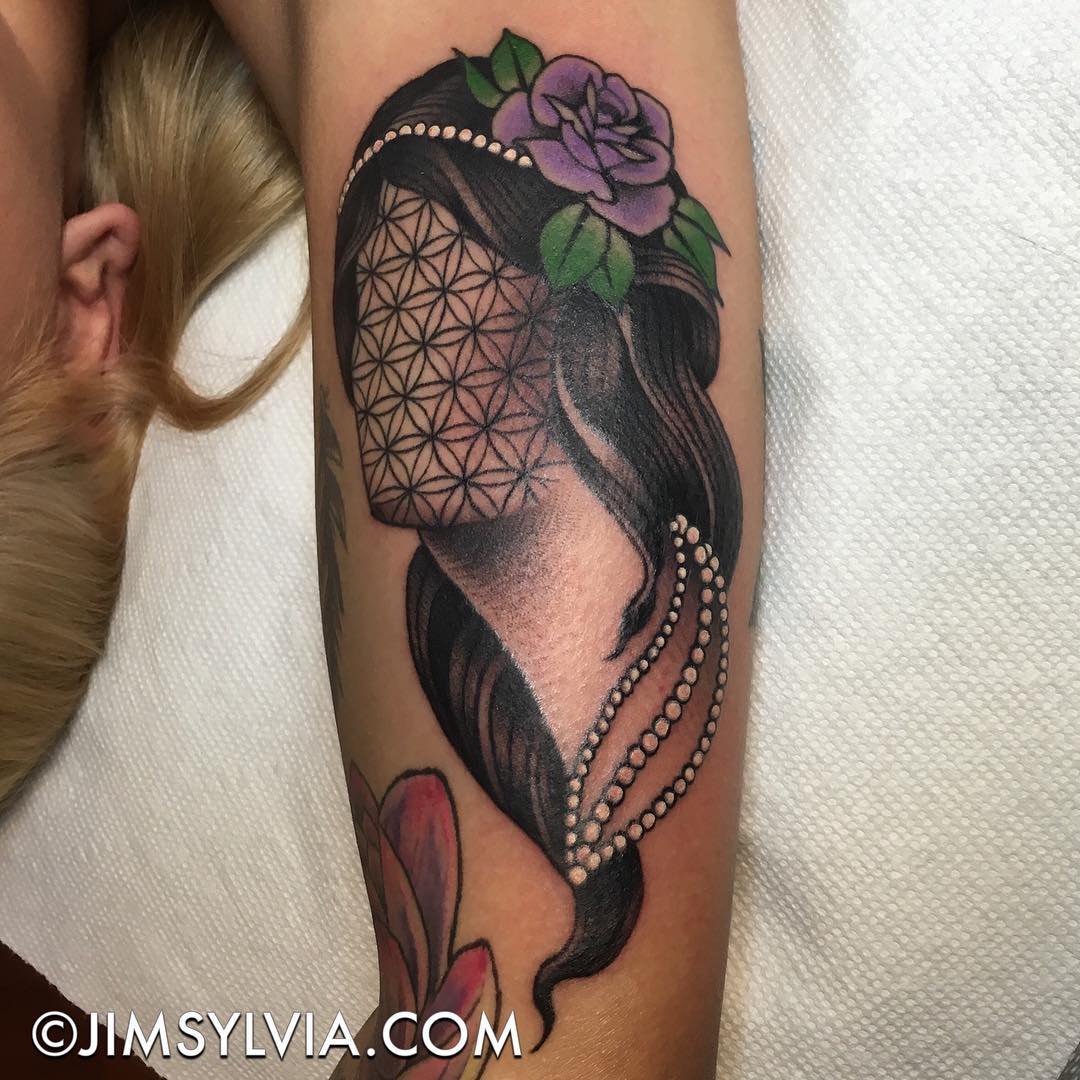 Jim Sylvia made this tattoo for Julia in 2016. Speaking about the tattoo, Julia says, "It was probably the most painful tattoo to date".
Julia shared the backstory about the design, saying "It kind of, at the time, was describing my anonymity in the music industry. I've always kind of felt like this is who I am on the inside. Everything's just kind of changed so much this year that I feel like this is me, this is me showing myself, this is me at my most vulnerable."
In 2017, Julia released her debut single, Issues. It is an ode to her open struggles with anxiety.