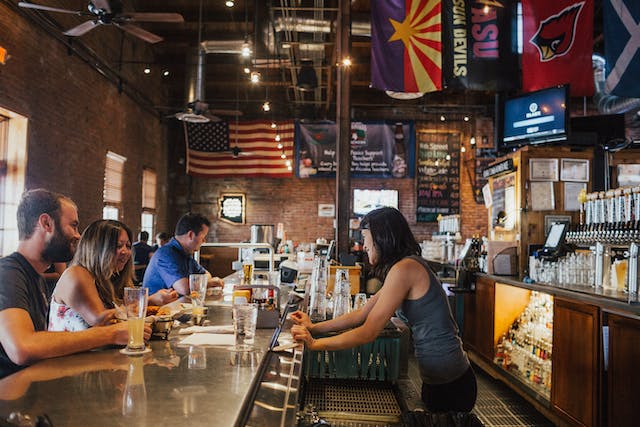 Being in the bar business is one of the more exciting lines of work that anyone can enter into. Not one day is ever the same. And even though you might have your hands full on occasion, the lifestyle itself is often worth all the late nights.
Across the United States, people have gathered in bars for casual conversation, to write memoirs, enjoy a football game, and to form alliances that date back to the 1700s. In fact, the United States Marine Corps was first formed in a bar known as Tun Tavern on November 10, 1775.
But even though your bar may not have the historical significance of some more well-established locations, this doesn't mean that you have to play second-fiddle to the other bars in your community.
If you're wanting your bar to stand out from the crowd and be an inviting place that everyone wants to experience, the following will provide a few things to consider.
Host Mixology Classes
One of the best ways to engage with the local community is by letting the locals participate in learning the art of mixology. And believe it or not, there's a lot more that goes into mixing a drink properly than you might think.
Having a mixology class delivered by one of your more experienced and loved bartenders offers a way for your patrons to take new knowledge and bring it home. This offers them something of value, and it's a great form of entertainment for anyone interested in the art of mixology.
For example, maybe your regulars love Scotch whiskey. If so, you can teach them several upscale Scotch cocktails that they'll love.
Mixology classes often begin with the basics which concerns alcohol weight, layering, and which spirits or liqueurs mix with specific juices, nectars, and other ingredients the best way. And these are skills that your guests can use when they host their own parties.
Customize for Your Regulars
It's about being able to go "where everybody knows your name" and having that sense of comfort that comes with sitting on your favorite bar stool. And though not all of your patrons will be fighting for a stool (hopefully), some of your regulars will be delighted by a few customized items.
For example, you can have custom drink stirrers for specific bar guests with their favorite sports team or anything else that defines them printed on them. Or you could have custom mugs with their names engraved that they can have chilled for their favorite draft beer.
Other examples might be to have a name plaque over their favorite bar stool or an engraved nameplate on their favorite seat.
These are the types of personalized gifts that regulars love, and they might actually entice others to become regulars too once they see how other familiar faces are treated in your establishment.
Employ Flair Bartenders
Bar flair is usually synonymous with upscale bars in places like New York City or Las Vegas, where the show is part of the experience. But the truth is, most communities across the United States don't have flair bartenders working. And you can change that.
Flair takes the guest experience to an entirely different level. And this often can help to draw an even bigger crowd to your bar just to see your bartenders at work.
For example, first, you order a drink and the next thing you know, the music starts and the bottles start flying into the air. People clap and the phones come out for pics and videos. And this is because the show is part of the service, and this basically turns your bar into an entertainment venue.
Taking your bar to the next level requires innovation, and offering your patrons what the other bars in your community are lacking. Pretty soon, word will get around. And you might just be thinking of expanding your bar once the seats start getting filled.