Imagine someone doing the cooking in the kitchen. How does a classic cook look like?  What does he/she have? Most probably an apron, among other things, right? The apron used to be an essential item in the kitchen, the same as the pots, utensils, and kitchen appliances, of course. It protected the clothes of those who were lovingly preparing the meals for the family.
The purpose of the apron is still the same today, yet its popularity has dwindled a bit.
Today most people have and can afford all necessities of modern life, like washing machines and plenty of clothes. It is probably the reason why we are less concerned with staying clean while cooking and therefore, not using aprons as much as in the past. So why are they still around?
Because while adults don't use them that often anymore, they still make cute small gifts and more important, are terrific for kids. And if you're wondering why then you probably haven't been around young children much.
Imagine all the mess young kids can make, even if they're staying put in one place, and you might get the picture of how much of a hassle getting those stains out from clothes can be. Therefore, having them wear an apron is much, much better for everyone.
Even with their decreased everyday use, there are plenty of people who use aprons on a daily basis. If you're one of them, then you know how good extra apron sounds, without having to go out and buy it.
Luckily there are plenty of ways to make yourself a fine apron from less used fabric materials around the house. It saves you money, and makes for a fun project, even for beginner crafters or seamstresses.
1. DIY Crafter Detachable Apron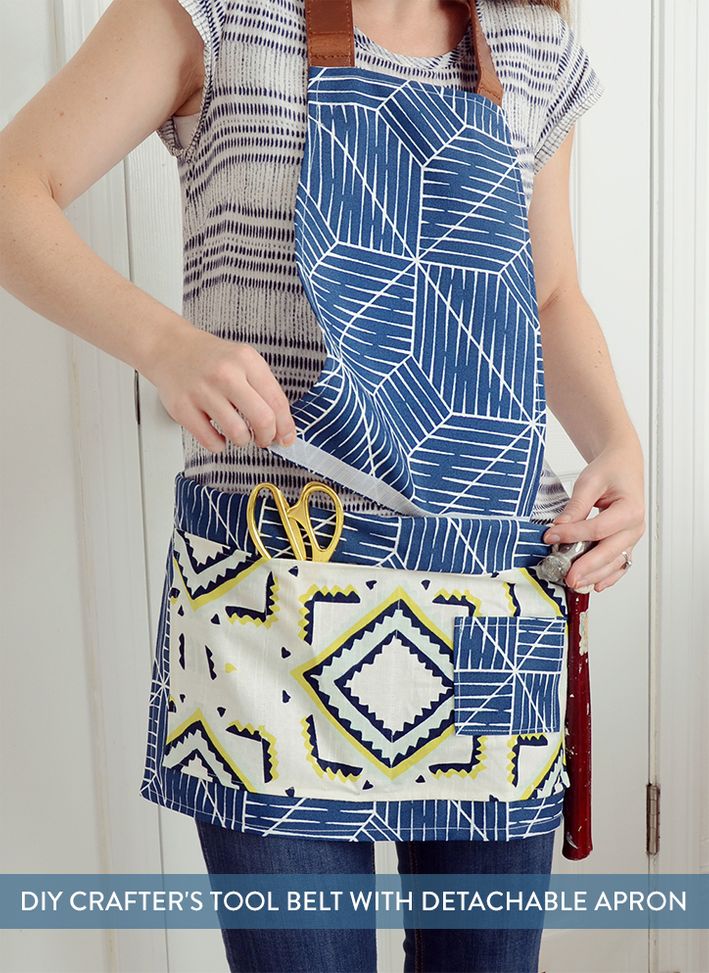 Crafters or multitaskers might have encountered a problem like this. You need a full apron for doing a project or cooking, then you need to change tasks where you don't need the full apron, but just a few more pockets like a utility apron. having to change gears all the time can be a bother, so here is a solution. A detachable apron, to customize the apron according to your needs. It is a fun sewing project to try and it will definitely make your life a bit easier.
2. DIY Ice Cream Apron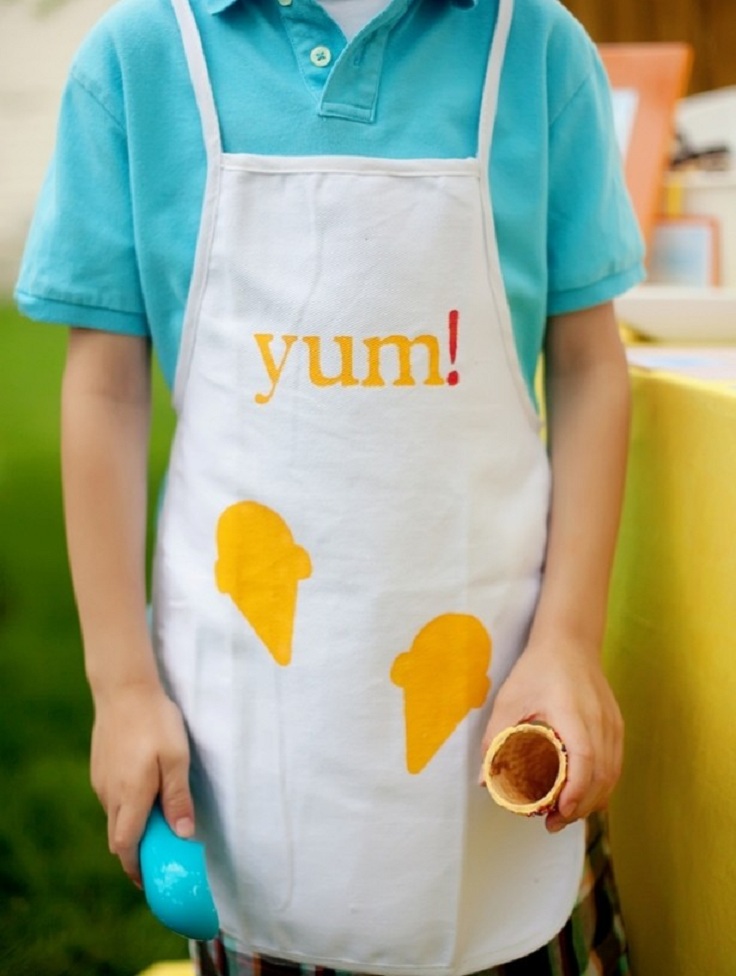 Getting your kids to wear their aprons when playing or doing their various arts and crafts projects can be a bit tricky, especially if you have plain old aprons. However, kids would go for anything that has a lot of color or sparkles on it. Also, if anything is colorful enough or has a picture of something they really like, they will want it. So, make your kids excited to wear an apron while playing with messy things by refashioning it, like this adorable little ice-cream apron.
3. Super-Cute Valentines Ruffled Apron Pattern Tutorial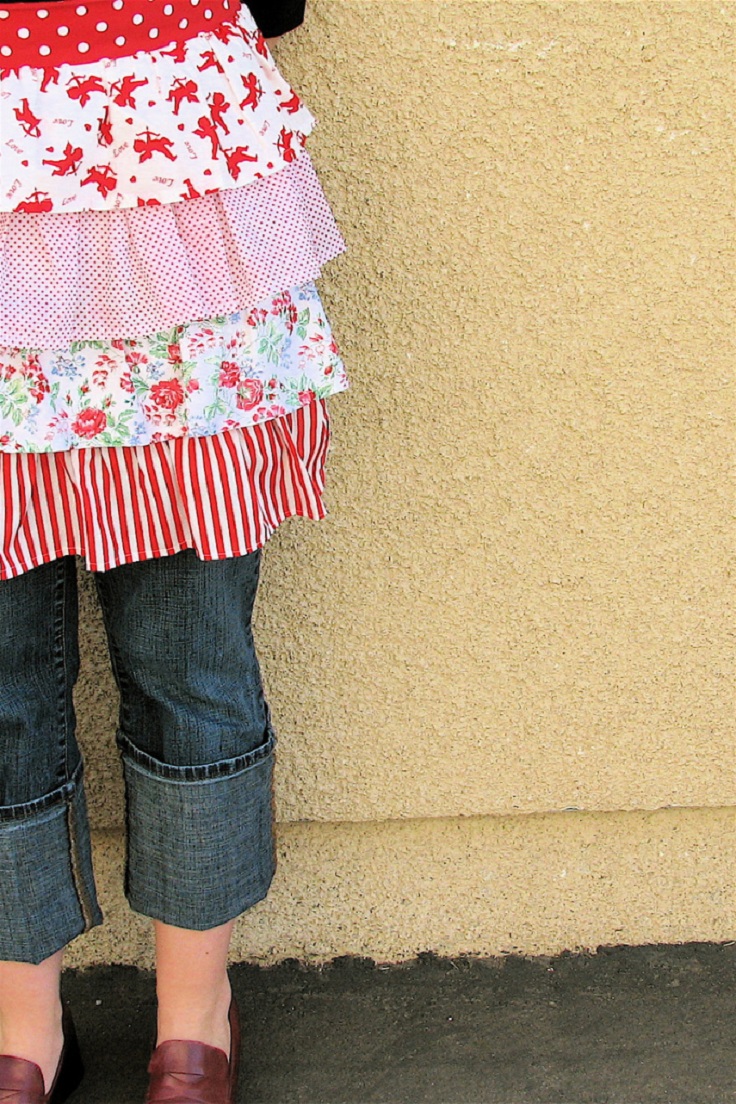 We mentioned aprons make cute little gifts. And when you make them yourself they are even more meaningful. With cute patterns and ruffles, it is probably the cutest gift you can give for Mother's Day, Valentine's day, or any other special occasion. Get yourself a few fabrics in different patterns, sew them in a row of ruffles, and you've got yourself a very special gift.
4. No-Sew Scarf Apron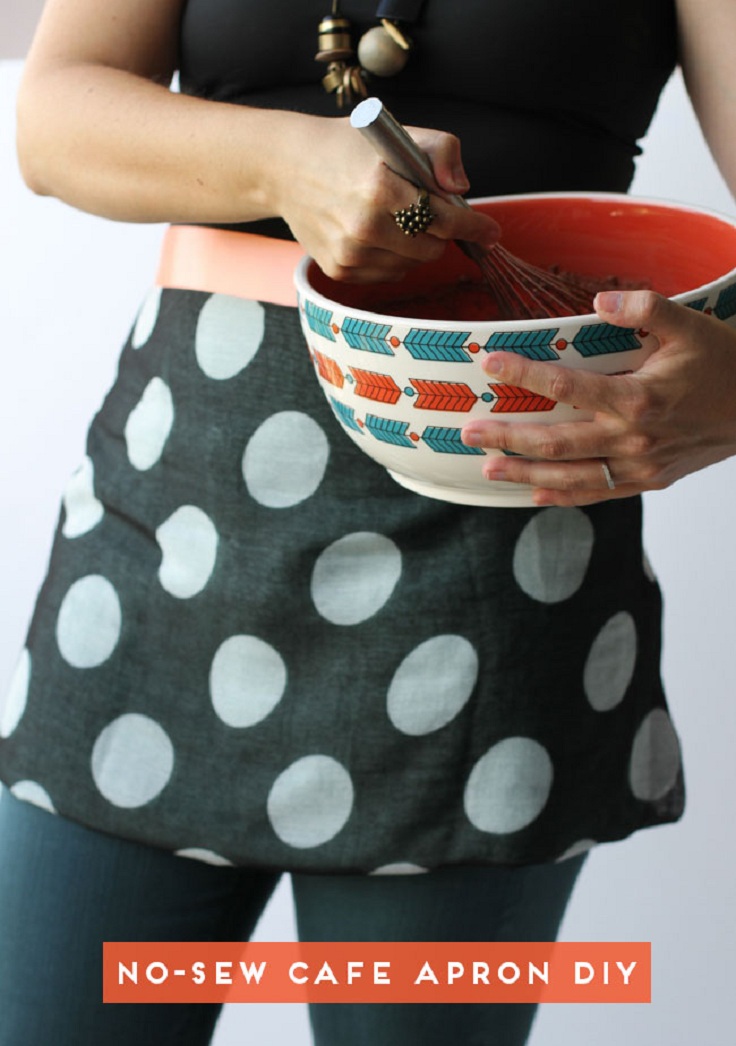 So you're a neat cook, and you don't get very messy. But even the neatest cooks have the moment when you brush your hands from your pants. We all do it or have done it. So, it happens once in a while, and you might not feel that you need an apron, but to protect your pants from accidental brushes of hands with flour, you
5. Mom & Daughter Ruffly Aprons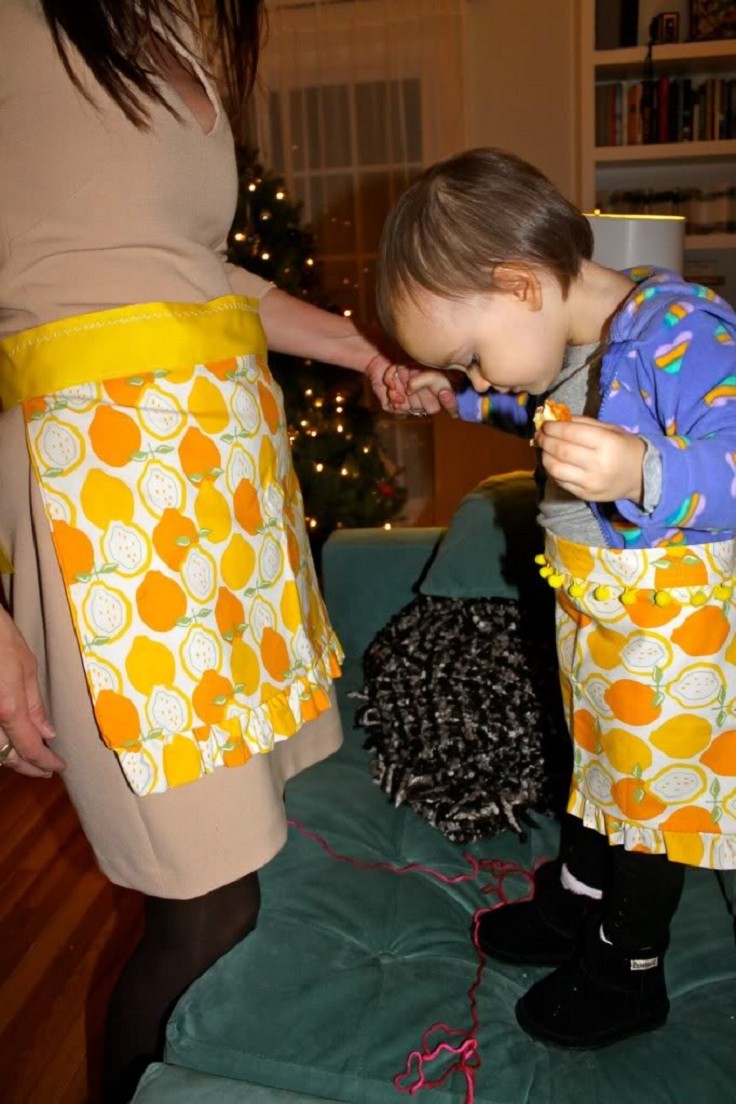 Toddlers and young kids love imitating grown-ups, and they really love to help around the kitchen and cook along with mommy. if your child shows such interest and curiosity, don't send them to the other room. Cooking together is a great bonding experience, and it can be a very fun experience, especially if you get matching aprons while preparing your food. The project is easy and it has a lot of potential for enjoyable creativity.
6. Child's Reversible Fat Quarter Apron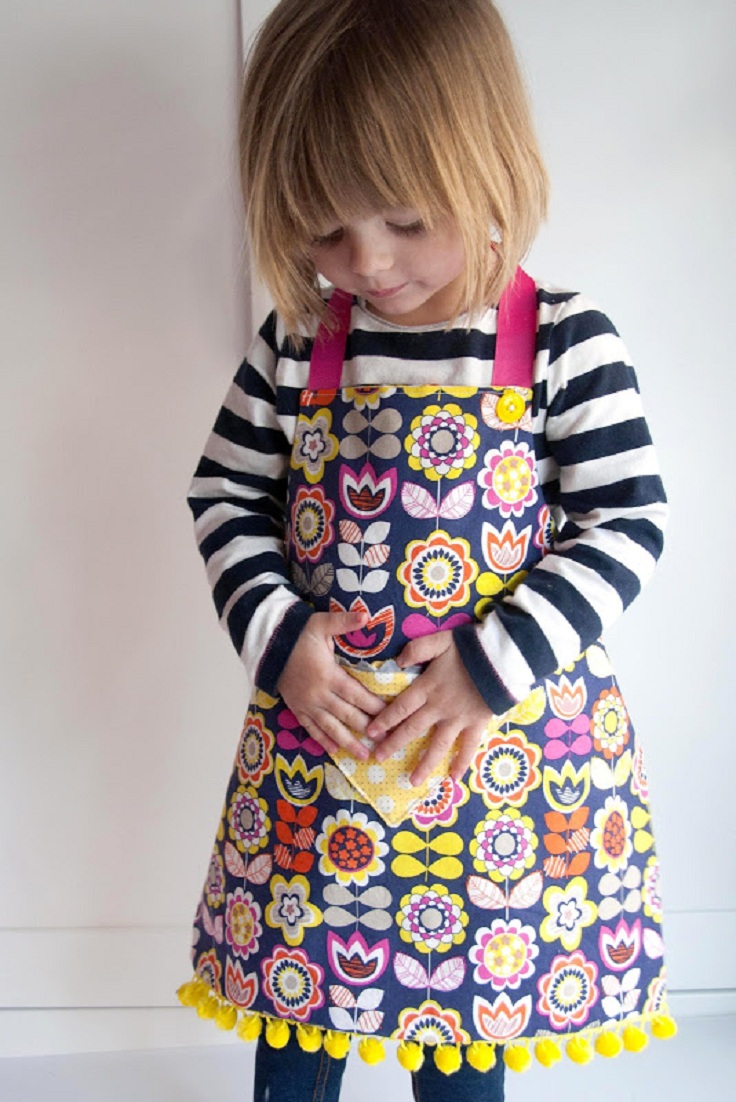 Another situation where aprons can come very handy that you might not have considered is for playdates. If you are hosting a play date with two or more of your child's friends, keeping them safe and entertained is the basic rule, and cleanliness and freedom while playing plays a big part in that. By having a lot of kid-sized aprons at hand and as cute as these, you can be sure that the fun will be neverending
7. DIY Apron With Fabric Rose & Obi Sash Tutorial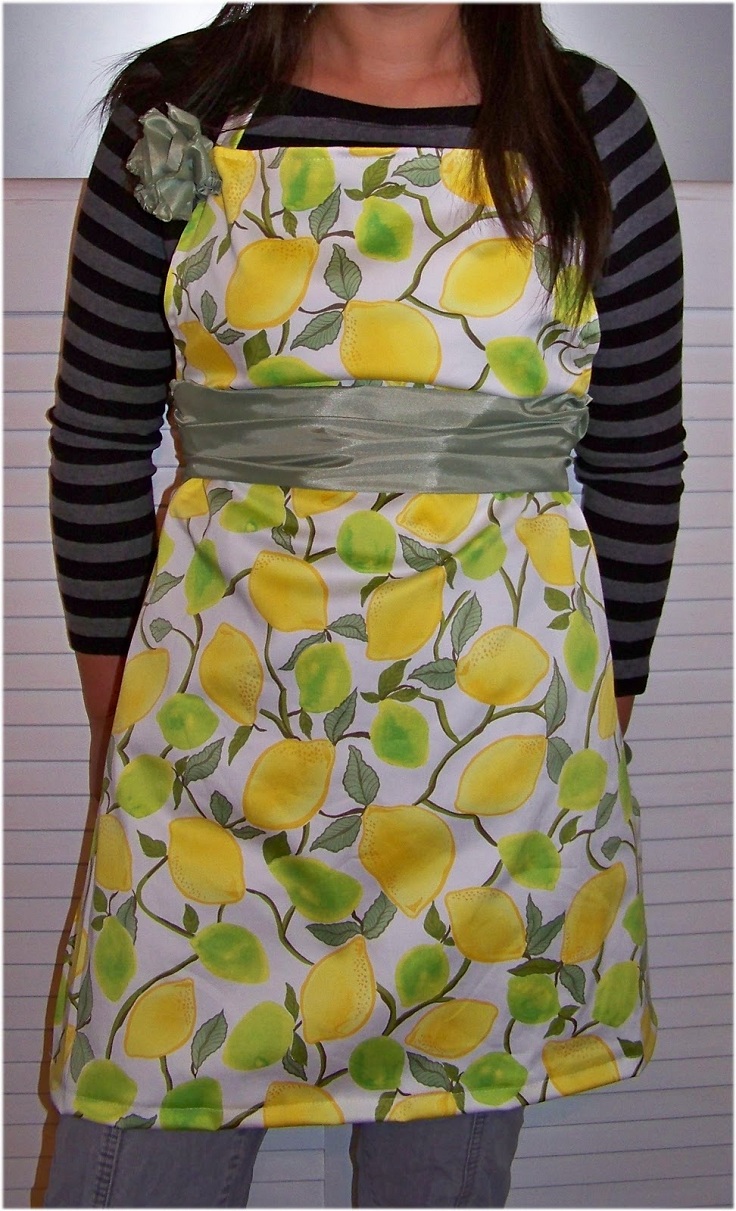 Aprons are meant to be practical, not stylish or elegant. Which doesn't mean they can't be. Why can't we look good while cooking or working? If you often use aprons, you deserve to have at least one fancy one. And you can start by making this one. Easy to make, with a few simple additions, like a sash and a fabric rose and you have yourself a very classy apron, indeed.
8. DIY No Sew Tea Towel Apron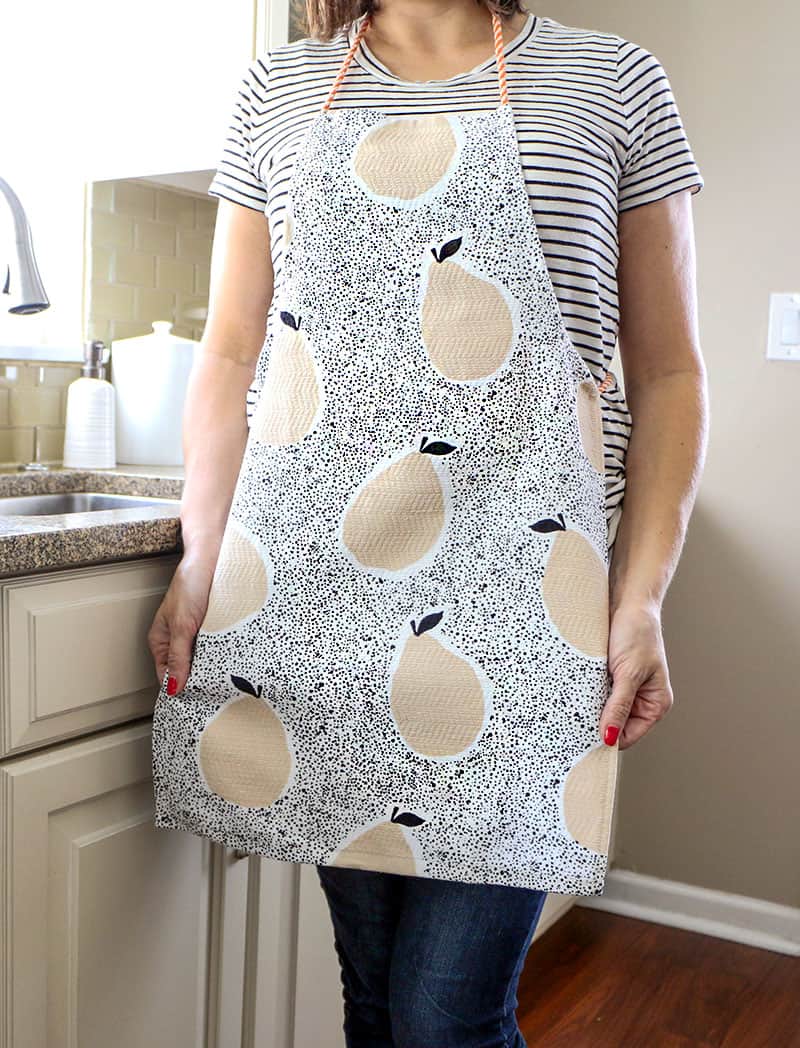 You might not have an apron, but you certainly have a tea towel or two around that you can easily transform into one. And the best part is that you don't even need a needle and thread for this one. With a glue gun, a tea towel, a rope, and a few minutes you can sport a very nice apron without leaving your home.
9. Laminated Apron For Kids
Art time is probably the messiest time you can spend with your kids. Regular aprons are no match for the endless spills of water and colors. You need some pretty endurable apron for this activity and now you can see how to make one yourself. Aprons that can be wiped down, without the need for washing can be made from laminated cotton material. Try it. You and your kids will love it.
10. Basic Utility Apron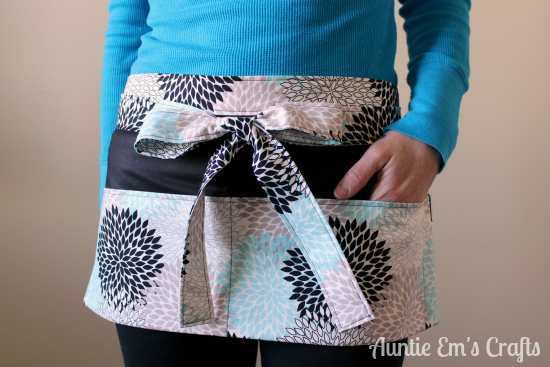 Last but not least, here is a tutorial for a utility apron, that is used and loved by many crafters, hairdressers, gardeners, and handymen. Even if don't practice any of these professions, it is sure a nice item to have around the house. You never know when you might need it.
That's all we have for you for now. Let us know your ideas and projects for great aprons in the comments section below.