No matter the season, it is very important to take good care of our skin, especially when it comes to our face because it's very exposed to everything that surrounds us. That means that so many things can affect our skin and take away its glow, pureness, and softness.
Luckily, there's always a way to solve things, and to do your own homemade face masks can help you a lot. So many people around the world are choosing natural products instead of buying chemicals, and they're very satisfied, so why not give it a try? We picked ten face masks that you can make at home, scroll along and see which one is the best for you.
1. Pumpkin Spice and Honey Mask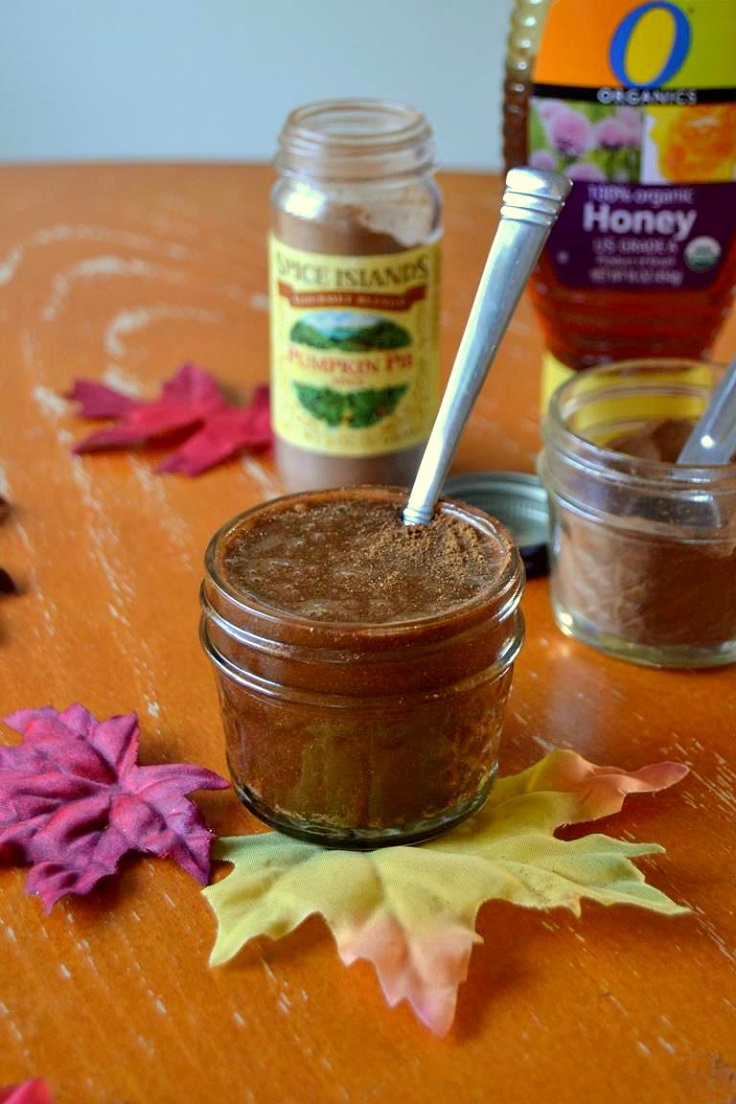 In each of the ten mask recipes, you will notice that they all have one mutual ingredient – honey. It unclogs our pores, makes our skin soft and glowy, while at the same time works as anti-bacterial and can help in fighting acne. Perfect for some cozy fall time, for this mask, you need 6 tbs organic honey, 3 tsp ground cinnamon, and 3 tsp pumpkin pie spice. Mix these three in a jar or other small container, and before you use it, clean your face. Apply a thin layer and leave it for 20 minutes. It is recommended to drape a towel around your neck because the mask can get drippy.
2. Avocado Honey Mask with Cacao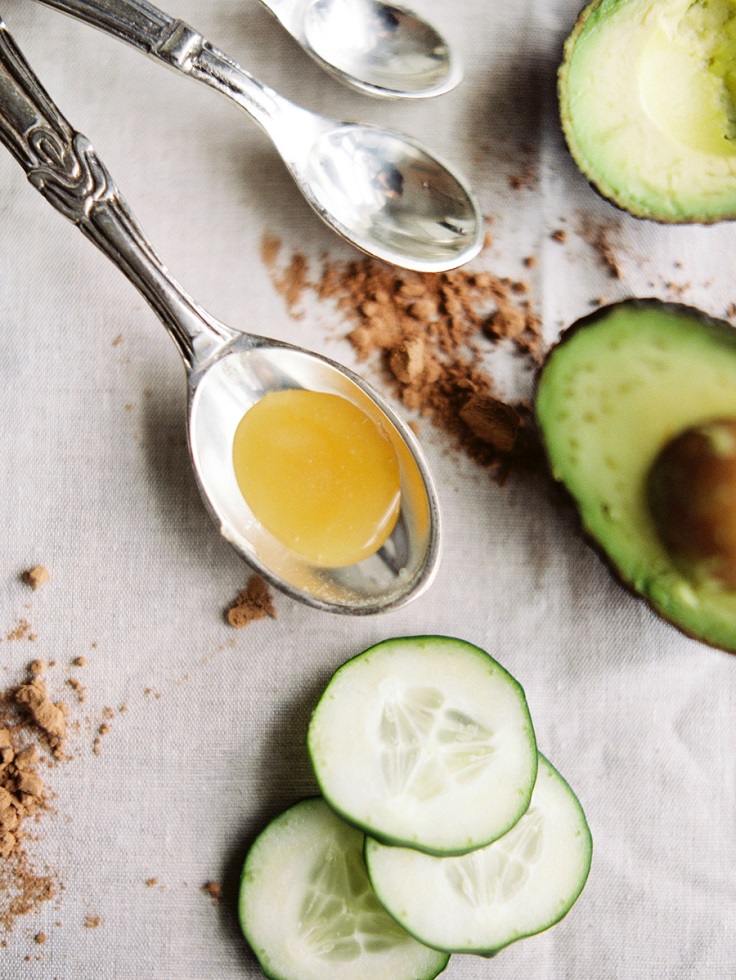 There are few reasons why you should start using cacao in your skin routine, and we'll name just three – it is a powerful antioxidant that blocks free, harmful radicals in our body, it contains omega 6 fatty acids that help in cellular healing, and the cacao is rich with vitamin C and magnesium, that protect our skin and keep it healthy. So, to prepare this mask, use 1 organic avocado, 1 tbsp organic raw honey, 1 tbsp cacao powder, and 3-4 cucumber slices.
3. Banana Face Mask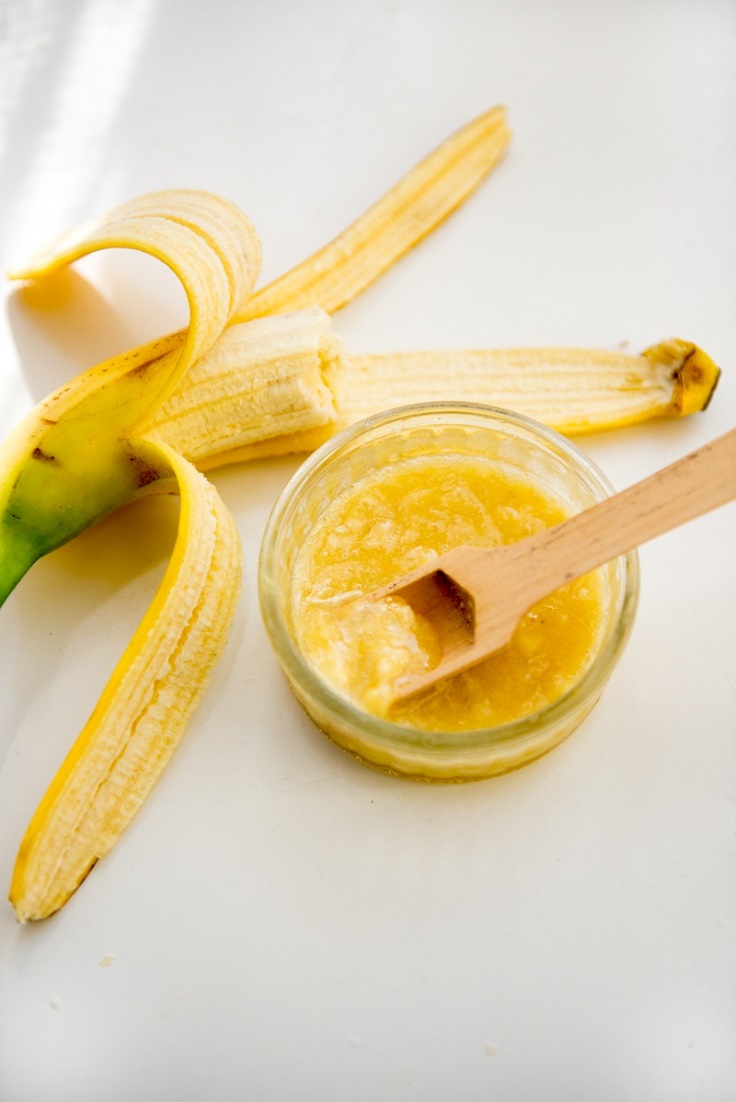 via styleoholic.com
The banana is rich in vitamin C and B6 that are important when it comes to the integrity and elasticity of the skin, and it can use its antioxidant for repairing any damage done by free radicals. On the other side, honey is the most important ingredient, thanks to its amazing properties that we previously talked about. To prepare this mask, make sure to have half a banana (ripe) and 2 tsp honey.
4. Hydrating Mask with Pumpkin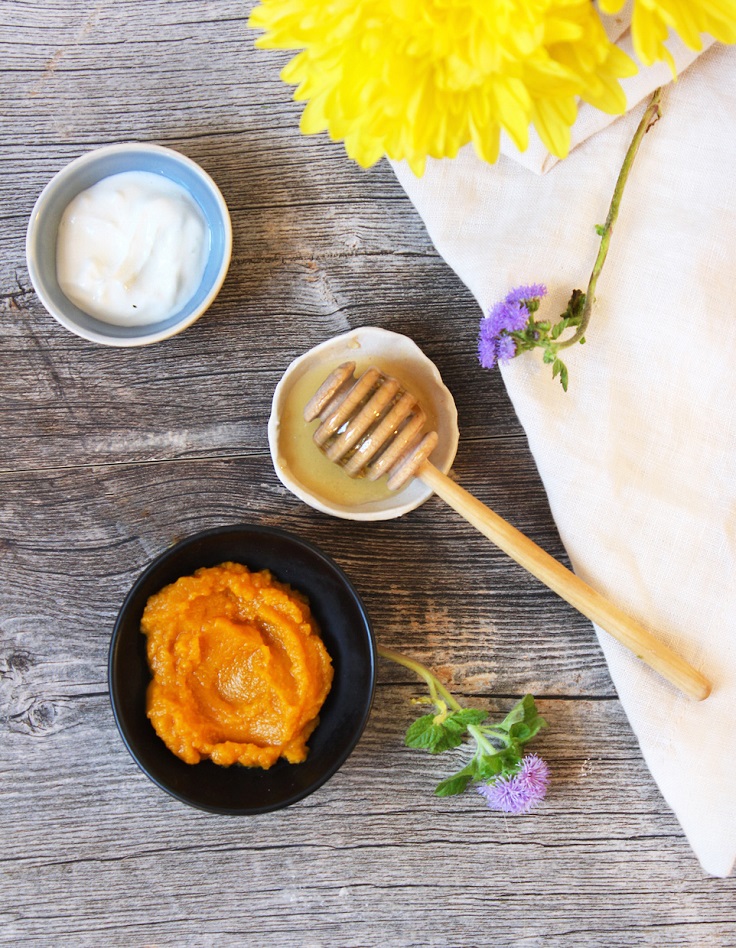 via thenewpotato.com
The pumpkin is a powerful antioxidant thanks to the presence of carotenoids, such as beta-carotene, and is very rich in vitamins, such as vitamin C. You can use the pumpkin as an ingredient if you have oily skin or if you want an anti-aging treatment. Yogurt is very important for our skin too because it contains enzymes and lactic acid to exfoliate, hydrate and soothe. For the mask, you need 2 teaspoons pureed pumpkin, 1/2 teaspoon organic honey, and 1 teaspoon organic Greek yogurt.
5. Detox Face Mask with Charcoal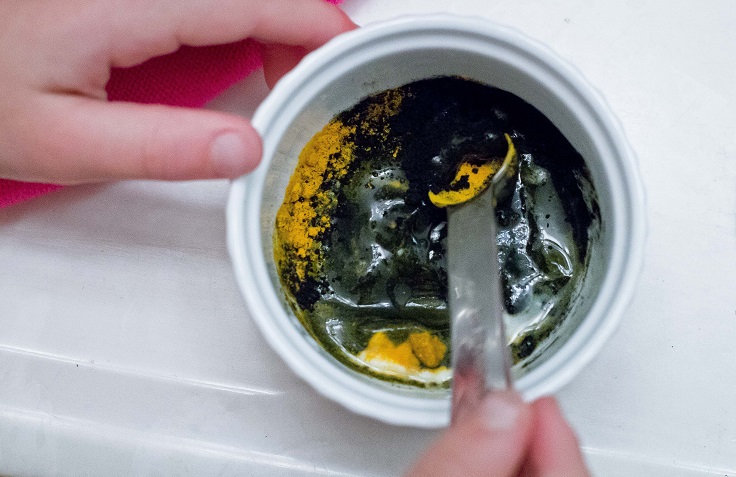 via scratchmommy.com
This mask is perfect for detoxifying, hydrating, and soothing the skin during cold, winter times. The activated charcoal has powerful absorbing properties, so it can draw toxins out through the skin. The witch hazel is used because it's good at removing excess dirt and oil while also moisturizes and soothes our skin. To prepare a mask with these ingredients, use  ½ tsp organic whole milk plain yogurt, ½ tsp organic witch hazel, ½ tsp (two caps) activated charcoal, and ¼ tsp organic ground turmeric.
6. Orange Turmeric Revitalizing Mask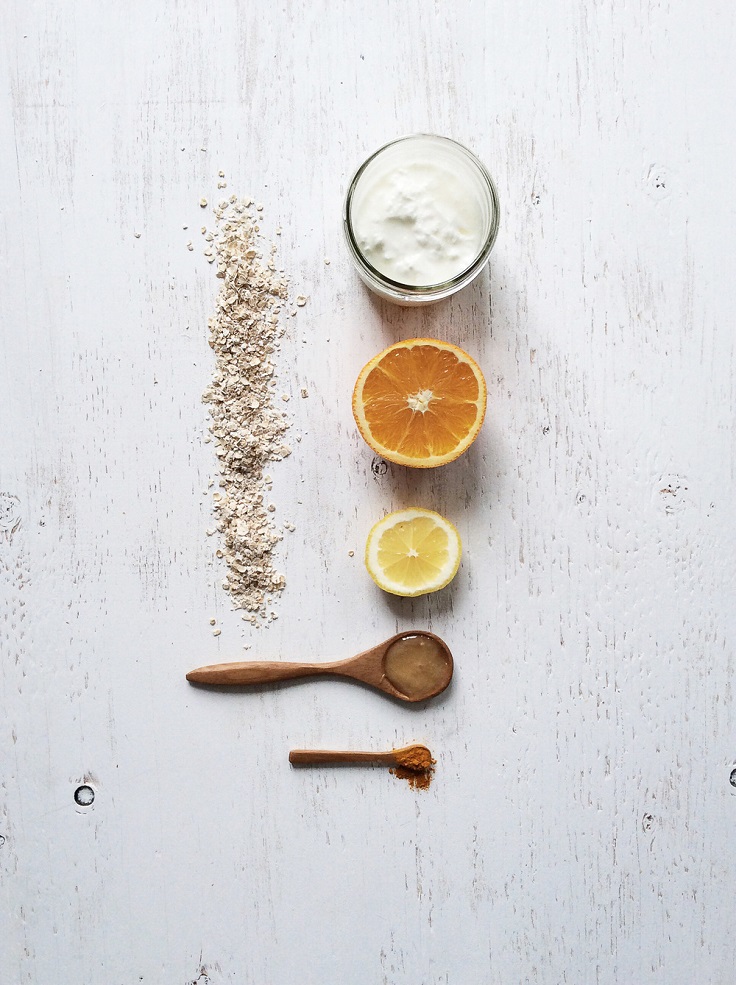 via saladdays.ca
The orange contains powerful antioxidants, thanks to which this super tasty and healthy fruit fights free radicals and prevents aging faster. Turmeric has been used for centuries as a beauty ingredient, and there is a reason for that – it has anti-inflammatory properties and works as a great antioxidant. For this mask, you need squeezed juice of 1 orange, squeezed juice of 1/4  lemon, 1/2  cup quick or instant rolled oats, 3 tbsp goat or Greek yogurt, 1 tbsp raw honey, and 1/2 tsp turmeric.
7. 

Pineapple Yogurt Face Mask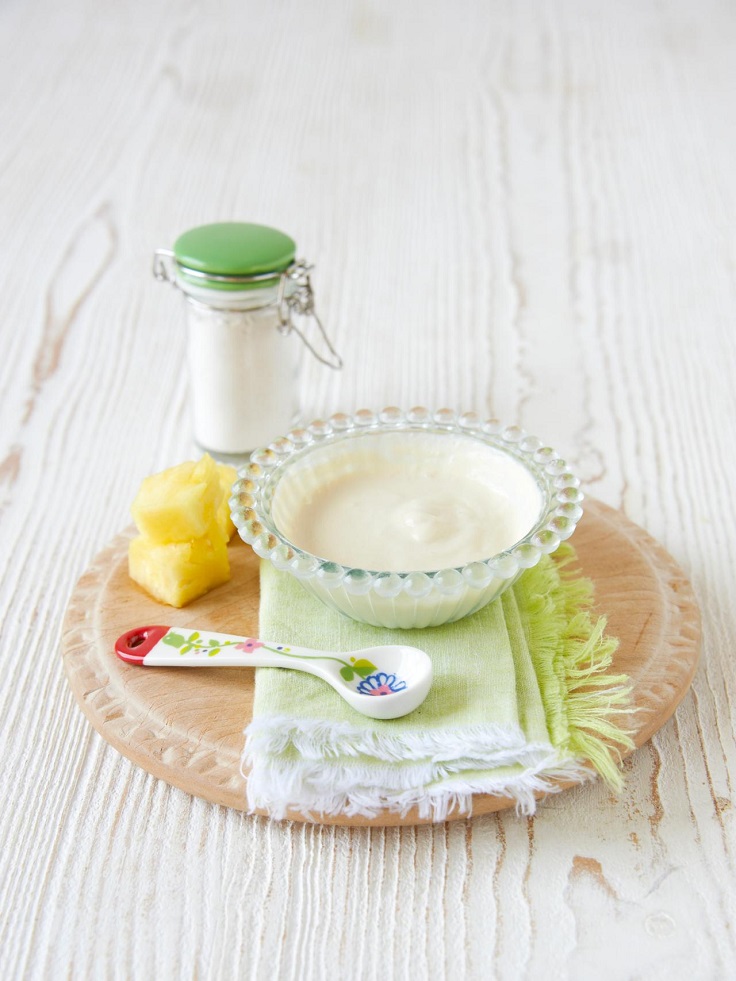 via diynetwork.com
The pineapple is rich in vitamin C, bromelain, and antioxidants, and thanks to these three, this tropical fruit can help us in fighting acne, soothe our skin, and even act as an anti-inflammatory, while the yogurt will make it soft and moisturized. Use (5) 1-inch pineapple chunks, 2 tablespoons plain Greek yogurt, 2 tablespoons aloe vera juice, and kaolin (or substitute with coconut flour or for drier skin, oat flour).
8. Papaya Face Mask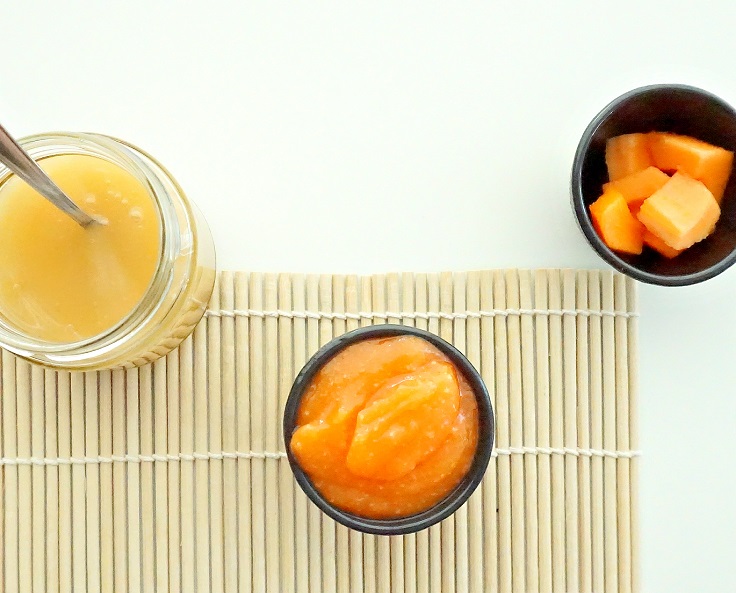 The papaya honey mask is very simple to make and very budget-friendly, as all you need are just these two ingredients – about 1/4 cup of papaya and 1 heaping teaspoon of honey. So, why use papaya on your skin? It contains vitamin A, which is a great antioxidant and can act as a natural exfoliant by removing dead skin cells. The papaya also has anti-inflammatory and anti-cancerous properties.
9. Red Wine Honey Mask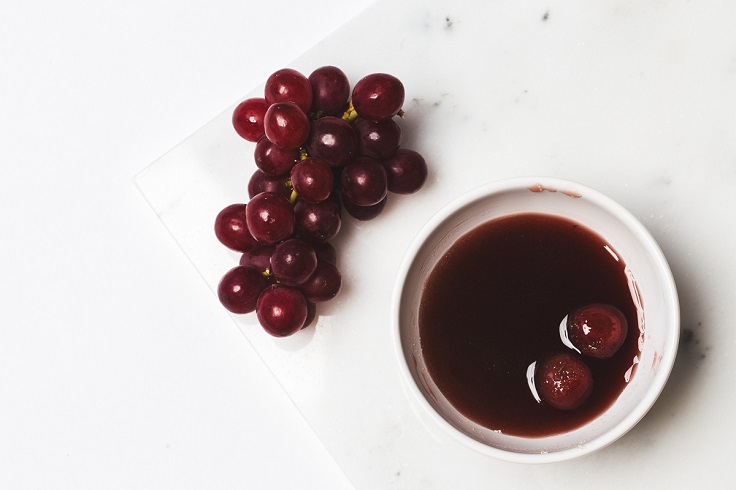 The red grapes also contain powerful antioxidants that can protect our skin from pollution and toxin damage. Red wine also works as an antioxidant that that fights free radicals, rejuvenates, and increases skin elasticity. So, next time instead of drinking wine, how about making a mask with it? You need a handful of red grapes, 3 oz of red wine, and 1 tbsp of Manuka honey.
10. Face Mask For Dry, Sensitive Skin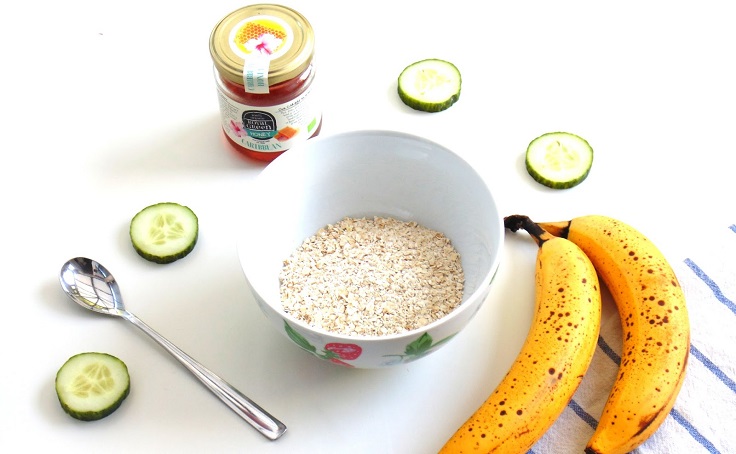 via ofbeautyandnothingness.co.uk
If you're dealing with sensitive skin, try using oats in your mask – they can do wonders! So, this mask is all about using the ingredients that you already have at home, like honey and bananas. We already talked about how these can help you to have amazing skin without using any chemical products. Take a little bit of these, mix them, and voila!