Even cat lovers will agree that cats are peculiar creatures. But if we had to describe them somehow, curious, predatory sunbathers would probably be the closest description. Yes, even lifelong housecats are predators, meaning that they like to climb on higher ground, hide and stalk their prey (usually their humans) or just relax in the warm sun somewhere where they won't be bothered. The point is if you have a cat that doesn't go outside, it would be an excellent idea to consider making them a fun little cat tree.
While there are more than enough cat tree designs and models in the market, you never know if your cat would like it and use it, and they don't come cheap either. Therefore before getting a pricey model, have a test run with a homemade cat tree that you can customize to your cat's content.
There are several ways you can go about building a cat tree, from using old leftover materials and furniture, to building it new from scratch. Either way, you'll need to have a plan on how it would look, what elements it would have, and where it would be placed. You'll see that simply planing it can be a lot of fun, let alone building it. But to get you started, we have for you 10 very interesting and feasible tutorials for making your first (or most recent) cat tree.
Once you've chosen your favorite cat tree and if your cat loves it, you can be sure to get a lot more peace and quiet from your cat and a more chilled pet to boot. So let's get started.
IKEA Hack Cat Climbing Shelves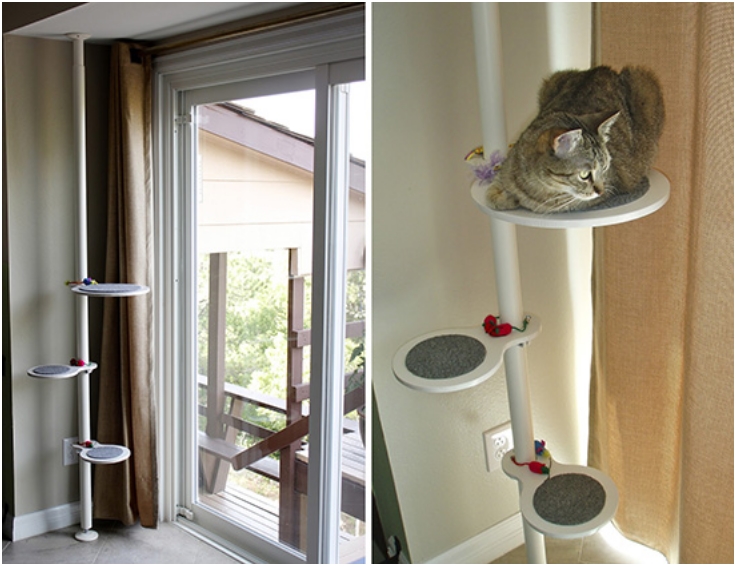 At heart, cats are very simple creatures. They don't need anything flashy or luxurious, just convenient and soft. Hanging a few platforms covered with a rug on a pole is a very simple project to make, as well as a very suitable resting place for your kitty.
DIY Wall-Mounted Cat Tree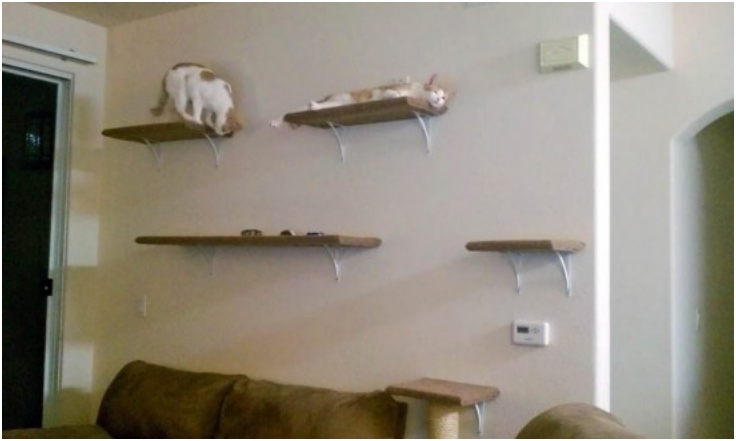 You might have at least one or two instances where your cat has pushed and broken something from your shelves. It's because they like hanging out here.  So make them some hanging shelves of their own, and you can always expect to have a changing decor around the house.
The Survivalist's Cat Tree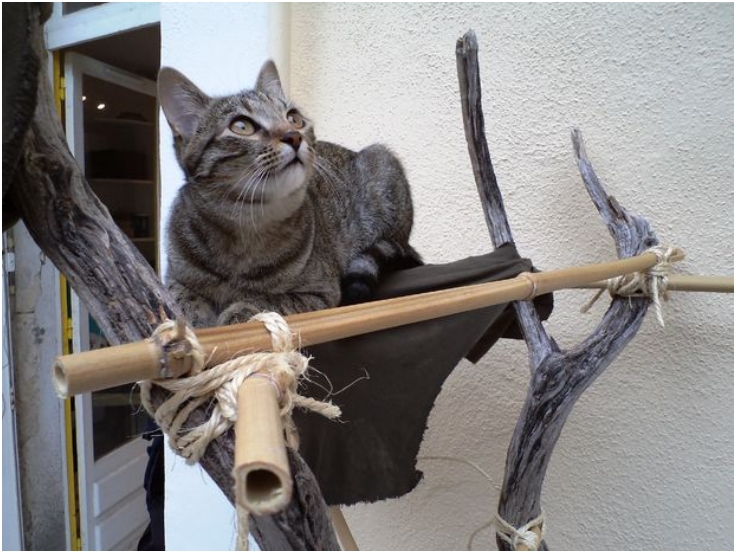 Cats don't care if the place they spend their time is solid or wiggly. In fact, they might prefer the latter. What we're saying is that you don't need to cut boards for the platforms. You can weave them if you have the know-how. With some branches, bamboo sticks, and some basic shelter-building skills, you can make a true survivalists' home for your furry buddy.
DIY Star Trek Cat Tree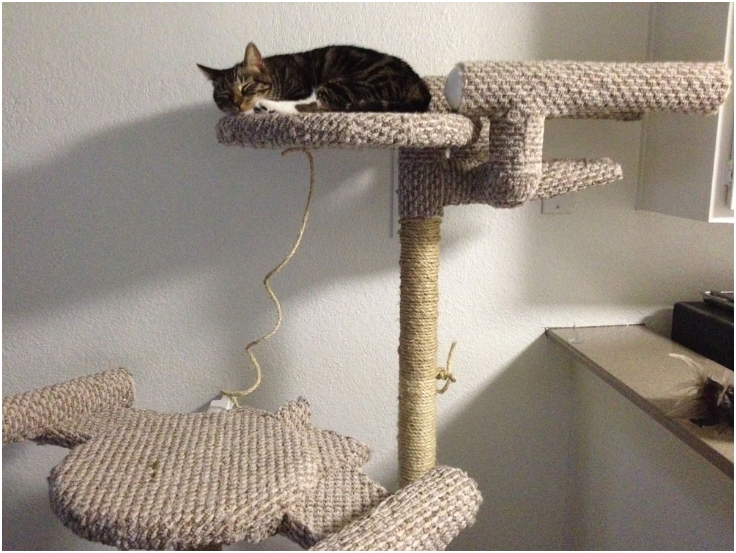 The cat tree doesn't have to be all about the pet. After all, you'll be the one looking at it all the time, so why not turn it into something pleasant and unique. For example, this star-wars fan creator has turned his cat's climbing and napping place into an out-of-this-world sculpture. And now you can do it too… Or at least something similar.
Wall Attached Cat Tree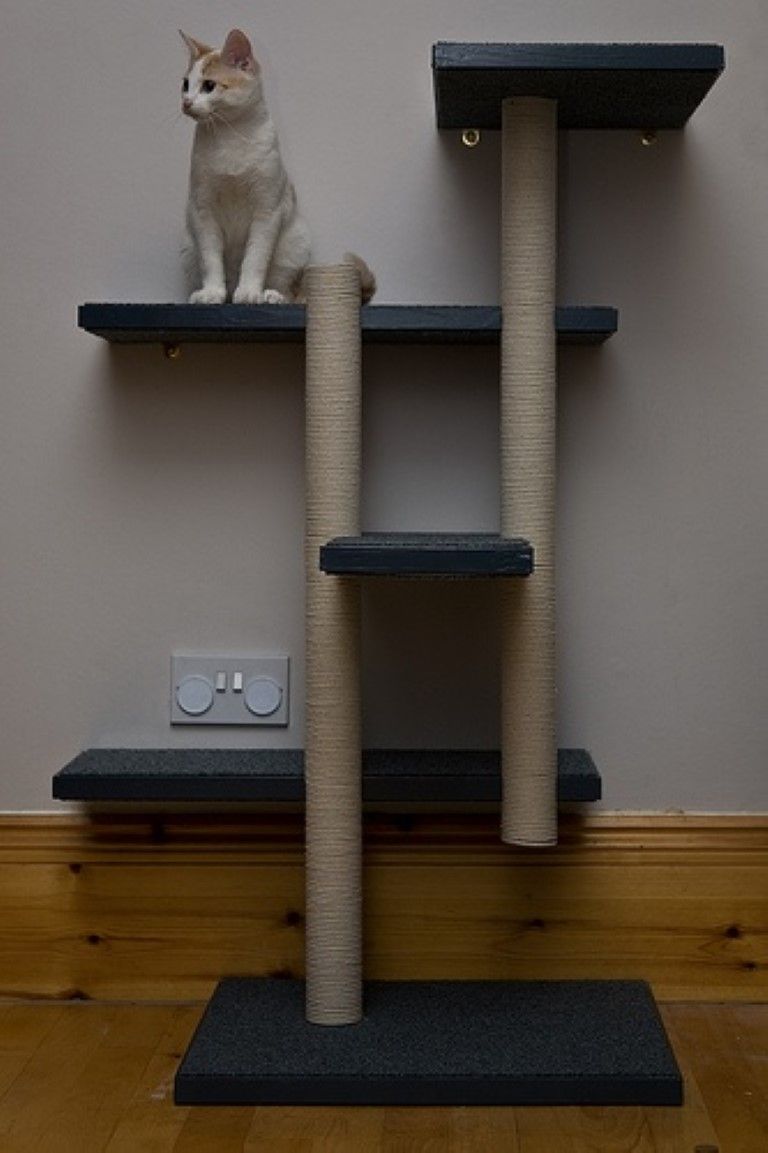 Even the sturdiest cat trees can tumble over or get moved around. However, if you want your cat tree to be fixed in one place only, then you need to check this project out. It is very easy to make, with not too many materials, and since it's attached to the wall, you can be sure that it will stay put for a long time.
Affordable Natural Looking Tree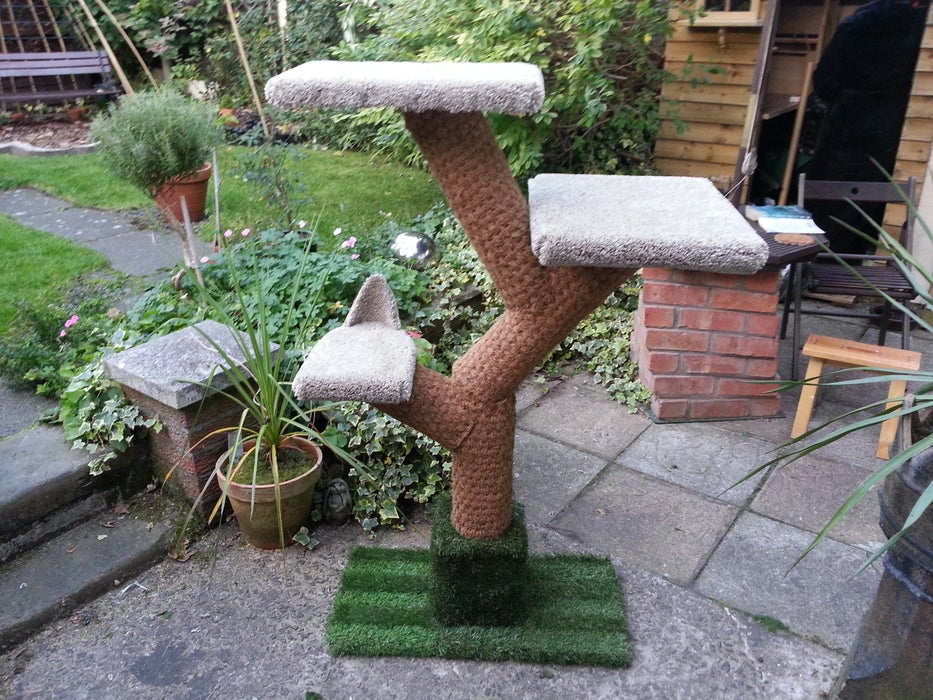 You can find many tutorials on cat trees made from real tree trunks or branches, but we don't want to make things that difficult for you. However, if you are looking for a more real tree-look then you can try this branched-out, faux cat tree. With some carpet tubes, coir mats or rope, and a lot of glue, your cat can enjoy this cat tree too.
Long Hollow Cat Tower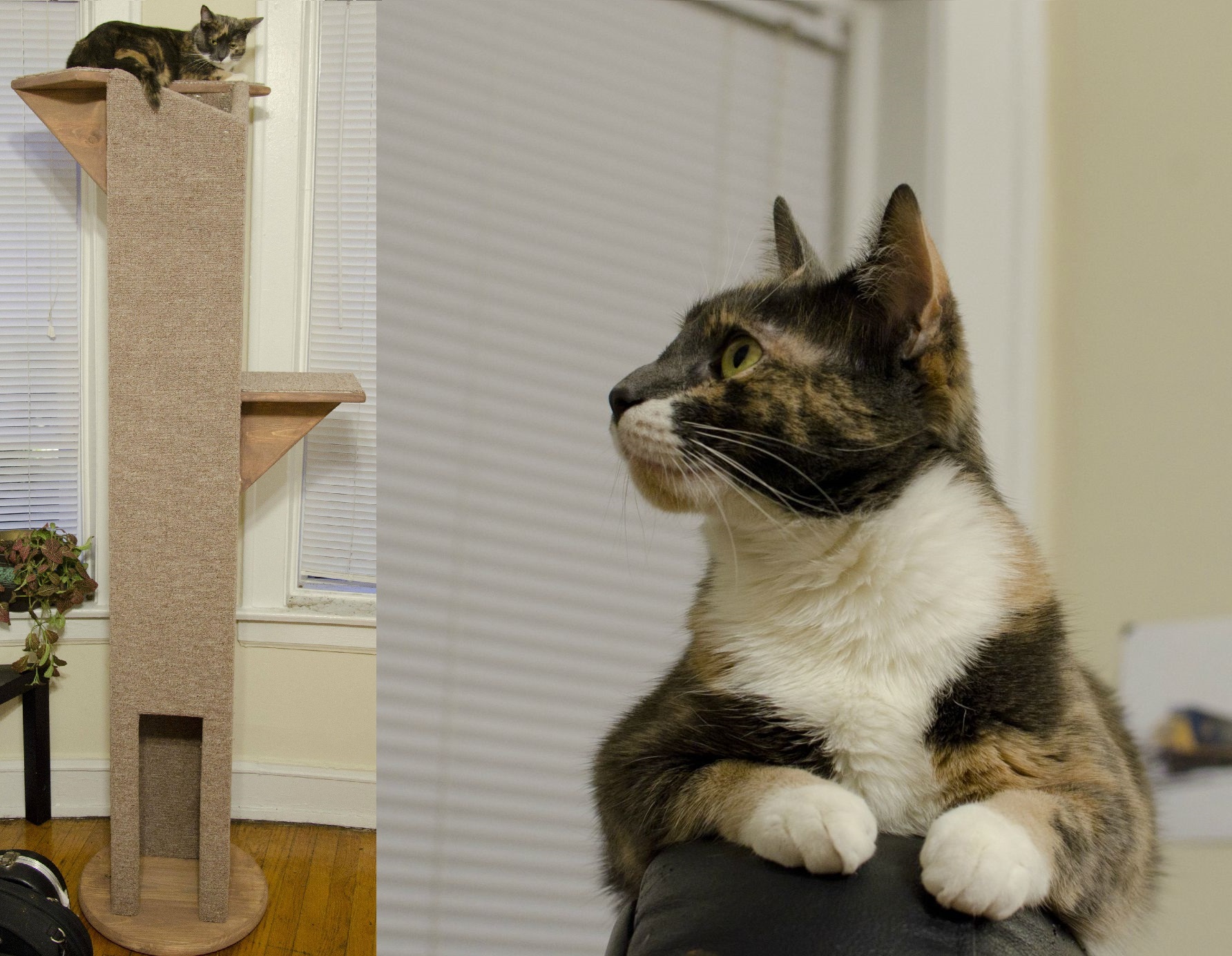 Most cats like to hide in small spaces, often getting stuck in the most unusual places. If your cat is one of those, then you should consider this long wallow cat tower. You can cover the interior of the column as well, to give your cat more traction when going up and down and a nice place to scratch all over at once. It is a nice and interesting project, for sure.
Old Wooden Ladder Cat Tree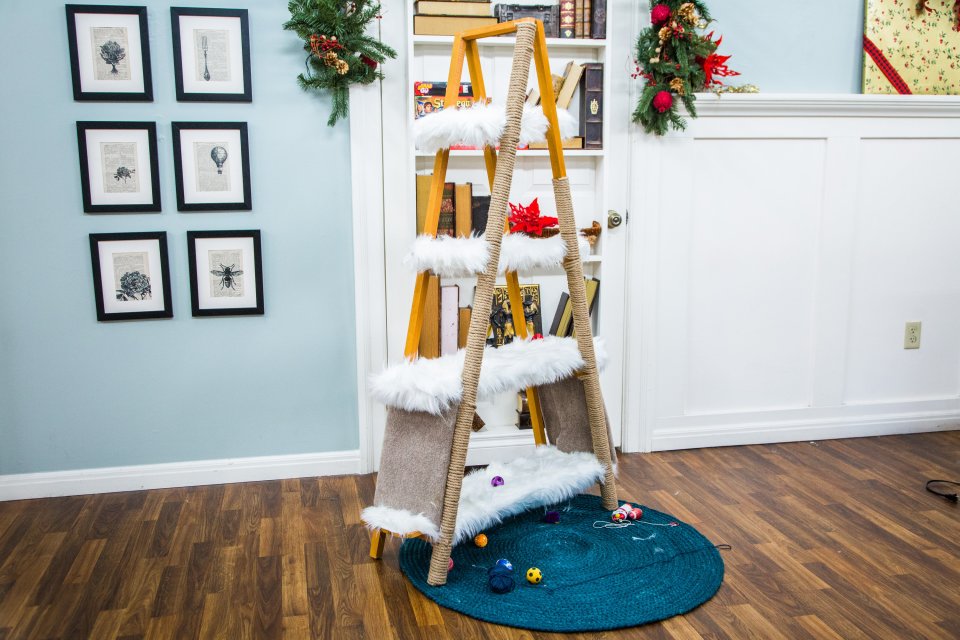 As we mentioned before, you can use materials or furniture you already have at home to make your cat's a comfy little tree. This one is probably the simplest of all, using a vintage wooden ladder (or any ladder) as a base. All you have to do is add some platforms, some rope to scratch, or some toys and you're done.
Modern Cat Condo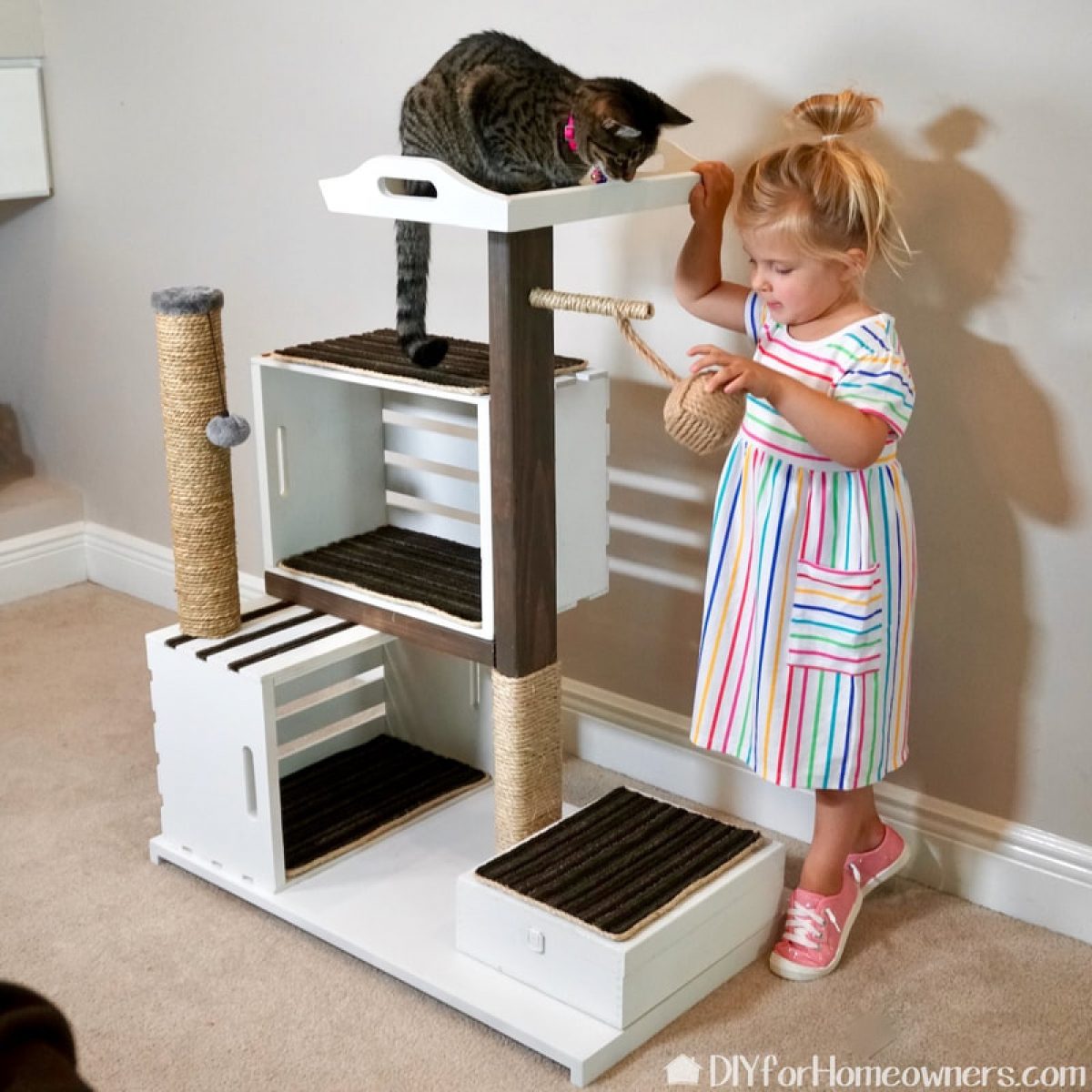 Except for ladders, crates also make great solutions for making little rooms or platforms for your cat's tree. You can add as many crates to your cat tree-condo as you'd like, making each a little bit different, and you can even use the bottom one for hiding the cat litter, making it an easy all-in-one solution for your cat's needs.
Cactus Scratching Tree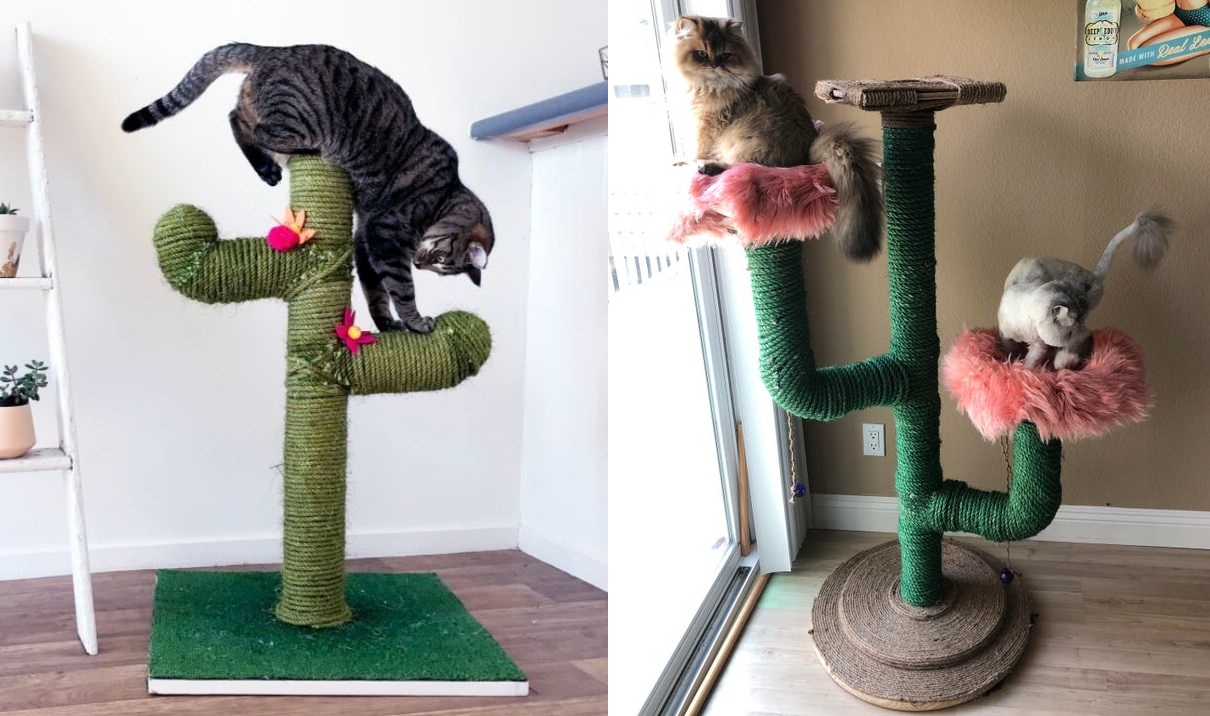 Our last suggestion is something you can modify as you like, looks wonderful and your cat will surely like to stick its claws in it… Since it's more of a scratching pole than a cat tree… But as this reddit user has shown, platforms can easily be added to the ends of the PVC pipes. This is the basic idea, so let your creativity flow and make it in whatever way is best for you and your cat.
That's all the projects that we have for you and we hope you've enjoyed them. Does your cat like resting on high ground and sharpening its nails wherever it can? Then it is high time to start making some of these projects. Which one was your favorite? Leave your thoughts and ideas in the comments section below.