It's the most beautiful time of the year! The best part of it is decorating your home. All that euphoria and jolly atmosphere give you the desire to be creative and decorate beautifully.
This post will give you some ideas on how to decorate your chandelier, you will definitely love each of them. Christmas is the most beautiful holiday, this is the time when you should indulge in your creativity and simply decorate in your own way. It doesn't matter whether it would be with ornaments or other stuff, it will look amazing if you just love to do that.
So make sure you get all crafty and decorate your chandeliers in the Christmas spirit!
Christmas Candle Chandelier
via homeandgarden.craftgossip.com
Candles make a perfect decoration. They give a nice, heartwarming and relaxed atmosphere. This is an amazing idea to decorate your chandelier for this Christmas. It will look perfect in your home and give it a gentle touch of holiday euphoria. Wonderful!
Amazing Christmas Chandelier
via ruffruminations.com
Ornaments are perfect for decorating. Their playfulness brings such excitement and euphoria, you just love watching them all the time. Decorate your chandelier with colorful ornaments and you'll have an amazing, happy atmosphere in your home. Beautiful!
Cedar Wreath Chandelier
Wreaths are typical for Christmas, but you can use them in many different ways to decorate. This is an amazingly creative idea of how to decorate your chandelier. It's lovely how it looks perfect and adds an intense touch of holiday warmth to your home. Simply amazing!
Sweet Candy Cane Chandelier Decoration
via homedit.com
Candy canes look so cute and they make a nice decoration too. This way you'll bring some playfulness and joy into your home, you'll love this amazing decoration. It's done very easily, all you need is some candy canes and mason jars. It will look perfect!
Christmas Tree Chandelier
via ebay.com
Ornaments are beautiful, but ornaments put together as a Christmas tree are much better. They look outstanding! With all the glitter and glow they will give your home a sense of perfection, love, and joy. It's very simple to do and you'll love this decoration!
Pretty Handmade Chandelier
via fabyoubliss.com
This will be the perfect chandelier decoration for every home. Isn't it just lovely how it looks with all the glittering sequels and the pretty glass ornaments? You'll definitely stay indifferent to this kind of decoration. Easy, fun, and beautiful!
Hula Hoop Chandelier
via blog.seasoninatrunk.com
Christmas lights are magical! They amaze everyone with their beautiful appearance, indifferent or just one color, they look perfect. Also, they make a great decoration for your home. It's easy to decorate this way and you will love how they faintly and beautifully light up the whole room!
DIY Beaded Chandelier
This amazing beaded chandelier is actually very easy to make. You just need the supplies and you'll make it in no time. It looks stunning, and when you light it up even more! It will give your home a sensitive touch of perfection, lots of love, and joy.
Beautiful Christmas Chandelier Decoration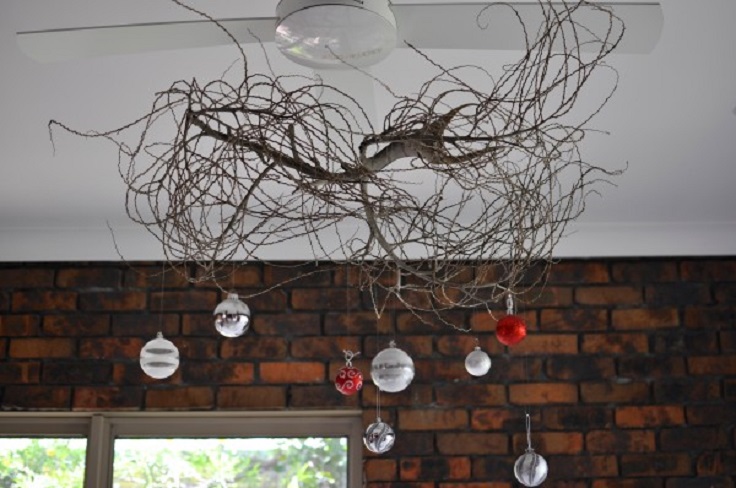 via clairekcreations.com
An amazing, interesting, and quite a perfect chandelier decoration. Everything matches perfectly and will give your home a touch of nature sprinkled with the magic of Christmas. It's the ideal decoration for your home, you will absolutely love it!
Pendant Light Chandelier
via soberjulie.com
This is the ideal decoration for Christmas. Beautiful, with live colors and matching the holiday euphoria. It's very simple and you'll have fun while decorating for sure. Turn your pendant light into a Christmas chandelier and enjoy this enlightened holiday!