Let's face it, we have had the time to finish every known series on Netflix, and have gone partially blind and lost IQs in the process of filtering through Social Media for hours on end. So, time to get creative, and give technology a rest.
Heck, go for a walk in nature, breath in some air from the countryside, get back home, and start one of the really interesting top 10 crochet rugs below. Have the time to look after your home, refresh it a little and find a hobby in the process.
Put your phone on silent or even throw it away somewhere, and get that beautiful brain of yours a well-deserved workout.
Doily Crochet Pattern or Mandala Rug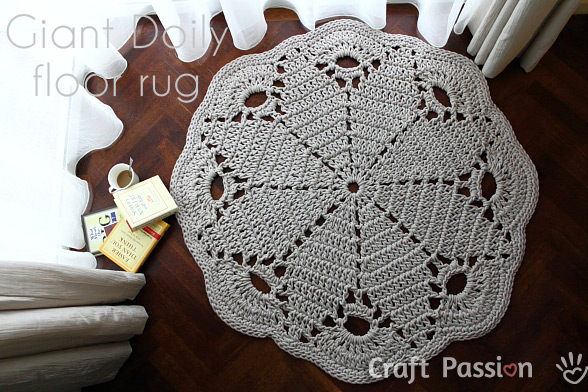 Doilies can remind you of your grandmother's home, having most wooded areas within their homes decorated in abundance with doilies. And you have sworn to yourself that you will never, once age comes into play. But then again, you have seen this Top 10 and thought oh no! And chances are you will recreate it from yourself. But no worries, this will look super smart within your home.
Upcycled Crochet Rug
This tutorial teaches you how to best use your crochets, upcycled fabric (that's the fabric that you already own that you aren't impressed with any longer, and wish to give it a second life of wow), a pair of scissors, and a little imagination and creativity under your belt. There is something so cool about making your own home very homely, especially with your own fingers and not just a swipe of your credit card. Get your own style and colors going, and whatever is in your closet that has longed for a revival treatment.
Giant Crocheted Doily Rug Pattern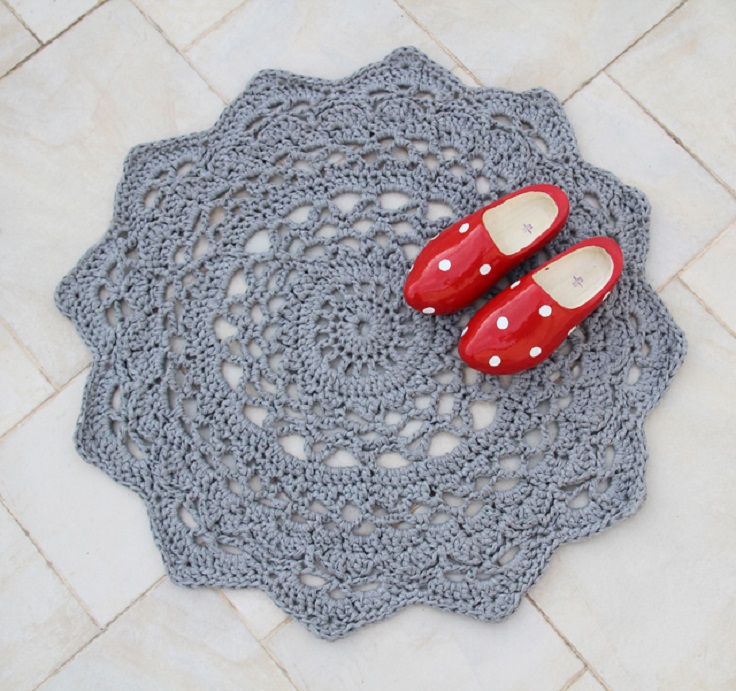 All those little lovely dollies flying around and about in people's homes, and you took one look at them and thought to yourself: giant doily rug! Often small, they do not create that much of an impact so this tutorial lets you go large; literally. Beautiful if you have a home that is rather on the minimalist look and wish to have teasers of personality laying around, or if you have a northern African love for patterns. Especially rugs. With this one, size does not matter; you can wish as big and extravagant as you wish.
Rope Swirl Tapestries
A reasonable easy one to achieve but not something that will look ordinary; fear not. The prepping time is possibly what will set you back time, however, once the whole shebang is ready, it is a matter of using your favorite colored yarn. This is great if you wish to create a shabby chic home with mixed and matched furniture mainly of the wooden style implementing beach style furniture and lots, lots of colors. Perfect for the floor and the walls alike. It will act as a homemade frame and artwork you are bound to be very proud of.
Gorgeous Pink and Lilac Mandala Floor Rug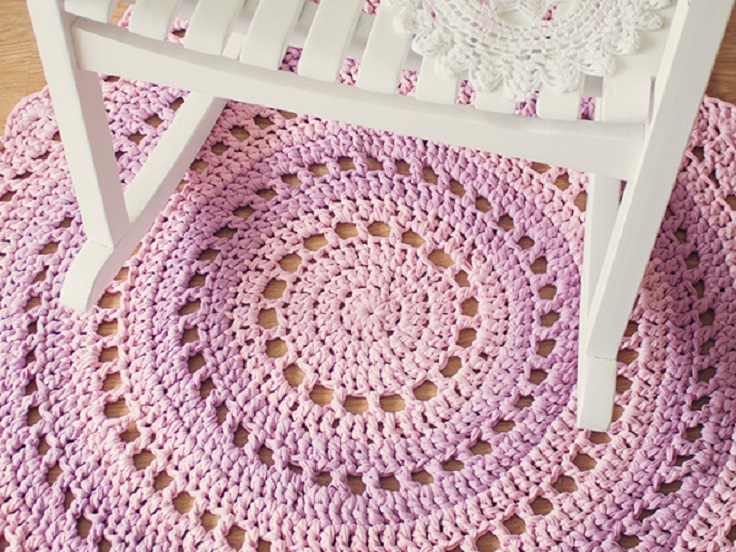 If you have wooden furniture, you would know that your poor old floor is feeling the stress and is starting to look a little tired from the many marks of natural usage. So, better have something to assist with having your flooring looking pristine all the time; and why not have something that actually looks and feels really good and soft on our feet? This can also be perfect for the teenage girl you are housing and perfect for her room. Why not even have a mother and daughter time on this one. Fun activity.
Crocheted Giant Granny Square Baby Blanket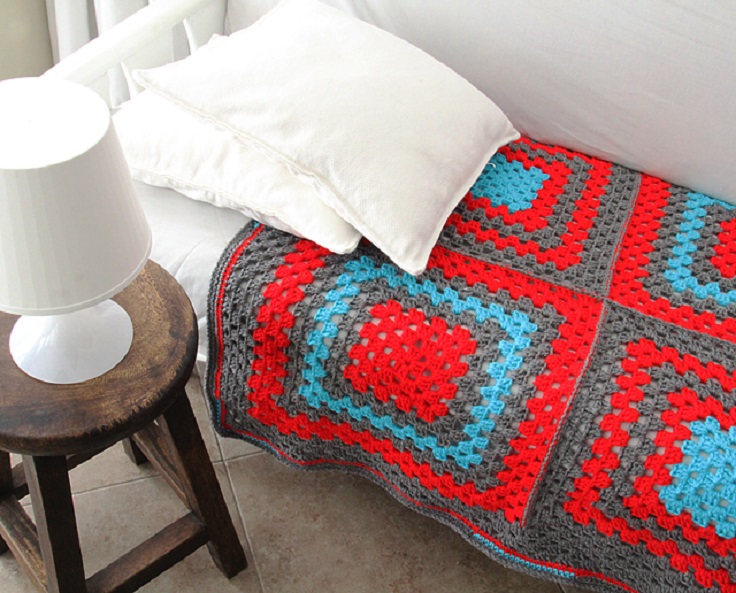 White walls, something that many wish to have more clarity within the home, and to assist with the natural sunlight warming the home. However, you then need a few touches that ooze with happiness, brightness, and character. Why not bring this to the bedroom for a newborn, the children's room, or even the sofa while watching your favorite movie with your favorite person getting all comfy? Very underrated, but make any patterns that come to mind, crochet it, live it, love it.
Rag Rug Tutorial
Every so often we love to remaster the home around and find innovative ways to make your home for many years, keep being refreshed and up to date, never making you bored of the same old same stuff. Monotony kills. And this could also be with bedsheets. Everything discolors but, should this mean to simply throw away and buy new ones? No. Give your bedsheets or even your window fabric blinds a new lease of life? You could even buy some dye and dye your used fabrics with your favorite colors, making your future rug something that really stands out; having spent very little money in the process. Win-win.
Crochet Rainbow Rag Rug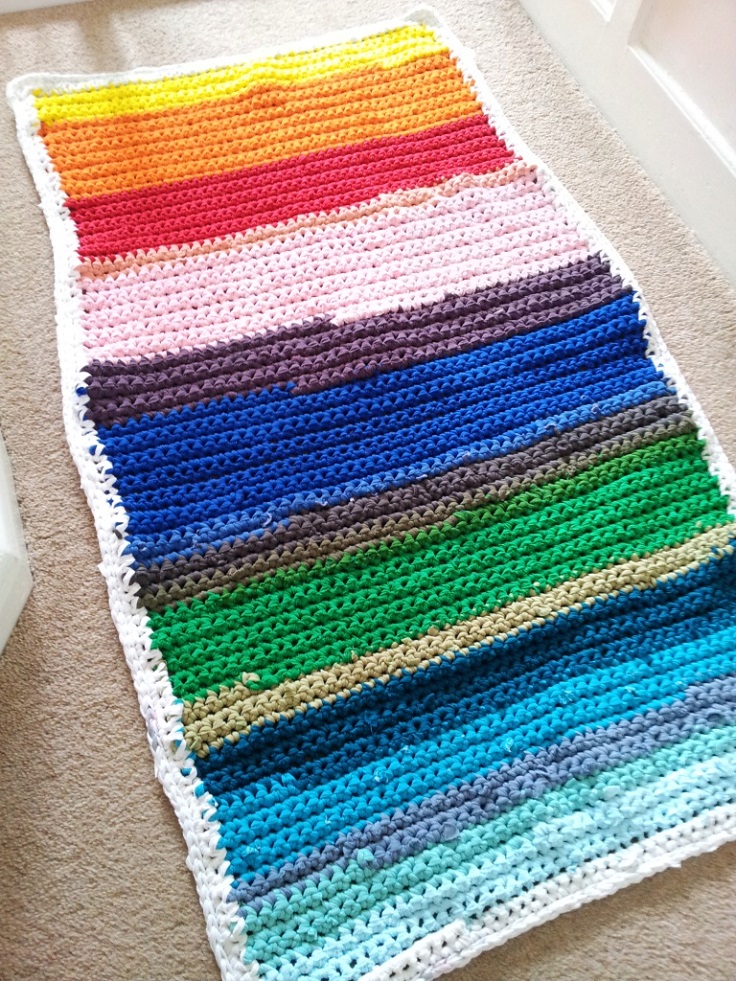 If you love the rainbow for whatever reason but your reason only, then this is crazy cool. It also means that you can recycle as many old fabrics as possible creating one giant superb-looking rug with sunshine in mind. What is great, is that whatever color you have on the walls, chances are this will match with one of them. Or, if again, you have plain walls at home, then make your home a little more, you, and less them.
Crochet T-Shirt Rug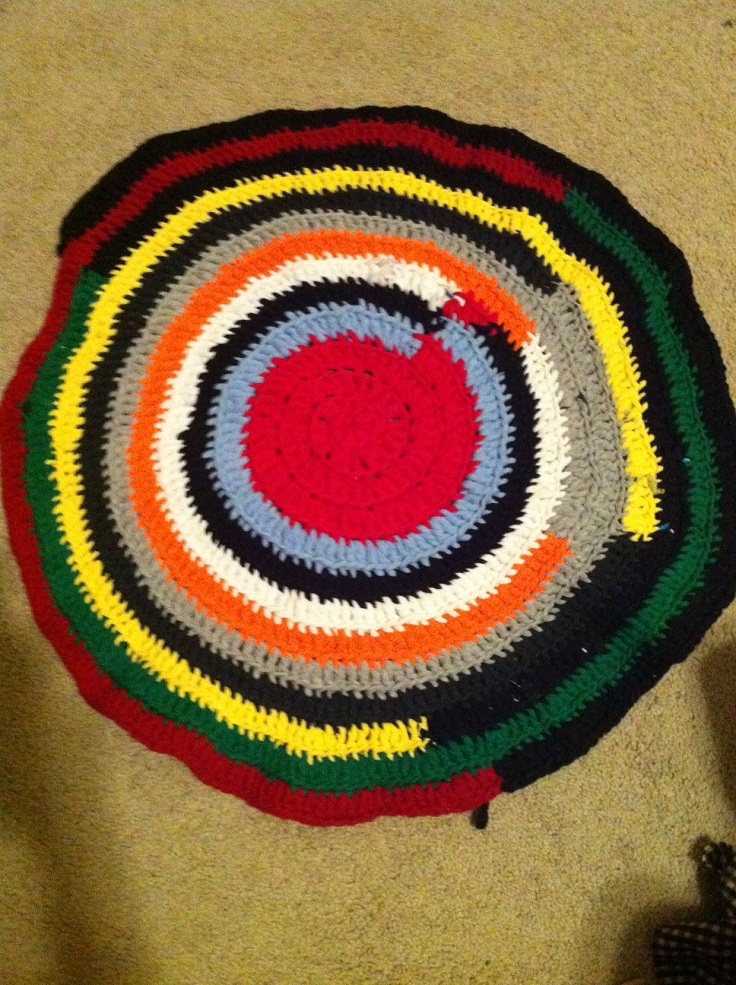 Whether you follow fashion or not it is not overly relevant with this one. However, we all have these very old shirts that for some reason, we cannot throw away or ones our girlfriends put on making us not have t-shirts anymore. However, if you have some to spare and wish to have a refresh within your wardrobe, then use this advantage to make a superb-looking rug out of all your tired bits and bobs. If you have time on your hands, and many unloved shirts on the "never will I wear them" shelf, then give them love. Even dye them to look even sharper.
DIY Rope Rug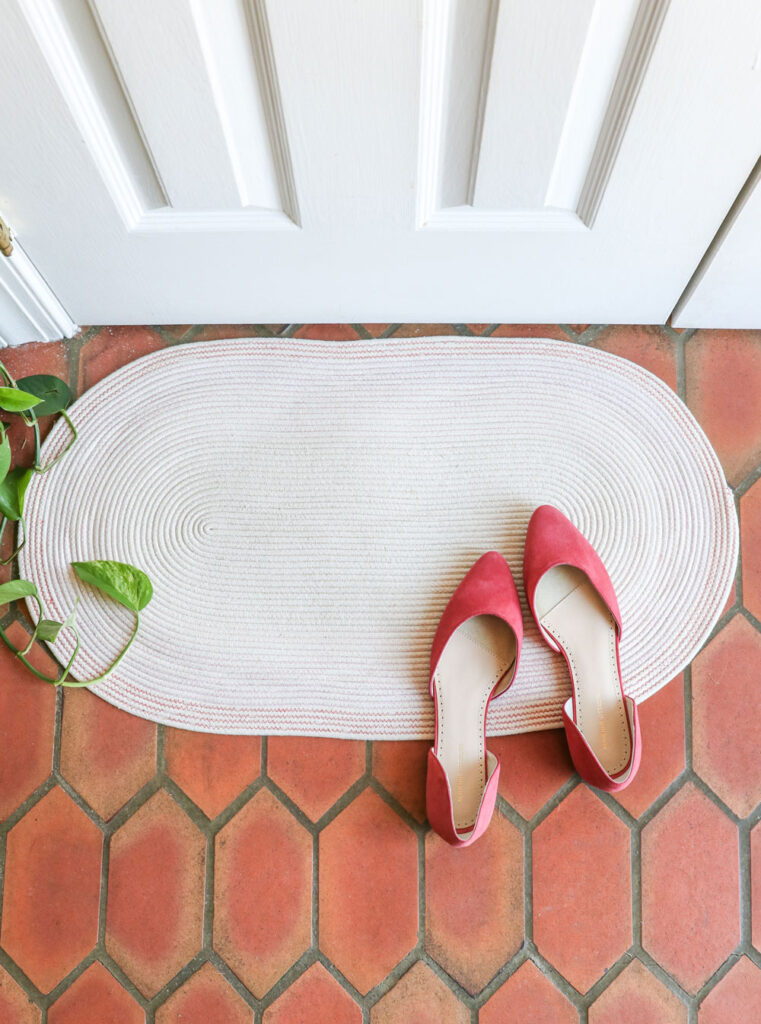 What if you have a super colored home and wish to turn things down a little as you are starting to require sunglasses when you enter the many colorful living areas. Beige is very underestimated. It is a color that matches others together blending everything into harmony. Or perhaps, you love the very simple colors of off-white, creams, and light beige having more serenity in your life. Not only will it look great, but also feel super cozy on your feet.