There is no better way to create a romantic and relaxing atmosphere in your home than carefully placing some candles on your dinner table, bathroom, or beside your bed. How about hanging some candle holders on your balcony? Any of these ideas will be perfect for the outdoor dinner parties you might have in the summer with friends. You can also replace candles with plants or fresh flowers if you like.
With just a little time and effort, you can create beautiful DIY hanging candle holders. Most of the materials are inexpensive, and you can find them in your local dollar store. Let's see our ten favorite ideas!
10. DIY Macrame Candle Lanterns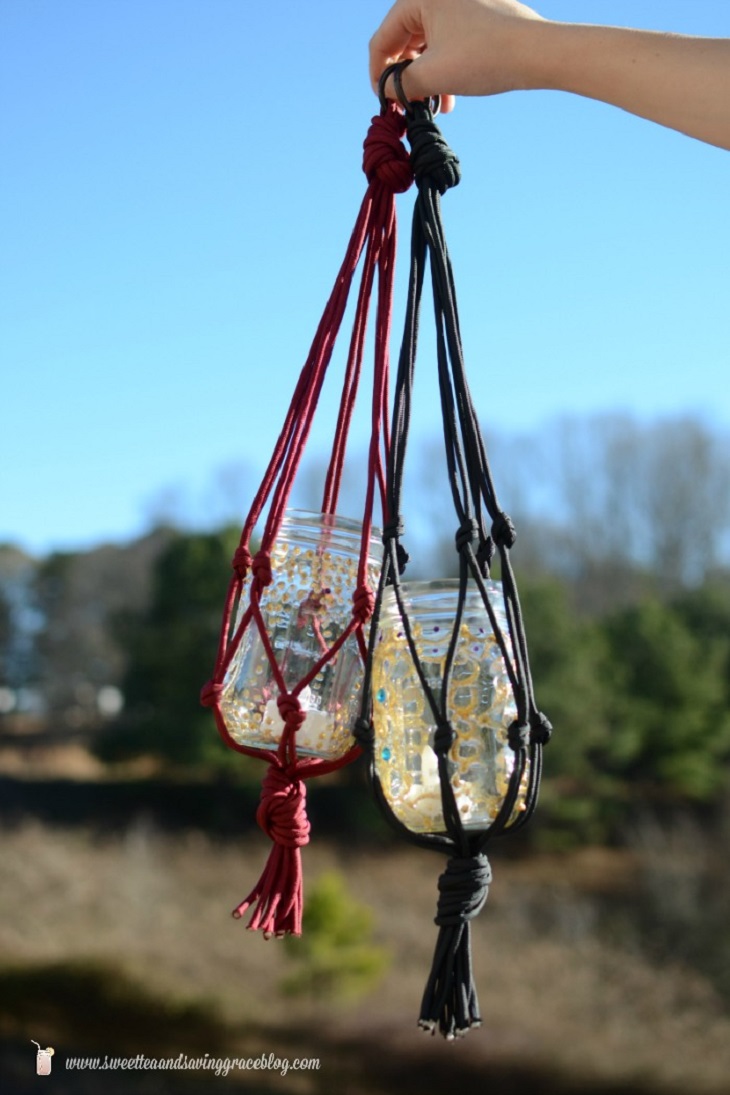 via sweetteaandsavinggraceblog.com
One of the easiest ways to hang your candles is to make a macrame hanging holder. Don't worry; this project doesn't require any special skills. It's easy and fun. You will need a long piece of paracord, a ring, scissors, and some mason jars. You can even paint the jars to create an even cuter look.
9. DIY Beaded Plant or Candle Holder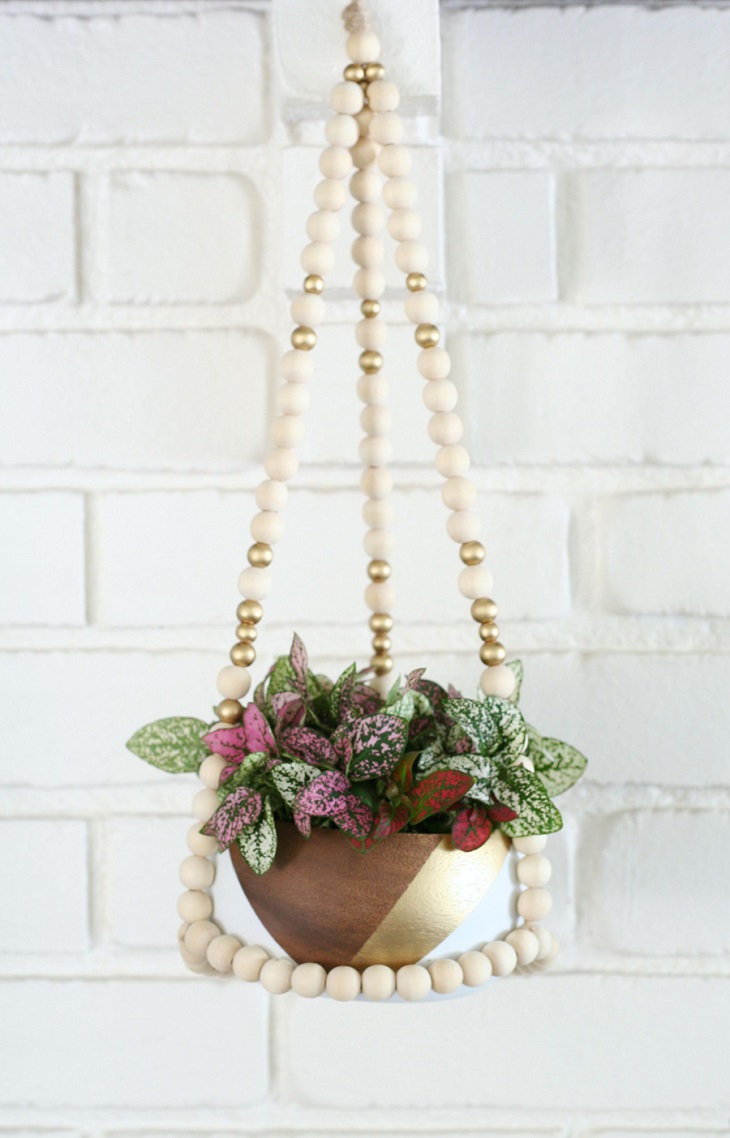 If you love the Scandinavian decor, this is an awesome project for you. Replace the wood bowl with a nice glass bowl or tumbler suitable for candles, and you'll have a beautiful hanging candle holder. This gorgeous beaded hanger will definitely be a highlight of your space.
8. DIY Boho Hanging Jars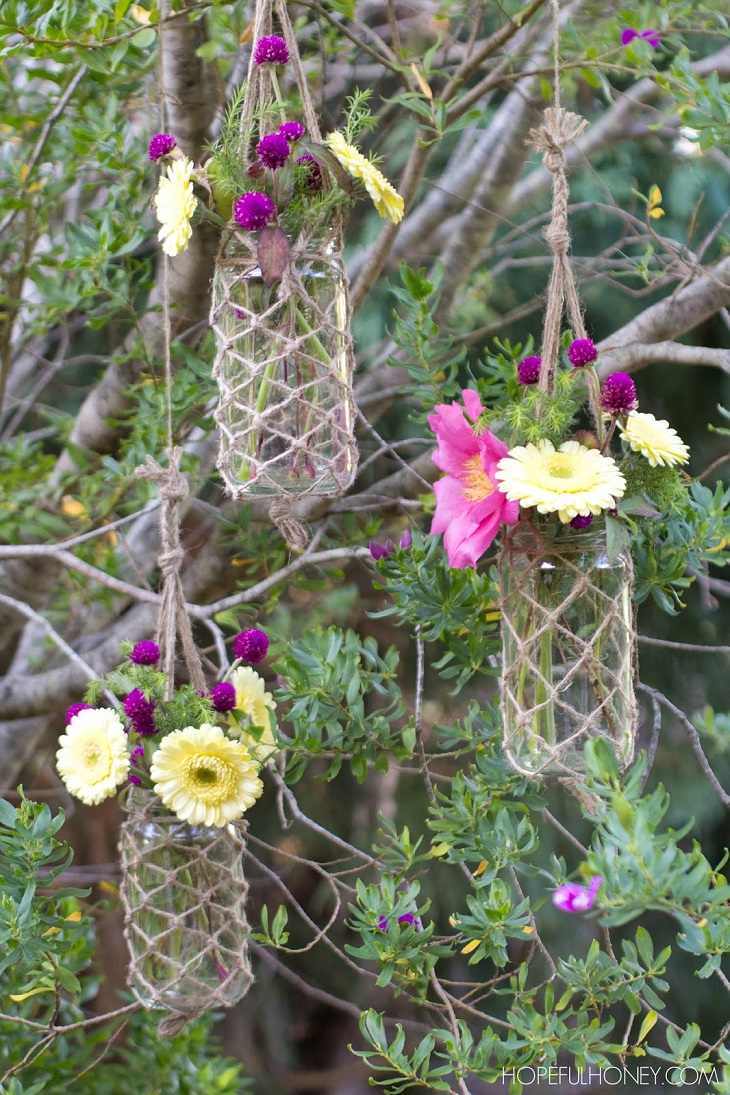 To prepare these cute macrame hanging jars, you only need a few things—a measuring tape, jars, scissors, and twine. If you use it for candles, pick some smaller jars. These vintage-inspired hanging jars look just as beautiful with fresh flowers!
7. Wire Whisk Candle Holders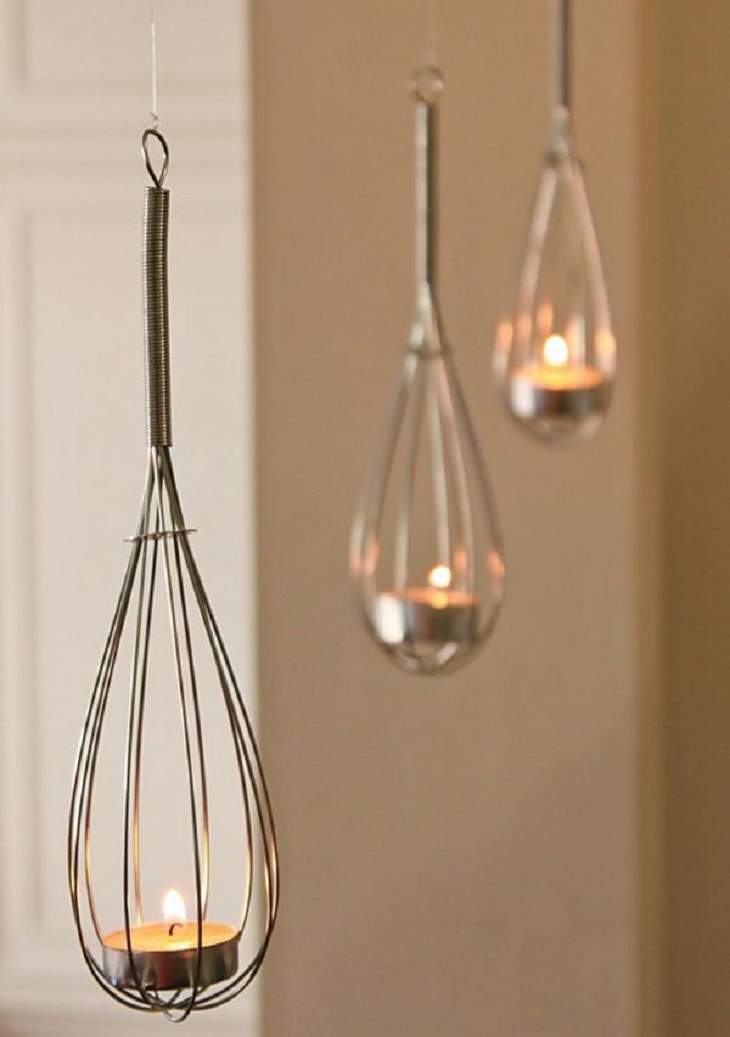 via ideastand.com
Who would have thought that wire whisks can be so versatile? They look adorable, hanging from the ceiling with a tea light placed in the middle. You can use them in the kitchen or your dining room as well. It would not be suitable for the outdoors, though.
6. Hanging Jar Lantern with Colorful Beads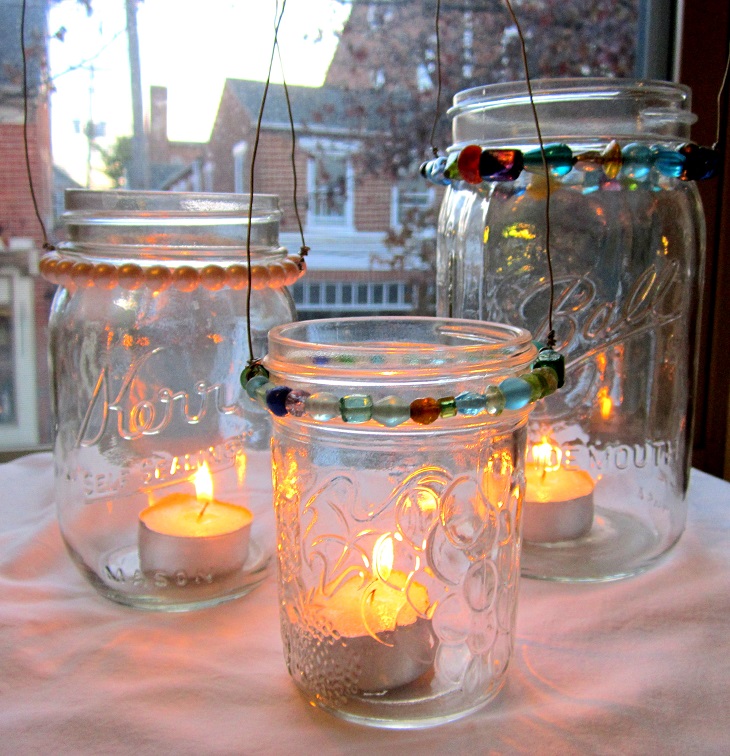 These up-cycled hanging jars with beads will bring a bit of loveliness in your every day. If you have some leftover beads from previous DIY projects and some canning jars, you can easily create these sweet hanging lanterns.
5. Candle Holders Using Old Belts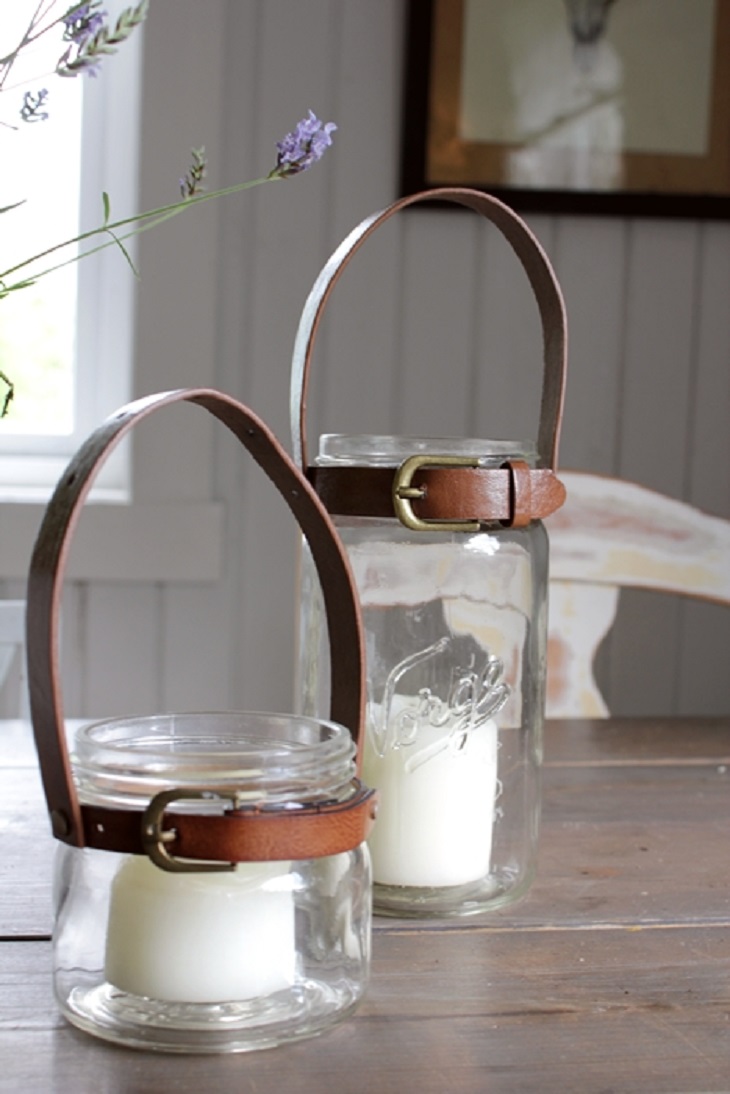 If you go through your old clothes, you might find some cool-looking old belts. Don't get rid of them! Even if you don't wear them anymore, you can use them for this DIY hanging candle holder project. With some imagination, you can create your own original design for your home.
4. Crocheted Hanging Candle Holder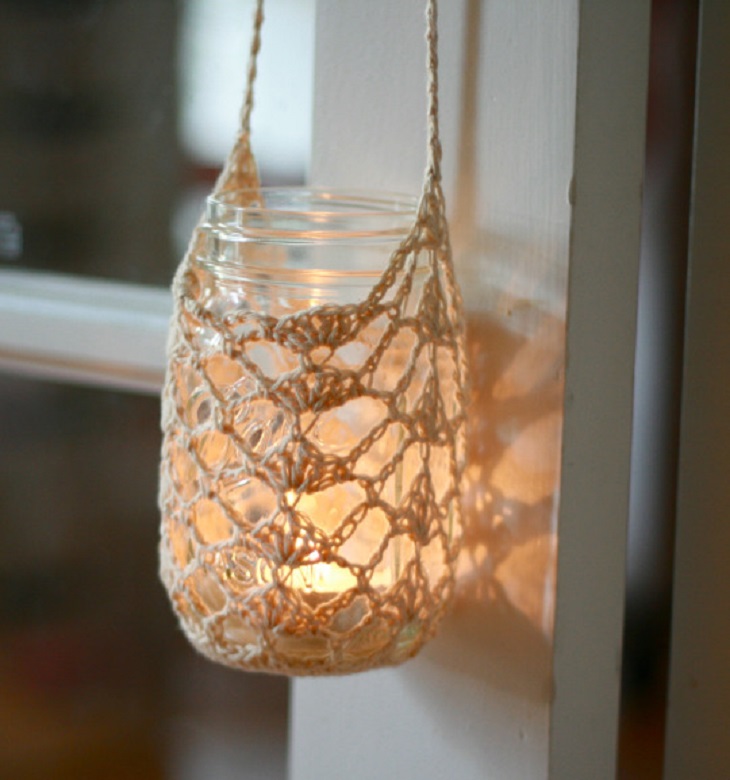 While a stick with a hook and a pile of yarn might not seem like it has much potential, the possibilities are actually endless when you give crocheting a go. You can crochet hats, bags, doilies, and so on. But how about trying out this crocheted hanging candle holder?
3. Bead and Wire DIY Candle Holder
These candleholders are the ultimate romantic decoration for the summer. Use some seashells and sand you have collected during your beach holiday and add some beautiful stones. Make three or more hanging candle holders hang at different heights and slightly different colors.
2. Macrame with Wooden Beads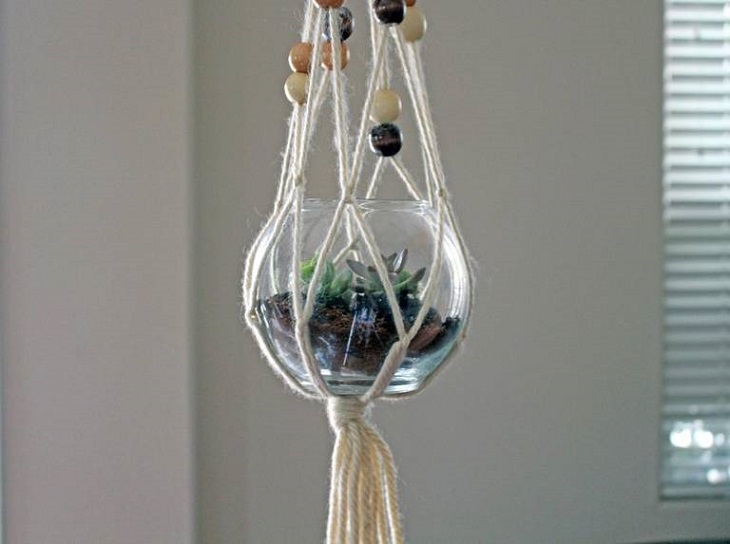 Here is another beautiful but simple macrame project. Even if you have never done macrame before, you can do this one! Macrame is actually only as hard as you want to make it. This project takes less than an hour to complete. You can place a succulent or a candle inside the glass vase.
1. Rustic Tree Branch Candle Hanger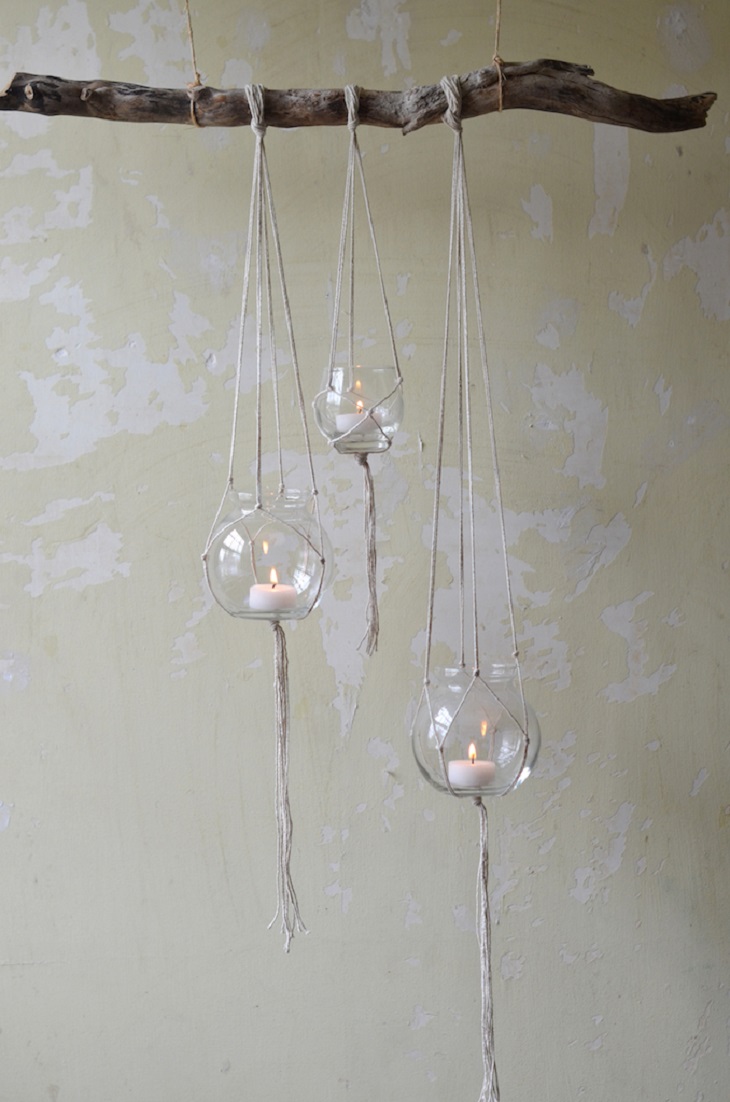 We simply fell in love with this DIY rustic tree bench candle hanger idea. To create this beautiful and yet simple look, you will need a branch from the woods or use driftwood. For the candle holders, use six or eight pieces of twine, and pick elegant vases or tumblers.