A classic way to add a statement to your bedroom is by making a good-looking headboard. There is a lot to choose from: wooden headboards, fabric headboards, metal headboards, etc. Depending on the bed and the room, choose your headboard material and make an awesome adjustment to your bed.
Instead of buying, save some money and make the headboard yourself, a perfect way to improve your DIY skills! Look through our collection of 10 DIY headboard ideas, pick one, and before the sun sets, you will have a brand new headboard.
Some of them are very easy to make and with materials that can be found in your home. Scroll down for some ideas, and make sure to comment below.
1. Old Shutter Headboard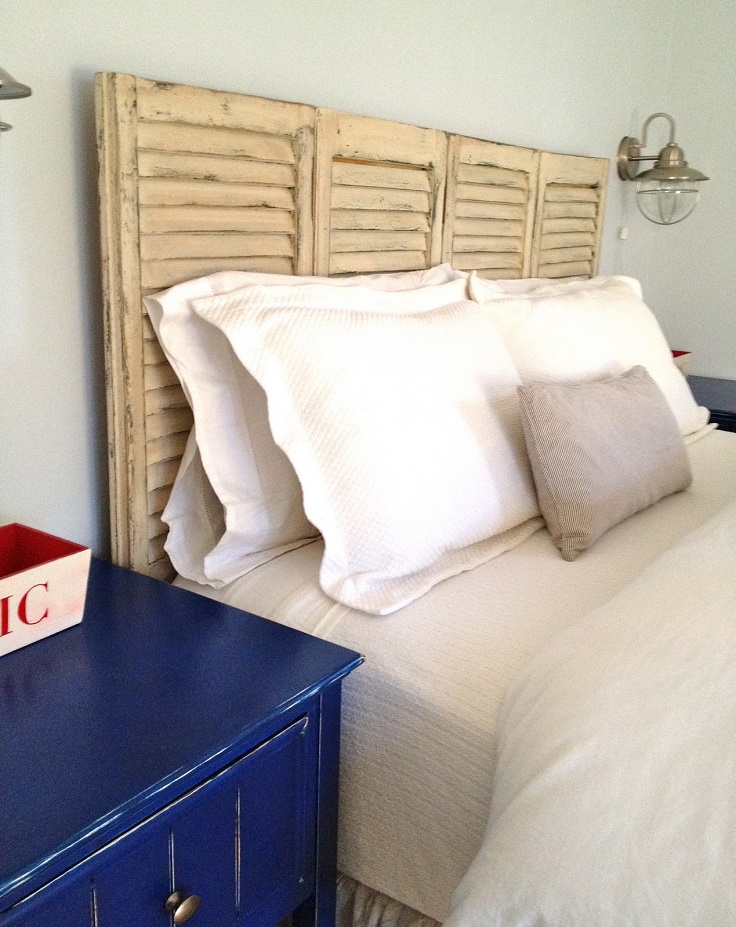 via thatsmyletter.blogspot.com
Old shutters can make a lovely, rustic looking headboard. Simply smooth the old shutters and cut them in half. Paint them with a color of your choice. Hang them directly on your wall, or make a platform with a piece of wood and then hang the platform on the wall; it's up to you.
2. Antique Window Headboard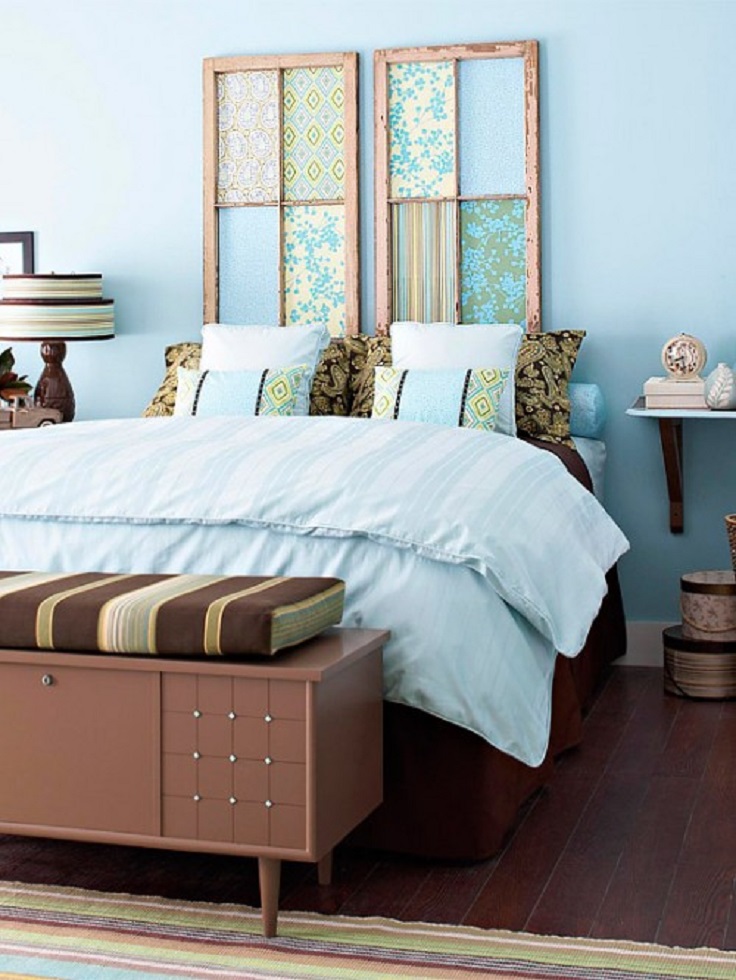 via shelterness.com
This simple and rustic headboard is made using old window frames. Instead of the window glass, add a cool fabric material of your choice. Stripes and geometric patterns are always a good idea or go for the florals. Once again, hang the windows (now, headboards) under your bed.
3. Fabric Headboard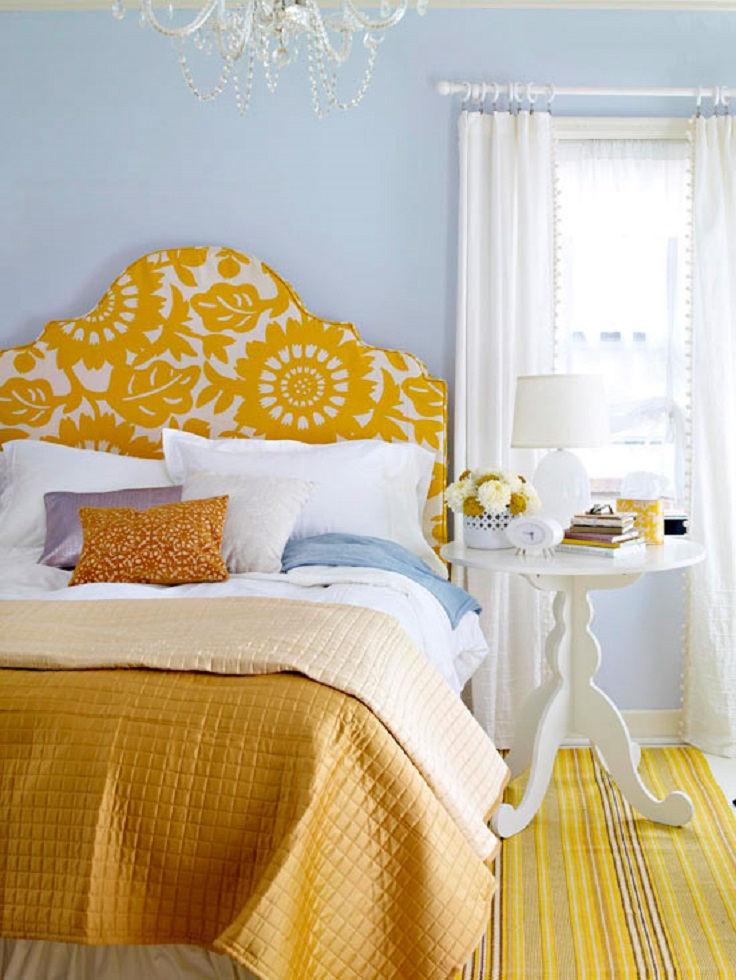 via scanfree.org
This is a quick way to refresh your bedroom. If you already have a headboard but want to do something new with it, then pick a fabric and sew it on the existing headboard. There is nothing to worry about; measure the material and, using a sewing machine (or, do it by hand), sew it.
4. Pallet Headboard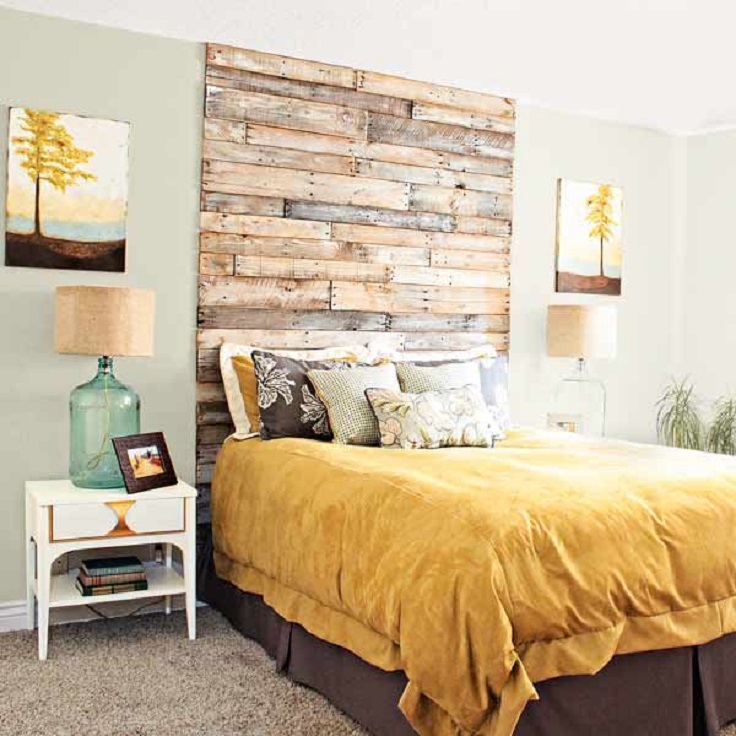 via 101pallets.com
Old, wooden pallets can be found anywhere. If not, they are not that expensive to buy. This kind of wooden headboard will bring depth to your home. Simply smooth out the wooden pallets and paint them with a protective layer. Make a pattern on the wall and start pinning them. Do half of your wall or the entire, if you wish.
5. Book Headboard
Give life to the old books that are piled up in a box. This beautiful headboard will inspire you to read more often. Pick books that you are willing to sacrifice for the headboard. Get a piece of wood that you will use as a headboard. Glue the cover of the books on the wood with double-sided tape, and hammer them using small bolts. That's it.
6. Ruffled Headboard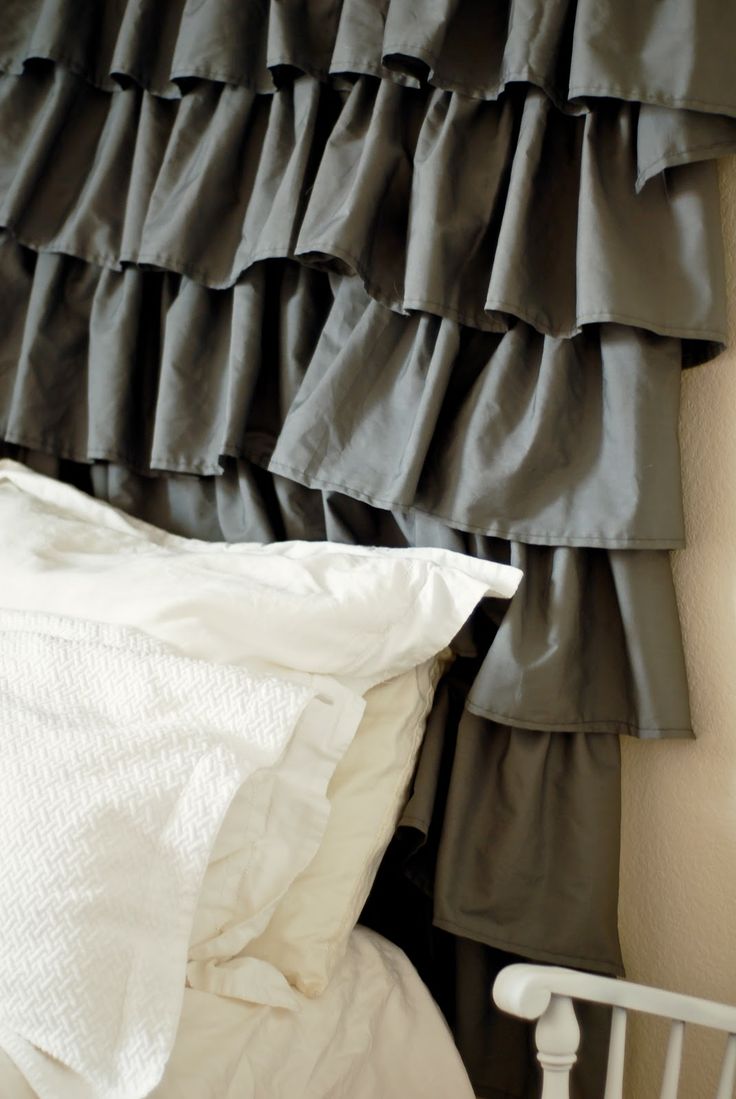 via aboyagirlandapug.blogspot.com
Love sewing? This is the perfect project for you. A ruffled headboard is what you need in your bedroom. Get two sheets. Cut out small stripes from the first sheet and, using the sewing machine, make ruffles out of them. Sew the ruffles on the remaining sheet. Hang a curtain rod on top of your bed and insert the new headboard/curtain.
7. Stikwood Headboard
This is the perfect way not to use screws and protect your wall from unnecessary holes. Make a headboard using stikwood. Cut the stikwood in small wooden pallets (optional) and simply peel off the back of the stikwood and stick it on the face of a platform that you will use as a headboard. Lean the headboard on the wall and press your bed.
8. Rope Headboard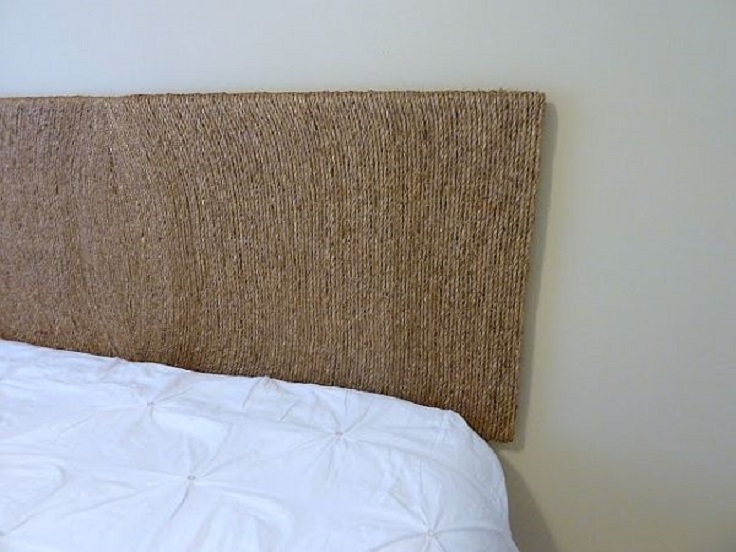 It looks complicated, but it is quite simple to make. Use an old door to be your headboard, get some hot glue and some rope/twine. Start wrapping the rope around the door and use hot glue to keep the rope in place. Once you are done. Use hooks to hang the headboard.
9. Headboard Shelf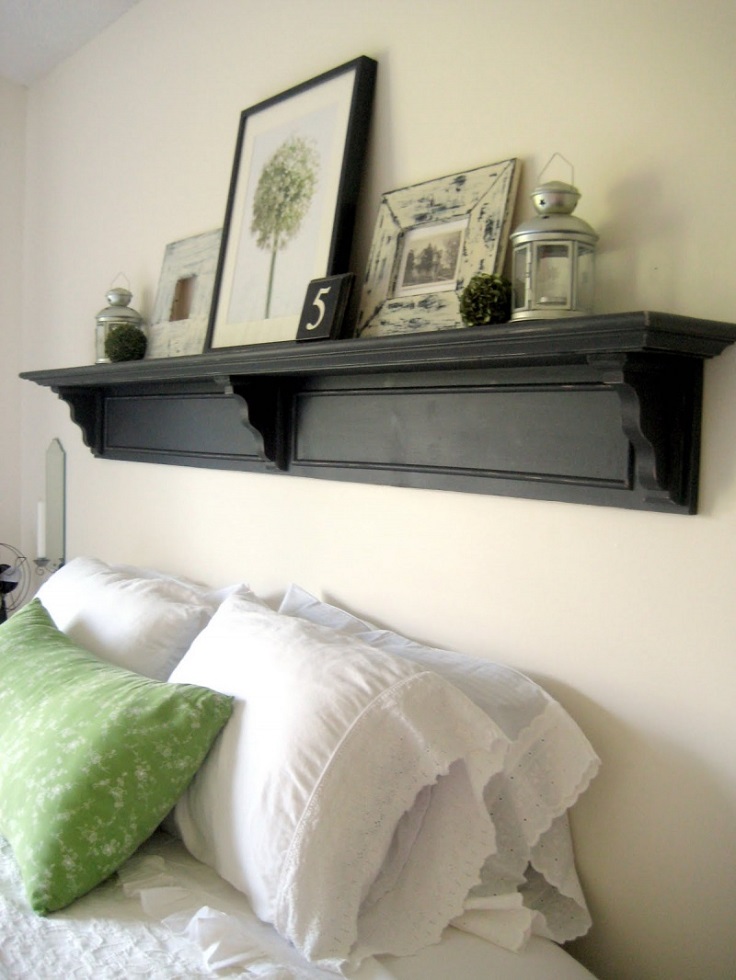 via shelterness.com
Did you know that a vintage kitchen shelf would look great as a headboard? You don't even need to paint it; the old rustic look is in the spotlight these days. Just add a protective coat of invisible paint and hang the shelf as a headboard. Hang it at a decent height so you can reach it easily. Use it to keep books, lamps, flowers, etc.
10. Blooming Headboard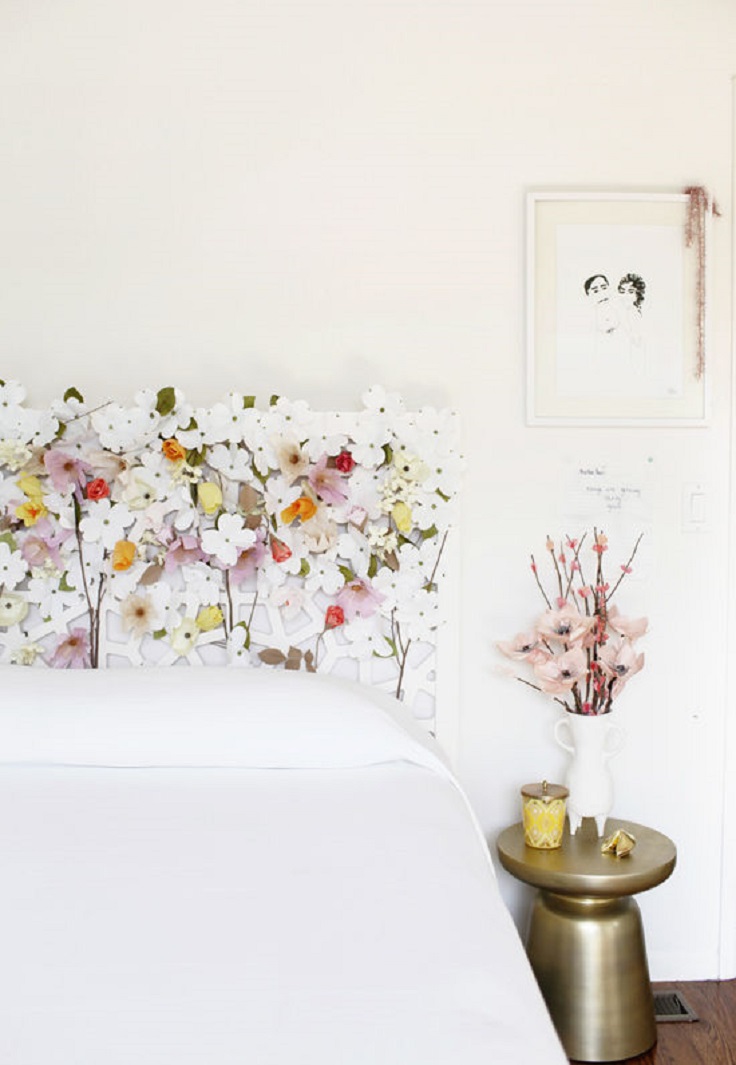 Make your room bloom like this spring with this unique, flowery headboard. Install a headboard with holes and use the holes to wire some paper flowers. Secure the flowers with some duck tape at the back of the headboard. Don't stop until the entire headboard is covered with lovely flowers.