If you're a fan of DIY projects, then you know that there is no better feeling than when you transform old stuff into completely new ones. This practical piece of work has so many benefits, because not only that by recycling and reusing old things you can save some money, but you're also creating vintage, old-fashioned furniture for your home which is ultra popular in the past few years.
There are so many home objects that you can recycle, but in this article, we've gathered 10 inspirational ways for reusing old doors. Scroll down and pick one project which will keep you busy next weekend!
DIY Old Door Console Table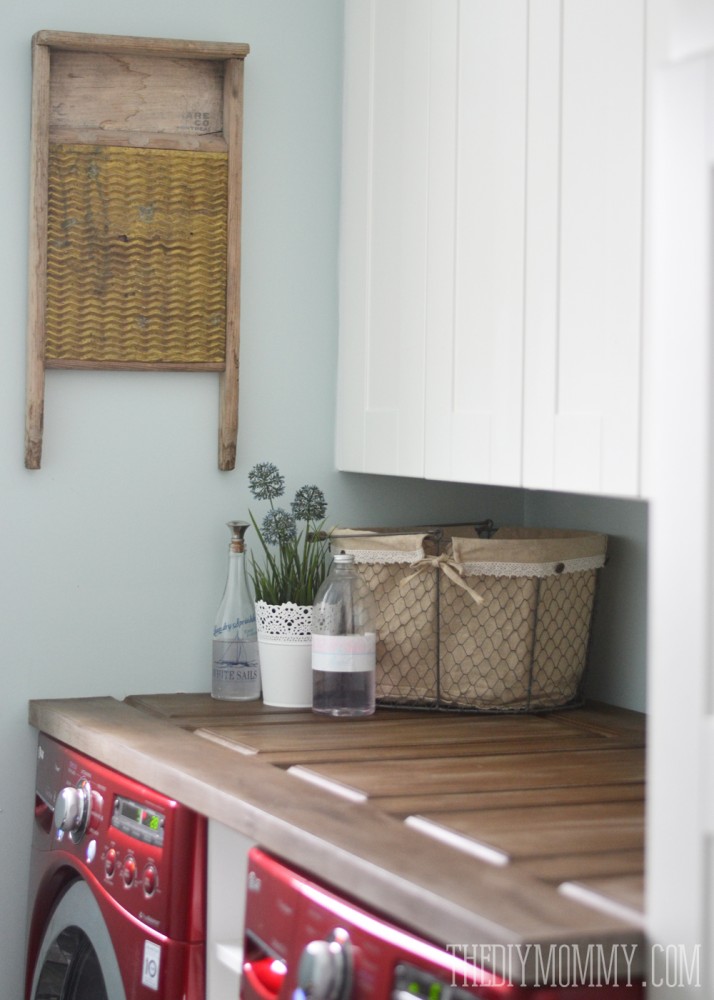 With your laundry room finishing budget very reduced, you need to come up with a creative idea for the countertop that will go over the washer and dryer. On the machines, it should be something solid, so you can fold clothes or store laundry baskets on them. An old wooden door would do the job. Fit it in, put some brackets for the door to rest on, and let it flow over the machines. There, you're done!
A Door Organizer
If you are in a rental home and need a kitchen organizer to go with you wherever you go, here's a perfect solution. Turn an old shutter door into a cute kitchen organizer to suit your needs. Paint it in vivid color, add some racks and hangers, hang some baskets and organize everything you need in a neat manner and right at hand. You can also add a magnetic knife strip to keep your knives safely away from children.
Thrift Store Door as a Plate Display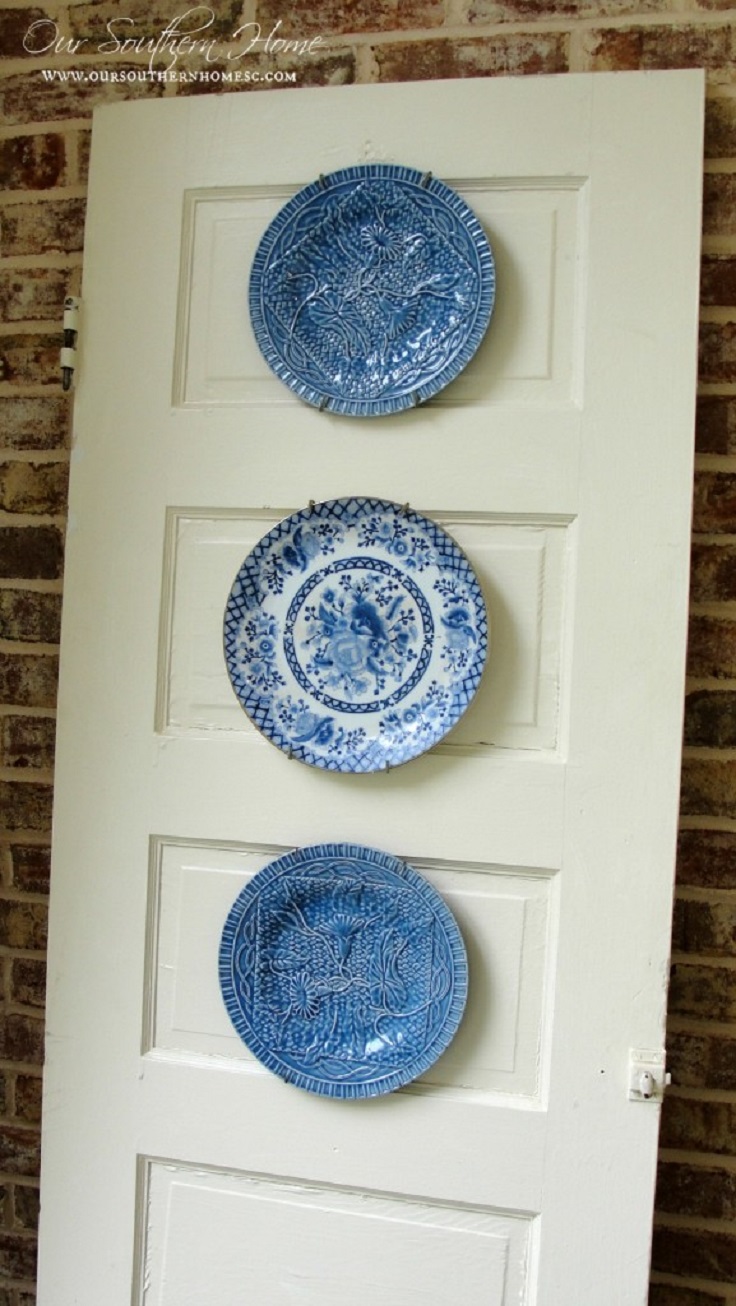 Here is an idea on how to create a fabulous wall art plate rack display on the porch. If you have an old door lying around your basement, and you don't have enough time to cut it and turn it into something else, this is the easiest way to handle it. You'll love the vintage feel it adds to the porch!
Vintage Door Beverage Station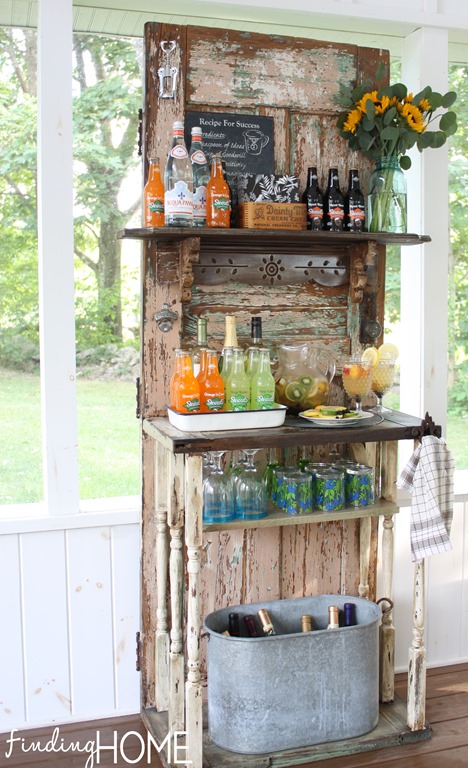 Really, this project is much simpler than you'd expect. Basically, you are good to go if you are able to make basic woodcuts and handle a drill! A door is the only thing that is essential. Or two doors. Simply use one door as the base, add shelves and legs to it, and decorate it with trays and bottle openers to ease your way out to the drinks. Make it vintage to go with your porch, or brand new to match your elegant backyard.
Cabinet Doors Kids' Desk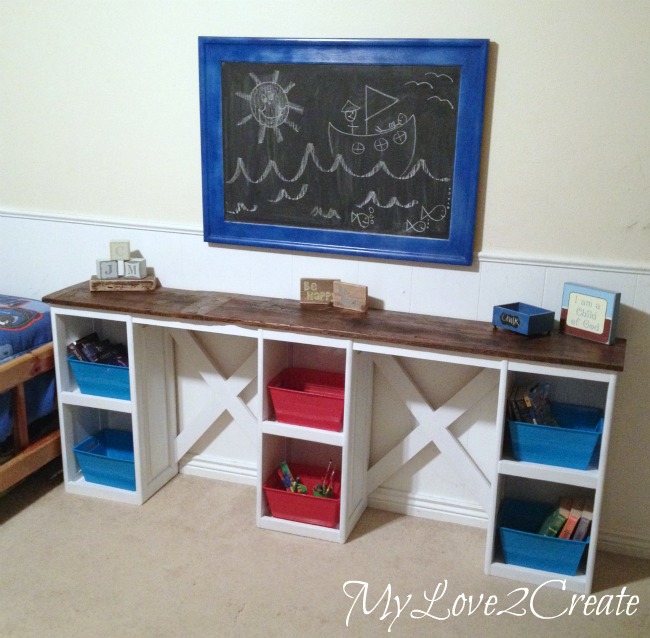 This idea and tutorial will be perfect for those that really need to use the space in the kids' room and turn it into a practical corner. This dual desk for your little ones is made of old cabinet doors. These can be found in every thrift store, or you can use those that you have lying around your basement from the previous remodeling. Measure carefully, use some skills, add a wooden top, add some crossed planks to secure it, and let your kids enjoy their new creative place.
Old Door Turned into Picture Frame Coat Rack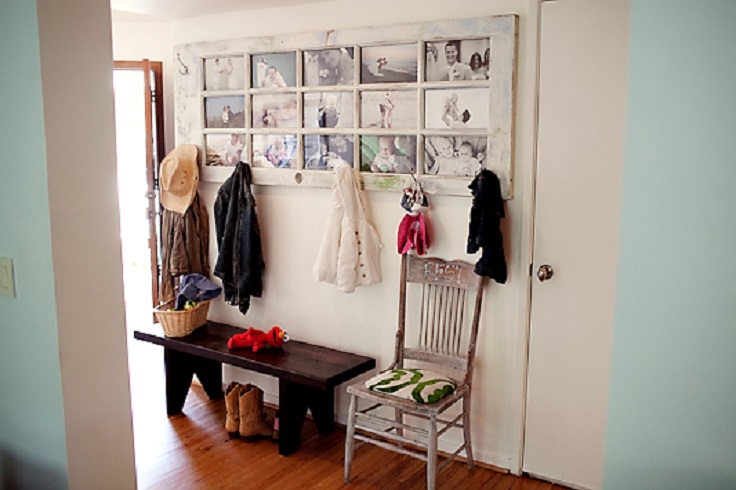 If you moved into a new house recently and your entrance wall was a lonely, empty white wall, think about putting something on it to make it playful. Why not something to show you and your family? What about a great photo frame? Turn an old door into a big picture frame where each window will serve as a frame of its own and hold a picture that reflects your family's story. When you walk inside your home, that's the first thing you see. Amazing, right?
Old Door as a Corner Shelf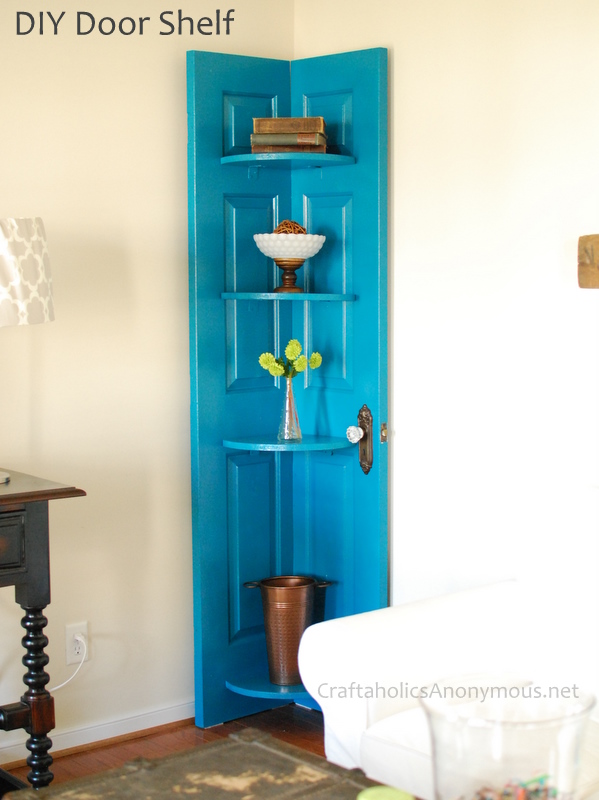 Do you need to fill those corners with something? Why not create a unique corner shelf that will be the centerpiece of your room? This corner shelf is made of an old door, cut in half lengthwise and glued together under a 90 degrees angle. The shelves are cut to fit and the round shape is optional depending on your taste and overall decor.
Salvaged Door Coffee Table
You might have planned to cut the door and make a baby door, but it didn't turn out? Well, don't throw away the door. Turn it into a cute coffee table. Cut it in the measurements you need removing the damaged edges, put planks on the sides to create a box, fill the bottom with other used planks, assemble all together and paint it in the color of your choice. You'll get huge magazines storage space and a cool modern coffee table.
One of a Kind Porch Swing
There's such a soothing thing about the Porch Swing Bed! The porch becomes more peaceful as soon as you add the capacity to swing back and forth on a pretty bench. This adorable loveseat swing is so stunning that you can not resist it. And the cool thing is that a footboard, a headboard, and a solid wood door are all the materials you need.
Chalkboard Collage Door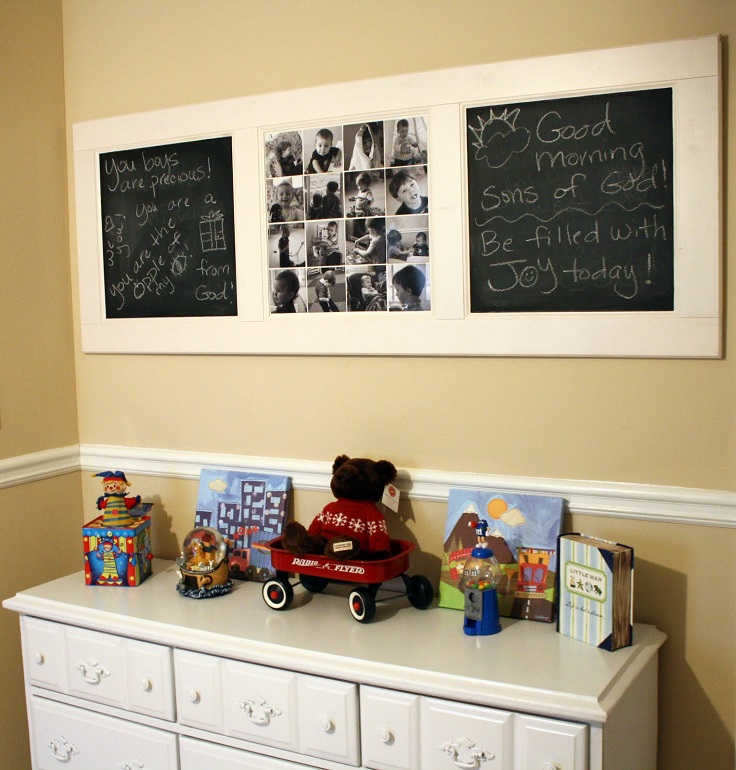 Use that old door laying around in the basement to create a chalkboard for your kid's room or your home office space. You can combine it with a photo frame to play-out the space even more. Or if it's an office board, combine the sketches for your new office or a business map to grow your business. It's all up to you and your imagination.
Now that you've seen these ideas, gather those old doors lying around and start crafting. Tell us what you did in the comments below.