All women love shopping and buying new pairs of heels, but here we have one much more attractive and money-saving idea that will amaze you. What do you think of transforming the old heels into brand new chic-looking heels? Yes, it is possible!
We absolutely love this unique DIY idea. There are so many possible ways to change their original appearance, and we choose the top 10 tutorials, they are all easy to do, very fun, and also very simple and you can do them on your own.
We hope that this will inspire you and help you update your look. So use your imagination and desires and with a little work make your dream heels come true!
Colored Soles

via fashionlush.com
You might have heard of the brand Christian Louboutin and their famous red soles. Well, this isn't it! However, they honestly could be…minus the blue color but you know what we mean right! Not only will you give a second life to your beloved heel, but you will also have something looking sparkly brand new especially if your heels are in pretty shape, to begin with. Nail varnish is the godsend when it comes to reworking the heels with your favorite color. And, restoring the soles in the process, enjoying your shoes for many more years to come. Start the trend. Be the fashion, and save thousands in the process!
Tribal Heels

All of the famous posh high street brands such as Burberry. If you can afford them, good for you; treat yourself. If you wish to spend a thousand dollars on something else, then click the link! You would be really surprised by the resemblance. And only you would tell the difference because you were the fashion guru artist behind the scene. With a little nail varnish on the toes, and a matching skirt or dress, feel the ultimate tribal person making a bit of a scene while walking down the streets. Casual beads will do the trick just fine, adding so much jaw-dropping coolness to what was original, basic shoes turned into the goddess of footwear.
Rhinestone Heeled Pumps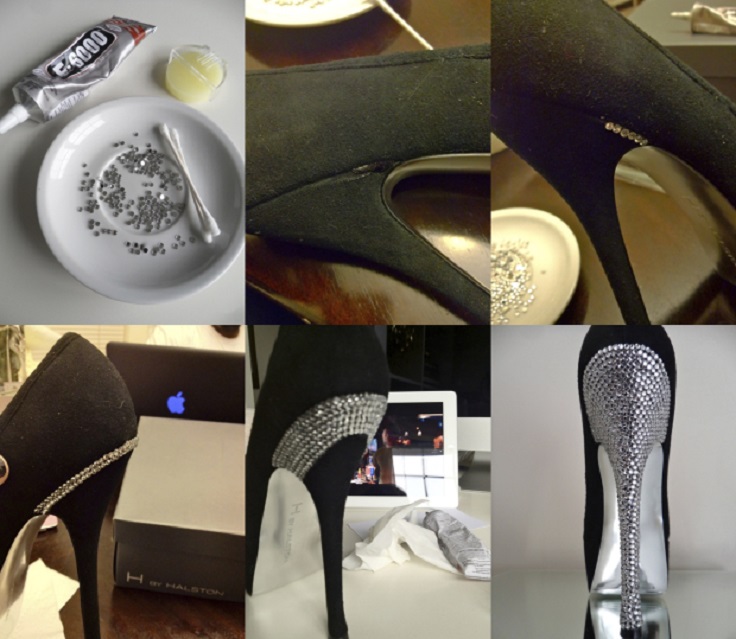 Glam up ladies! We have lived indoors long enough with our sweatshirts, jogging pants, messy hair, and slippers. Now is the time to act to when times will return to "normality". So, prepare yourself for the going out of your life! And what better way than to give something a little special to your black heels (other color works too), by sparkling them up. These Rhinestones will look fabulous. The smaller the better for more sparkles coming off them. You could opt for doing the entire shoe as well, depending on what you prefer. Either or really. This will not set you back a lot of money at all but will look like they are straight out of a luxury shoe store. A bit of glue, and patience are needed and the results are amazing.
"The Instructables" Comic Book Heels
via welke.nl
Fan or not of comic books? We believe it will not matter. These look super cool. Honestly. And the thing is, they can be cut out of any comic book that boasts the main colors you enjoy the most, reflecting your personality to the fullest. Rather simple to do and something that will not take too much time. Can even do them out of newspaper or anything "paper". Be creative and make your relatively uninspiring heels have another lease of life looking secular and, best of all, unique, and that is cool.
Puppytooth Print Heels

via zszywka.pl
Revamp totally your old, still in good shape high heels with this super one-of-a-kind idea. Seems simple, but we are prepared to bet that you never thought of this! Thank goodness for the minds of some people creating a simple step-by-step manual! There is nothing wrong with black high heels, we love them, but sometimes we wish to alter our shoe collection without necessarily adding pressure on the bank account. So once again, win-win for us all. Naturally, you can do the same with another of your favorite fabrics lying around asking to be used to make something super beautiful and unique.
Glitter Heels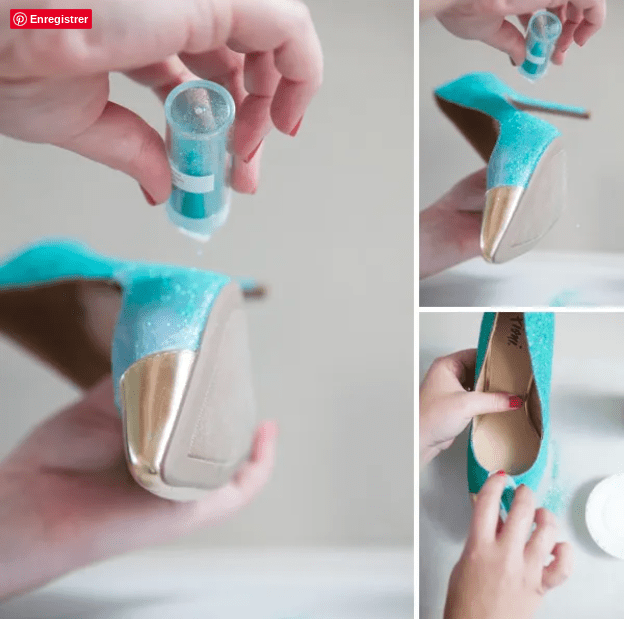 The world needs more sparkles and more glitter! Never enough glitter at the moment we are certain you would agree. The thing is, the grey days are soon arriving at an end, and the sunshine will bathe us all in its splendor. We all need it after such a challenging year! This easy step by step is terrific and easy to follow, not costing you much hard-earned cash at all. You can naturally choose any color glitter you wish best suiting your personality and the way you wish to wear them.
Miu Miu Heels

via honestlywtf.com
Miu Miu is a known brand that is very popular with the ladies wishing for a lot of bling-bling in their lives. And why not? Nothing at all with that. Just the sparky personality really! We mean, very beautiful shoes. And this is a terrific tutorial that speaks to itself adding beautiful gems to your once beloved shoes. Rhinestones once again are used for these steps, but this time the very large ones for that impact we are all looking for. Once again, slightly smaller gems can be used for the rest of the back shoes or for the entire shoe to speak of; depending on how glam you require in your life.
Petals Creativity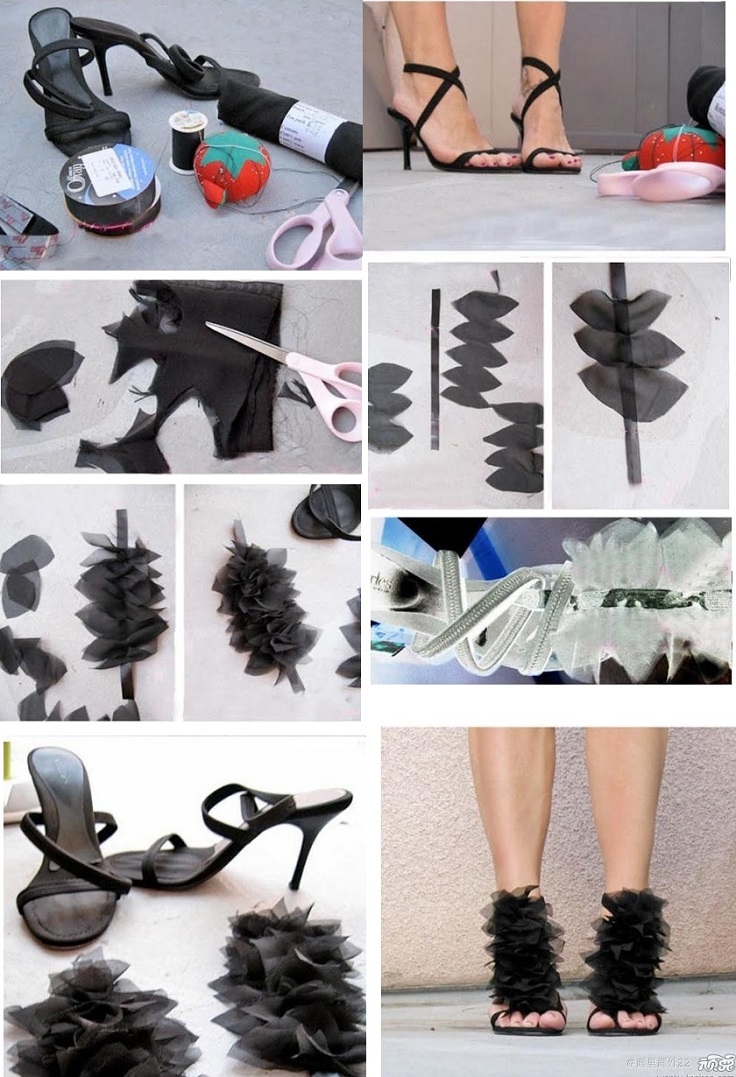 via weheartit.com
We love a little faffing around when it comes to shoes that tend to glamorize your feet. That creative footwear will add a lot of class that may seem coming right off the catwalk stage. Shoes say a lot about the person and wanting to make them the most beautiful of them is a pure statement that you are willing to truly look after yourself. Beautiful heels have to be accompanied by beautifully kept feet also. Add a little nail varnish and you are the star of the moment!
Printed Floral Pumps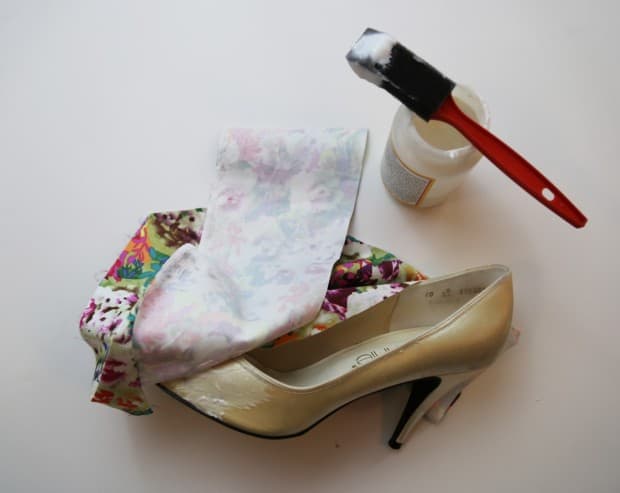 We love spring and summer. Everything breathes and is alive once again and an absolute feast for the eyes. The sky is brighter, our mood is also brighter and far more joyful than the awful grey clouds we all had during the winter period. Time to spruce up those unenthusiastic-looking heels with a makeover they long needed. You will finally be able to walk with your back up straight thinking you are worth a million dollars. And if you are indeed worth a million or more dollars, then this should assist a little! You can still make something yourself differentiating yourself from the crowd.
Cap Toe Heels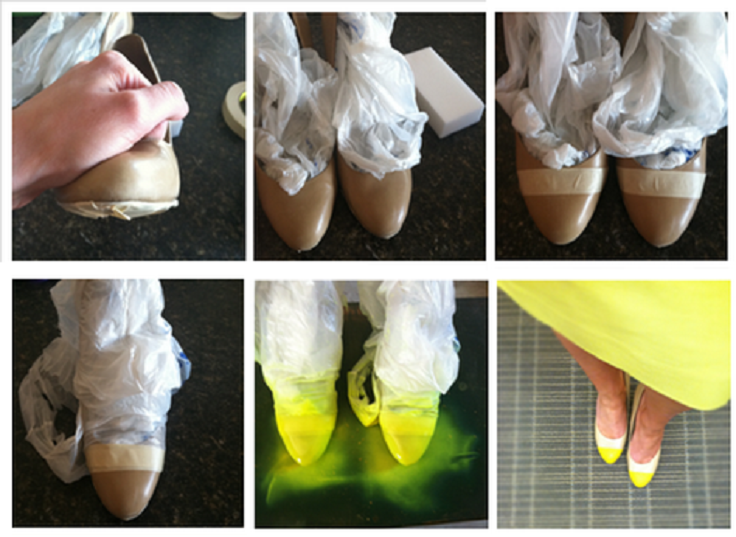 via womensshoesfortheeverydayteen.wordpress.com
Spray paint shoes? Yes indeed of course and with remarkable results. Sometimes we are gifted shoes that we are forever thankful for, but secretly we think they were meant for our grandmothers. And so, without disappointing, the gifter, give them the youthful makeover they badly need. And with a can of spray paint would you believe. How spectacular!? The yellow is perfect for the summer ahead with the rays of sunshine bouncing off them making them look absolutely fabulous. Great tutorial and easy to do.