After a long, hard day, all you want is to go home and get cozy. You probably feel like sitting down and watching some TV or Netflix, or maybe making something delicious to eat, inviting friends over, or perhaps reading a good book. And all that wouldn't be quite the same without the perfect lighting. Now, of course, you don't want it to be too bright or too dark. In most stores, you couldn't really find what you were looking for.
But that's no reason to panic or give up! Where there is will, there is a way, and thus there is always a solution. And who else is going to do it, if not yourself! We will give you some initial ideas on how to decorate your house with perfect light fixtures, and we expect you to share with us the ones you came up with! The whole thing requires a little effort, but it brings great enjoyment! Lights up!
Bird Cage Lamp
DIY Tutorial via pinterest.com
No, we're NOT talking about the eponymous movie starring Robin Williams and Gene Hackman. What we're talking about here is an actual bird cage that no longer houses a bird, but a light instead. Add a little drape-like thingy to serve as a lampshade, and you're good to go!
Cheese Grater Lamp
DIY Tutorial via crafterholic.blogspot.com
Grate news (pun intended)! And this time, it's not the Dacia Sandero. If you feel that a cheese grate of yours has the potential to be something more than what it already is, especially if you have overbought grates, then this little tweak will shine a new light on your home. Literally.
Hendricks's Gin Bottle Lamp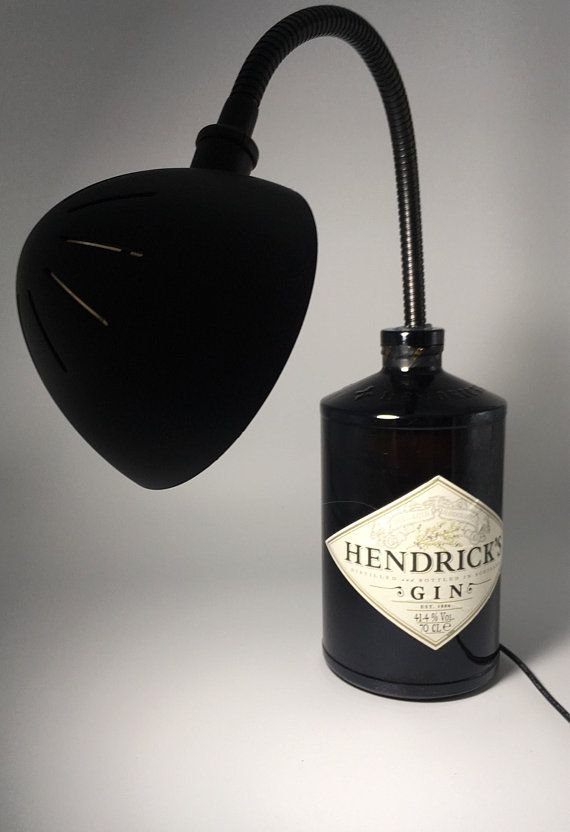 Looking for an excuse to have a bottle of gin meet its new maker? This time, you can literally say you're drinking all that gin for a project you saw on Pinterest. So, bottoms up and let the good times be gin!
Upcycled Lamp Made Of Bottles
DIY Tutorial via curbly.com
Do you sometimes feel that, even though you get tired often, it's kind of like you have a lot of bottled up energy? Well, maybe it's time to give some of that some creative free reign by taking it out on the bottles and making sure they become these gorgeous upcycled lamps.
Lamps Fashioned From Discarded Kitchenware
DIY Tutorial via inhabitat.com
Hell hath no fury like kitchenware scorned and discarded. Or maybe it does. We wouldn't know, we've only been to Detroit. Besides, if used up or damaged kitchenware could speak, it would probably beg not to be thrown out for recycling. And rightfully so, because it makes for stunning kettle-lamps, among other things.
Lamps Made From Pallet Wood
DIY Tutorial via pinterest.com
Nowadays it has become a fashionable DIY clique to be repurposing pallet wood. We, for one, are well and fully aware of that. Therefore, we would also include this cool idea as to how you could give the old pallets a new lease of life. Or in this case, light.
Spoonlight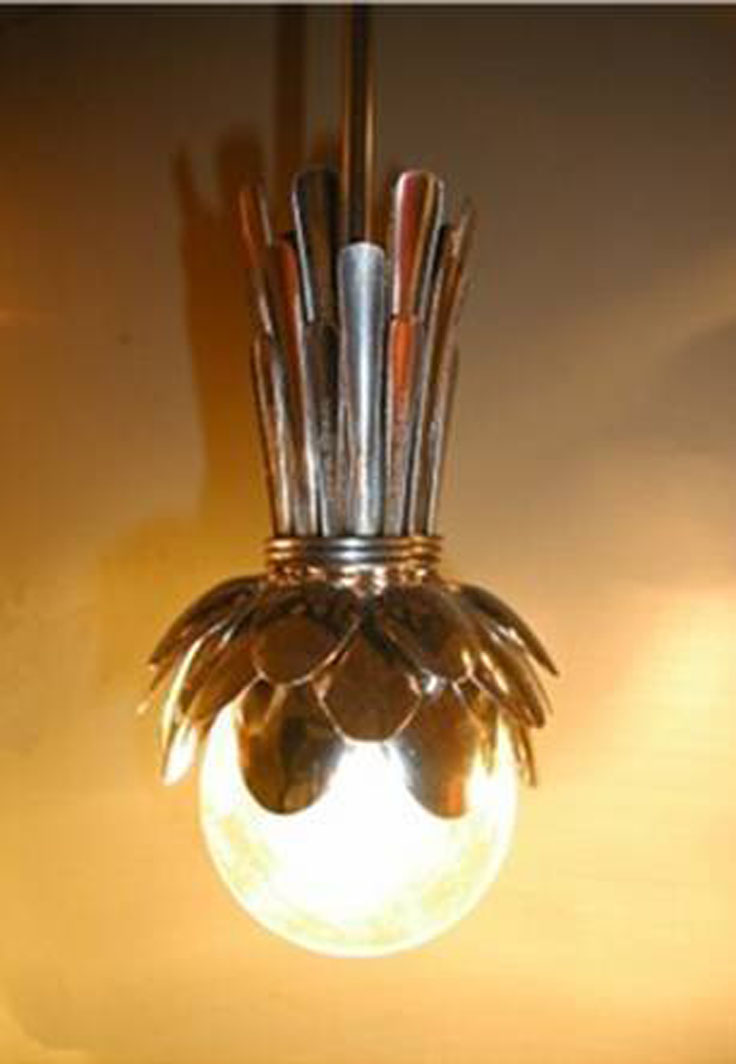 It could be a spoon of diamonds. It could be a spoonful of gold. Just a little spoon of some precious light. Satisfy your soul. Whimsical lyrics aside, whenever you think about renewing some of your cutlery, it's always good to keep in mind that spoons are universal holders, especially when bunched together.
Lights Made Out Of Minnow Buckets And Tin Funnels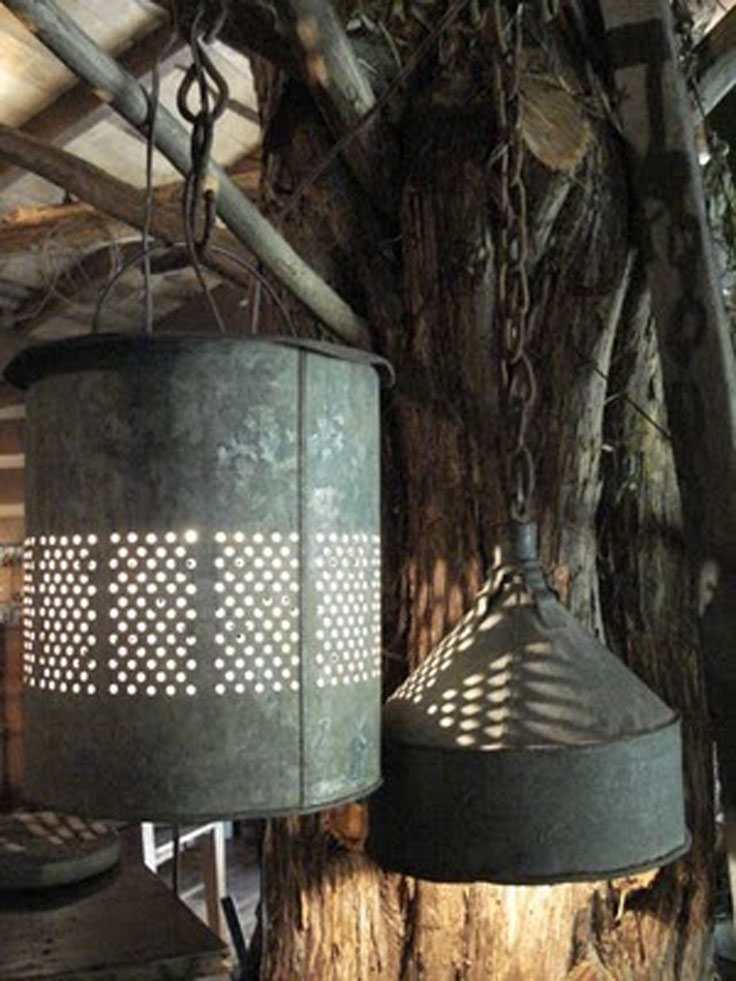 For those of you thinking about all the things they would like to do before they kick the bucket, putting holes in it might not be a bad idea. After all, let's not forget that tin cans are some of the most versatile items in a household.
Recycled Antique Wooden Architectural Floor Lamp
Doric, Ionic, or Corinthian? We bet you thought that would be the last question on anyone's mind when it comes to a light fixture. But, we've all been proven wrong. And with this style of a floor lamp, you can freely assert your authority over your guests by reminding them that… This… Is… Sparta!
Vintage Cooler Lamp
You may not be much of a fan, but that's not to say a lamp cannot be one. No, really, your porch lamp could be a fan of yours. So long as you keep it static, and not spinning, you'll be one cooler cat.
And there you have it, folks. That just about concludes our selection. We think we have done enough to inspire you to pick up some basic tools and conjure up some light-bending magic. Do you agree? Or do you think you can perhaps do better? Is there anyone of these you particularly like or dislike? Go right ahead and tell us all about it.