Instead of throwing money away on expensive products that promise to soften your skin, consider the option to make them at home. With a good recipe and some free time, you can do your own hand scrub that will have the most amazing scent, and most important of all, it will really soften and exfoliate your skin.
This is really important because our hands are exposed to anything we go through the day. The scrub will remove the damaged or dead skin cells on the hands. We should do this more often, especially during winter when it's so cold outside. If you think that your hands need more love and care, check out the ten hand scrub recipes we picked for you.
1. Apple Cinnamon Sugar Scrub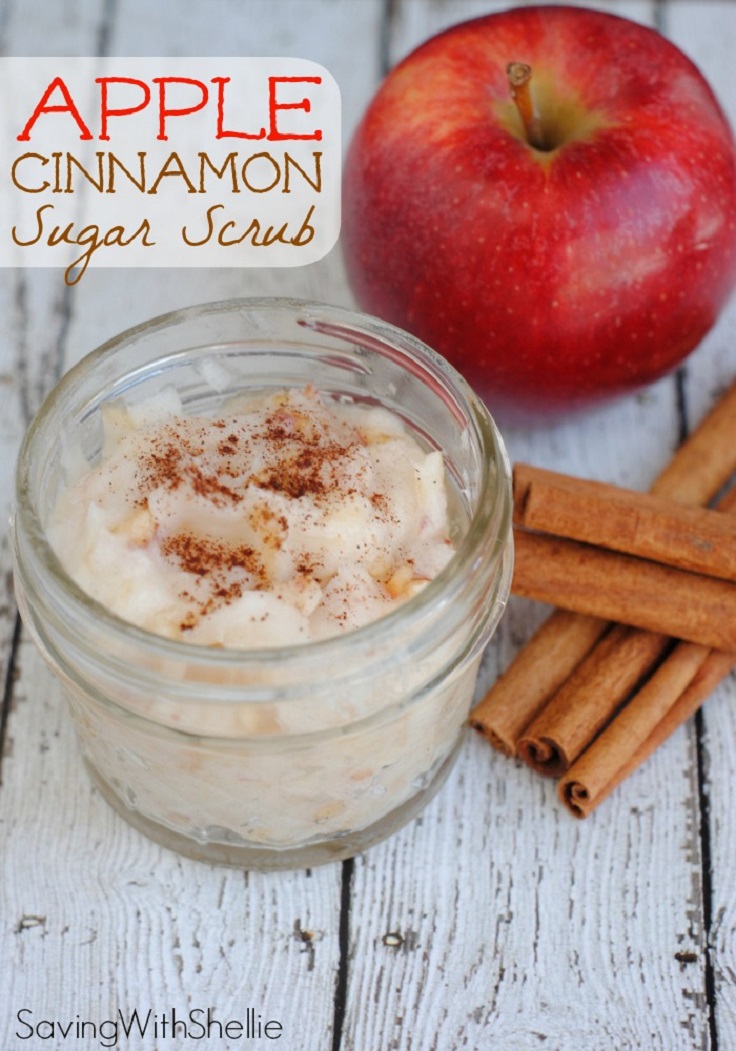 If you want the scent of autumn in a jar, this is the way to do it. You need 1 cup coconut oil, 1 1/2 cup sugar, 1 apple or chamomile essential oil, 1 – 2 drops cinnamon extract, and 4 – 5 4 oz—jelly bars. Cut the apple in chunks and use a blender or food processor to make a puree. Combine the apple puree with the rest of the ingredients. Sprinkle some more of the cinnamon powder if you want to and shake well. Put the scrub in the jars and keep them in the fridge. They will last about 2 weeks .
2. Lemon Sugar Scrub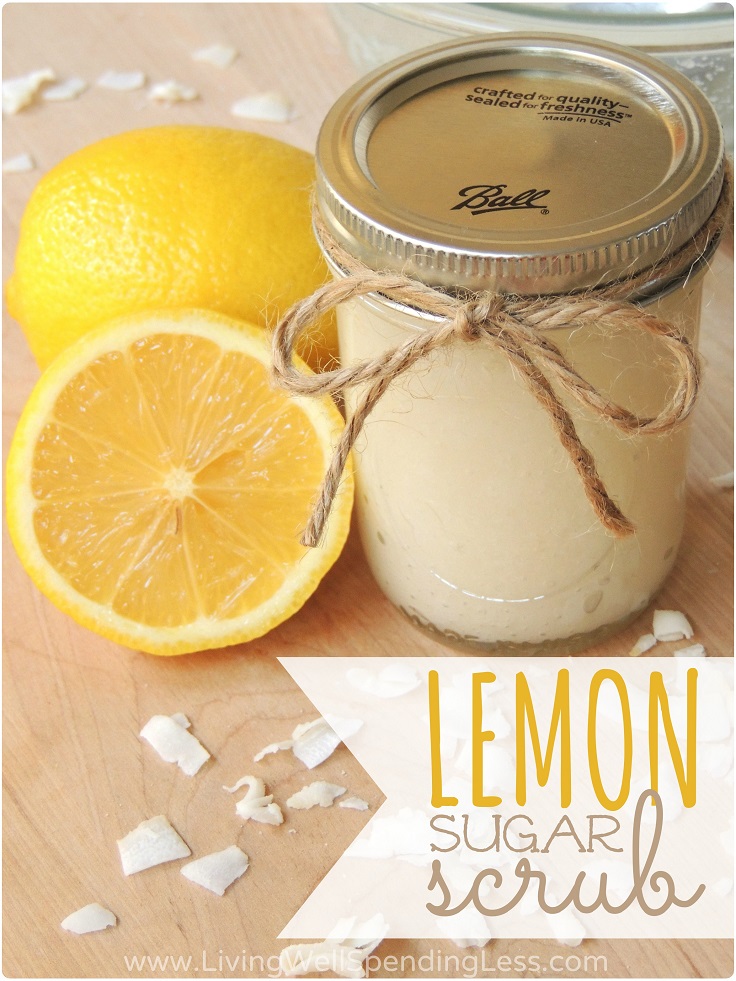 via livingwellspendingless.com
You need 1 cup white sugar, 1/4+ cups of coconut oil, lemon essential oil, and an 8 oz. jar for the lemon scrub. If you prefer, you can use almond oil, jojoba oil, or similar. First, mix the oil and the sugar until you get a fluffy mixture. Add 15 (more or less) drops of lemon essential oil and mix well. Place the scrub in the jar. Scrub your hands as if you were washing them, and after you're done, wash the scrub away and enjoy your silky skin!
3. Sweet Vanilla Sugar Scrub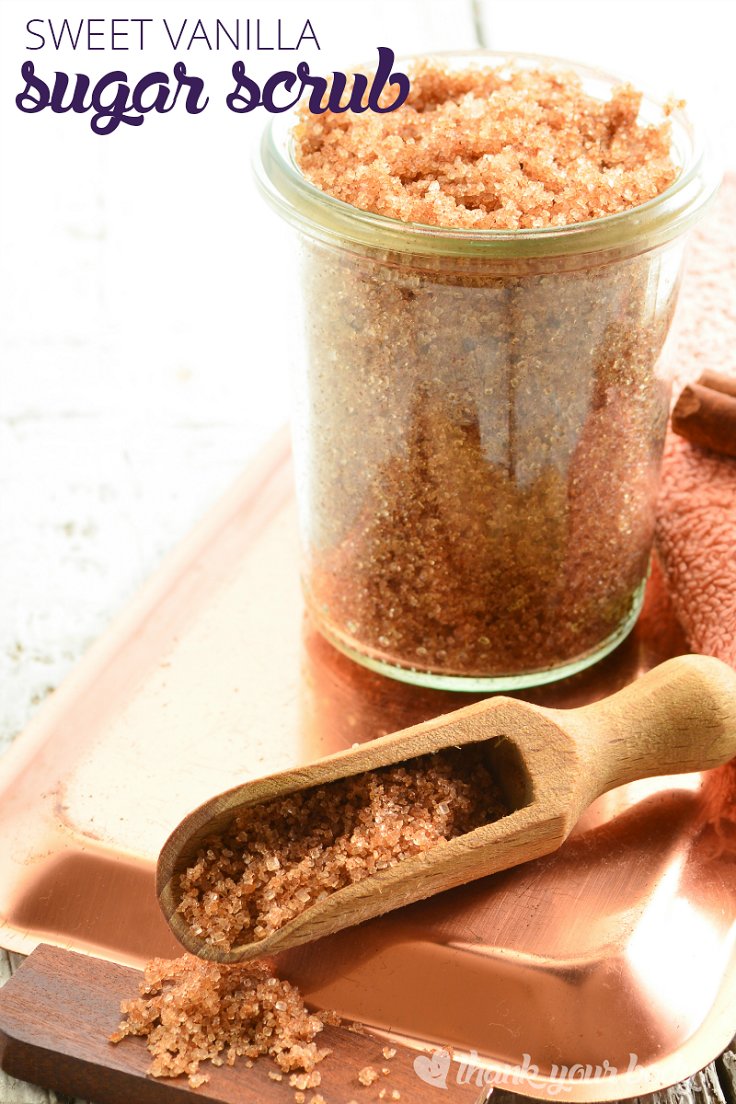 This scrub comes with one of the best aromas of all: vanilla. It's so hard not to resist! You'll need 1/4 teaspoon pure vanilla extract, 1/2 teaspoon essential E oil, 2 tablespoons honey, 1/3 olive oil (or any other), 1/2 cup granulated sugar, and 1/2 cup brown sugar. So, what makes this scrub so good besides the vanilla scent? Honey is a powerful antioxidant and protects skin against damage, olive oil is a good moisturizer, essential E oil has antioxidant properties, and the sugar helps remove the dead skin cells and inhibits bacterial growth.
4. Peppermint Candy Cane Sugar Scrub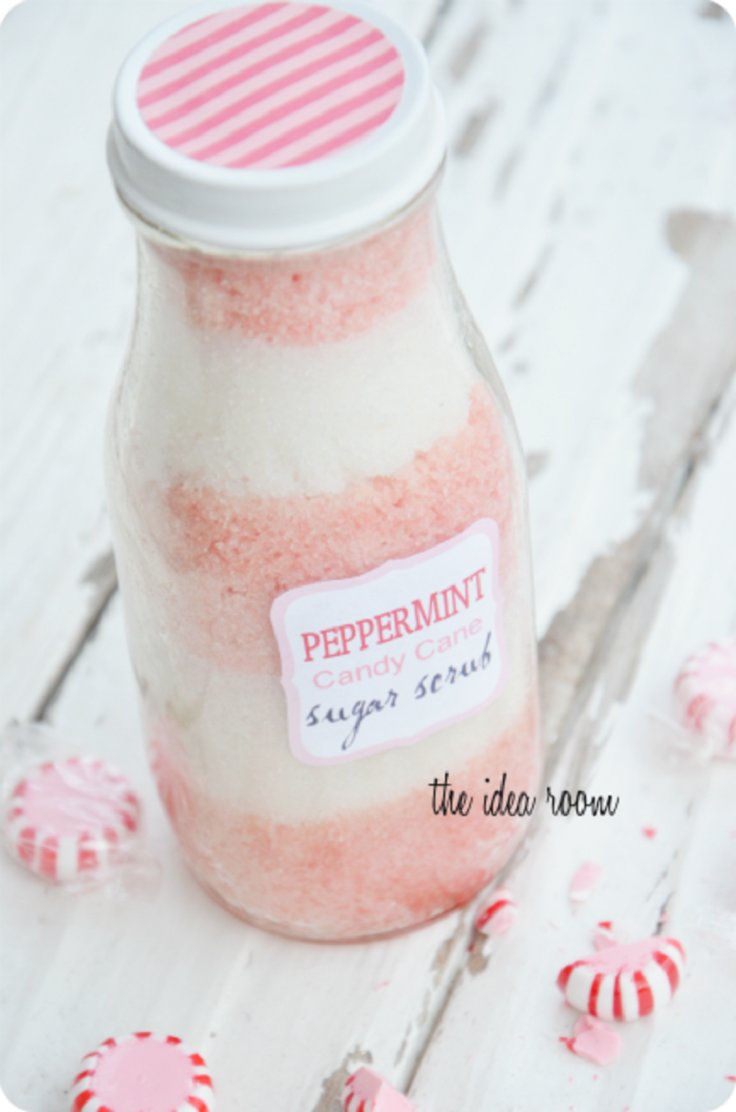 via theidearoom.net
All pink and pastel, it's difficult to see how adorable it looks this scrub and not try it out—mix two cups of white sugar with 1/4 to 1/3 cup almond or coconut oil. Mix until you get the right consistency, and then add few drops of peppermint oil. To get the lovely color, you can either use food coloring or just add raspberry juice. Add a white layer, then a colored one, and play with them until you reach the top of the jar. With a cute label, this can be the perfect DIY gift.
5. Chocolate Sugar Scrub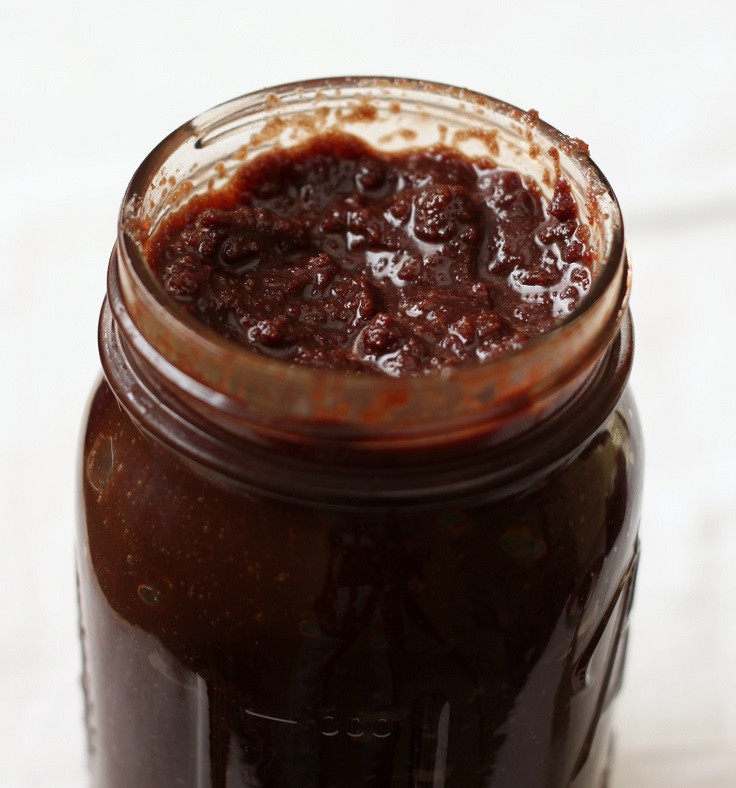 At some point, you will ask yourself whether you should eat it or use it for your hands. It's chocolate we're talking about, so we will totally understand if you like eating rather than scrubbing. You may ask how chocolate can benefit our skin, so here's the answer to that question: chocolate contains caffeine that stimulates circulation and improves blood flow, leading to improved skin cells. Dark chocolate also contains antioxidants, which can reduce the aging signs and increase elastin levels in the skin.
6. Gardener's Hand Scrub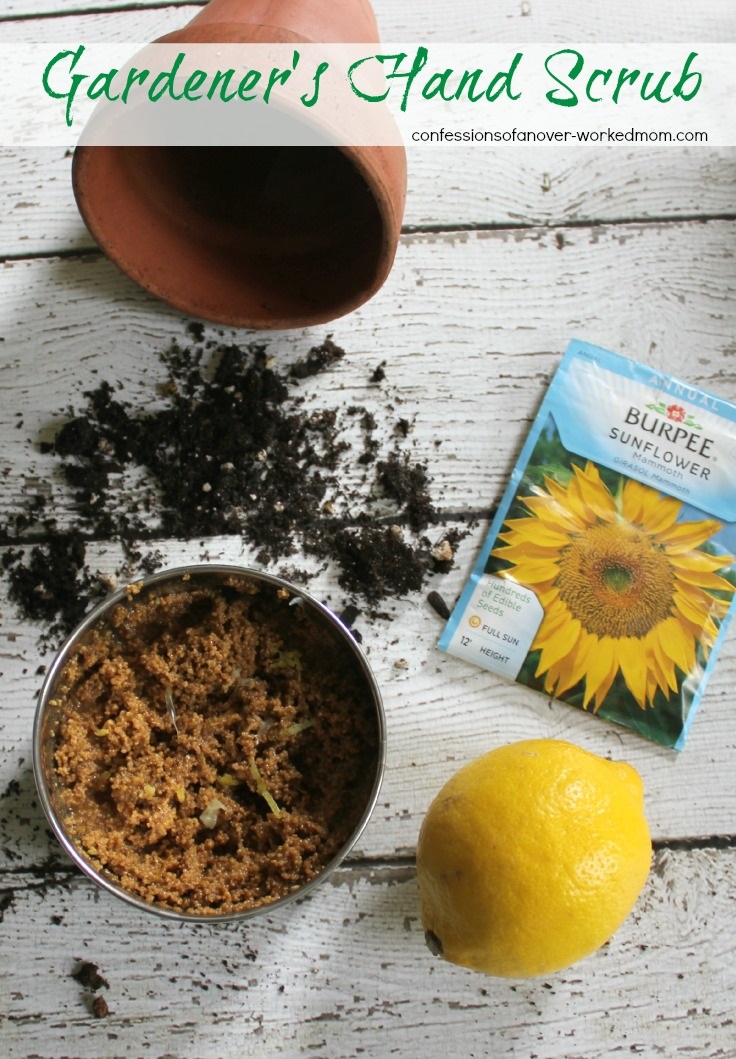 via confessionsofanover-workedmom.com
Lemon has its own benefits when it comes to skin, so we'll name just a few. It is a very good skin brightener, and the vitamin C present in lemons can boost collagen production. So, this simple scrub can get you to all this! Make sure to have 1 lemon, 1 tablespoon olive oil, and 2/3  – 3/4 cup granulated sugar. Zest the lemon, cut it, and juice one half of it. Add these two to a bowl filled with sugar, and add the olive oil. Mix well and when you have the right consistency, add the scrub in a jar and keep it in the fridge between uses.
7. Coconut Oil Salt Scrub With Rosemary And Mint
via thesitsgirls.com
This scrub has such great ingredients that it will lead you to have the softest hands ever. Coconut oil is one of the best skin softeners, so you get a great scrub when you combine it with salt or sugar. The recipe uses 1 cup sea salt, 1/3 cup coconut oil, 1 – 2 teaspoons peppermint extracts or 5 – 10 drops oil, 5 – 10 drops rosemary, 1/4 cup jojoba, or any other oil, dried and chopped mint and rosemary. Mix all the ingredients in a bowl, but first use just half of the jojoba oil – the rest use it if you later think it's necessary.
8. Rose Sugar Scrub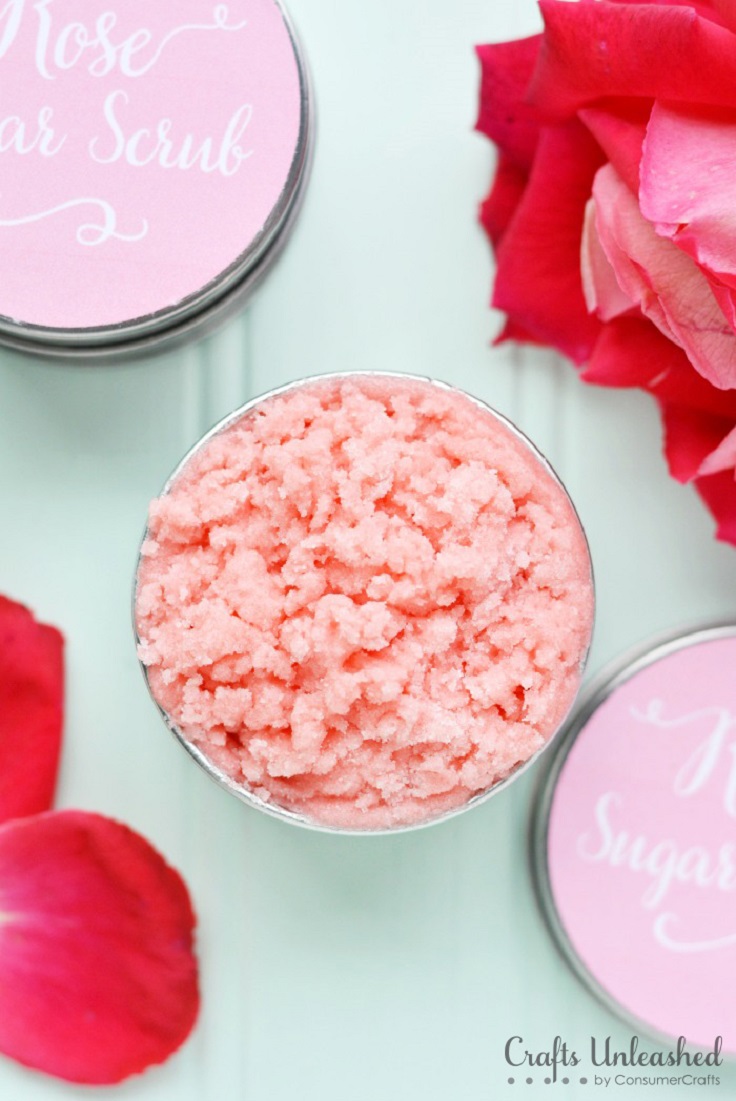 Those who are huge fans of roses have to check out this scrub. Not only will it have the most gentle rose scent, but it will soften your hands as well. Roses are good moisturizers, which also contain vitamin C that makes the roses a great antioxidant. This, in return, protects the skin cells from damage. To make this scrub, mix 1 1/2 cups sugar, 1/2 cup coconut oil, and 5 drops of rose essential oil. Add few drops of red food coloring to get the pink color, mix well and store the scrub in jars.
9. Pink Himalayan Salt Scrub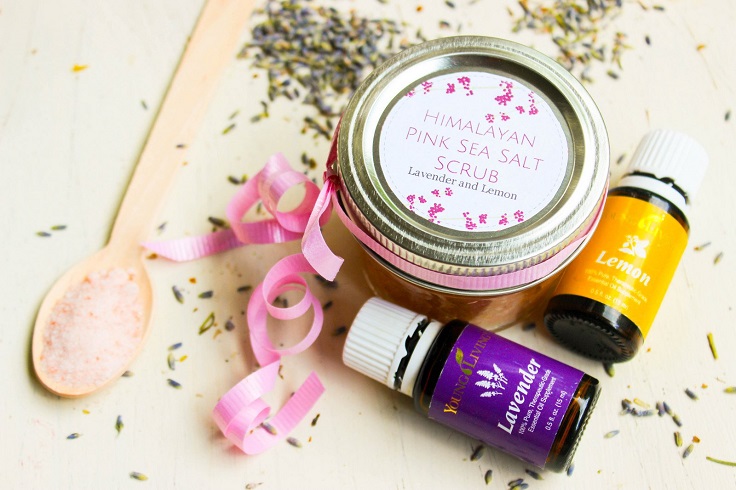 For this scrub, you need 4 oz pink Himalayan sea salt, 1 oz fractionated coconut oil, 1 oz jojoba oil, 20 drops lavender essential oil, and 10 drops of lemon essential oil. First, combine the salt, the coconut oil, and the jojoba oil, and then mix in the essential oils. Mix well until the scrub gets the right consistency, and then you're free to use it right away or store it in a jar. We've already talked about the coconut oil benefits, but the jojoba oil has its own too. It is a great carrier oil, and besides that, it is a great skin softener.
10. Lavender Vanilla Salt Scrub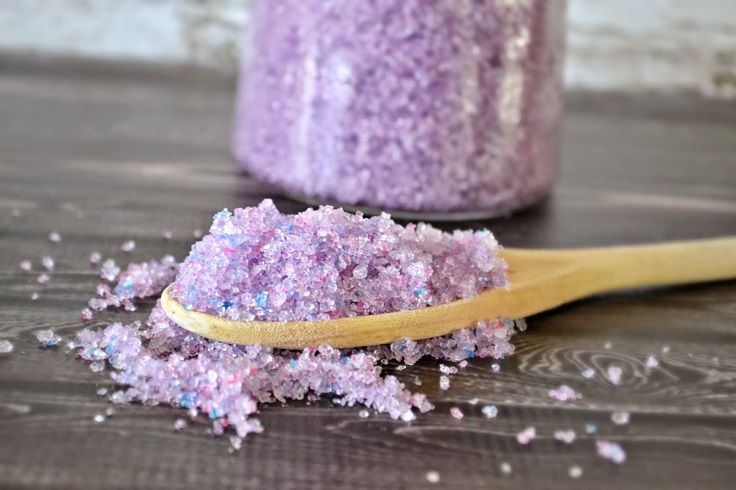 The scent of lavender is seriously one of the prettiest scents there can be. So, including a lavender scrub in this list was a must. Mix 2 cups of Epsom salt with 1 cup coarse sea salt and add 1/2 cup of olive or any other oil. Note that you should cover all the salt with oil. Add 1 tablespoon vanilla and 15 drops of lavender essential oil. To get the purple color, add few drops of red and blue food coloring and mix well until you have it all colored.