It's very important to take care of our lips, especially when it's cold outside. By scrubbing them, we remove the dead surface to bring back the soft and smooth look. When we have them like that, there won't be any cracked lips, and our lip makeup can even last longer. Besides this, kissable lips are something we all want, right?
Instead of spending money on products that might not even work out for you, we picked ten sugar scrub recipes to help you get the lips you want. You can make them at home, and they don't require much of your time or money. They are a cheaper option, but definitely worth it.
1. Rose Sugar Lip Scrub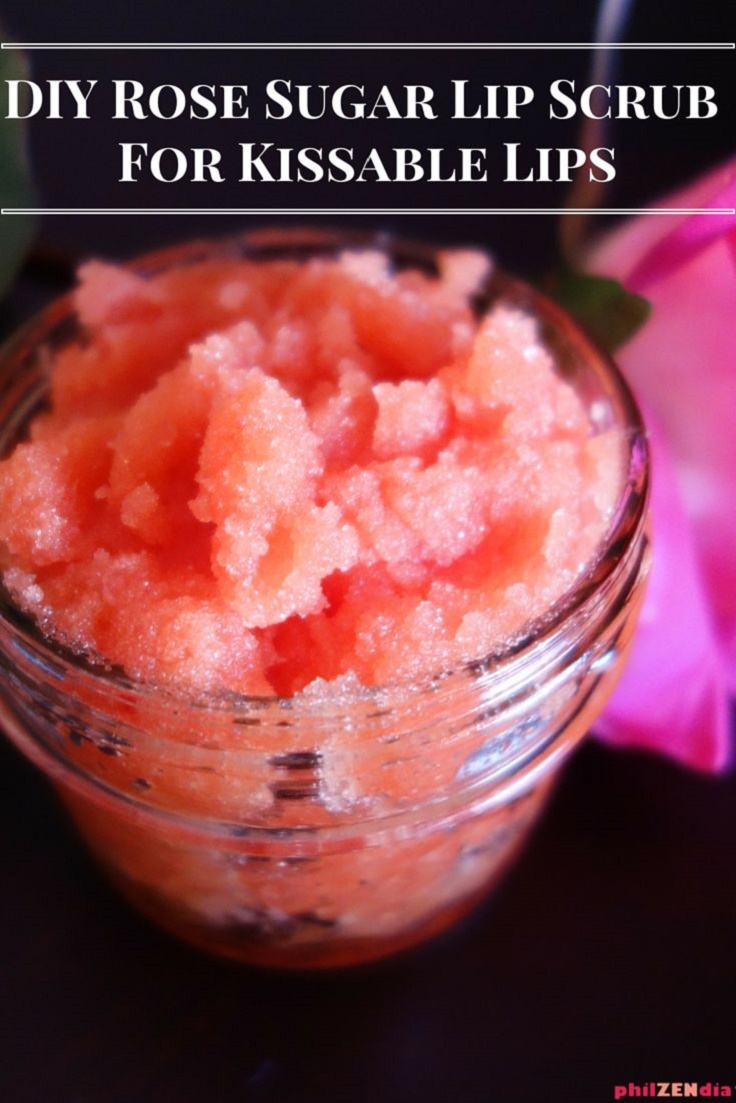 via philzendia.com
For the rose scrub, you need sugar, any oil, and rosewater. You can also use red food coloring to get that pink color, but this is optional. Mix the sugar and the rosewater, then slowly start adding the oil. If you want a smoother scrub, add more oil, and likewise – for a fluffier scrub, add less.
2. Gingerbread Lip Scrub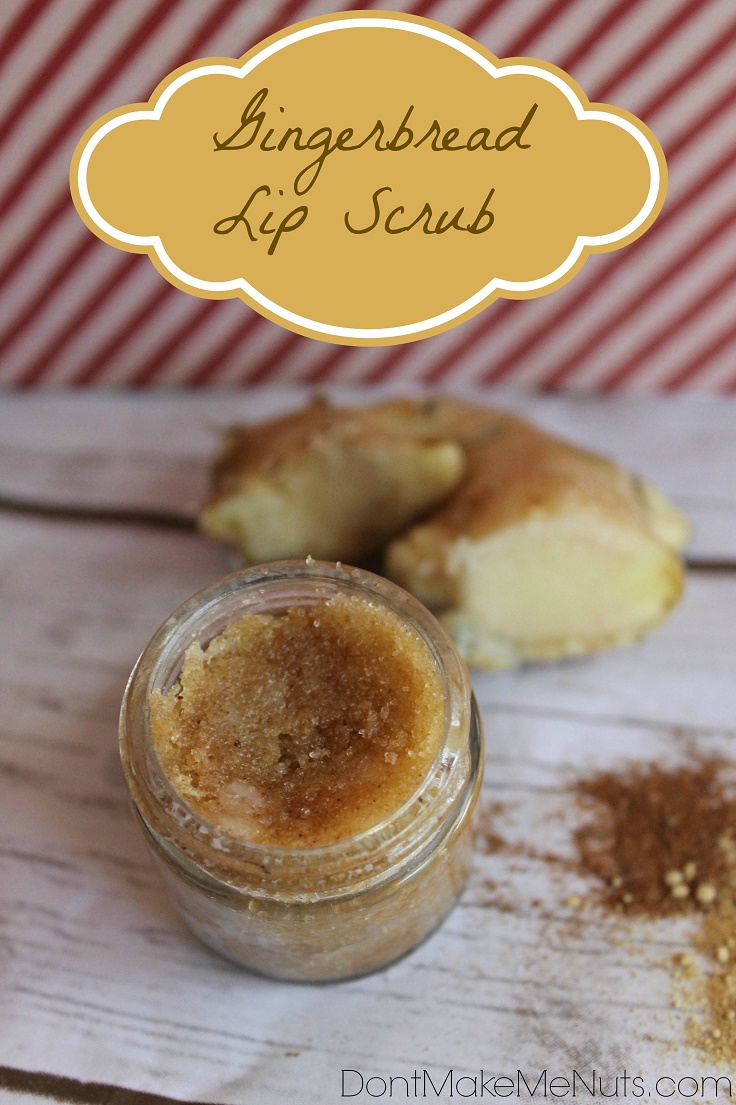 The Gingerbread Scrub not only will help you get soft lips, but it will also taste so delicious you would want to eat it! To make it, you need brown sugar, coconut oil, ground ginger, cinnamon, cloves, nutmeg, vanilla, and vitamin E capsule. For the best results, add a little bit of fresh ginger as well.
3. Chai Spice Sugar Lip Scrub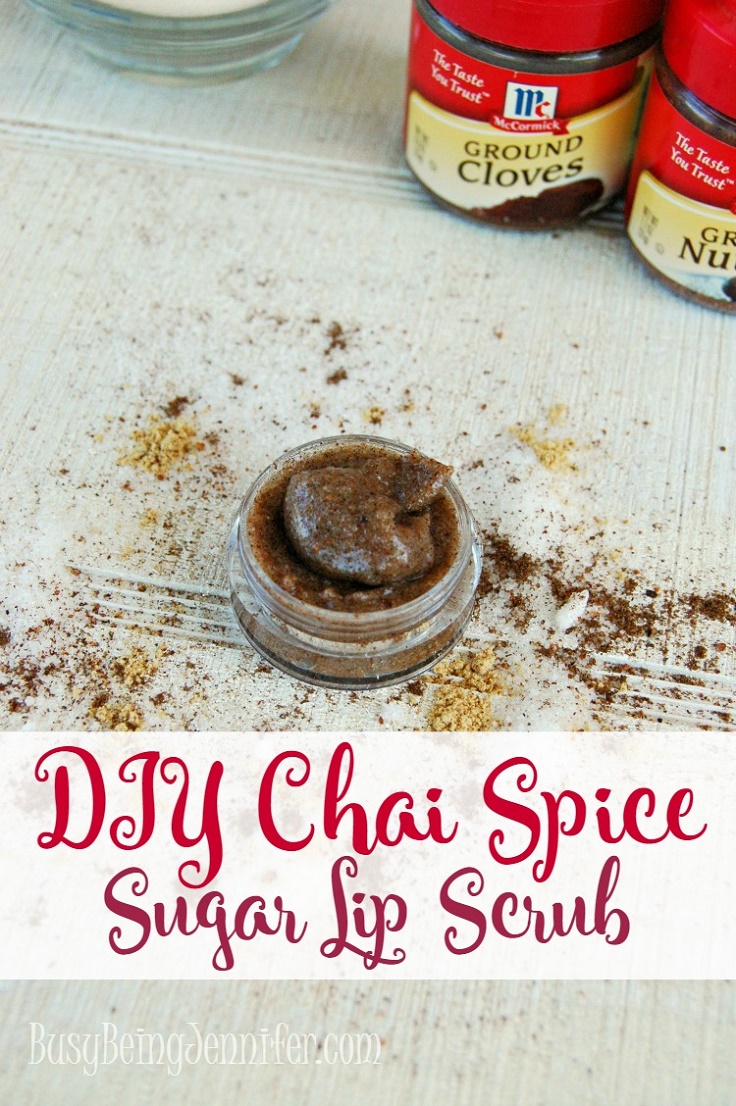 For the Chai Spice Sugar Scrub, you need almost the same as the previous scrub. Make sure you have ground ginger, ground cinnamon, ground cardamom, ground cloves, nutmeg, allspice, white pepper, white sugar, coconut oil, and vanilla extract. It's easy to prepare the scrub. Just mix all the ingredients together and stir. You can use the scrub right away or let it sit overnight.
4. Chocolate Cake Lip Scrub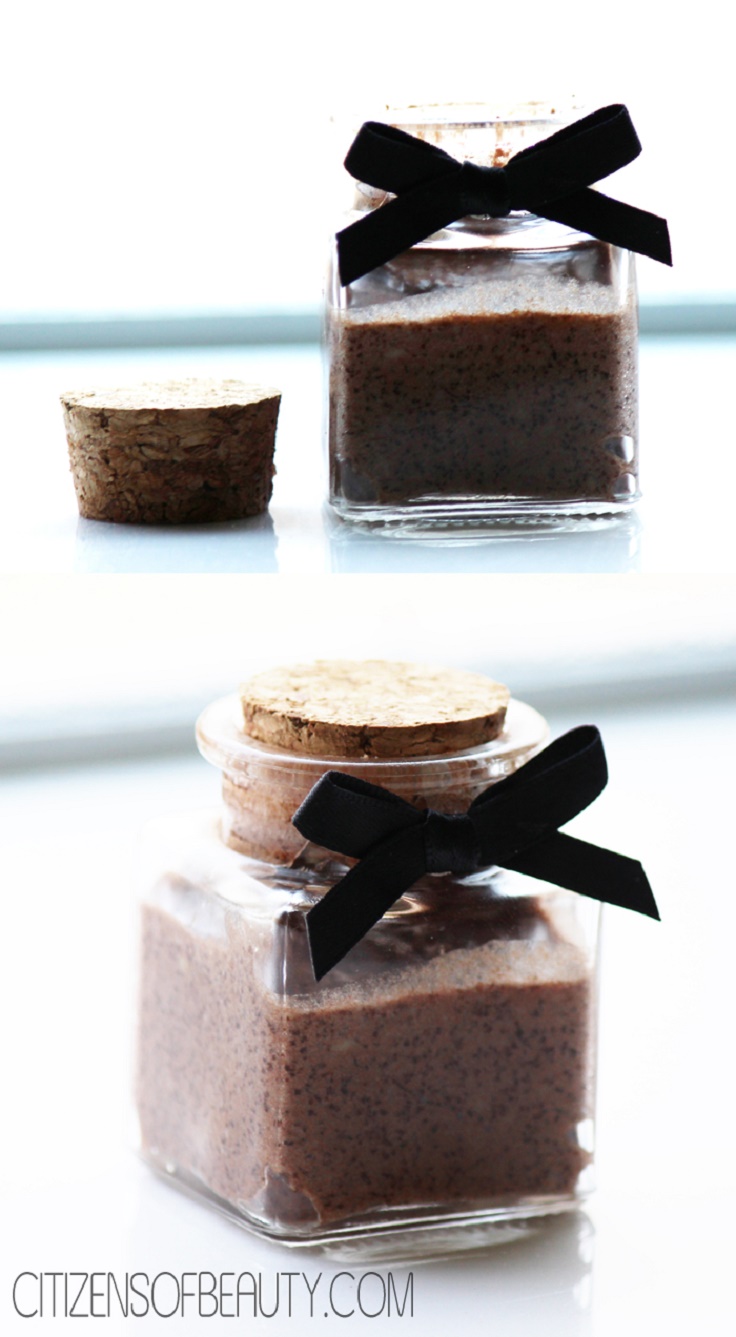 Who would thought that a chocolate cake recipe could make our lips soft and smooth? Make your chocolate lip scrub by mixing coconut oil, shea butter, cocoa butter, cocoa powder, and vanilla extract. When well mixed, just add brown sugar and mix more for the ingredients to get well blended. Next and last, place the delicious scrub in a glass jar or similar.
5. Honey Sugar Lip Scrub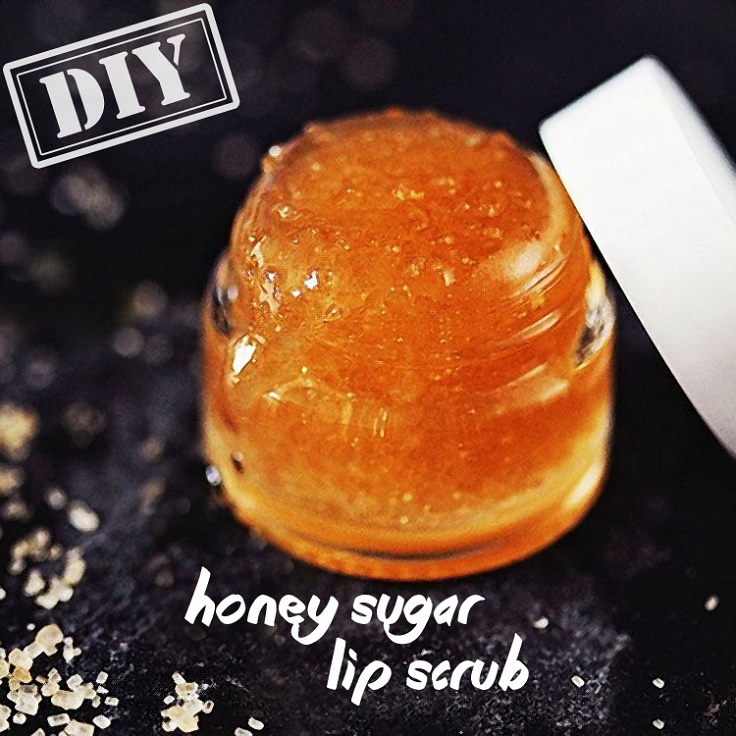 via helloglow.co
Another super easy yet so delicious scrub. Mix sugar, honey, almond oil, and you can also add a dash of cinnamon or cayenne, but that's optional. Keep the scrub in a container. It's easy to use it. Just scrub your lips, rinse with warm water, and then you can apply your lip balm.
6. Raspberry Sugar Scrub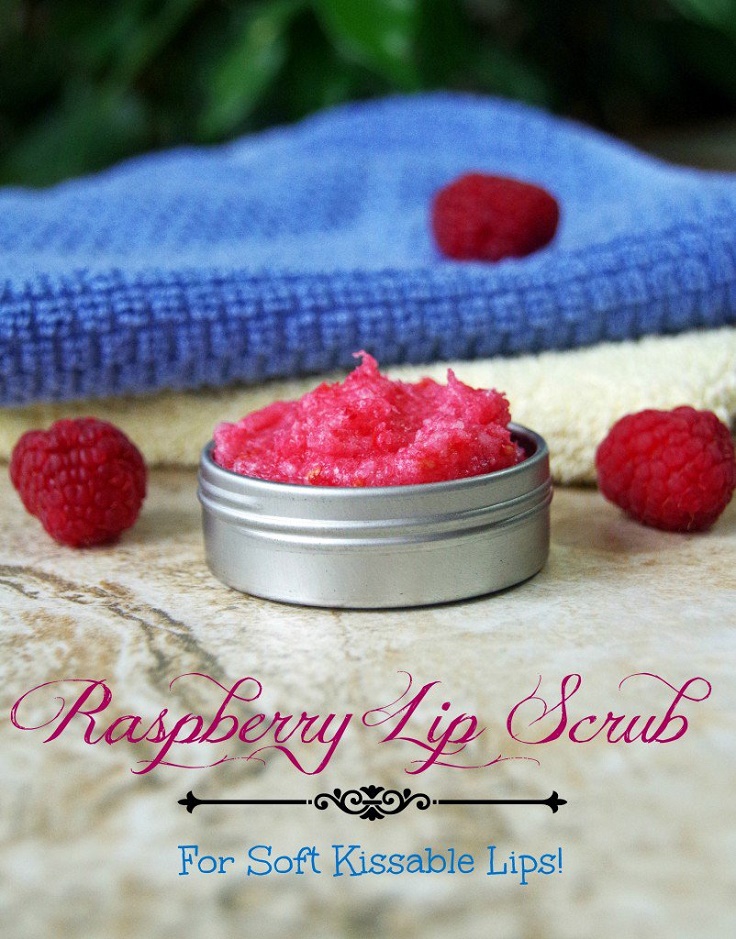 Who would say that the super tasty raspberries can help us getting the lips we want? Not only do they have health benefits, but beauty ones as well. Besides the raspberries, for this recipe, you also need coconut oil and white sugar. Smash together all the ingredients. If the mixture is wetter, add sugar and if it is dry, add more raspberries.
7. Vanilla Latte Sugar Scrub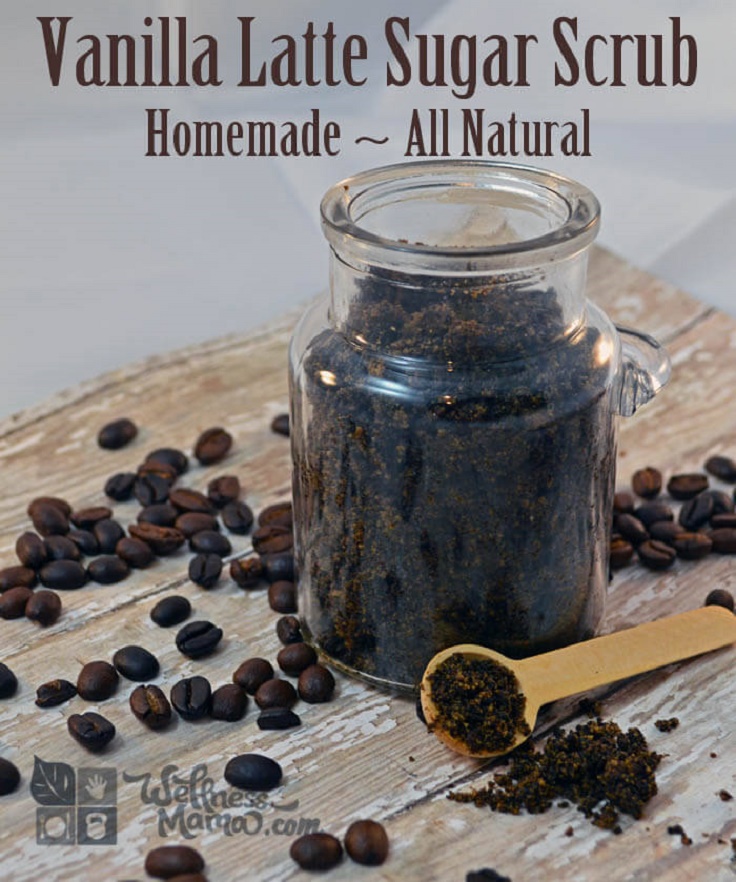 via wellnessmama.com
Coffee lovers will especially love this scrub. It can taste as delicious as your morning coffee, even more delicious. You need vanilla, castor oil, coconut oil, organic sugar, and finely ground dry coffee for this scrub. First, mix the coffee, the vanilla, and the sugar. Mix them well, add the oils, and mix until all the ingredients are well mixed and moistened.
8. Strawberry Lemonade Lip Scrub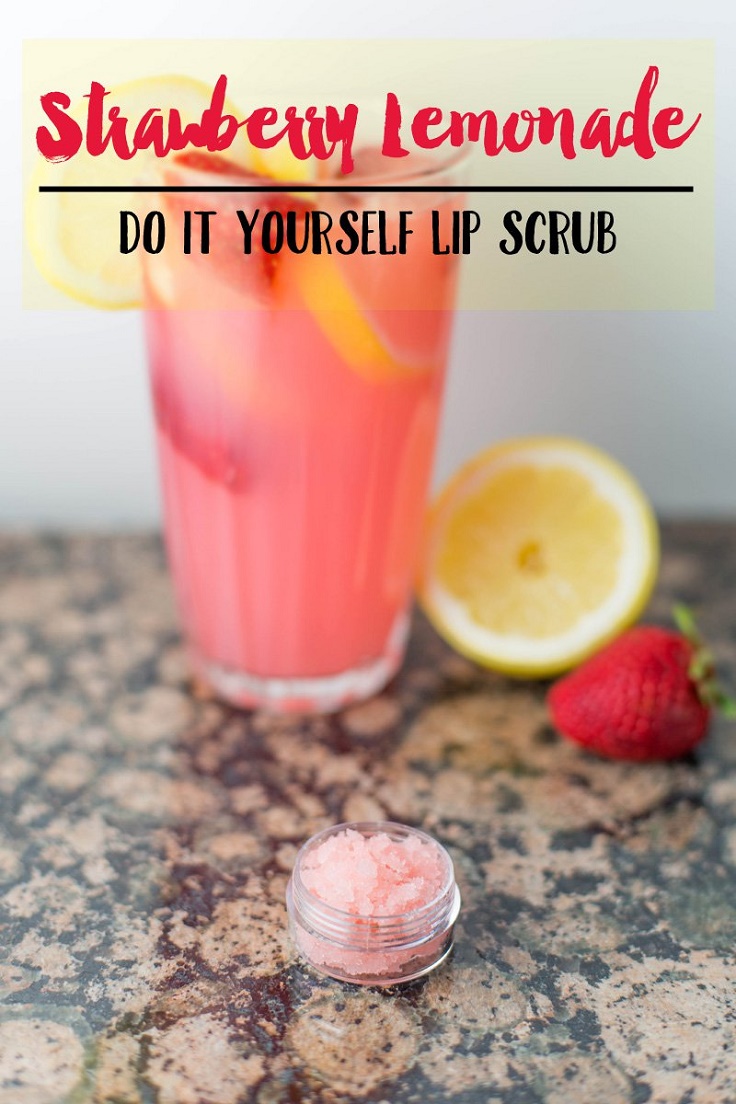 This scrub will taste like the summer drink you would like to have on a hot summer day. You need a pure lemon extract, strawberry extract, sugar, and extra virgin olive oil. Mix all the ingredients, and you already have your scrub done. There isn't any food coloring tough; the strawberry extract is already pink, but you can add few drops of lemon juice for a tart flavor if you want.
9. Pumpkin Spice Lip Scrub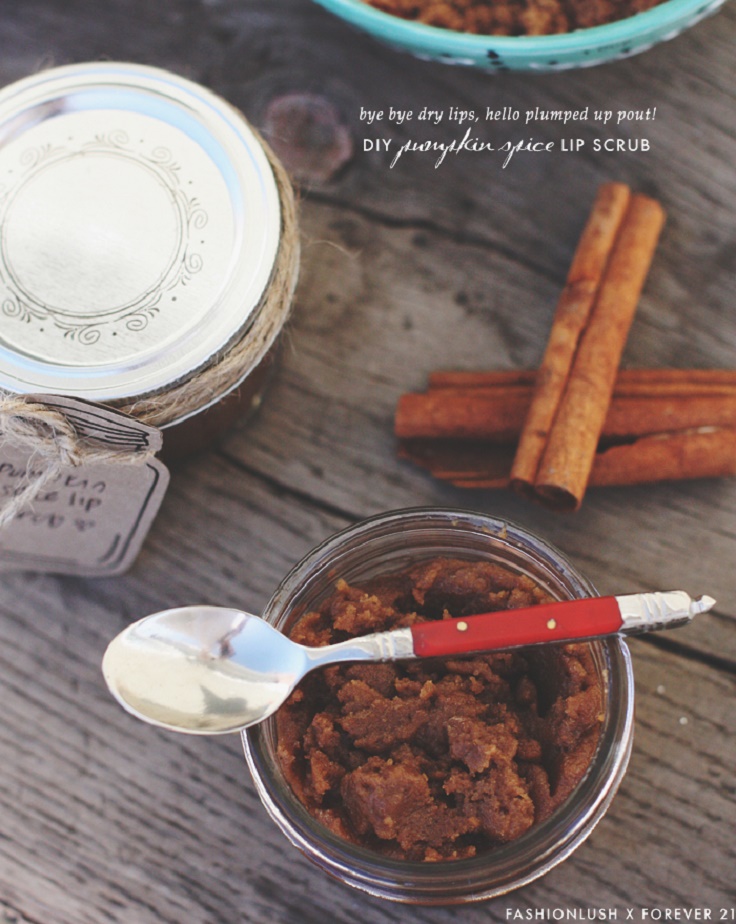 via fashionlush.com
Scrub reminding us of autumn with all the ingredients it contains. Brown sugar, coconut oil, pumpkin pie spice and vanilla extract. This is a promising recipe; it will surely smell and taste nice. Place the scrub in mini mason jars, and if you decorate them with a bow, you have yourself a nice gift.
10. Brown Sugar Lip Scrub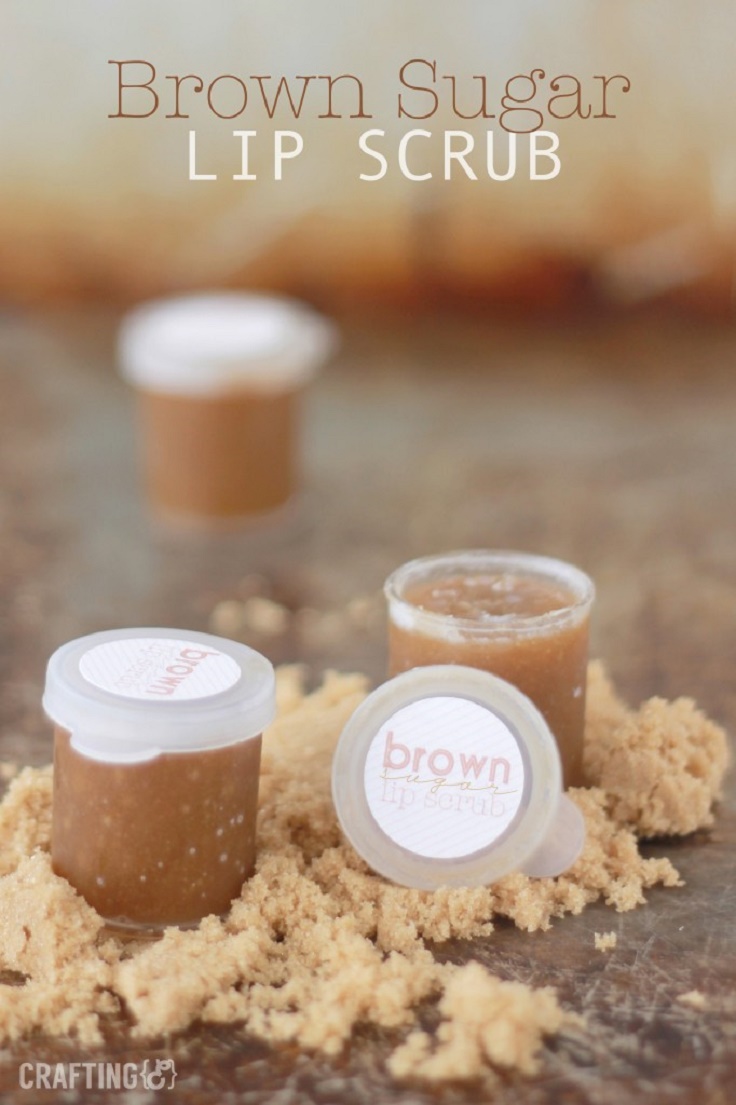 via craftinge.com
This is a very simple recipe for which you most likely already have the ingredients at home. We're talking about honey, sugar, and coconut oil. It's a cheap and very effective recipe. After mixing all the ingredients, place the scrub into the container. By clicking the link, you can get yourself free printables, which will make your container look really adorable.