It might be already mid-summer, but it is still not too late to have new furniture in your garden. How about a cozy swing, hammock, or swing bed? There is no better way to relax on your porch than laying or swinging away in one of these outdoor swings.
Find a style that suits your home and your needs, and add your own touches to it. Some of these projects use repurpose supplies and are quite easy to make, even if you don't have much DIY experience.
With some swings, you might need your handy husband or a friend to help you, especially with the building and installing the part. It is fun teamwork; you can add the final touches with DIY Crocheted Pillows and wood painting.
Here are some amazing swing ideas with tutorials!
DIY Porch Swing – Recycled Baby Crib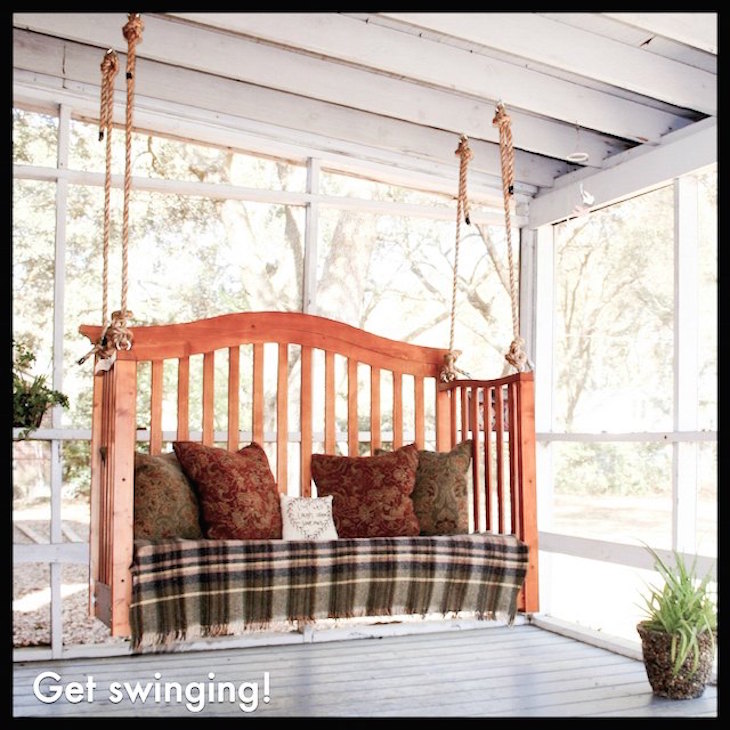 via sustainablog.org
Is the baby crib still sitting in your garage? Don't wait any longer; this is a great idea of how to make great use of it again. This fantastic step-by-step guide will show you how to transform the baby crib into a beautiful porch swing. Play with the colors and pillows, and it will attract envious looks.
DIY Pallet Swing Bed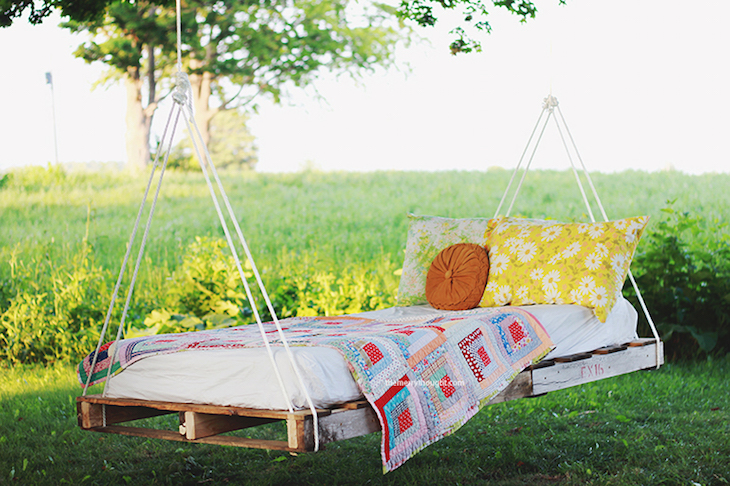 Pallets can be turned into functional and attractive items with a little imagination. You can build various different pallet furniture such as coffee tables, sofas, kid beds, shoe storage, backyard deck, kid playhouse, and other garden furniture like this cosy swing bed! This is one of our favourites!
DIY Hammock Swing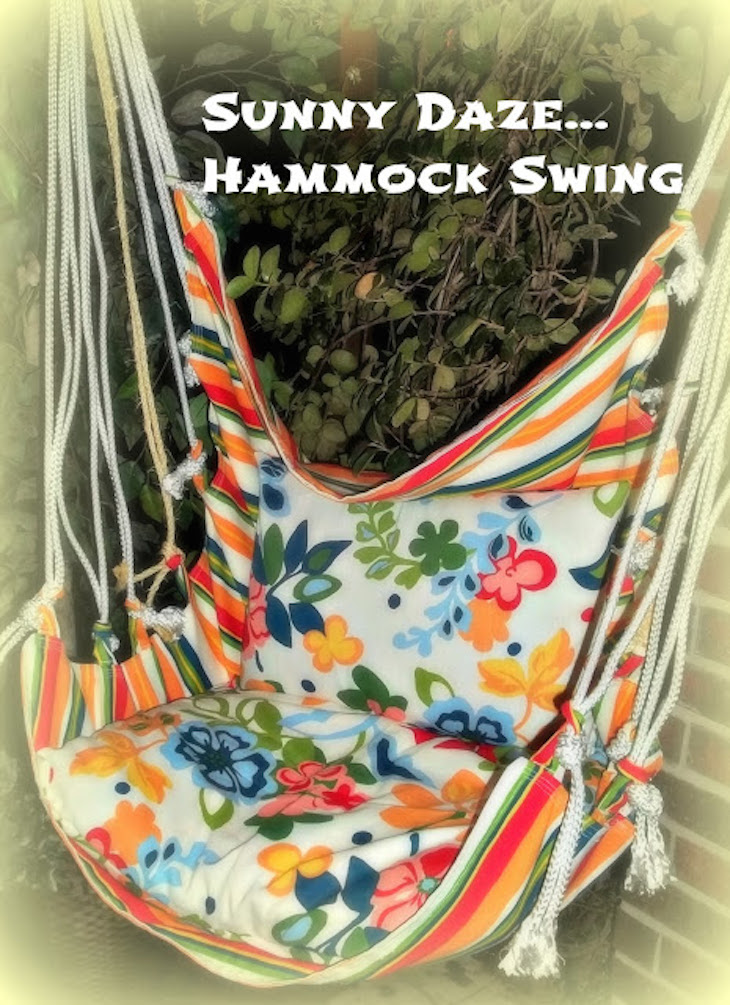 via www.soyouthinkyourecrafty.com
This cute hammock swing will require your sewing skills and also your knot-tying skills. Don't worry if you don't have a garden with a big tree to hang the swing on it. It can hang from a beam on your porch. Just screw an eye screw into the beam and then slip the carabiner onto it.
DIY Rustic Tree Swing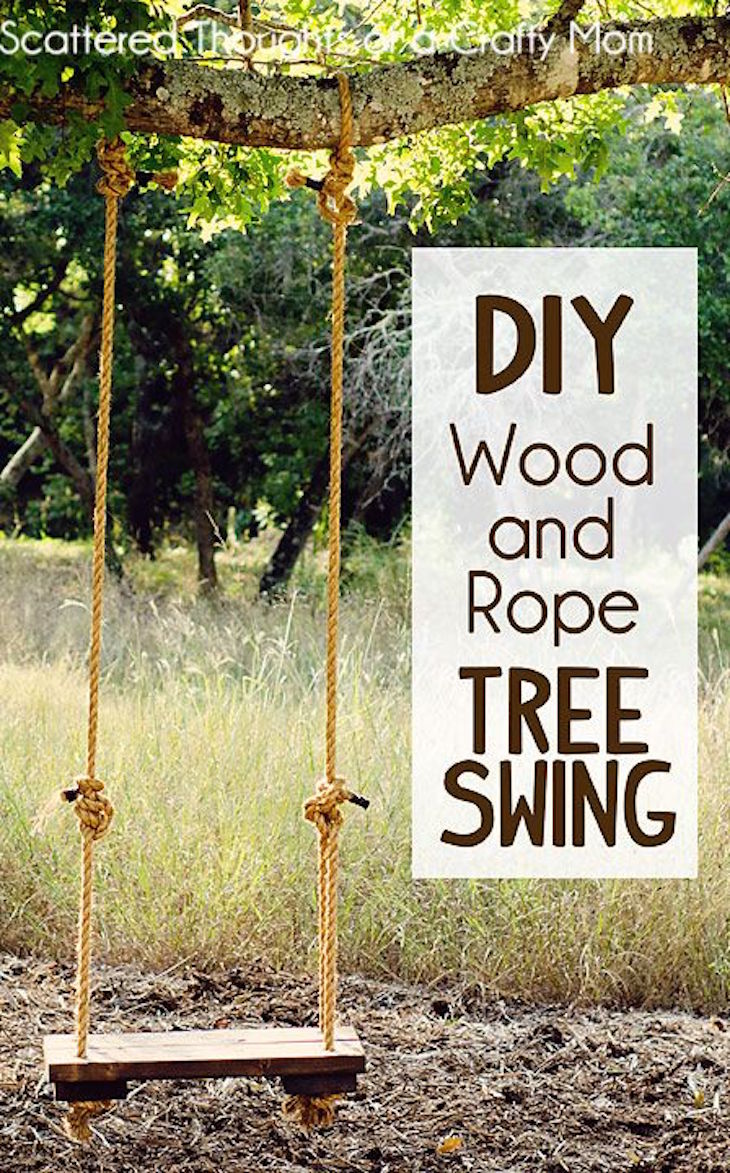 via www.scatteredthoughtsofacraftymom.com
This simple rustic swing looks great and natural hanging on an old tree in any garden. It takes no time to make it and only requires basic DIY skills. You'll probably find everything you need around the house – wood, rope, washers, screw, drill and saw.
DIY Hammock Chair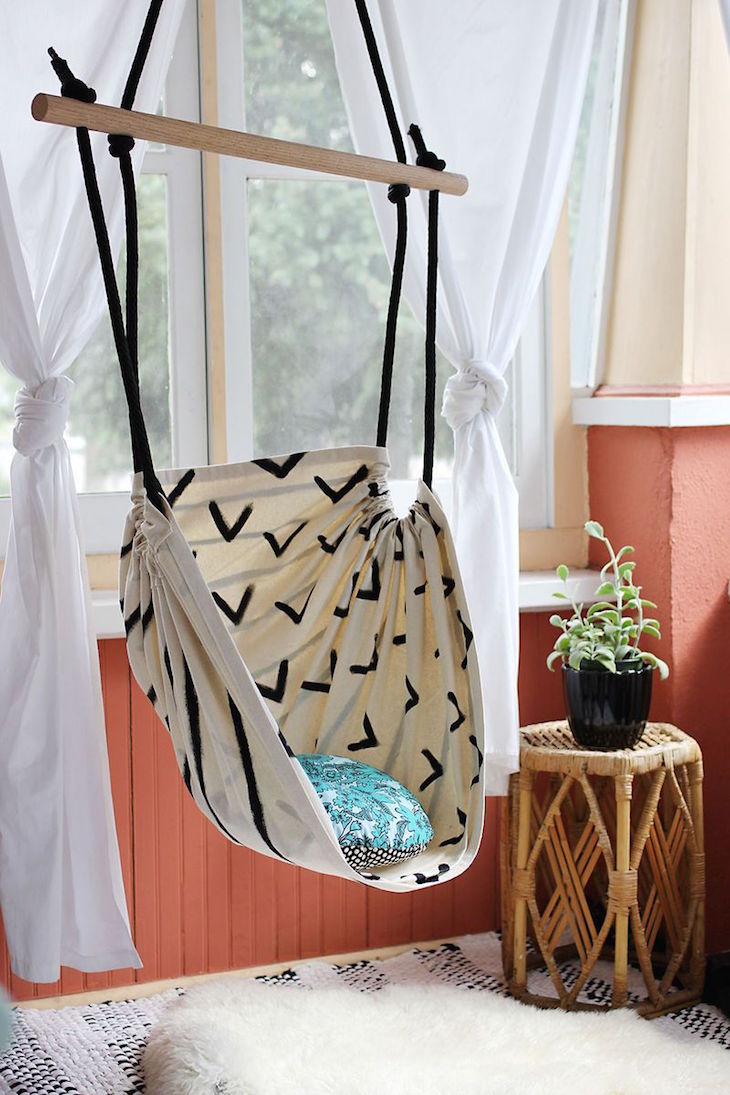 This is a real stylish hammock chair that will brighten up any patio, garden, or porch with the colorful materials used. When the weather gets too chilly to hang around outdoors, simply take it inside and find a suitable place for it in your living room.
DIY Old Chair Swing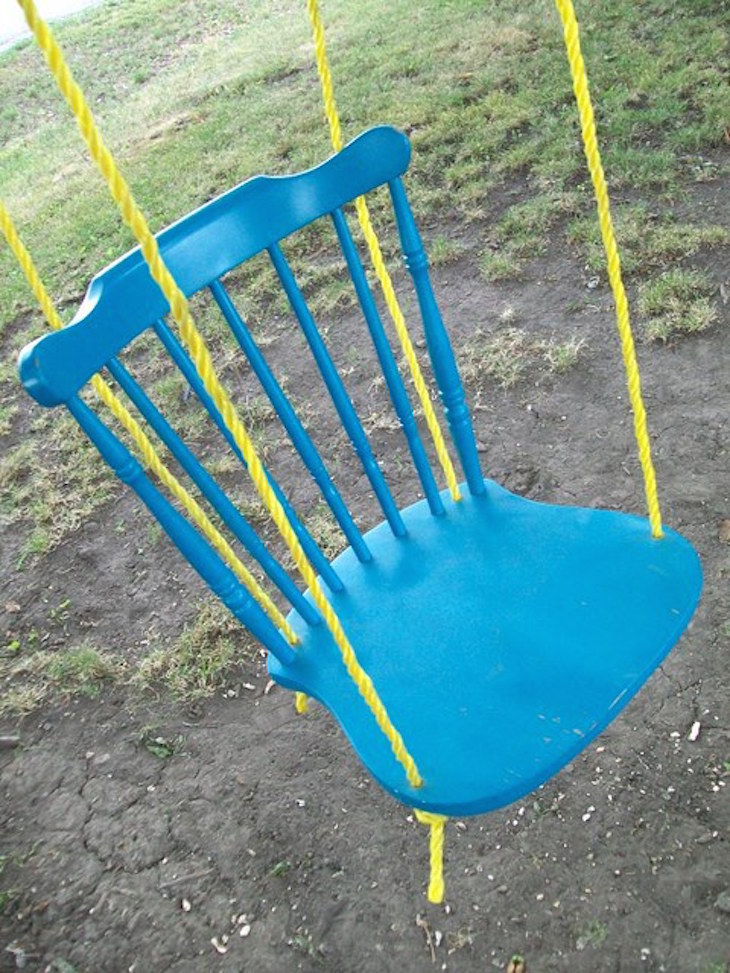 This is a great way to recycle an old wooden chair! If the legs are broken, don't throw it away; transform it into a comfortable swing! Your family will love it; just lean back and enjoy the shade of the tree on hot summer days.
DIY Pallet Swing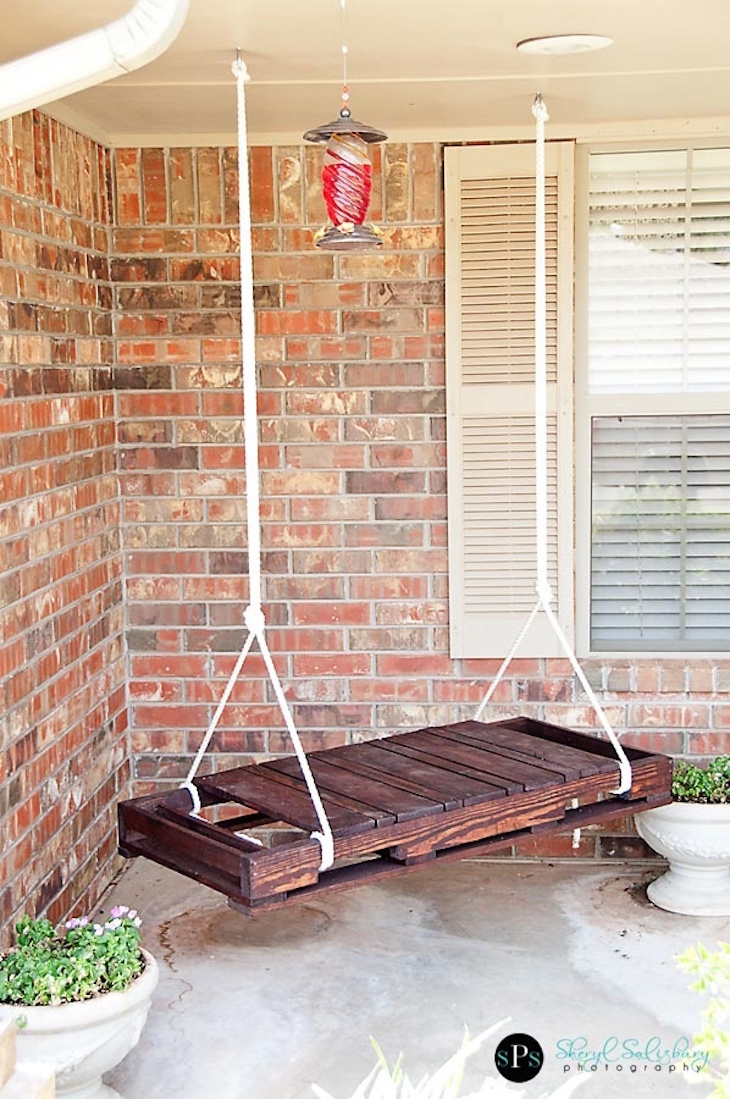 via www.sherylsalisburyphotography.com
Follow this detailed tutorial to transform a wooden pallet into a swing! You'll need some help to cut the pallet in half, but after that, the painting or staining is simple. Check out the drink holders on both sides, isn't that clever?
DIY Hanging Chair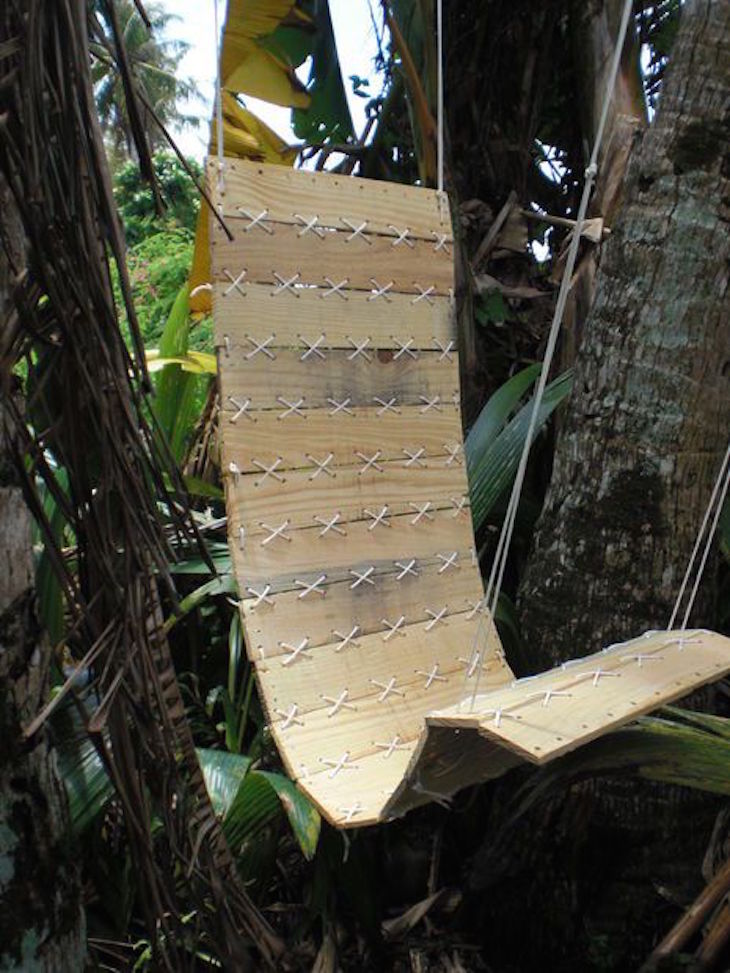 This hanging chair is super comfortable as it conforms to the body and also easy to make. Made from a pallet and some paracord, you really don't need anything else, only some tools!
DIY Headboard Swing
This pretty headboard swing is made out of headboards – as you might have guessed. This is not the most simple project but far from impossible. The most enjoyable part will be to paint it to a color that suits your porch and to add your DIY cushions and pillows!
DIY Large Swing
via ana-white.com
This large swing will be the best spot for napping or lounging! Make it pretty – add cushions and pillows, paint it to any colors you prefer. Follow this comprehensive tutorial and build your own swing this summer!