With Winter on the way, it's not a bad idea to get some late Fall inspiration for our wardrobe. One of the ways to come up with an inspiration is by seeing what did our favorite celebrities wear. To some, hats are a must, coats are the ultimate trend and the heels never go out of style. Check out the ten Fall wardrobe ideas we picked. They all come from famous singers, bloggers, actresses and models. Choose your favorite and let it inspire you while waiting for Winter!
1. Jessica Alba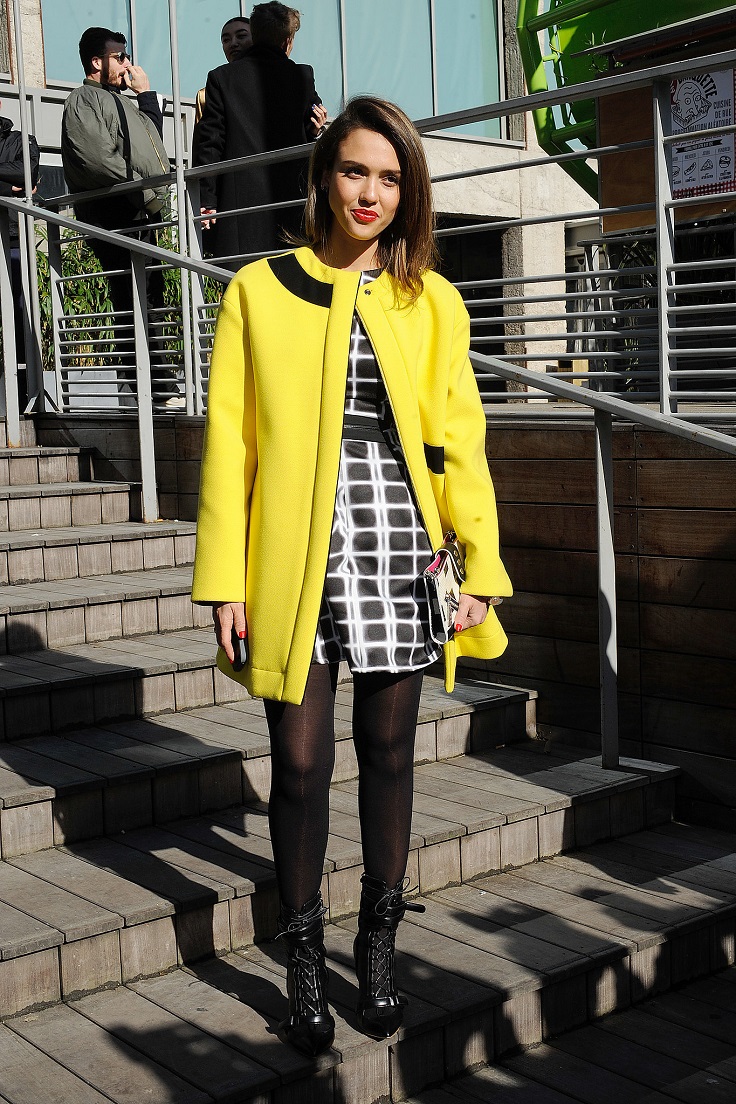 via popsugar.com
Yellow is not the color you see in shops and most of the time isn't considered as attractive, but Jessica Alba proves that when well combined, even yellow can look great. To get this look, buy something yellow that you like. In this case, that is the coat but if you feel like wearing something else, or maybe some even other unusual color, go ahead!
2. Chrissy Teigen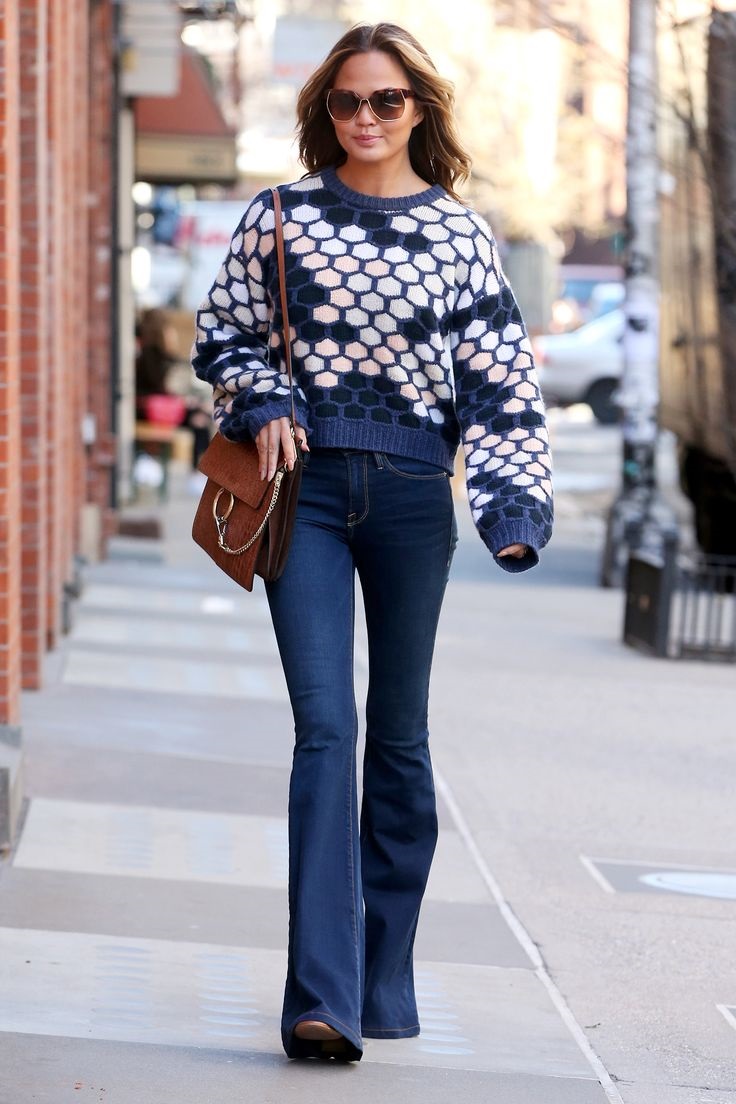 via stylewithkate.com
Chrissy Teigen really knows how to look super cute and sexy in whatever she's wearing. She picked a 70's flare jeans, oversized sweater and a very nice, brown bag to combine all. If you noticed by now, the 70's are such a trend. There is a lot now to buy that feels like this amazing times are back – bags, boots and jackets, there's so much to choose from.
3. Miranda Kerr
Beautiful model Miranda Kerr looks as good as she does on her shooting. Being well dressed is her strong side and she has never disappointed us. Her look here is very comfy and casual, yet the red high heels give away some sexy vibes. If you thought your sweater won't look good on heels, you might want to give it a look again.
4. Olivia Palermo
via glamradar.com
Fashion star Olivia Palermo looks good every day, every season. To get some Fall inspiration from her, check out this outfit. She is wearing everything olive and pastel. But, in order to avoid looking dull, she combined everything with a red clutch. That's the perfect little detail you should add to your look. You know what they say – details matter!
5. Emma Stone
Who can resist Emma Stone's style? Her red carpet looks are breathtaking, and her street style is also deserving some good words. This is a very simple outfit to copy and most likely you already have half of the pieces you need. Grab your favorite jeans, wear your favorite shirt, combine it will the classic black coat and some black ankle boots.
6. Rosie Huntington Whiteley
via myfashavenue.com
As chic as it can get, ex Victoria's Secret model knows what chic really is. Each of her looks is an inspiration by itself. For this outfit, you need something that never goes out of style and that is the black leather jacket. If you don't have one, get it. Faux leather or not, that is your choice. Combine it with a white shirt and everything else black. Classy and stylish!
7. Taylor Swift
One of the most popular celebrities at the moment, Taylor Swift knows what never goes out of style, besides her music. The oversized sweater with a winter application on it it's a total must. Not only they look so adorable, but they can be super comfy as well. Combine it with long boots, cute bag and a hat and you are ready to go.
8. Lupita Nyong'o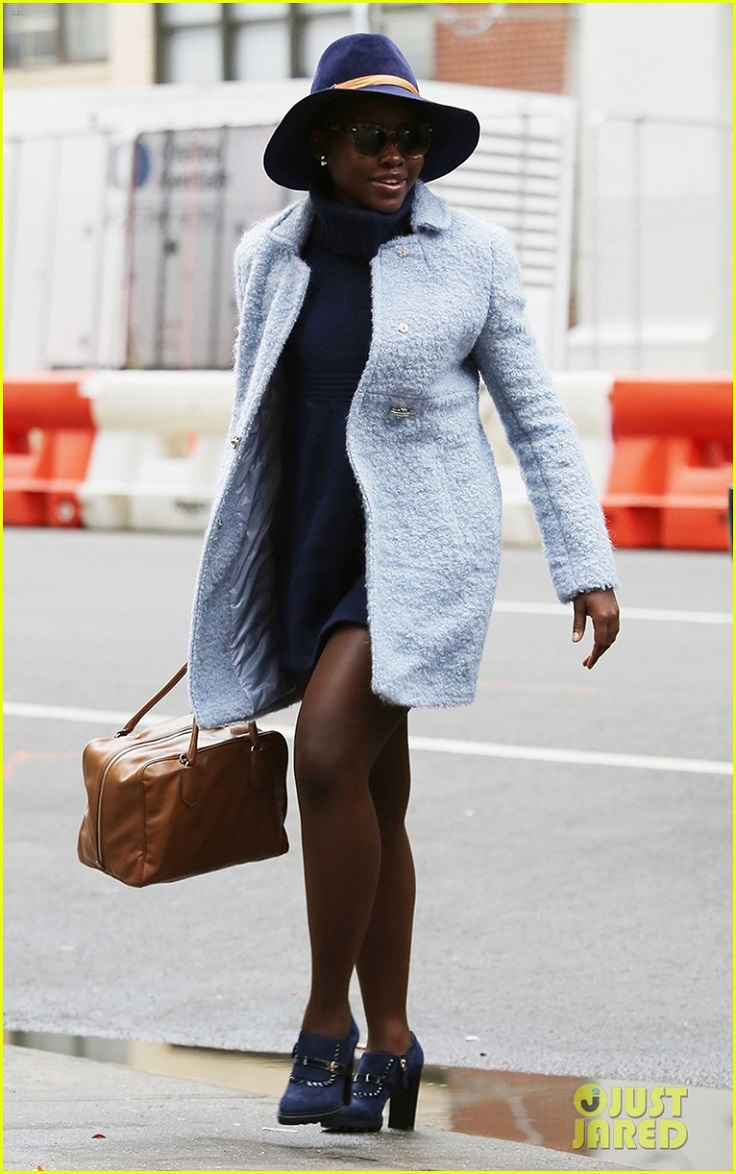 via justjared.com
What really leaves impression this year is the huge love for coats and hats. These two whether combined or not, look so good on every woman, that each has to have at least one of this pieces. Actress Lupita Nyong'o is no exception to this. The colors she picked flatter her even more and it's a proof that baby blue should be more popular!
9. Alexa Chung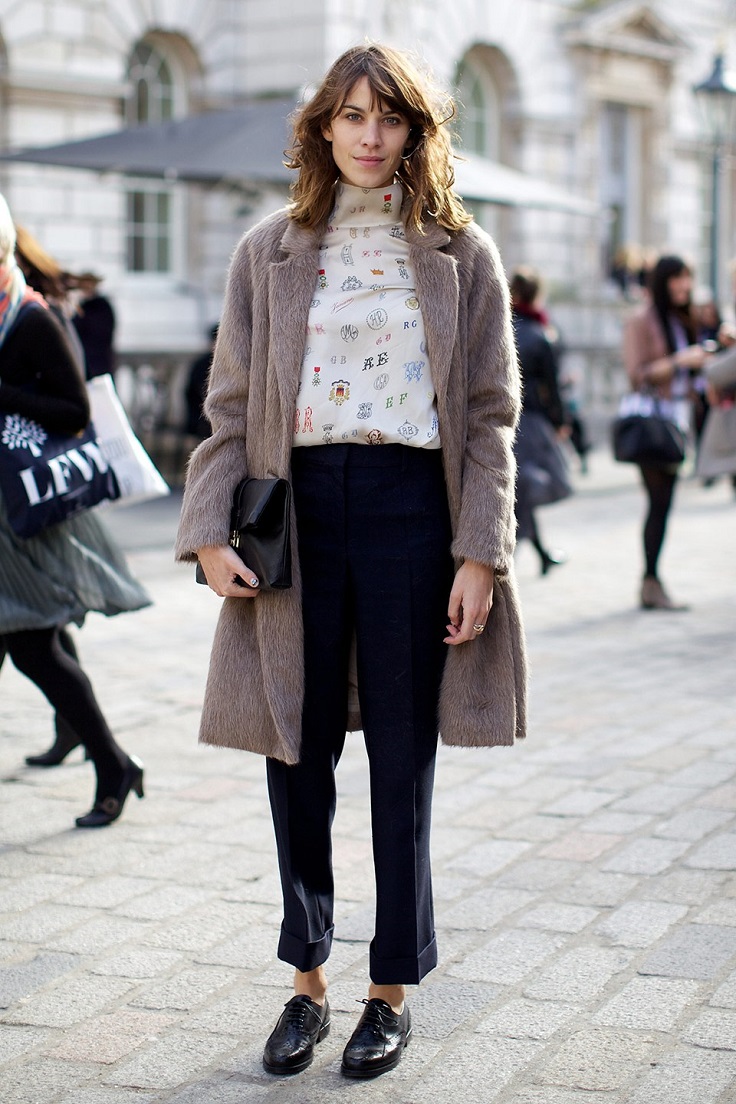 via in-the-now.co.uk
Fashionista Alexa Chung isn't considered as a fashion icon for nothing. Her looks always know how to inspire us. This one is also good at it. So, what so special about this outfit? Is it the coat, the oxford shoes or the man pants? Whatever that grabs your attention the most, take it from the wardrobe or buy it and next time you go out, dress yourself inspired by Alexa Chung.
10. Kenza Zouiten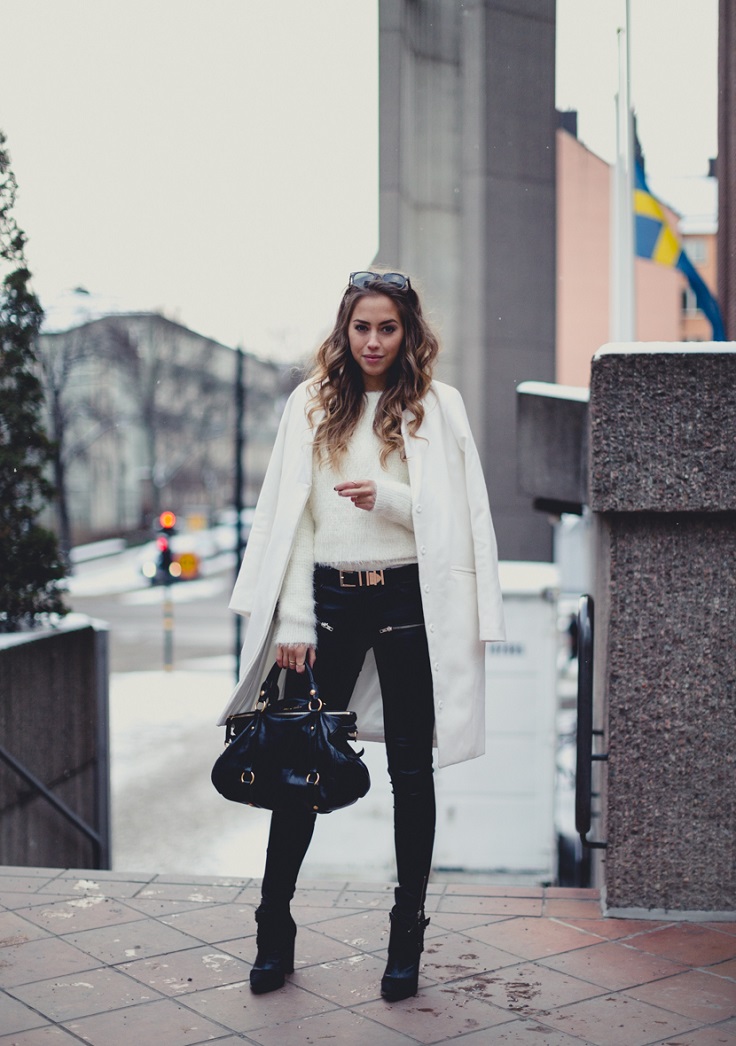 via kenzas.se
The most popular of the Scandinavian bloggers, Kenza is known for her amazing style. She isalso known for always  wearing amazing high heels and clothes that really flatter her wonderful figure. For a daily inspiration, try out this look. It's simple – black and white outfit. It proves that white coats look good in winter as well!