If you want to stay warm, and also look trendy and stylish for any occasion, why not trying combinations of jackets and shawls made from faux fur. Sumptuous and snuggly, it's a fact that fur is kinder and cheaper than the real thing and better-looking than ever.
Go a little wild by combining sleek shapes in muted shades with beloved fall and winter basics. Not only can you layer a fur vest underneath your coat for extra warmth in the winter, but it also makes a great stand-alone accessory when worn over a basic t-shirt. There are countless ways to wear fur: with your favorite boots and jeans, on your favorite jacket, a winter skirt, and tights, or with a black evening dress.
If you have a lack inspiration, check out these 10 ideas you will surely find them here!
Black & White Faux Fur With Brown Suede Boots

Photo credit to pinterest.fr
For medium to dark-colored skin, this combination is a total winner in our eyes. The theme here is brown. The faux fur jacket really does stand out like no other and manages to look classy without looking like you have overdone it; especially with a lot of faux fur coats. It gives out a subtle hint and looks of sophistication, but more within the background not flashy. Meaning you can go on with your daily business with class and confidence. The overall look is fashion chic especially with the knee-high boots and matching color turtleneck autumn jumper. Get the makeup within a similar theme too.
A Pink Fur Affair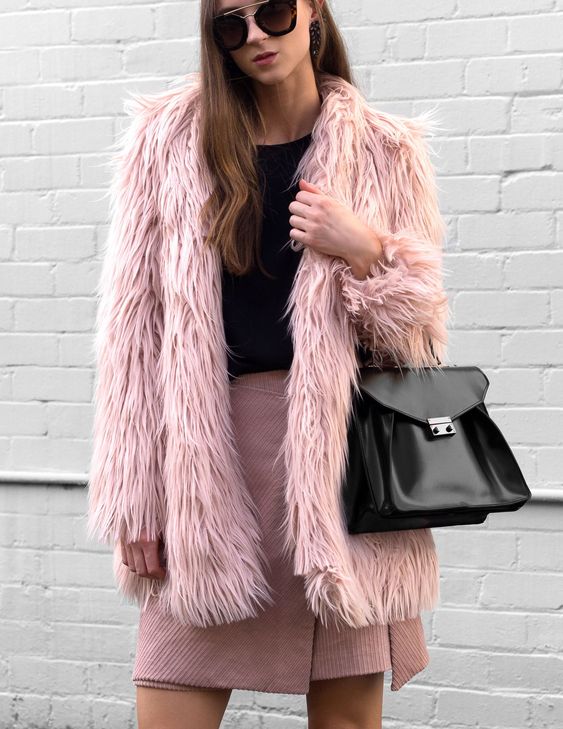 Photo credit to pl.pinterest.com
This is the perfect example and statement that screams out pink is cool, and mega elegant. Dressed with a similar shade of pink skirt, a simple black top, and a matching handbag, and the new fashion you are ready to hit the road. If the sunshine is on your side, match it with a pair of oversized black glasses with dark lenses to keep the secret within even more. Keep your shoes rather plain, and opt-out for either small white or black, pointy heels; or simply a pair of white or black trainers. For she who dares, a pair of fabulous gold trainers will also turn plenty of heads. Be prepared to.
Long And Brown Fur Coat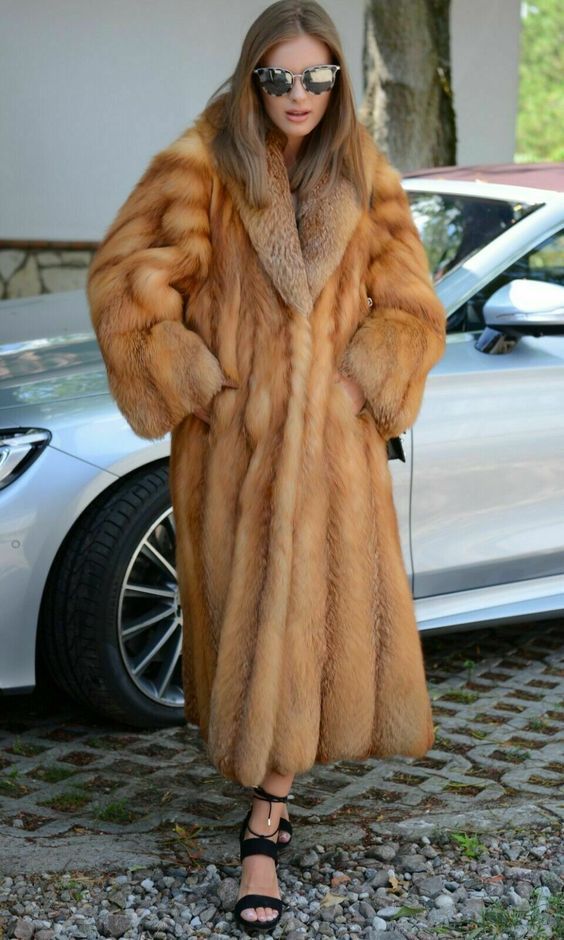 Photo credit to pinterest.fr
This is a fabulous one for two types of people. A: for those with a hidden, beautiful, and elegant black dress to just above the knee with a pair of stunning black, laced up to the ankle shoes; ready to hit the Opera. Or B, for those who wish to remain incognito, just woke up and having a lazy Sunday, really didn't fancy to make an effort that much, but still wishing to look super glam wearing the ankle low faux fur. Anyone will think you've spent hours in front of the mirror.
Want To Be Seen Purple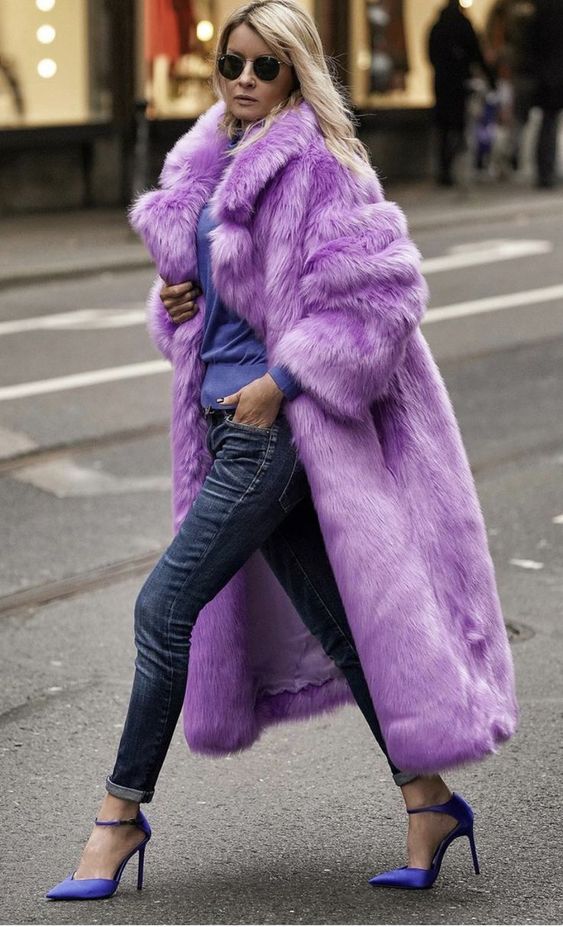 Photo credit to pinterest.fr
Surprisingly this came up in our top 10 and we are not immediate fans of colored fur. However, this faux example is simply stunningly beautiful to look at. It is loud but doesn't scream anything else than wow. Combine this with a pair of matching colored heels and you are good enough to look like a million dollars walking down the street feeling super great about yourself. Blacks, whites, browns are all lovely, however, what not showing color. Simple blue top and simple tight blue denim you are on your way to being fabulous. And still reasonably discreet.
Trendy Faux Fur And Denim Jacket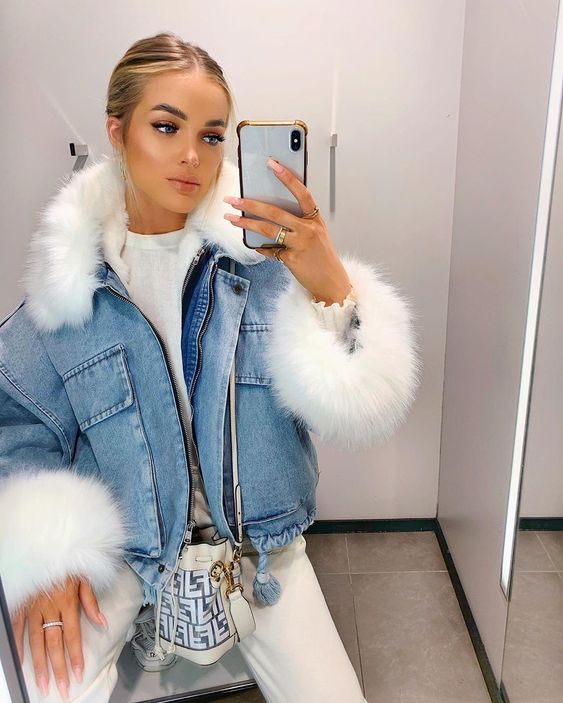 Photo credit to pinterest.nz
It isn't always about these extravagant faux furs, full-length coats. And that doesn't mean they will necessarily look better, or more fashionable. Keep up to date with denim jeans, with this incredible young and fresh look having paired faux fur with jean fabric. What's great about this is that you can totally wear a tracksuit bottom, preferably white, with a simple white top, pair of white sneakers, a plain black or white handbag and you are ready for those instagramable posts over social media.
Harlekin Faux Fur & Black Leather Pants

Photo credit to pinterest.fr
Staying on the theme of everything beautiful and everything colorful, comes this magnificent outfit featuring a really beautiful colored patchwork faux fur jacket. This screams out the confident you, alongside leather trousers. Perfect for the up-and-coming spring and autumn combined; you're getting the look for either month. You will for sure be standing out because we know too well that no one will be a match to your outfit and the little devil in you dared what most would not. Colors. You can wear this ensemble with no effort whatsoever, just with a simple white top showing the tummy, slight foundation, and you are set to turn many heads today.
Grey Faux Fur Vest With White Dress

Photo credit to pinterest.es
Faux fur vests are still big in the fashion world and still not too many are seen wearing them as they are somewhat daring. And the right day must be just right. So, many have them in their closet, but wearing them is a different story. And this is great for you who wish to show off your closet attire looking simply fabulous. These vests are perfect for a semi-chili day alongside a pair of jeans, classic, black, or white. But in this case, with a short white dress matched with grey velvet knee-high boots, and the same with the handbag. Have a little silver grey eyeshadow to complete the ultimate look.
Autumn Brown Faux Fur Vest With Casual Denim Jeans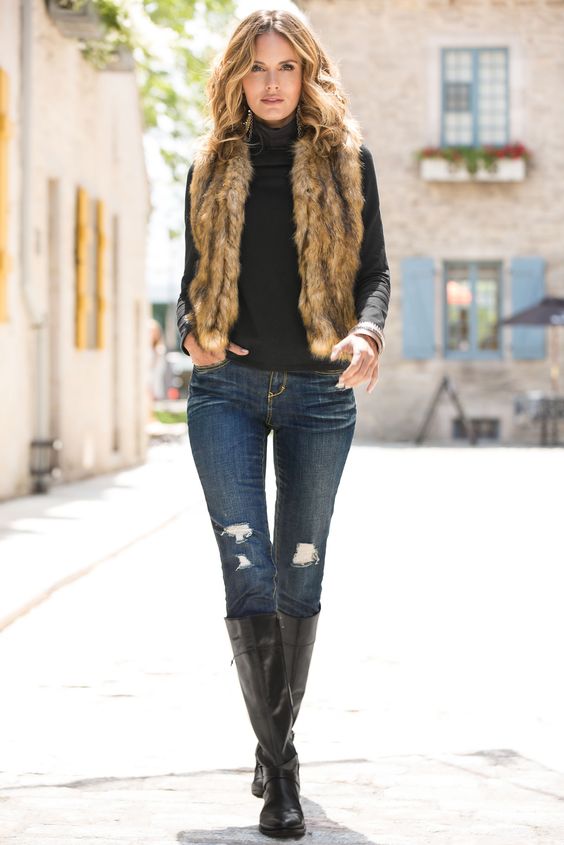 Photo credit to pinterest.cl
There is nothing better than throwing a pair of tight jeans showing off your figure with such confidence, that any more would be almost impossible and intolerable! You will ooze with class and have that smell of confidence as you casually walk by the streets. What we mean is a very womanly look overall that can not be beaten. This look showcases control and power to our eyes, perfect for the businesswoman you are. Let your hair loose naturally without any faffing around, little to no makeup only a basic powder to refresh, and killer knee-high boots
All In White Soon To Be Winter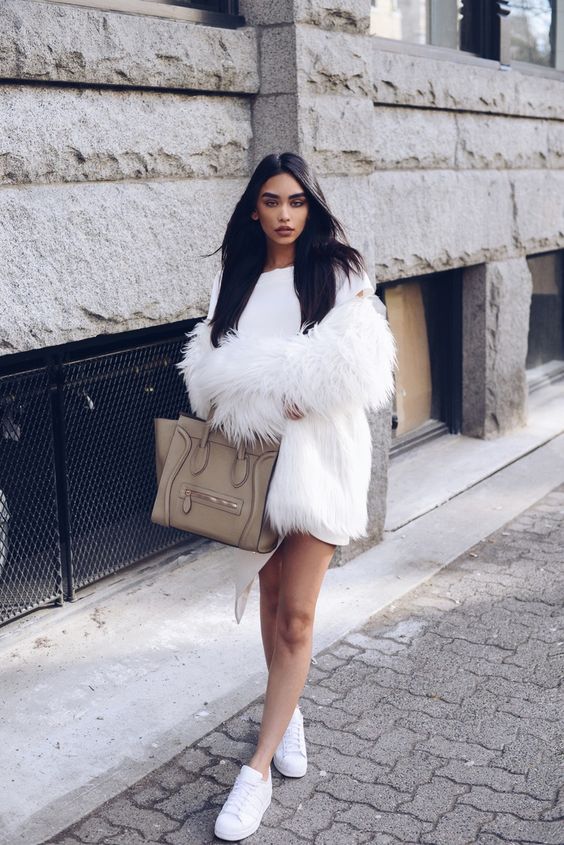 Photo credit to pinterest.fr
We love snow. We love the purity of it all especially when everything is all in white. Somehow, everything looks so alive and makes the most incredible of picturesque nature. Breathtaking. And we also reckon that a woman wearing white would look like you have come straight down from the angels. White isn't even color, yet, it could be the best color you would ever wear; especially if entire you are dressed in white; from top to toe. Wear it off your shoulders, or above depending on how you feel at this very moment, and walk with style wearing perhaps the most beautiful of red lipstick you have in your vast array of lipsticks. Be bold in this domain.
Olivia Palermo Winter Faux Fur Hat

Photo credit to pinterest.fr
After all, faux fur is best worn when the time comes and when your body needs warmth! Nothing better than the warmest of hats on the planet keeping you super satisfied. These hats are like Sunday mornings after a very late night out, throwing a super comfy blanket all rolling in it, watching your favorite tv programs. The fashion icon! Match it alongside a long black semi faux fur jacket.