Snacks are an important part of our eating habits. Having two or three small snacks during the day will keep us from overeating during lunch or dinner. Plus, they're giving our body the energy it needs! However, it's all about eating healthy snacks.
When it comes to protein bars, you can buy them at local stores and supermarkets, but the thing is to buy a healthy one. There are many bars that contain a huge amount of sugar for a small piece of snack, so carefully choose what you buy. Or, you can make your own healthy protein bars at home.
It's simple, easy and very delicious. Read below about the ten recipes we chose for you; pick one, two if you like, or even all!
1. Banana Nut Protein Bars

via hummusapien.com
This protein bar serves 10, and it's done in two hours. What you need is ½ cup pitted Medjool dates, ½ cup mashed overripe banana, 1 tsp vanilla, ½ cup walnuts, ½ cup almonds, 1 cup old fashioned oats, 2 tbsp ground flaxseed, ¼ tsp cinnamon, ¼ tsp salt, ½ cup vanilla protein powder and ¼ cup chocolate chips – which is optional. As you can see, the banana nut protein bar is full of healthy ingredients. The bananas provide us with energy; the walnuts are rich in omega-3 – 3 fats, the almonds are a good source of protein, and the dates are rich in dietary fiber.
2. Blueberry Lemon Chia Seed Protein Bars
Only 25 minutes are separating you from these fresh, fit, and healthy protein bars! The preparation lasts 15 minutes, the cooking 10. You need the following ingredients: ½ cup vanilla casein protein, ½ cup vanilla whey protein, ½ cup rolled oats, 1 egg, 1 lemon juice, 1 cup almond milk, 2 tablespoons of chia seeds, ¼ cup applesauce, ½ cup blueberries, 1 teaspoon vanilla extract, ¼ teaspoon sea salt, and 1 teaspoon baking powder. Besides whey, almond milk and chia seeds are also a good source of protein, while blueberries are great antioxidants and very low in calories.
3. Cinnamon Raisin Protein Bars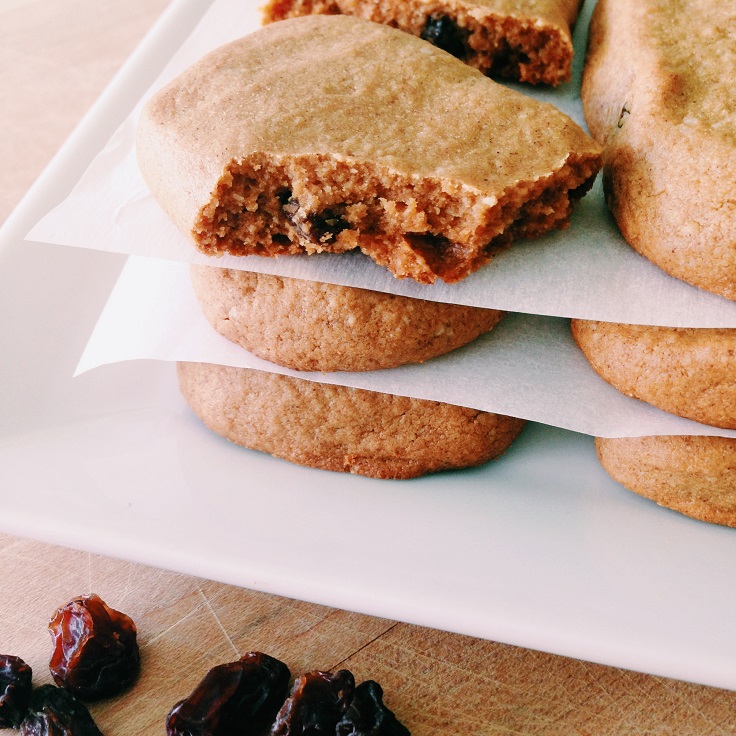 Cinnamon is a great ingredient in many desserts and snacks, so the protein bar is no exception to this. Besides being one of the most delicious spices, cinnamon has its own benefits as well – it is a great antioxidant, and it has anti-inflammatory properties. So, including the cinnamon in a protein bar is a good idea! You'll need ½ tbsp cinnamon, 1 tsp vanilla, ¼ tsp salt, ¼ cup raisins, ½ cup almond flour, ½ cup almond butter or other nut butter, 1/3 cup vanilla protein powder, 1 tbsp coconut oil, and 3 tbsp honey. The honey works as a natural sweetener and is called liquid gold because of its benefits, while almond butter is a good protein source.
4. Protein Bar with Pistachios and White Chocolate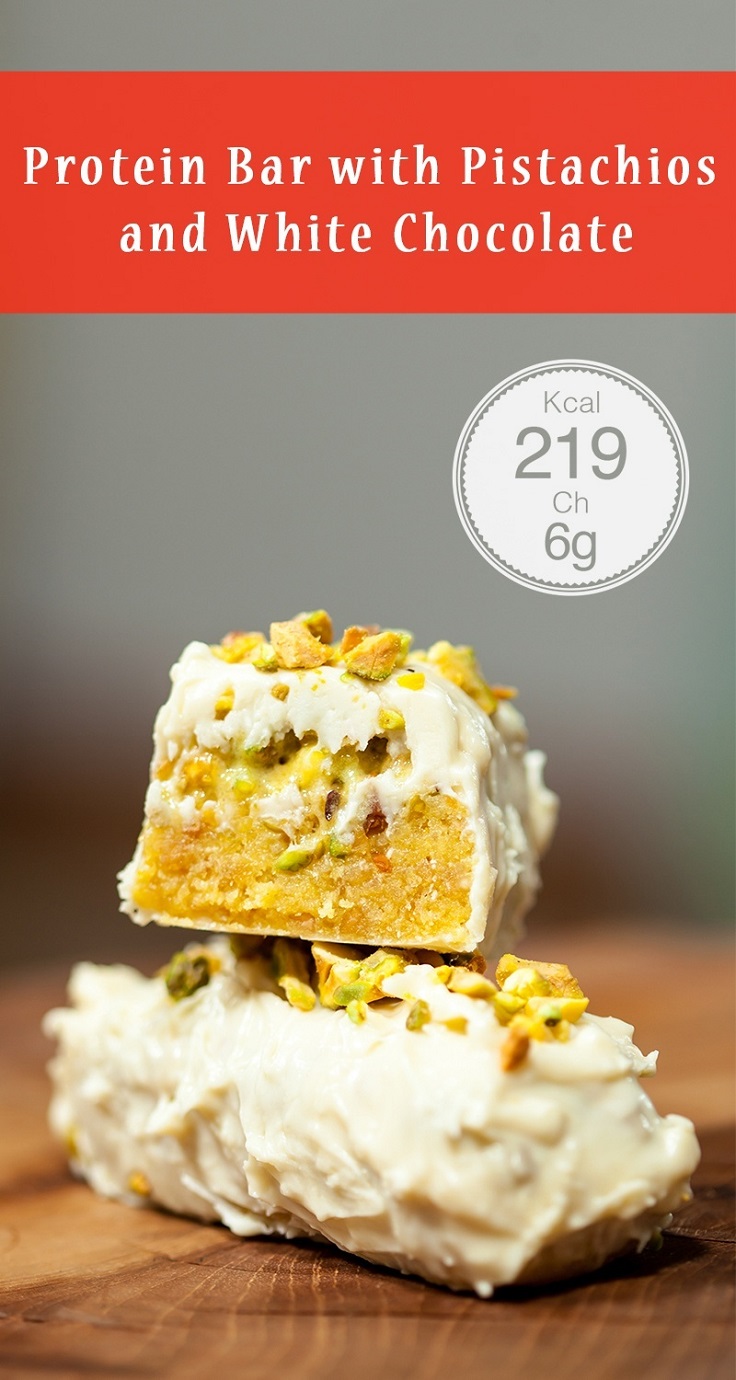 via lowcarblab.com
For these protein bars, you'll need to prepare the protein base (8 tbs protein powder flavoured or untasted, 8 tbs of ground peanuts, 1 tbs coconut flour, 40 ml almond milk), pistachio layer (2 tbs protein powder vanilla-flavoured or untasted, 3-4 tbs ground pistachios and few drops of water) and 40 gr. of sugar – free, white chocolate coating. Pistachios contain fewer calories than other nuts and contain 6 grams of protein. White chocolate is delicious, but if you crave the healthiest option possible, you better choose dark chocolate.
5. Matcha Protein Bars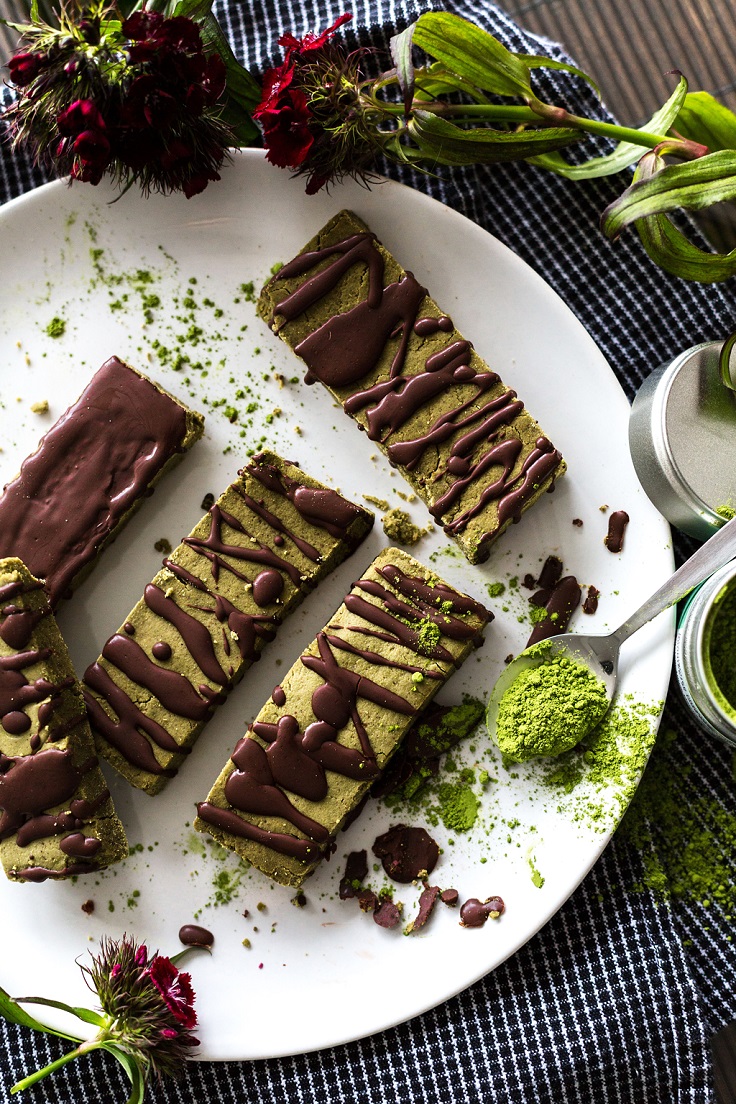 The Matcha Protein Bars contain 180 gr brown rice proteinpulver, 60 oat flour, 85g almond butter, 250 ml almond milk or any other milk of your choice, 4 tbsp matcha powder, 3 tbsp Stevia, and dark chocolate. The matcha powder is very nutritious. Dark chocolate is a very recommended food since it contains a huge amount of cocoa and makes it a powerful antioxidant. The recipe also uses a natural sweetener – stevia, and it has its own benefits, too, considering the fact that it is a 100% natural sweetener.
6. Mango Coconut Protein Bars
via cottercrunch.com
The Mango Coconut Almond Protein Bars are the perfect snack to eat over a cup of coffee or tea. Healthy, delicious, and ready in 15 minutes, what more could we ask for? For these crunchy protein bars, you need 3 cups raw almonds, ¼ cup dried mango (4-5 pieces), ½ cup unsweetened coconut flakes, ½ cup egg white powder or protein (see notes below for other options), ⅓ cup honey or maple syrup, a pinch of sea salt, 1 tsp pure vanilla extract, 1 tsp cinnamon, and purified hot water. Mangoes are healthy fruit, and they can help in preventing cancer and lowering cholesterol.
7. Quick 'n Easy No-Bake Protein Bars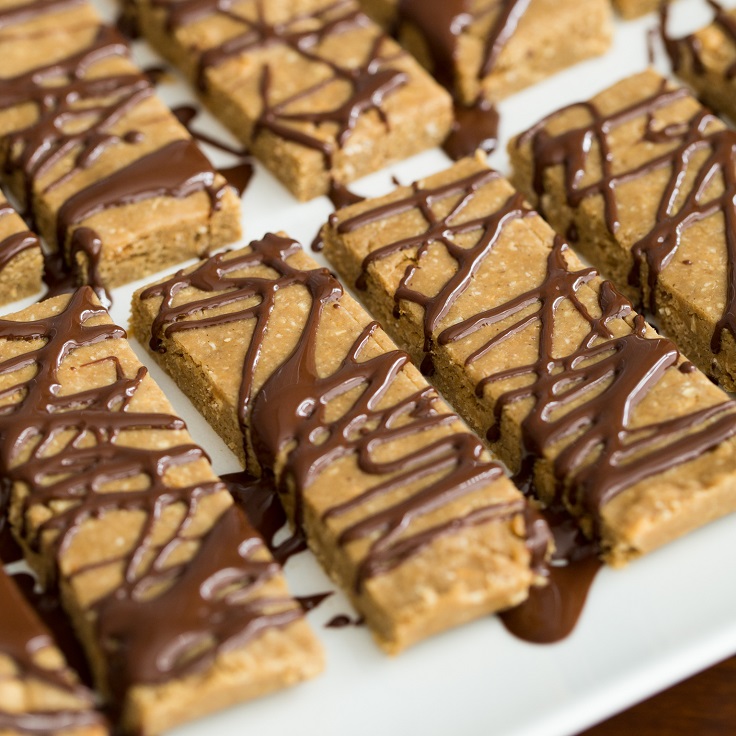 via ohsheglows.com
No-bake recipes are perfect because they save us from the time when we just wait and look at the oven to see if it's ready! You can eat these bars just like that. However, it's best to keep them in the fridge for 15 minutes to set. The preparation lasts for 15 minutes, too, so make sure you have 1 teaspoon pure vanilla extract, 3 tablespoons mini dark chocolate chips, 1/2 tablespoon coconut oil, 1.5 cups gluten-free rolled oats, blended into a flour, 1/2 cup unsweetened and unflavoured vegan protein powder, 1/2 cup rice crisp cereal, 1/4-1/2 teaspoon fine grain sea salt, 1/2 cup natural peanut butter, and 1/2 cup pure maple syrup.
8. Heavenly Raw Chocolate Protein Bars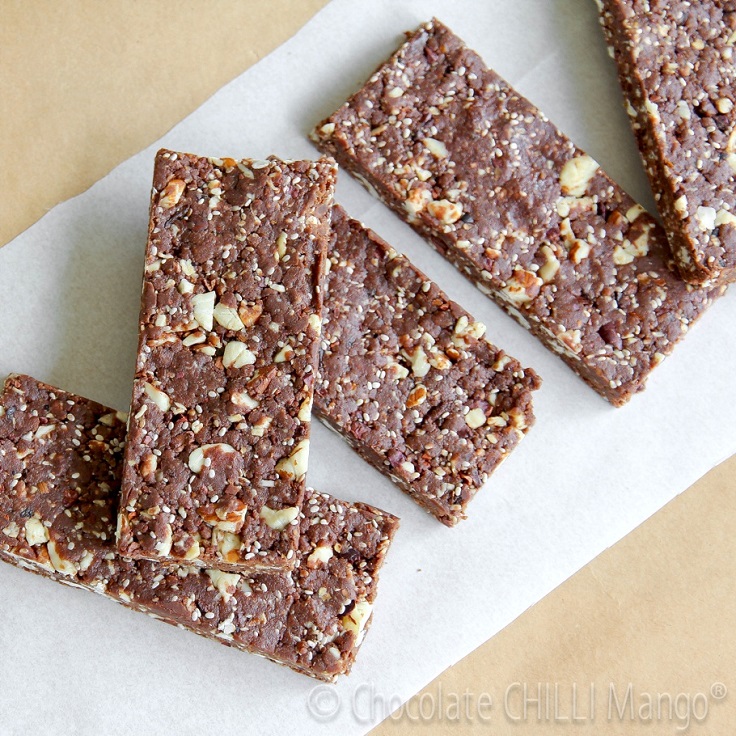 Time for something chocolate! The recipe makes 10 bars, and you need 4 – 6 medjool dates, 3 tablespoons of melted coconut oil, 2 tablespoons raw cacao, 1/4 teaspoon sea salt, 1/2 teaspoon vanilla, 70 grams almonds, 15 grams chia seeds, 25 grams cacao nibs, 20 grams rolled oats and 40 grams protein powder. As you may be noticed by now, cocoa is one of the ingredients that is often used, and there's a reason for that. Besides being a powerful antioxidant, cocoa is also linked to having antidepressant effects.
9. Carob Covered Coconut Protein Bars
via naturalnoshing.wordpress.com
For all the coconut lovers – you're going to love this recipe. Coconut plus chocolate is always a combination that satisfies your sweet tooth. You'll prepare two layers, and for the first one, you need 1/2 cup melted coconut butter, 2 tbsp unsweetened applesauce, 2 tbsp honey, agave or brown rice syrup, 1/4 tsp coconut extract, 1/4 tsp almond extract, or you can also use 1/2 tsp pure vanilla, 100 grams all-natural vanilla protein powder, 3 tbsp flaxseed meal, 2 tbsp oat flour or oat bran, 2 Tbsp coconut flour and a pinch of salt. For the top layer, you'll need the following ingredients: 2  1/2 tbsp melted  coconut oil, 2 – 3 Tbsp carob powder, 1 tbsp honey, agave or brown rice syrup, and a pinch of salt, which is optional.
10. Pumpkin Protein Bars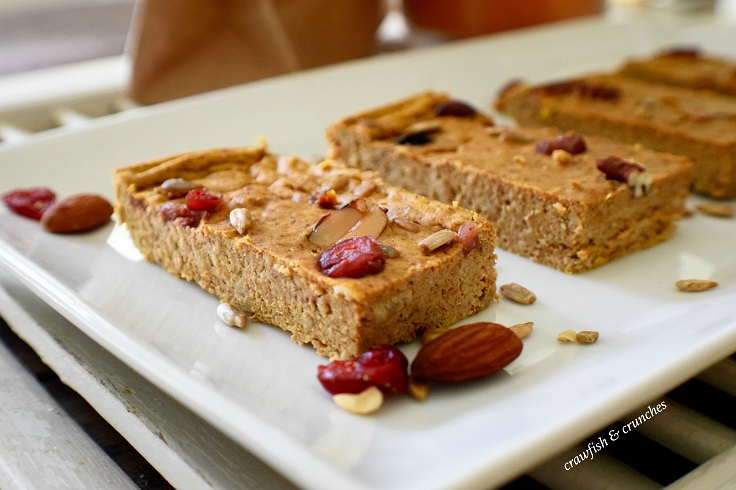 This Healthy Fall Recipe is good no matter when you eat it! And, we doubt that one bar would be enough to satisfy our sweet cravings. The recipes make 10 – 12 bars, and from ingredients, make sure you have 4 egg whites, 3/4 cups canned pumpkin, 1 tablespoon vanilla, 1/4 cup sugar-free pancake syrup, 1/4 cup oat flour, 2 scoops of vanilla protein powder, 1 tablespoon pumpkin pie spice, 1/2 tablespoons nutmeg, 1/2 tablespoon ground cloves, 1 tablespoon cinnamon, 1/2 tablespoons of baking powder and raisins, crushed nuts or dried cranberries, but this is optional.