When being in a constant battle against the craving for desserts that are high in calories, know that you still have an equally delicious but fewer calories option. We're talking about the good old homemade frozen yogurt. The best way to make it healthy is by using Greek yogurt.
It can boost our protein levels, and it also contains probiotics. These two properties, among others as well, make it very healthy for us. So, when you can combine fruit and Greek yogurt, the result will be so satisfying! Check out the ten recipes below and enjoy your healthy dessert snack.
1. Banana-Berry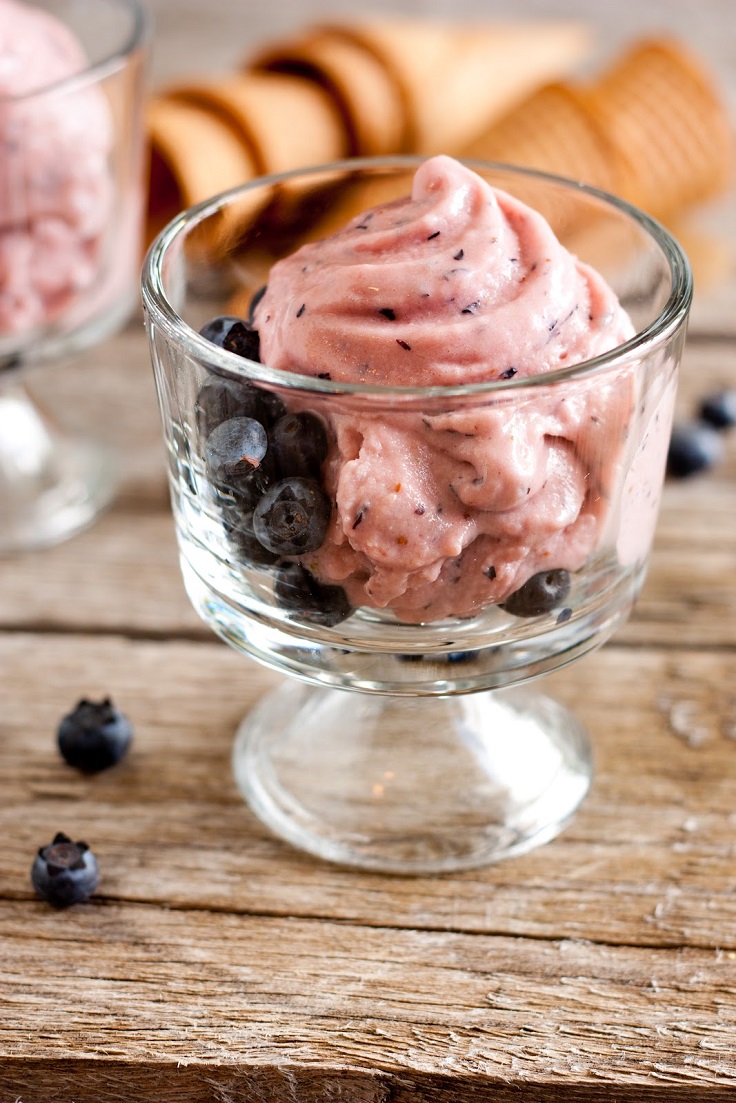 For this recipe, you need strawberry Greek yogurt, ripe bananas, fresh blueberries, honey, lemon juice, and if you want to, you can add few drops of food coloring to get the pink look of the yogurt. After blending, you can either eat the yogurt right away or freeze it for few hours. If desired, you can also add few blueberries to each serving as a topping.
2. Pineapple and Coconut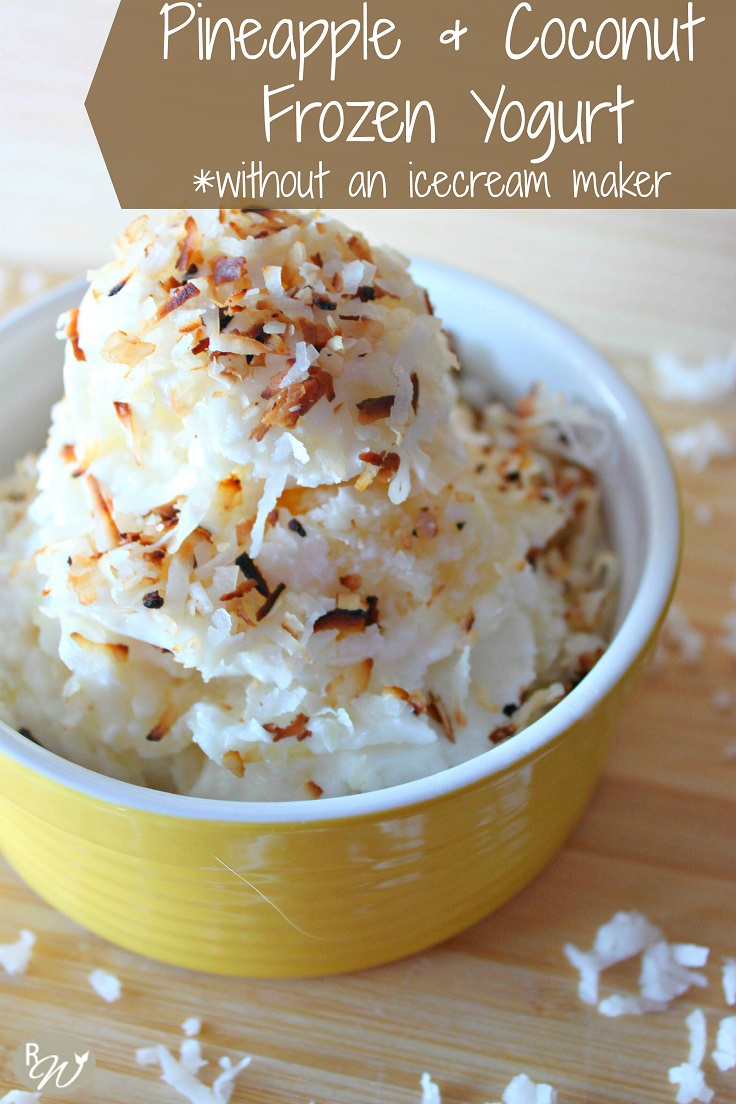 Quick and easy to make, the pineapple and coconut frozen yogurt will be the perfect dessert for an afternoon snack. You need coconut water, granulated sugar, crushed pineapple, plain Greek yogurt, coconut milk, lemon juice, and sweetened coconut flakes for garnish. There's an interesting mix going on here: you freeze the yogurt, and then you serve it with hot, toasted coconut flakes. It's worth it!
3. Honey and Beet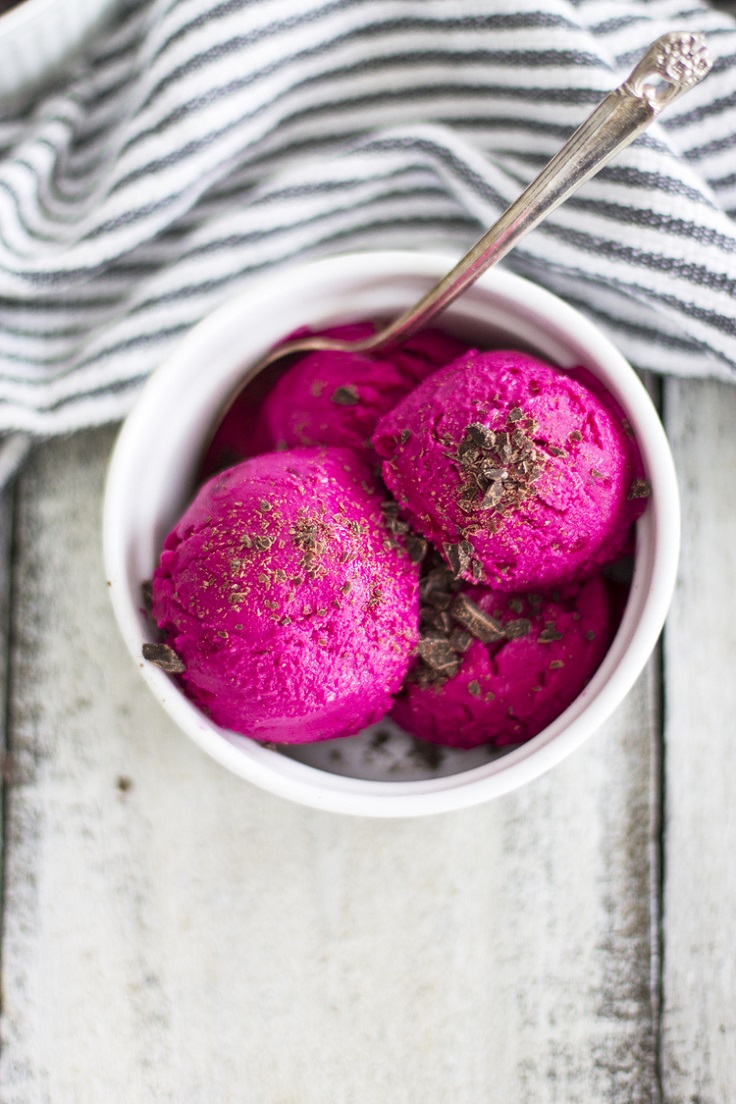 via mydiaryofus.com
Now, that's an attention grabber color! It simply dares you to taste this frozen yogurt. Beets may not be the unusual ingredient for a frozen yogurt recipe, but there's nothing wrong with going out of our cooking zone and try something new! Make sure to have beets, honey, Greek yogurt, olive oil, and some salt. Yep, just five ingredients!
4. Raspberry with Dark Chocolate Chunks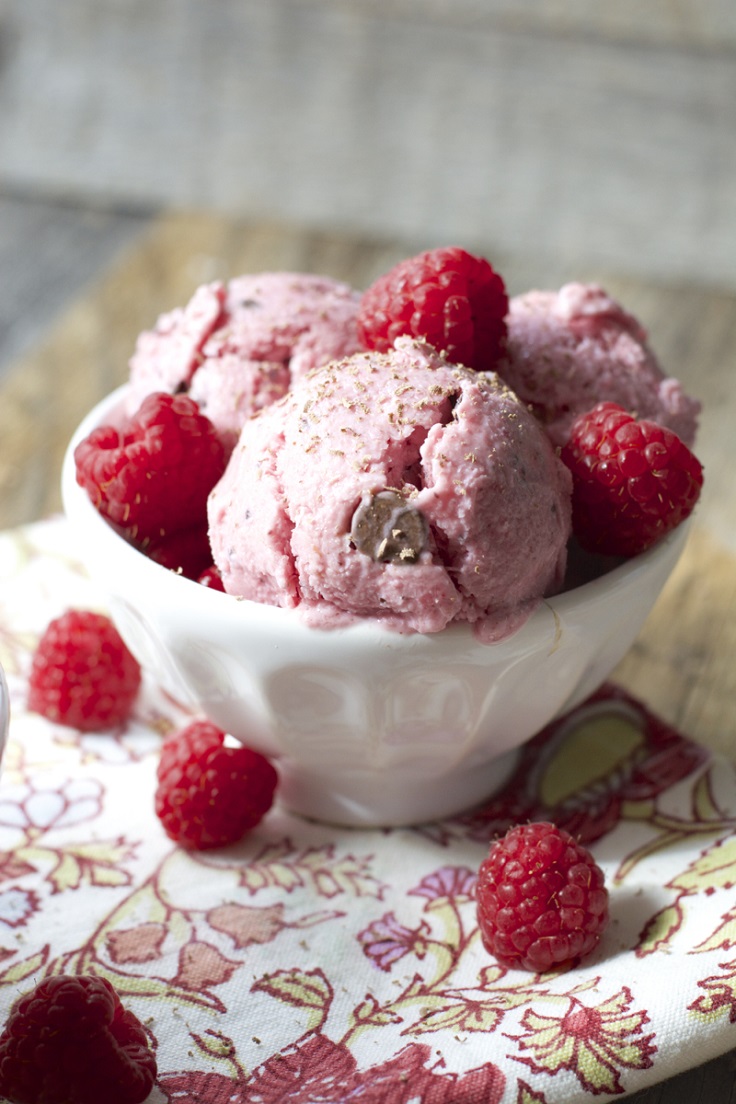 via maebells.com
Chocolate and berries are a very known combination, and it isn't so for nothing. It's a wonderful mixture, and frozen yogurt is no exception to this. For this recipe, you need the Raspberry Chocolate Chip Mullers Frozen Yogurt, but if you don't have it in the stores, buy something that would be a good substitute, like plain Greek yogurt, although there may be a difference in the taste. Besides this, you need fresh raspberries and dark chocolate chips.
5. Pumpkin with Candied Pecans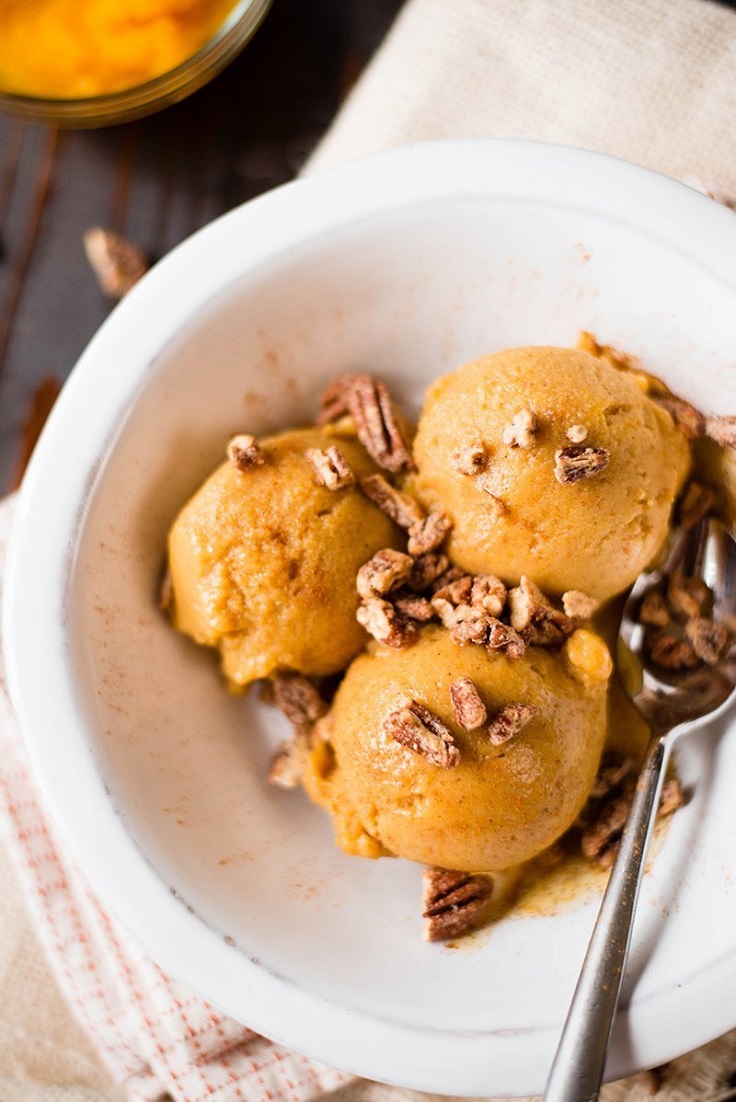 One of the best ways to experience Fall is by including pumpkin in your cooking adventures. This one tastes really great! You need vanilla or almond non – dairy yogurt, pumpkin puree, maple syrup, ground cinnamon, ground nutmeg, ground cloves, vanilla extract, and raw pecans. It's another very taste combination that is definitely worth the try – frozen yogurt with a pumpkin taste, with candied pecans as a garnish.
6. Blueberry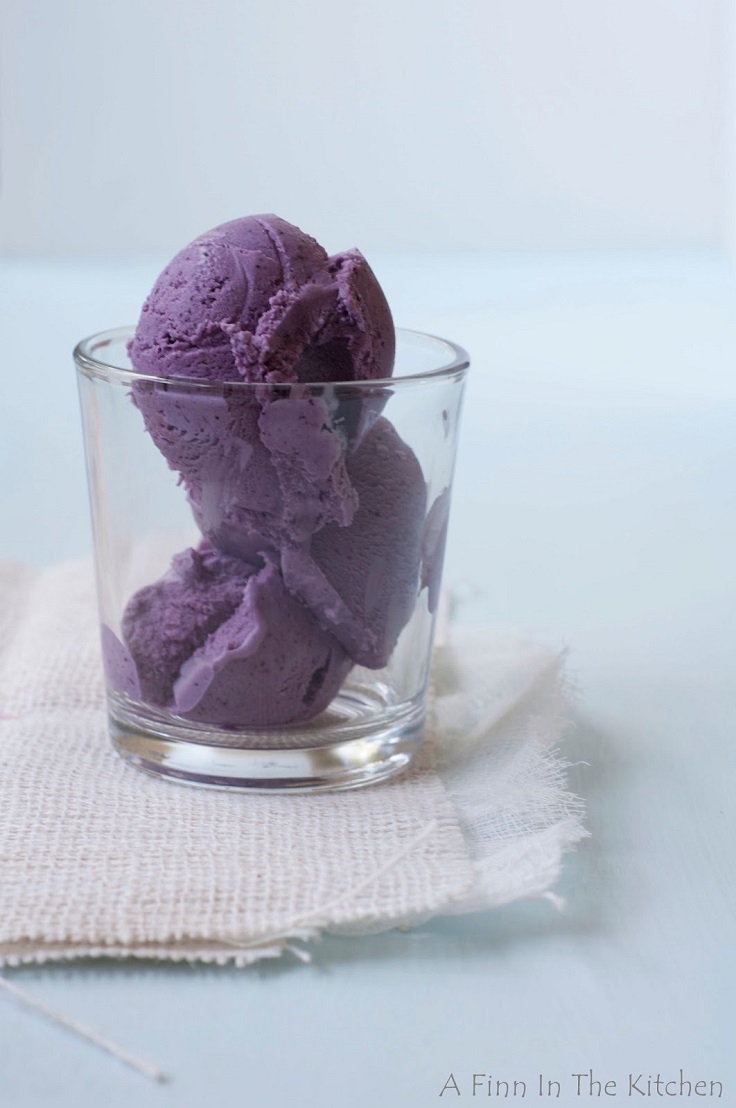 Simple, but yet so tasty. You need plain whole milk yogurt, or if you prefer, use the Greek one, whole milk, cornstarch, softened cream cheese, heavy cream, sugar, honey, and frozen blueberries. The recipe also has instructions for a blueberry compote used for the yogurt. The blueberry frozen yogurt taste really amazing. You can eat it just like that, or you can add chopped almonds, cashews, or any other nuts, or even coconut flakes.
7. Fresh Peach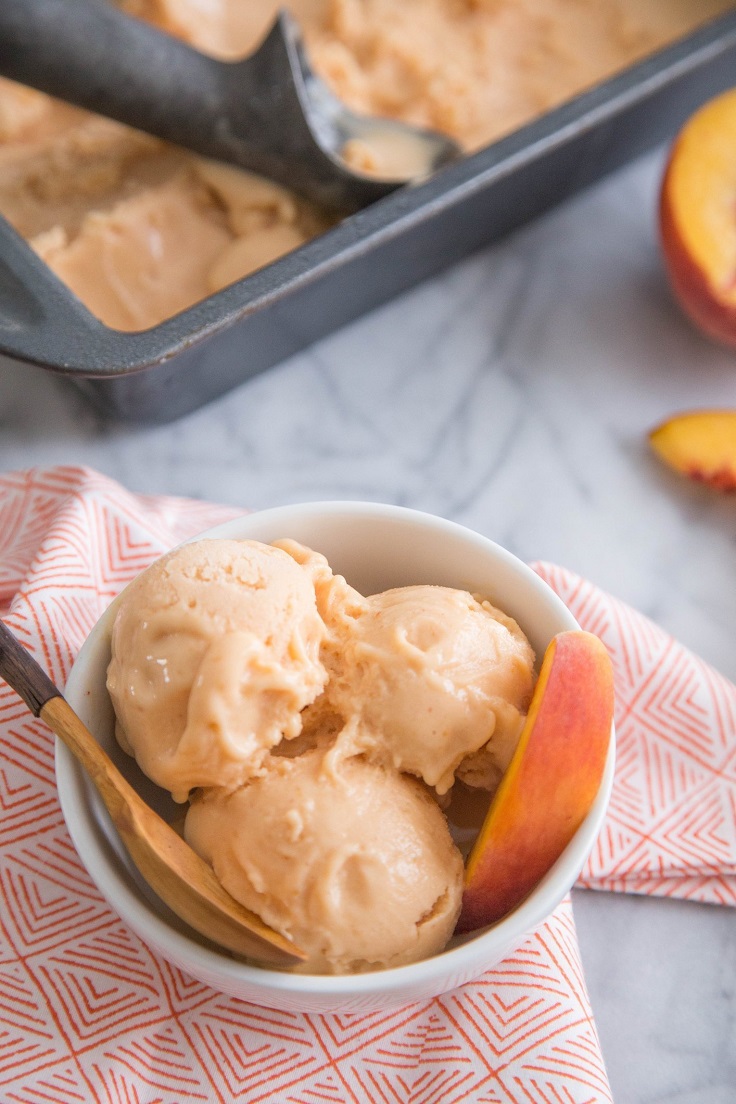 via thekitchn.com
One of our all-time favorite fruits turned into frozen yogurt – who can say no to that? Especially when it's a dessert that is really easy to make, and even easier to eat it all, since it's light, cool, and very delicious? Make sure to have ripe peaches, sugar, lemon, and whole milk yogurt. No matter if it's a snack, dessert, or breakfast, the peach frozen yogurt can really make your day!
8. Strawberry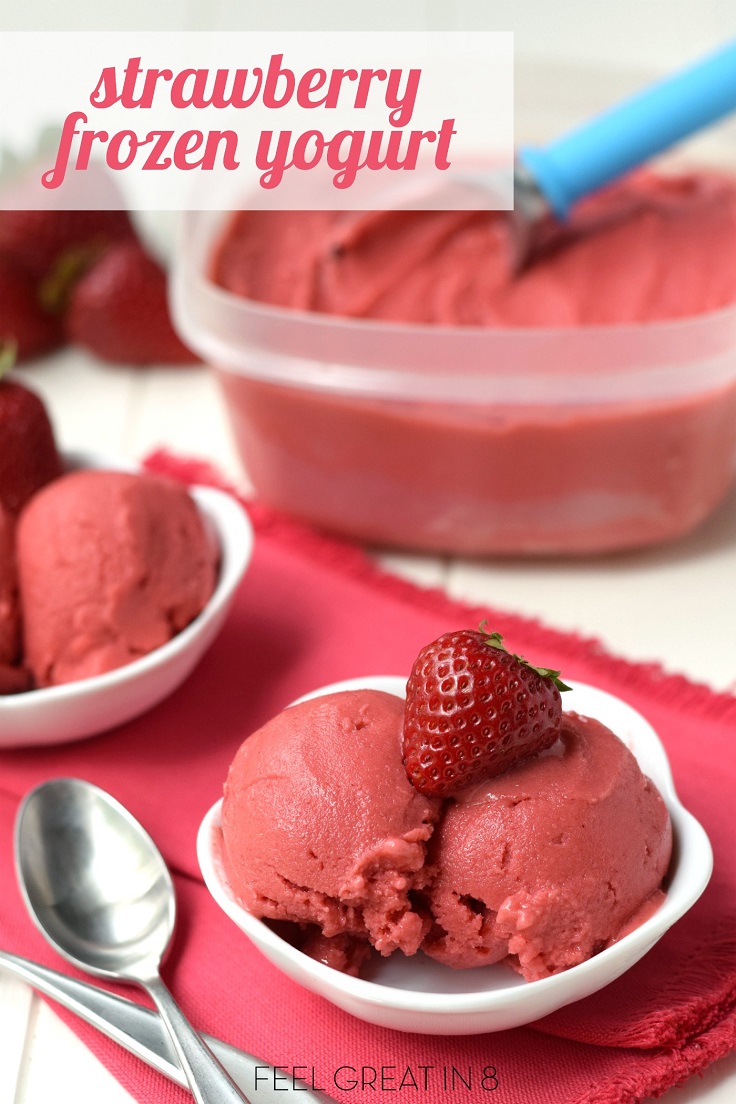 via feelgreatin8.com
Considering that strawberries are low in calories, can ease inflammation, and help burn stored fat, it makes them even more than desired as an ingredient for our healthy frozen yogurt. Get some strawberries, blend them along with Greek yogurt, honey, and lime juice, and voila, you got yourself a good-looking, tasty dessert.
9. Blackberry Mint
via thebusybaker.ca
This time it's the blackberries we love. Buy fresh blackberries, honey, mint leaves, and plain and unsweetened Greek yogurt. Blend the honey and the blackberries, and when you have them as a puree, add mint leaves and blend again until they are blended well. Place the mixture in a bowl and add in the Greek yogurt and the chopped mint leaves. After you have the right consistency, add the mixture to the ice cream maker and follow the rest of the instructions.
10. Mango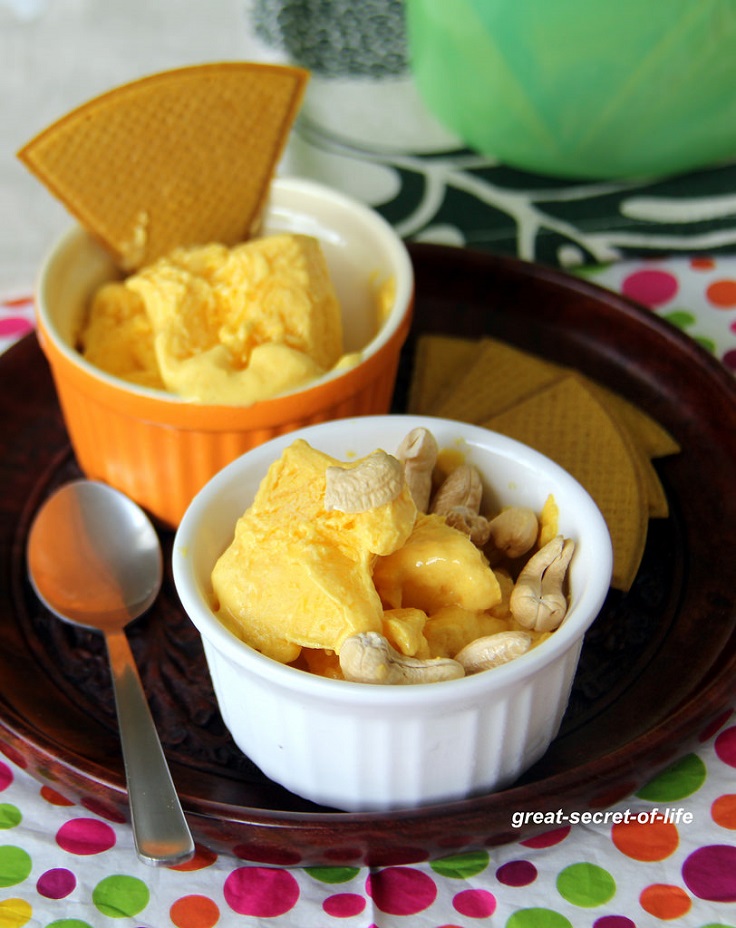 Maybe summer is over, but we definitely can't get enough of this tropical fruit that reminds us of hot summer days and fresh snacks. That's why we chose the mango frozen yogurt on this list! For the recipe, you need mangoes, Greek yogurt, sugar, and lemon juice. Choose your favorite toppings if you find it too simple to eat it just like that. The recipe uses cashews, but you can add other nuts as well.