Life can get really busy, and in those moments, it's very easy to reach out for a cheese bagel or a chocolate muffin, but this isn't doing you any good if you consume fast food daily. It's very important to organize yourself, and this means food organizing as well.
Eating healthy can be very easy if you prepare your meals in advance. This article shows you ten recipes that are very simple to prepare and require just a little bit of your time. Scroll along to see what we've chosen, and let us know which of these meal preps would you choose?
1. Spring Rolls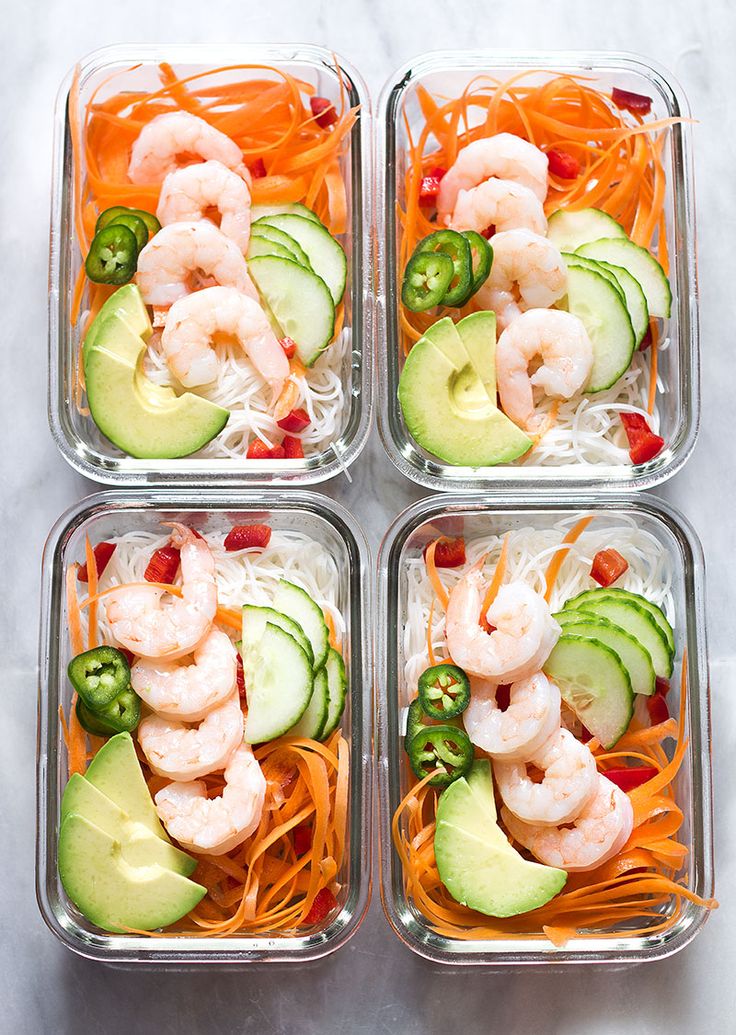 via eatwell101.com
Spring rolls are a famous recipe that can be easily adjusted into a meal box lunch. This makes the dish an excellent lunch choice for work that will feed your body with the right nutrients and still make you feel full. To make a lunch box version of the spring rolls, you can use cooked shrimp, or tofu, surimi, or chicken, whatever you like more. add cooked rice noodles, veggies, and nuts.
2. Chili Lime Chicken and Rice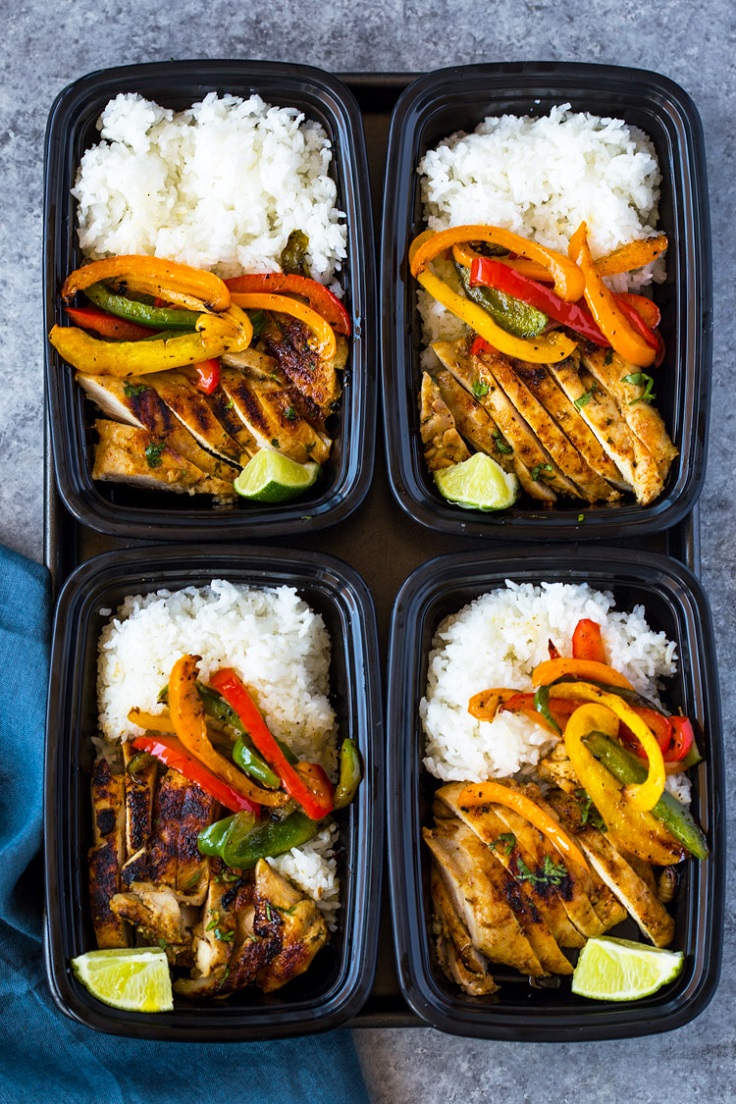 For those of you who like the chicken-and-rice kind of lunch, this is the recipe for you. It is ready in 30 minutes, and you'll need just a few more minutes to arrange the ingredients in the lunch box. here we have chili lime chicken, cooked rice, and charred bell peppers. Adding more veggies will make it even more delicious! The meal can be kept for four days in the fridge.
3. Spicy Chicken and Sweet Potato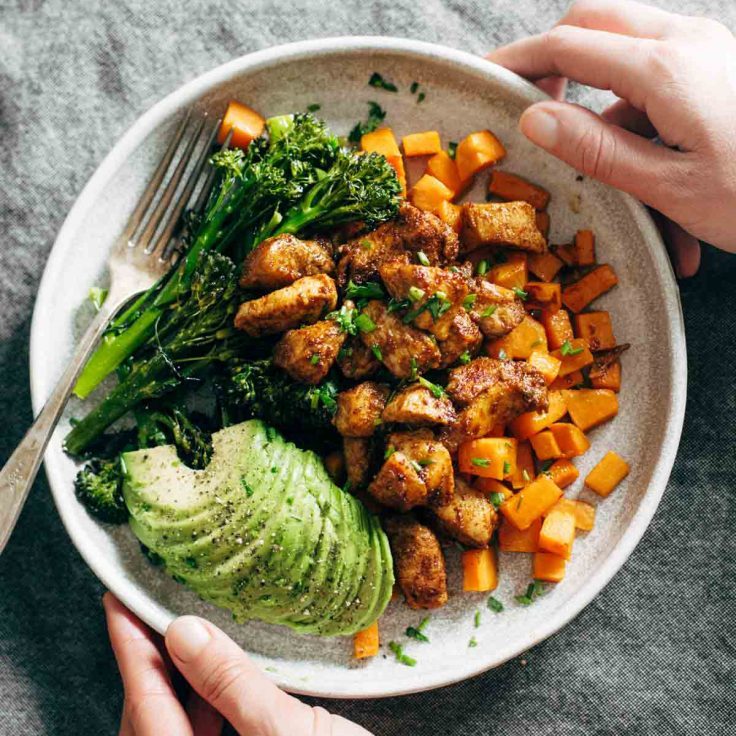 via pinchofyum.com
Here's another chicken recipe that you can use for work. This time, instead of cooked rice, you have sweet potatoes that will make you feel full and will feed your body with fiber, plus they're lower in calories than the regular potato. The recipe is ready in less than an hour, and besides these two main ingredients, it also contains avocado and broccoli for serving. Make sure to add your favorite seasonings, such as salt and freshly cracked pepper.
4. Zoodles with Marinara & Meatballs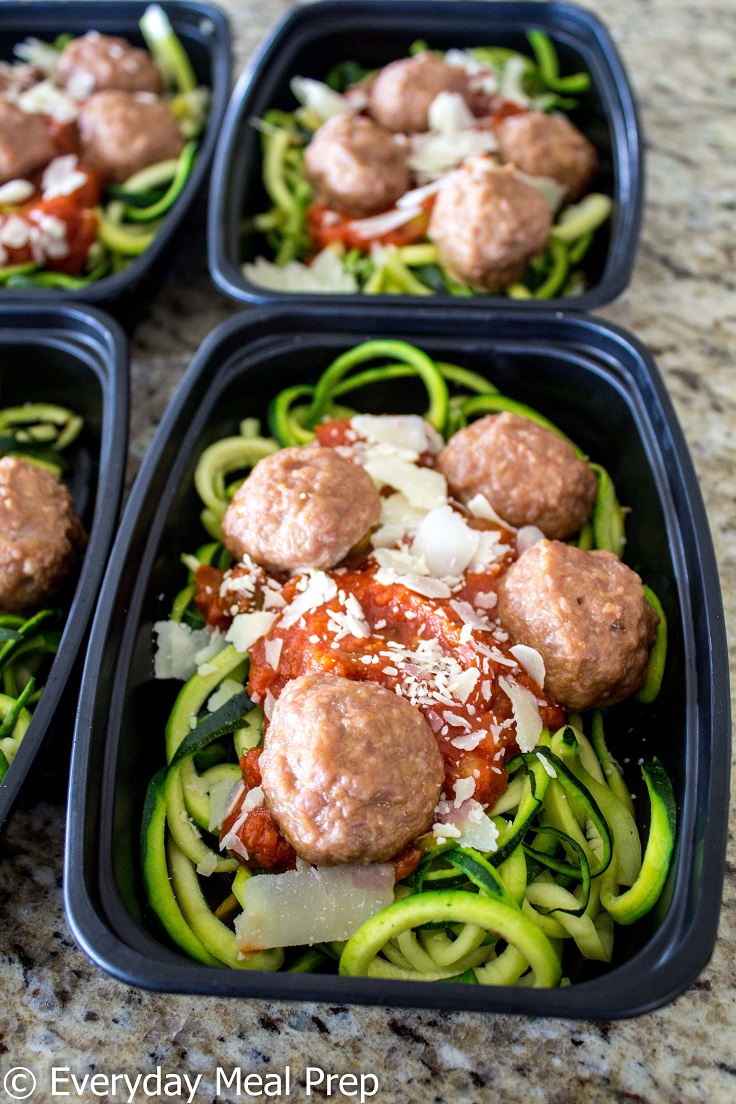 This is one of the easiest recipes you want to know during busy times. The zucchini pasta is a healthier substitute than the wheat pasta, and it's lower in calories, which makes this recipe ideal for weight-loss diets. When combined with tasty Turkish meatballs, this recipe will surely become one of your favorites! Add a few more ingredients by your choice – we recommend marinara and some Parmesan.
5. Ground Turkey with Cauliflower Rice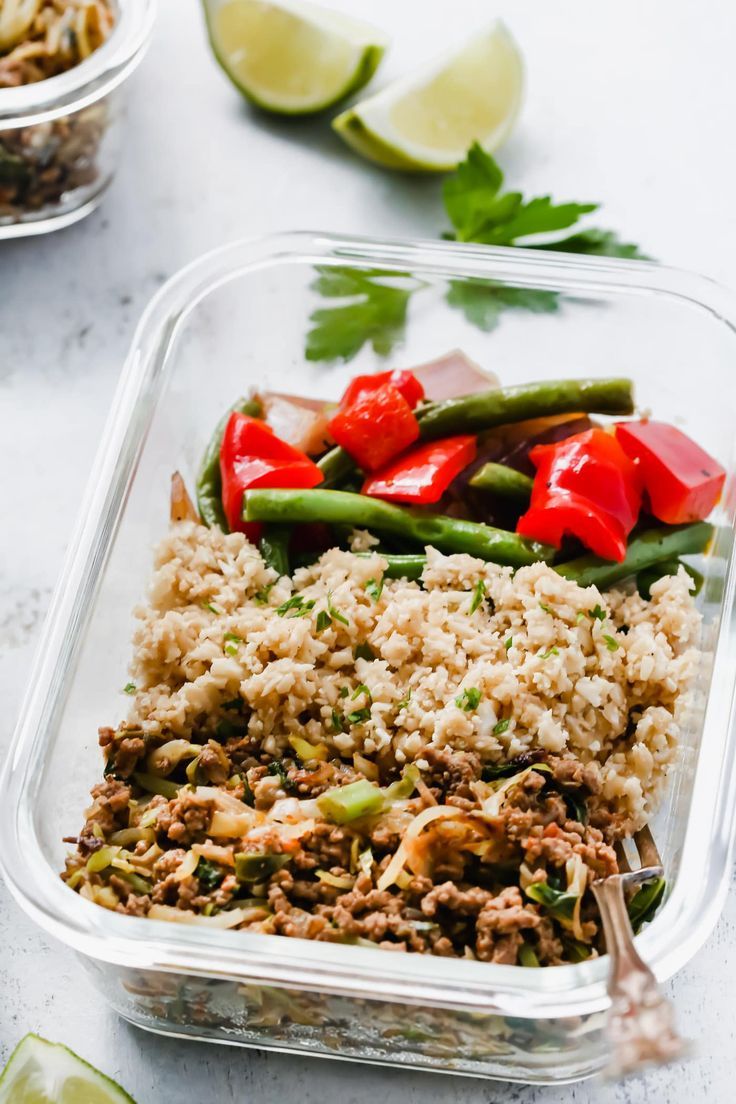 Cauliflower rice contains fewer calories than the white one, so if you're trying to lose some weight, this is a good alternative. Besides the cauliflower rice, you'll need ground turkey and sautéd vegetables. This recipe is a great lunch idea not only because it's super delicious but because it's going to contribute to your daily dose of lean protein intake, it's low in calories, and it's gluten-free.
6. Grilled Steak Burrito Bowls
via ohsweetbasil.com
Eating burritos can get messy. So, to avoid that whole mess, you can make a burrito bowl instead and take it with you at work! This is the kind of bowl you'd like to eat every day, the whole day – marinated steak, cilantro, lime quinoa, grilled corn, and on top of it all, a mango avocado salsa. Now, as much as it tastes amazing, you'll need to prepare this meal ahead – it's really not something you can just cook before work. But, it's really worth it!
7. Sweet Potato, Quinoa, Greens, & Halloumi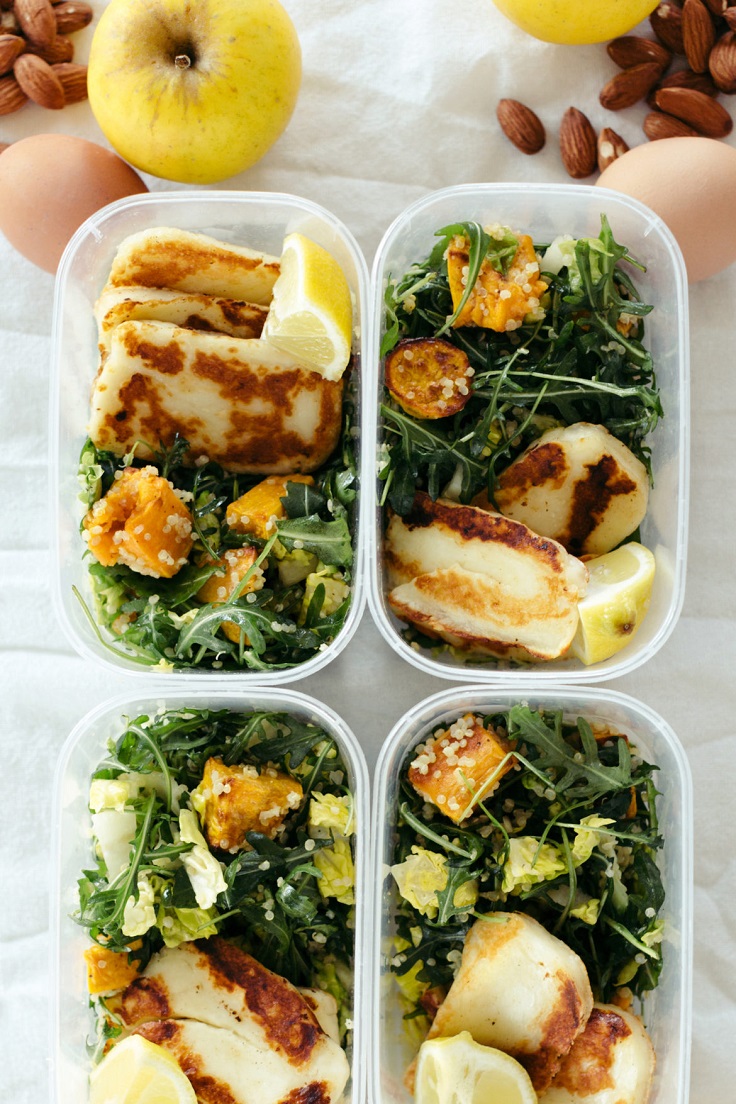 via yummybeet.com
For all of you who are fans of cheese – this is the type of lunch you'd love to have on your lunch break! It's going to satisfy your food cravings, and it's going to feed your body with all the nutrients, as the recipe contains healthy ingredients, such as quinoa and sweet potato. You can also add baby arugula or baby spinach, kale, lettuce, or any other greens of your choice.
8. Salmon with Vegetables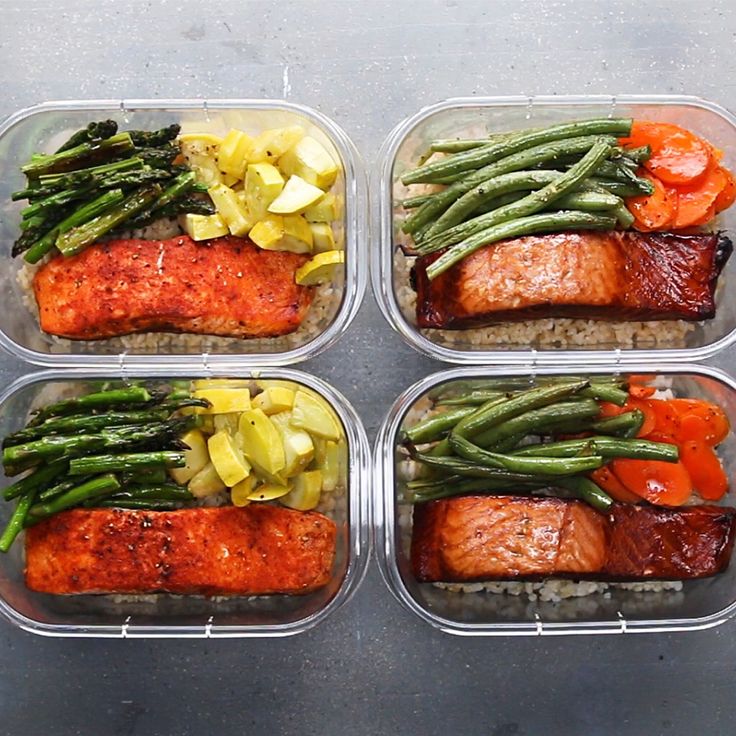 via tasty.co
To maintain a healthy diet, it's very important to consume omega 3 fatty acids, and one of the foods that can give you exactly this is salmon, which is just one of the benefits you can by eating it. Cook the salmon and then just add healthy ingredients, such as sweet potatoes, green beans, yellow squash, carrots, and asparagus. Make sure to add salt, pepper, and olive oil to taste!
9. Black Bean Quinoa Bowl
via jaroflemons.com
Ready in just 15 minutes, this meal is ideal for weight loss, as it contains less than 300 calories! It's suitable for vegans and those who eat gluten-free, but anyone can agree that this is a delicious recipe and healthy as well. You'll need corn, black beans, spinach, quinoa, and fajita veggies to prepare it. It's a very simple recipe, but it will definitely make you want to prepare it again soon!
10. Spaghetti Squash with Roasted Veggies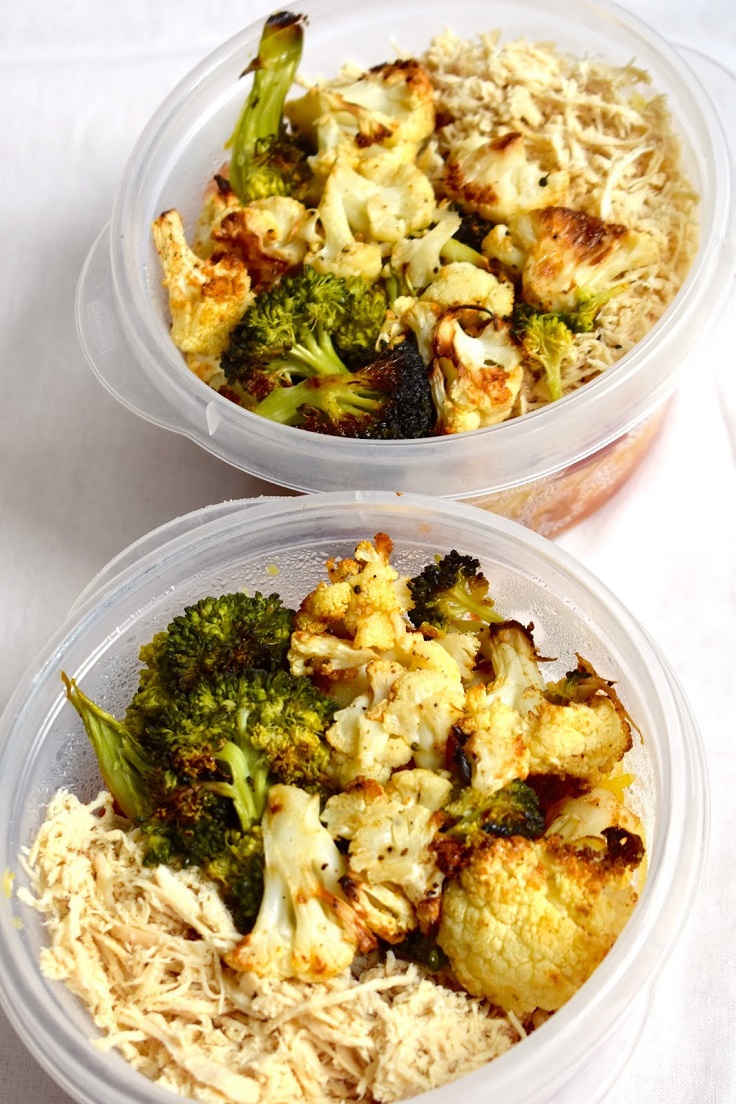 via myownmealplan.blogspot.com
Spaghetti is very delicious, but it won't give you any nutrients, and it can easily help you gain some weight. If you'd like to switch a little bit to a healthier alternative, you can go for the spaghetti squash. When combined with cooked chicken, cauliflower, broccoli, and marinara sauce, you won't feel that bad for not eating your favorite pasta recipe. In fact, most likely, you're going to love this healthy dish!