Enjoy in the romantic spirit that is everywhere around us. If you're a big cookie lover then this is a great excuse for you to bake some lovable treats. And what symbol can better express love than a red heart?!
For all romantic souls around the globe who are in a Valentine mood all the time, here is a list of Top 10 Heart-Shaped Cookies. Turn on your oven and surprise your lover with a box full of hearty cookies!
Valentine's Day Heart Cookies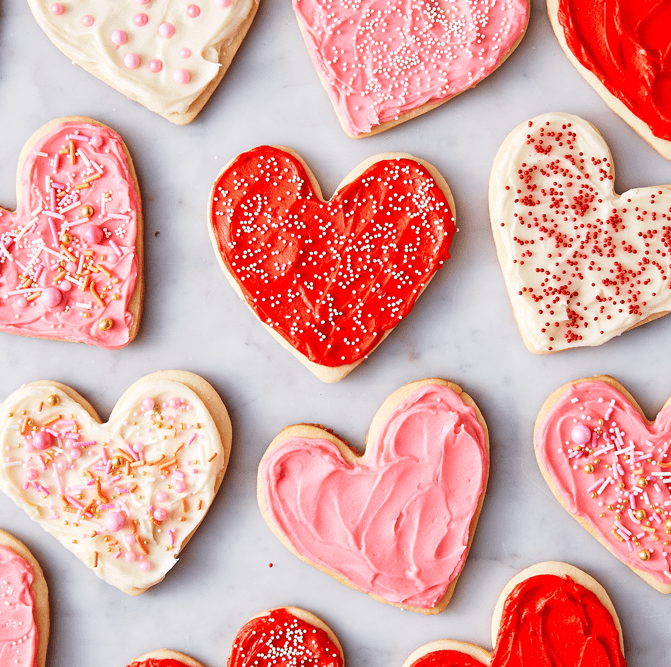 Recipe via delish.com
We could not start with any other topic than with lover's day! For you romantic at hearts, literally, this is a no-brainer for the loved one. Wake up in the morning bright and early, and surprise your other half while still lying in bed asleep. Their smell will awaken anyone slowly caressing the nostrils. Say I love you like no other and start the day with pure love enjoying simplicity in life. Oh and, these cookies are rather delicious too!
Chocolate Sandwich Heart Cookies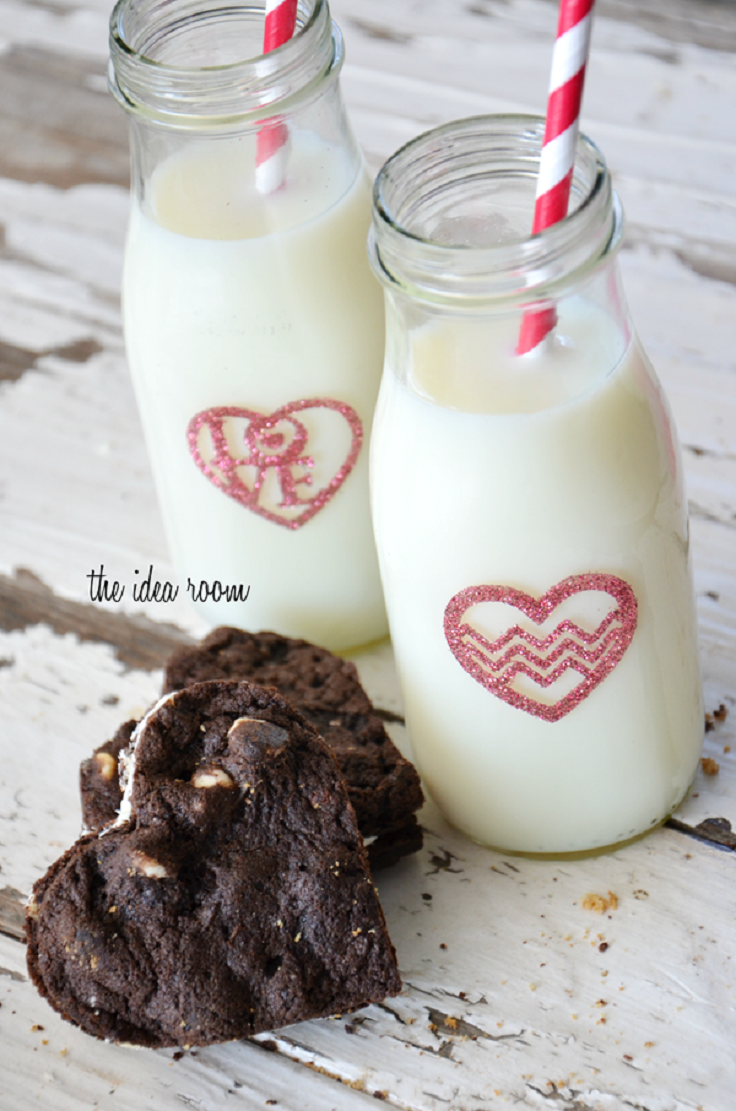 Recipe via theidearoom.net
Part of Valentine's theme, or for a birthday, or any kind of celebration, these will surely impress your loved partner. Even simply bake these without a celebration other than celebrating your personal love towards one another. Superb little things. Make them also and possibly for the kids too, for when they come back from school. They will be delighted to find these on the dinner table as a little snack before dinner. Be the best parents in the world. For today!
Brush Embroidery & Heart Cookies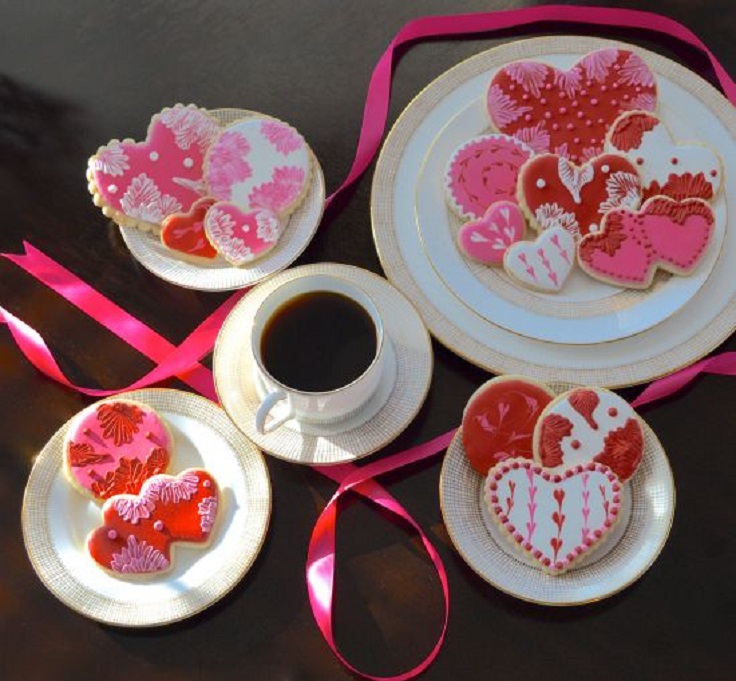 Recipe via makingitwithdanielle.com
If you are a bit of a guru artist and love both bakings, and being arty-crafty, then this is an absolute must-try. Perfect for an afternoon tea with the most precious of your friends and family. Perfect for Valentine's but let's not overdo it. These are perfect for any occasion too and great with a cup of coffee, or a chilled glass of Prosecco if this is your thing. Be as creative as you wish and make each little cookie all different with their own identities.
Gluten-Free Hearty Cookies
Recipe via theroastedroot.net
Allergies are everywhere nowadays and sometimes this can become tiresome for you and those surrounding you the closest. However thanks to many people in this very same situation, or who simply wish to cut on gluten for a while for personal reasons, this recipe exists! Gluten-free and lovers, treat yourself to something lights fluffy and simply delightful. Looks great, but tastes even better and a rather simple to put together recipe.
Chocolate Rolled Cookies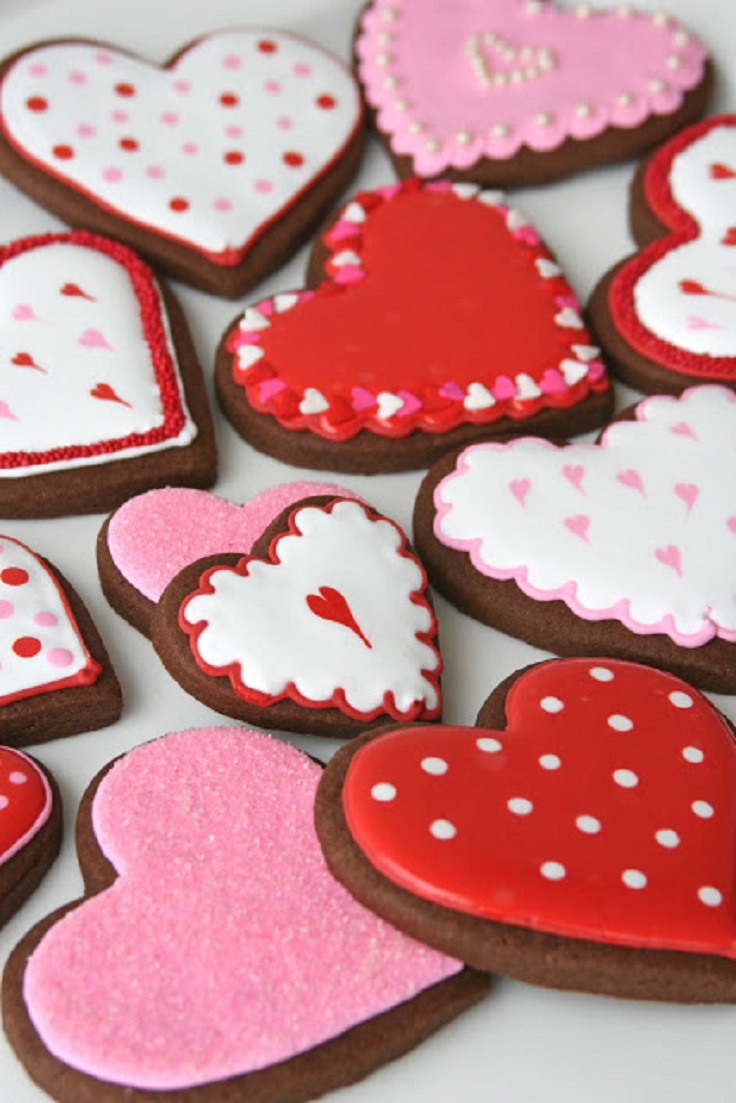 Recipe via glorioustreats.com
A little chocolate liquor never hurt anyone has it? We mean, a little right! Maybe not for the "first thing in the morning lover's treat", but certainly for the mid-afternoons or evening romantic dinners ending on a perfect heart shape-note, alongside old school Blues and Jazz. Most of the recipes will tell you perfect for Valentine's, but we say, what happened to the other 364 days of the year? So, get baking no excuse! Love has no limits, no time, no days, and no occasion. The world is missing romance, be the few to exercise this lost art and practice!
Valentines Cookies + Royal Icing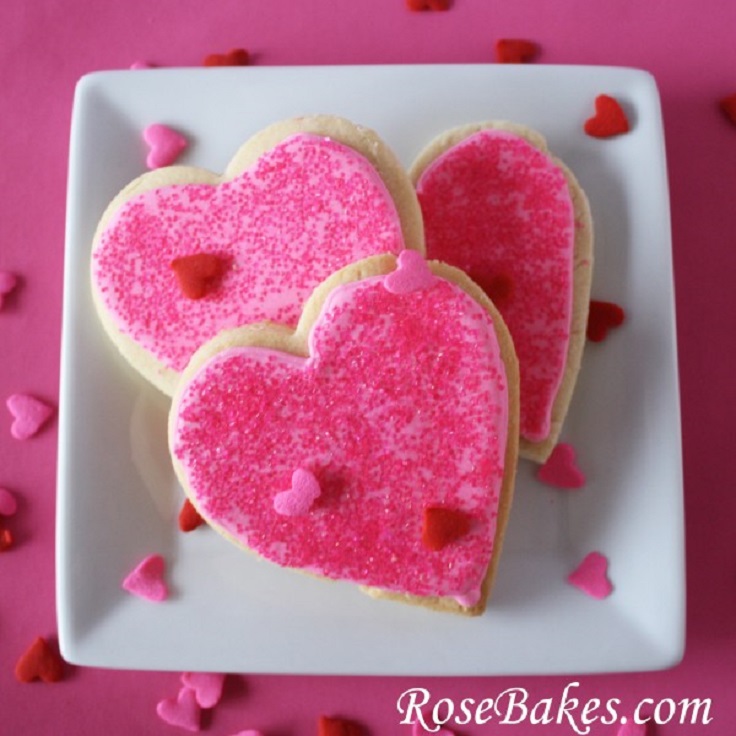 Recipe via rosebakes.com
This recipe is made by an amateur little chef, who only wished to make something delicious that looked extremely romantic. And this is what makes this recipe perfect. Because we all are in the same boat most of the time. And we admire the cooking dedication that one must never forget. The Royal Icing was perhaps too runny, but then again it must run in order to cover the entire heart platform. Best to put the cookies on top of a grill for the icing to run off the edges perfectly. Make your cookies the way you would, and get your icing just right. Do not overwork your egg whites and get them to peak upside down without going on the floor! Then you'll get the perfect icing.
Pretty Valentines Heart Brownie Roll-Out Cookies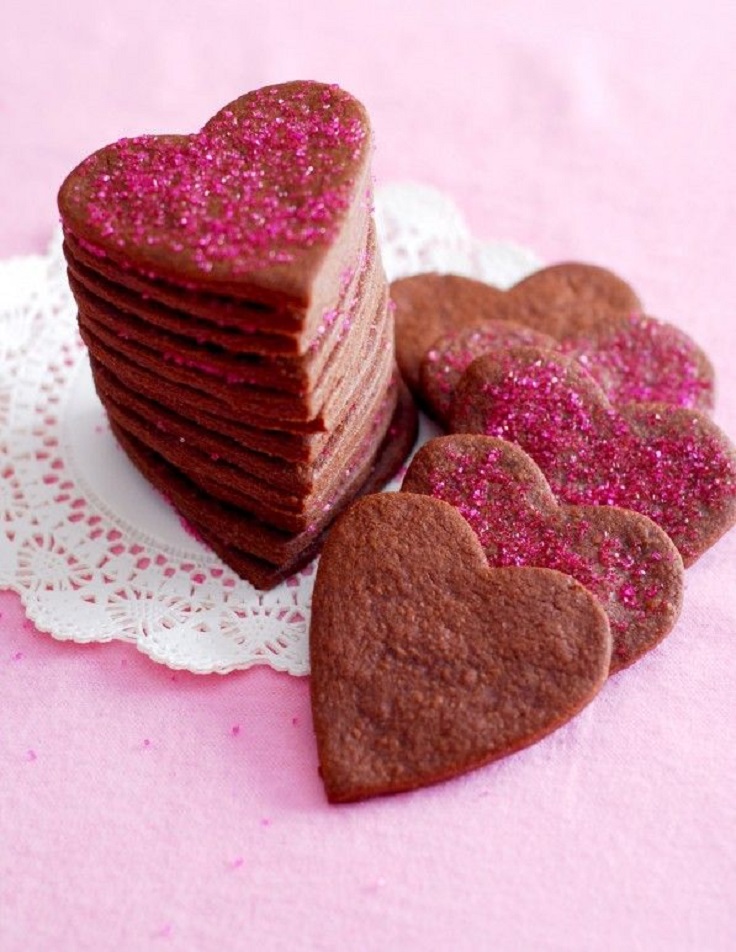 Recipe via bestfriendsforfrosting.com
Love Brownie? Love Cookies? What to do, tough one this. Well, we have found a recipe combining the best of both worlds for you! Straight after Christmas comes New Year's Eve, perhaps a birthday or two, then Valentine's come. That's under two months of sheer financial pressure for a lot of us! And expectations no doubt! So, gift him or her these pretty little things that very often are more rewarding and pleasurable to receive than something simply "bought". The way it should be we reckon! So, get baking a little and put a smile on your other half.
Heart-Shaped Neapolitan Sugar Cookies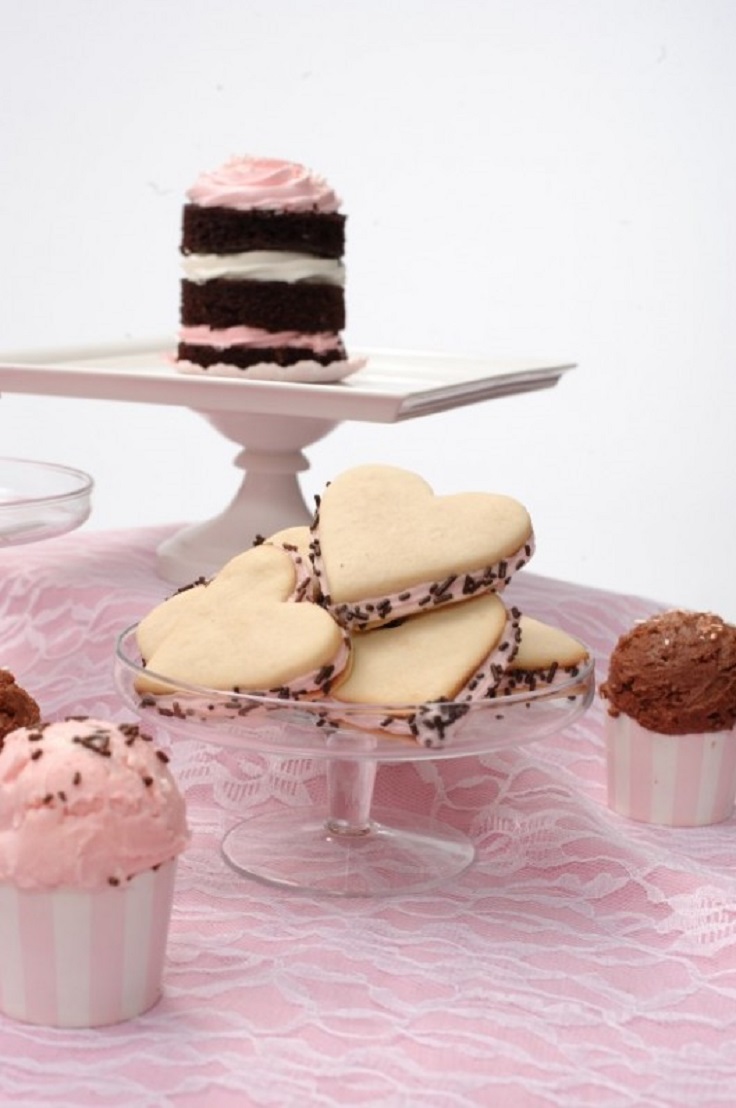 Recipe via bestfriendsforfrosting.com
Cookies, buttercream, strawberry frosting, chocolate bits sealing the lot together…anything else more delicious-sounding? A fabulous treat these for any time of the day; with a loved one. Could even be the family or the kids. After all, love is for everyone, no? These are ever so fluffy and utterly delicious melting away in your mouth from the first bite. They look irresistible when served with fresh strawberries on the side.
Brown Butter Heart Cookies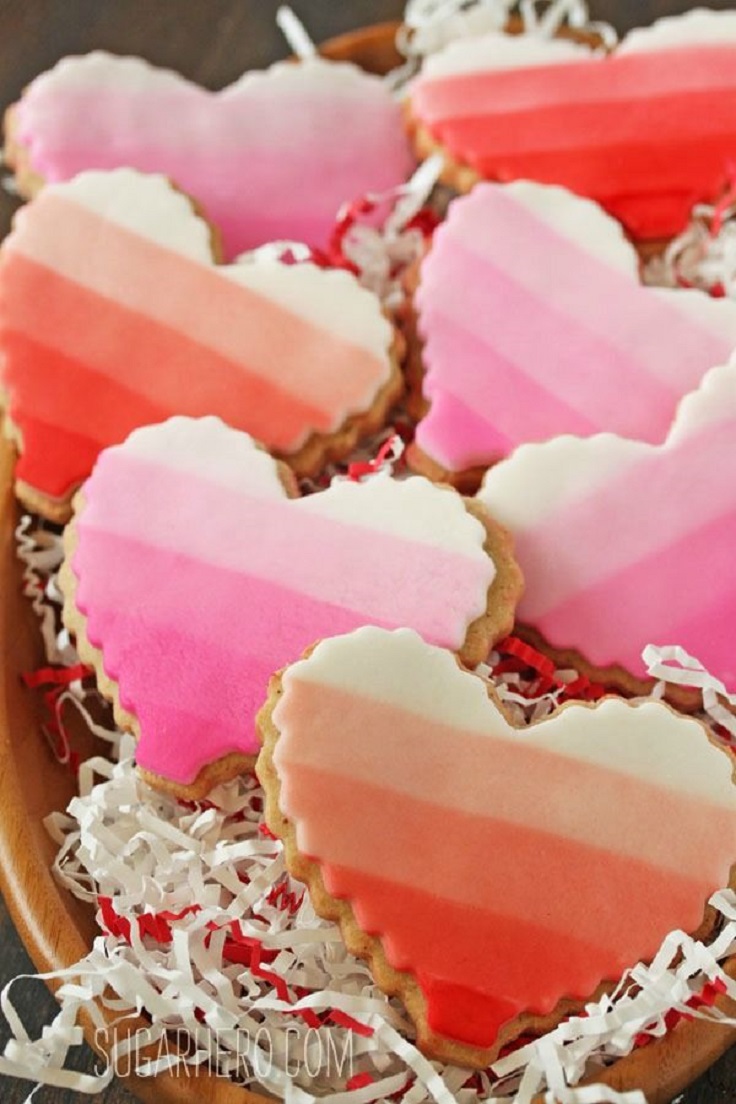 Recipe via sugarhero.com
Super gourmet and a great twist to the originals we might be used to. This recipe will give real nuttiness and richness to it. They are deep, and super yummy caramelized beauties, superbly decorated giving you a little 1960s vibe! They could of course be done in any color but works well with pinks and reds, try orange, looks great too. The recipe uses marshmallow fondant, but any icing will do. Treat yourselves!
Valentine Cookies and a Bright Red Scale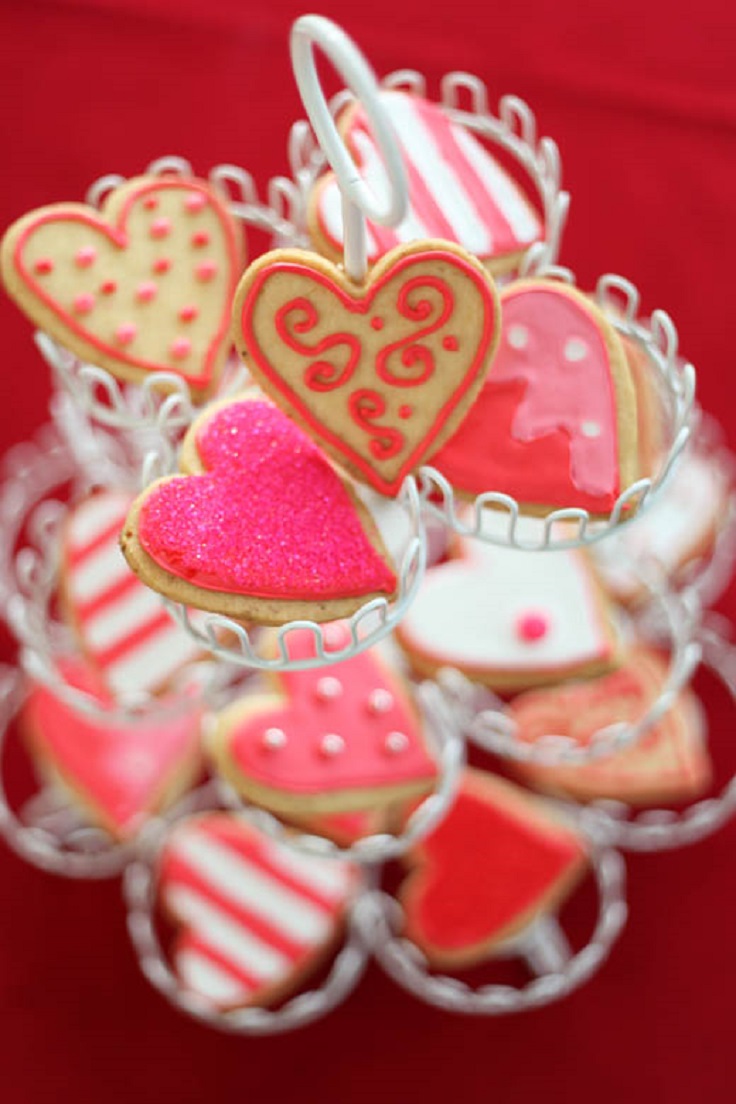 Recipe via zoebakes.com
If you have a sweet tooth and love anything sweet and have a must-bake moment in your life, one that happens every couple of days, then these are brilliant. The recipe even explains and goes through the meaning of Valentine's so a great excuse to take a sneaky peek. These heart-shaped treats are wonderful alongside a warm cup of Earl Grey with a slice of lemon inside the cup, as the crust of these is made with lemon zest. This cuts through the monotony of the richness of both butter and sugar. Almost sounds healthy!