Lipstick is one of the most powerful beauty tools for many years. If it's used correctly, it has a high ability to transform an average girl or woman into a real diva. Also, the right color of lipstick can give life to every plain outfit or make you look more awake and fresh on a day when you have under-eye circles. But, wearing your lipstick wrongly, will make you look the opposite.
Here are the top 10 mistakes you must avoid for a perfect lipstick every single time.
1. Dark Lipstick on Thin Lips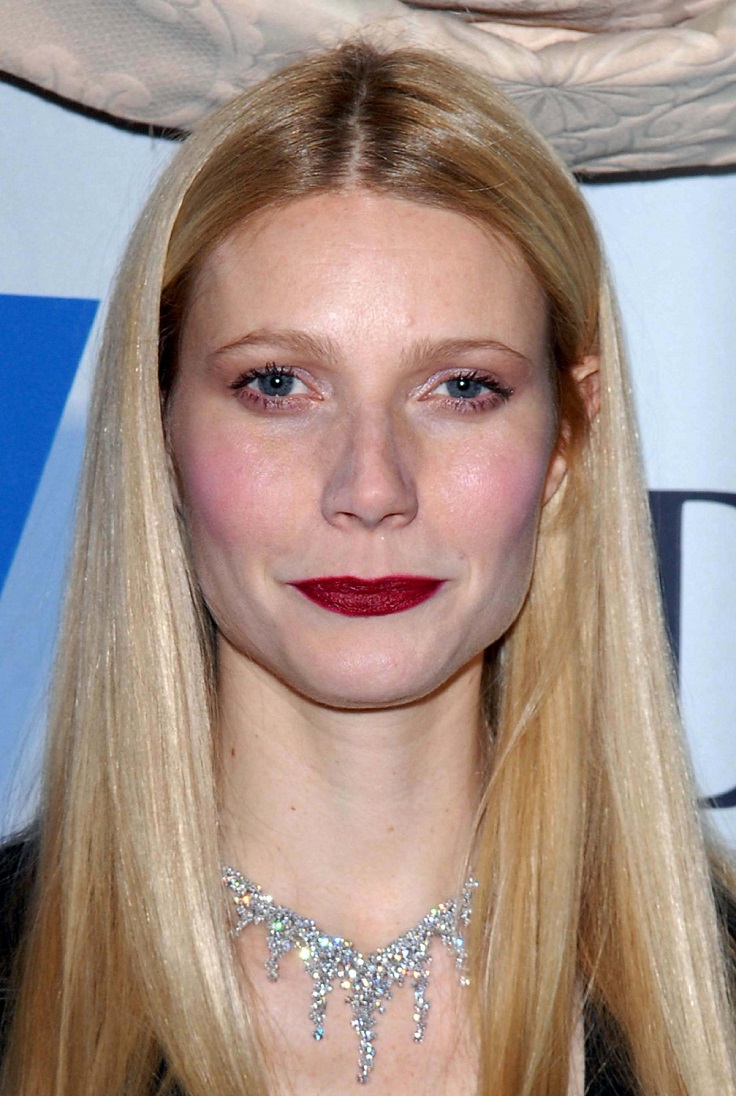 Photo credit to pinterest.com
Wearing too dark of a color can create the illusion of lips looking smaller or slimmer. As a general rule, it's a good idea to stick with a lighter lip color as this will help aid in the illusion of fuller lips. If you have thin lips, always be thoughtful about the colors and finishes you reach for. The best lipstick shades are nude colors, pinks, and reds. They make the lips look much fuller as they do not draw too much attention to the area but still add color.
2. Not Using Lip Liner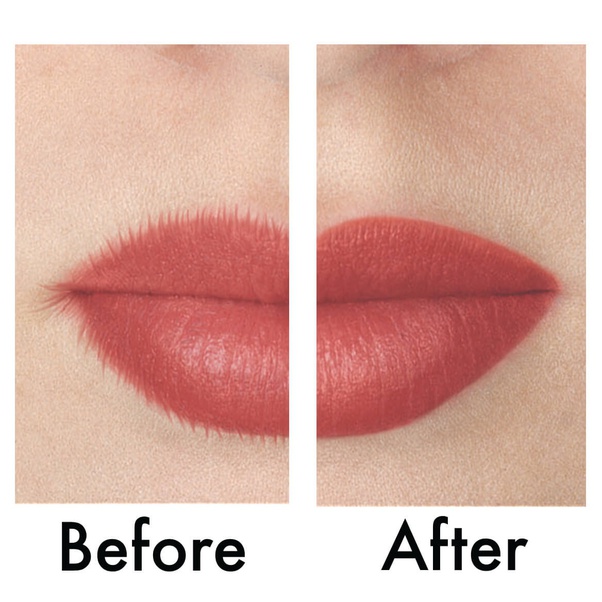 Photo credit to daily vanity.sg
If you're not using lip liner, then it is time to begin! Applying lipstick without liner will not give your lips the perfect shape you want. A lip liner helps define your lips and keep your lipstick in check. However, don't overdo it either. And, certainly don't use the wrong shade of lip liner, too. Sticking to a lip liner that is just a slight shade darker than your lipstick to give a fuller look to your lovely lips. When done correctly, lip liner is actually a crucial addition to every makeup routine. It gives you a supersaturated, and long-wearing look, so your lipstick won't bleed or feather out.
3. Applying a Lipstick on Chapped Lips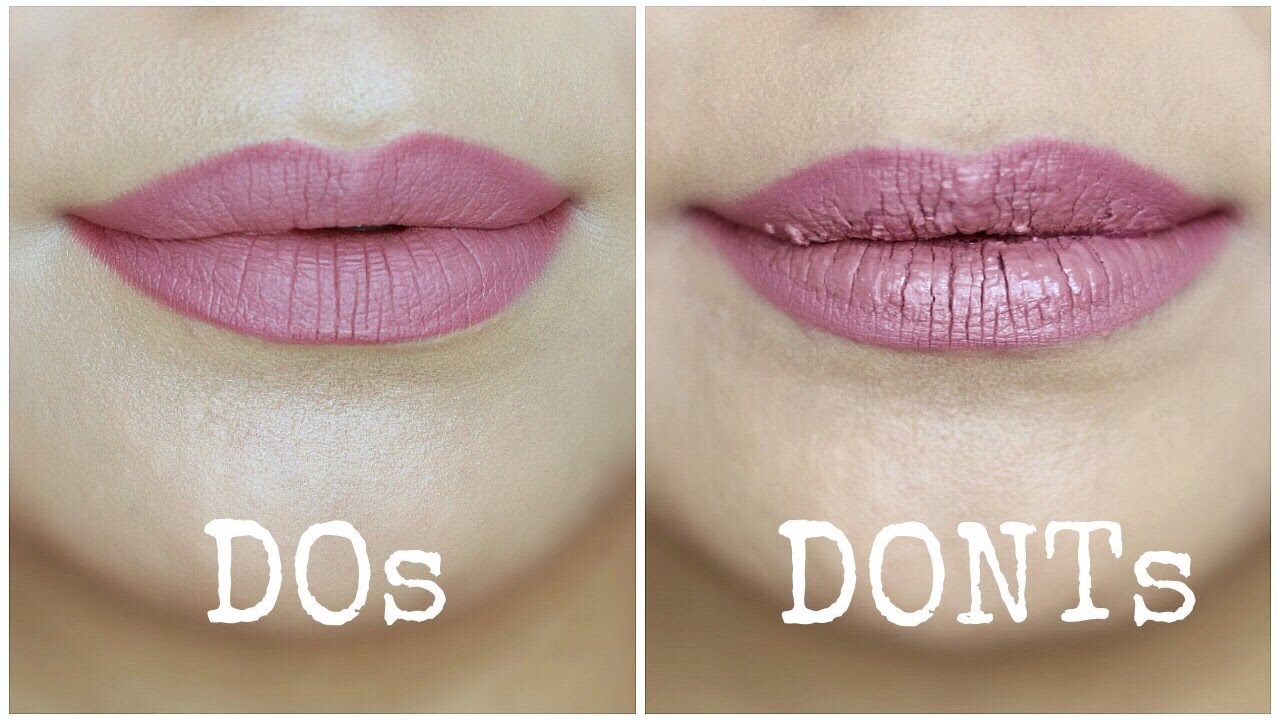 Photo credit to pinterest.com
Nothing ruins a gorgeous makeup look like cracked lipstick. If your lips are chapped, a lipstick with a creamy finish is ideal because it has the most oil in the formula. Avoid applying a darker shade of lipstick when your lips are dry as this will expose the chapped lines. Matte lipsticks tend to be rather unforgiving when it comes to moisture. Always, make sure you have lavishly moisturized before application.
4. Over Glossy Lips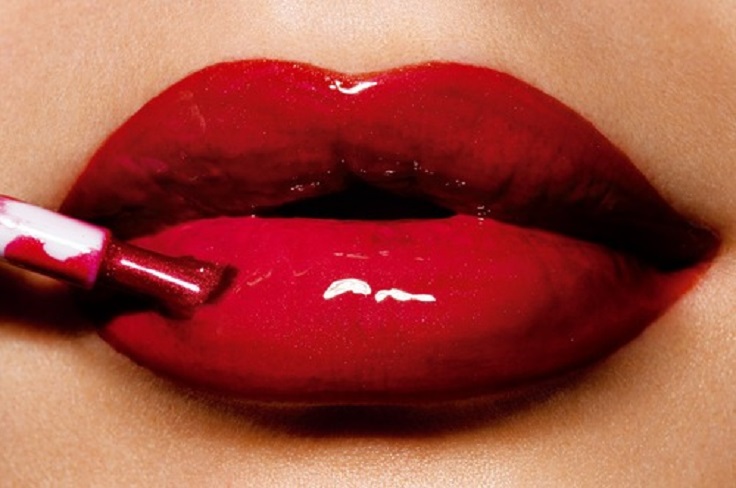 Photo credit to makeupandbeauty.com
While it is indeed true that lip gloss is another easy way to make lips look fuller, don't go overboard with it. Unless you want to look like you just dipped your mouth in maple syrup. Have a light hand when applying. Just like you can use too much lip liner, you can also over apply your lipstick or lipgloss. This will lead to results like leaving lipstick residue on your teeth, wine glass or will quickly warp into a sticky mess.
5. Moving Outside the Line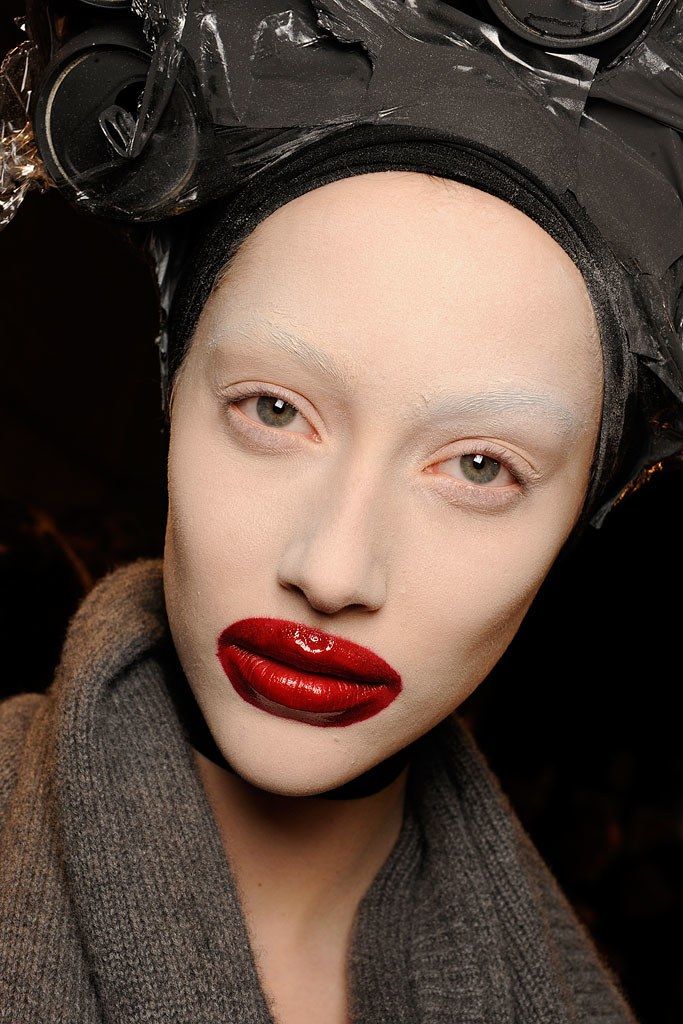 Photo credit to pinterest.at
What's worse than neglecting lip liner is applying it incorrectly. While subtle liner can work to play up your pout, an overdrawn liner can quickly turn into a Joker resemblance. For a gorgeous finish, draw the lip lining ever so slightly outside your natural lips. Try dabbing some highlighting shadow to the center of your bottom lip after putting on your lipstick to make it look fuller.
6. Wrong Shade Lipstick for Your Skin Tone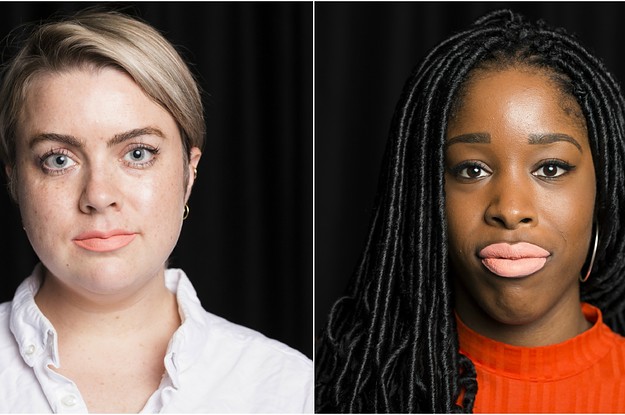 Photo credit to buzzfeed.com
Lipsticks are pretty comparable to foundations. Finding the lip shade for your skin tone is essential. Somebody who has very pale skin probably should avoid near black or very deep berry shades. They should avoid anything that has too much blue it in too, as that can make them look a little bit ill. Softer peachy colors or a true red are by far better choice. And someone with darker skin would look fantastic wearing one of those deeper shades or a two-toned lip just to provide a pop of color.
7. Dark Lip Liner
Photo credit to womenshealthmag.com
Women often use the wrong lip pencil color for their skin and that's why using neutral-colored liners is often a better choice. It is quite important to match the shade of your lip liner to your lipstick. If you can't find the exact shade of lip liner to match your lipstick, you still have a perfectly suitable alternative by picking up a lip liner that's one to two shades lighter than your lipstick. The main purpose of the lip liner is to add definition to your lip look by creating distinct edges. But the color doesn't really need to be the exact shade, just be sure that belongs to the same color family (ex. rose liner with a berry lip).
8. Exfoliate Your Lips Before Applying Lipstick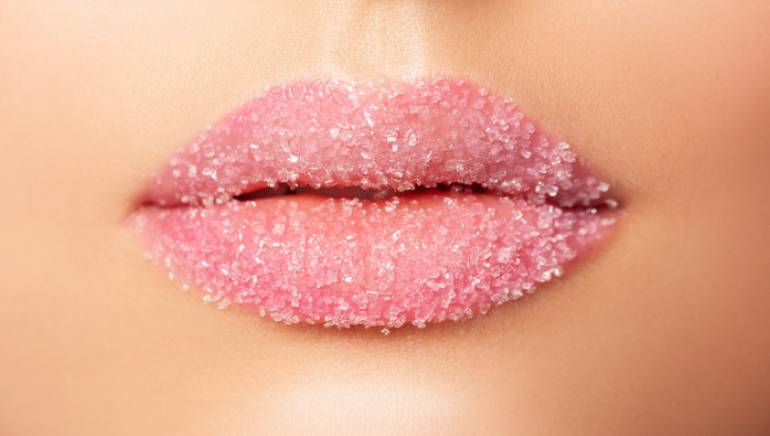 Photo credit to healthshots.com
Lip care is the first and foremost step to getting the perfect pout. Dead skin on your lips can hinder even the basic application of lipstick. Just like how skin needs moisture to keep its youthful glow, so do lips. Hence, you must exfoliate your lips leaving a smooth and moisturized surface ready for your lip color. When you apply lipstick to dry lips, it can sink into cracks, which amplifies the look of aging. There are many ways to exfoliate by using a sugar scrub or even your toothbrush.
9. Lipstick on the Teeth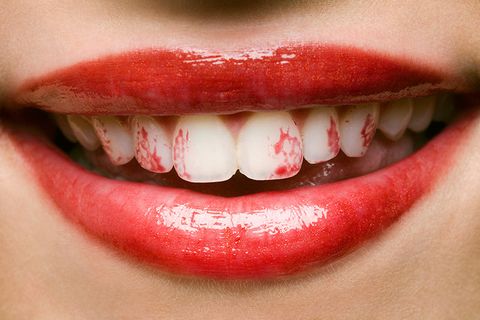 Photo credit to goodhousekeeping.com
One of the biggest beauty nightmares is to discover that you've been going around with lipstick on your teeth. After applying your favorite lipstick, it's always smart to blot your lips with a tissue placing between your lips and close your mouth to remove excess product from your pout. This should remove any lipstick that has gotten on the inner part of your lips that touches your teeth.
10. Clumping Lipstick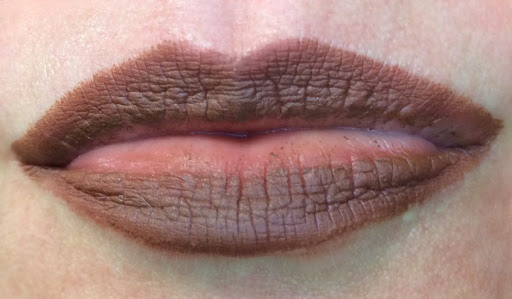 Photo credit to shefinds.com
Most notable with lip gloss and matte lipsticks, clumping looks like an unappealing ring on the inner third of the lip. Therefore to moisturize the lips before applying any lipstick or gloss is advisable. With glosses, the ring is white and can almost look like dead skin, while matte lipstick build-up looks like concentrated pigment, just where you don't want it.