Macedonian cuisine is a Mediterranean-influenced cuisine that makes wide use of vegetables and herbs, grains and bread, wine, fish, various meats, cheese, eggplant, peppers, and cabbage. Here you can find the most popular amazing traditional Macedonian food. Delicious yet simple. Have you tried any of their delicacies?
Baked Chicken Thigh With Rice
(Pileski Kopani So Oriz)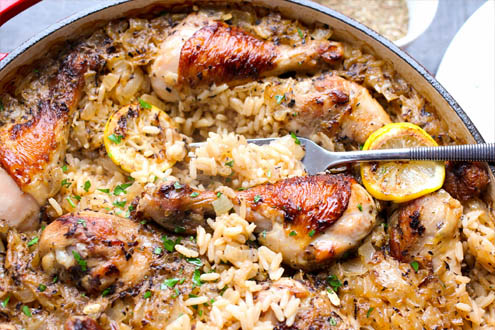 Recipe via experience-macedonia.com
Nothing better to kick this off with something everyone can do, and something that is on Macedonian tables once or twice a week. MANaturally, the country is full of natural elements and farming products and chicken is on the menu a lot of the time, a household's favorite pet! Like any rural and countryside areas in the world. Macedonian cuisine is not very complex but focuses more on the purity of the ingredients. Not super unlike the way the Italians think. Simple ingredients with big flavors. Not the same cuisine, but a similar way of thinking. What is better than a roasted farmed chicken anyway? Little salt and pepper and you are there! Five ingredients are all you need to make something super delicious perfect for lunch.
Macedonian Veal Stew
(Teleska Corba)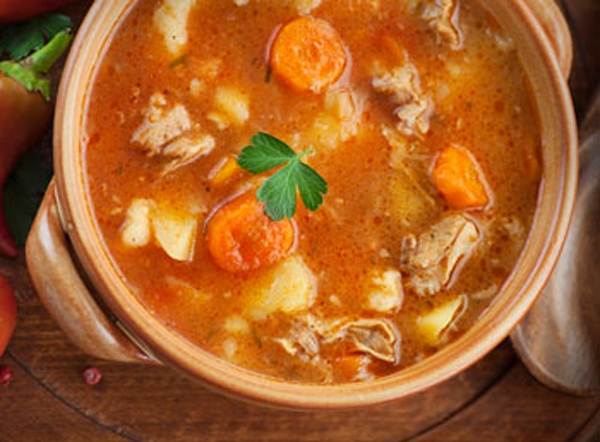 Recipe via macedoniancuisine.com
The cuisine in Macedonia is not fancy by its raw definition. But it doesn't mean it doesn't taste good. This soup is as pure as it gets; and what we call a proper country soup! Every country has there's, and this one is one top of our list for being one of the most delicious! You can have this at any time of the day, with freshly made bread. The flavors combined, everything perfectly awesomely, adding a creamy texture to the final dish. Fresh parsley from the garden and you are in heaven!
Macedonian Salad
(Shopska Salata)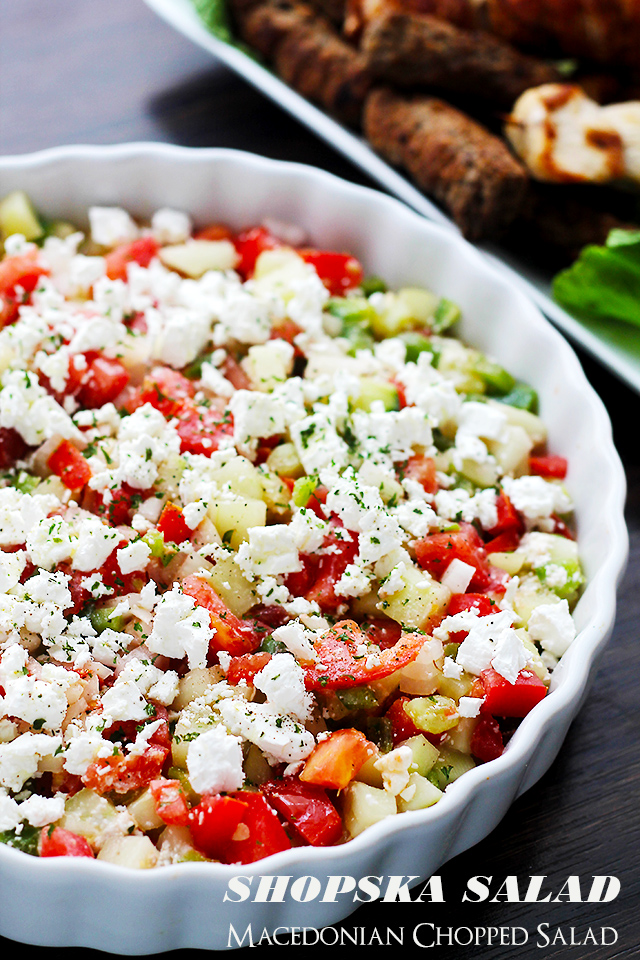 Recipe via diethood.com
Some countries have their own version and indeed call it Macedonian salad, in France a Macedonian salad is referred to more like the Russian salad with mayonnaise. Only that the original recipe showcases how great their local products can be transformed into a delicious healthy lunch, and a salad mainly shared before their meal. All fresh ingredients require just chopping and enjoying their taste combined in a big bowl. Top-notch!
Macedonian Pizza
(Pastrjmailija)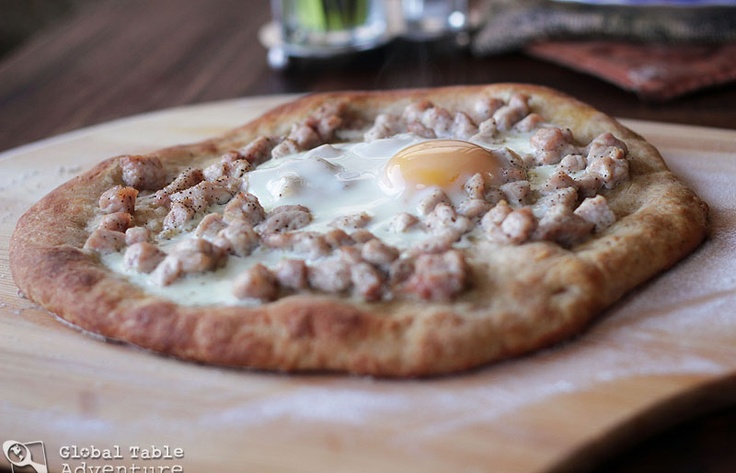 Recipe via globaltableadventure.com
Pizza in any language is understood and loved. But, this is no ordinary pizza. It's a Macedonian pizza. Some say the Turkish people invented, what we know as "pizza"; with their flatbread. Since Macedonian was under their empire for quite a while, do expect to see certain similarities in their cooking abilities and signature dishes. Diced pork is used for this dish and during winter smoked pork (which is so delightful it is untrue), traditionally as it is a cheap cut, however, you could use beef, lamb, veal, or anything really that takes your fancy.
Grilled Trout
(Pastrmka)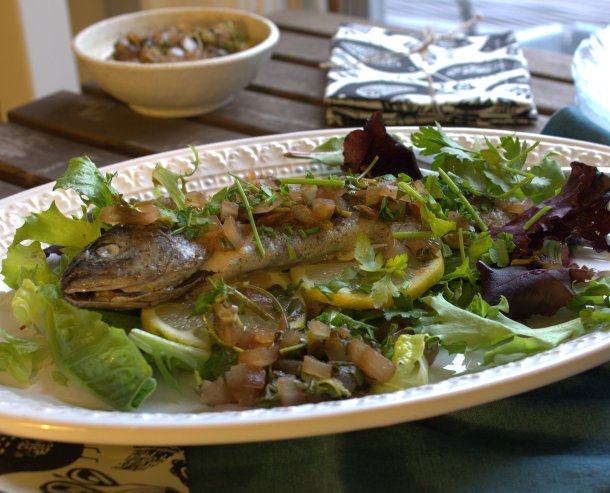 Recipe via thehungarybuddha.com
The Macedonians are rather lucky people as their cuisine has been influenced by the Mediterranean and Middle Eastern characteristics (mix or two delicious cuisines). So, no wonder that we can see many signatures within their food. Macedonia has a lot of small and large rivers not to miss on lakes (including on the oldest in Europe – Ohrid) and therefore are rather rich in fish. No seas, however, the best fish some might argue are from rivers making them super interesting flavor profile-wise with their earthiness attached to it on the palate. Expect to see many restaurants having fish delicacy all over the country, and fresh. It's so good – it is perfect if you are entertaining people by getting a two-kilo monster on the table. Ease off on the vinegar though. Spoonful is enough. And add the lemon just before serving and to taste.
Meat and Potato Gratin
(Traditional Macedonian Moussaka)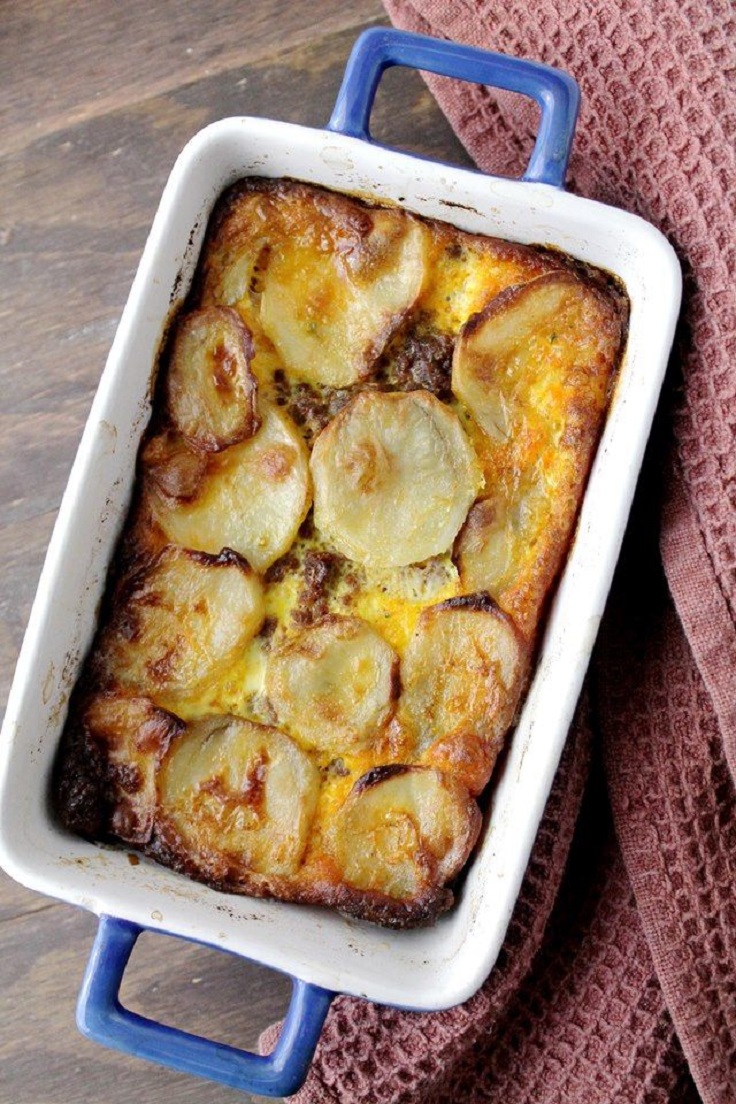 Recipe via diethood.com
Ever had Melanzane Parmigiana? Well, this is not it! But, we can see the roots of the dish! The dish can also be made without beef. And even the biggest of meat lovers will ask which meat you've put in your dish, only to tell them it's the aubergine fooling you! So, yes, this can be turned easily into a veggie option which is great. The flavors of this are intense and really rather rewarding. Done in a couple of hours from start to finish, and a dish perfect to serve on the family table for everyone to dig into. A little fresh garden salad on the side to let everything flow perfectly makes a great combination.
Macedonian Stuffed Cabbage or Vine Leaves
(Sarma)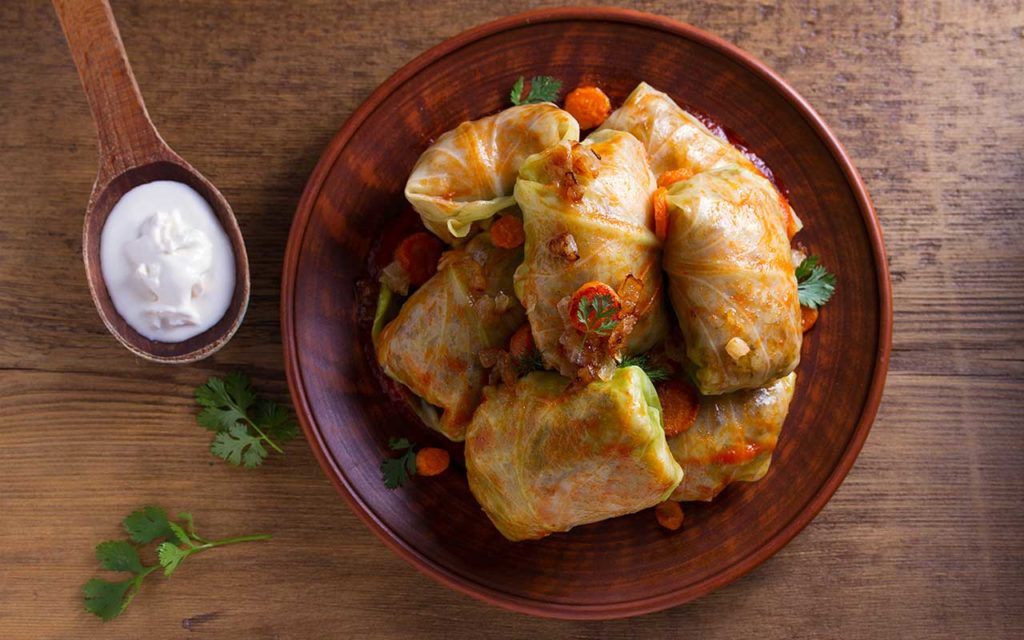 Recipe via macedoniancuisine.com
Macedonian children will swear by this dish. And to date, as adults, they will without a doubt be telling you that this was one of their favorites on the table and one they will never forget! At first, this is a little tricky to get the cabbage cooked just right and large enough to wrap everything together. Can also be done with vine leaves. If it looks a little messy; well, the better! A super dish and one of our favorites on this. It is that good and enough to become one of your top 10 most memorable meals. Be ready for a flavor explosion. Undo your belt, and let it happen. You can have a salad tomorrow!
Macedonian Cabbage Pie
(Zelnik)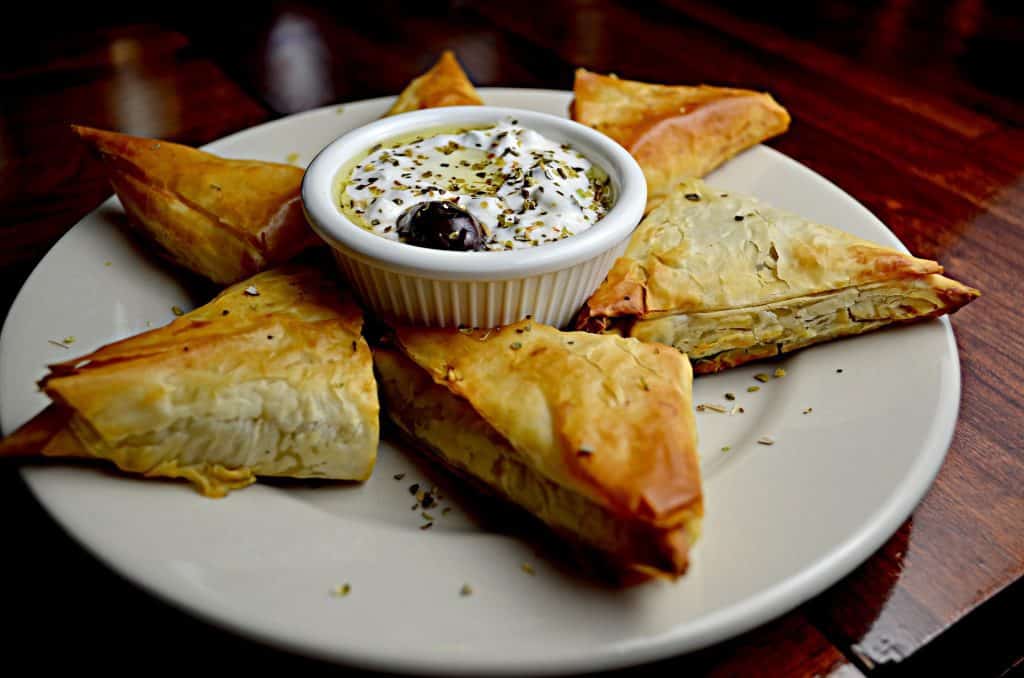 Recipe via thefoodhog.com
To some people, this is a food orgy happening just by hearing its name. Again – pie. The British are renowned to love their pie so much so that there isn't really a day without them. They are like the kebab or pies for the British. The way the Macedonians do it though is rather incredible. You will make this time after time we are certain of it. You'll surprise yourself with how tasty this thing gets. And, it makes you eat your veggies and have a veggie day. Often served with a rich creamy yogurt with a dash of olive oil and a few herbs from the garden on top. Best enjoyed for breakfast or during lunchtime, but to be honest, this is so good at any given time of the day. It could take a while to master, but seriously give this a go.
Macedonian Style Baked Beans
(Tavche Gravche)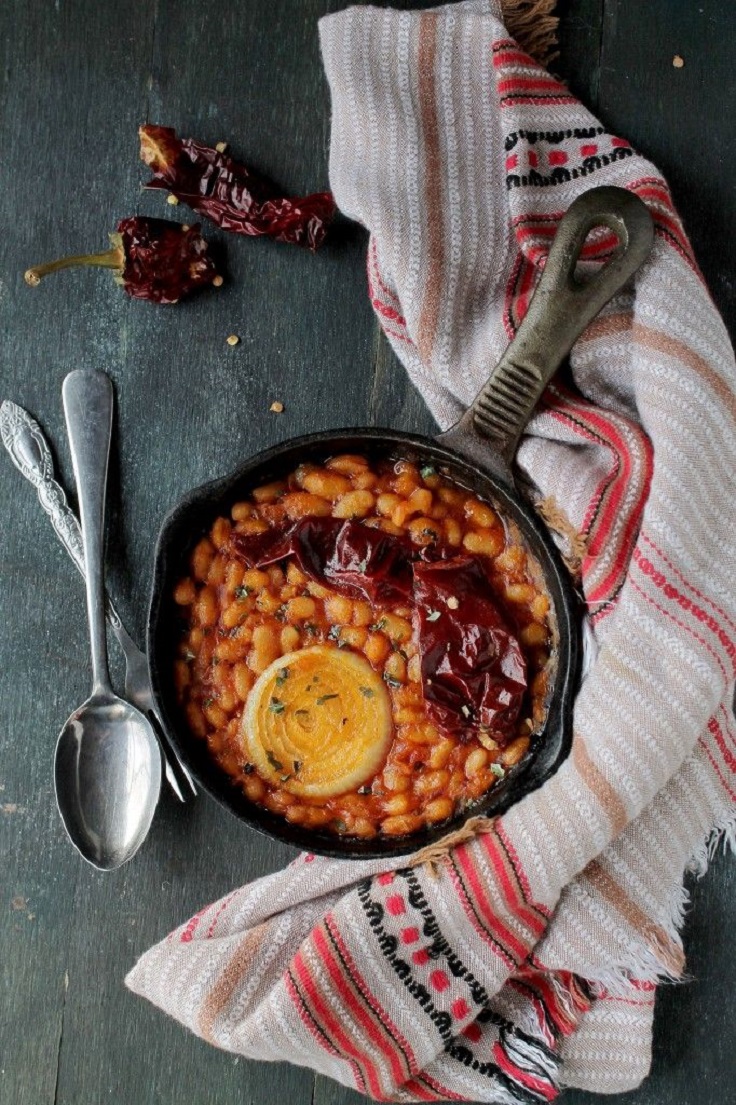 Recipe via diethood.com
Most Macedonians are Christian Orthodox, and this dish is very often on their Christmas dinner. The baked beans style will ensure that you never, ever, as in, ever, buy Heinz baked beans ever again. At least once a week would you expect this to be served at a Macedonian household! It is literally impossible not to eat this once a week, a least. This dish is traditionally served in an unglazed earthware pot, baked in the oven, or on a wood fire. The aftermath doesn't matter, it'll all be worth it!
Macedonian Style Vegetable And Meat Stew
(Turli Tava)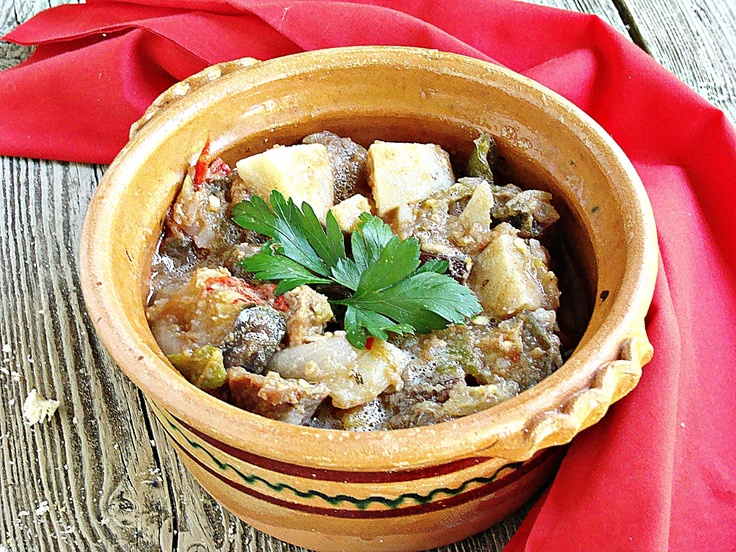 Recipe via diethood.com
Many National dishes are cooked in clay pots in Macedonia, the same you will see in the likes of the Mediterranean countries as a whole. And yes, the flavors are better. Full stop no arguments there! Get yourself a clay pot and let us know. But we must say, the clay pots work better after being used dozens of times. They are like wine, get better with age, and really do give an edge to the cooking.  A super flavorsome dish, banged in the middle of the table for everyone to serve themselves. The proper way it should be done. And everyone interacts at the same time making this the perfect family meal.
Macedonian Ajvar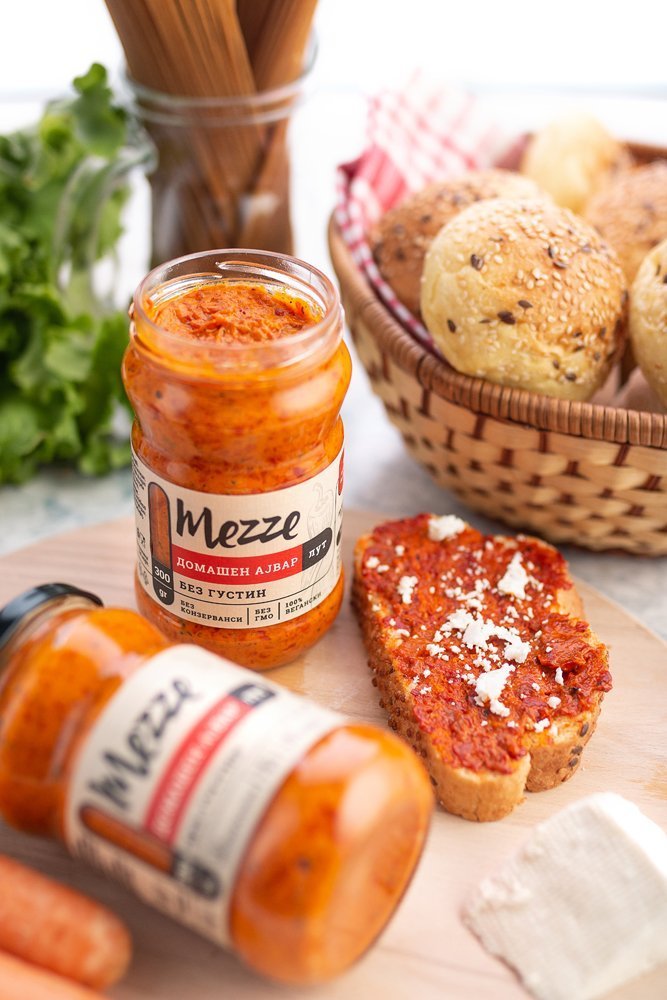 Recipe via thefoodhog.com
It is impossible not to have this on the table at all times even during the winter months. Therefore in the summer, Macedonia's red pepper reinforcement collectives are about to roast kilos after kilos of them! Usually served with crumbly white cheese resembling feta, alongside a little bread on the side and perhaps a dash of olive oil. They will eat this delicacy for breakfast, for lunch alongside a good barbecue, in the evening, when they are peckish, or simply as a snack. In all, if the beautiful Macedonian people could think of an ajvar toothpaste, it'll be the genius idea of the century. The recipe is simple, but beware this takes time. Is worth it beyond words and all the hard work really pays off. Make a lot of conserves for the winter months, having a little sunshine when it's minus 10. Delicacy in a jar!