Have you ever wondered, what was the shoe fuss in the Cinderella movie about? Well, the answer is simple. If the shoe fits, the boy fits. Most of the women in the 21st Century have shoe obsession and we must say, for a reason.
Shoes are the ones that take you higher, fill you with confidence and you just feel on top of the world. Of course, not any shoe can bring that into action. For some, the price doesn't matter, for some it does. Maybe it's the brand, or maybe just the stability.
Simple or complicated, we selected the top 10 most expensive shoes in the world. If you didn't know what makes you like shoes, you might discover just now! You just keep your head, standards, and heels high! Oh, your wallet too.
10. Stuart Weitzman "Retro Rose" Pumps – $1,000,000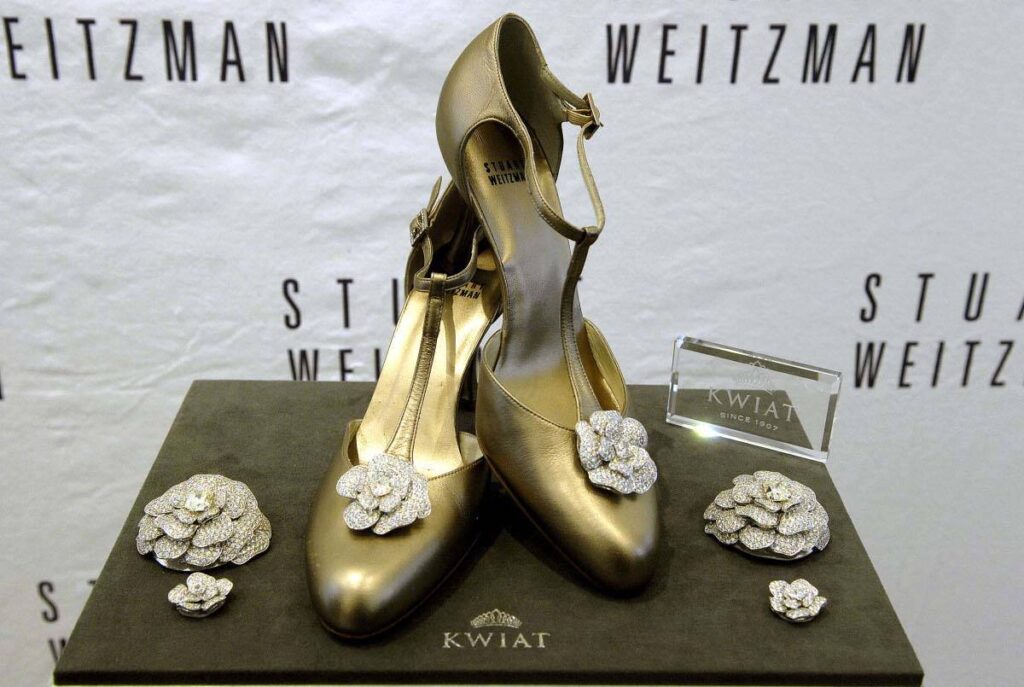 Photo via top-sho-2015.blogspot.com
A cool million US dollars, clean and simple. Stuart is known for his many beautiful and somewhat extravagant styles and tastes for the most discerned ladies out there. Celebrities would die to be seen in these during the red carpet event. They are simply mesmerizing. They aren't too over the top, yet they are Princess worthy coming straight from the 1940s. The 1800 Kwait diamonds which equals almost 100 carats are what makes these beautiful Rose Pumps look complete and retro. It just oozes class and oozes elegance.
9. Stuart Weitzman "Marilyn Monroe" Shoes – $1,000,000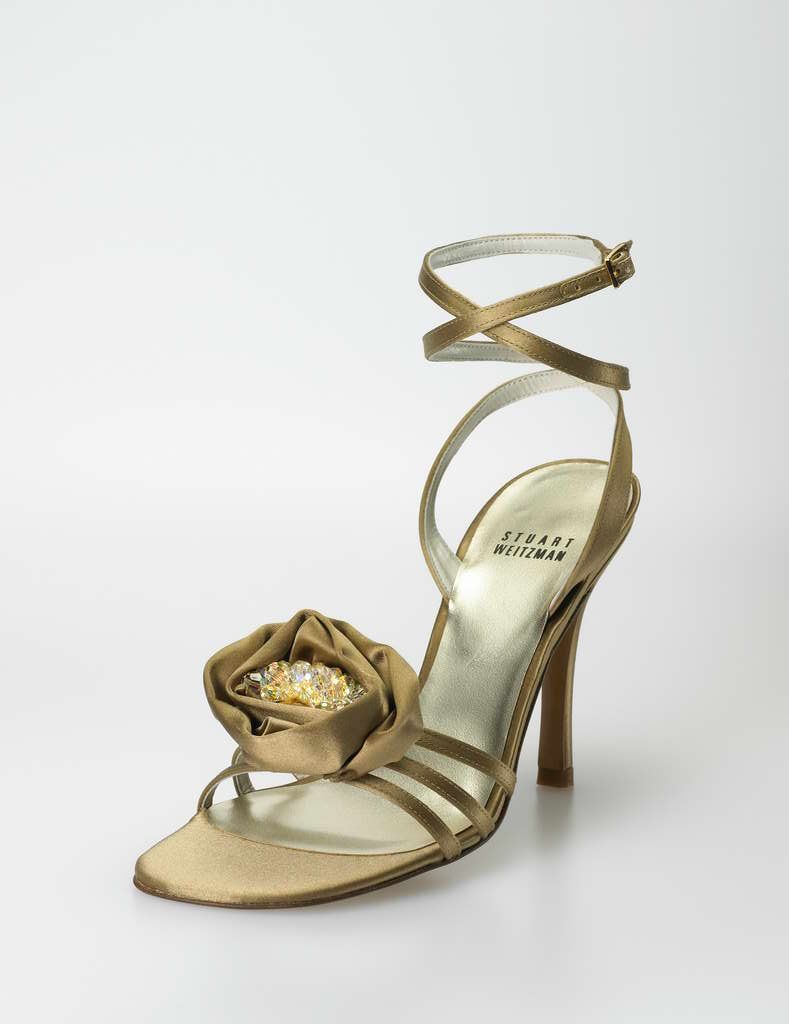 Photo via pinterest.ca
Standing side by side with the above in terms of price tag, 1 Million US Dollars should do the trick. How could a shoe appear rather ordinary could be worth so much? The design is beautiful with the focal point being the rose and Swarovski crystals. Surely these crystals aren't worth a million? No matter the superb quality of the show in the first place. These crystals, however, once belonged to the earrings of Marylin Monroe. That's why!
8. Stuart Weitzman "Platinum Guild" Stilettos – $1,090,000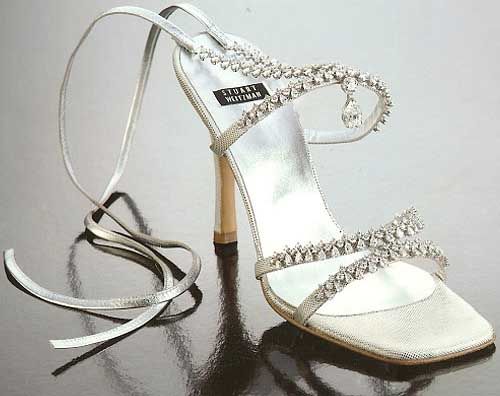 Photo via pinterest.at
We all know where this is going, don't we? At a whopping 1,090,000 US Dollars, Stuart has done it again. And beautifully so. Just look at it. For a starter, the strap system is unique and not seen by any other expensive shoemaker. The straps are also made from platinum fabric, not found in many parts of the world. In addition, there are a whopping 464 precious stones embedded within the strap. The focus is easily understood to be from the strap itself, which can also turn itself into a bracelet! How many pairs of shoes do you know that can do that?
7. Stuart Weitzman "Ruby Slippers" – $1,600,000
Photo via mostfamouslist.com
The Ruby Stilettos shoes have the whole insole of red satin with 600 rubies weighing nearly a pound each! The stunning ruby slippers are made from 642 oval and round Burma rubies that are embedded in red satin. The insoles are made in cherry red. The total weight of the rubies is a whopping 123.33 carats. This shoe is the creation and the thinking pattern of the genius Stuart and puts a spin on his idea of what Dorothy from the Wizard Of Oz should have been wearing.
6. Stuart Weitzman "Tanzanite Heels" – $2,000,000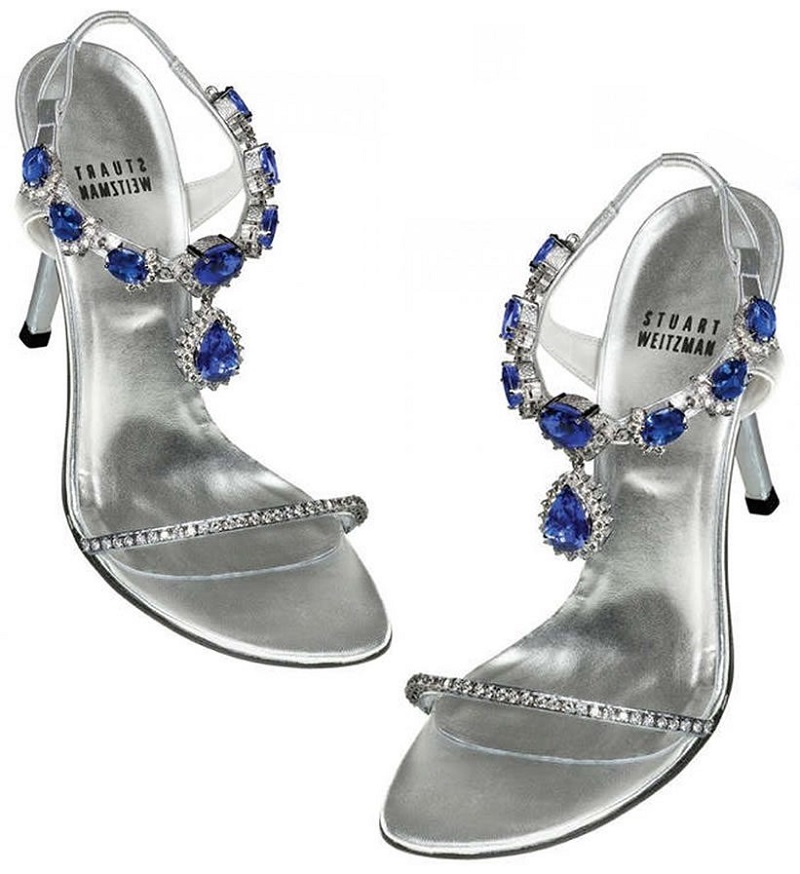 Photo via therichside.com
For a superb 2 Million US Dollars, these could be yours. Stuart combined his work with jewelry designer Eddie LeVian back in 2006. Coated with 185 carats of elegant bright blue tanzanite gemstones and 28 carats of diamonds while ankle strap is crowned with a dangling 16-carat tanzanite drop. Tanzanite was discovered as a new birthstone in 2012. The stone was discovered in 1967 on Mount Kilimanjaro and worth more than diamonds as they are from a single mine with a lifespan of only 30 years.
5. Stuart Weitzman "Cinderella Slippers" – $2,000,000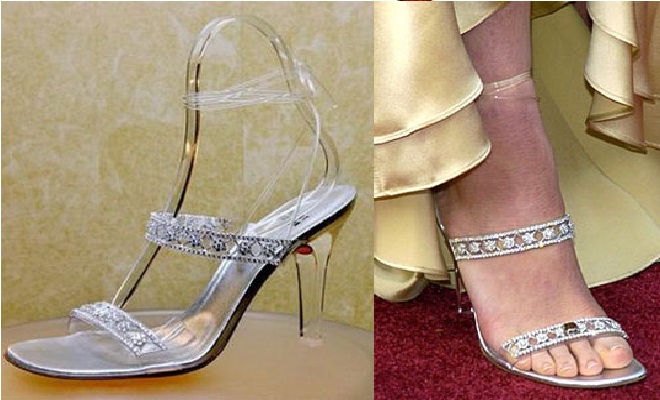 Photo via thecorrespondent.in
Arguably one of the most beautiful pairs of shoes ever seen, and no, glass was not used but the abundance presence of diamonds are right here. The shoes are made using Italian leather with purely 565 Kwiat diamonds in platinum setting at laces which cost up to one million while the whole pair has the price of two million. Alison Krauss, the country singer famously wore them in 2004 Oscar alongside a satin dress.
4. Stuart Weitzman "Rita Hayworth" Heels – $3,000,000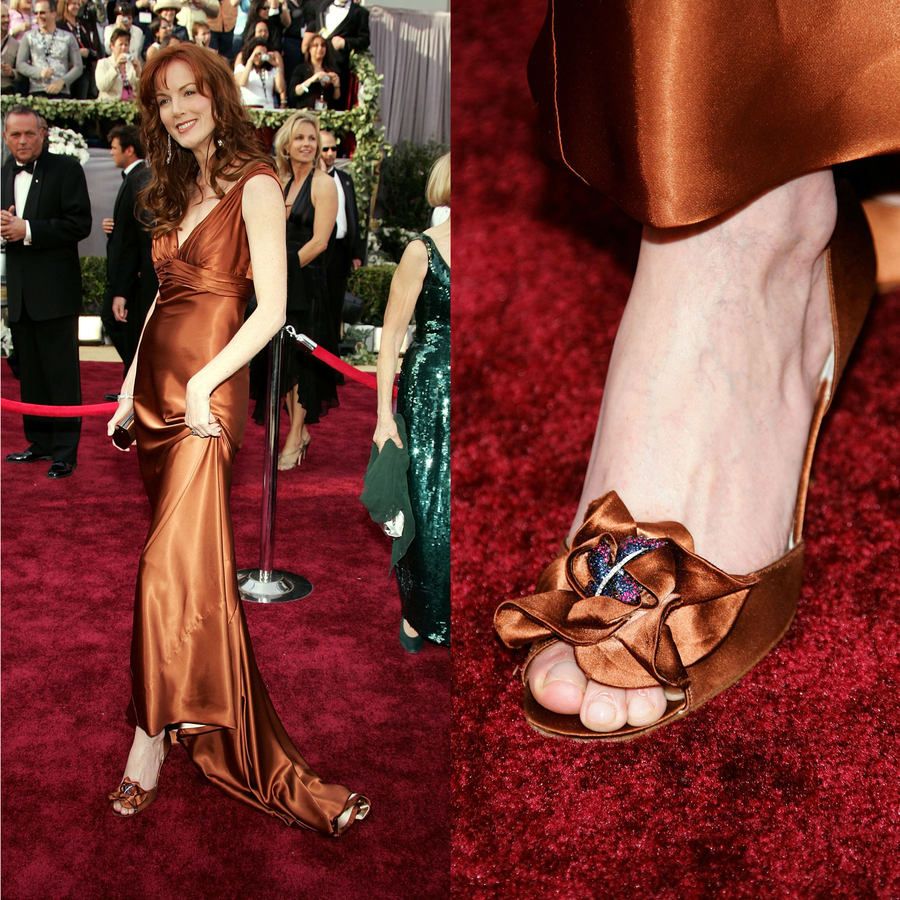 Photo via fashionlady.in
If you had enough of the above small numbers, then 3 Million US Dollars should speak your language. The shoe exudes Hollywood glamour as it's adorned with earrings made of diamonds, rubies, and sapphires worn by silver screen star Rita Hayworth. But these shoes aren't for sale; the pair belongs to Hayworth's daughter, Princess Yasmin Aga Khan.
3. House Of Harry Winston "Ruby Slippers" – $3,000,000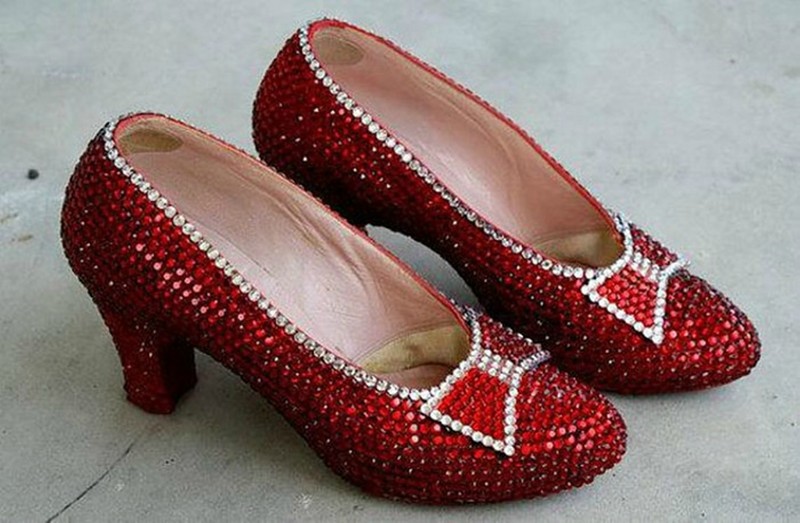 Photo via elegantine.ro
Topping up the chart on equaling the above, are these rare slippers fit for a queen. Ruby Slippers is a replica of Dorothy's Ruby Slippers. A one more The Wizard Of Oz tribute, but this time using 1,350 carats of rubies, and 50 carats worth of diamonds, these are slightly opulent. Harry Winston's son Ronald Wilson was at the helm to make these.
2. Debbie Wingham Heels – $15,100,000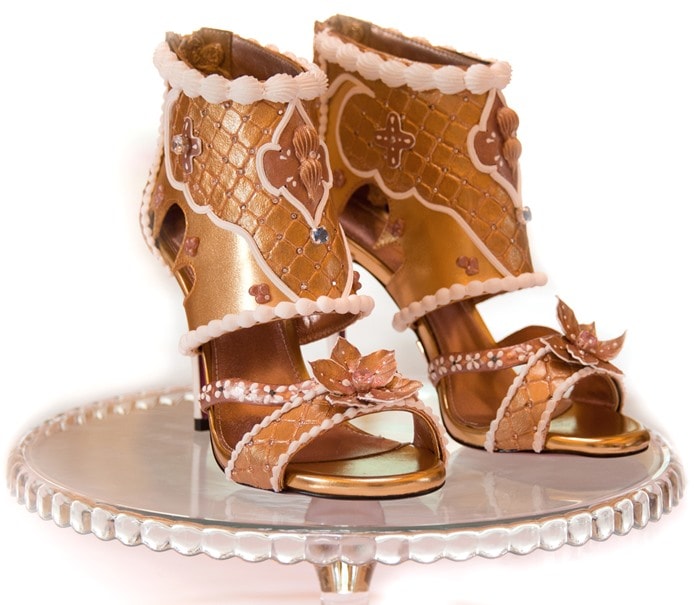 Photo via yournextshoes.com
The British designer Debbie Wingham unveiled these ultra-luxe stilettos in 2017. These shoes are adorned with more than 1000 diamonds set in platinum, each rare than the other. Rare by color, size, clarity of diamonds; sewn thanks to a 24-carat gold wire. The most exceptional ones are the two pink diamonds of 3 carats worth 4.4 million dollars each and the two blue diamonds of 1 carat worth 1.9 million dollars each. These shoes are meant to resemble a cake.
1. Jada Dubai "Passion Diamond Shoes" – $17,000,000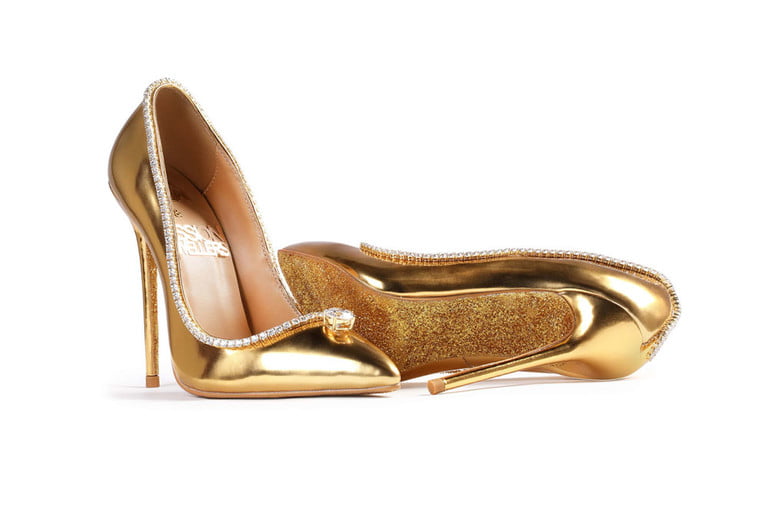 Photo via mikeshouts.com
Jada Dubai's record-setting shoes, which were designed in coordination with Dubai-based Passion Jewellers, took nearly nine months to create. These elegant stilettos are made from real gold and embellished with two round 15-carat D-flawless diamonds. Each shoe is trimmed with 118 smaller round diamonds and features one of the impressive crowning jewels prong-set near the pointed toe. The stunning stilettos are on display at the world's only seven-star hotel, the Burj Al Arab in Dubai.