Spring is a perfect time to experiment with hair! It's a completely dissimilar period of the year from the previous one. This season brings out a positive and happy mood everywhere around us and that's a good motivation for everyone to make some change in the hairstyle.
Ok, maybe you're not that brave enough to cut your hair or to change the hair color, but surely you would like to wear your hair in a different way. Why not?!
Simple Hair Tutorial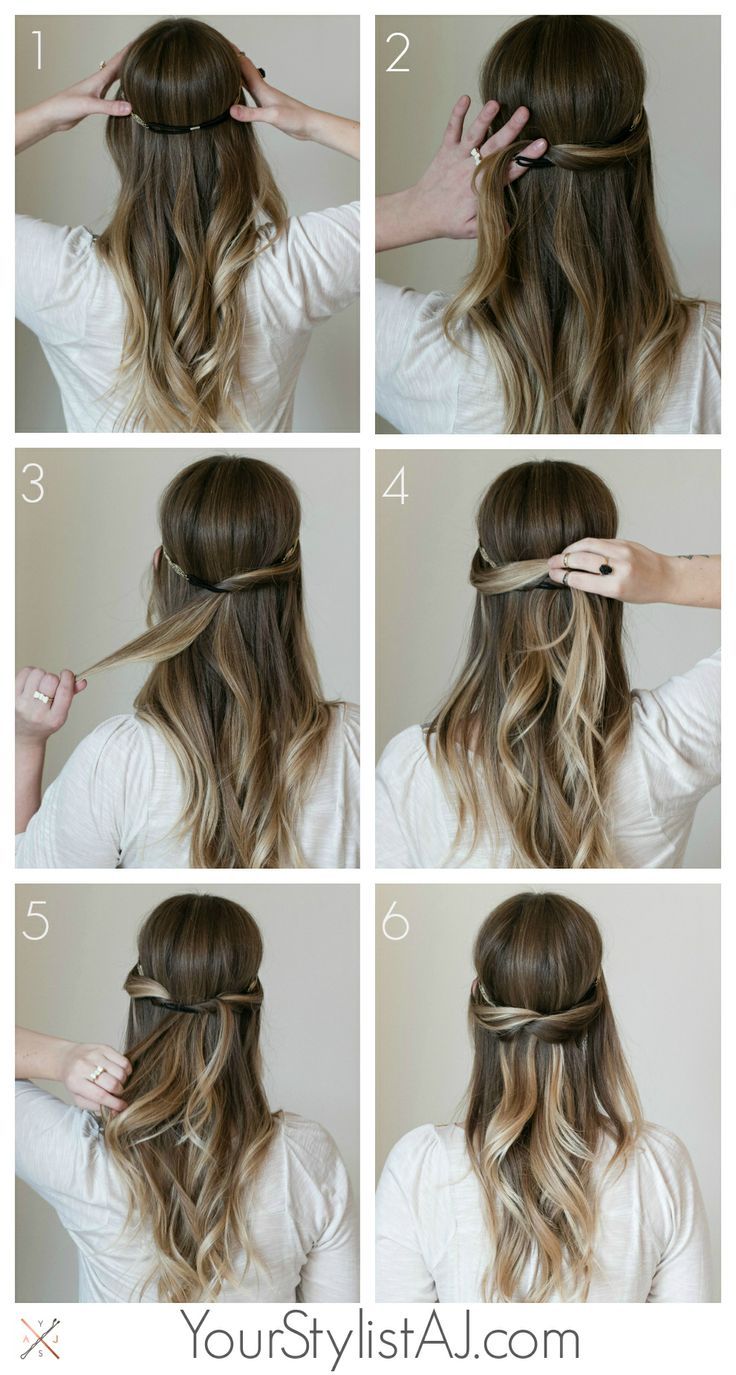 At the same beginning, we're offering you to try the simple hair tutorial from the picture above, which is a good option when you're wearing some cool and chill outfit. This hairstyle is perfect for the spring and summer season when you want to achieve the look like you haven't paid a lot of attention to your style, but actually, you do!
Fishtail Braid

via pinterest.com
We're continuing with a tutorial for a fishtail braid, but this one is updated and looks completely different from the average one. Braids are always trendy, so now is a real-time for you to try something out of the ordinary!
Soft Vintage Waves Hair Tutorial

via blog.lulus.com
Do you want to look romantic?! If your answer is positive, then soft vintage waves are the right hairstyle you should wear. Totally glamorous and always trendy, these waves are a safe option for any kind of occasion!
Romantic Twist Braid Hair Tutorial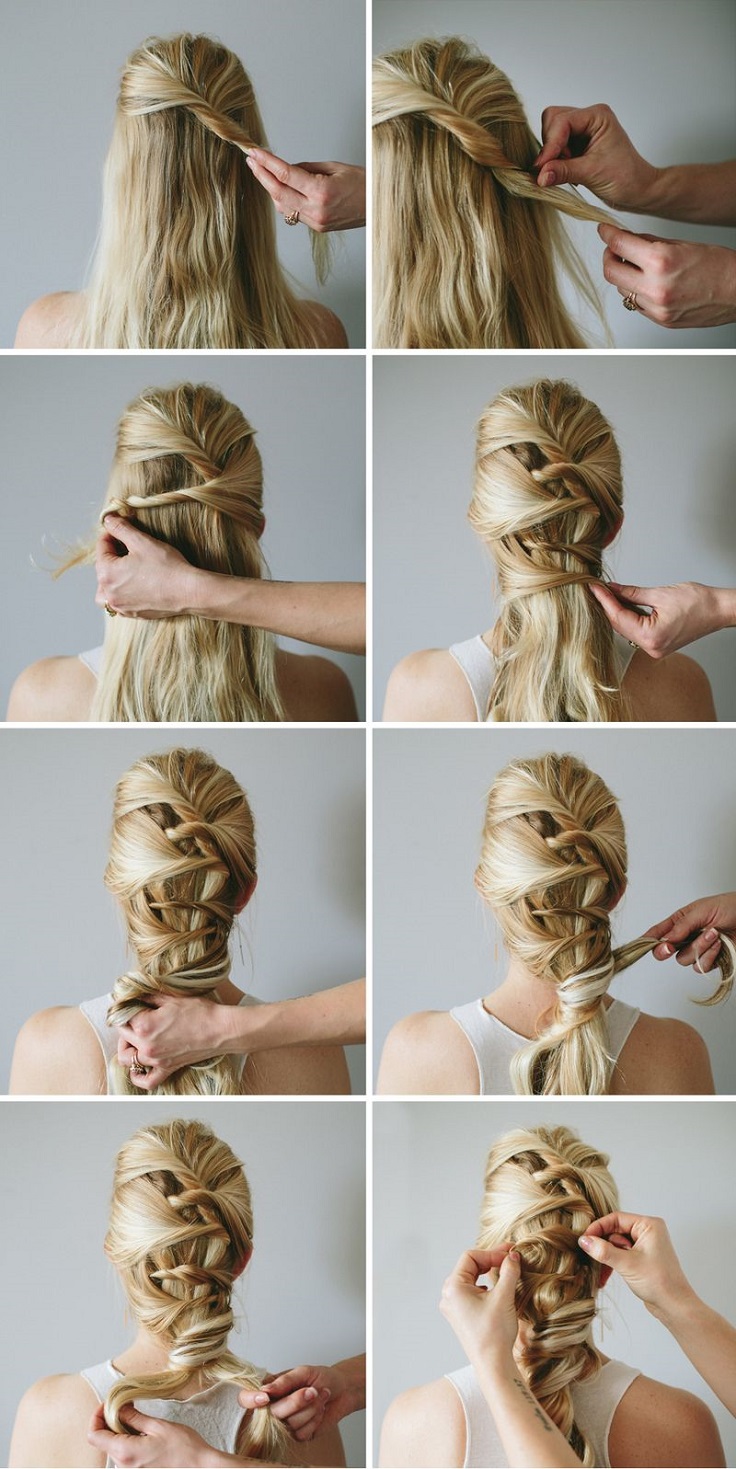 Old-fashioned brides were noticed on every fashion runway in the past year and we must admit, they look completely elegant! So, if elegance is your first choice, then this gorgeous twist braid is a hairdo you're gonna rock, we assure you!
Triple Braided Bun Tutorial

via blog.lulus.com
If you're bored by the same old simple bun and you're ready to experiment, then a triple-braided bun is something you must try to make. Very simple, but ultra-unique, we assure you that you'll be the only girl in the club with an updo like this one!
Cute Low Bun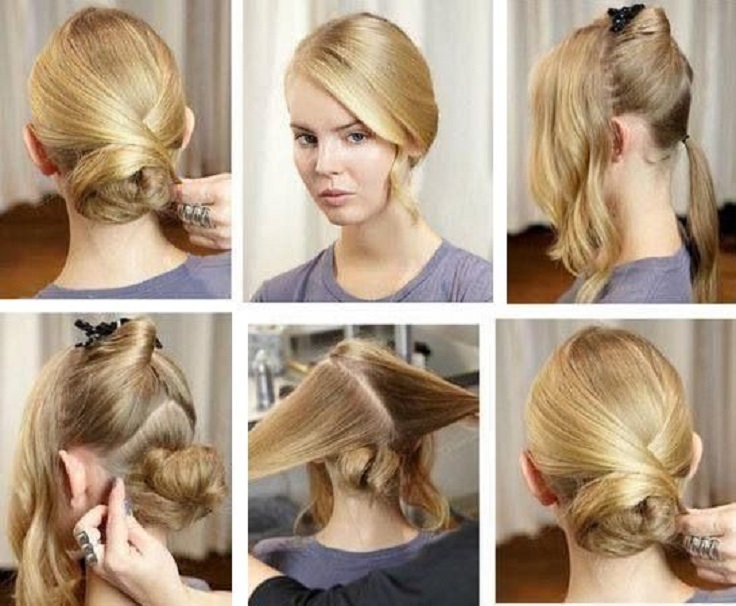 A cute low bun is a hairstyle that's completely practical to wear when you have a busy day at work, but also, it's something that's appropriate for some special occasion, like a wedding celebration. It's very easy to make and you can create it in just a couple of minutes!
Three-Tiered High Ponytail Tutorial

via blog.lulus.com
We've seen a lot of famous celebrities with a Pocahontas ponytail in the past few months and we really like it. If you're sharing the same opinion as us, then today is your lucky day. In the picture above is a whole tutorial with instructions on how to make a three-tiered high ponytail by yourself. Sometimes, a chic updo doesn't include a visit to an expensive hair salon!
Cotton Candy Bun Tutorial

via vanillaextract.me
This is the bun that never goes out of style! It has many different names, but in the tutorial above is called a Cotton Candy Bun. You can easily make it on your own and it doesn't require a lot of effort, which is good, because you can wear it on a bad hair day when you don't have enough time for a hair wash!
The New Weave Low Ponytail Tutorial

via blog.lulus.com
The low ponytail is the most popular hairdo at the moment! You can wear your hair like that for any type of event, from a daily walk in the park to the fabulous red carpet night…it's very, very elegant and simple at the same time!
Braid into Bun Tutorial

via blog.lulus.com
We're finishing the countdown with a bun that remind us of Jessica Alba. Do you remember when she promoted this hairstyle for the first time? Everyone was amazed! Because, the braid into bun hairdo is still popular, we've covered you with step-by-step instructions. All you need are few Bobby Pins and a sock!