Some people like being creative with clothes, hair, or makeup, while others with their nails. Having nice and creative nail art can be such an amazing feeling, so why not give a try to something more than just applying a one-coat base?
With fall casting its magic everywhere, it's a good idea to take some of that inspiration and pass it onto our nail art. You will be surprised at how many good nail art ideas can come out of this season! They all are very easy, so it's really up to you to just scroll down and find your favorite.
1. Glitter Gradient
via piggieluv.com
You need brown nail polish as your base, glitter polish for the nail tips, and red or orange nail polish for the leaves for this nail art. For the best results, make sure you have a detailed brush for the leaves and a small sponge for the glitter. It's a really nice way of achieving gradient effect!
2. Emerald
via designtrends.com
This nail art is a wonderful combination of two sparkly nail polishes – emerald green with gold. You will need stamps for the leaves, or if you're not able to get some, you can just paint whatever you want – it's the colors of fall that matter!
3. Gold and Dark Raspberry
You'll see on this list mostly leaves in red, orange, and yellow, but this tutorial is different and definitely equally beautiful. The base is a combination of two nail polishes; for the gold color, it is used Orly "Luxe," for the raspberry color Adoree "502" and use stamps for the leaves.
4. Colors of Fall
via chrissyai.com
One of the colors that really remind us of fall is dark green, so we fell in love with this tutorial because of the base coat. When you apply lighter colors on it, such as yellow and orange, they really pop up, and the result looks amazing like this one! The used nail polish in this tutorial is China Glaze "Holly-Day for the base.
5. Fine with Fall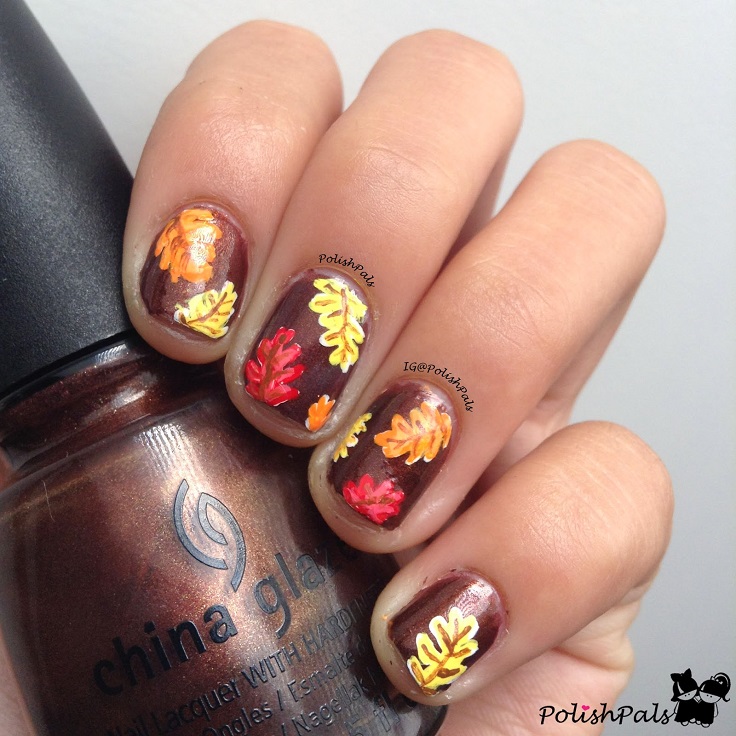 via polishpals.blogspot.com
For this one, you don't need any artistic skills or some advanced knowledge in nail painting. You just need few nail polishes for the base coat and the leaves. As you can see, in this tutorial are used brown, red, orange, and yellow, but you can always experiment more with colors.
6. Fall Art
If you want to wake your creative, artistic side, then doing this nail art can help you. It reminds us of abstract acts, and this one isn't hard to achieve. Just get a blue basecoat and few more nail polishes for the tree branches and leaves.
7. Leaves and Mountains
Painting mountains and leaves might not be the best idea for everyone, but they are definitely worth trying. It's so unique that we're pretty sure that you won't find someone else with the same nail art! You'll need few nail polishes – blue for the base, dark blue and white for the mountains, green, red, and brown for the leaves.
8. Fall Leaves Stamp
Unlike the rest on the list, this isn't the typical nail art in the fall colors, but it is still a wonderful idea of floral stamps in the fall of spirit. It has glitter, flowers and is really amazing. The base color in this tutorial is Sally Hansen Lava, while the topcoat is Konad plate M83.
9. Sparkly
via coewlesspolish.wordpress.com
This nail art idea is a combination of a white coat base and golden-red glittery nail polish. The white nail polish will certainly put the focus on the glittery part. You can experiment here; for example, instead of applying glitter nail polish at the nails' tips, apply it on the bottom.
10. Gold Glitter
It's all about glitter as much as possible it is! This one is a milk chocolate brown base with pink and gold shimmer, and you better put a clear topcoat for better shine. After that, apply a golden brown nail coat with lots of glitters. The used product in this tutorial is the nail polish Serum No. 5.