Decorating a house party, or even a bigger event such as a wedding, in the spirit of the 1920s, has never been such a huge trend. We must admit – it is the fault of the wonderful movie adaptation of the famous novel by F.S. Fitzgerald, The Great Gatsby.
Golden tinsel, champagne bottles, feathers, glitter everywhere – this is just a small amount of the typical 1920's decor you would expect to see in a real party from that time. It's all about being glamorous and glittery, with the presence of just a few colors, mostly black, white, and golden. There are easy ways to come up with such decorations, so scroll along to find our favorite!
1. Pearls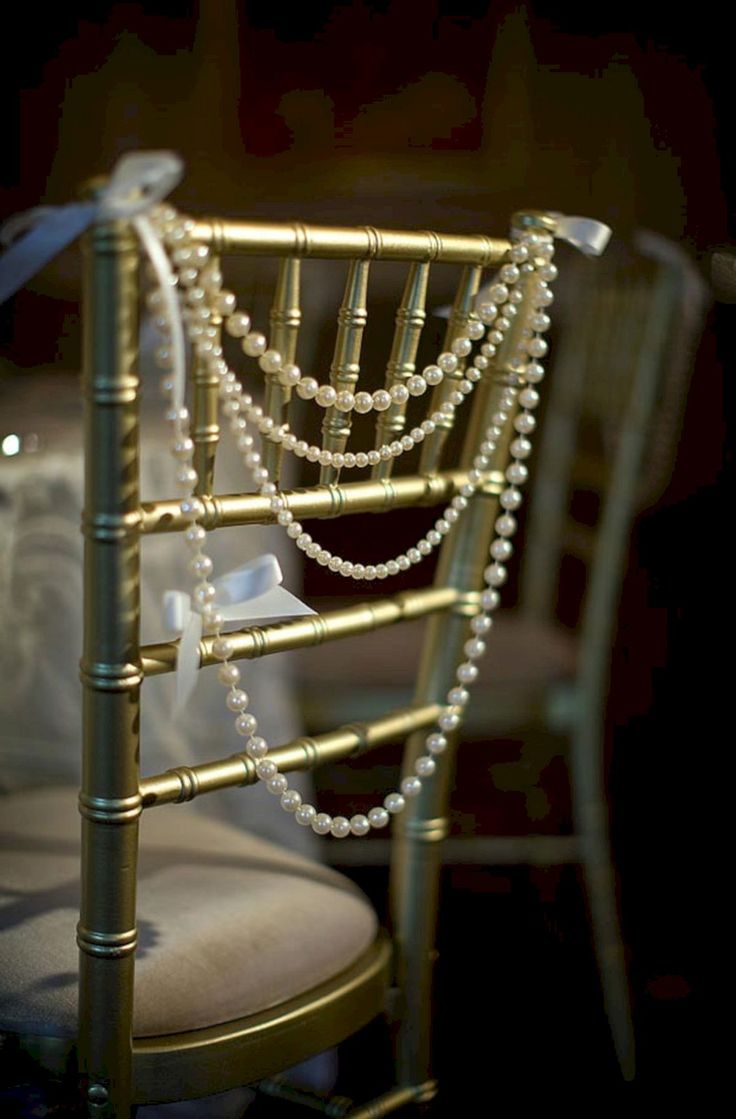 via pinklotusevents.wordpress.com
Pearls have other use besides being great jewelry. When it comes to 1920's – inspired parties, the pearls can serve as amazing decor! You can place them wherever you want – pearls would be a great addition to a table centerpiece, or you can use them as chair decor. You can get fake pearls for a low price in many stores, so it's safe to say that this is a budget-friendly project.
2. Balloons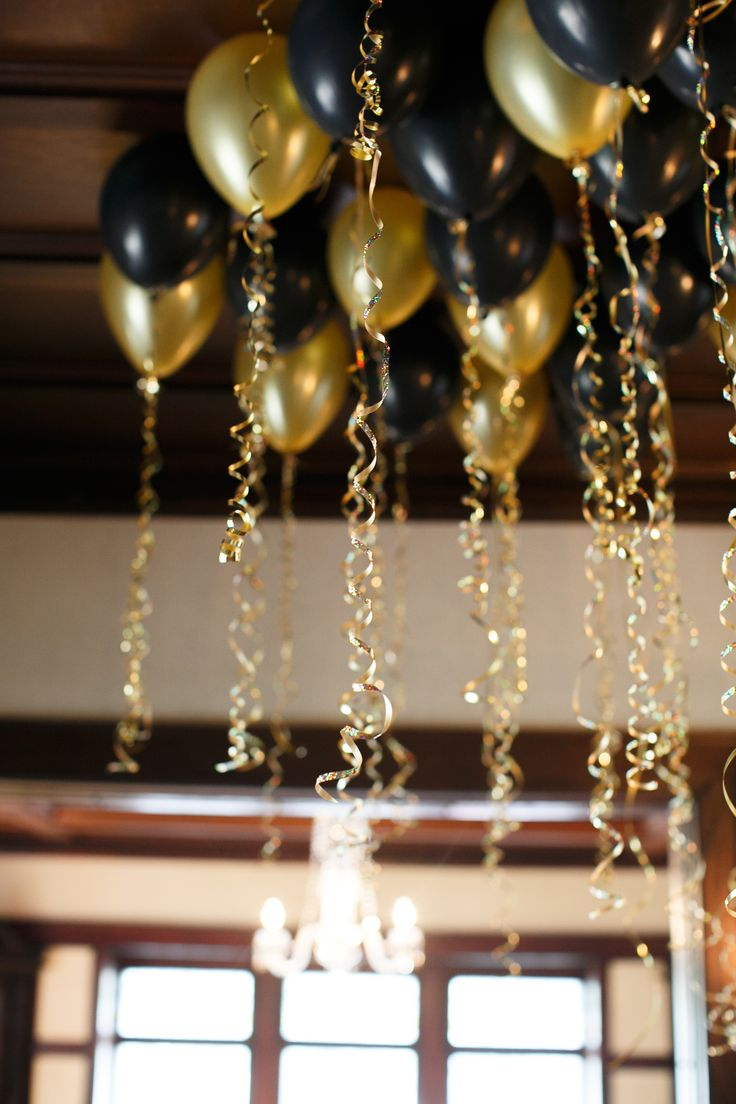 via etsystudio.com
Of course, what's a party without balloons? Even a Great Gatsby-inspired party needs balloons – the more, the merrier. However, when hosting such a party, don't go after colorful balloons. Just stick to few colors, such as black, white, and golden.
3. Tinsel Stirrers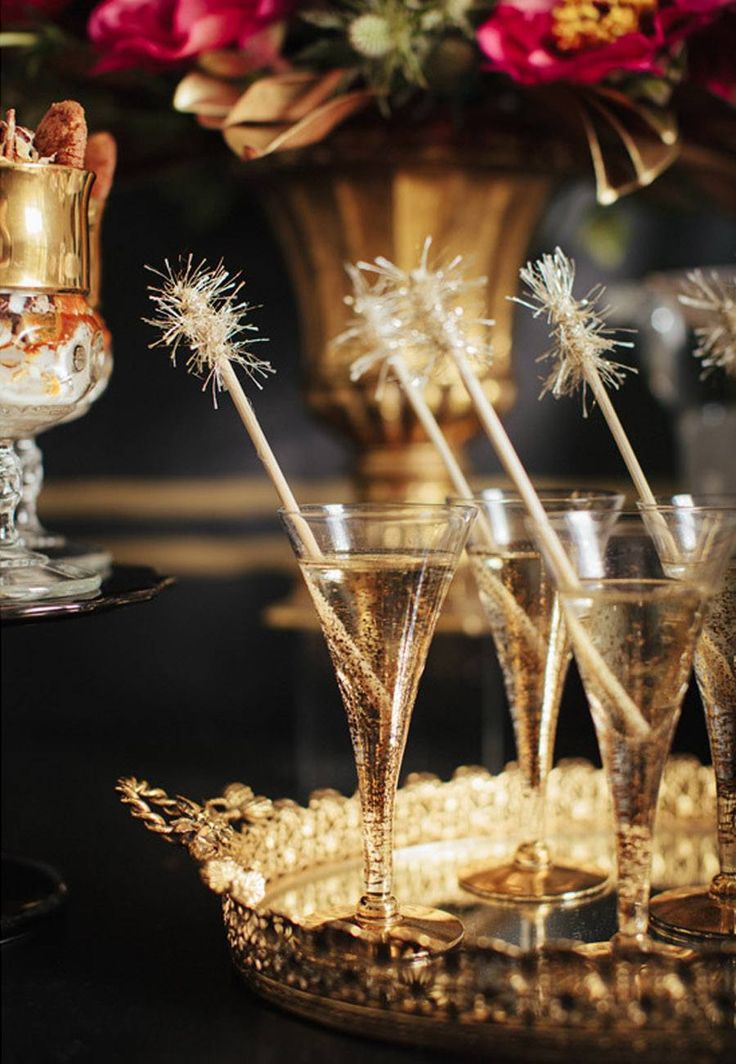 via happywedd.com
For this kind of party, even the tiniest of decorations play an important role here. A lot of attention is paid to serving the food and the drinks, which includes how you will decorate them. The best way is to serve the drinks along with a tinsel stirrer. It's a real party decor that would perfectly fit your party.
4. Gold Glitter Champagne Bottles
At a party like this one, serving champagne is considered a must. If you don't like serving alcohol at your party, you can still keep the decor, and in this case, that is the bottle. To add glitz and glamour, check out the DIY projects on making bottles glittery such as those on the picture. They will certainly add so much charm to the room and the party in general.
5. Party Quote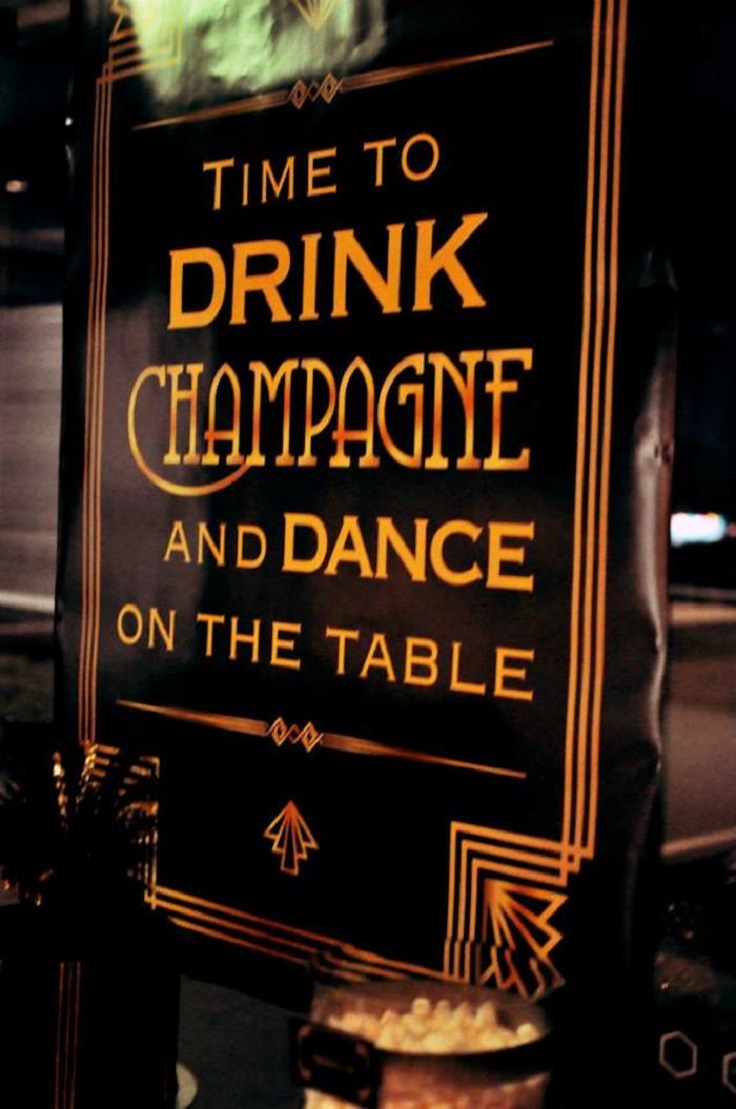 A little party never killed anybody, right? Choose your favorite party quote and display it. To respect the party's spirit, make sure you write the words in the proper font; it should be an art deco. Again, don't play with colors, but rather just two or a maximum of three that would fit the rest of the room's decoration. Let your creativity out, go to your local craft store and get what you need!
6. Fancy Glassware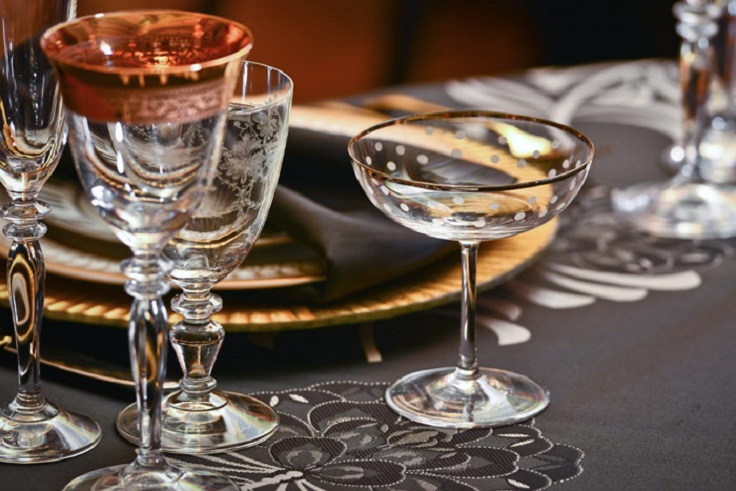 via judypolan.com
Even the glasses matter, so make sure to sip the drink in the best ones you have. If you have expensive glassware, you can use it or just get a cheaper one that also looks amazing. You can also mix different glassware models to make things more interesting – champagne and wine glasses, for example.
7. Party Props
via catchmyparty.com
Party props are simply a must. Instead of the usual mustache or retro glasses, this time, be more creative and do something totally in the spirit of a Great Gatsby party. It can be a quote or a hat with feathers or lace. You have plenty of choices that won't occupy much of your time, but most importantly – you'll have fun.
8. Feathers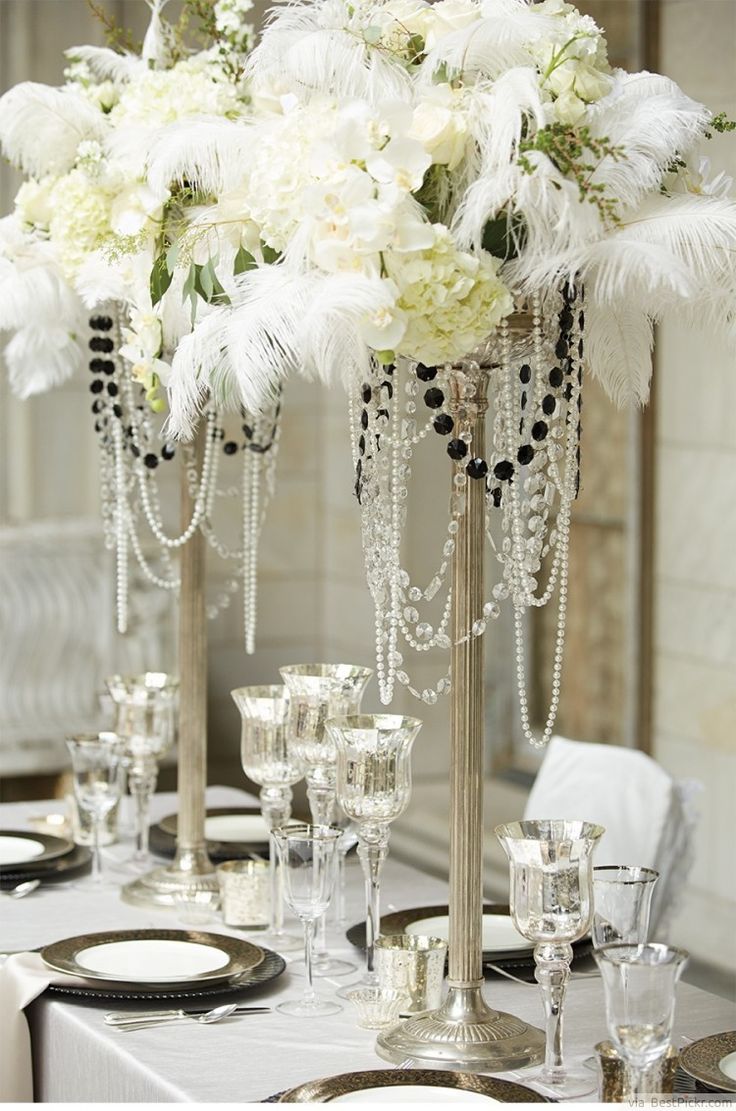 via cartalia.co.uk
Feathers – the more, the merrier, and the bigger, the better. There's something about 1920's parties that simply seems like people adore having feathers on their parties, and really why not? When arranged the right way, they look really nice and add glamour to the whole room's decor.
9. Tinsels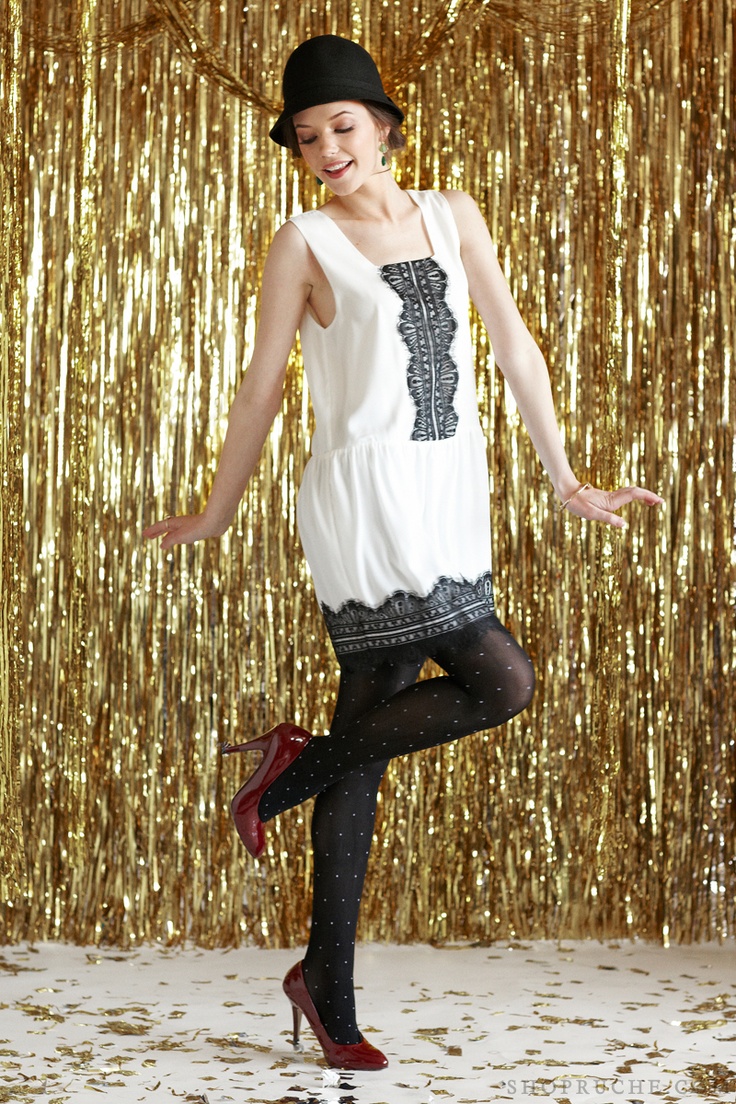 via fenzyme.com
We can say that tinsels were a pretty big thing back then. It's golden, it looks glamorous, so why not have a tinsel backdrop? You can use it simply for decor, or you can use it for photographing as well. It will definitely make a great background to your photos.
10. Candles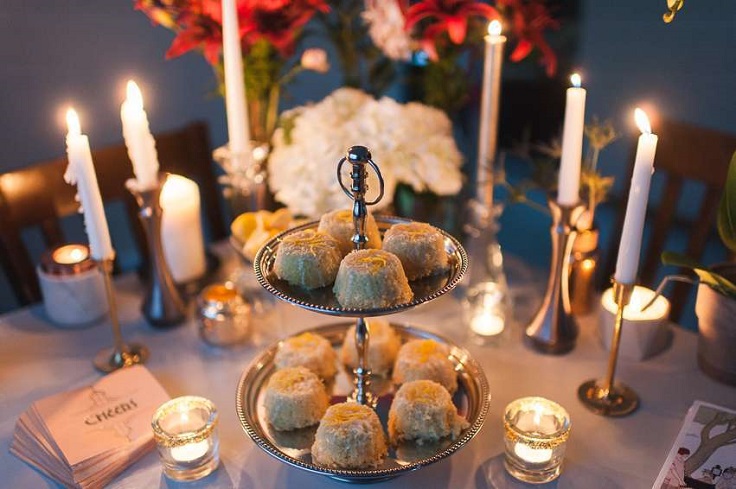 Yes, candles are romantic, and there is nothing wrong with bringing some lovey-dovey vibes to the tables. Candles are cheap and come in different shapes and sizes so that you will have plenty of choices! To make things even more interesting, place the candles in some nice candle holders and make sure they're lit the whole night through.