Ah, France… The land of wine, cheese, and macarons. It is definitely the country that needs to be visited more than once in our lifetime. The list can go on forever on what to see and visit since there are so many castles, mansions, museums, restaurants, gardens… If only we could see everything!
The thing is, every time someone mentions this wonderful country, we all think of Paris instantly. The truth is, France is so much more than just Paris. If you have the opportunity, visit some other city or region, and in case you are wondering what to see, check out this list below.
1. Château du Saussay à Ballancourt Sur Essonne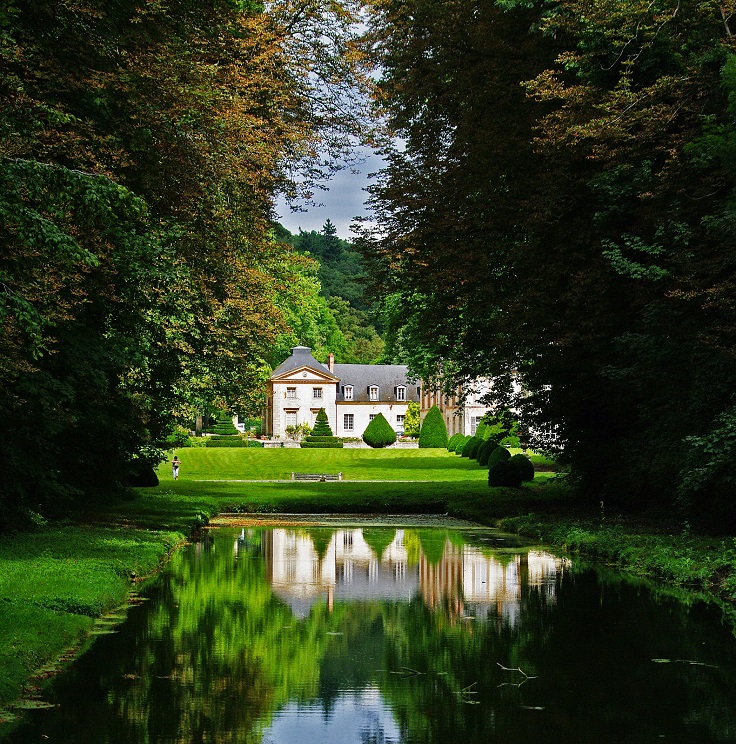 via jmsattohurepoix.blogspot.com
Considering that there are more than 40.000 châteaux in France, it was really hard to pick. Of course, the Versailles is to many the most beautiful ones, but others are worth the admiration. The Château du Saussay is one of them. This not-so-big mansion is located in the valley of the river Essonne, and what makes it special is that there are two 18th century castles here facing each other. On that spot, there is a beautiful garden surrounded by water. This chateau was first owned by Olivier Le Daim, the barber of few French kings.
2. Sea Cliffs, Etretat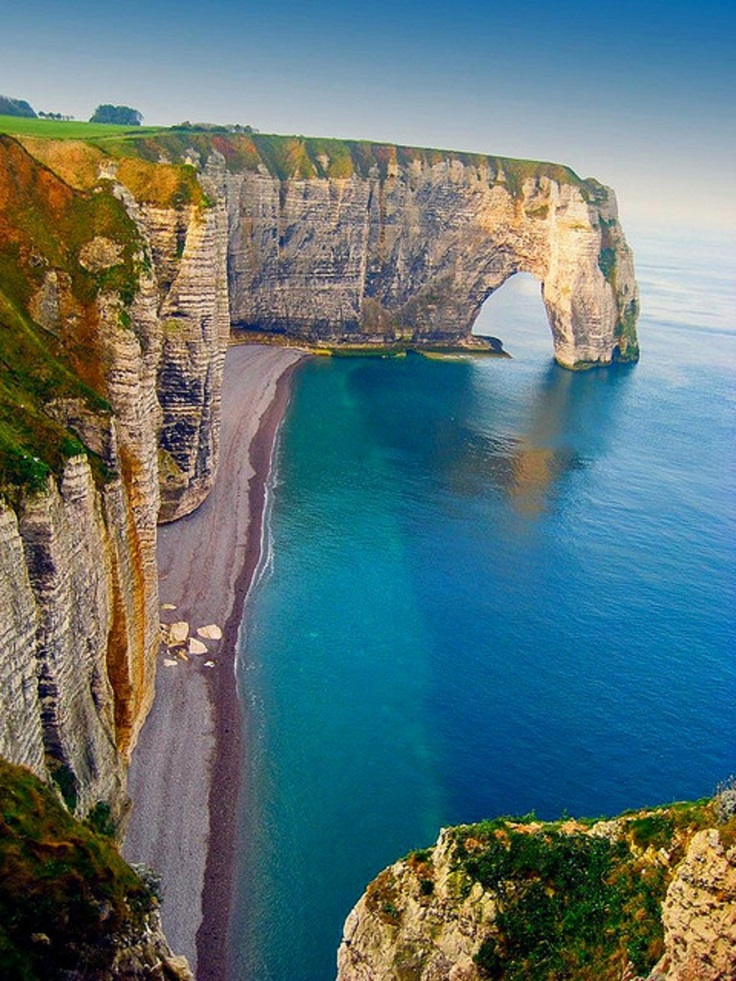 via planetden.com
Located in France's northwest, these cliffs are considered the "director's delight" because thanks to the amazing view, many movie scenes were taken here. What makes this place beautiful aren't just the cliffs, but the town as well. It isn't big or anything spectacular, but it has its own magic. Many artists found their inspiration here, including famous painters Claude Monet, Gustave Courbet, and Eugène Boudin. Because of the good location, hikers would definitely love this place, and another good view that the cliffs are offering is the church's view from the seashore.
3. Auxerre
via sisterofminehomeagain.wordpress.com
France has a very, very rich culture. Part of that is the medieval towns that aren't something uncommon for France. In fact, there are many medieval towns and if you feel like history and old architecture are your thing, then France is your country. One of the towns that we picked for you is Auxerre. It is located in Burgundy, and besides being famous for being medieval, this town is also known for the wine. So, yes, wine lovers, you have to check out this place! The town's streets are small, the houses are oh so medieval, and there are lots of flowers around. If you want a short escape from the big city life, Auxerre is here for you.
4. Rouen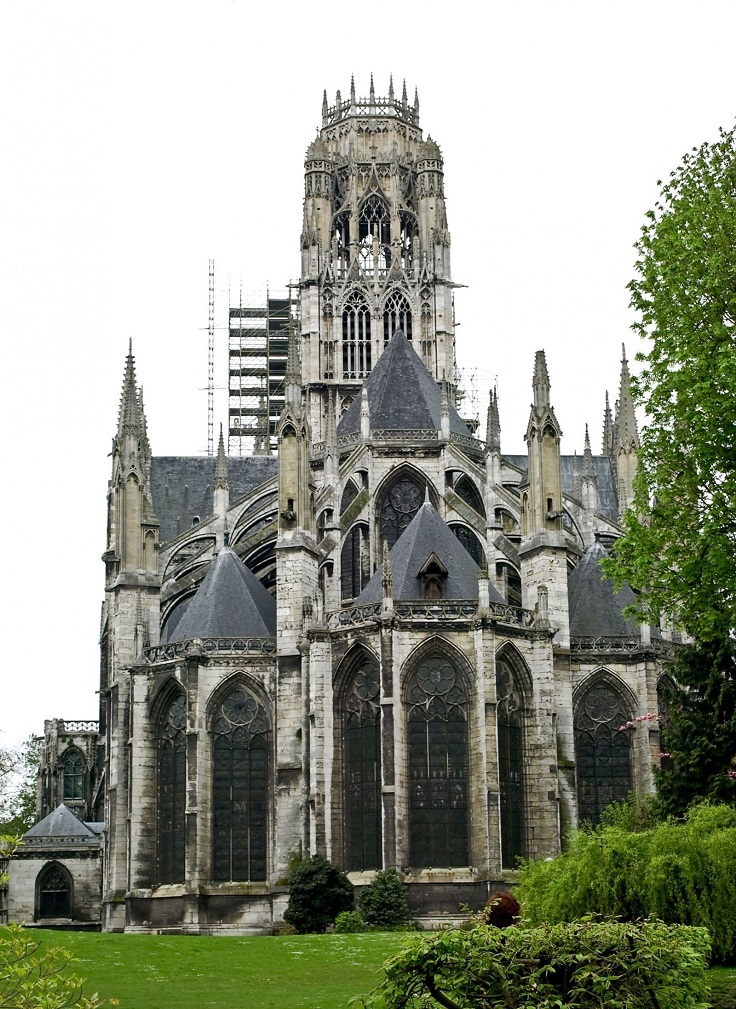 via getintravel.com
Not everyone is a fan of visiting churches and cathedrals, but since they all played a huge role centuries ago, much effort was put into making them look good. This cathedral is called the Rouen Cathedral and is located in northwestern France. It has its own long history, starting from the early middle ages when there was already a church in the same place until later on when the cathedral was burnt, struck by lightning twice, and damaged because of wars going on over the years. The Rouen Cathedral was really a witness of bad times, but it managed to stay still and look Gothic and glorious with the proper restoration. Make sure the city of Rouen is on your list!
5. Verdon Gorge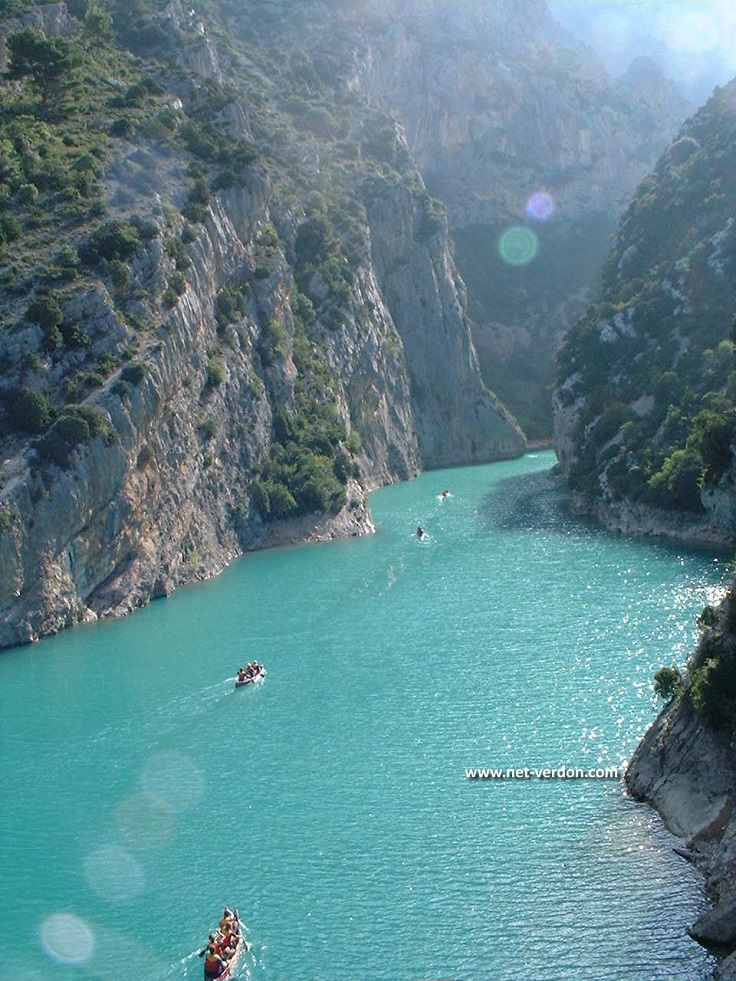 via net-verdon.com
Thanks to the river's turquoise color, the canyon of Verdon is considered one of the most beautiful ones and the highest canyon in Europe. The canyon is situated in southeastern France, and many tourists come to this place, especially in the summer. So, it is really a piece of heaven for hikers, rock climbers, and canoeing. But, if sports are not your way of enjoying nature, another way to see the canyon is by car. Take the road Corniche Sublime, which winds along the cliffs.
6. Colmar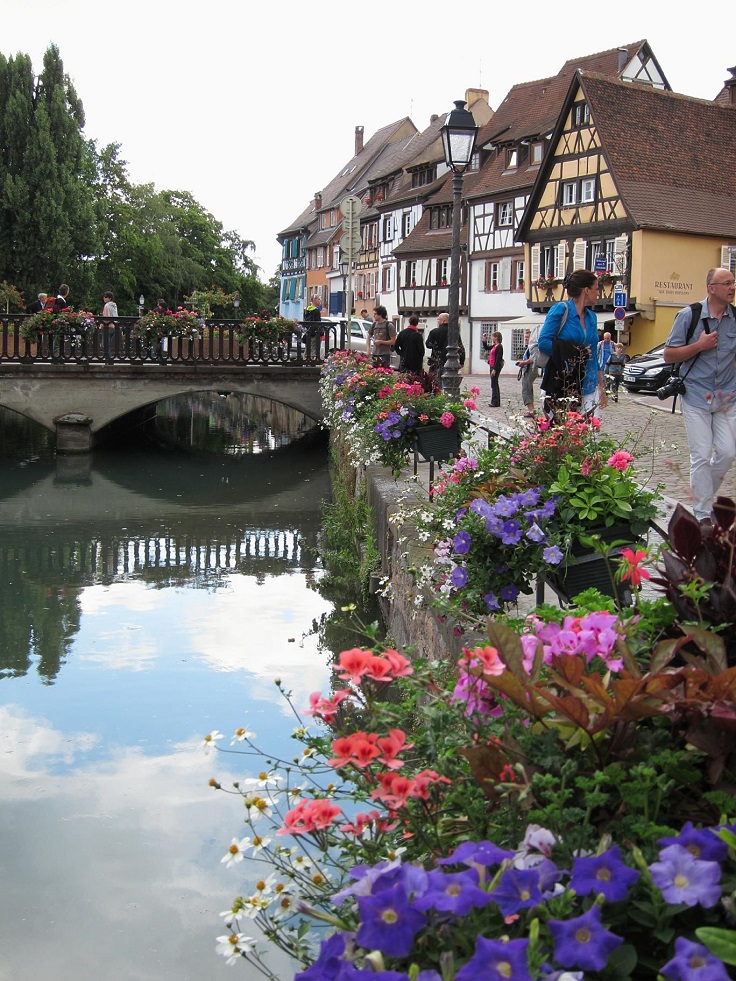 via springinparis.wordpress.com
As we previously mentioned, France has cute medieval towns waiting for you to wander their tiny streets, and Colmar is one of them. Situated in north-eastern France, Colmar is probably the most known medieval town in France, and we don't need to wonder why. This very old town is full of wonderful architecture, including houses, churches, towers, monuments. Thanks to the dry climate, the region here are known for the wine, and Colmar is the Alsatian wine region's capital.
7. Giverny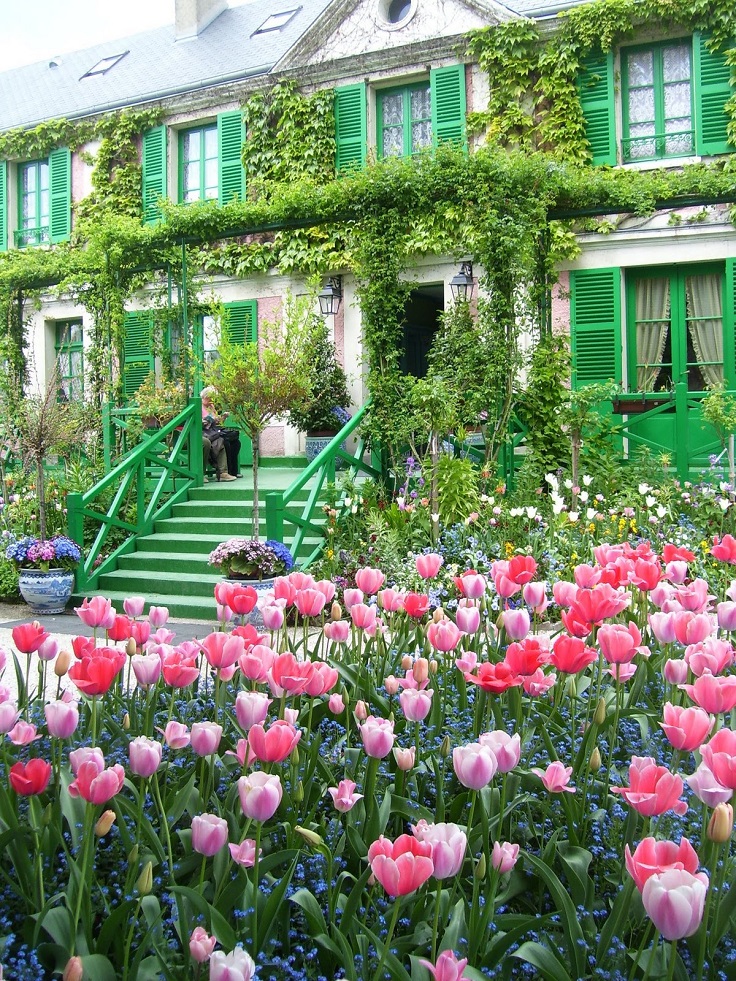 via travel-travelworld.blogspot.com
Famous impressionist painter Claude Monet lived in this village, where he painted some of his notable paintings, such as The Rose Walk and The Garden of Giverny. So, this painter wasn't mistaken for choosing this place as his inspiration! Giverny is located 80 km away from Paris, so if you're staying there, making a short trip to this wonderful village will be worth it. There are so many flowers there! Besides the beautiful scenery, tourists come to this place to see Monet and the art museum's house.
8. Abbaye de Sénanque
via davidmaphoto.com
Abbaye de Sénanque or the Sénanque Abbey is situated near Gordes' village, in the French Provence, and is famous for the marvelous lavender fields. The abbey is founded in the 12th century by Cistercian monks. Nowadays, there are still Cistercian monks living here who also tend honey bees to make a living besides growing lavender. Most tourists who come here do that for the lavender fields, but the abbey is also open for a spiritual retreat. In the Provence, there are also two other abbeys, which together with Sénanque are known as the "Three sisters of the Provence."
9. Champagne Region
via garysfrance.com
It's impossible to talk about France and not mention the champagne as well. The Champagne region is located in the northeast of France and is famous for sparkling white wine. People here work on producing champagne since the 16th century, and the Benedictine monks from this region were the first ever to produce it. Many towns in this region are worth seeing. They don't offer the big city life, but if you want something more relaxing (with a glass of champagne as well!), you should visit the region.
10. Moustiers Sainte – Marie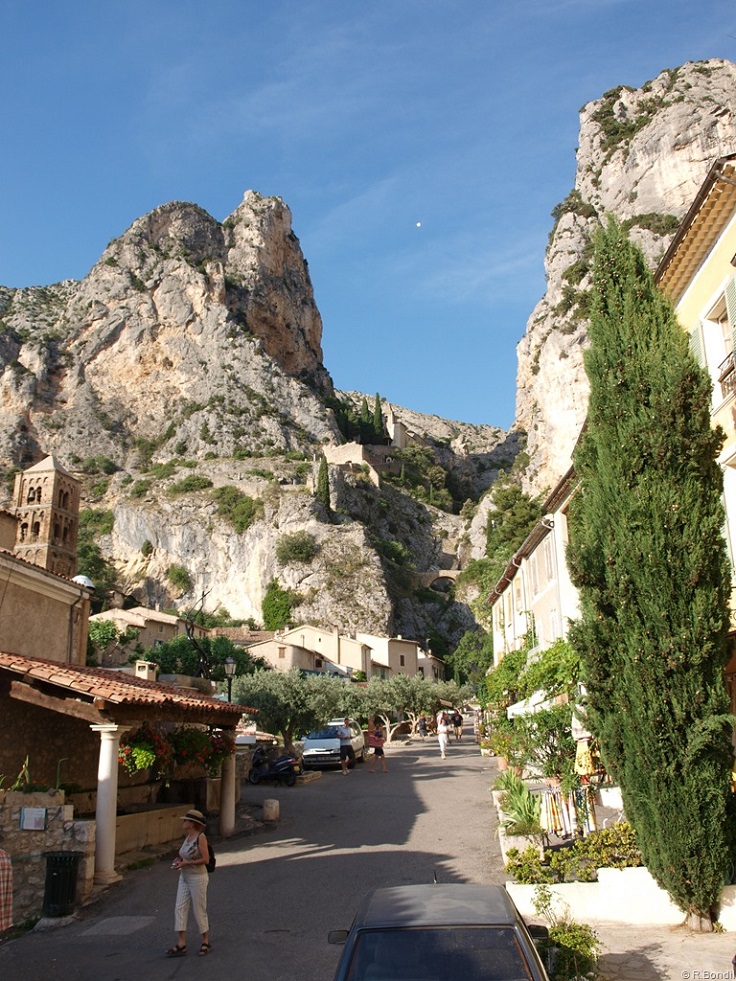 via gite-moustiers-verdon.com
This village is considered one of the most beautiful in France for few reasons. First, the location is unique. The village is situated in the Provence-Alpes-Côte d'Azur region, and it's really close to the canyon of Verdon. It is built between limestone cliffs also. What makes the village unique is the star, which can be even seen in the photo, and there are many legends about it hung between the two cliffs. If you visit this place, you will see that the twilight is very special because when the sun strikes the south-facing cliff, there is a pink light glowing across the village.