The reason why sweet potatoes are so popular right now is not only because of their taste but also because of all the health benefits they offer.
The sweet potatoes have a lower glycemic index than the potato; they contain fewer calories and full vitamins. There are so many ways that you can use them for cooking, from baked or boiled to juiced or even eaten raw. We are presenting you ten amazing recipes that will show you how you can prepare the sweet potatoes and mix them with other ingredients – just scroll below.
1. Spicy Chicken and Sweet Potato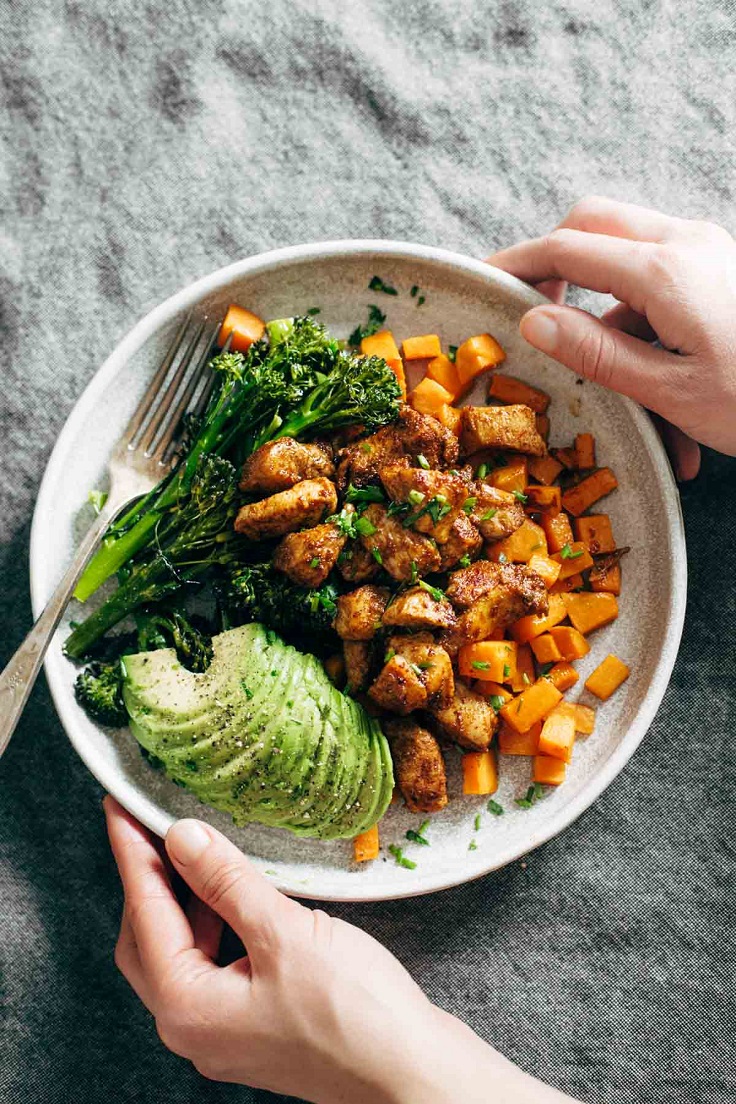 via pinchofyum.com
For this meal, you just need few ingredients – 2 lbs. boneless skinless chicken breasts, 3 tablespoons spicy seasoning mix, a few tablespoons of olive oil, 3 sweet potatoes, 5-6 cups broccoli florets and coarse sea salt, and freshly cracked pepper. To make this dish even more delicious, serve it with avocado or hummus, and if you're not a fan of broccoli, you can just switch to asparagus, Brussels, carrots, or any other vegetable.
2. Mediterranean Baked Sweet Potatoes
Ready in 30 minutes, for this dish, you just need four ingredients – 4 medium sweet potatoes, 1 15-ounce (425 g) can chickpeas, 1/2 tbsp olive oil, and1/2 tsp each cumin, coriander, cinnamon, smoked (or regular) paprika. You can also add a pinch of salt or lemon juice for a better taste. However, what makes this dish so special is the garlic herb sauce and the additional toppings such as cherry tomatoes and parsley – don't hesitate to prepare it!
3. Spiralized Sweet Potato Enchilada Skillet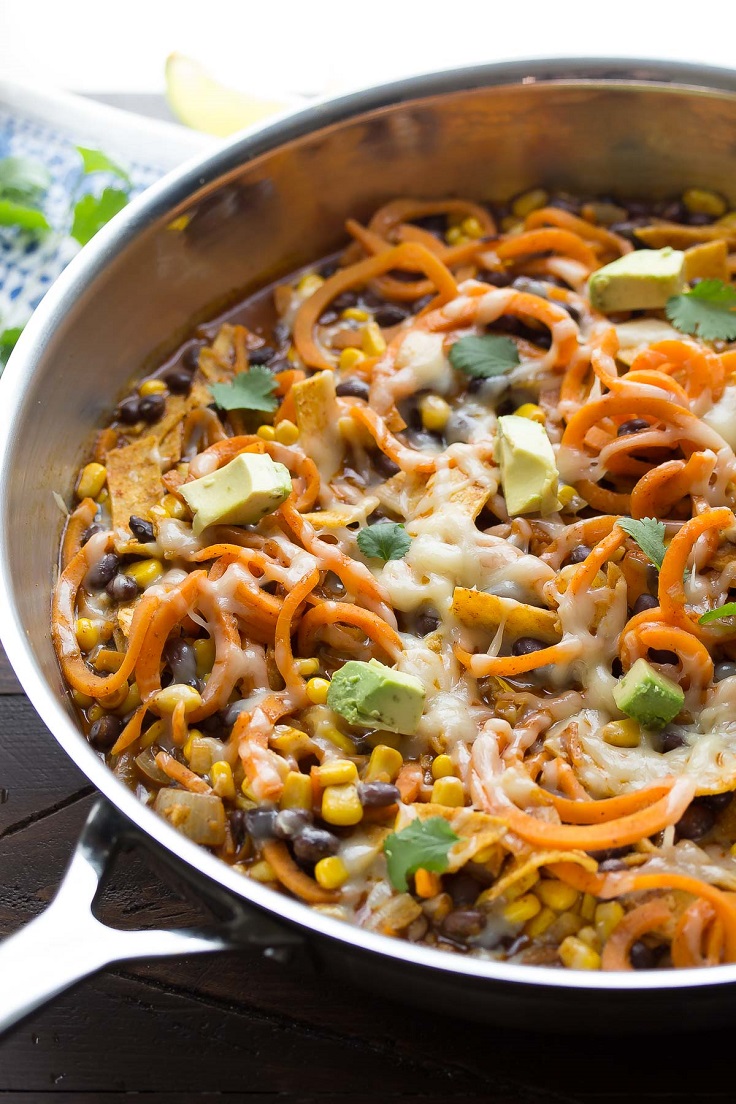 Here's another recipe that you can prepare in 30 minutes. It's an interesting mixture of sweet potatoes, noodles, cheese, and all things tasty! Here is the exact ingredients that you need – 1 tablespoon olive oil, 1 small onion, 300g/11 oz sweet potato noodles, 2 cloves garlic, 1 can black beans, 1 can corn kernels (340mL/ 12oz), 4 6-inch corn tortillas, 2 cups enchilada sauce and 2 cups of mozzarella cheese. You can serve this with avocado, cilantro, or Greek yogurt.
4. Cilantro Sweet Potato Tostadas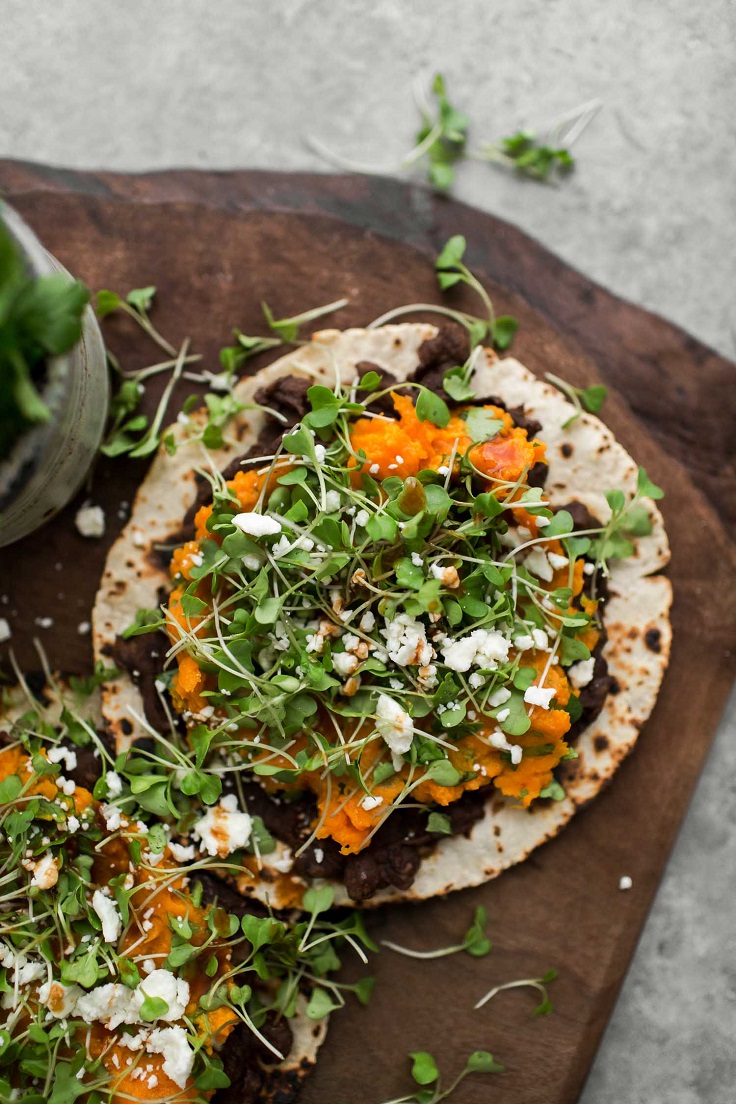 It's a tostada dream come true! Get all the needed ingredients and start cooking this amazing dish. You need 1 cup mashed sweet potato, 1/4 cup fresh cilantro, 2 teaspoons lime juice, and a pinch of salt for the sweet potatoes part. For the black beans, you need 2 teaspoons olive oil, 1 clove garlic minced, 1 cup black beans with liquid, 1/2 teaspoon ground cumin, 1/2 teaspoon ground coriander, and 1/4 teaspoon chili powder. You can use hot sauce, Cotija cheese, and microgreens for topping. 
5. Spicy Sweet Potato Hash and Eggs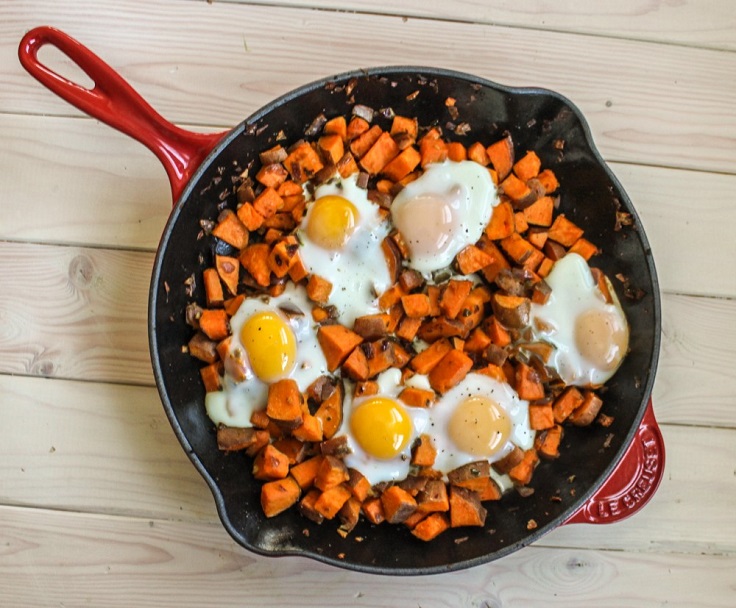 One-pan meals are super practical and can be delicious as well! This recipe takes 50 minutes to be ready, but it's the perfect recipe not just for breakfast but for lunch and dinner as well. You need 2 large sweet potatoes, 2 serrano peppers, 1 small red onion, 3 cloves garlic, 6 eggs, olive oil, and salt and pepper to taste.
6. Stuffed + Sauced Sweet Potatoes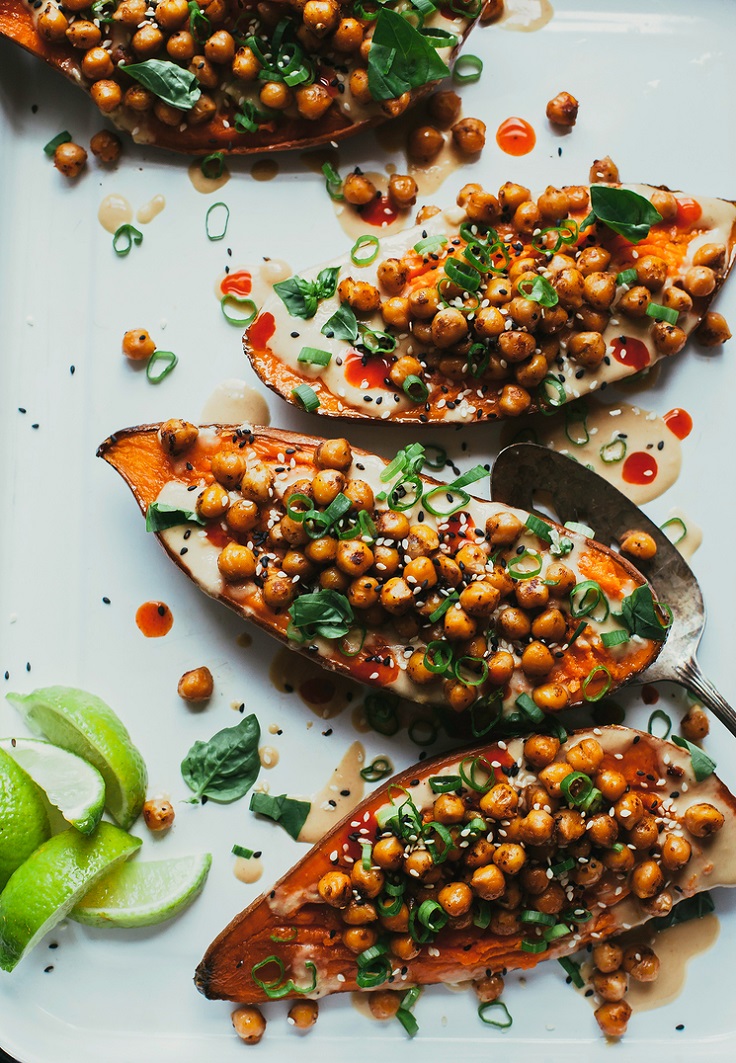 via thefirstmess.com
Just like regular potatoes, even the sweet ones can be stuffed and taste great! There are countless ways you can stuff potatoes. It's all up to you and your taste – in this recipe, the potatoes are stuffed with spicy chickpeas topped with ginger Tahini sauce, onions, sesame seeds, chopped cilantro, and extra chili garlic sauce.
7. Sweet Potato Feta Quinoa Bowls
via saltandwind.com
Perfect for lunch or dinner, this dish is ready in 45 minutes. It's both gluten-free and vegetarian, and to prepare it, you need these ingredients – 1 medium sweet potato, extra-virgin olive oil for drizzling, kosher salt and freshly ground black pepper, 2 cups baby spinach or other salad greens, 1 cup cooked quinoa, 1/2 cup cooked chickpeas, 1/3 cup crumbled feta cheese, 1/4 cup thinly sliced red cabbage, 1/4 cup whole raw almonds, 2 thinly sliced green onions, juice of 1/2 lemon and more to taste.
8. Grilled Sweet Potato Salad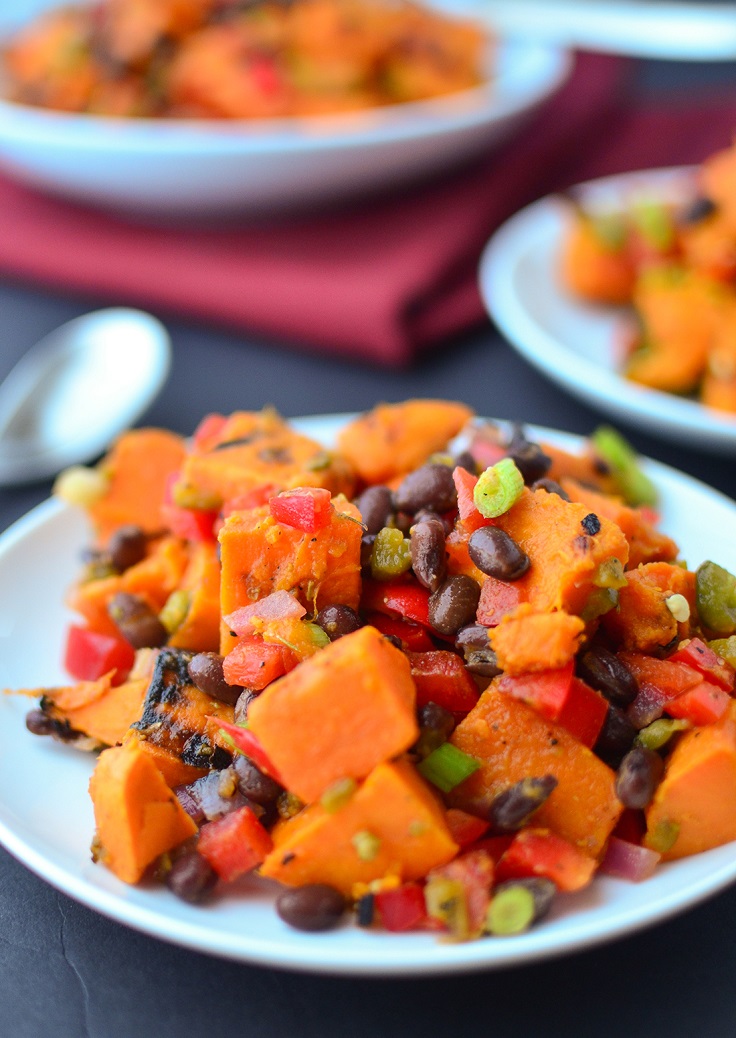 This is the kind of salad you would like to have as a side – dish, or even as the lunch or dinner itself! It is healthy and contains ingredients that will satisfy your food cravings and make you feel full longer. You just need few ingredients to prepare it – 2 lbs. sweet potatoes, 1 can of black beans, rinsed and drained, 1 red pepper, ¼ cup cilantro, ¼ cup finely sliced scallions, and 1½ tsp—olive oil. For better taste, you can prepare roasted jalapeno dressing as well.
9. Sweet Potato Quinoa Nachos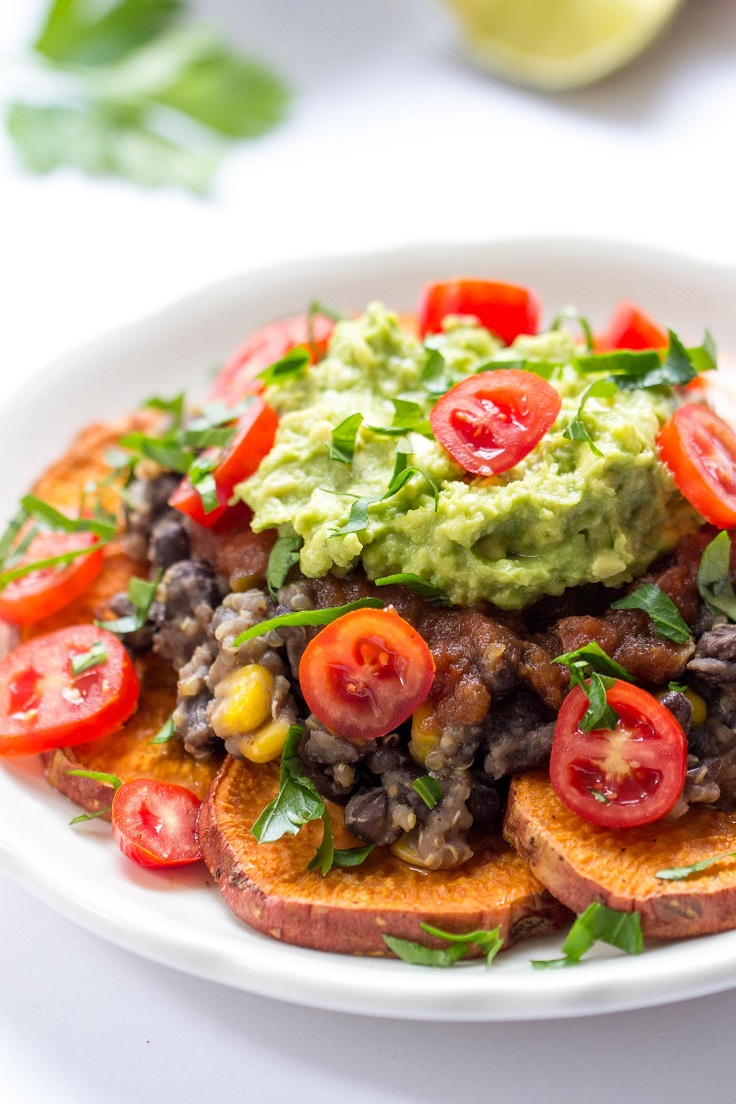 via simplyquinoa.com
If you're craving right now some Mexican food, then this recipe is the right for you. It's vegan, but even those who aren't can eat this and ask for more! To prepare these sweet potato nachos, you need 2 medium sweet potatoes, 1 tablespoon olive oil, 1 (15 oz) can organic black beans, drained and rinsed, 1/4 – 1/3 cup water, 1/2 teaspoon each of cumin, coriander, chili powder, and salt, 1/4 cup cooked quinoa, 1/4 cup organic frozen corn kernels, 1/4 – 1/2 cup salsa, 1 avocado, 1 lime, 1/4 – 1/2 cup chopped cherry tomatoes and cilantro to garnish.
10. Black Bean-Smothered Sweet Potatoes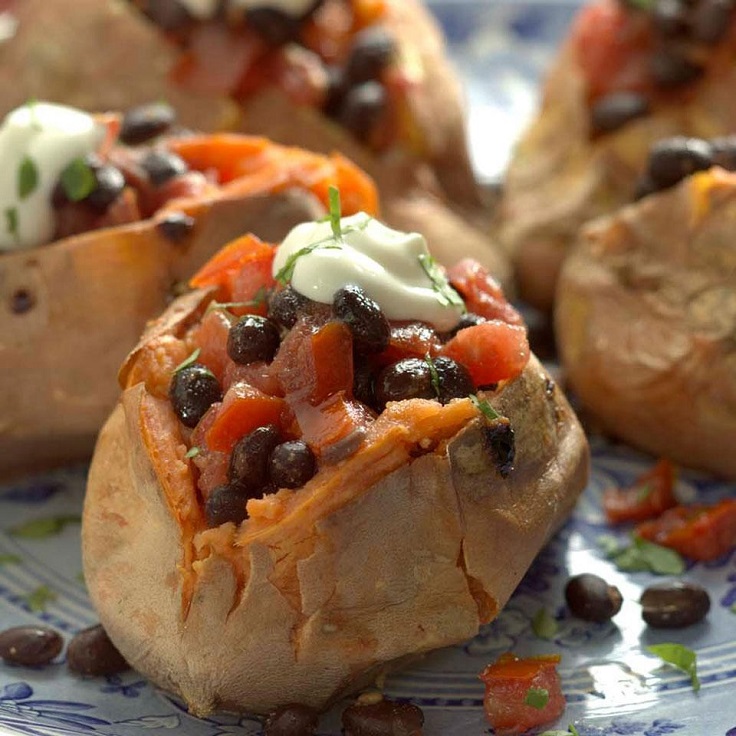 via eatingwell.com
As we previously mentioned, there are so many ways to stuff potatoes, and we're back at it again. This time, the potatoes are ready in just 20 minutes! Here are the needed ingredients – ½ teaspoon ground coriander, ¼ teaspoon salt, 2 tablespoons reduced-fat sour cream, 2 tablespoons chopped fresh cilantro, 1 15-ounce can black beans, 1 medium tomato, 2 teaspoons extra-virgin olive oil, and ½ teaspoon ground cumin.