Bought doggy treats can be quite expensive; why not make a delicious and mouthwatering treat at your home with substances you are familiar with. Do you want to show your dog how much you love him/her?
Spoil your puppy with these simple treats that will melt your dog's, warm heart. A dog is a man's best friend, and that's why it deserves attention and pampering from time to time. Make your dog tail wag with these awesome and delicious treats made of ingredients like peanut butter, bacon, chicken meat, and much more.
Don't worry, they sure are healthy, but remember- these treats don't replace a nutrient meal.
1.Frozen Pupsicles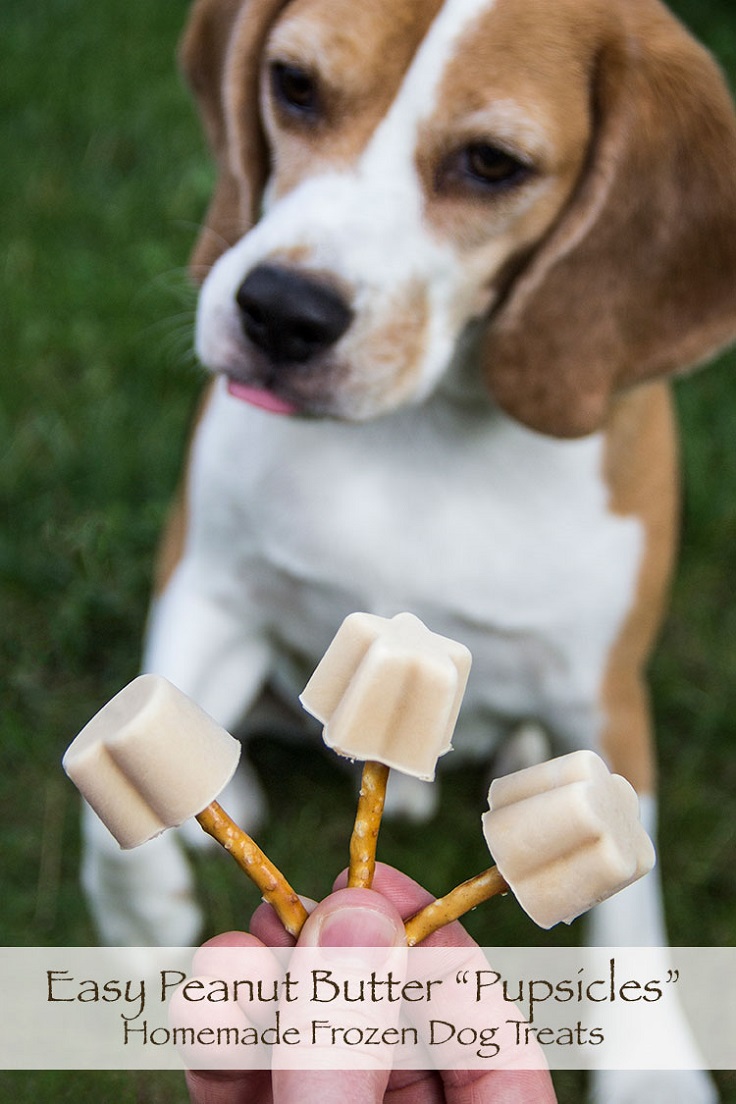 Show your dog your kindness with these sweet popsicles. You will need ¼ cup peanut butter (unsalted), ½ cup plain yogurt, 1 ripe banana, 1 teaspoon ground flaxseed, and a splash of unsweetened almond milk. In a blender, combine ingredients, pour into ice cubes, and freeze.
2. Chicken Wild Rice Treats
via lolathepitty.com
These cute muffins will energize your dog because they are filled with healthy nutrients, the wild rice has lots of Magnesium, and the chicken is an excellent protein source. Ingredients: 1 cup wild rice(mashed), 1 cup chicken, 3 Tablespoons rice flour, 1 Tablespoon fresh parsley, 1 beaten egg.  Preheat oven to 350 deg. F. In a bowl, combine all ingredients and mix until they are combined. Spoon from the mixture and place in a cavity. Bake for 25 minutes.
3. Mint Buckwheat Dog Biscuits
via lolathepitty.com
These biscuits are just what your dog needs. Ingredients: 1½ cups buckwheat flour, 4 Tablespoons fresh parsley, 2 Tablespoons fresh mint, 1 Tablespoon pure honey, 2 Tablespoons olive oi,l, and 1 egg. In a bowl, mix the buckwheat flour, parsley, and mint leaves. In another bowl mix, the honey and the olive oil, and after is well combined, pour into the flour mixture. Roll the dough, and using a dough cutter, cut into shapes. Bake for 15 minutes.
4. Peanut Butter Banana Dog Biscuits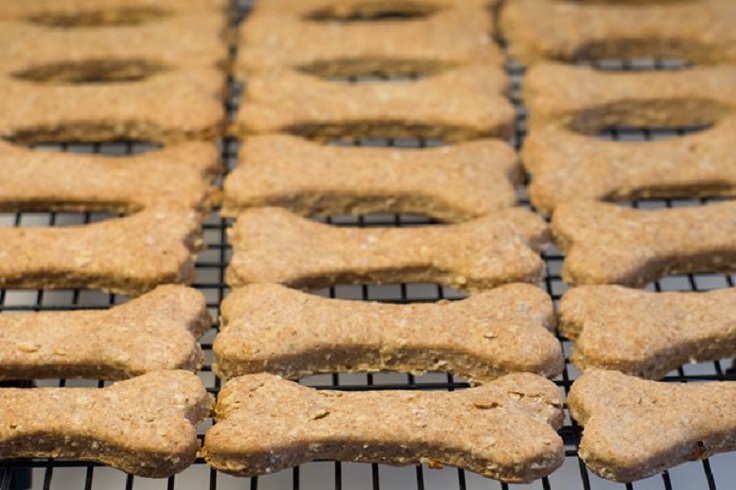 via kitchme.com
Did your dog learn a new trick? Give him a biscuit for the effort! Ingredients: 1 egg, 1⁄3 cup peanut butter, 1⁄2 cup banana, 1 tbsp honey, 1 cup whole wheat flour, 1⁄2 cup wheat germ, 1 egg white. Combine all ingredients and blend until smooth, roll the dough, and using a cookie dough cut into the desired shape. Bake for 30 minutes, until golden brown.
5. Green Power Smoothies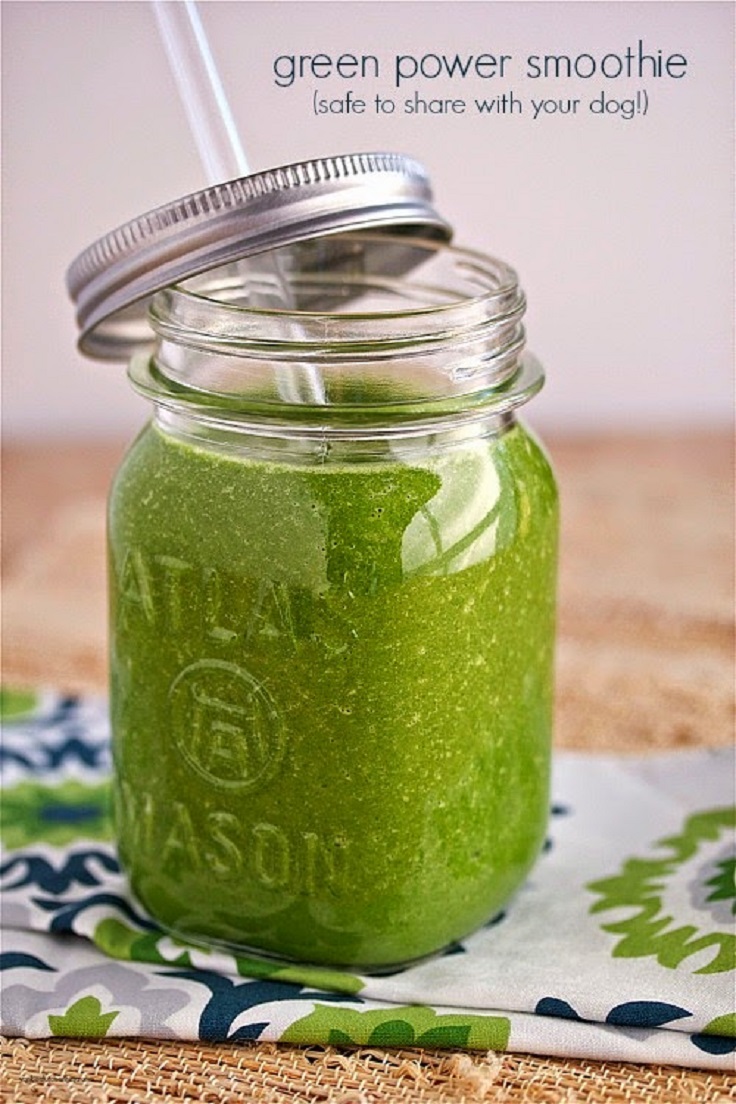 This smoothie is a perfect nutritional bomb for your dog. You will need: 1 cup torn kale, 1 cup bagged frozen spinach, 1 frozen banana, 1 tablespoon peanut butter, 1 1/4 cups water, 1-2 tablespoons honey. Put all ingredients in a blender and blend until smooth. If your dog doesn't want the smoothie creamy, you can freeze it in ice cubes.
6. Puppy Power Smoothie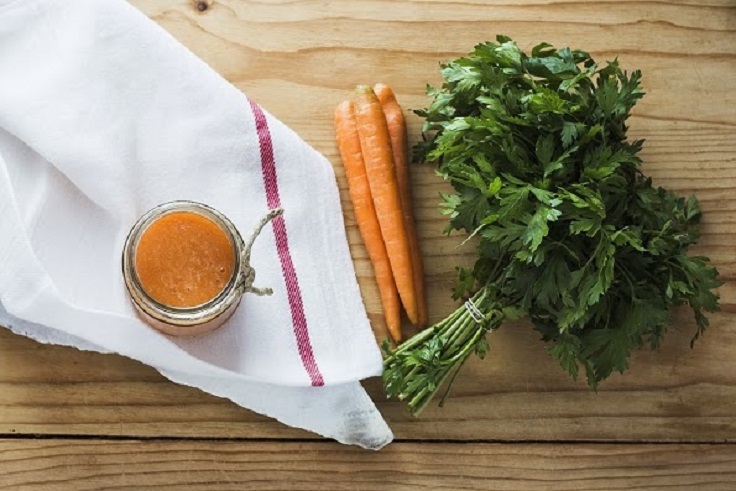 If your dog battles with bad breath, parsley is the perfect ingredient to include in its meals. This smoothie is rich in antioxidants, and it's perfect for a puppy. You will need ⅔ cup almond milk, 1 cup chopped carrots, ½ cup greek yogurt, and ¼ cup fresh parsley. Blend all ingredients and serve.
7. Wheat and Gluten-Free Carob Crunchers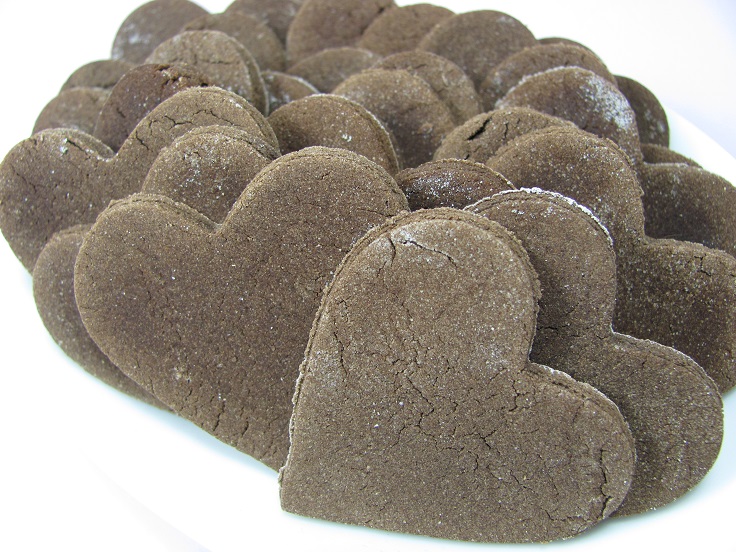 If your dog is wheat sensitive, these treats are perfect. Ingredients: 1 cup white rice flour, 1/2 cup carob powder, 1 teaspoon Cinnamon, 1 teaspoon Vanilla Extract and 3/4 cup water. Mix all ingredients, roll the dough and cut into desired shapes. Bake for 10-15 minutes.
8. Blueberry Dog Cookies
Your pup will love these gluten-free cookies; they are adorable. Ingredients: 1 cup almond flour, ½ cup rice flour, 1 beaten egg, 1 Tablespoon extra virgin olive oil, and ¼ cup fresh blueberries. In a small bowl, mix the flours. In another bowl, mix the remaining ingredients and combine the bowl with the flour. Make cookie shapes with a glass or a dough spoon and bake for 10-15 minutes.
9. Ginger Apple Dog Bites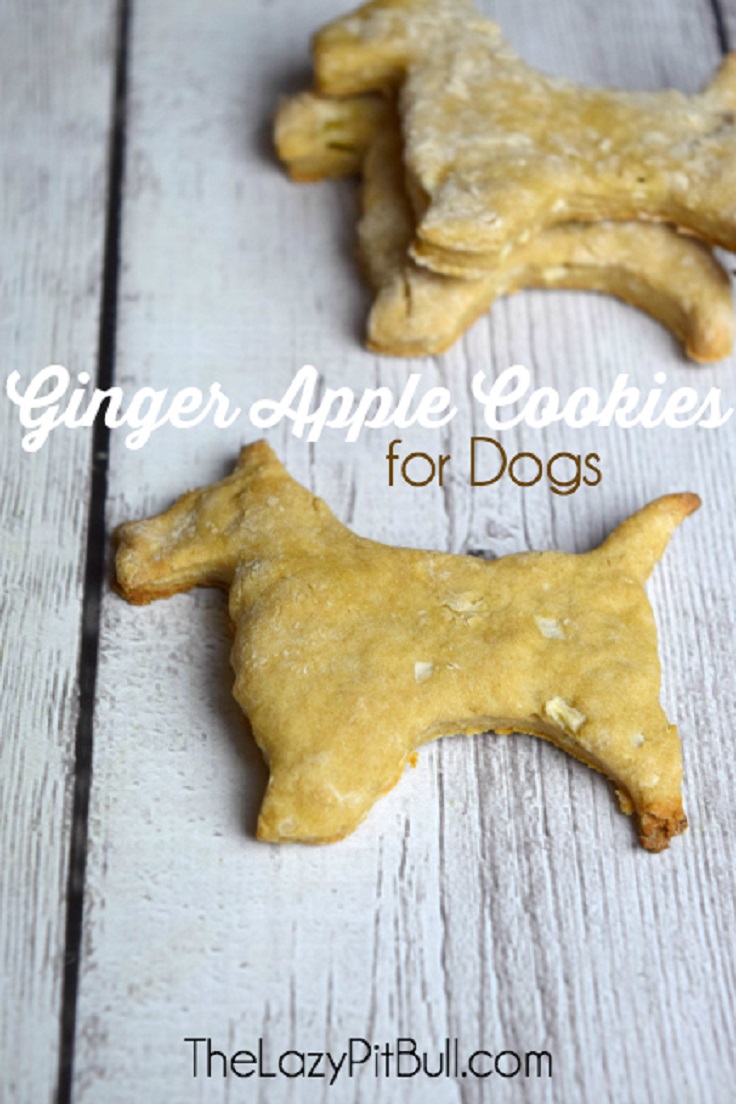 via positively.com
These bites will melt into your dog's mouth; they are absolutely delicious and nutritious. Ingredients: cup brown rice flour, ½ cup apple, ⅔ cup Greek yogurt, ½ tsp fresh ginger, and 1 tablespoon coconut oil. Preheat oven. Mix all ingredients and shape using a cookie cutter. Bake until golden brown( about 15-20 minutes).
10. Pumpkin Mash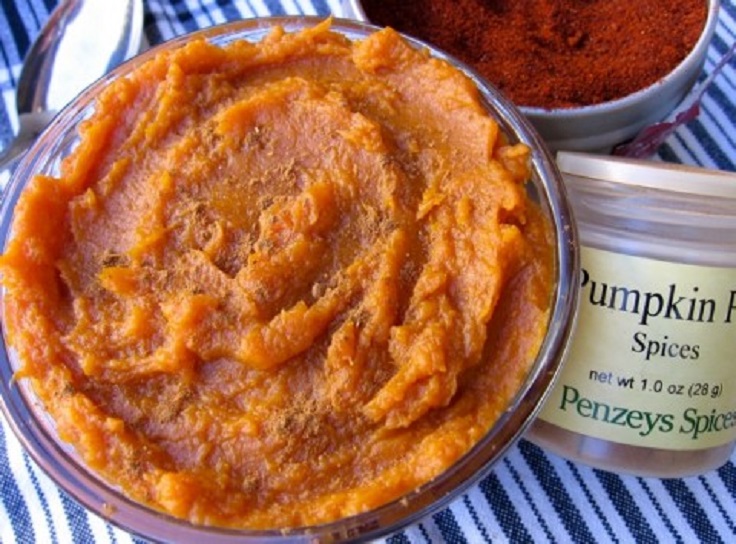 via simple-nourished-living.com
Your pup will love this pumpkin mash. You will need ¾ cup coconut milk, ¼ teaspoon ground cinnamon, and 1 cup pure pumpkin. Mix (or blend) all ingredients and serve fresh or frozen in small bowls or cups.