We can't stand the feeling of the hair being on the neck when the thermometer is climbing into the three-digit territory. Instead, we like to keep the tresses off the neck, away from the face, and pulled back into an effortless 'do. When the standard ponytail has worn out its welcome, there are a few other options to explore.
These hairstyles are great for one of those straight-off-the-beach days when your hair is salty and windblown. The salt should even make it textured enough to hold without an elastic! Never tired of a fishtail, braids, and ponytails?
But that ponytail you've been rocking for years? Quite boring! Instead, try these unusual ways to keep your hair off your face when the heat is on. Keep reading and learn these 10 easy tutorials for cute and casual summer hairstyles.
Low Braided Bun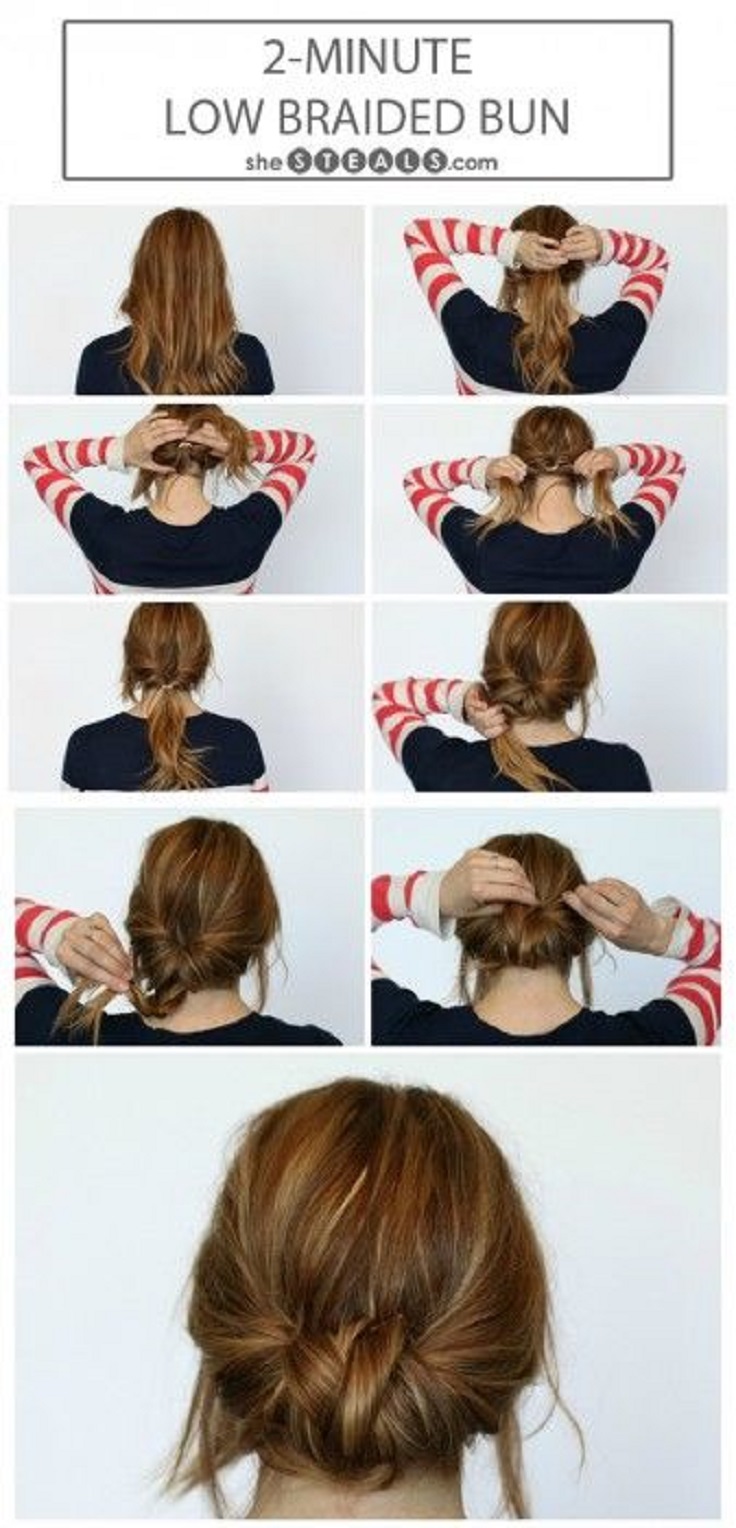 via she.steals.com
This Low Braided Bun is an easy hairstyle that'll add charm and sophistication to any ensemble. And the best part? This hairstyle can accommodate a hat!
Gatsby-Inspired Fishtail Faux Bob

Gatsby's hair is taking center stage! Short bobs and finger waves abound and don't forget the perfect 1920′s inspired hair accessories. The fishtail faux bob is the perfect way to fake a short, soft boho Gatsby-inspired bob. For this beautiful fishtail faux bob, start with clean hair that has been prepped with a texture spray, and set with either a large barrel iron or any of these no-heat curl methods.
Short Stuff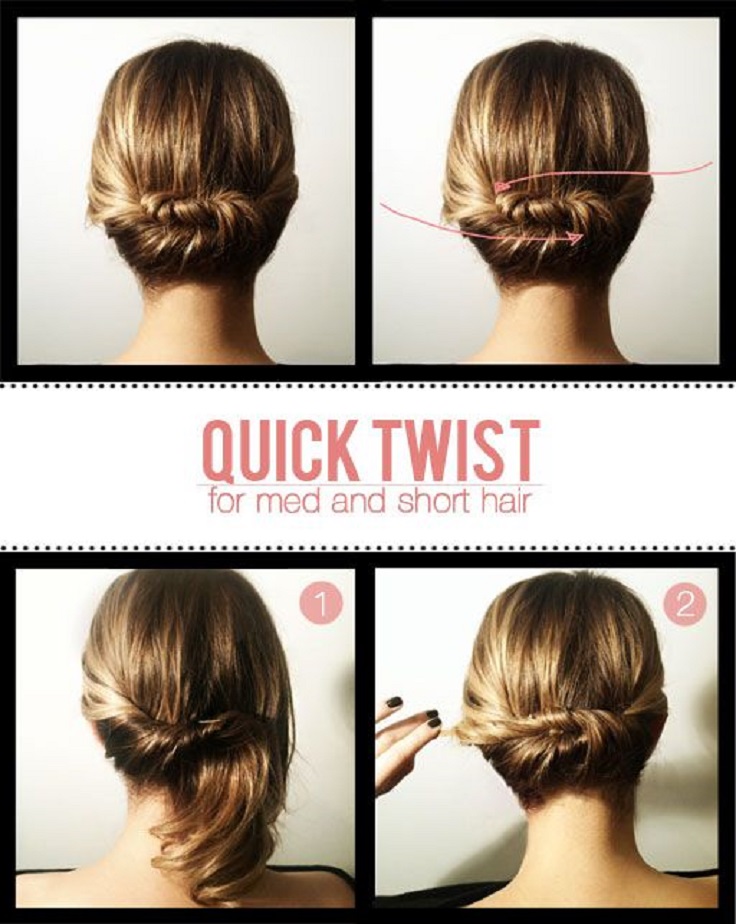 This updo/chignon is a random discovery for short hair. Loosen it up with your fingers, or pull some pieces out around your face if you want a more romantic vibe, then add a veil of hairspray. Add a sparkly accessory if it's for a night out occasion.
Side Braid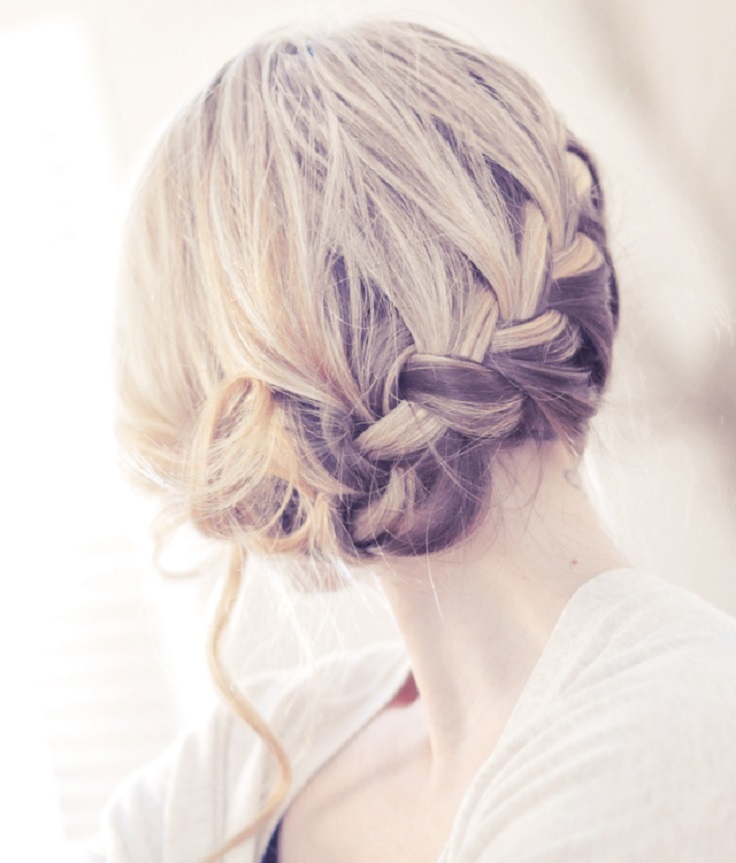 via lovemaegan.com
We used to wear a more relaxed version of this hair style, but for reasons unbeknownst to us, we never did a tutorial for it. Recently though, a few of my lovely readers have asked for it …so here it is.
Scarf Wrap Bun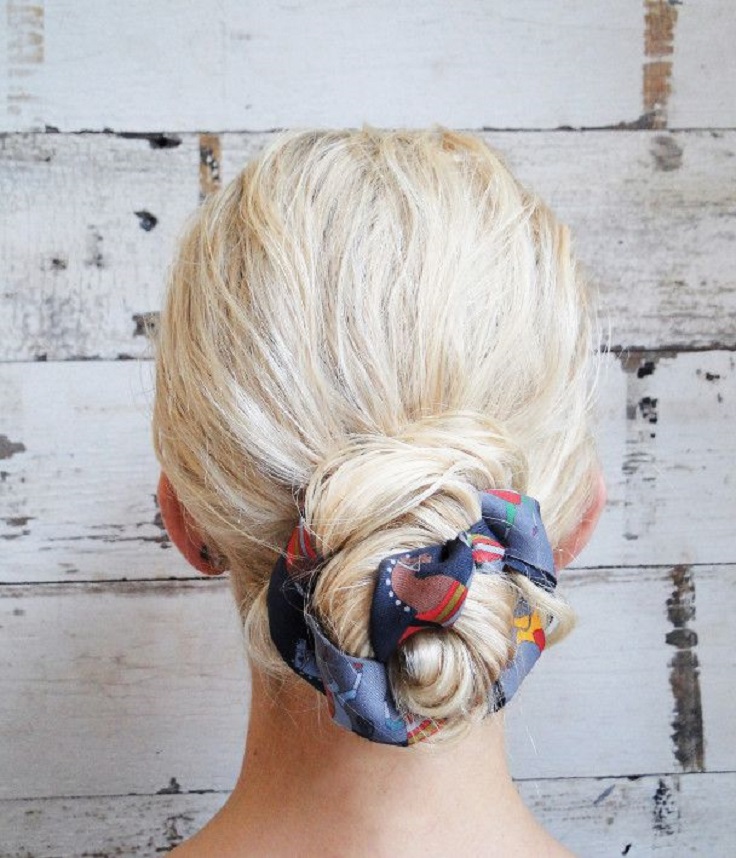 via stylebistro.com
This summer, don't settle for a dull top knot when you hop out of the pool. We've got just the 'do to take you straight from a morning swim to the evening's rooftop BBQ.
Inside – Out Ponytail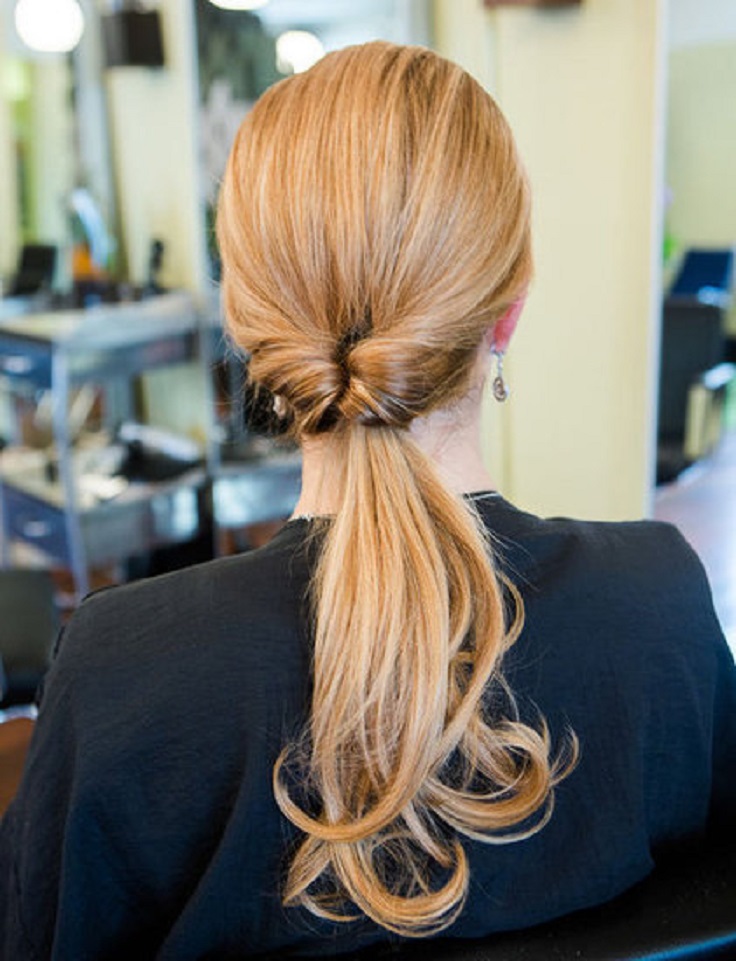 via bellasugar.com
Only as wearing a sweatshirt or t-shirt inside out provides an unexpected twist to your style, so does invert your ponytail. This flipped-upside-down updo is a classic, and it's a great way to jazz up a sleek, low-slung ponytail during the holiday season.
Messy French Twist

via oncewed.com
Keep your French twist modern by letting the imperfections fall and letting your natural texture take its course. The key to this look is the texture. Having silky clean hair is not going to do you any favors for this. Make sure the hair has grit but still has movement.
The Knotted Pony

Some days you just don't wanna. For those days, we made you this! It seems like we've seen pictures of this lovely look everywhere. It's definitely a comfortable, gorgeous spring/summer 'do.
The Asymmetrical Chignon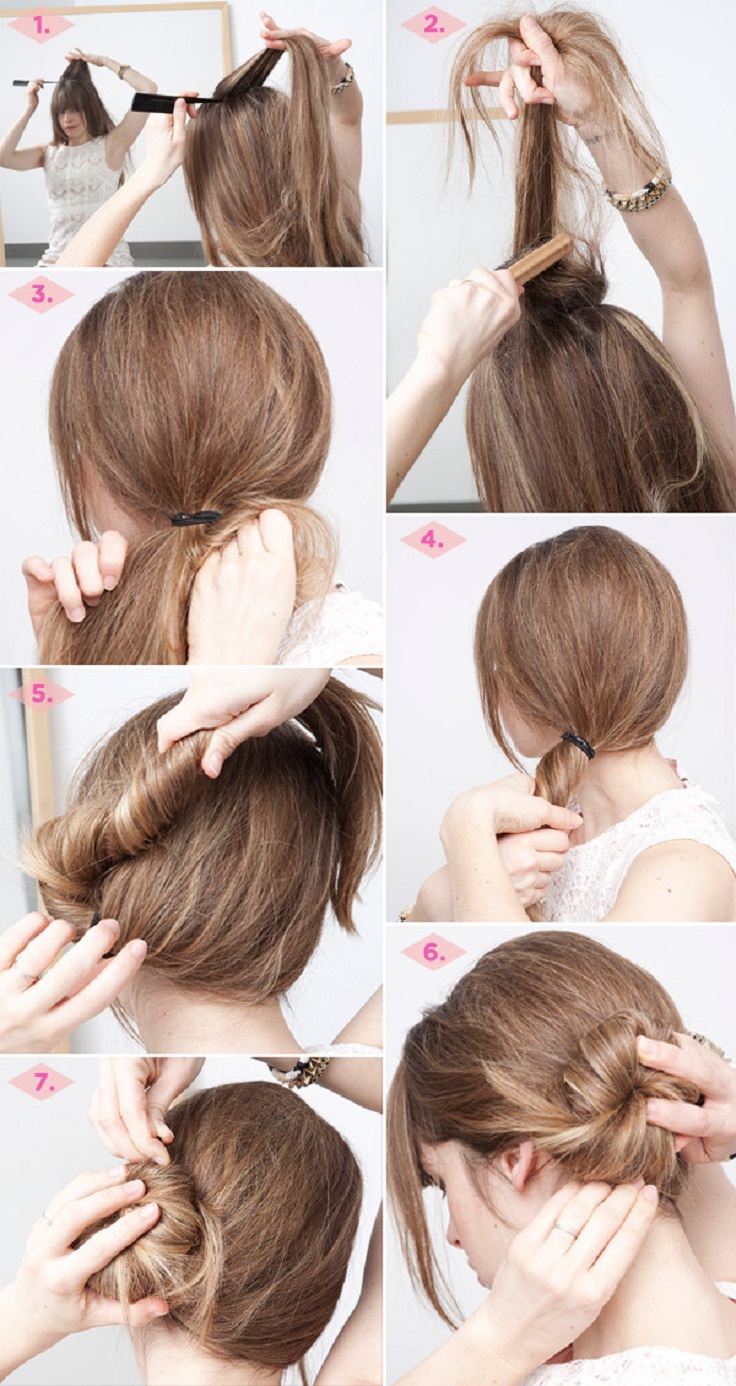 The side-swoop bun can be as polished or imperfect as you want it to be; gather a rat tail comb, teasing brush, hair elastics, and bobby pins.
Flower Braid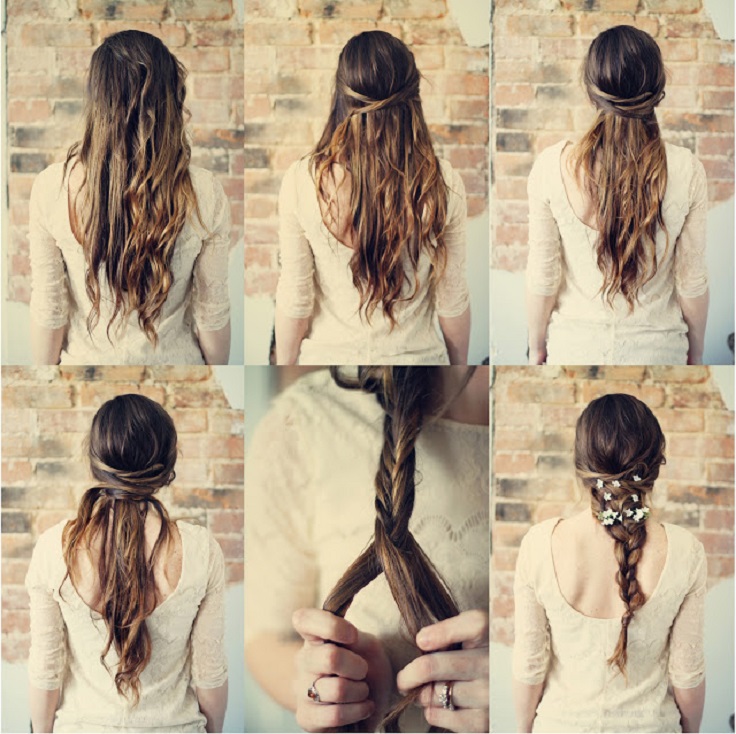 via sincerelykinsey.blogspot.co.nz
Start with your hair down. First, take a small strand from each side of your head close to your ear, wrap it around to the opposite side, and pin it in place. Repeat this process two more times, creating six strands crossing back and forth. Next, create a semi-loose braid with the rest of your hair. Lastly, add flowers throughout your braid!