It is always nice to have a lovely floral arrangement in your home, especially if it's made from fresh flowers. Even a simple, yet well-assembled bouquet will turn your living room or dinner table from ordinary to captivating. Unfortunately, not everyone is skilled at arranging flowers and buying already made ones may not always be possible. Luckily, there are ways that even those with no decorating sense can make some breathtaking centerpieces.
The trick is in the vase. The smaller the vase, the less flowers you have to use. The beauty in the test tube is that it holds one flower, so you don't have to worry about how you're going to arrange a bunch of different flowers. You simply put each flower in a different glass vase, which is the test tube, and group them together. You'll be surprised of how the simplicity of the test tube vases makes an elaborate decorative piece.
If you like the idea of always having nicely arranged floral piece with the minimal amount of effort, then get yourself some test tubes today and you can make your very own test tube vase stand from our ingenious list of Top 10 artful test tube vases.
Faceted Bud Vases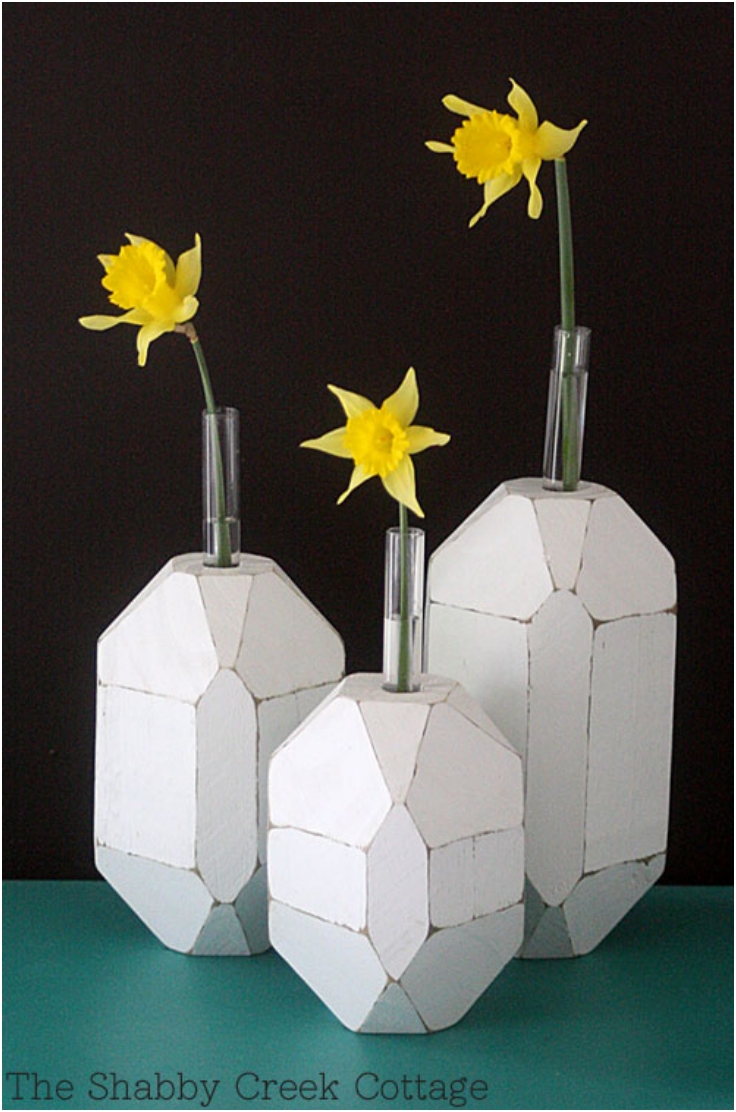 Here is a nice way to make a unique test tube vase in the faceted shape of the gem stone which in the past few years has become very popular in home decorations. Just drill a hole in a small block of wood to hold the test tube and start cutting away pieces until you get a faceted form. and apply paint in the end.
Hanging Test Tube Vases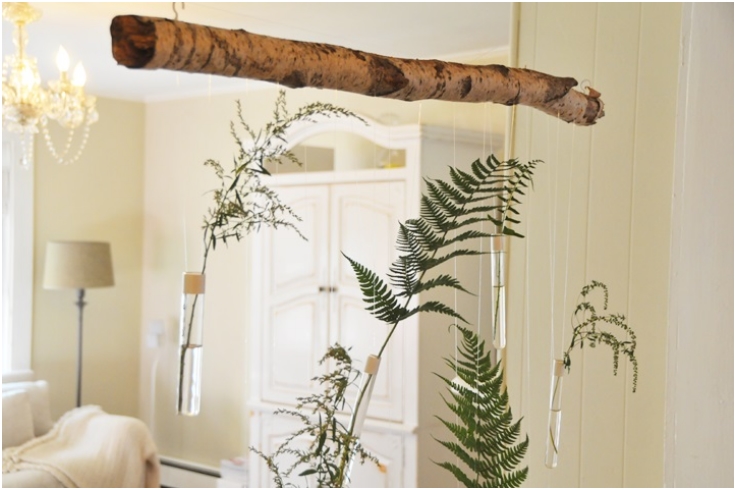 Vases don't have to be items you put on the table. With a bit of creativity and some hooks, you can put them over the table. With the transparent test tubes and a piece of driftwood, you can create an airy, yet earthy decor piece that also acts as vase for flowers or green plants.
Arching Test Tube Vase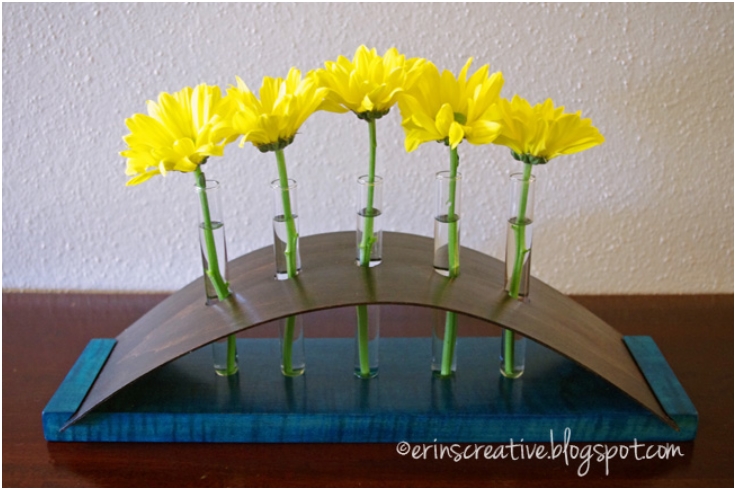 via erinscreative.blogspot.com
Make your test tube stand a bit more interesting and sexy by adding some curves, or should we say some arches. With two pieces of wood and some drilling and cutting, you can easily make a this fun, crescent  vase for your freshly cut flowers.
Geometric Wooden Test Tube Vase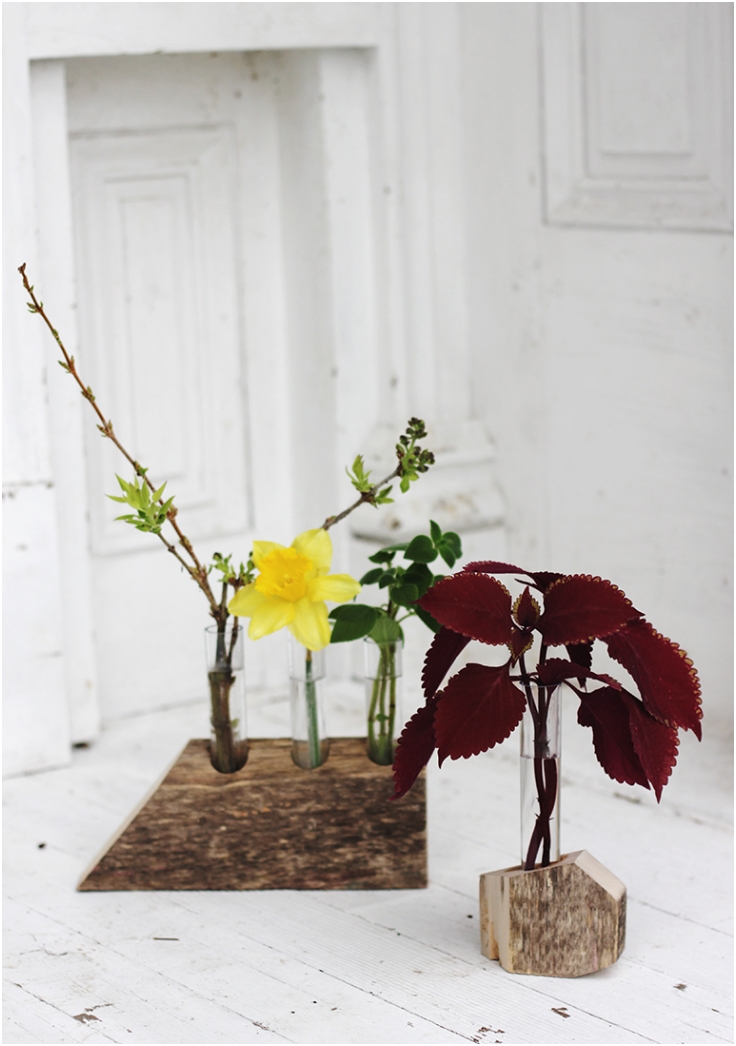 Another fine idea to use that leftover wood that you were about to throw away. It could hold one or more test tubes and to make it a bit edgy, cut it into a undefined geometric shape. Add some color for a more modern look or leave the wood as is for a more earthy feel.
Sculptural Copper Coil Vase
via designsponge.com
Not everyone can work with wood, but perhaps you have skills in working with copper coil. Now you can use that know-how and create some modern works of art, by twisting the copper into whatever shape you like and adding a test tube that will hold a beautiful flower.
Test Tube And Box Frame Vase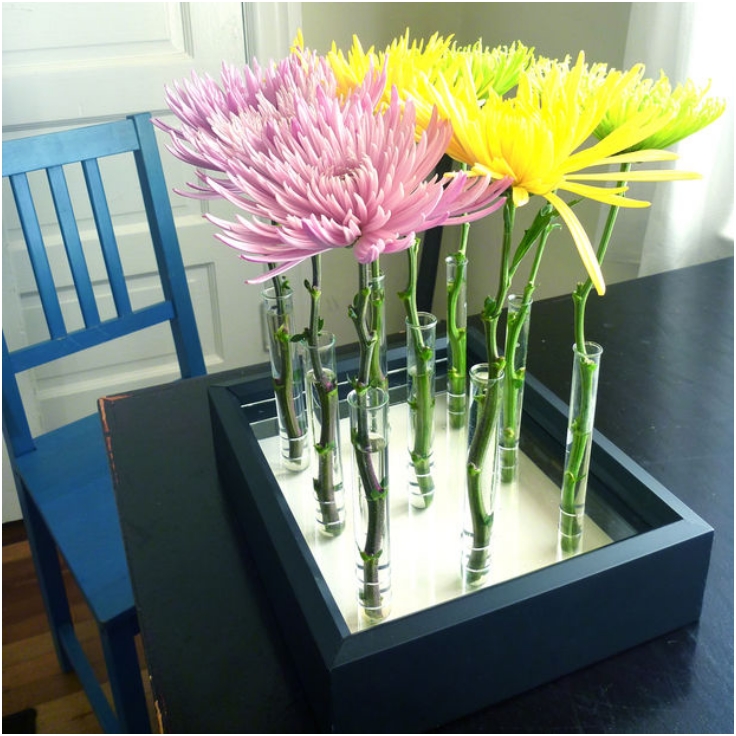 Sometimes you'll need to fill in a larger empty space in the table, and since test tubes take up so little space, you'll need something larger that will hold the test tubes in a fun, yet orderly fashion. The easiest way to do that is to convert a picture box into the base for the test tube vase.
Hanging Test Tube Wall Planter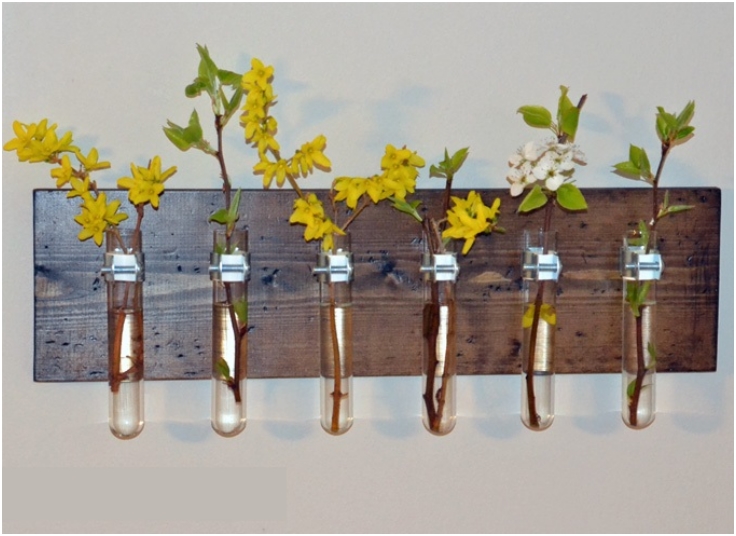 Looking for a way to fill in that empty space on the wall with something other then a picture? Here is one that you will definitely find rather interesting. With a wood plank, conduit hangers and some nails, you can have this lovely wall art i no time at all.
Floral Centerpiece With Tulips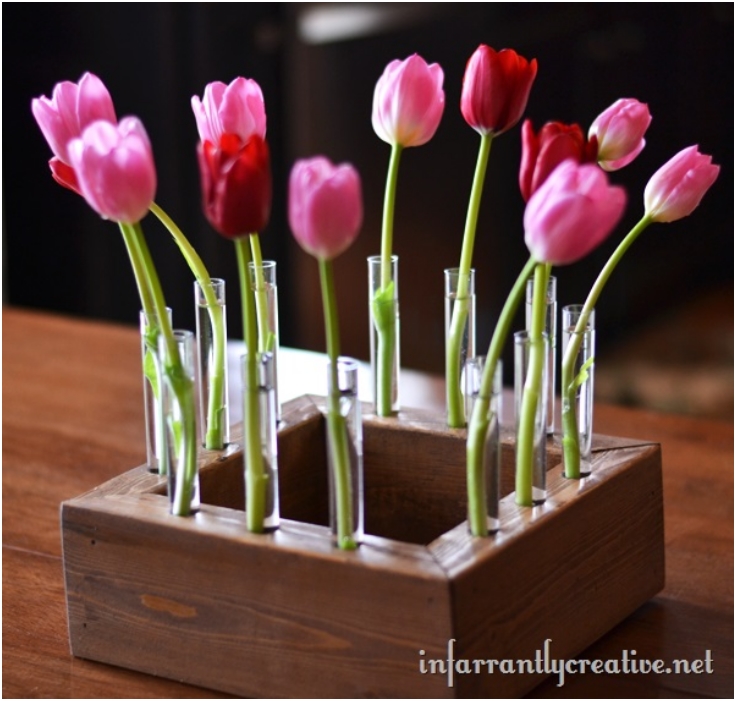 Tulips are lovely, gentle flowers, but they loose a bit of that charm when you bunch them up in a bouquet. With this simple square test tube stand not only get a nifty centerpiece, but also a way to have a bunch of flowers in one place, yet with room to breathe.
Wall Mounted Test Tube Vase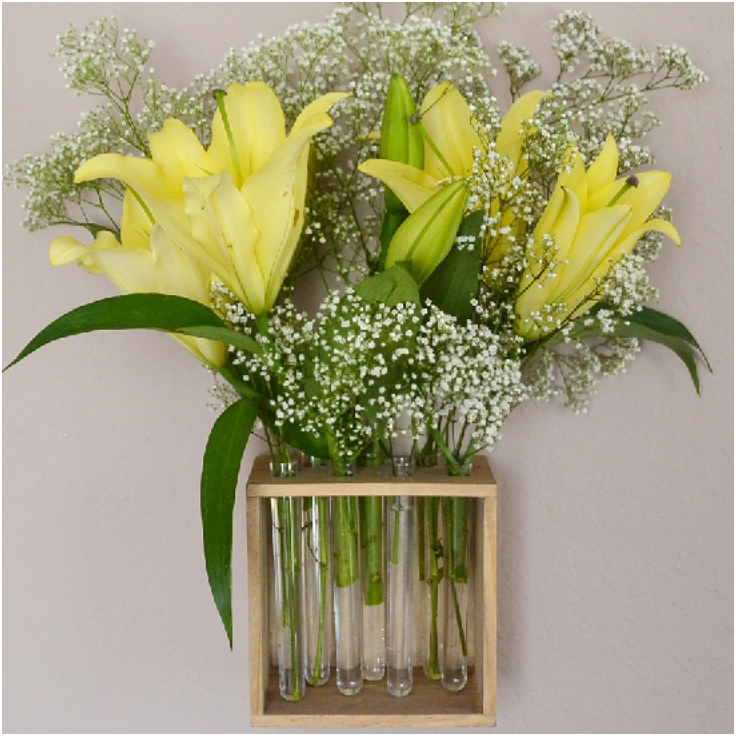 Here is another great idea to fill that empty spot on the wall, only this vase can a;so be placed on the table if needed and hung away when it gets in the way. The box-like frame gives this test tube vase its versatility and it is certainly an eye-catching decor piece.
Adaptable Test Tube Vase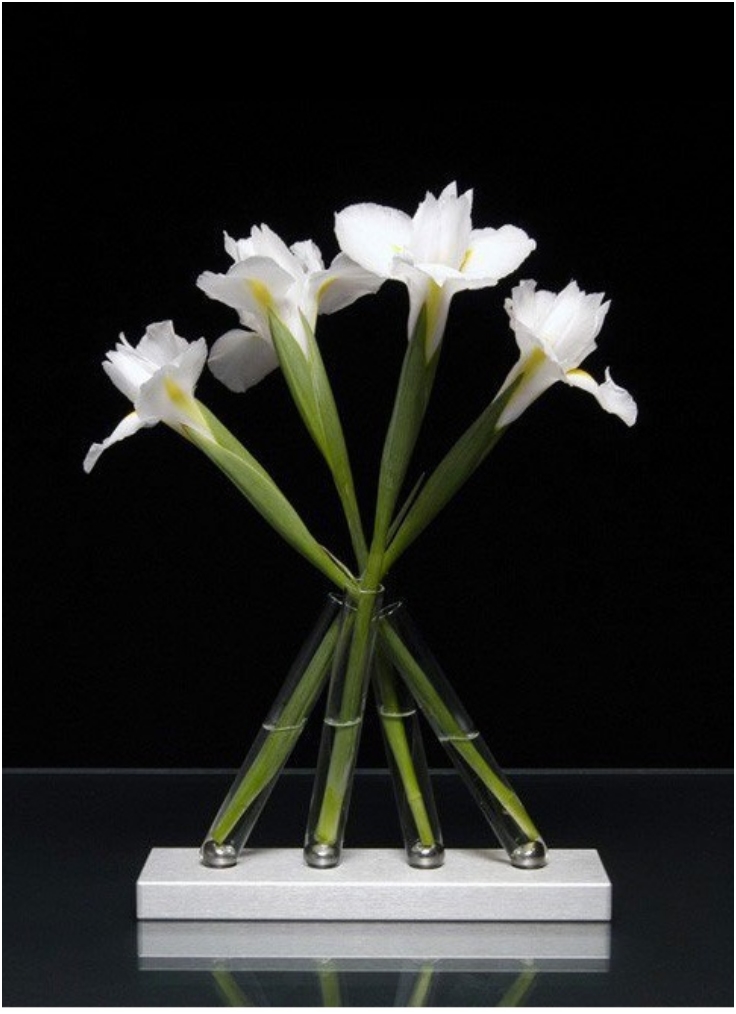 This test tube vase might be the most plain looking from all of the projects above, but it has one extraordinary feature and that is the mobility of the test tubes. While all the other vases have deep holes for the test tubes, the once here are shallow, allowing you to adjust the test tubes in different directions, thus getting different ways of arranging your flowers.