Paper doilies are great crafting materials. They are both easy to work with and very affordable. The pretty lacy paper doilies don't only look good under your cup of coffee but they can be turned into envelopes, Christmas tree toppers and other decorative ornaments.
Doilies come in numerous sizes, and patterns. You can even find heart shaped ones or colorful ones at any craft store. We have selected ten simple ideas including many Christmas decorations that will hopefully inspire you to dress up your home for the winter holiday season.
1. Paper Doily Christmas Tree Ornaments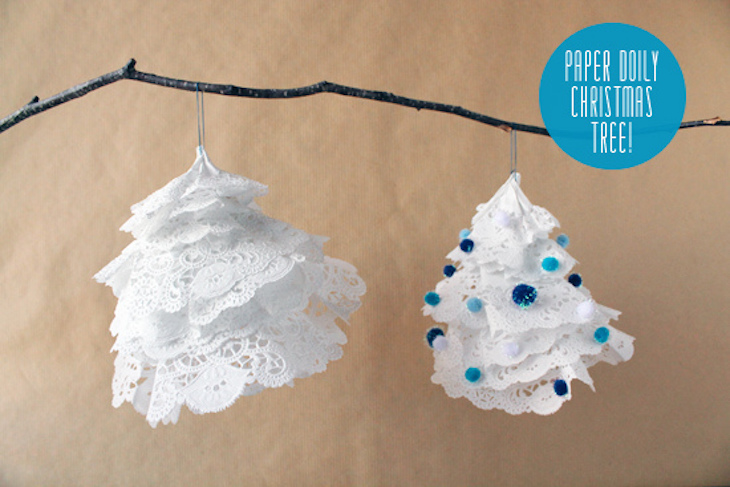 We love this idea of making cute little christmas trees of paper doilies! It's a super simple project that you can do with your kids at the weekend. You just have to pinch the doilies in the center and scrunch them up, layer them on top of one another and decorate with the pom poms.
2. Paper Doily Snowflake Garland
Paper snowflakes are typical kids craft but check out what happens when you swap the usual printer paper for paper doilies. It will look beautifully lacy and much more pretty. Simply string them together with fishing line and you have a quick and more than affordable decoration.
3. Upgraded Christmas Light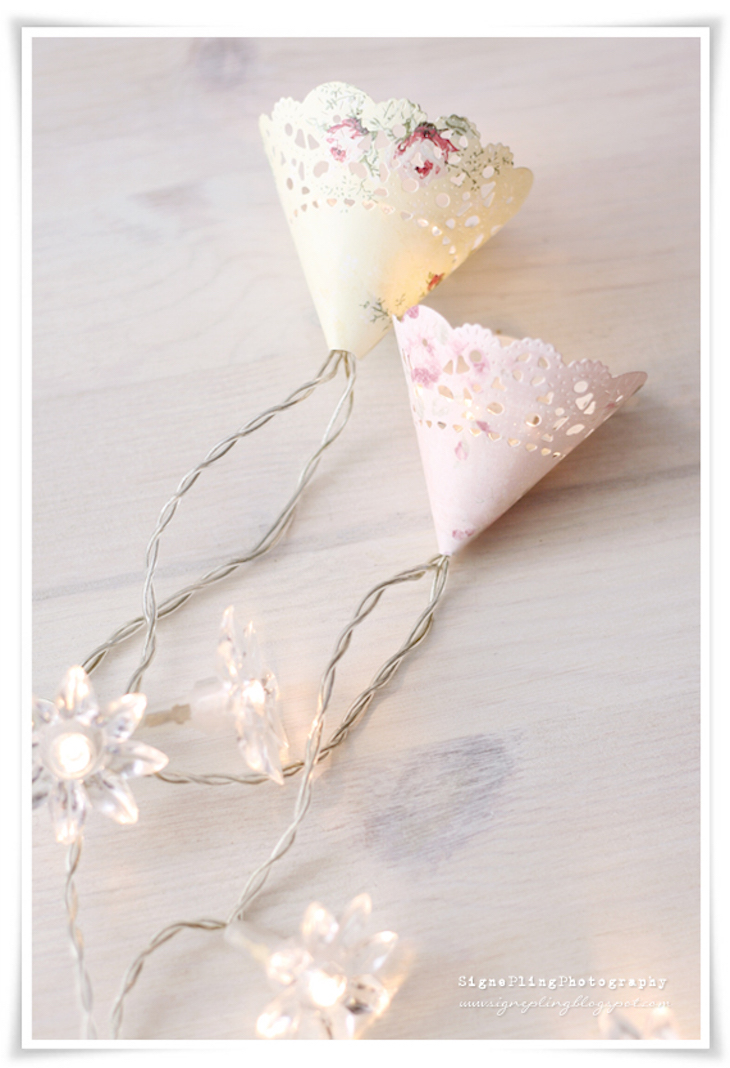 via www.signepling.com
Very soon we will get the Christmas lights out of the storage cupboard and start hanging them on the windows and just about everywhere around our home. They provide beautiful dimmed light and brighten up our house. To create a new look this year you can easily form tiny lampshades around the bulbs from paper doilies. The best thing about them is that they can stay around even when Christmas is over.
4. Gift Wrapping Material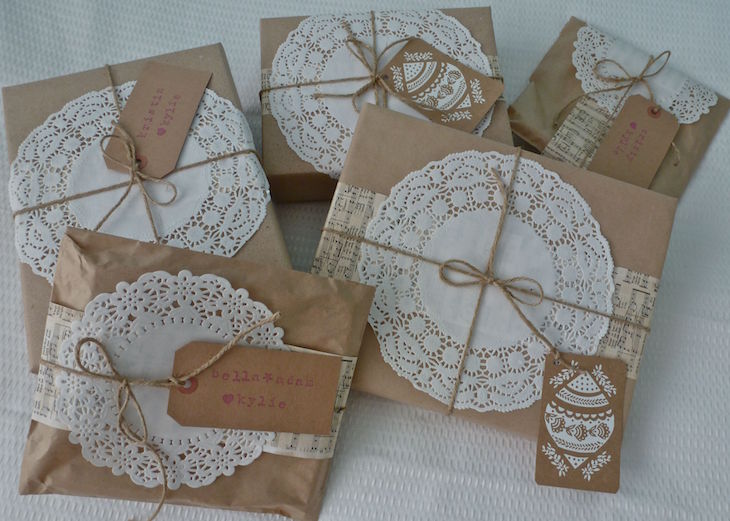 via allthingslovely.typepad.com
Isn't it amazing what a brown paper bag, some doilies and strings can do? This gift wrapping is not only pretty, eco-friendly, recyclable but also much cheaper than the store bought ones. Plus it is handmade and original. Surely everyone will love it!
5. Paper Doily Tree Topper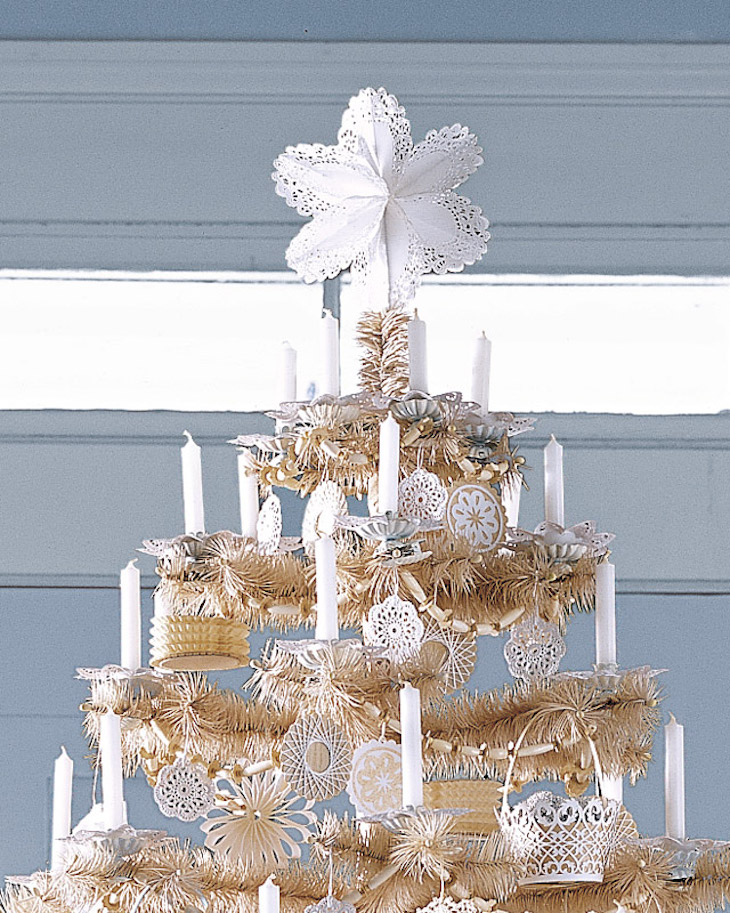 To create this beautiful Doily Star Tree Topper you will need six paper doilies, double-sided tape and white floral wire. If you don't need a tree topper, you can use them somewhere else in the house. Make more and hang them on the window for a beautiful winter window decoration.
6. Paper Doily Angel
via artmind-etcetera.blogspot.com
Here is another idea for DIY Christmas tree ornaments. You can make these fun angels with only a few things: paper doilies, a wooden bead, cotton thread, thin metal thread, scissors, double sided tape and nylon thread. They look adorable if you hang them in front of the window.
7. Paper Doily Wreath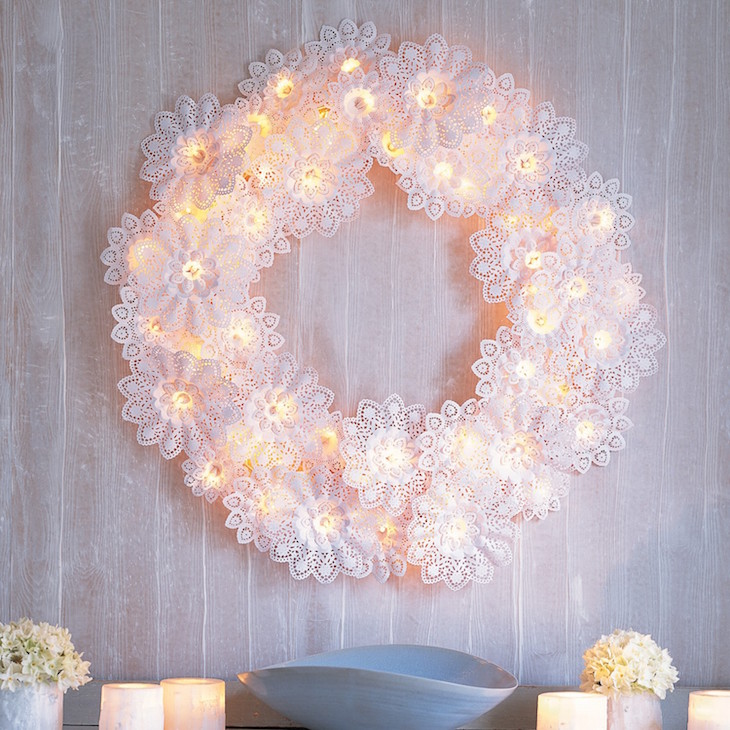 This beautiful paper doily wreath might not be the easiest project but it definitely worths the effort. It looks so delicate and you can use it all year around or if you prefer only as a Christmas decoration. Click on the link for a more detailed tutorial.
8. Paper Doily Lantern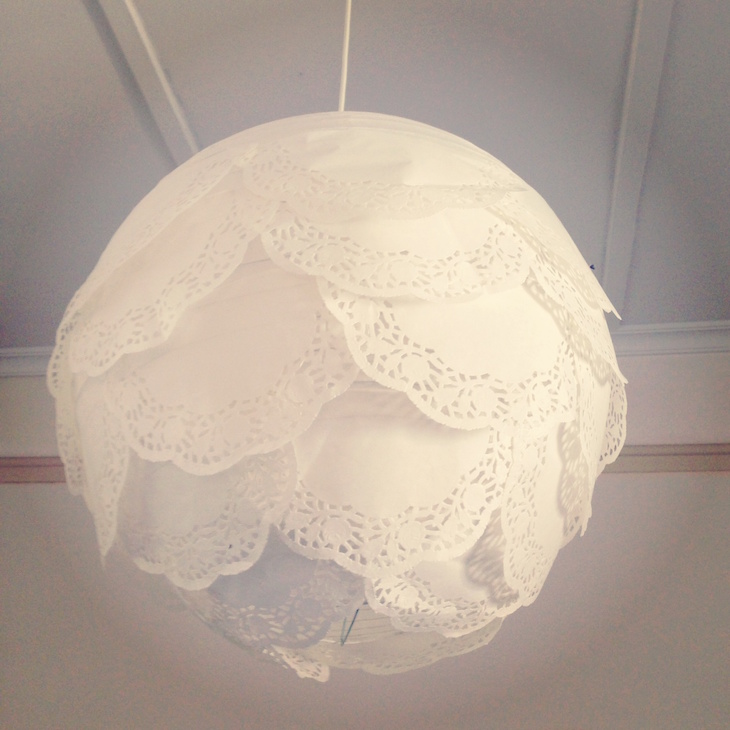 via trashandaesthetics.wordpress.com
If you have the cheap IKEA paper lanterns in your home and bored with their looks, you can give them a new design just like the one on the picture. You will only need some doilies, tape and that's about it. Try to get the colorful paper doilies or flowery ones if you would like to add more color to your home decor.
9. Doily Pom Pom Balls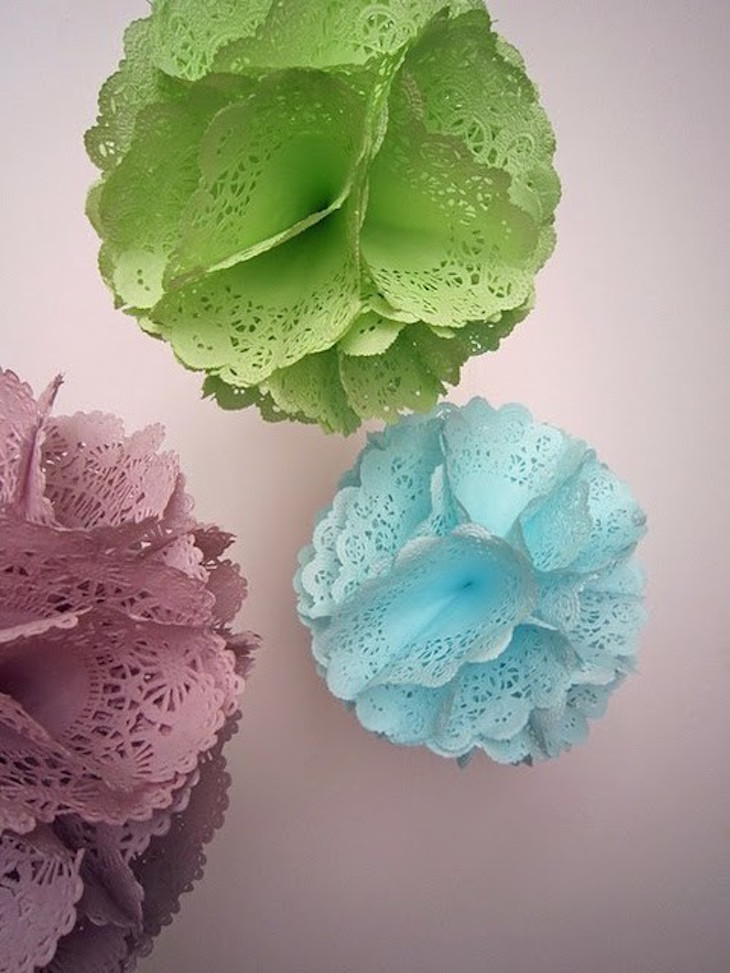 via bethkruse.blogspot.com
Here is a cheap and unique decoration for birthday parties. You can actually dye doilies quite easily with food coloring. To create a beautiful Christmas decoration use gold or silver spray paint and leave some doily balls plain white. It will look beautiful in your home.
10. Paper Doily Envelope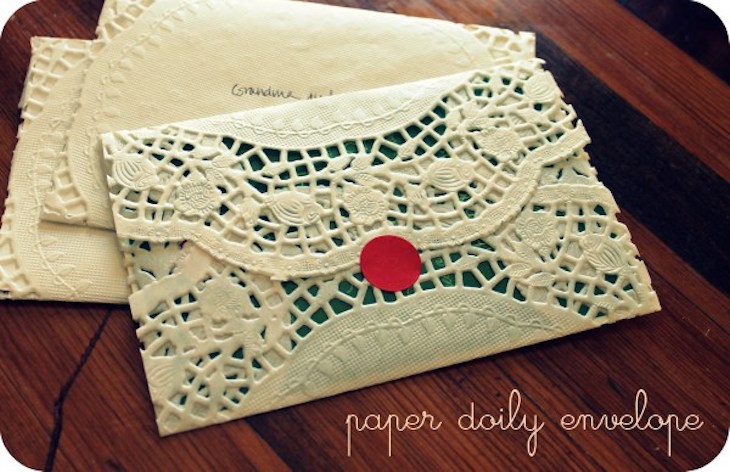 via persialou.com
Instead of using the usual simple envelopes you can create something original with paper doilies, of course. You can use these paper doily envelopes to hide gift tags inside them, instead of putting tags on the Christmas gifts.