As every day is a new start, we usually make mistakes of not doing anything new in it. We go back to every day, old habits that we are aware could be better and different. As soon as we wake up, we go straight into the kitchen and we hold that cup of coffee with our eyes still closed!
Vitamins first! That's what the body is seeking in the very early morning! Try changing this habit. A good smoothie for a breakfast in the morning, or between meals, will boost your body with energy, nutrients, and vitamins! Here are some of our top 10 suggestions for the best smoothies.
1. Blood Orange & Berry Smoothie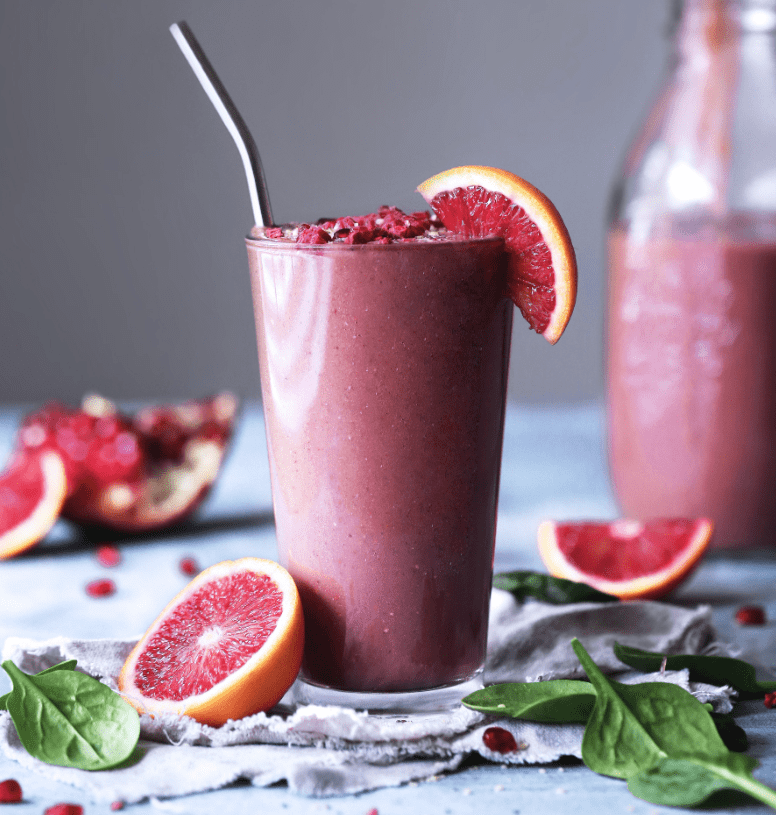 Recipe via wifemamafoodie.com
Combining wholesome ingredients like fresh spinach, squeezed blood orange, raspberries, pomegranate, and adding nutritious hemp seeds and chia, will add to your daily greens, fiber, and antioxidant intake. This healthy smoothie recipe is loaded with goodness to kick start your day. Easy to make by mixing all ingredients in a high-speed blender and extremely delicious to drink!
2. Turmeric Papaya Smoothie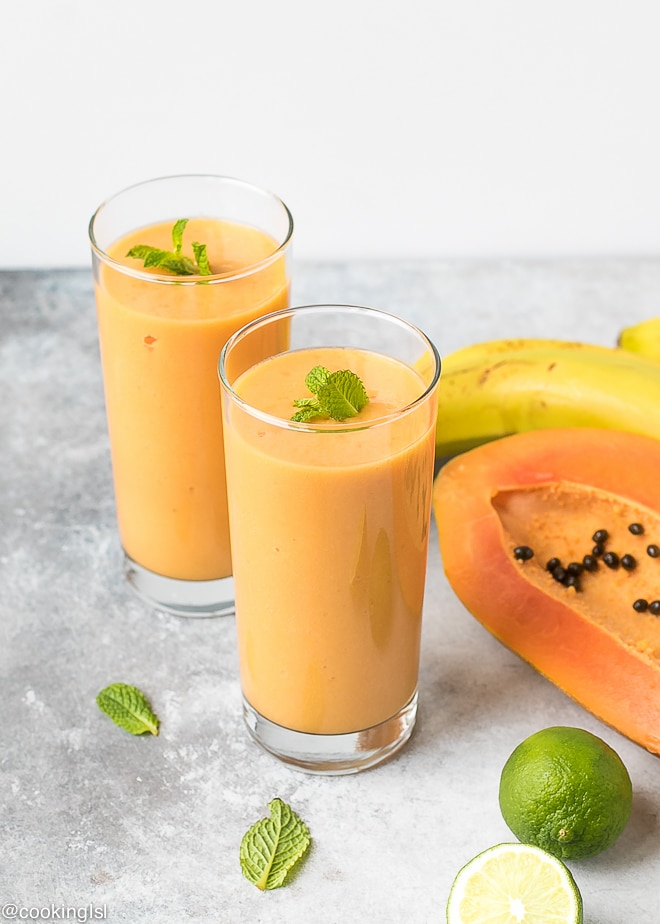 Recipe via cookinglsl.com
Tropical drink that is super easy to make and even easier to drink! Turmeric has great antioxidant and anti-inflammatory properties and can also help in the process of healing arthritis and depression. Light drink that can be consumed at any time of the day. It isn't every day that we may have papaya in our fruit basket, but try them when you have. And if you have been lucky enough to travel around in Asia, you will surely know what we mean. Treat yourself and your body to a max power boost. It's rather incredibly delicious.
3. Lemony Coconut Chia Smoothie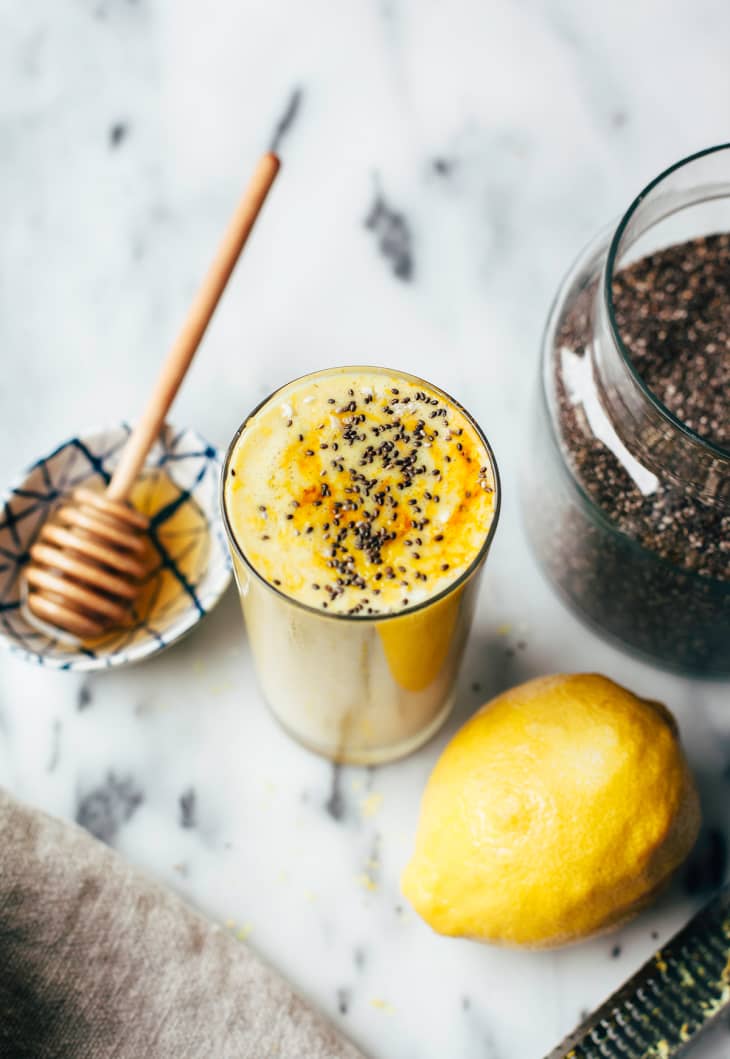 Recipe via thekitchn.com
If you feel tired or unmotivated for the day, lemon is to your rescue! In fact, a shot of freshly squeezed lemon juice is all you need to energize yourself back up for hours, in a flash. Literally a second after drinking it. Adding coconut to it is simply divine; minus the grimace. You also get the ginger powder and, wait for it, frozen cauliflower. This is a meal in a glass. It is packed with super ingredients making you feel invincible for the day ahead. Perfect if you have a lot on at work, or after hitting the gym.
4. Apple Oats Breakfast Smoothie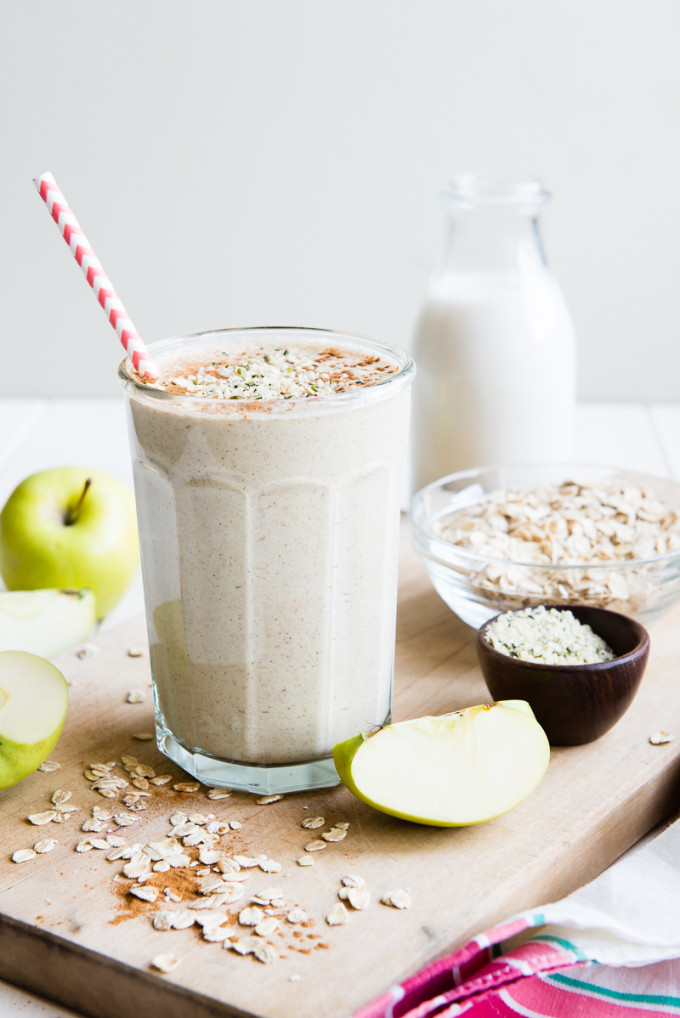 Recipe via luluthebaker.com
We all love croissants and all these buttery pastries. But we also love bread, butter, and jam. Or perhaps, bacon and eggs in the morning. However, if you fancy being out of breath after five steps coming out of your home to the car, then, you might wish to change a few things. And this is how to give your body a rest and an absolute treat. In fact, most smoothies on this list are all great for breakfast ideas. One-day smoothie one-day croissant etc.
5. Toasted Coconut Chocolate Peanut Butter Banana Smoothie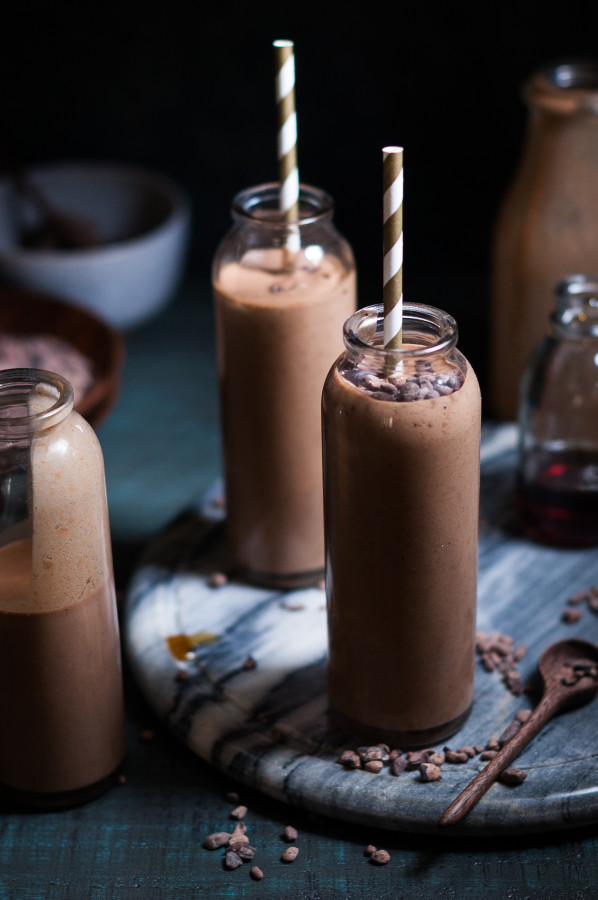 Recipe via thekitchenmccabe.com
If like us you have trouble staying away from the chocolate cupboard or the cookie jar, then this is the one for you! This smoothie is an orgy of flavors all coming into one. Simple ingredients and only natural used, not more, just natural sweetness from the bananas, syrup, and the 100% peanut butter. Huge amount of potassium thanks to the bananas which are really important on your everyday to day diet. The recipe uses coconut milk, although almond will also do just fine.
6. Healthy Green Monster Smoothie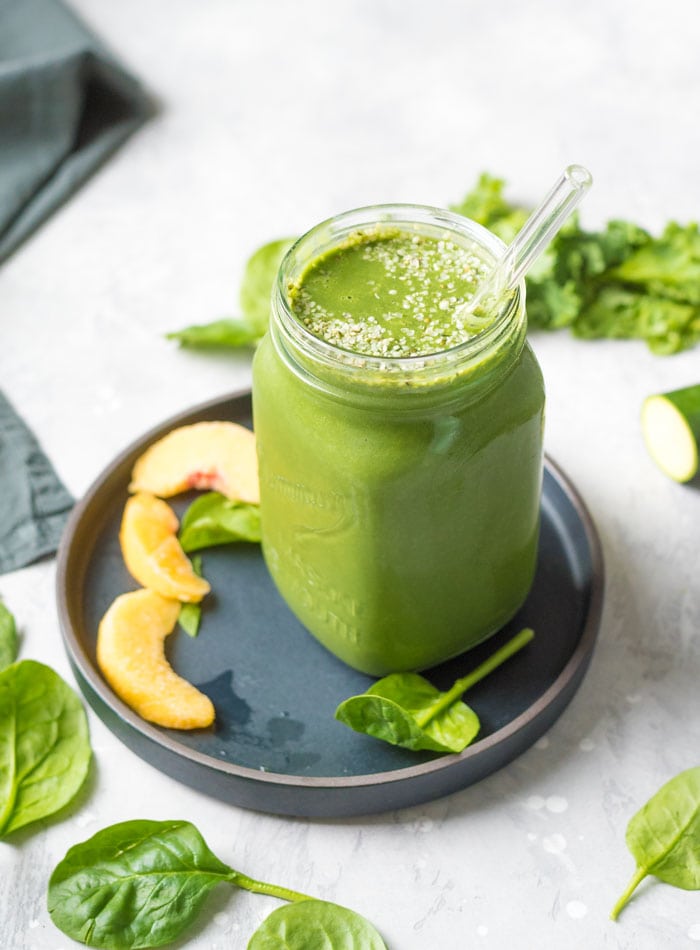 Recipe via runningonrealfood.com
It has been a while now that kale has been part of our lives us thinking this was the remedy to body greatness. Well, in part it is. But, anything green also shares equal goodness that is in all of the green vegetables. And having a mixed vegetable diet is of the utmost importance on a daily basis. Tell the kids they will grow into The Hulk, you will see them down this drink. This is perfect as a detox also if perhaps the night before you were a little heavy-handed if you know what we mean. You can also add fresh green herbs such as parsley, coriander, or anything that tickles your fancy. Give it a go.
7. Apple Carrot Beet Smoothie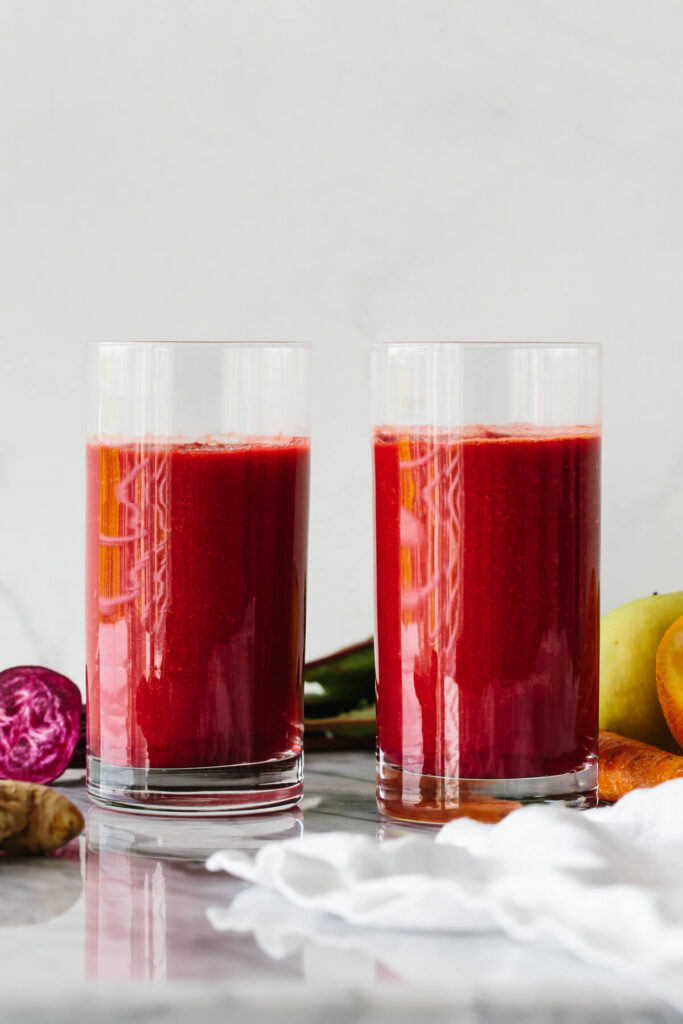 Recipe via downshiftology.com
A classic that is here to stay, and for some good reason too; also known as the ABC for very obvious reasons. 10 points for those getting it. This smoothie is packed with antioxidants, and its flavor profile never disappoints. Remember that the skin has a lot of fiber, and fiber is what is actually really important. The juice we buy-in, for example, has almost no fiber at all and you end up drinking sugar. A proper fresh juice is thick and can be a little lumpy too, but that's what juices are.
8. Fig & Almond Butter Smoothie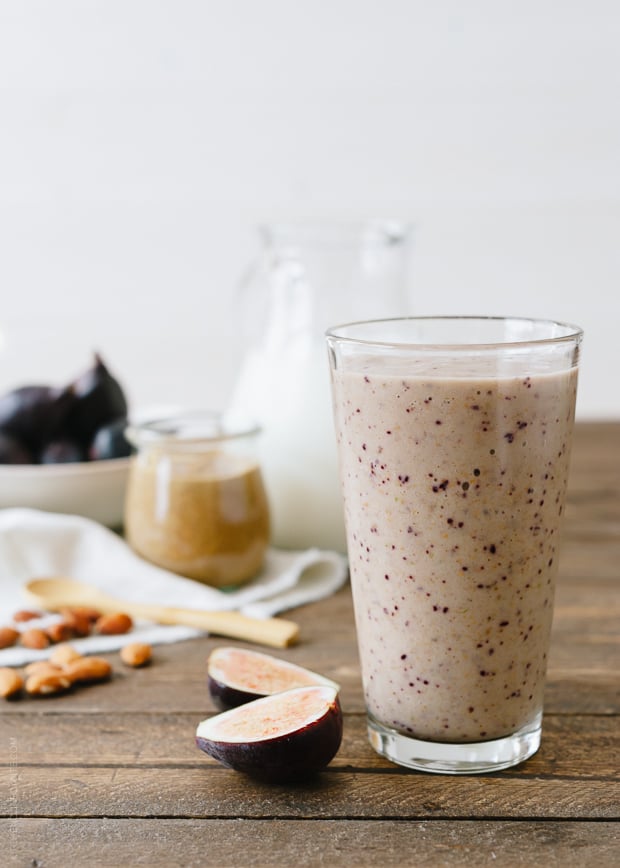 Recipe via kitchenconfidante.com
Not sure what to go for after a workout? Fed up with trying all these super expensive powders? Put your hard-earned cash into fresh fruits and vegetables. The fig season is coming, and how best to use this but in a super healthy, strength generating drink. Blending it together with almond butter will reduce the sweetness and give it a nutty flavor. This can be a dessert – why not freeze it a little, and have it like ice cream. Win-win.
9. Minty Strawberry Mango Peach Smoothie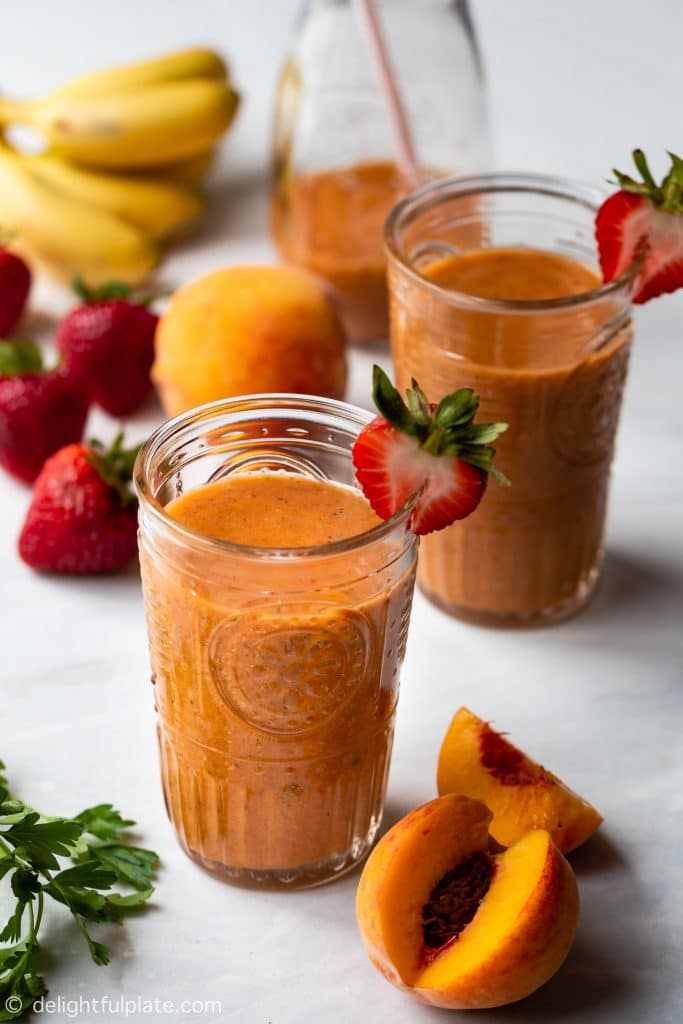 Recipe via delightfulplate.com
Walken up bright and early today? Feeling rather peachy too? Well, then this is the one made for you and a great mood during the day. The entire blend from the pineapple, the mango, peach of course, and the banana is just remarkable. And if you manage to find great strawberries for a good price, then it does add well. Every smoothie should have a different color every time you have one. Green, orange, red, yellows…countless healthy deliciousness.
10. Melon Spinach Smoothie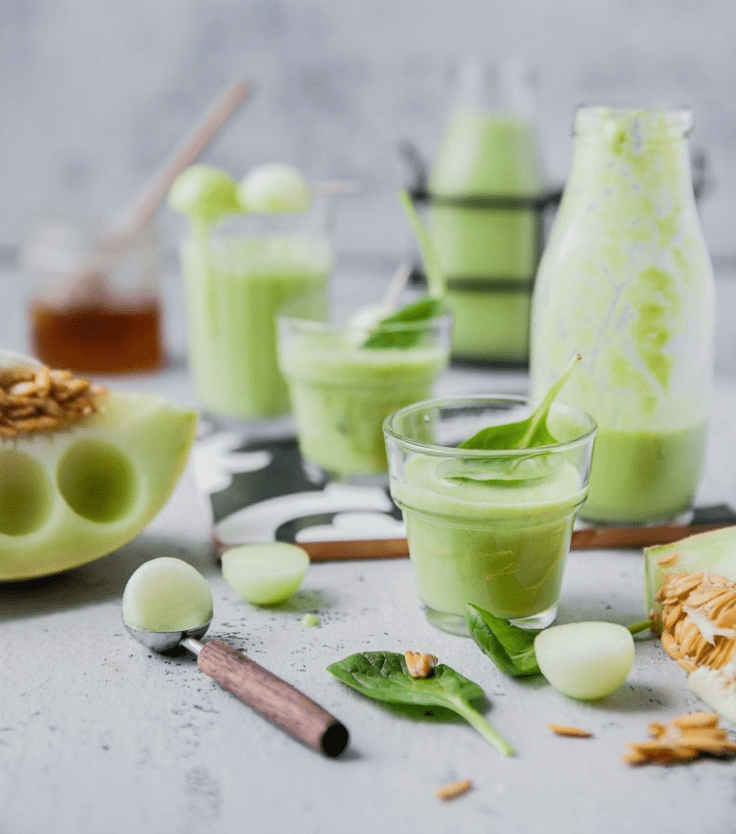 Recipe via playfulcooking.com
Melon contains so much goodness, that it feels like eating 10 fruits in one. It has masses of nutrients from potassium to magnesium, calcium, electrolytes and reduces your blood pressure. Full in vitamin C as well, making your skin breath again with a lovely glow to it. It provides great digestive abilities thanks to the fiber it holds within itself, and yes, has over 90% water. I guess 90% of you are going to buy honeydew melon as we speak. It is that good in this smoothie. Or even on its own on a warm summery day. This is a strong last recipe.