No matter if we are going to a birthday party or we just want to surprise a beloved one with a gift, sometimes that can cost us a lot of money, especially if we are aiming high. But, we all know that it is the attention that matters the most.
The more the gift has a meaning, the more it will be special. So, before throwing money on something meaningless, check out these ten gifts idea. You are doing them all by yourself, and you don't need many items to make them.
What you'll get is a cheap, creative gift that will make you a very short time to do, and it also shows how much that person means to you.
1. "Places We Have Been"
Making hearts of all the places you have been together with a beloved one. Whether that is your boyfriend, sister, or friend, this gift is suitable for all because places mean memories, and you are placing them in a frame. That means they can put it wherever they want, and every time they look at it, the hearts will instantly remind them of the fun times you had together.
2. Coffee Mug Designed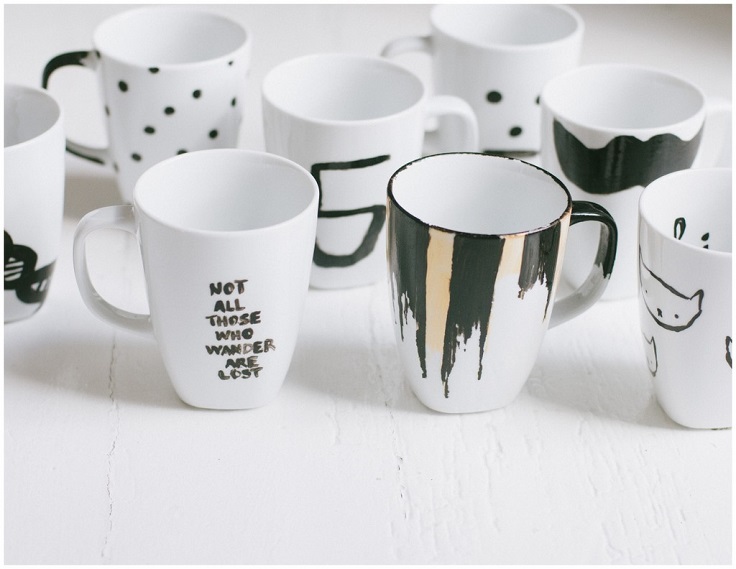 via travelingmama.net
If your beloved one is a coffee or tea lover, giving them a mug with your design is a wonderful idea. It will simply remind them of you every time they drink their morning coffee or afternoon cup of tea. You get to be very creative with the mug design. You can draw or write anything that means to you and your beloved person. A quote, a shape, a smile… Let the creativity in.
3. Candle Card
This card is very simple and very creative. You need to make this card one birthday candle, glue, heavy kraft, and scissors. If giving things is not your thing, words are always here to help, especially if they are honest, positive, and can put a smile on your beloved one's face. Make their day by writing amazing words on the card.
4. Custom Calendar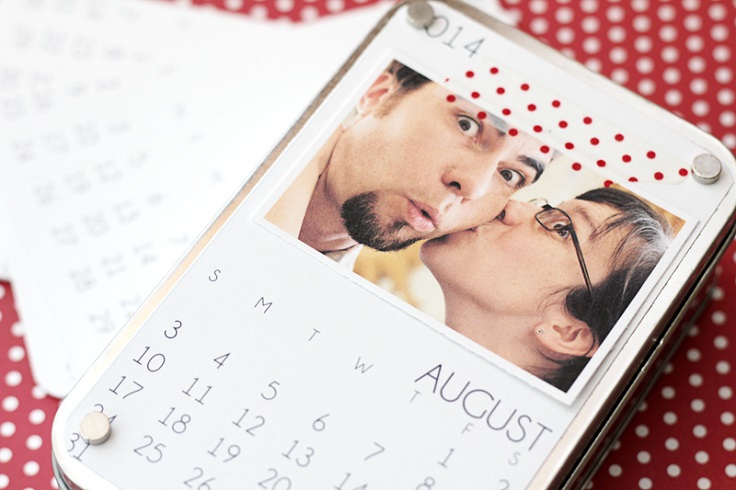 If you are looking for something practical to give, check out this calendar. You only need four items to make it. It's cheap and creative as well. The printing calendar cards have a blank section in the middle; you can use it to draw or write something personal. For each month, you can write a memory, a song, or insert a picture that will remind your beloved one of exactly what happened that month.
5. Makeup Brush Holders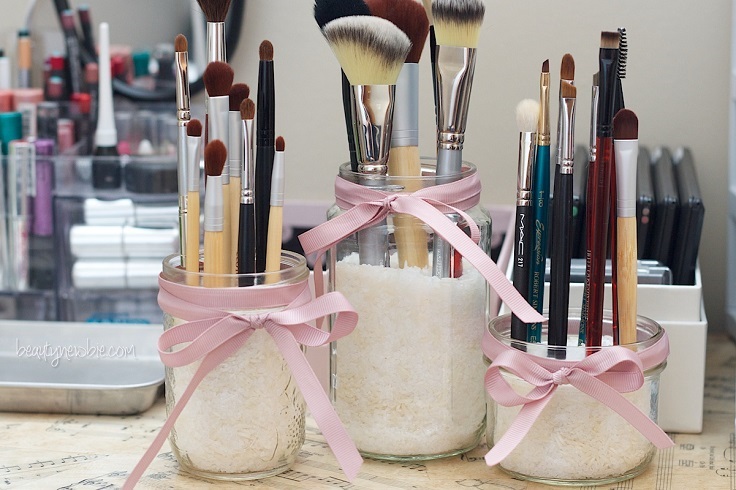 via beautynewbie.com
Every lady friend needs this gift. With all the makeup brushes, lipsticks, and mascaras all around the bathroom, who would refuse a makeup holder? It's very practical, and it looks very lovely with the ribbons. You need mason jars, coarse sea salt, dry short-grain rice, and ribbon or lace for decoration to make this gift.
6. Gift Basket
Out of ideas, time, and creativity? We hear you. If you're looking for anything that could look like a gift in the shortest time possible, try this gift basket. It's bought and made by you at the same time. Of course, because you'll need to buy items to place in the basket, this might not be the cheapest option around, but it looks lovely, creative, and is very practical.
7. Bread In a Bottle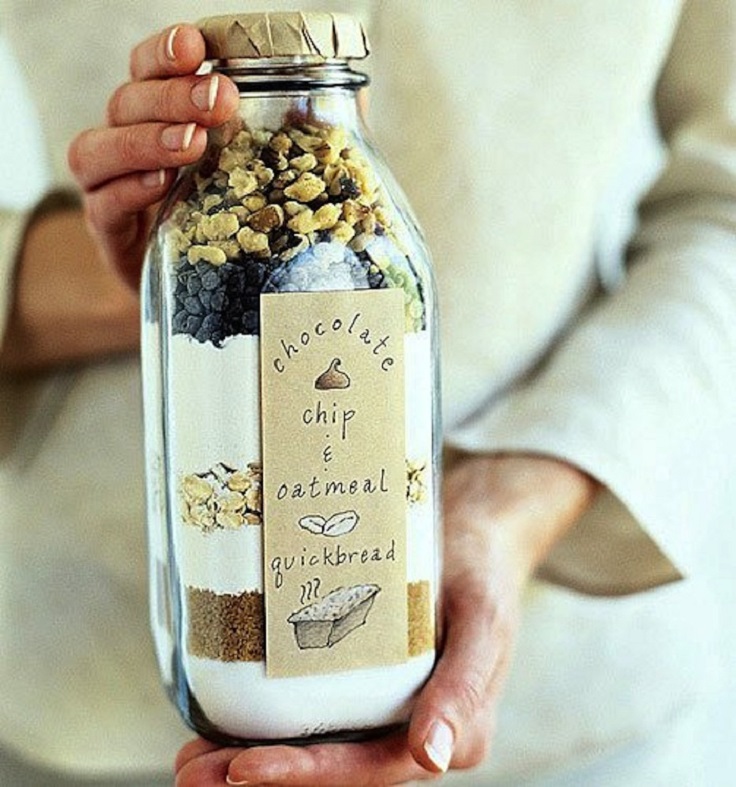 via sunset.com
We all have that person in our life that enjoys food so much. Instead of buying expensive, material gifts, prepare them a chocolate chip oatmeal quick bread. In a bottle. Because it looks so creative and it shows how delicious this thing is. There's no way someone would refuse to eat this when it looks so good.
8. Spine Bookmarks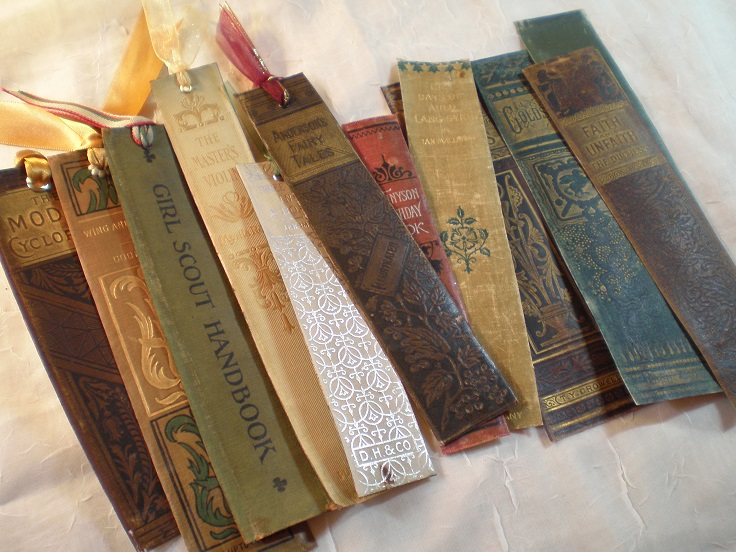 via booksboozeandbeauty.wordpress.com
And again, we all have that one person in our life who is a huge book lover. Collector or reading them, giving them book-related items will definitely be the thing for them. In this case, make them a good bookmark from an old book. Just remove the spine from the old book, and voila, you got yourself a gift, which will be ready in few steps.
9. Perfume Vase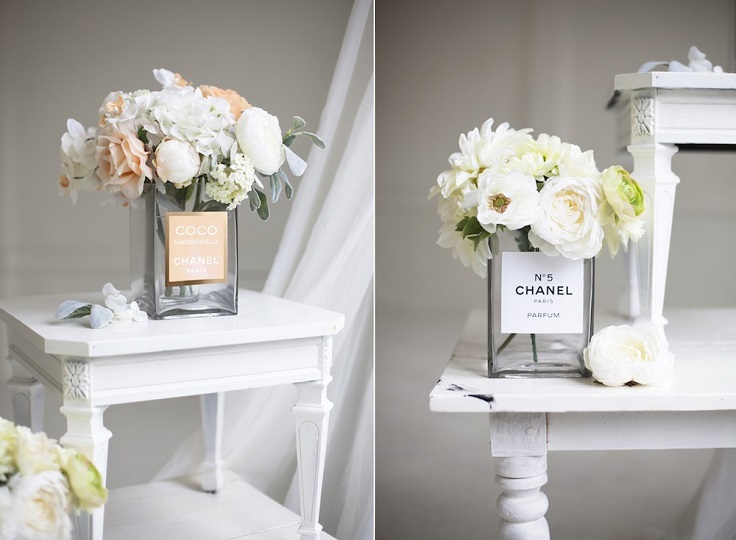 via dreamcreate.ca
That Chanel vase is one of the best decorations your home can have. It looks like it's bought from the designer house, but it's not. It's a cheap vase with a Chanel printable card. It's really easy to do it by yourself, and you'll be done in 5 minutes. The next step is placing beautiful flowers in the vase and give it someone special.
10. Books with Ribbon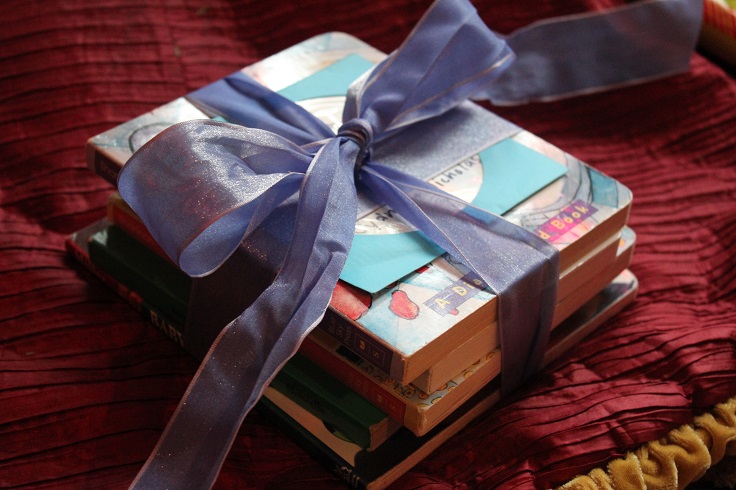 via mommysavers.com
This is the easiest way to get a gift. You need one book or more if you prefer and wrap them all with a ribbon or lace. It's amazing how one ribbon can make a huge difference. Instead of buying an expensive fancy bag, buy a fancy ribbon that will cost less and decorate more. Another great idea is to write a card, and you are ready to go.