When the time comes to be shopping for presents, one's head is swirling with dilemmas, especially when you're looking for gifts for several people. After all, there must be people in your life that you find extremely difficult to shop for or who could use the cash more than any other gift. With Christmas ever closer to our doorsteps, the gift-giving season is upon us. If you simply find yourself without any good ideas or if you are a last-minute shopper, giving money may be an easy way out, despite what Robert Tepper might say.
So, make it a little bit more personal and show that you've put some effort into it by coming up with a more creative way to store it than just sticking it in an envelope or a plain box. Everyone likes getting money, so if this is your last resort, make giving the gift of money more fun with these ideas that we thought are amazing!
Graduation Gift Box
What's that thing in the box? It's good old green rolls. Once you wrap them in a graduate-cap-shaped box, you've got yourself the perfect present for a recent or upcoming graduate. Needless to say, you're welcome.
Money Tree
Who said money doesn't grow on trees? It does on this wonderful Christmas tree miniature. Don't worry, this isn't Billy Idol's lemon tree. All it takes is a simple folding technique and something to support the bills, and you're good to go!
Money Greeting Card
Greeting cards are a universal means of enhancing and supplementing a present. This time, however, they can serve as a holder, wrapping, and an integral part of the gift all in one, so long as they're personalized. A sweet touch for any occasion!
Money Wreath
With the wise words by the Dropkick Murphys, 'The season's upon us, it's that time of year. Brandy and eggnog, there's plenty of cheer. There are lights on the trees and there are wreaths to be hung. There's mischief and mayhem and songs to be sung!'
Girlie Bouquet
If you need a girlie gift in a hurry and have a household of children and have no desire to take them all to the mall to choose a birthday gift for a little girl whose party takes place in a few hours and hasn't had a chance to buy a nice gift, try this! Every girl likes to be given flowers. And if they are made of money, it's the perfect combination.
Special Balloons
Balloons across the doorway to celebrate a birthday. And there's a one-dollar bill inside each one! That makes them very special Birthday Balloons. Getting to pop them and watching the dollars fall from the sky is the best part because it is done after the cake and it sounds like fireworks. Like a Grand Finale. It's a small thing, but it's the little stuff that makes life special.
Pull Out Box
Pulling out can be fun, and now your kids will be able to learn that lesson as well. Besides, who wouldn't want to pull out a piece of hard currency? Money seems to be the ideal gift when kids hit a certain age. If you thought that it was a lame gift to give money, think again. If you love to get money, then why don't you give it?
Money Bouquet
Gifting money may not be your favorite thing, but cash is the way to go sometimes. Although the gift is not about the monetary value, but more about showing the person how much you care about them, what will amaze them is the effort you put into making this Money Bouquet! So, why not try?
Money Origami Star
That's a really clean piece of an origami dollar bill. Take five bills and fold each of them into one arm of the star, and then you're going to slot all of them together to make a 5-pointed star. From any type of banknotes, you can make this fold – any country, and any amount, it should work with every other currency that fits the size and shape.
A Card That Holds Money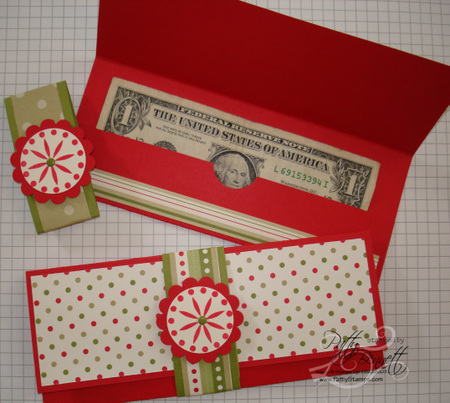 Often you just run out of gift ideas about what to get others or you have those people on your list that are "hard to shop for". It just works out sometimes to give them some cold hard money so that they can go shopping for themselves! Such cash holders are perfect for setting up a "notch" for them. They are super fast to make and great for providing cash on holidays.
Money, money, money! Must be funny in the rich man's world. Money, money, money! Always sunny in the rich man's world. Like ABBA, think of all the things you could do, if you could give a little money… as a Christmas gift! But, Christmas or not, we believe that these ideas are perfect for just about any occasion. Do you agree with us? Do you find some of our suggestions particularly pleasing? If so, do tell in the comment section below.