In the not-so-distant past, when a larger portion of the population still sew their own clothes or hired seamstresses to do so, buttons played an important part in fashion and style. Buttons didn't serve only to fasten the garment but transform it as well. You could make a drab day dress into an elegant one by simply changing or adding a few carefully selected buttons. It is why we can no longer find a wide selection of fabulous ornamental buttons as they had back in the day. If you're lucky enough, you might have a box from your grandparent's time that is filled with a treasure of vintage buttons. While sewing them into your clothes today won't create the same admiration as in the past, you can still use those lovely buttons for something unique.
Buttons have been used in accessories as well, most commonly brooches or maybe a fancy hat, and today, we can use those fancy buttons for making some fancy jewelry. We do still have a wide range of button selections, in shapes, sizes, and colors that did not exist in the past, giving you a lot more material to express your creativity in the jewelry-making department.
Making jewelry from bottoms is quite simple once you get a hang of the basics, and that's just what you'll find here in the 10 tutorials we gathered in this list for creating some fun and whimsical pieces of button jewelry.
One Button Blue Necklace
Starting off with a simple jewelry project you can make with 2 different sized buttons. Placing a smaller, more colorful, or patterned one atop a monochrome larger one, you can get this simple, dainty necklace pendant you can wear every day.
Lace and Buttin Hanging Earrings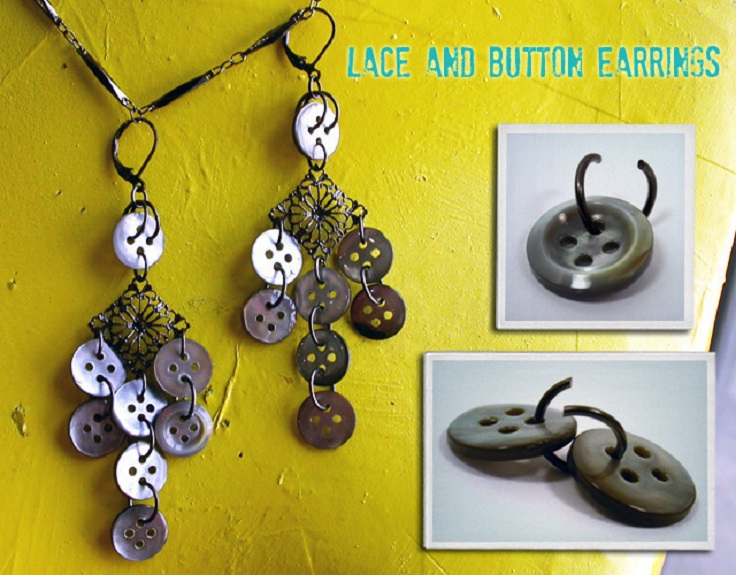 Four-hole buttons are very handy for creating different shapes and formations in jewelry making, as you will see in several examples in our list. Here you can see how to make some pretty impressive hanging earrings by hooking together buttons from a fancy filigree piece. Definitely a pair of earrings for a more special occasion.
Vintage Necklace
We talked about making good use of chunky vintage buttons, and here's how you can do it. Arrange and glue your favorite buttons over a piece of fabric in a pattern you're pleased with, then cut out the excess and attach some chain. That's how you get some very fancy statement necklace.
Vintage Rings & Bracelet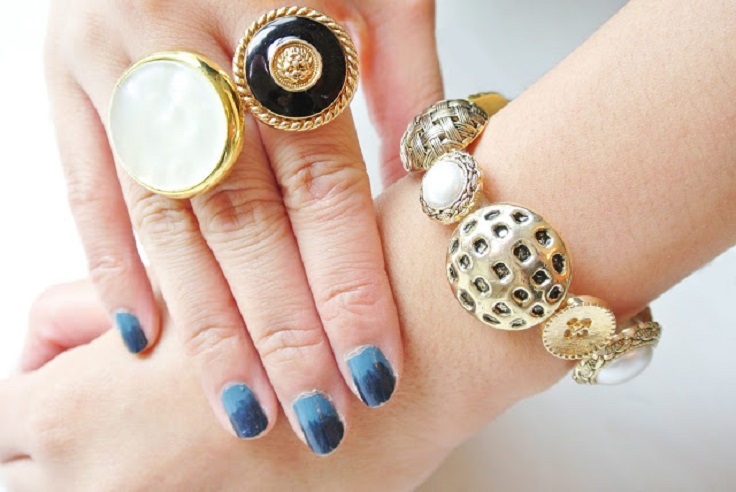 Aside from the popular statement necklaces, large statement rings are quite popular nowadays as well. If you have some large shank vintage buttons, with no holes will make a perfect base for a ring, Some of them are so pretty and shiny, they already look like they belong on a finger. It is another small and easy project that will make a great impact.
Fabric Earrings
Fabric buttons might have been used as ornaments for the garments of the rich, but now they make material for one of the simplest jewelry projects ever. Whether you have some real fabric buttons or make them from scratch, all you need is to place an earring hook at the back, a fancy pair of earrings.
Simple Bracelet
You can combine your button jewelry with different materials, for example, silk and ribbon. Sewing the buttons in two rows then running the ribbon through them gives you a very simple, yet quite interesting bracelet.
Layered Botton Necklace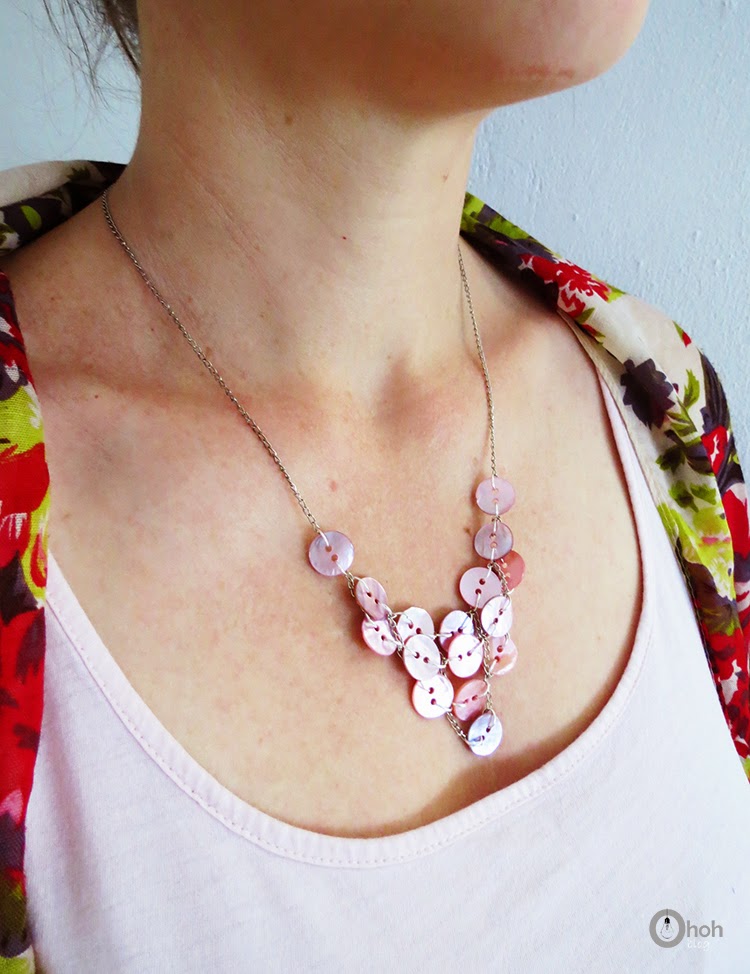 As we mentioned previously, four-home buttons allow you to connect and create different shapes from buttons, but even with two-button holes, you can make some eye-catching designs that make a statement but don't overpower you as much.
Hanging Dangle Earrings
This project is so simple, it barely needs an explanation. A piece of jewelry wire to hold the buttons together and an ear hook. The trickiest part here would probably be finding two pairs of button of the same size and pattern.
Double Row Bracelet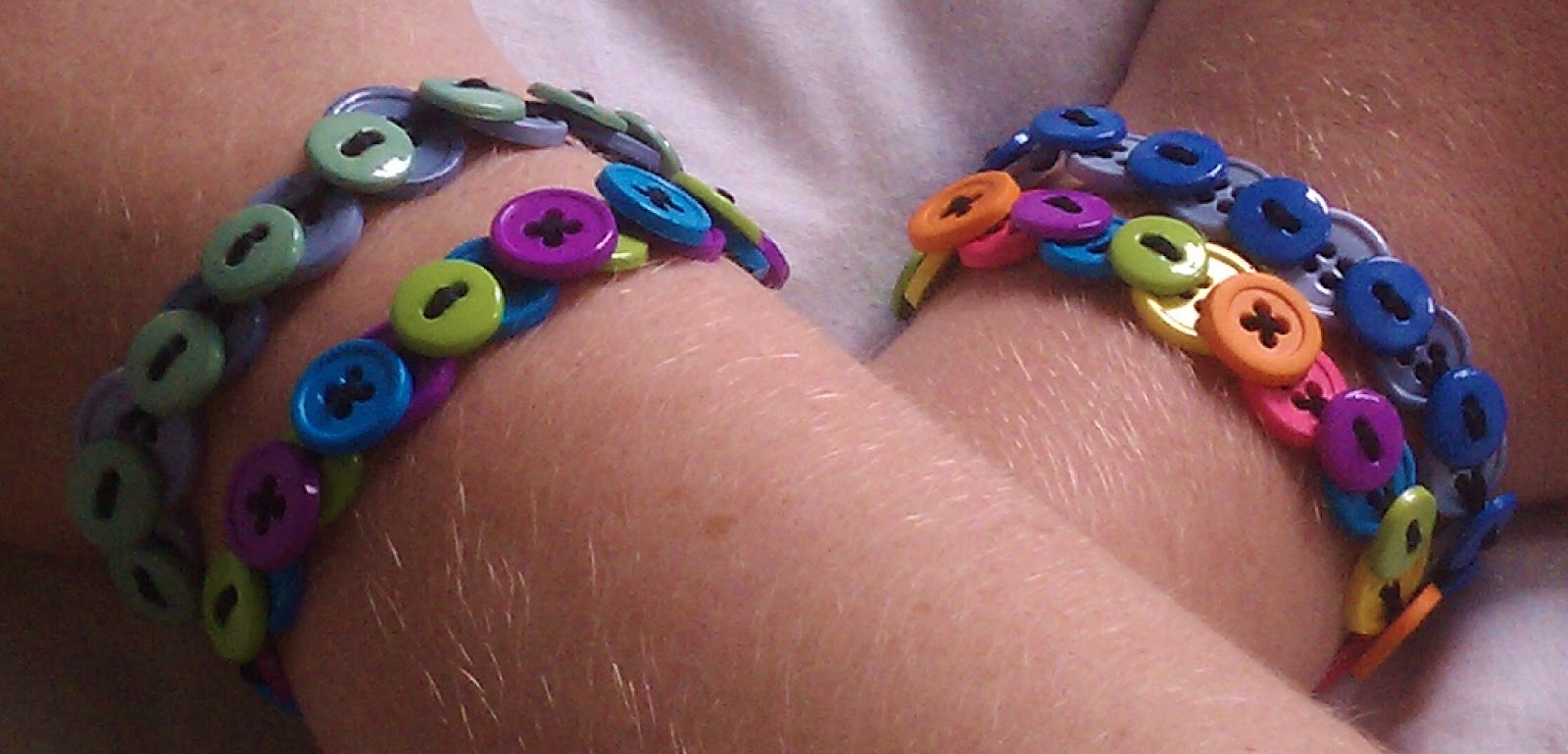 going for a more colorful project, this DIY bracelet is something you can do with your children, and give them a little bit of basic sewing. The two-row bracelet with a layered effect looks great for all ages and your kids can feel good about themselves for making such a cool bracelet.
Gilded Wooden Botton Necklace
For our last project, we suggest trying to make this gorgeous necklace that you'll have to look twice at to realize that those are buttons. If you have buttons like these, make sure to try it, and if you don't, try it anyway, since you'll never know just what jewelry design will be the next big hit.
That's all the button jewelry projects we have for now. Before we button up this article, make sure to share with us your favorite button jewelry projects or ideas on what would be a good button project. Leave us your thoughts and ideas in the comments.