Crochet is making a huge comeback. The patterns that can be created are endless and so intricate, you don't need any color patterns to make clothes more interesting with crochet. As popular as crochet is becoming in the fashion world, you can also incorporate those patterns in your home decor and you won't even have to pick up a crochet needle.
Chrochet doilies used to be a comon part of every home's decor, proudly displaying the craftsmanchip of the lady of the house or the sweet grandmother. Most of us probably have plenty of those stacked aways somehwere, too oldfashioned to display, too precious and sentimantal to throw away. Doilies can actualy be transformed into someting quite fancy and cute that will make your home more unique, so get those old doilies out and check out our projects.
To decorate your home with your vintage doilies and still keep that modern look, here are the top 10 DIY doily projects that will certainly help you blend the old end the new.
DIY Lace Doily Bowl
Small bowls for keeping trinkets are one of those items you often don't think or overlook until you need them. With the old doilies and some fabric stiffener, you can make some darling little bowls you can be proud of.
Doily Covered Lampshade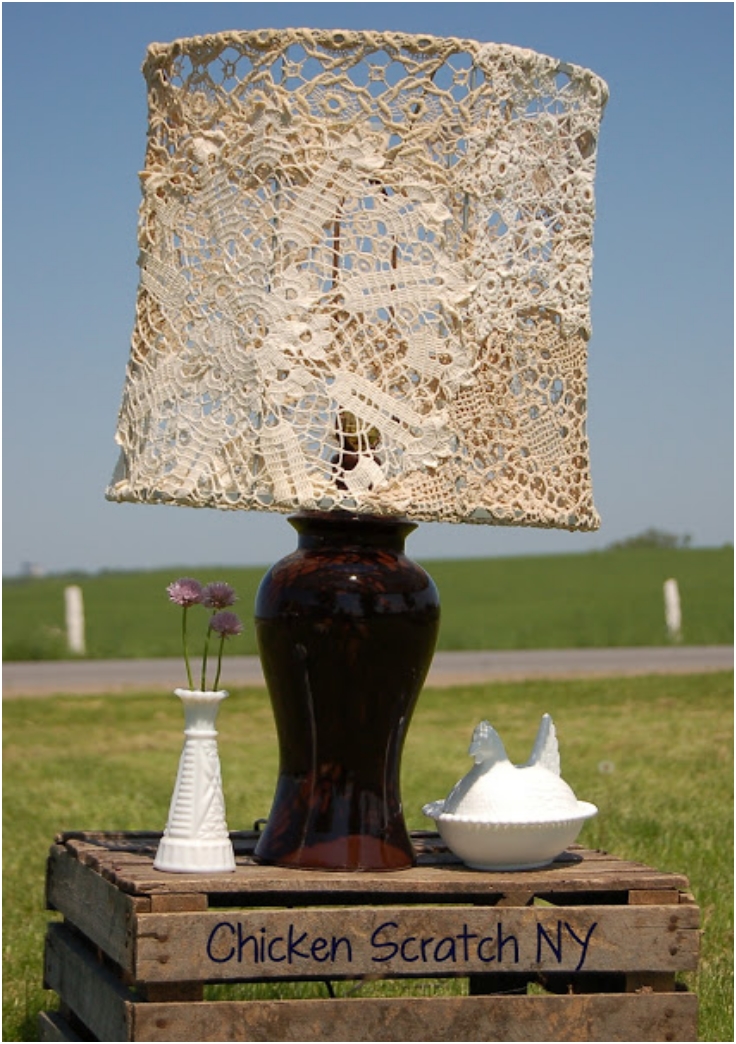 If you're going for a more rustic look at home, you have to have one of those old table lamps with lampshades and you can find them very cheap on old yard sales or antique stores. Unfortunately, the shades are usually not in a good shape and finding new ones is almost impossible. Replace the old shade with some doilies and you'll have a really unique lampshade.
Repurposed Vintage Doilies and Frames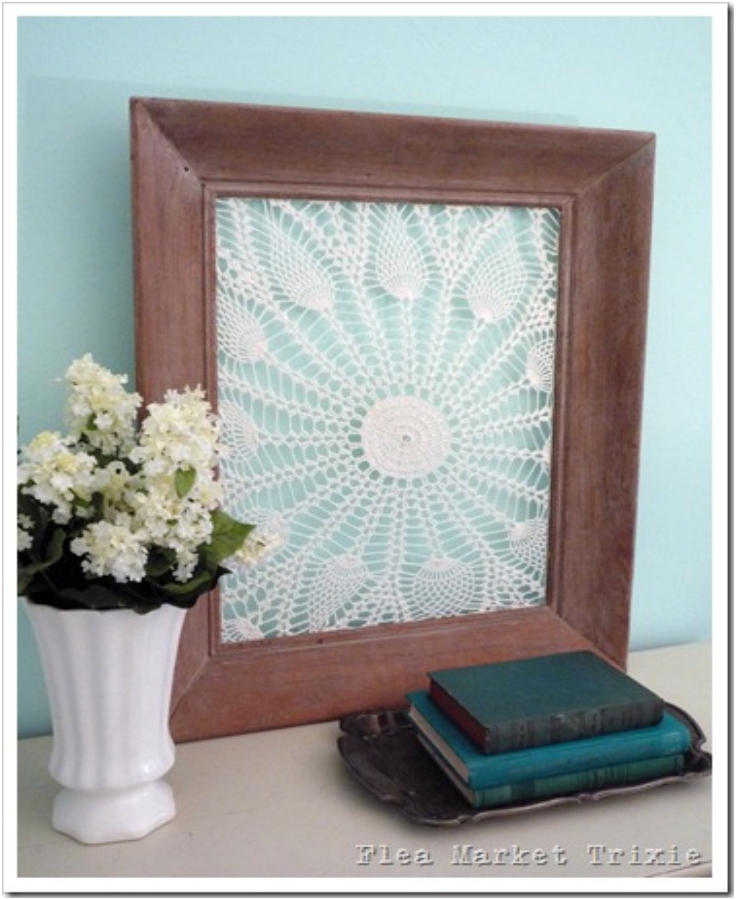 We talked about how the patterns of the crochet doilies are one of the charming and desirable things about them.. They're trully like art, and if you have a particular favorite pattern, you can actually turn it into a nice art, by framing it in a nice modern frame to adorn your walls.
Not Your Grandma's Doilies: Doily Art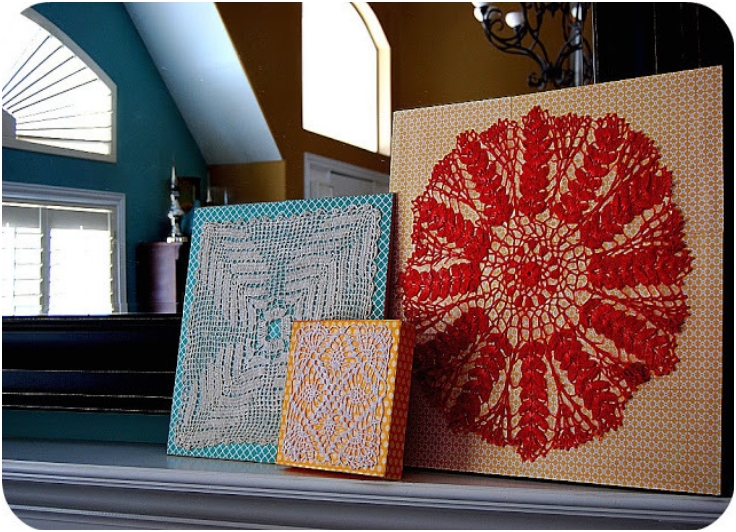 Don't have a picture fram but likethe idea of sing doilies for art? Here's another way to do that. You can use canvases or even lids from shoe boxes. Decorate them as you like and you can even dye the doilies to make them even more colorful.
DIY Dreamcatcher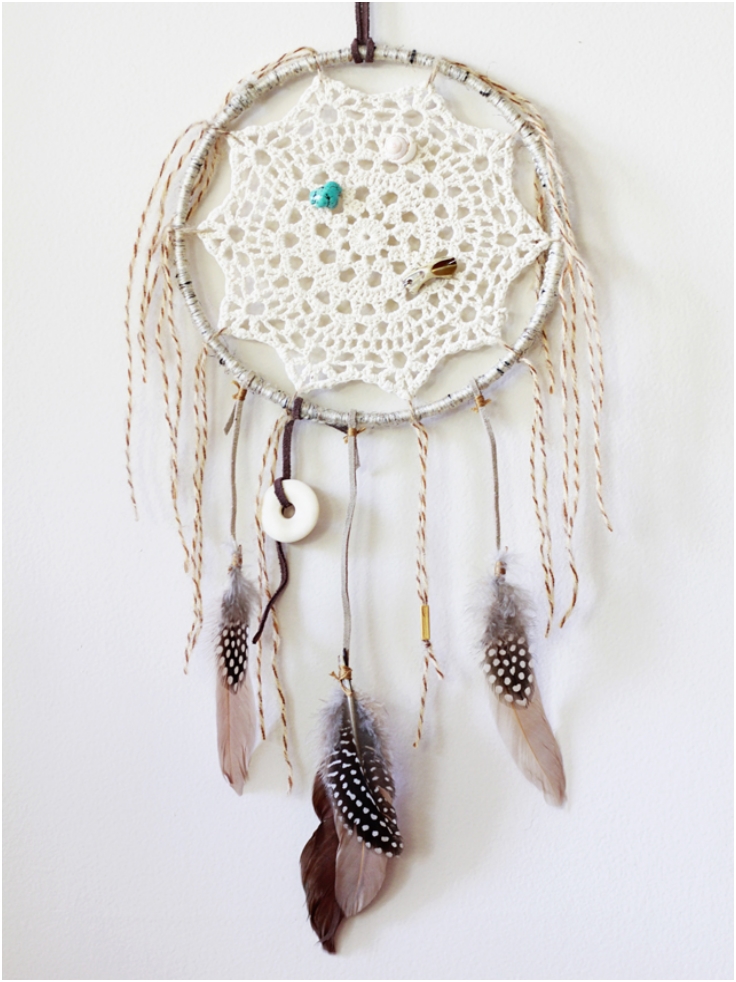 Dreamcatchers are also a very nice decor piece for those who enjoy the boho-style decor. The tricky part of making your own dreamcatcher is making the web of the circle, the central part. A doily and an embroidery hoop can help you solve this problem quickly, and you'll just need to add the feathers. It might not serve its original purpose of catching bad dreams, but it will brighten up your room.
DIY Doily Lantern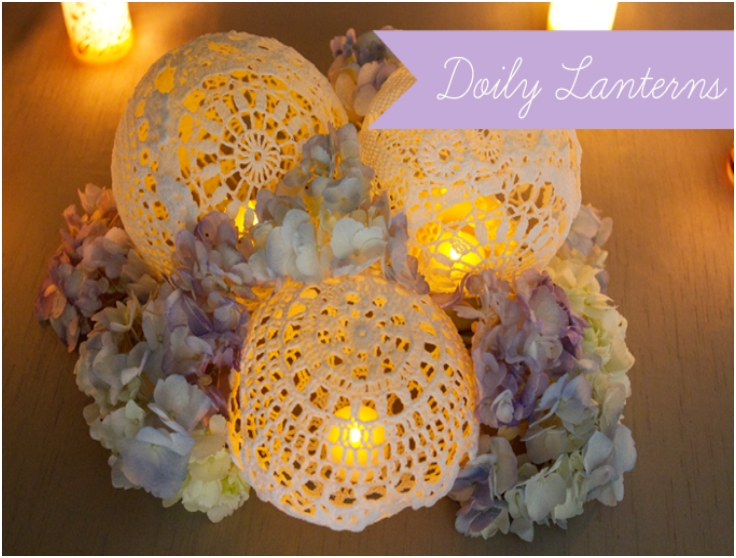 Similar to the doily bowls, you can make doily domes. Depending on the size od the doily, you can use them on a garland as party decor or turn them into amazing lanterns that will transform your room once you light them up.
Doily Table Runner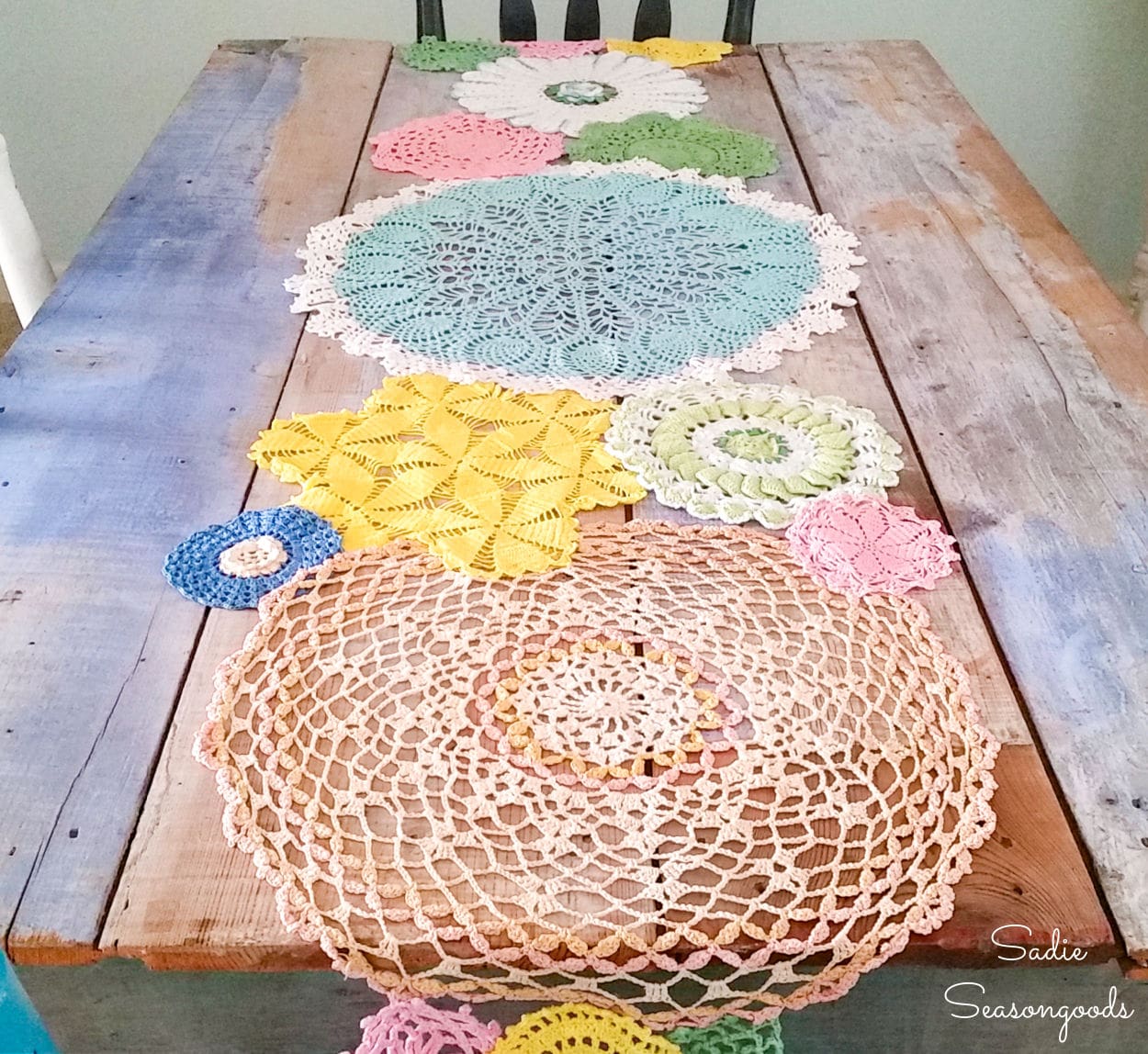 Here is a modern project closer to the original purpose of the doily. While single doilies used to be placed on a small side table, now you can combine different sized ones, dye them in different colors if you like, and create a very sweet table runner for the dining table.
Doily Crochet Tote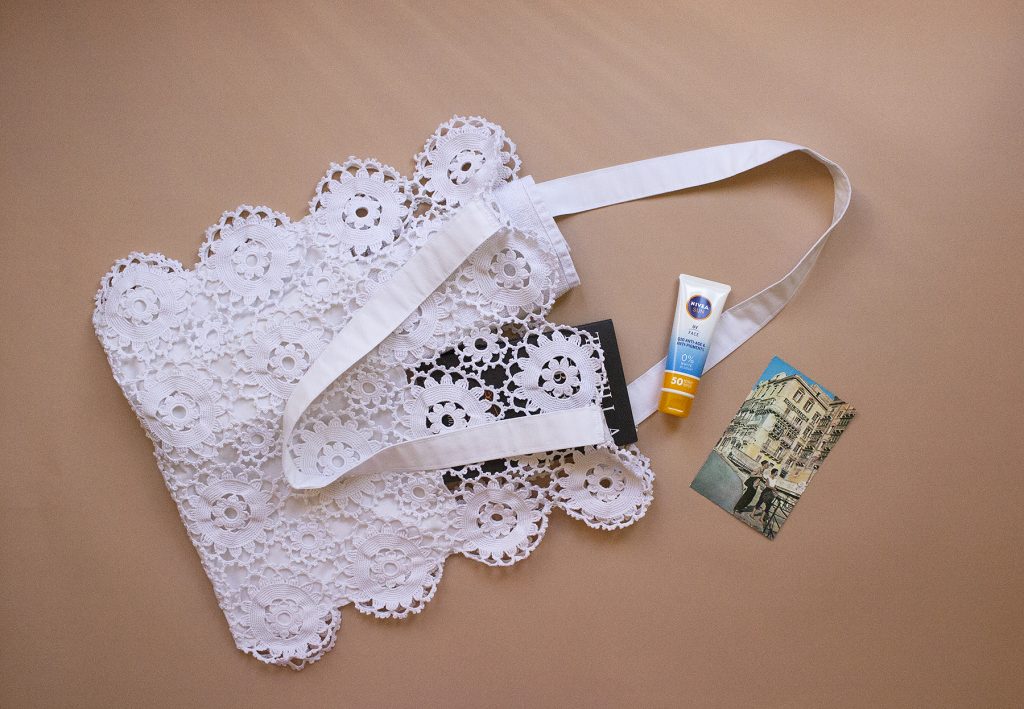 While home decor pieces are nice, they have limited purpose, so if you're looking for a doily project that will be more useful to you, you can try making this fashionable tote, which will surely become a hit in your circle of friends.
Boho Earrings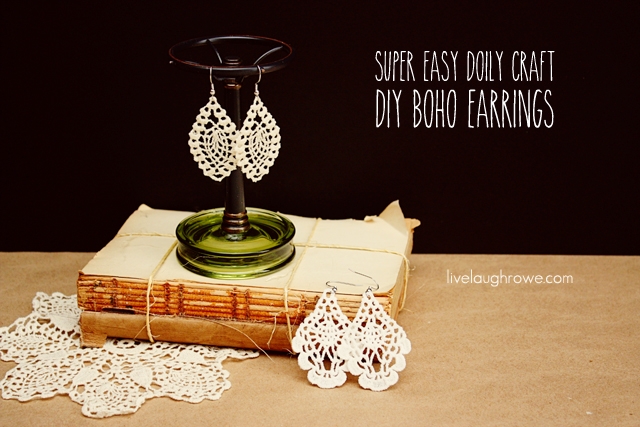 Another useful fashionable item you can make from old doilies is accessories, like earrings or necklaces. You just have to be very careful how you cut out the shapes because crochet duties can easily unravel.
Doily Throw Pillow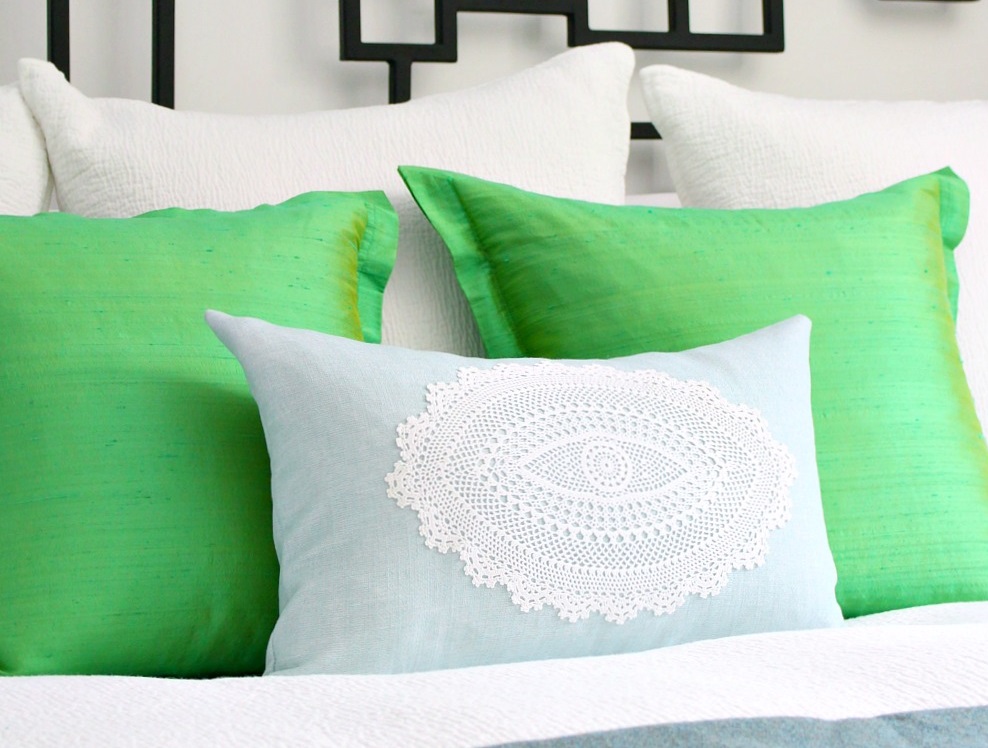 For our last doily project, we suggest trying to make a nice boho pillowcase. There are several ways to go around this, but the easiest one is to sew a larger doily on an old pillowcase and you have a nice textured throw pillow in no time.
That's all the doily ideas we have for now. We hope you found a project that will help you make good use of grandma's old doilies that will bring some of the old charms to your home. What's your best way to use old doilies? Share with us your ideas and suggestions in the comment section below.