For those who love seafood: here are ten super tasty recipes that you can use as your new cooking inspiration for lunch or dinner. They all take 30 minutes to be ready or even less, which makes them the perfect meal when you're not able or interested into spending time in the kitchen.
Ahead you will find recipes that include salmon, tuna, lobster and other seafood in a combination with dishes that we already ate in different way, like burgers or salads. It's always interesting and good if we experiment a little bit in the kitchen, especially when it comes to healthy food. Scroll along to find out more!
1. Pan-Seared Shrimps Marinated With Ginger, Honey and Chili
This takes less than 30 minutes to prepare and it's the perfect combination of both delicious and healthy. While you leave the shrimps to marinate, you can prepare a fresh salad or some rice to serve as a side dish. The recipe features a beautiful salad as well with spring lettuce, pears and honey glazed walnuts.
2. Seafood Spaghetti Marinara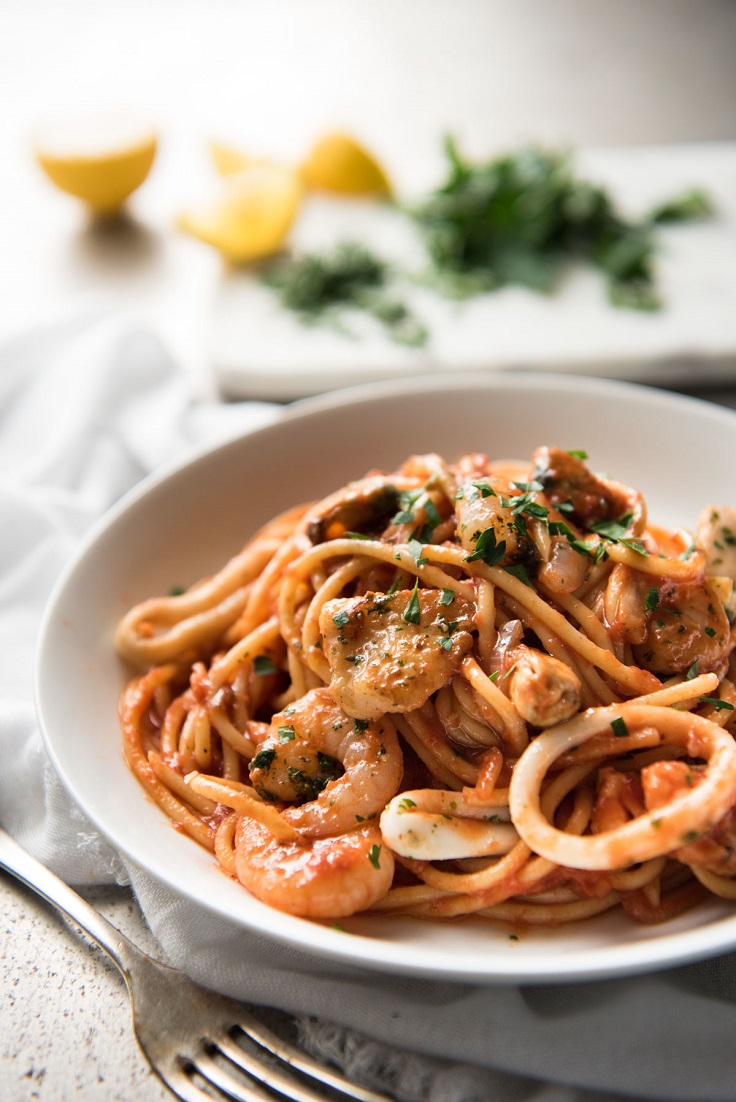 via recipetineats.com
Of course, pasta isn't excluded when it comes to seafood – in fact, they make one really tasty Mediterranean dish! No matter if it's dinner or lunch, this dish is going to make you feel both full and satisfied. Here are the ingredients you need: 6 oz dried spaghetti pasta (or other long pasta of choice), 2½ tbsp olive oil, 10oz seafood Marinara mix, or make your own, 2 garlic cloves, ½ onion, ½ cup white wine, 2 cups tomato passata/tomato puree or 20oz canned crushed tomato + ½ cup water, ½ tsp sugar and 2 tbsp finely chopped fresh parsley for better Mediterranean experience.
3. Baked Mussels
via finedininglovers.com
The baked mussels not only can be great dinner or lunch, but a great appetizer for any party as well. This delicious recipe from the Italian cuisine requires spending 25 minutes in the kitchen and the recipe is meant for 4 people. The mussels are mixed with herbs and Parmesan – a combination worth trying! You need: 1 kg fresh mussels, 20 g fresh and chopped parsley, 1 clove chopped garlic, 1/2 deseeded and chopped chilli pepper, 180 g bread crumbs, 15 ml freshly grated Parmesan, 75 ml extra – virgin oil.
4. Fish Stew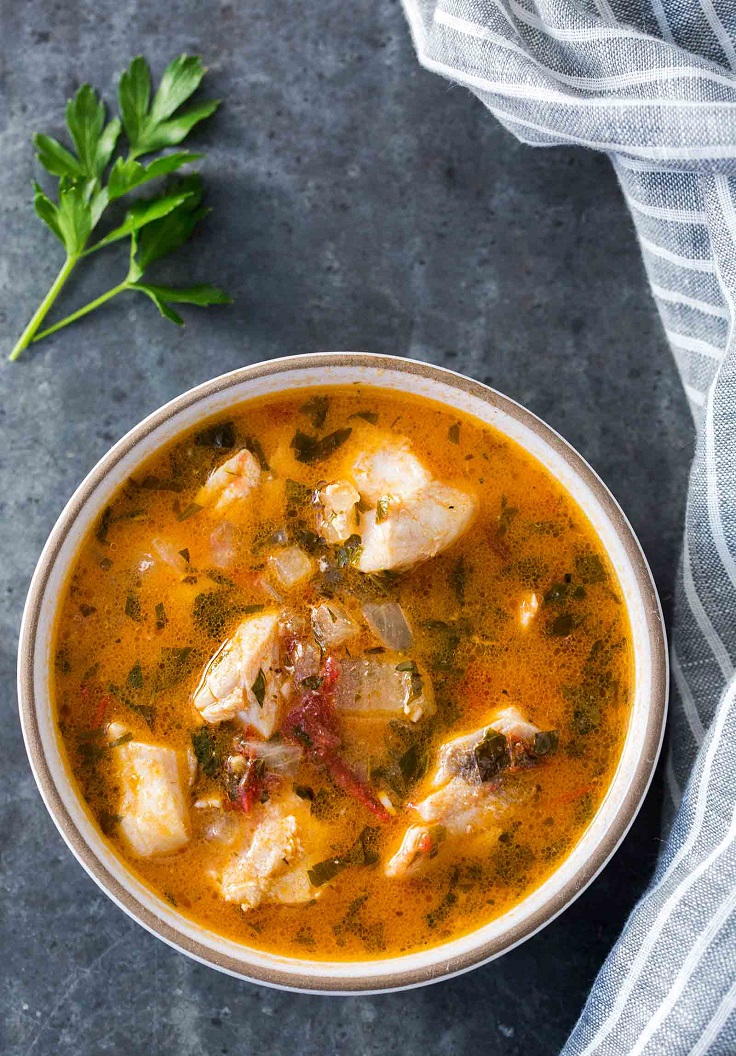 via simplyrecipes.com
Ready in 20 minutes, this stew is going to be a light dinner that will make you feel full. The recipe is enough for 4 people, making it a good idea if you're expecting someone soon or for your family. You need: 6 Tbsp olive oil, 1 medium onion, 3 large garlic cloves, 2/3 cup fresh parsley, 1 1/2 cups of fresh chopped tomato or 1 14-ounce can of whole or crushed tomatoes with their juices, 2 teaspoons tomato paste, 8 oz of clam juice, 1/2 cup dry white wine, 1 1/2 lb fish fillets, pinch of dry oregano, pinch of dry thyme, 1/8 teaspoon Tabasco sauce (or more to taste), freshly ground black pepper to taste and salt to taste.
5. Shrimp Ceviche Salad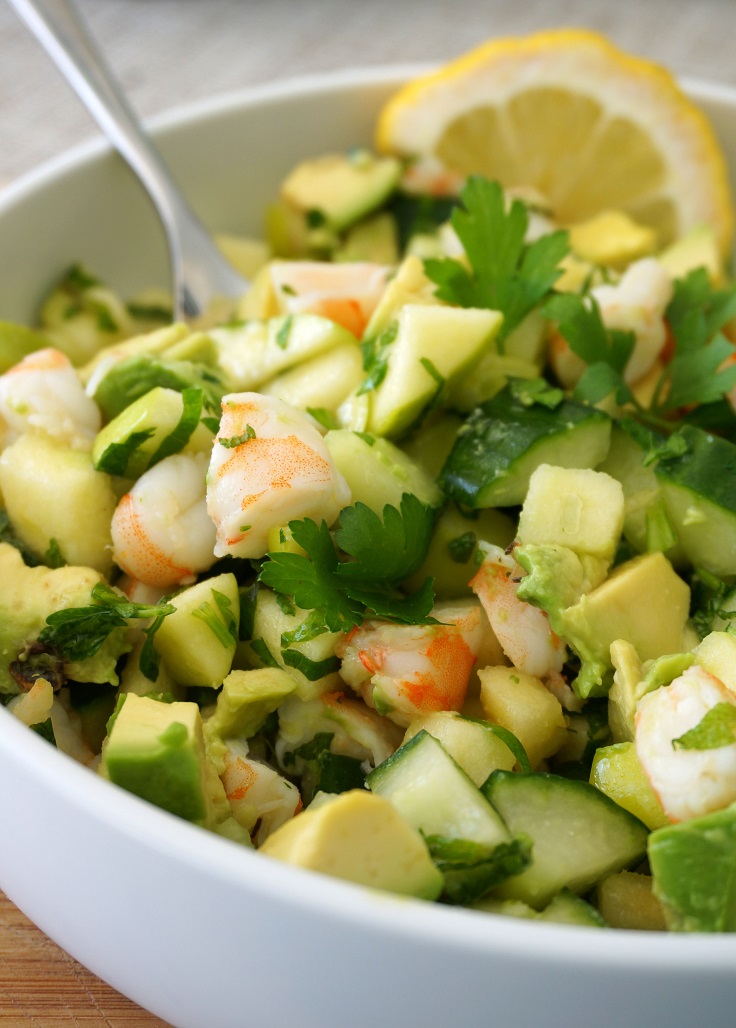 via autoimmune-paleo.com
If you want something more fresh and as healthy as possible for lunch or dinner, then having the good old salad is always a great idea. This one includes: 1 ½ cups seeded and chopped cucumber, 1 ½ cups chopped green apple, meat of 1 avocado, 1 cup chopped cooked shrimp, ¼ cup finely chopped parsley, 2 tbsp finely chopped mint, 2 tbsp olive oil, 2 tbsp lemon juice, ½ tsp sea salt and ¼ tsp garlic powder. It will take you 15 minutes to prepare, but it's the best to leave it for two hours before eating it – marinating the salad's ingredients will make them taste better.
6. Herb Crusted Salmon with Goat Cheese Polenta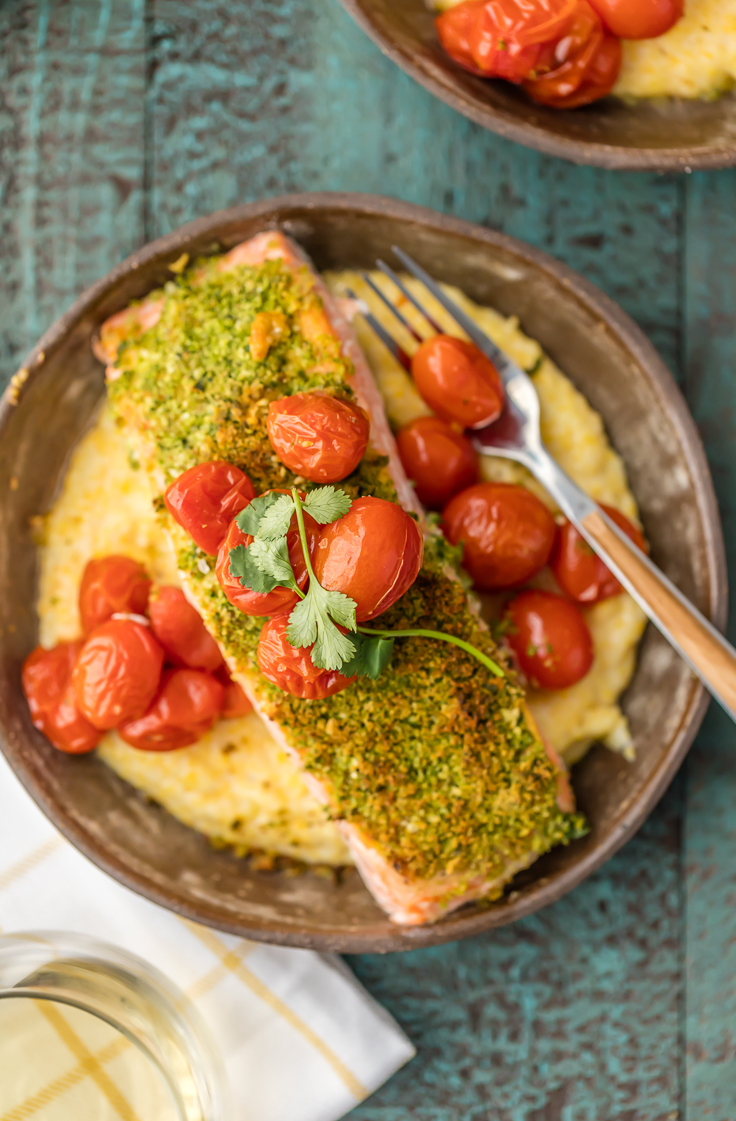 via thecookierookie.com
There are so many recipes including the salmon, and this one is definitely one really worth trying. It's an amazing combination of herb crusted salmon with a goat cheese polenta. You need: 4 (6 ounce) salmon fillets, 2 tablespoon dijon mustard, 2 cups cherry tomatoes, 1 cup fresh parsley, 1/2 cup fresh basil, 1 clove garlic, 1 1/2 cup bread crumbs or panko, 2 tablespoons olive oil, 1 teaspoon salt, 1 1/2 cups corn grits polenta, 4 cups water, 5 ounces goat cheese and salt and pepper to taste.
7. Barbecued Langoustines with Aioli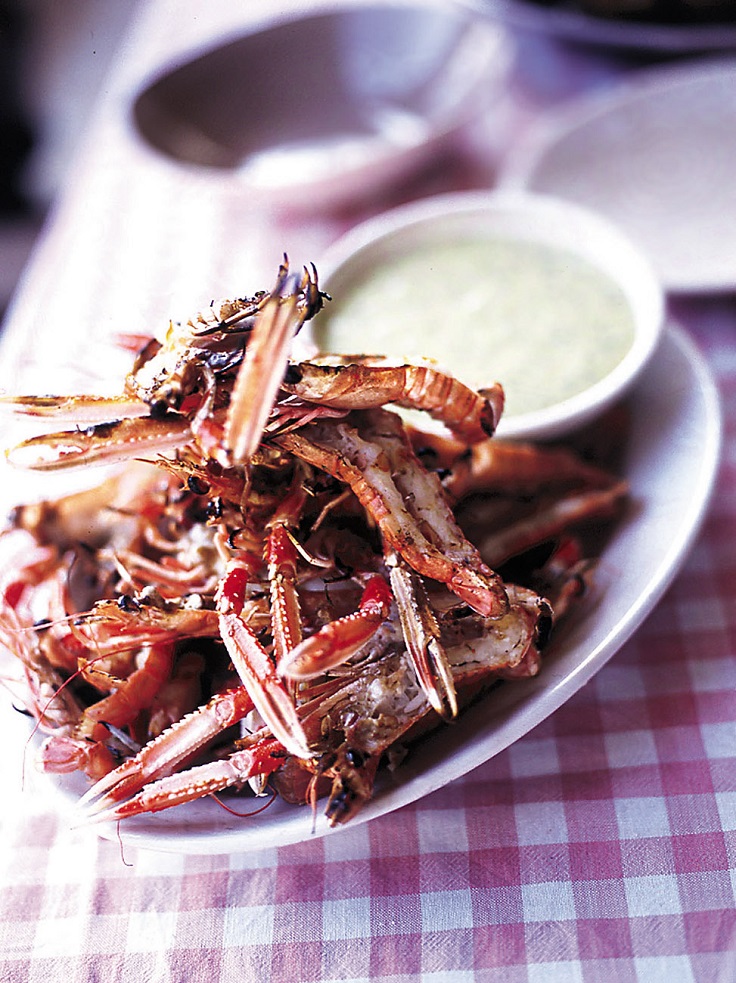 via jamieoliver.com
Here's a recipe from the world's most famous cook – Jamie Oliver. The recipe serves four and the dinner will be ready in less than 30 minutes. However, the langoustines are more expensive than prawns, but they're definitely worth the money! Make sure you have: ½ clove garlic, 1 teaspoon sea salt + a little extra, 1 large free-range egg yolk, 1 teaspoon Dijon mustard, 300 ml extra virgin olive oil, 300 ml olive oil, lemon juice, freshly ground black pepper and 16 langoustines.
8. Classic Lobster Rolls
via thesuburbansoapbox.com
Here's one classic seafood recipe that you really need to try if you haven't tried it so far. It's a lobster roll in a combination with few ingredients that you most likely already have at home – butter, mayonnaise and chopped chives. According to the recipe, it's best to prepare them with New England Style hot dogs, but the ordinary ones will do the trick as well! You need 3 1-1 1/2 pound lobsters, 2 tablespoons good quality mayonnaise, 1 tablespoon lemon juice, kosher salt, fresh ground pepper, 6 tablespoons melted butter, 4 New England Style hot dog rolls and 4 tablespoons chopped fresh chives.
9. Avocado Tuna Boats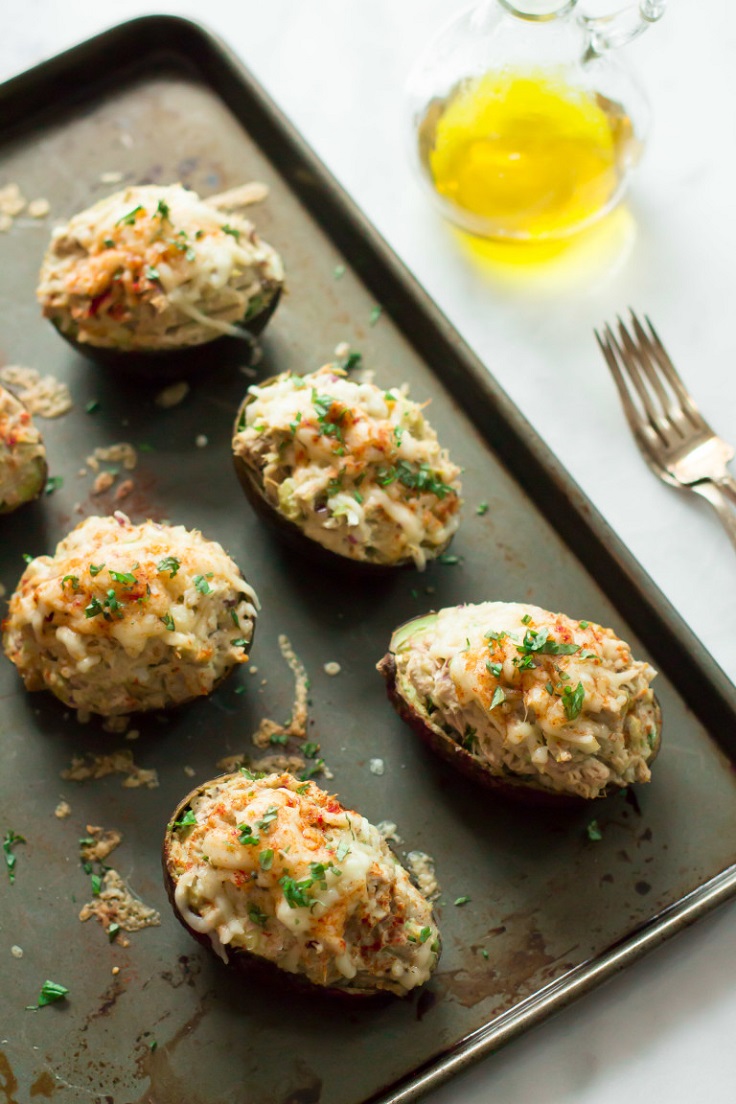 via primaverakitchen.com
This recipe is super healthy and will make you feel full enough! It's the perfect mixture of avocado, mozzarella and seafood. Here is used tuna, but you can try it out with other seafood if you want to. These are the needed ingredients for the avocado tuna boats: 4 medium ripe avocados, peeled and halved, ½ cup mayonnaise, 2 tablespoons lemon juice, 2 cans tuna meat, ½ cup red onions, ¼ teaspoon red chili flakes, ½ cup shredded mozzarella cheese, ½ teaspoon paprika and 1 tablespoon chopped fresh parsley.
10. Salmon Burgers
via seriouseats.com
Yes, seafood and burgers go really well together, especially when you have super tasty recipe like this one! It's not just the salmon, but the mixture of all ingredients that will make you forget about beef burgers for a while. You need: 1 1/4 pounds boneless skinless salmon fillets, 1 small red onion, 1/2 cup fresh dill fronds, 2 tablespoons honey, 1 tablespoon prepared horseradish, Kosher salt and freshly ground black pepper, 1/4 cup mayonnaise, 2 tablespoons Dijon mustard, 2 tablespoons extra-virgin olive oil, 4 toasted split rolls, 4 leaves Butter lettuce and 1 ripe Hass avocado.