Do you want to try something more daring with your makeup? You should totally consider the golden eyeshadow. There are thousands of ways to wear it to make your eyes stand out and look fabulous, no matter when you wear it, like a day or night makeup, or which is your taste, the more natural looks, the brave smokey or something in the middle.
Whatever is your case, the gold eyeshadow will be perfect; it can fit in every occasion and make you look priceless. Look at these 10 makeup tutorials that we found to be the most beautiful yet effortless, easy, and fast to re-create.
Don't hesitate to pull the "golden eye" look; we are sure that it will look stunning. Please share your opinion on these looks with us!
Dramatic Gold Eyes

via cosmopolitan.com
This look made by the gorgeous Vegas Nay is a three colored look, light rose, brown, and gold. The best way to get this sparkly touch is by using shimmer eyeshadow, and the last thing that made this look flawless is the falsies that you can use by choice.
Golden and Green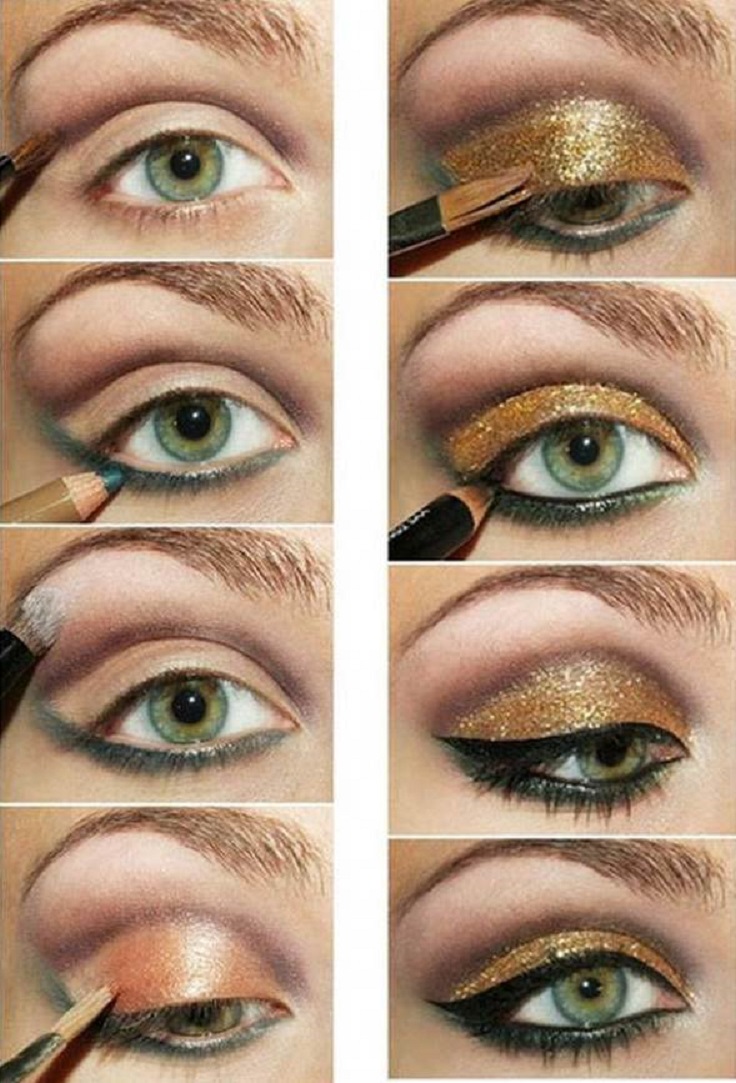 via okumag.com
Except for the gold shimmer, the color that makes this look special is the dark green eyeshadow applied only at the lower eyelid and camouflaged with a little black eyeliner that doesn't bring the green at the first plan but completes the makeup look perfectly.
Yellow Base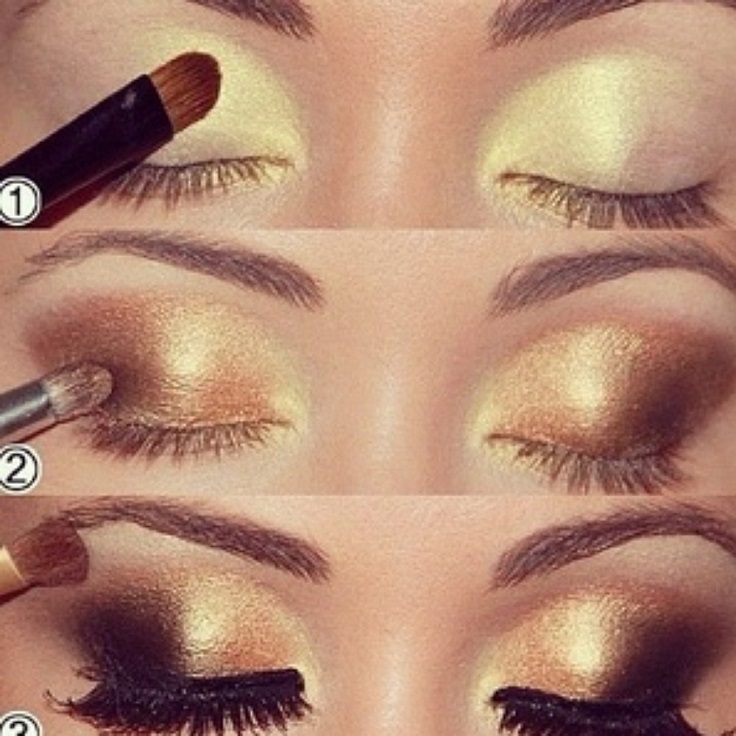 via beautyhigh.com
This look's yellow base is an excellent idea because that way, you can make the gold eyeshadow stand out even more and give it a natural blend. By your taste, you can make a smokey eye look just like the picture above, or wear only the beautiful golden pigment on your eyelids.
Daily Golden Smokey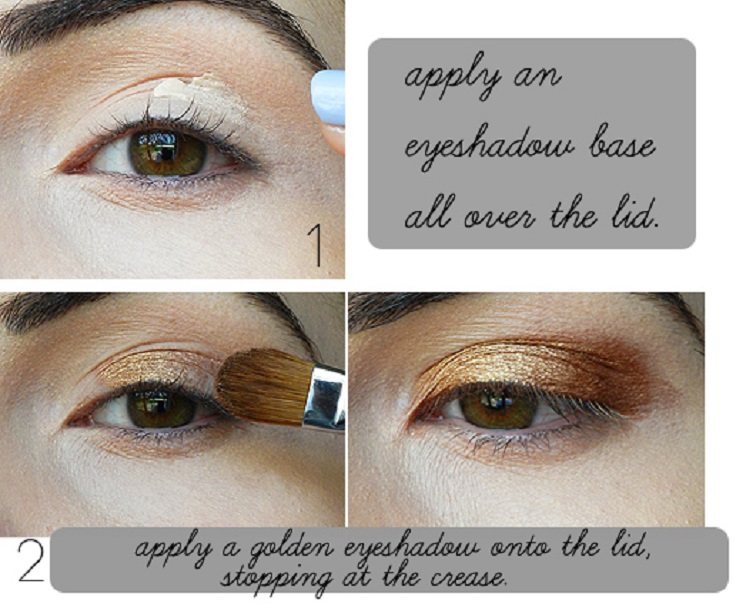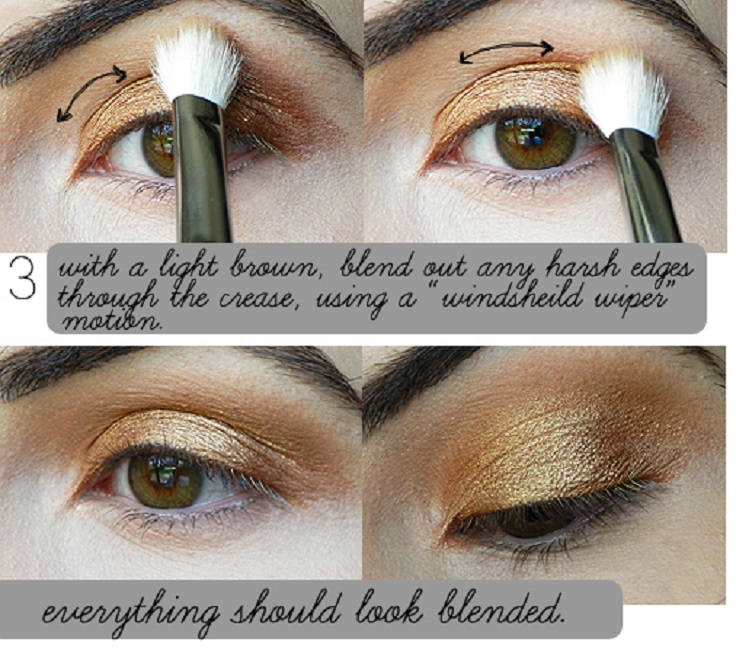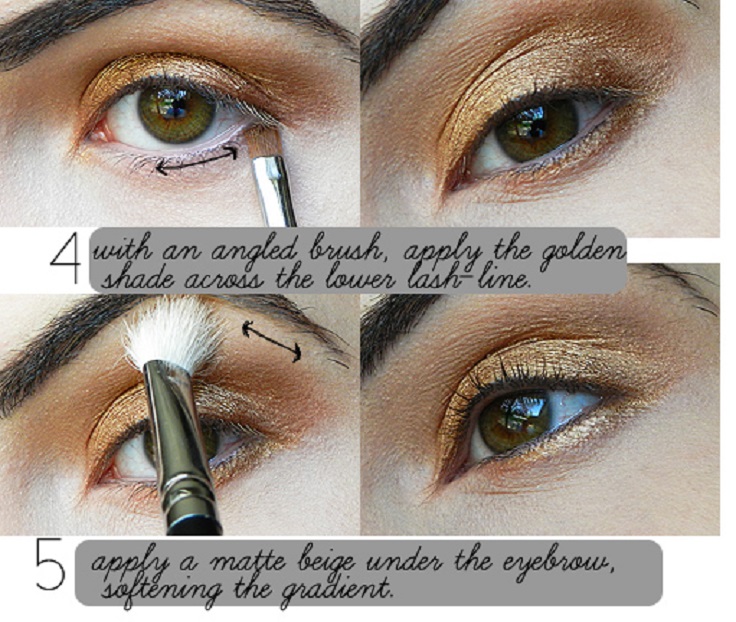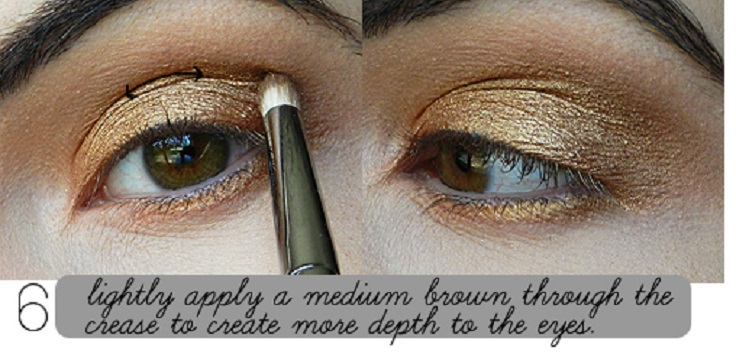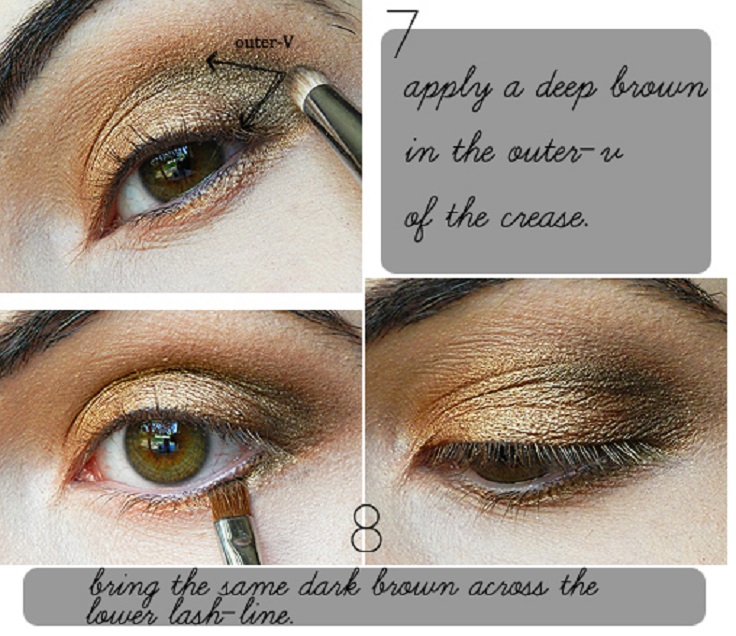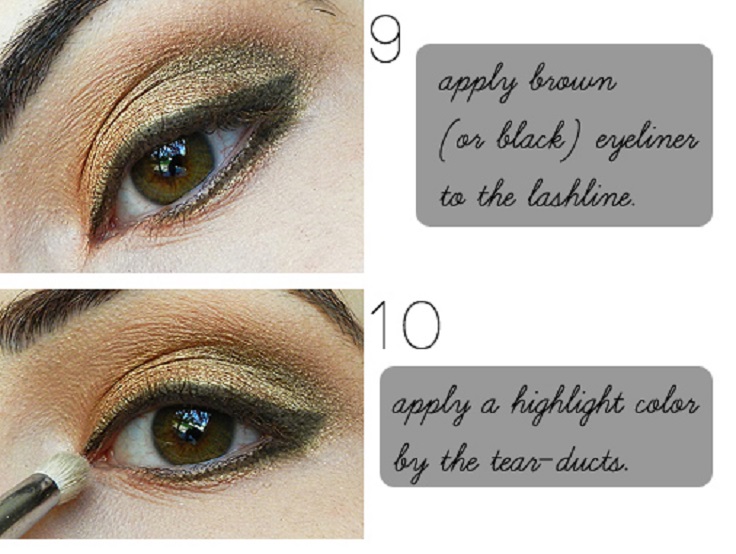 If you have read the instructions given on this amazing tutorial, it should be hard for you to re-create this unique look that you can pull out just fine as daily eye makeup. The golden shadow blends perfectly with everybody's skin.
Glitter and Gold Eyeshadow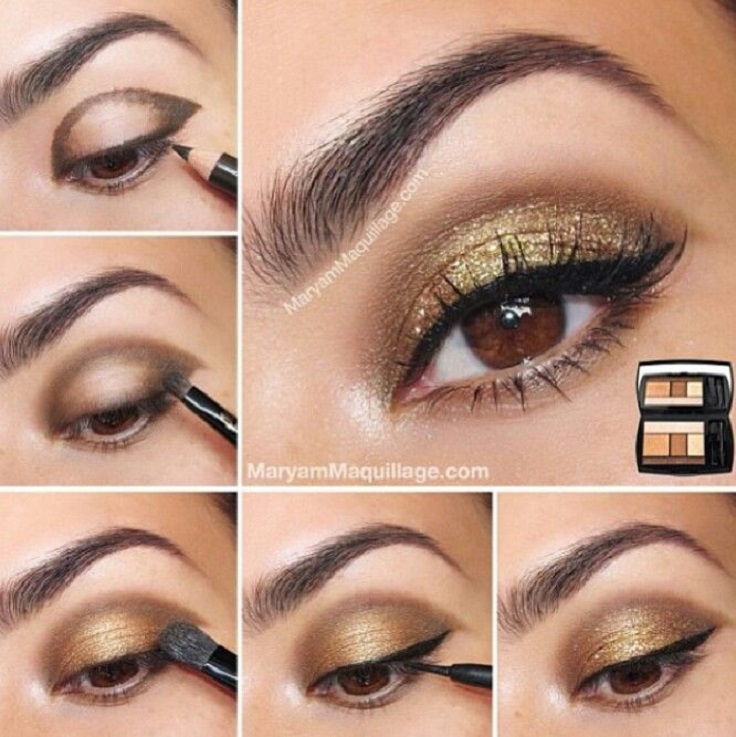 via portaltagit.ne10.uol.com.br
This beautiful subtle look is effortless because of one thing: eye pencil instead of eyeshadow for the crease's contouring. Find the perfect place for your eye shape and draw lines where you want to give your eye dimension and shadow. Then blend it with a brush and apply the golden shimmer as you like it. To make it more natural, leave the lower eyelid bare.
Light Gold for Blue Eyes

via outfittrends.com
The gold enhances the blue eyes beautifully. Using the shade used in this tutorial, it is a delicate and warm color that instantly makes your eyes bigger and more open and brings to the surface your color.
Gold Eyeshadow and Gold Eyeliner

via makeup.com
If you want to go a little braver, you should try this look, the golden eyeshadow combined with shimmery golden eyeliner that giver a double glitter on your eyelids. You will look fantastic for some special night when you decide to enslave everyone's looks towards you.
Brave Night Out Golden Eyeshadow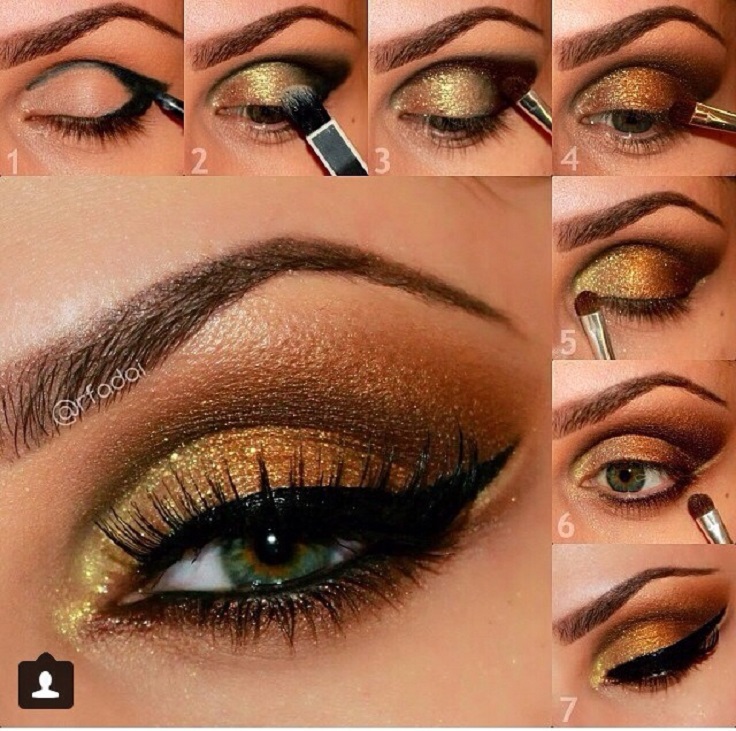 via trusper.com
This is a special occasion- golden makeup, and if you are going for this bold and strong look, you won't be wrong with this. Follow the tutorial steps, create the look, and always remember – a longer cat-eye liner and bigger false lashes can do wonders!
Natural Golden Bronzed Eyes

via futurederm.com
Unique simple makeup looks require one golden shadow and brown shadow for the crease; apply a thick layer of the shadows and finish the face with a little mascara. You are good to go.
Bronzed Smokey

The magic of this look consists of the white eyeliner on the waterline. After applying this beautiful shade of bronze eyeshadow, the brown for contour, and the black eyeliner and mascara, apply a white eyeliner, and you will have a dazzling look with your eyes.