We're amazed at all the wonders you can create with needles and some yarn! Next time you need a special gift for a baby shower or if you have little darlings of your own, why don't you make a couple of these adorable baby booties.
When the temperatures dropping, there's no better way to keep their little toes toasty warm. We have some free patterns for you to knit or crochet – whichever you prefer – cute booties to slip on your baby's feet.
A quick tip – it's smart to make them just a little bit bigger so they can be worn for a longer period of time. They grow up so fast, don't they?
 Cotton Baby Sandals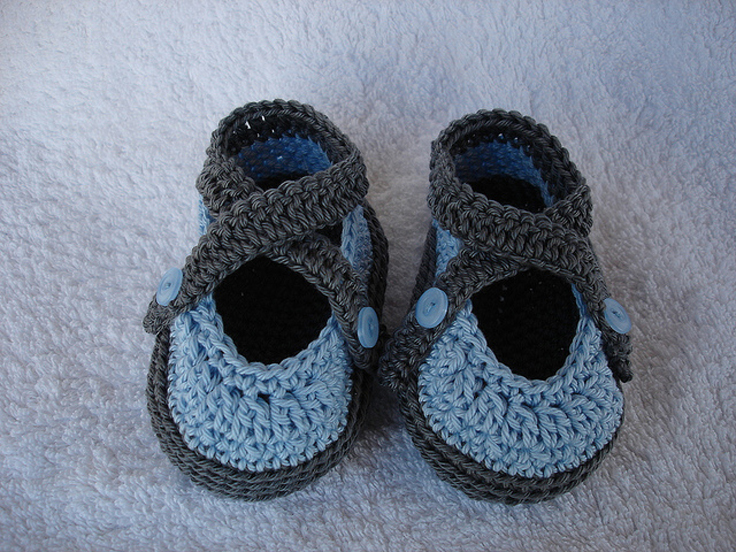 Crochet Pattern via ravelry.com
The sandals are worked in a single piece and on the plus side, the only things you will need to sew on are the large buttons. Everything else will be a walk in the park as easy as one two three! These beautiful little numbers are available in two different color schemes. We wish to keep them warm, but with enough breathing areas especially with the up-and-coming warmer months perfect for their little feet. Perfect for your little person or as a gift.
Marley-Pattern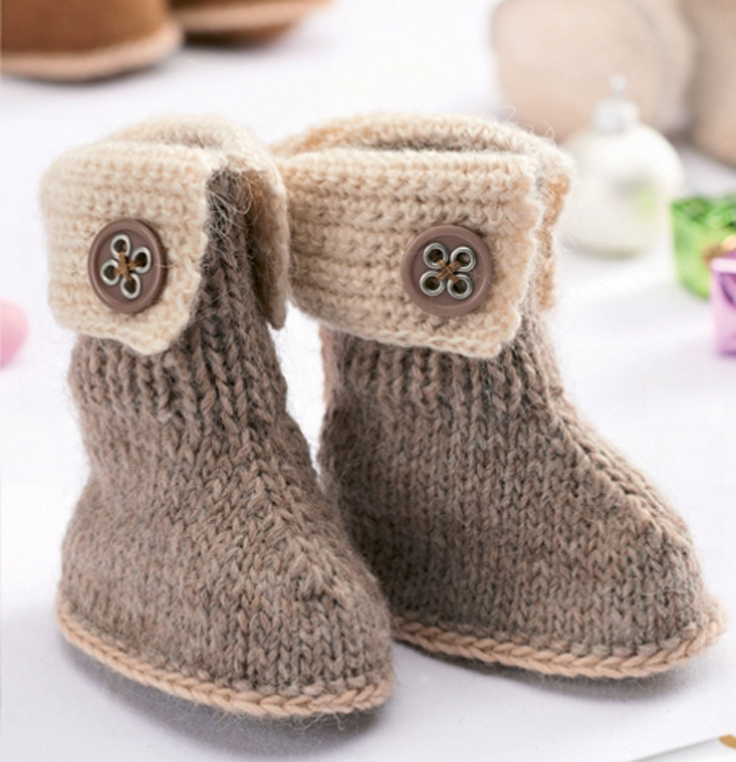 Knitting Pattern via letsknit.co.uk
You wish to make your baby the most handsome or prettiest of them all? Do you wish for them to really stand out from the crowd and look incredibly fashionable and all cute at the same time? Look no further! These beautiful skin-colored boots are the real deal and will suit most outfits and fit for either sex. It will keep their precious feet all cozy and warm and will be perfect for the many pictures we love to take. Naturally, you can opt to choose your own colors for this one, but we do love the natural look of these.
Converse Booties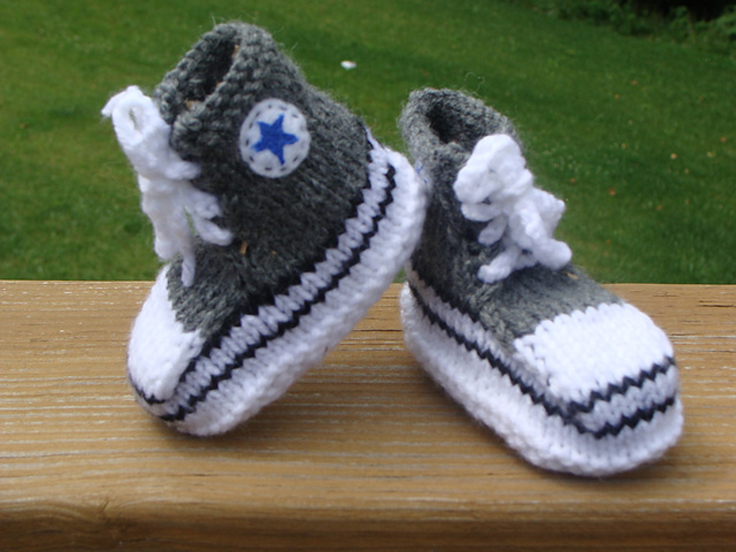 Knitting Pattern via thewhoot.com
This takes the word cool to the next level! Converse has been a choice of fashion for decades now and is still going strong. But the shoes are worth the price of an adult choice. Difference? We would wear them for years. Babies or infants, for 6 months if we are lucky. So, really? And besides, Converse baby booties crochet by yourself? You will find many color alternatives so get plenty of colored yarn they're addictive to create.
Knitted Baby Booties With Ribbon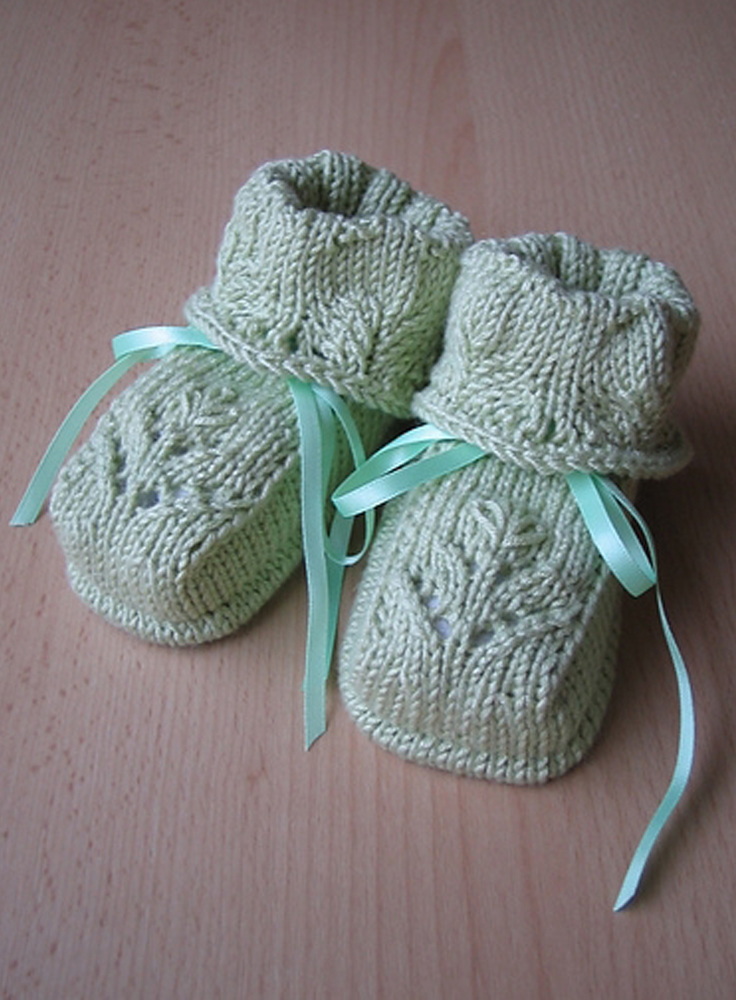 Knitting Pattern via baby-knitting-free-patterns.blogspot.com
The more classic style of baby booties that seems to never ever die. They are a classic, we love it because, to begin with, it goes well with everything and both great for baby boys and for baby girls! You might even be tempted to try a bigger size fitting you! Beautiful little things that will put a smile on your face once you see you babywearing these. You can take the very same pattern and create many others of the same model but of many different colors.
Baby Flower Booty Slippers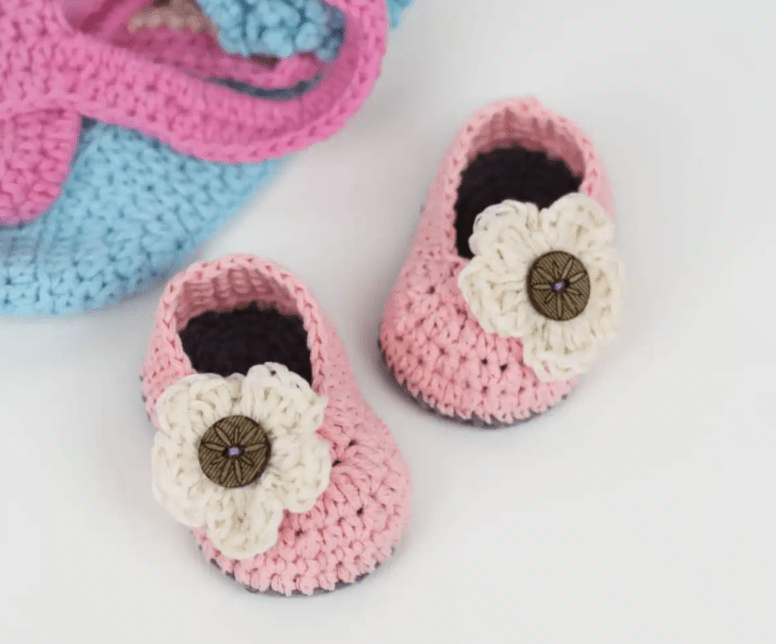 Crochet Pattern via crobypatterns.com
We don't think your newborn baby will suddenly think to itself, "heck, I'm going off for a walk in the house" and run amuck, however, how cute are these little slippers? Made in the classic blue for the boys and pink for the girls, they are without a doubt a super idea for a present for someone you love that has a little one at home. Do the entire wrapping of the present in a box to the same color as the booty slippers for the added cuteness.
Kimono Style Booties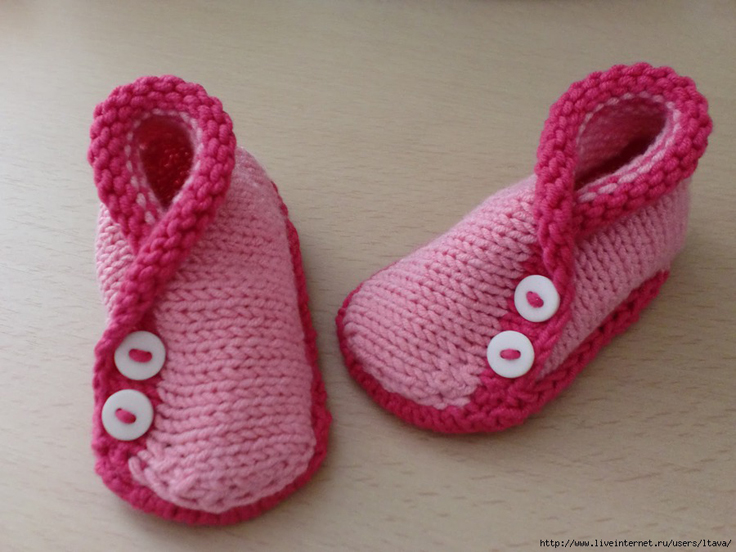 Knitting Pattern via icreativeideas.com
If you are in love with anything Asian you will love these booties! These are way beyond being simply adorable they ooze with coolness! Available in any color that suits your baby best, these will not only keep their toes all tucked in perfectly but will also make them ahead of the fashion baby brand! An absolute delight to create and put together and rather simply done too. Find yourself a little kimono top as well to combine for the full effect.
Crochet Wrap Around Button Baby Boots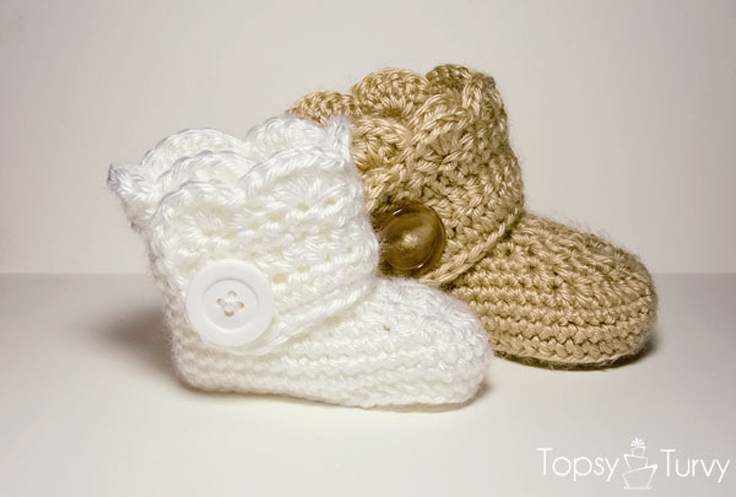 Crochet Pattern via imtopsyturvy.com
A superbly detailed step-by-step guide that is almost bulletproof and has an almost hundred percent rate of success! Here you will find two examples and of course to include one for the boys and one for the girls. They look ever so smart making their feet look frankly gorgeous! The little button on the side does the entire job of adding the utmost cuteness, one pair of boots you will love to reproduce as their feet grow until say, 18 months. The tricky part is to really evaluate the size of your baby's feet and don't forget, size one fits for one month or so! They grow quicker than the speed of sound by the sounds of things!
Seamless Bottom-Up Booties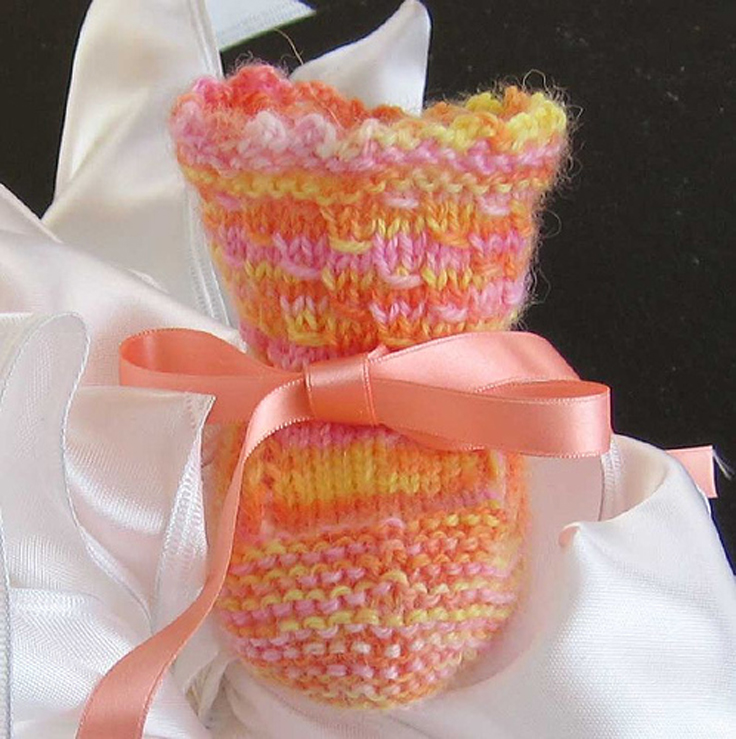 Knitting Pattern via fleeglesblog.blogspot.com
We do find a lot of very bland-looking ideas for our children but we know that babies and young children alike love to see deep and bright colors. It makes them focus on the colors. They love it. And these Booties really do their job really well. Your babies will be highly preoccupied with playing with their feet when they are not sleeping! And that's cute, right? No useless seaming here, just a pure delight and something rather quick and easy to crochet. This example is more for girls, but using blues will do the same trick for the boys.
Knitted Newborn Booties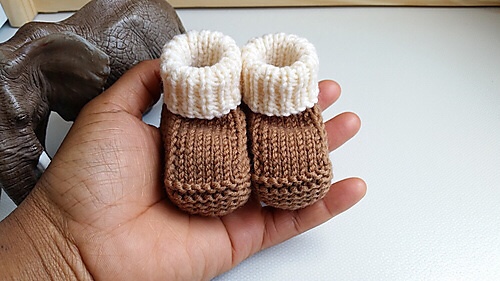 Knitting Pattern via ericaandeleanor.wordpress.com
Do you have this one favorite wooly jumper of yours keeping you mega warm on a cold night in front of a good movie or sippy reading a great book? One of those that you will not be seen in, in a million years but something you are ever so attached to? Well, think of these booties being that very same jumper for will forever love and cherish! Beautiful little shoes, and a pair your baby will love and wish to cherish forever and ever. Beautiful pattern with the most amazing white top part to it keeping their bottom leg as warm as they'll ever get.
Pink Crocheted Booties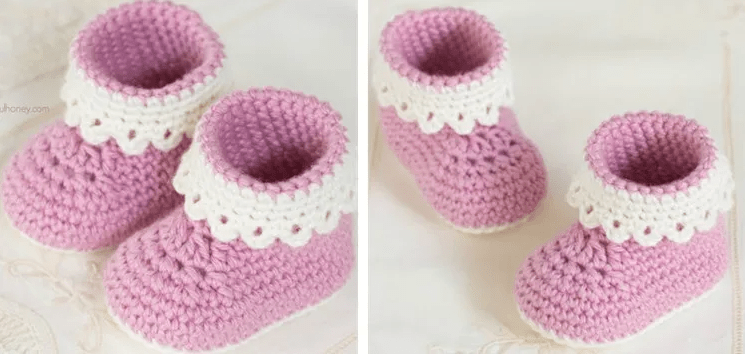 Crochet Pattern via thecrochetspace.com
Crocheting can be a daunting thing we understand, but these are perfect for beginners. These could be done for all beginners in under half an hour. For those using crochet-like their first language, it will be a walk in the park and will take no more than ten minutes. The end result is remarkable really, to say the least. Anyhow, spending hours on a pair of little booties are fine, but knowing that they will fit for a month or so is not so attractive. Better to make more of them easier ones in our books! And they look fabulous, don't they? Perfect for a baby shower or as a gift but also great for your own newborn.